Almost dead smack in the center of the country, in both tornado alley and the heartland of America, is Stillwater, Oklahoma. And tornadoes aren't all that shakes and moves things around here, because Stillwater is also home to the world headquarters of Kicker Performance Audio. It's here in this technology savvy college town that Kicker Performance Audio products are designed and manufactured by Stillwater Designs. From their roots back in 1973 as a two person operation building audio products for churches and auditoriums, to the worldwide operation it is today with over 2000 dealers in 50 different countries, the Kicker name continues to represent cutting edge high performance products. And as luck would have it, one such product was recently sent to us for review, in the form of a pair of Kicker KS65.2 convertible loudspeakers.
The KS65.2s are a 6.5" two-way set of convertible speakers. No Jeremiah, that doesn't mean they only fit in Miatas. A convertible speaker is designed to be mounted either as a typical component system, or as a coaxial system. Designed primarily as drop in replacement speakers for the factory junk, there are three different sizes of systems in the KS series, this 6.5" system, a 6", and a 5.25" system that can also be used in 6x8" applications with an adapter plate.
The system we examined was nicely made, and looked more high-end oriented than its US$249 price led one to believe. Featuring Kickers exclusive EVC™ (Extended Voice Coil) technology, powerful magnetic motor assemblies, and calibrated Kaladex dome tweeters, the KS65.2s are designed to deliver accurate and musical sound. And they are built for the long haul too, with their Santoprene surrounds, tapered polymer cones, and rigid powdercoated steel baskets, you can be sure that these speakers can take the worst of whatever Mother Nature throws at your door panels.
TECH
The KS65.2s come with holes for both three or four hole mounting patterns, and require a mounting hole diameter of 5.625". Mounting depth is a reasonable 2.125", so they should fit in virtually any door. The motor for the midrange is ceramic ferrite, and provides the magnetic energy to drive the 1" copper voice coil, which is wound on a low mass Kapton former. A linear type polycotton spider is used to locate the coil in the gap, and work in conjunction with the Santoprene surround to provide the correct driver compliance.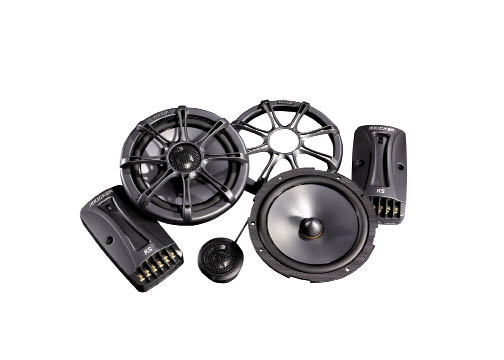 The system comes out of the box configured as a component system, with removable conical phase plugs screwed into the pole piece of the midrange. To convert them to coaxials, you simply unscrew the phase plug and replace it with the tweeter mounting posts, run the tweeter wires through the hole in the center and out the back of the magnet and then snap the tweeters in place. Dead simple, and the tweeter mounting system is well-engineered. I deliberately mounted and removed the tweeters several times, with no degradation in how well it held the tweeters in place. Of course the kit also comes with assorted cups to mount the tweeters in flush, surface or angled positions, and it even includes speaker wire and terminals. The included grilles are a two piece affair, using a base plate with protruding tabs mounted behind the midrange, and an outer grille that snaps into place on the base plates tabs, totally hiding the mounting screws. And speaking of the mounting screws, the folks at Kicker have done a great job in making sure the mounting screws do not pull or stretch the surround material when tightened, as happens on a lot of other brands. The mounting lip of the midrange is covered in a hard plastic ring, that covers the outer edge of the surround to provide a hard secure surface for the screws to fasten down and looks great as well. Nicely done.
The KS65.2 tweeters use 1" aluminum domes, and powerful neodymium magnets for maximum efficiency. Providing the proper signal to each of the speaker components are a pair of separate externally mounted crossover networks. The crossovers use the typical six screw terminals for connections, and come in good looking housings that can be mounted without having to take them apart. Because I'm an inquisitive sort, I took them apart anyway, and inside I found separate -12dB filter networks, a low pass for the midrange and a highpass for the tweeter. Capacitors were of the electrolytic variety and the inductors use iron cores. Also inside each crossover are a pair of bulbs used for excessive power dissipation, and of course the usual high power sandstone dropping resistors used to alter the tweeter level. The level of the tweeters is adjusted via a three position slide switch, with the positions marked as 0dB, +4.5dB, and +9dB.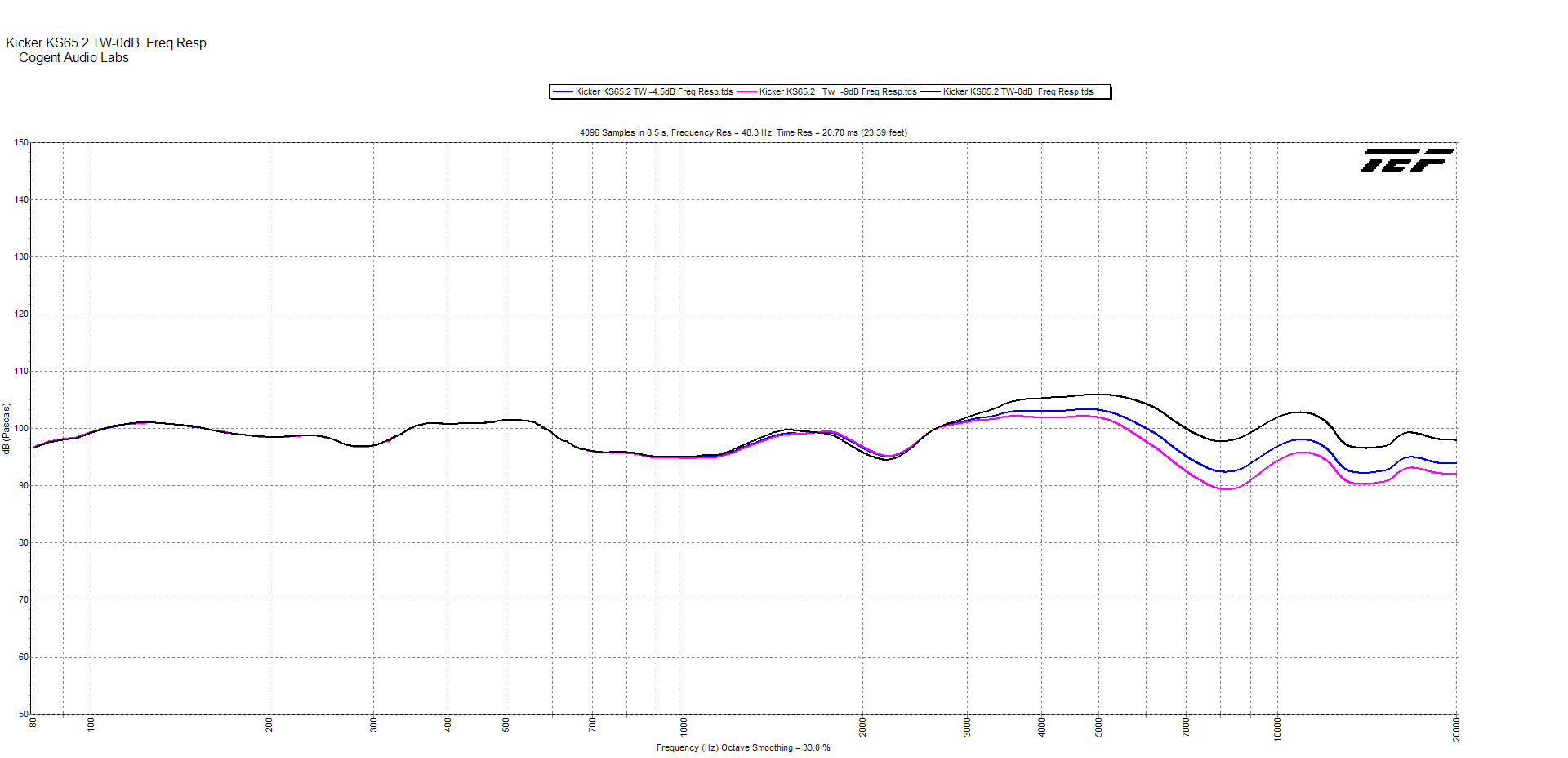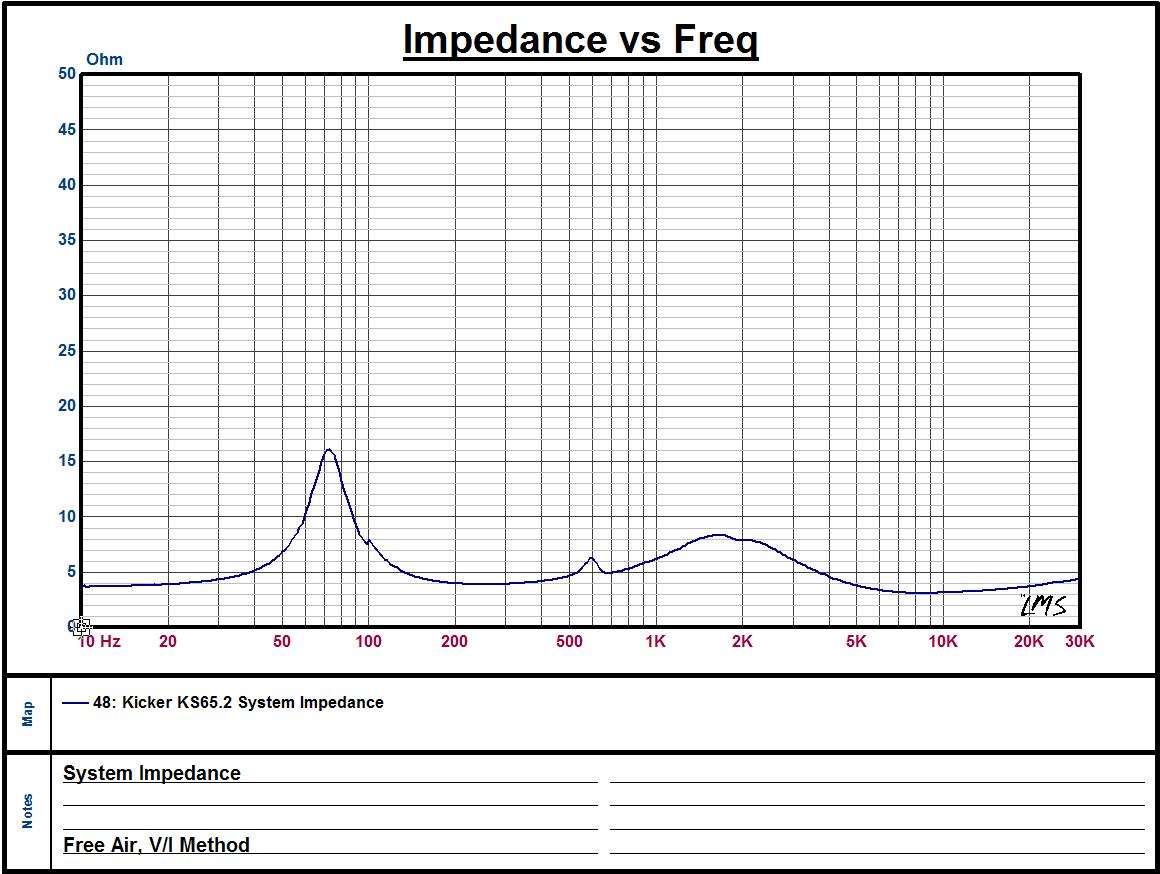 LISTENING
After completing a short break-in period, I got the system securely mounted in my listening room's baffles and with the tweeter levels at the +9.5dB position, went through some of my favorite songs. After some further experimentation with the tweeter levels I settled on the -4.5dB setting, which I felt produced the best response for my on-axis listening position and began my listening in earnest.
The modestly priced Kicker system delivered a very pleasing performance, with an open and dynamic sound. Vocals sounded quite open, albeit with the occasional hint of stridence in close mic'd horns or certain vocals. Instruments like acoustic piano and classical guitar sounded great, with good detail and clarity. It was easy to hear each note and chord change, as the KS65.2s provided excellent intelligibility and detail. And if you wanna rock, these speakers won't disappoint. Whether it was Angus Young's SG solos or Billy Gibbons' Les Paul or Gretsch, or Jon Lord's amazing Hammond B3 sounds, the Kicker system played very loud, and had surprising low frequency output. Bass detail was rich and full sounding, and made listening to some of my favorite bass players like Geddy Lee or the late Jaco Pastorius even more special. I use a very large amplifier in my reference system, and even when pushed significantly past it's the 75W rated power level the system didn't protest much and handled everything I threw at it.
CONCLUSION
For 250 bucks, the Kicker KS 65.2 system delivers everything you could expect, and more. The system can be easily configured as a component system or very simply converted to a coaxial. In either configuration, it will deliver a dynamic, exciting performance that will make you wonder why you left those crappy stock speakers in there as long as you did.
| | |
| --- | --- |
| Recommended Power | 75 Watts Continuous |
| Sensitivity (2V/1M) | 88dB SPL |
| Frequency Response | 80Hz -22kHz |
| Mounting Depth | 2.125" (54mm) |
| Mounting Diameter | 5.625" (143mm) |
| Midrange Resonance | 72Hz |