The Eclipse AVN726E is definitely a high-end Navigation/Headunit. The built in GPS uses flash-based memory for all the navigation features, which improves the speed of any touch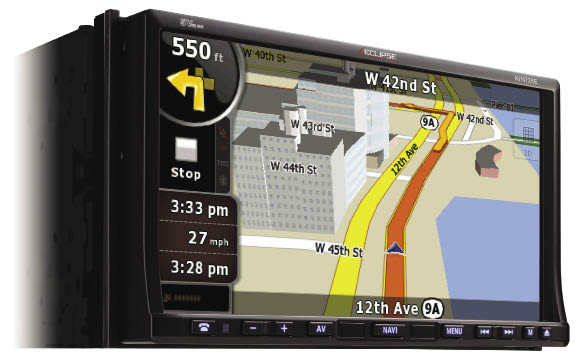 screen commands such as zooming and scrolling, and keeping your maps up to date is simplified with the SD card based memory. In major cities, the navigator guides you with detailed views of streets, buildings, and recognizable landmarks, and with access to over 16 million points of interest, you should have no problem finding whatever you're looking for, even if you're like me and generally have no idea where you're going. And with the optional SIRIUS traffic receiver, the AVN726E makes commuting easier by providing real time updates on traffic flow and congestion, as well as accidents and road closings.
If you're hungry for entertainment, the AVN726E won't let you down. You can play movies up front while you're parked, or connect another screen in the back so your passengers can watch while you're on the road. The screen used in the AVN726E is among the best I've seen in terms of clarity and detail. Evidently this is the result of the Eclipse maintaining a digital data transfer between your source and the screen, so no analog noise and image smear are present, and the result is outstanding color depth and improved contrast. This improved image quality is even noticeable when in the GPS mapping mode. It's really quite excellent.
MP3 users and iPod owners will appreciate the included USB connection via a long cable attached to the rear of the unit, so the portable device can be hidden away in the glovebox, with no visible wires. You can play your iPod by connecting it to the AVN726E's rear USB slot, using the iPods cable no adapter necessary, but adding Eclipse's optional cable lets you view your videos and leave your other cable at home. Additionally, the receiver bypasses your iPod's built-in digital-to-analog converter, using its own DAC to deliver better sound quality. If you're not an iPod user, you can also load up a disc or a thumb drive with MP3 and WMA files to take care of all the tunes needed on your next road trip. Still need more? Add Eclipse's optional satellite radio or HD Radio tuner for the best radio entertainment around.
True to their high performance roots, I found three sets of 5-volt preamp outputs, perfect for sending a clean signal to your external amplifiers. You can even connect an Eclipse rear-view camera to get a clear view what's behind you when you need to back up.
USER IMPRESSIONS AND LISTENING
When I first fired up the AVN726E, I was immediately impressed by the very good quality of the display. The controls and functions are more or less logically laid out, and each of the controls are large enough to be easily found, even when you're somewhat myopic like me. Screen colors and backgrounds are customizable, but you can't download your own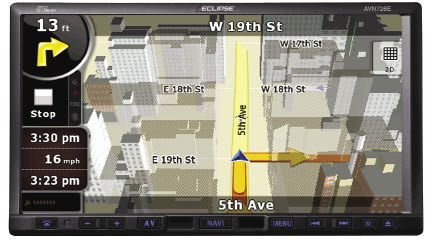 wallpapers like you can with some other units. To get a feel for the controls and functions, I loaded a DVD, plugged in my iPod, and began to play with the unit. My first impressions were quite positive, as is typical with Eclipse products the unit seems very well made, and the motorized screen is smooth and quiet. I liked the selection of angles available as well, which makes the display easy to see in almost any installation position. DVD's loaded quickly, and once I learned how to navigate the menus to get the disc to play, I was quite impressed with the audio and the video performance. Maybe the optional wireless remote would make some of this navigating of menus easier… and then I noticed that, oddly, my album artwork was not displayed from the iPod.
During my listening session I found nothing seriously amiss, the AVN726E sounded very good regardless of the source. Interestingly, I preferred to leave the subwoofer output unfiltered, and use my amplifiers crossover. I later found out why… stay tuned.
It took a bit of time and some diligent manual reading to figure out all the controls and options, and I reckon this isn't the most intuitive unit I've ever used, but once I learned it, I had no problems getting where I wanted to go. I quickly learned how to turn off the incredibly annoying beep that is the default setting for a button press confirmation.
However, there were quite a few niggles that bugged me, simply because I've seen better, and I have very high expectations of a company like Eclipse. First, while the touch screen
is easy to use and quite responsive, each adjustment, each increment, requires a separate press and release of the on-screen "button". Why? This is really aggravating when you are scrolling through an iPod list of artists or songs… I had about 2000 songs on my iPod, and it took forever to get from one end of the list to the other. I looked and looked, but I could find no "shortcuts" to scrolling quickly. Other units have much more convenient iPod navigation. Perhaps it was because I was using the USB connection, and not the optional cable, which Eclipse had neglected to send. But the multi-press concept is aggravating other times as well, like even when you simply want to adjust the subwoofer level a few notches. Why can't I just press and hold? Another quibble… at this price, I expect a lot more adjustability in terms of built in equalization, crossover filtering, etc.
To have only a 3 band EQ, no Q adjustment, no parametric, no high pass crossovers, and only "on" or "off" for the subwoofer low pass filter is simply weak sauce in my book. Then, I realized there is no "pause" in iPod mode. Mute turns off the sound, but the music keeps playing so you could be well into another song when you finally release the mute function. Weird. And there is no "power off" button. You can scroll into a menu and find a touch screen button marked "Audio Off", but no power off. Incidentally, the "Audio Off" button does not turn off the power to your amplifiers, so they remain on whenever the cars key is on. Same strange thing with the power antenna control wire, it stays on so the antenna is always extended, regardless of what mode you're in. Quite frankly, I expected better attention to detail from a company like Eclipse, because I've seen it in the past.

Read on for Results