So you've upgraded your front and rear speakers and now it's time to add a subwoofer and some real power.
Great! You're almost ready to experience good, proper audio in your car. But space is tight and multiple amplifiers are not going to be an option. Sound familiar? If so, read on, because the folks over at MTX have a solution to your problem.
It comes in the form of the XTHUNDER 800.5, five-channel amplifier. By taking advantage of the high efficiency of Class D topology and some careful engineering, the XTHUNDER 800.5 is a small footprint, low-profile amplifier that will fit almost anywhere.

FEATURES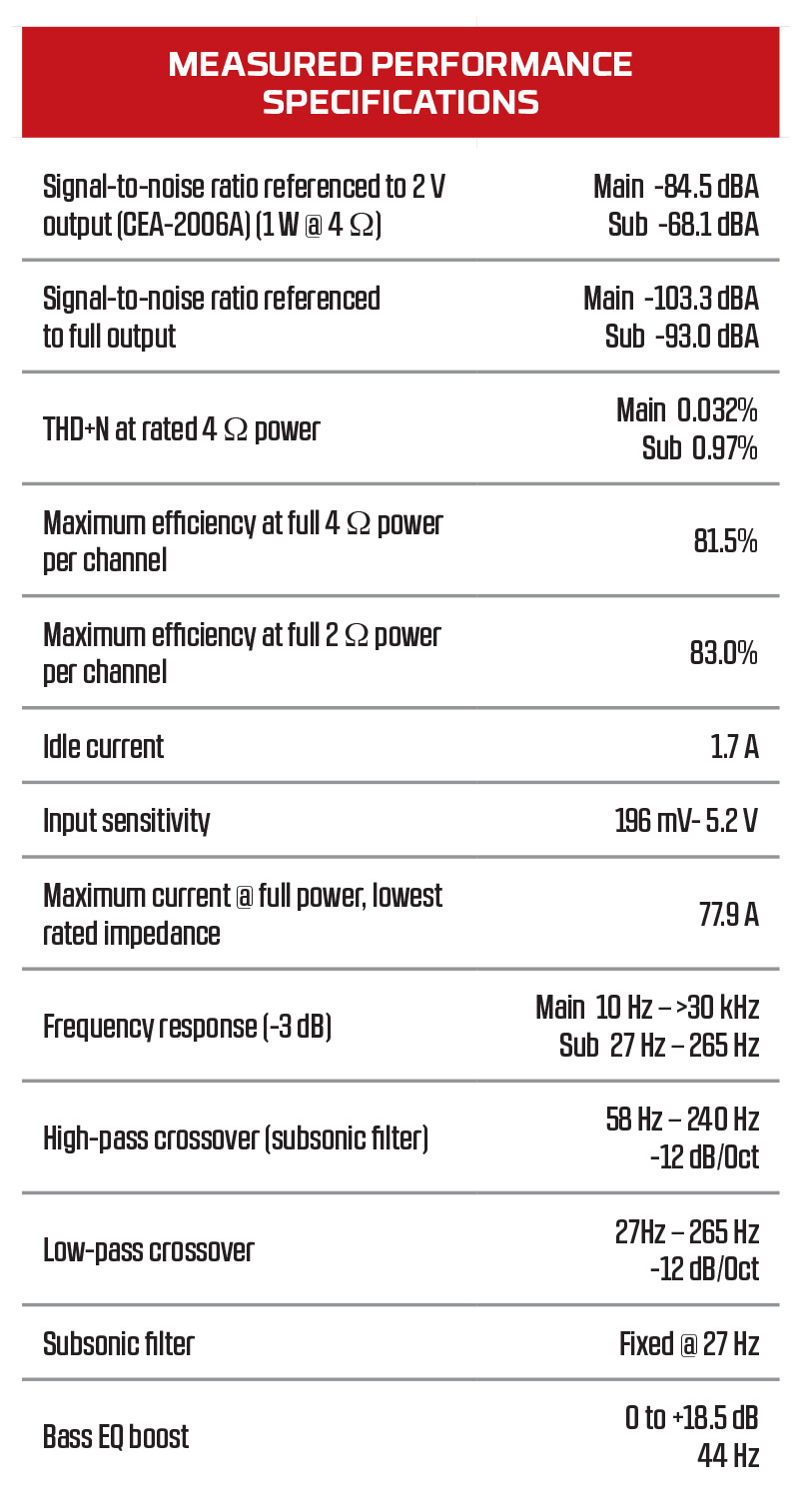 The do-it-all amplifier from MTX provides four channels of full range output with up to 125 watts of power per channel. Then the fifth subwoofer channel can drive two ohm loads with up to 400 watts, for a total power output of 900 watts!
The amplifier uses a cast aluminum heatsink, measuring approximately 9 x 14 x 2 inches. Connections and controls are found on opposite ends of the amp, and the wires are hidden from view by a pair of removable aluminum end caps which trim things out nicely. For power wiring, the five-channel amp uses sturdy set screw connectors that accept four-gauge cable. Similarly built speaker connectors accept up to 12-gauge cable and also use angled set screws to secure them.
A nice addition for anyone upgrading an OEM stereo are the high level inputs that accept speaker level signal, and the 800.5 can also turn itself on and off using the signal input as a trigger. If you're using RCA inputs, you can choose to drive the amp with four channels, or in five channel mode, which gives you the ability to run a dedicated subwoofer signal from your head unit to the sub input.
To get your system dialed in properly, the XTHUNDER 800.5 is equipped with high-pass crossovers on the front and rear channels, adjustable from 40 to 250 Hz. The subwoofer channel gets a low-pass filter that mirrors the front. All crossovers are -12 dB/oct. In addition, the subwoofer channel has a bass boost EQ providing up to 18 dB of boost at 45 Hz. The sub channel also has a built-in, non-adjustable subsonic filter set from the factory at 27 Hz.
If you get things horribly wrong during the installation, the XTHUNDER amp has several built-in protection circuits that can prevent damage and save your bacon. There is over-temp protection, short circuit protection, as well as high and low battery voltage protection, all there to ensure that everything works as it should.
MTX stands solidly behind their products too, with a full two-year free replacement warranty and then a prorated warranty covering the third to fifth year of ownership.

LISTENING
With the amp driving my reference speakers and a 12-inch subwoofer, I find the MTX XTHUNDER 800.5 to be a very good and capable performer. There is plenty of power on tap to drive the system to any volume you care to listen at, and the sonic qualities of the amp are neutral and natural. I note during my listening session that the amp barely gets warm, thanks again to the highly efficient, full-range Class D topology. That also means it's not a current hog, so you won't need expensive batteries or a charging system upgrade to power it. Sounds good, runs cool, easy to power - what's not to like about that?

ON THE BENCH
On the test bench, the amp behaves as expected, delivering solid audio performance throughout the various tests. Frequency response measures nice and flat beyond the audio band, and the main channel's signal-to-noise performance is simply excellent. At low power levels (where we do most of our actual listening), distortion is low and the amp exhibits good stereo separation.

CONCLUSION
If you need (or simply prefer) a single chassis amplifier solution to your car audio system, the MTX XTHUNDER 800.5 is worthy of your serious consideration. The amplifier has an MSRP of $599 with advertised prices somewhat south of that, and it comes with a fantastic warranty. For more information about this amplifier and all the other MTX products, check them out online at www.mtx.com.