To those who prefer to take a no compromise approach to their car audio system and insist on equipment that's generally above reproach, the name Mosconi is quite familiar.
Relative newcomers to the car audio market, the first Mosconi amplifiers were introduced to Italy in 2009. Since then the brand has experienced global acclaim and is now being sold all over the world, including here in the United States. Driven by a love for sound and technology, Mosconi brought together a team of designers and engineers with decades of audio experience, who continually explore ways to improve their products, all in the interest of premium quality sound. I was recently fortunate enough to receive a Mosconi Gladen PRO amplifier for evaluation, and the following review should provide some insight into the passion that sets these guys apart from the rest of the crowd - and maybe why a lot of us consider the Italians just a little bit nuts!
The Mosconi Gladen PRO 5/30 continues the brand's tradition of exclusivity, as indicated by the $1,999.99 price tag. The PRO 5/30 is a five-channel design with hybrid-type topology. For optimum sound quality, Class-AB circuitry is used for full range channels, with higher efficiency and higher power Class-D circuitry making up the subwoofer channel. The combination of topologies takes full advantage of each type of circuitry to provide the best sound possible from a single amplifier chassis.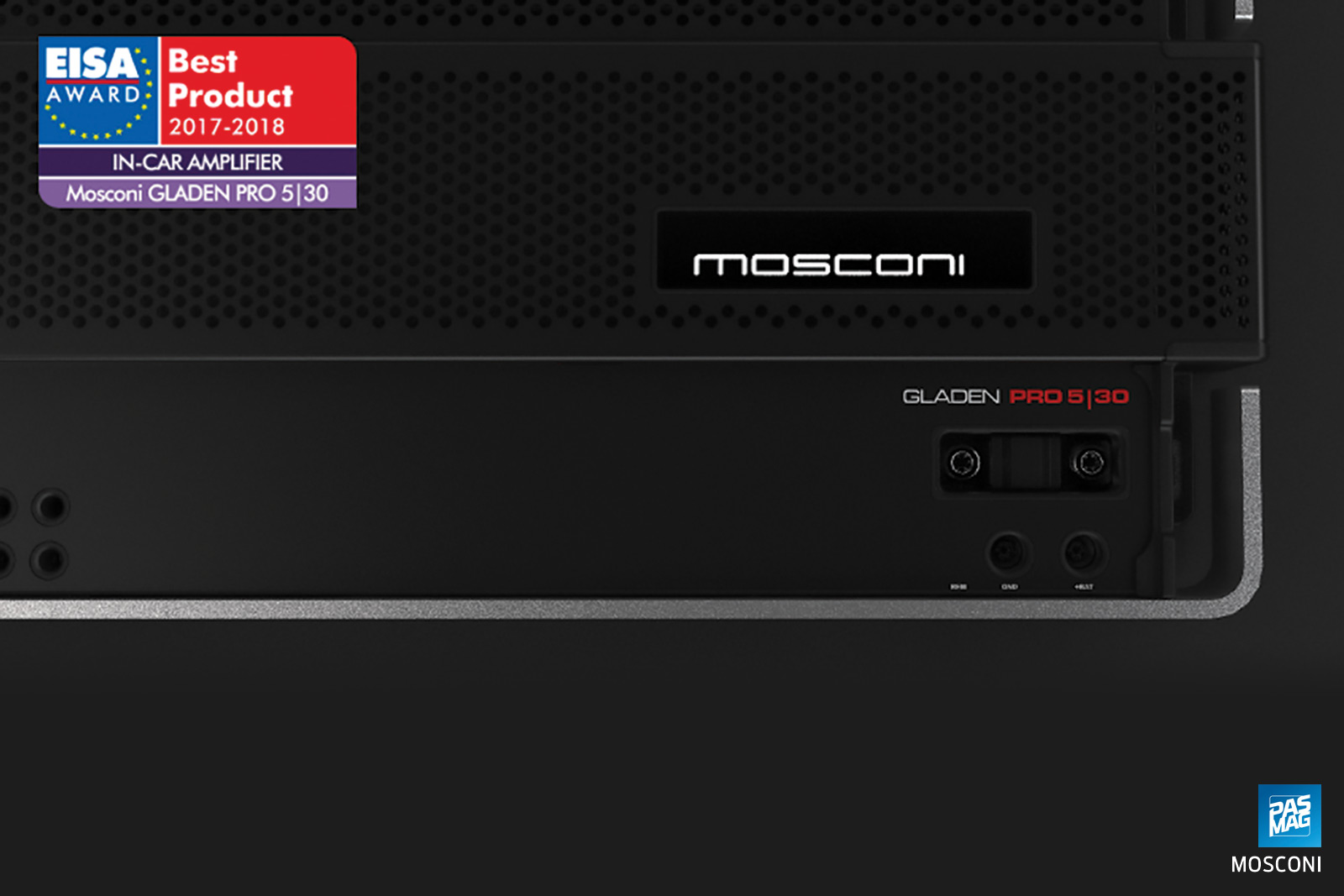 FEATURES
The Gladen PRO 5/30 uses a split power level architecture. At four ohms, channels one and two are rated at 70 watts each, while channels three and four have a 150-watt rating. The subwoofer channel is rated at 550 watts into four ohms, or about 900 watts into two ohms. Signal shaping can be done using the internal crossover networks, which provide high-pass filtering for channels one and two. Channels three and four have high-pass, low-pass, or band-pass crossover functions. The fifth channel utilizes a fourth-order (-24 dB/oct) low-pass filter. There are also signal steering switches that allow you to run the channels with just a single pair of RCAs, up to fully discrete inputs with fading functions. A gain pot for each pair of channels rounds out the control features. For maximum reduction in noise and distortion, you can press a button to engage "Direct DSP" mode, which bypasses the whole front end, right up to the fully differential input.
Wiring connections are accomplished via sturdy set-screw-type terminal blocks that are deep enough to ensure fully insulated connections. The power terminals will accept 1/0-gauge power cables, and eight-gauge speaker wires. A 150-amp mini ANL-type fuse lets you know this amp means business. With an abundance of power, and a large percentage of it being developed in Class AB, keeping the amplifier cool is of primary concern. To that end, the Gladen PRO 5/30 is equipped with an internally-mounted, extruded aluminum heatsink with tall, thin fins that dissipate heat very well. To add even more cooling capacity for even the most enthusiastic situations, the heat sink's capabilities are augmented with a pair of 60-mm fans drawing cool air in and pushing it out the ends of the amp.
Internally, the amplifier is an all MOSFET design with high current capability and plenty of reserve current capacity for good dynamics. There are eight MOSFET devices for the power supply section and 16 MOSFET outputs, which result in a total of 24. The components inside are high quality, and a mixture of surface-mount and through-hole components are used. The amplifier is ruggedly constructed and obviously designed to be very reliable.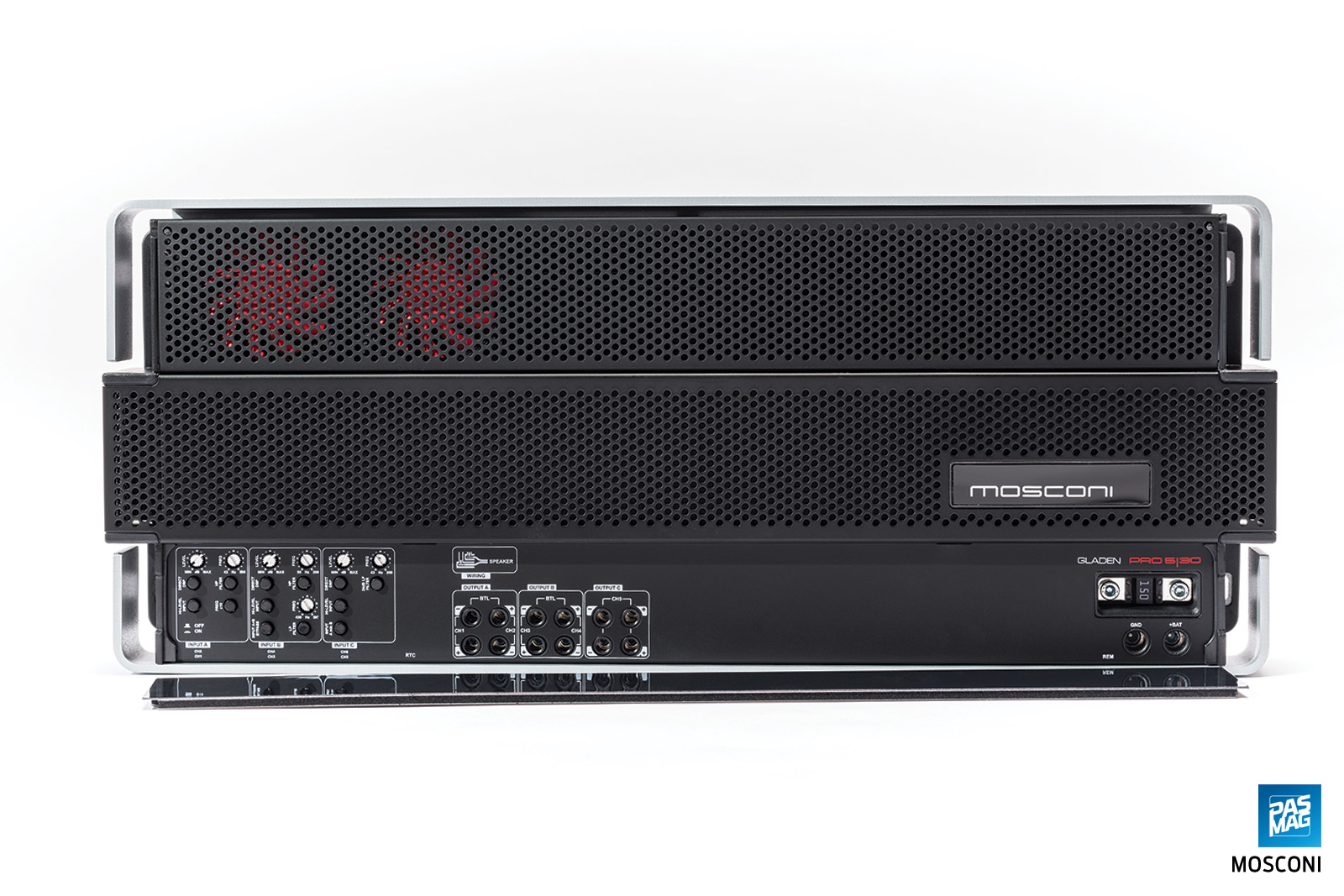 LISTENING
For my auditioning of the Gladen PRO 5/30, I used the amplifier to drive two pairs of high-end components and a single 12-inch subwoofer. With the gains adjusted so that channels one and two had the same levels as three and four, I simply left the AB channels in all-pass mode and adjusted the sub crossover to 80 Hz. When I finally got down to some serious listening, the hybrid amplifier certainly didn't disappoint, providing authoritative power and superb sound quality. I listened to my usual eclectic variety of music and found the Mosconi amplifier always up to the task.
Even at enthusiastic levels, I was listening with an average output power of maybe only 20 percent of what was available, and the amplifier provides excellent sound. The timbre of the amplifier is very neutral and it produces a very good stereo image. I enjoy testing good amps with more difficult tracks, like tunes with a lot of dynamic range and a very wide frequency range. To that end, I broke out my Sheffield Labs copy of The Usual Suspects, and then a couple of big band tracks from Count Basie and Tommy Dorsey on a DMP recording. Large orchestras have the ability to reach higher than normal SPL levels, and for a stereo system to have a lifelike sound, it needs to be able to reproduce rapid shifts in overall sound level. If an amp has poor signal-to-noise, the quiet passages can be obscured by hiss, and if the amp has limited power, it will clip before the full volume of the recording is reached, with the usual audible distortion. As you would expect, none of these issues were found with the Mosconi. Quiet passages are dead silent; even with my ear to the tweeter I did not hear the noise floor. I spent about three hours listening to some of my most revealing music, and when I was done, I walked away pleased and impressed.
PERFORMANCE/BENCH MEASUREMENTS
The next morning, I moved the Mosconi back into the test lab and connected it to my calibrated measurement equipment. As I expected from my listening session, the amp measured well and met its published performance specifications, which are surprisingly realistic in today's exaggerated market.
CONCLUSION
Simply owning a Mosconi amplifier automatically makes you a member of a pretty exclusive club, and the Gladen PRO 5/30 is an amplifier that has few rivals in terms of performance and exclusivity. Regardless of the exclusivity, like all Mosconi products, its primary focus is sonic performance. If you share that focus and have the wherewithal to join the club, the Mosconi would be an excellent choice.
TECHNICAL DATA
The following power measurements were obtained as follows:
(100 HZ @ 1.0% THD+N - Battery voltages shown, +/- 0.1V)
MEASURED PERFORMANCE SPECIFICATIONS