Anyone who has ever attempted to upgrade a factory audio system with some real power knows the challenges involved.
Depending on the specific car, you may have to deal with factory equalization, weird signal delays, unwanted crossover points, and in some cases, all of the above at once!
Fear not, because there may be a game changing solution to all of these issues. Unless you have been living under a rock, you are likely familiar with the name iDatalink Maestro. These folks have been hard at work building OEM interface solutions for years, as they're the most experienced company on the planet when it comes to understanding what is going on in factory systems and how the connections need to be made. This sort of research and development is difficult and time consuming to duplicate, and that fact wasn't lost on the product development team at Kenwood, who has teamed up with iDatalink Maestro to come to market with a new, six-channel, DSP-powered, Bluetooth-connected amplifier that could be a complete game changer.
The Kenwood XR600-6DSP amplifier ($900 USD MSRP) is designed specifically for OEM integration applications and will only work when paired with an iDatalink Maestro AF module ($100 USD). When paired together, the module and amplifier can provide a true stereo signal from the existing OEM system and translate all the CAN-Bus communication from the radio to the amplifier. The system already integrates with most manufacturers' vehicles, and more are being constantly added to the program. The real benefit of all this electronic wizardry is that you don't have to be an integration specialist with oscilloscopes and spectrum analyzers to get the signals flattened out and summed correctly. You simply choose your car, flash the iDatalink Maestro AR module accordingly, and voila, the worst of the tuning is done.
Of course, no one wants to be locked into someone else's sonic preferences, download the free Kenwood DSP Control app to your smartphone or tablet, pair it with the XR600-6DSP, and you now have full control over the configuration of your whole system. If you are adding woofers or changing the speakers, the Kenwood app lets you choose crossover frequencies and slopes, adjust arrival times, or EQ things to your heart's delight, with either a 13-band graphic EQ, or a three-band parametric version. With the Kenwood DSP app, you have all the tuning and tweaking ability you could ever want, and it's all done wirelessly via your phone.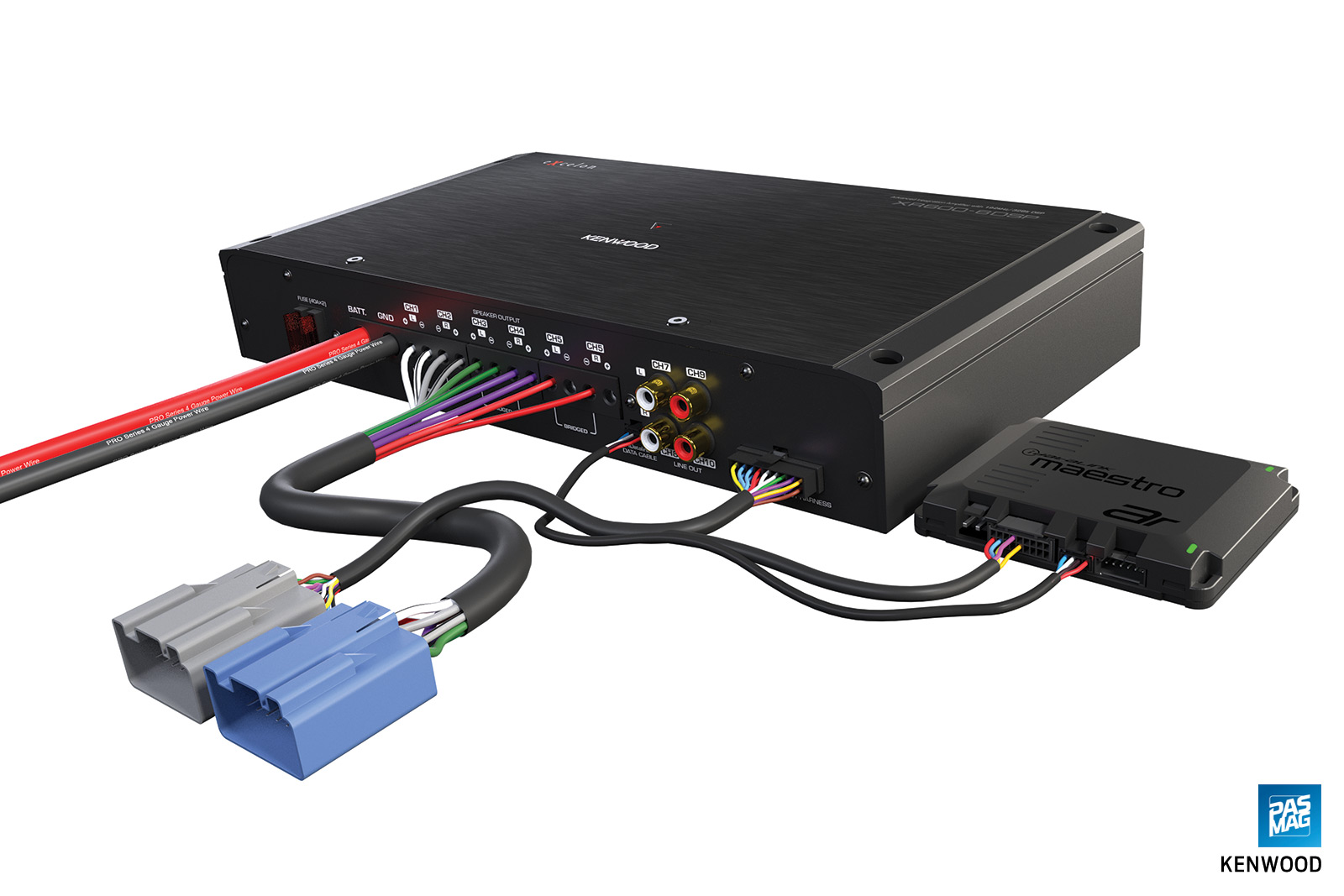 FEATURES AND SPECIFICATIONS
The XR600-6DSP amplifier is a six-channel, bridgeable, Class-D amplifier, and is part of the premium performing eXcelon series. It has a relatively small footprint (12.6 inches wide x 2.1 inches high x 7.1 inches deep), so finding a spot for it should be quite easy. Connections are all made on one edge of the amp, and the terminals are all fully insulated and enclosed. After the connections are made, a nice trim cap covers all the screw access holes for a smooth, clean look.
In addition to the built-in power, there are two pairs of DSP-controlled RCA outputs that can be used to drive additional amplifiers. This approach allows the XR600-6DSP to be used as the cornerstone of even an ultra-high-end, multi-amp system. The amp is rated at 75 watts x six into four ohms, and 100 watts x six into two ohms. In bridged mode, the power climbs to 200 watts x three into 4 ohms. Signal-to-noise is advertised at 95 dB referenced to rated power.
The iDatalink Maestro AR module plugs into the front panel with a small four-pin connector, which includes the remote trigger on for the amp, as well as the ground connection for the AR module.
Once flashed, and with the Kenwood DSP Control app connected, the following audio adjustments are available via the 10-channel, 32-bit, 192-kHz digital processor, for each channel independently:
Signal delay in 0.36-inch increments to a maximum of 20 feet.
0 to 10 dB of gain adjustment.
13-band graphic EQ. (62.5, 100, 160, 250, 400, 630, 1k, 1.6k, 2.5k, 4k, 6.3k, 10k, 16kHz)
Three-band parametric EQ with center frequencies from 44 Hz to 19.9 kHz in 54 steps. Q is adjustable from 0.4 to 8.0 in six steps. Boost/cut from -20 dB to +6 dB in 1-dB steps.
Crossovers can be set to high-pass or low-pass, from 31 Hz to 19.9 kHz.
Available slopes: - Butterworth: -6, -12, -18, -24 dB/Oct. - Linkwitz-Riley: -12, -24 dB/Oct.
Phase 0 or 180°.
INSTALLATION
To install the Kenwood amp and iDatalink Maestro AR module, you will need a computer with Internet and ActiveX controls enabled. With the amp installed and wired as usual, connect the AR module to the computer via USB and navigate to the iDatalink Maestro website. Navigation is fairly straightforward; you'll select your application, vehicle brand, and year, and then enter the serial number of the amplifier you are working with. Don't make a mistake entering the serial number, or you will not be able to proceed with a module flash. Don't ask how I found this out.
Once the module is flashed, which should take less than five minutes, you can download the Kenwood DSP Control app to your smartphone or tablet. Then, simply pair your device with the amp and go through the setup process. Here you will enter your speaker configuration and amplifier signal selection, and then you are ready to begin tuning!
CONCLUSION
Anyone who wants to upgrade a factory audio system and retain the original head unit will love the simplicity of this solution. Thanks to iDatalink Maestro, the hard work has already been done, as their AR module makes installation quite quick and painless. With some real power available, and an incredible amount of tuning and system adjustment at your fingertips, for around a grand you suddenly have the best of both worlds.