Anyone who's on a budget and needs a significant upgrade from their stock radio will appreciate the features and price of the JVC KW-R935BTS double DIN sized receiver.
The unit was designed to provide connectivity to a smartphone and all the hands free and streaming goodness that comes with that pairing, as well as give you access to services like Pandora, iHeartRadio and Spotify. And it does all this for well under 200 bucks! (U.S. pricing) So let's take a closer look at all the cool stuff you get for very few of your hard earned bucks.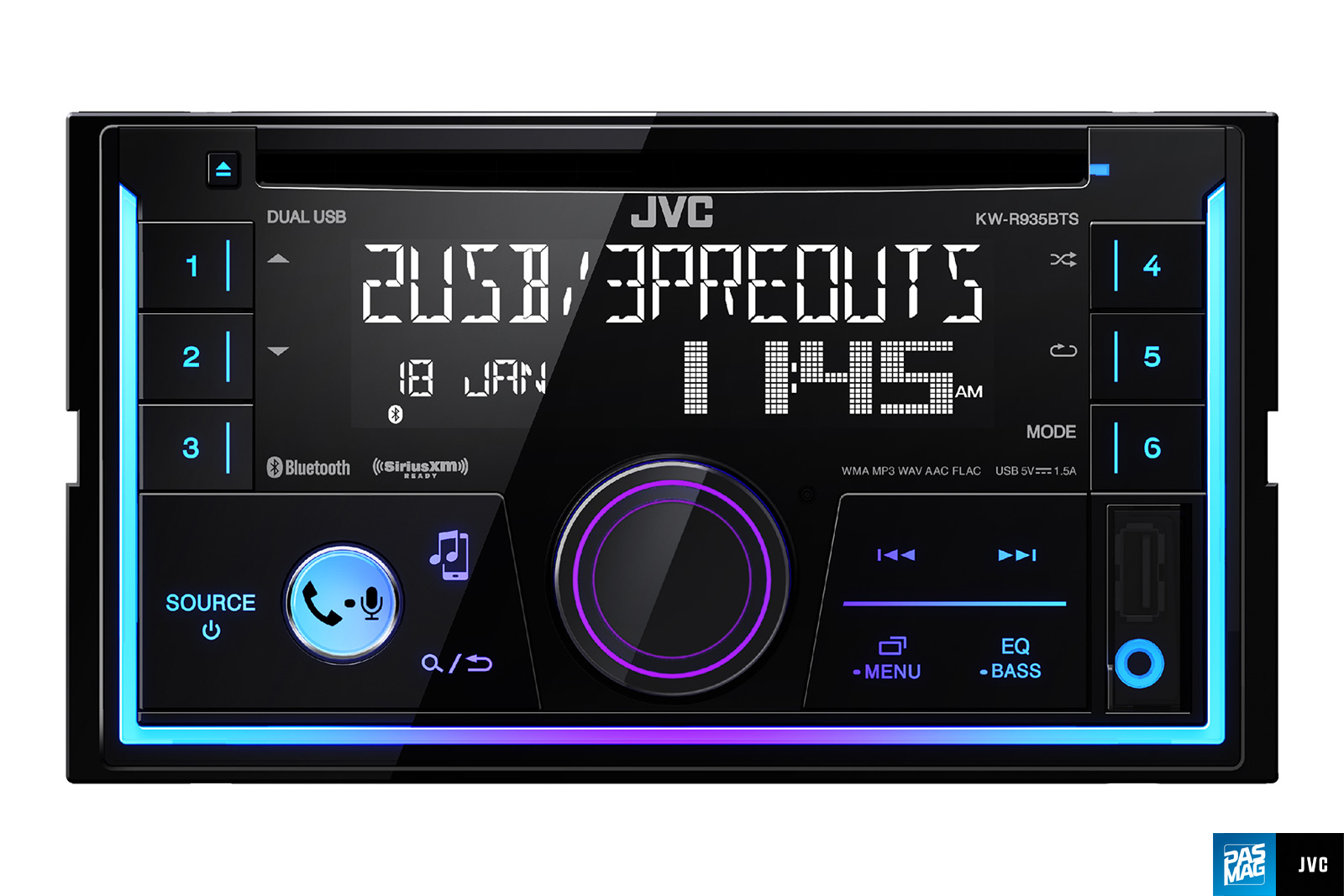 FEATURES and FUNCTIONS
The JVC KW-R935BTS is loaded with all sorts of useful features and functions. Available sources include CD, AM/FM, Bluetooth, a pair of USB inputs with 1.5A charging capability, an auxiliary input, and apps like Pandora, Spotify and iHeartRadio. How the apps connect depends on your phones OS. Android phones will connect via Bluetooth, whereas Apple devices can connect directly to the app installed on the iPhone or iTouch. SiriusXM satellite radio is also available with the optional tuner and your subscription. You can also use JVC's Streaming DJ to enable streaming of music from up to five Bluetooth devices!
The KW-R935BTS is equipped with high performance pre-amp outputs and a built in MOSFET four channel amplifier, but that's only the beginning. With such a vast array of available sources, some serious audio tuning capability is in order, and the KW-R935BTS has you covered there too.
Digital Time Alignment is on board to allow manipulation of the five channels of audio signal arrival times, to create the perfect soundstage for your listening position. Then there is a built in eleven-band EQ with various presets and user customizable curves, or a ProEQ function that allows you to select the frequency, boost and cut, as well as the Q of the filter. In addition to these tuning functions, a variable frequency two-way or three-way crossover controls the signals sent to external amplifiers, which are driven by three pairs of high performance pre-amp outputs. The subwoofer output also comes with an independently controllable level adjustment. Various audio source levels can be set independently in relationship to the tuner level. This prevents you from accidentally getting blasted out of the seat when you switch sources. A host of different DSP powered sound effects allow you to create a more realistic sound or soundstage from your favorite sources.
A microphone for the Bluetooth hands-free function is included, and the unit is compatible with most factory steering wheel controls. (Adapter is required)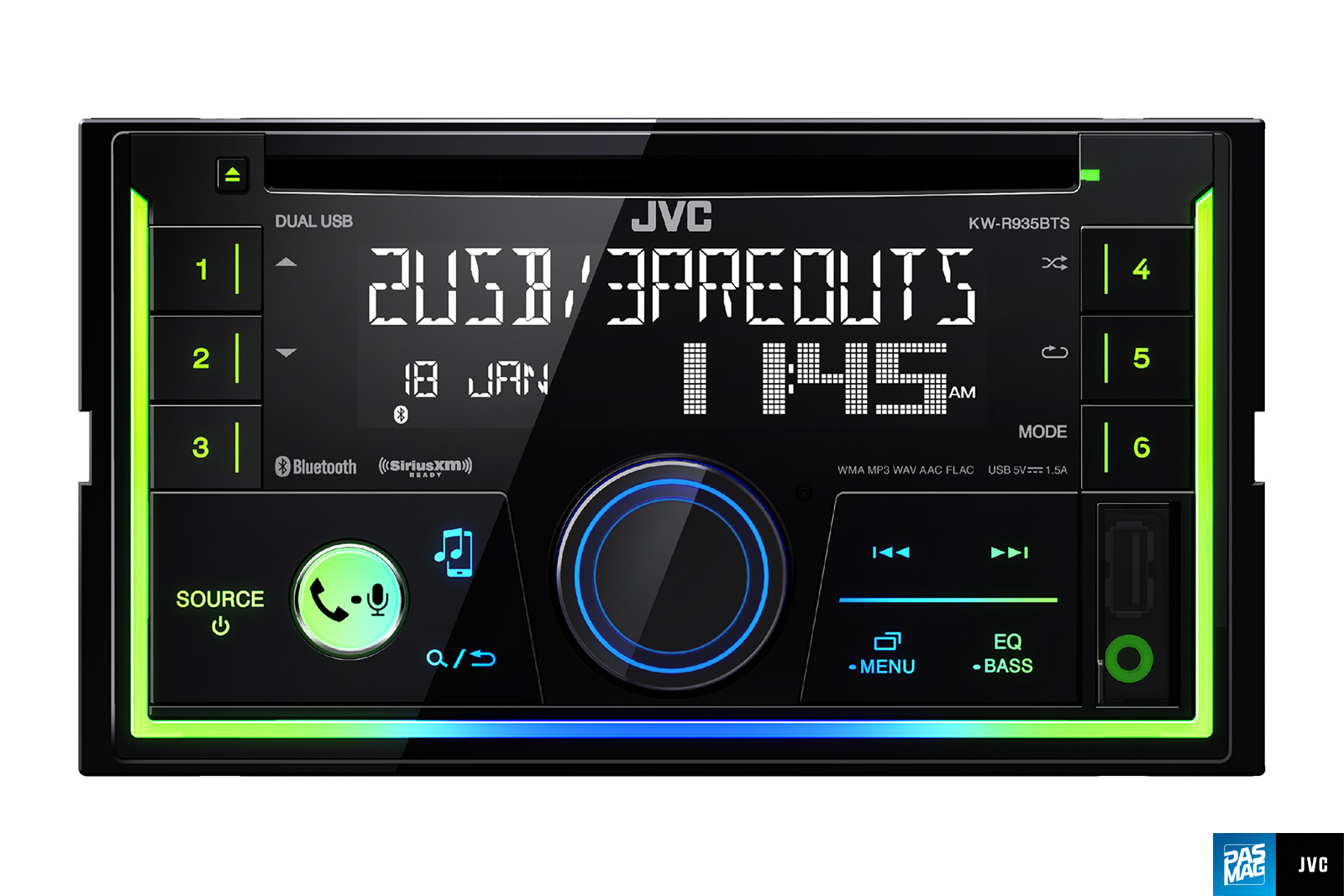 CONTROLS AND FUNCTIONALITY
A large, easy to use volume control/menu selector knob is placed in the center of the panel, and a very easy to read LCD display is located just above it. To make it easy to read at greater off axis angles, the LCD is Vertically Aligned (VA) rather than the old Twisted Nematic (TN) technology. The display has large characters and a logical layout, providing information to the user with a quick glance. Buttons and controls are large and easy to use even with gloved fingers. The color and intensity of the front panel's lighting is separated into two separate zones, one is the LCD information panel, and the other is the illumination used for other buttons and lighted trim line around the unit's faceplate. In addition to intensity, these zones can be completely customized to your preferred choice of 49 different colors.
The KW-R935BTS is also compatible with JVC's Remote app, which will allow you to use your phone like a wireless remote via Bluetooth. The app can even display the radio's screen on the phone, and adjustments to the audio can be made from the phones screen.
LISTENING
Before going through the unit on the test bench, I hooked it up in my listening room to a studio amplifier and a set of high end reference monitors, as well as a pair of 12-inch woofers driven by another studio amplifier. The signals sent to the amplifiers were completely controlled by the crossovers built into the JVC radio, as these amps do not have any sort of filtering built in. I have to say I am continually surprised at the very good sound quality available at such a low price these days. I did my listening with the EQ set flat, and the DSP sound effects off, and the results were very good.
Sonic performance such as that found in this JVC was only available at the highest levels just a few years ago. Distortion and signal to noise both measured excellent for a reasonably priced unit, and frequency response was also sonically flat. Both the internal amplifier and the preamp outputs provided clean signals with good musicality and clarity. The controls operated smoothly and without any digital "zipper noise". Music on regular CDs sounded open and natural, having good detail, no sense of compression, and without audible noise. Using a track I have with a 15 Hz note on it, I noticed from the movement of the woofer cones that the unit had good bottom end output, and that should please the bassheads on a budget out there - you know who you are. This sort of low end response is fairly uncommon at the lower price points, so kudos to JVC for paying attention. While I can't say it is as good as my $1,200 reference unit, I can say that the differences between them would probably go unnoticed by most average listeners.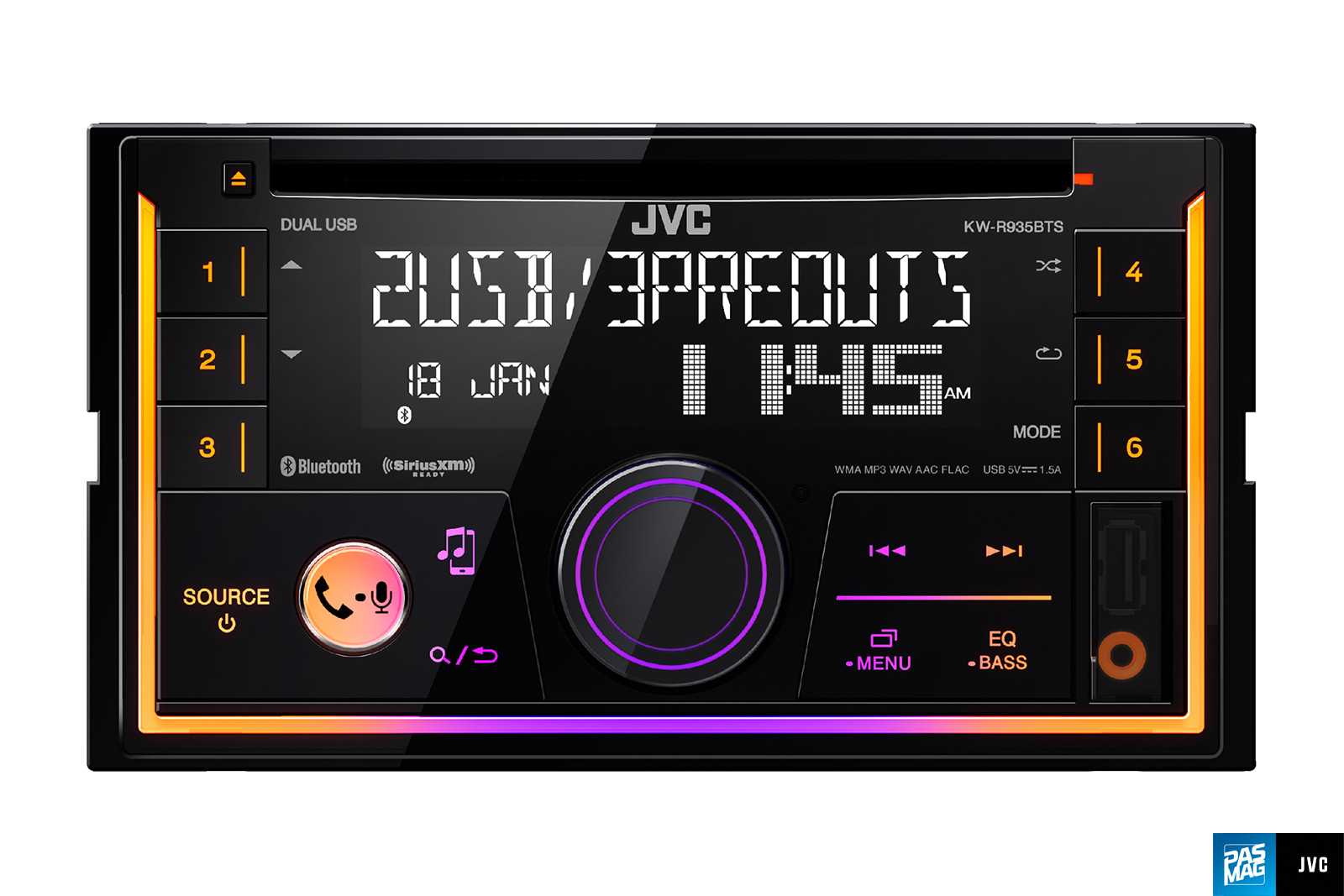 ON THE BENCH
As expected, the JVC KW-R935BTS measured fine, with no surprises. I would have liked to see the output impedance a bit lower, but for the price, I can't complain.
The built in amplifier delivered 17.8 watts x 4 and the FM tuner had good sensitivity, pulling in all of the local Phoenix stations without difficulty. AM performance was not quite as good, but still what I'd consider decent, especially if you live in an urban area. The 3.5-mm auxiliary input on the front panel will accept a full volt of signal without clipping, so it will be compatible with most any portable media player's headphone output.
MEASURED SPECIFICATIONS
AMPLIFIER
CEA-2006A Power per channel (all channels driven, @ 4 ohms): 17.8 watts/ch X 4
A-Wtd S/N Ratio (ref to 2V/1W @ 4 ohms) Amplified output: -83.9 dBA (CD)
THD+N @ 2V/1W @ 4 ohms 1kHz: 0.03%
Frequency Response (-3.0dB): 20Hz – 20kHz (CD), 20Hz – 20kHz (Aux)
PREAMP SECTION
Max Usable Output Voltage: 3.65Vrms
A-Wtd S/N Ratio ref to full output voltage: -88.8 dBA (CD)
Output Impedance: 530 ohms
Frequency Response (-3.0dB): 20Hz – 20kHz (CD), 20Hz – 20kHz (Aux)
CONCLUSION
The JVC KW-R935BTS is chock full of good technology. The vast array of sources and tuning capabilities it incorporates are going to be appreciated by anyone, whether making daily commutes or long road trips. And maybe best of all, having all this goodness available at a very reasonable price means the KW-R935BTS represents one of the best choices available in terms of value and functionality.
Technical Data: Pre-amp Section
For more information, go to www.jvc.com, Twitter, Instagram, Facebook and/or YouTube.