Obviously, there are a lot of high quality audio components available for our cars.
Some people choose a system because it plays loud, while others may prefer tonal balance over raw SPL, but when you ask a true audiophile what they look for in a system, the answer may surprise you. Real audiophiles already expect systems to sound natural and be capable of volumes high enough to mimic the live event, so they tend to look for more subtle characteristics that are not immediately evident to a casual listener.
Alpine Presents a Purist's Perspective If we look at things from a purist's perspective, the whole reason for listening to a stereo system is to try and recreate the feel, emotion, and realism of the actual event. Audiophiles spend countless blissful hours listening to their favorite recordings, not just for the music, but for the experience of the music. That means the audio playback system not only has to be accurate and natural sounding, but it also must recreate the original soundstage in front of the listener. Granted, some recordings are better at this than others, but when it's right, it can be amazing. This was the challenge accepted by Alpine's engineers – to attempt to recreate the original experience as perfectly as possible. To achieve this would mean a complete redesign of their sound system philosophy and present significant technical challenges. To better understand these challenges, we first have to understand the basic principles of stereo sound.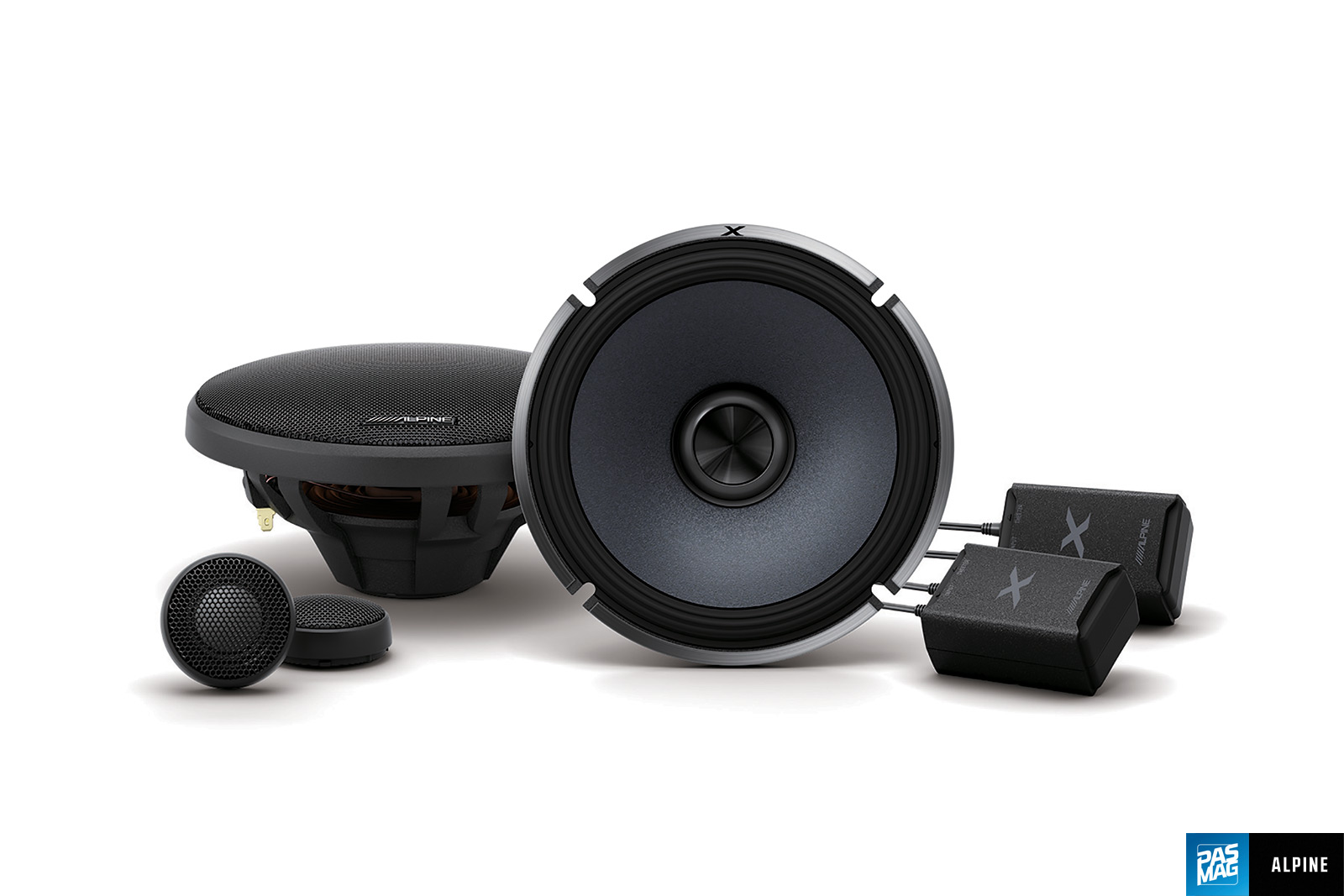 Stereo music is much more than the ability of having two different sounds coming from each channel at the same time. Everyone is probably familiar with the term "center image." This refers to the ability of an audio system to create the illusion of the performer's voice or instrument seemingly coming from a spot in open space exactly between the two speakers. When you get a system to do this spatial imaging really well, it's pretty astonishing. The result is the ability to close your eyes and be able to "see" every performer across the width and depth of the stage, precisely where they were when the recording was made. To accomplish this, a stereo system must have the ability to very closely control the arrival time and amplitude of every nuance of your music. If the system has errors in phase or frequency response, it can smear the stereo image and ruin the effect, preventing you from getting the most from the recording.
Enter Alpine ID, or "Image Defined." The goal for the Alpine ID products is to produce excellent tonal balance, dynamic range, and sound quality, all while creating a highly realistic sound stage. This new focus on stereo imaging permeates the entire line of products, from amplifiers and components to coaxial speakers and subwoofers. To accomplish the goal, Alpine created a whole new series of products that are specifically designed to be used together.
The new X-Series amplifiers, speakers, and subwoofers are the first products that have been totally redesigned to meet the new Alpine ID spec. All Alpine ID-spec products are all-new designs, and should be used together for maximum performance. Alpine's other products will likely also be redesigned to Alpine ID spec in time, with the eventual goal of all the Alpine ID-spec products having a "spatial imaging DNA" identified as unmistakably Alpine.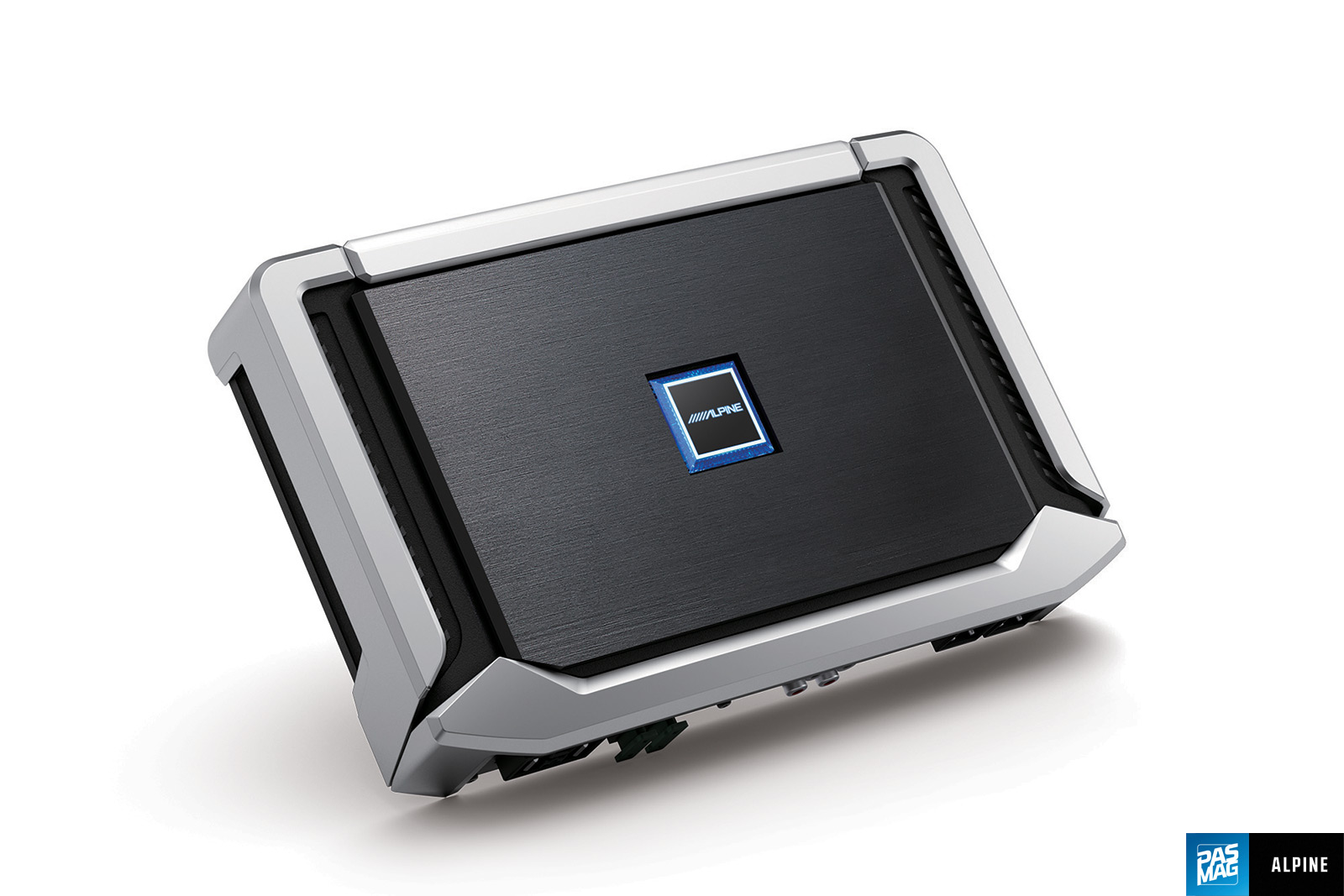 X-SERIES AMPLIFIERS
The new X-Series amplifiers are designed with minimal phase shift and for maximum control of the loudspeaker cone movement. Minimizing phase shift keeps the audio frequencies properly aligned and allows the music to reach the listener's ears in a way that preserves the soundstage and imaging of the original recording. By controlling the loudspeaker cone movement, the music is accurately reproduced with minimum coloration or distortion.
The X-Series amplifiers are designed with a proprietary Alpine circuit design that simplifies the signal path while maintaining class-leading power density and reliability. A simpler topology results in less coloration and a reduction in phase shift, which is important to proper imaging. An exclusive dual feedback loop corrects any distortion in the signal and supports high frequency operation that exceeds the hi-res audio standard, all the way to 60 kHz. A cast aluminum heatsink design works by removing heat through the newly designed profile, with improved airflow and an increase in cooling surface area. Natural convection routes hot air though channels on each side of the amp and draws cool air in from below, eliminating the need for fan cooling.
There are three new X-Series power density amplifiers: the five-channel X-A90V, the mono X-A90M, and the four-channel X-A70F.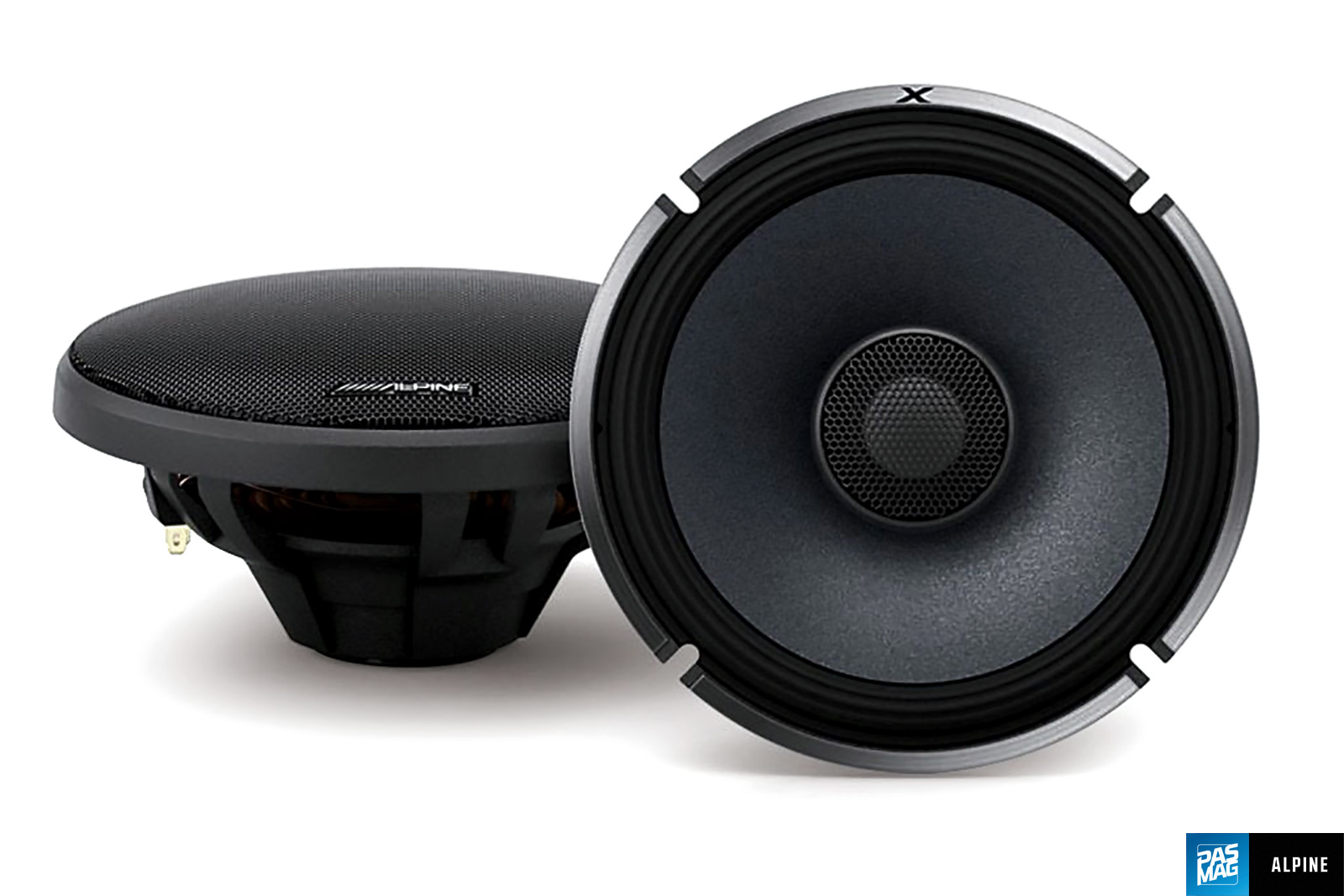 X-SERIES FULL RANGE SPEAKERS
The X-Series speakers are built on a rugged cast aluminum frame and use Alpine's proven HAMR (High Amplitude Multi-Roll) surround for great linear excursion. The speaker's motor is designed with higher than normal linear force capability, thanks to the new radial neodymium motor structure. In this design, a pole-type neo magnet is located on the inside of the voice coil, rather than on the outside, as it would be in a traditional design. This improves the magnetic coupling of the voice coil and improves the efficiency of the delivery of power. An ancillary benefit is the magnet size is smaller, making for an easy installation in tight, confined spaces. The new nanofiber cone material is extremely lightweight and rigid, while maintaining good internal damping, an important factor in controlling unwanted ringing.
When it came time to design the tweeters, Alpine selected carbon graphite material for its rigidity, while retaining the smoother sound of a soft dome diaphragm. The material allows for extended upper frequency response without harsh or biting sonics.
There are three new Alpine ID based models, the X-S65C 6.5-inch two-way components, the X-S65 6.5-inch coaxials, and the X-S69C 6x9-inch two-way components.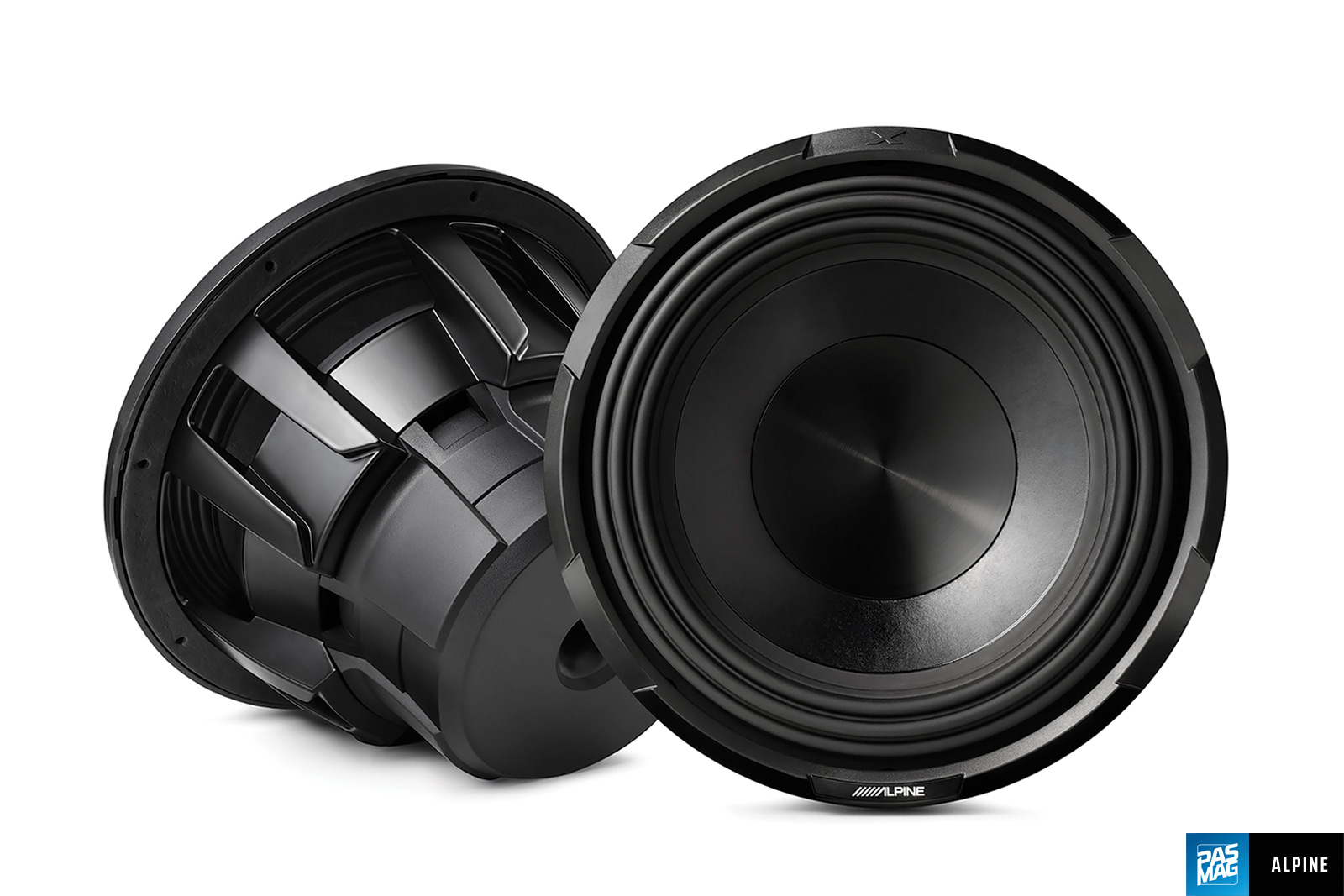 X-SERIES SUBWOOFERS
Alpine's X-Series subwoofers are also part of the Alpine ID design family and feature reduced distortion that can cause the woofer's position to be more easily located. In order to increase output while reducing THD and maximizing transient response, the new subwoofers have increased control throughout the entire power range.
With a linear Xmax of 24 mm, this woofer has 48 mm of throw, and is going to move a lot of air. There are dual spiders for precision control over the large dynamic range the system is capable of. To minimize distortion, dual shorting rings manage the voice coil's motion in the magnetic gap, ensuring low THD and tight, accurate timbre from the low-mass, rigid pulp/mica cone. A center pole radial heatsink draws heat away from the voice coil and transfers it outside the motor, for proper cooling under difficult conditions. The new X-Series woofers also feature the biggest HAMR surround yet, for linear cone movement throughout the large range of excursion.
The woofers are rated to handle 900 watts continuous, and are available in two sizes: the X-W12D4 12-inch dual four-ohm and the X-W10D4 10-inch dual four-ohm.
HOW DOES IT SOUND?
In a single word, brilliant! The effort that has been put into improving the overall sonic enjoyment of your music is evident. Frankly, the better a listener you are, and the better your recordings are, and the more you'll appreciate what the new Alpine ID is all about.
As part of my daily work, I listen to a lot of home audio components, from budget-minded to ridiculous, ultra-high-end, cost-no-object gear. The Alpine ID X-Series of products are good enough to be confused with some cost-no-object gear. My favorite high resolution recordings are reproduced quite faithfully, with very little coloration. Details and subtle nuances in the recordings are evident, and in my listening room with an ideal listening position, the stereo imaging is fantastic. In terms of absolute tonal accuracy, the system is quite good. Also, it's worth reminding you that while Alpine has done everything right in terms of the design and construction of the system, proper speaker placement and intelligently executed installation is still going to make or break the final result.
As I have mentioned many times before, I firmly believe that what sounds right to one person, may not sound right for another, so I urge you to go and audition this amazing system for yourself. If you can, listen to it in a vehicle with a professional installation so you can really hear just how much you may have been missing all this time.
For more info, go to www.alpine-usa.com, www.alpine-canada.com, Twitter, Instagram, Facebook and/or YouTube.