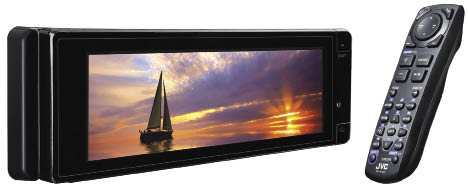 Individualism, personalization, customization, call it what you will, but it seems like everyone loves to make things theirs. Sometimes they do it to simply show off, sometimes just to be different, or sometimes just because they don't like the status quo. We put our personal touch on just about everything we own, from computers to cars and cell phones. Now, customization can be taken to the extreme with your source unit's faceplate. That is, if you have a JVC KD-AVX77 ELKAMELEON. The $649.95 USD ($699 in Canada) KD-AVX77 is part of the JVC El Kameleon family of products, and is highlighted by a full width, full color, active matrix TFT touch screen LCD front panel. And for those of you who want to have things exactly your own way, the amount of visual customization available with this unit is fantastic.
COOL FEATURES
If a picture is worth a thousand words, this thing would need about a hundred pictures to fully showcase its amazing array of settings and possible cosmetic configurations. To try to begin to list and explain all the available settings, controls and functions in the KD-AVX77 is an exercise in futility. The further I got into the menus and settings, the more stuff I found. Suffice to say that in terms of display functionality and customization, there are literally hundreds of possible combinations of wallpapers, font colors, backgrounds, GUI layouts, etc.
But there are a few very cool features that really deserve to be explained in a bit of detail. Being a part of the El Kameleon family, the first thing that becomes obvious is the "Blackout" technology that allows the radio to look unassuming and plain when turned off. No knobs or no buttons, just a smooth, sleek and stealth flat panel. This design provides a little extra peace of mind when parking anywhere for a short time when you don't want to be bothered taking the removable faceplate with you. Even when it's turned on, the display in the KD-AVX77 can also be set to go blank or simply remove the control icons from the screen after 10 seconds of no input from the user. This brings me to the next really cool function, called a proximity sensor. This feature works by sensing when your hand comes close to the front panel, and turning the display back on before you actually touch it. The display can be set to simply show a wallpaper or plain background, or it can be set to go off completely. If you prefer to have the display stay in El Kameleon mode until you actually touch it, that mode can also be selected. And for the ultimate in personalization, you can also download your own photos to use as wallpapers! Aside from all the customization possible, the JVC KD-AVX77's display is excellent for DVD playback as well. There are several screen modes to choose from, and the color, contrast and clarity are all very good.
For sure, this unit is first and foremost a very cool looking, high tech piece of dashboard eye candy. But it's not all flash and bling. The JVC KD-AVX77 also includes Bluetooth connectivity for hands free phone calls, and is both HD Radio and Satellite Radio ready. There is also an input for steering wheel remote control, using the appropriate adapter for each specific car.
Inside the KD-AVX77 is a high performance audio section, with a true 20W x 4 channel built in amplifier, a fan cooled chassis, and a preamp section that can deliver an honest 5 volts of output signal. A built in DSP processor provides good control for frequency response shaping via a 7-band graphic equalizer, and there are adjustments for very wide differences in distances between speakers as well.
Another built in audio enhancement is Dolby Pro-Logic II which can create a surround sound field from a standard stereo signal. Dolby Digital processing is also on-board for surround effect playbacks from digitally encoded DVDs. For those who have the need for rear seat entertainment, the KD-AVX77 also comes with a separate set of outputs for rear seat zone audio and video. You can even put the unit into split screen mode, and monitor both zones at the same time.

CONTROLS AND ERGONOMICS
Obviously I have spent an inordinate amount of time familiarizing myself with the touch screen controls and all the various adjustments of the JVC KD-AVX77. But even straight out of the box, the unit is easy to use, and the control icons are quite self explanatory.
I was able to find and adjust virtually every feature without even opening the 70+ page manual, which is
a testament to an intuitive GUI. (And the 70+ page manual is a testament to just how many options and adjustments there are!) The touch screen is very responsive, and requires only a light but deliberate touch
to activate any control function. You can also touch and drag your finger on it to initiate certain common commands as well, but I evidently lacked the dexterity required to make the volume change without looking for the control. The only quibble I have with it,
and it's an issue for me with all touch-screen only products, is that making any adjustment, even
a simple volume change, required me take my eyes off the road long enough to find the proper spot on the faceplate. If you have a physical knob to simply reach out for and find by tactile feel, you can keep your eyes on the road. However, to be fair, the KD-AVX77 does come with a good sized wireless remote control with control buttons shaped for tactile identification, and you could arguably use it for frequent adjustments without looking.
The faceplate angle is adjustable, and the position you select is stored in memory, so every time you turn the unit on it will recall the position you chose. iPod or iPhone connection and control is straightforward using the front panel controls or the iPods controls. Video playback is possible when you use the optional KS-PD100 iPod cable.
For some reason some of the DSP settings such as speaker size, and speaker distance can't be accessed in iPod or Tuner modes, which I found quite strange, but switching to disc mode brought them back so they could be accessed again.
Read on for Results