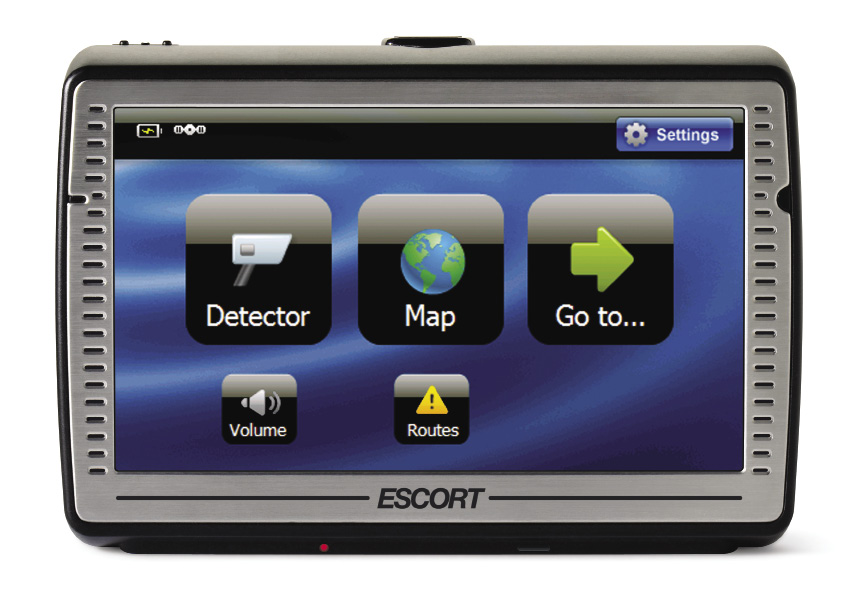 Those of us who rely on a radar detector on a daily basis are very familiar with the high performance Passport products from Escort. I've been a fan of the Passport products for years, and I have several of them installed in various vehicles. Not long ago we reviewed the outstanding Passport 9500ix, which incorporated a clever GPS function that allowed the unit to memorize the locations of various speed traps and false alarm signals. This blending of location and radar intelligence made it a joy to use, and when you received an alert, you knew it was real. Well, now they have taken the marriage of state of the art radar detection and GPS navigation to a whole new level with the Passport iQ.

Escort Radar was founded in 1978 under the name Cincinnati Microwave Inc. They are now headquartered in West Chester, OH and have a manufacturing facilty in Mississauga, ON.
Features
The innovative iQ combines the excellent radar detection performance of the 9500ix with a fully functional 3D GPS navigation unit. The result is a single product that can be dash or windshield mounted, and not only helps prevent speeding tickets, but also keeps you from getting lost! Combining their leading edge software and patented GPS technology, the iQ will not only monitor all the radar bands and learn the locations of the false alarms, it will also provide full navigation assistance for your route.

Considering the amount of technology inside, the unit is relatively compact, measuring about 5.4x3.7x1.6-inches overall. Those dimensions make it about the same width and height as a typical dash mounted GPS, and about twice as thick. A very well made adjustable windshield suction mount is included, and the unit clips on and off the mount easily for secure storage or transfer to another vehicle. The screen is customizable for your preferences of color, background and layout as well.

The main display is a 5-inch LCD full color touch screen, with a resolution of 480x272, which is not quite as high as some of the higher-end standalone GPS units, but still provides excellent resolution for typical navigation needs. For convenience, the navigation function of the iQ can be used for about two hours without connecting to the car's power, via the built in rechargeable battery.

The radar detector portion of the Passport iQ provides extremely long range detection of all radar bands, including X, K, Ka, Ku, and POP instant-on types. Additionally, it offers 360 degree laser protection, with front and rear-mounted laser sensors. For even greater protection against laser detection, the iQ is compatible with Escort's laser shifters. The GPS-powered intelligent radar detection virtually eliminates false alarms from almost any radar based sensors. The iQ incorporates Passport's proprietary TSR (Threat Signal Ranking) software, which sorts, ranks, and rejects traffic flow monitoring signals automatically. After only three days of commuting, the unit had learned the typical false-producing locations along my route, and automatically eliminated them.

A feature called "Mark Location" allows the driver to manually mark known speed traps, or any other areas of interest. Another cool feature that was immediately apparent was the unit's almost uncanny ability to already know when I was approaching a red light camera. This capability comes from the thousands of red-light and fixed position speed camera locations pre-loaded into the iQ's memory. A subscription to a constantly updated database of these locations is also available.

With the display in Detector View mode, you can monitor your speed and compass heading, next turn data, as well as numeric frequency data about radar alerts, while still receiving turn-by-turn voice commands if you are using the navigation for routing.

As a NAVTEQ powered GPS navigation device, the iQ provides turn-by-turn voice and text guidance, typical routing and searching functions, and lets you browse POIs by category. The large touch screen allows easy entering of address information via a QWERTY style keyboard.

In map view, the iQ provides your current location, and highlighted route. It also provides information regarding your heading, speed, time to arrival, and the posted speed limit will also be displayed. On certain highways, a lane assist function warns you in advance of what lane to be in for an upcoming exit. If a radar alert occurs while in navigation mode, an alert area on the screen will turn red and a tone will sound. This tone can be either set to one of the "Classic" Escort tones used for warnings of various types of radar, or a "Mild" setting provides softer, simpler (or more covert, depending on how you look at it) tones similar to a doorbell chime. One of the most talked about attributes of this unit is the stealth characteristic of the radar detection portion of the product. Mounted on my windshield in plain sight and ignoring the Escort logo under the screen, you would never know that there was a radar detector in the car. If you didn't know this was also a radar detector, it could be completely overlooked.

I have a lot of experience with the latest technology in GPS navigation, and while the iQ's performance as a pure GPS navigation device may not be quite up to par with the best of the dedicated navigation products in terms of display quality, lack of voice recognition and map re-drawing speeds, it will certainly get you where you need to go.
Conclusion
If you are looking for a state of the art radar detector with real intelligence and exemplary performance, and a very handy, intuitive 3D navigation system, the Passport iQ has you covered. It's also cheaper than buying separate units but if you're interested, get in line, because they are selling quickly!