For those of you who don't get out much, DS18 is an up and coming brand of quality car audio products, as well as pro DJ equipment.
These folks listen to and understand their customers, and as a result, produce product that is fresh, innovative, and trend-setting. You can think of them as the new kid on the block that makes the old-school brands just a little uneasy. And if that's not enough, their motto is simple, "We Like It Loud." For a change of pace, we thought it would be interesting to check out one of their newest marine/powersport-oriented amplifier offerings. To that end, they kindly sent us a new four-channel model from their Hydro Series: the NXL400.4D.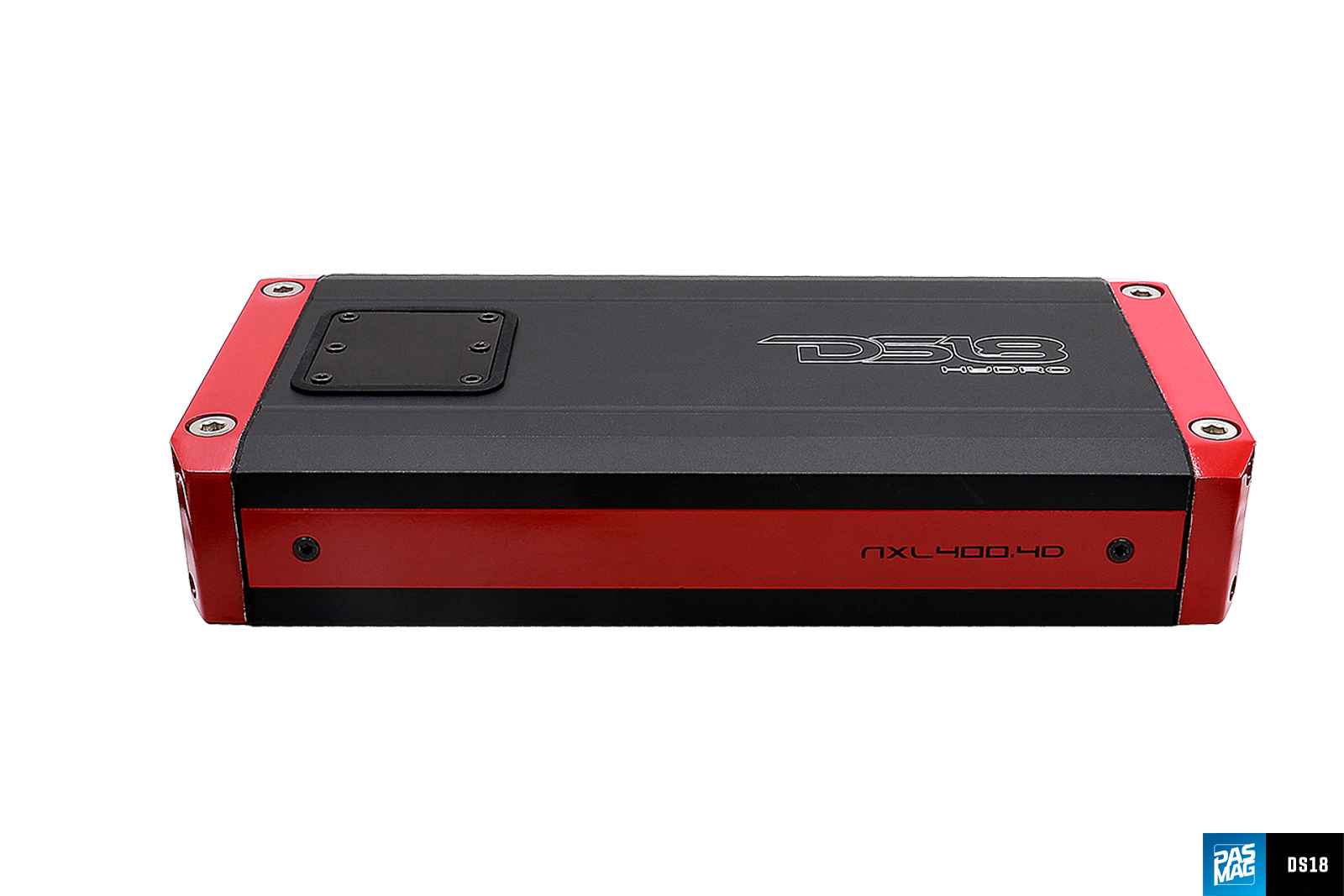 FEATURES
The NXL400.4D is designed for dependable, good sounding audio performance in the toughest conditions. With a water and dust resistance rating of IPX65, you can be assured that the NXL400.4D isn't going to be affected by the usual conditions found in a boat or UTV. Not only is the unit completely sealed externally, it also has a conformal coated PCB to further prevent any moisture related failures.
Rated at 100 and 150 watts-per-channel into four and two ohms, respectively, the amp's physical size falls into what I would consider the compact category, measuring only about 9.75 x 5 x 1.5 inches. The fit and finish of the NXL400.4D is very good, with a smooth, two-tone red and black heatsink. The result is a unique cosmetic that manages to look classy and more expensive than it is. All of the connections and controls are well marked and easy to read.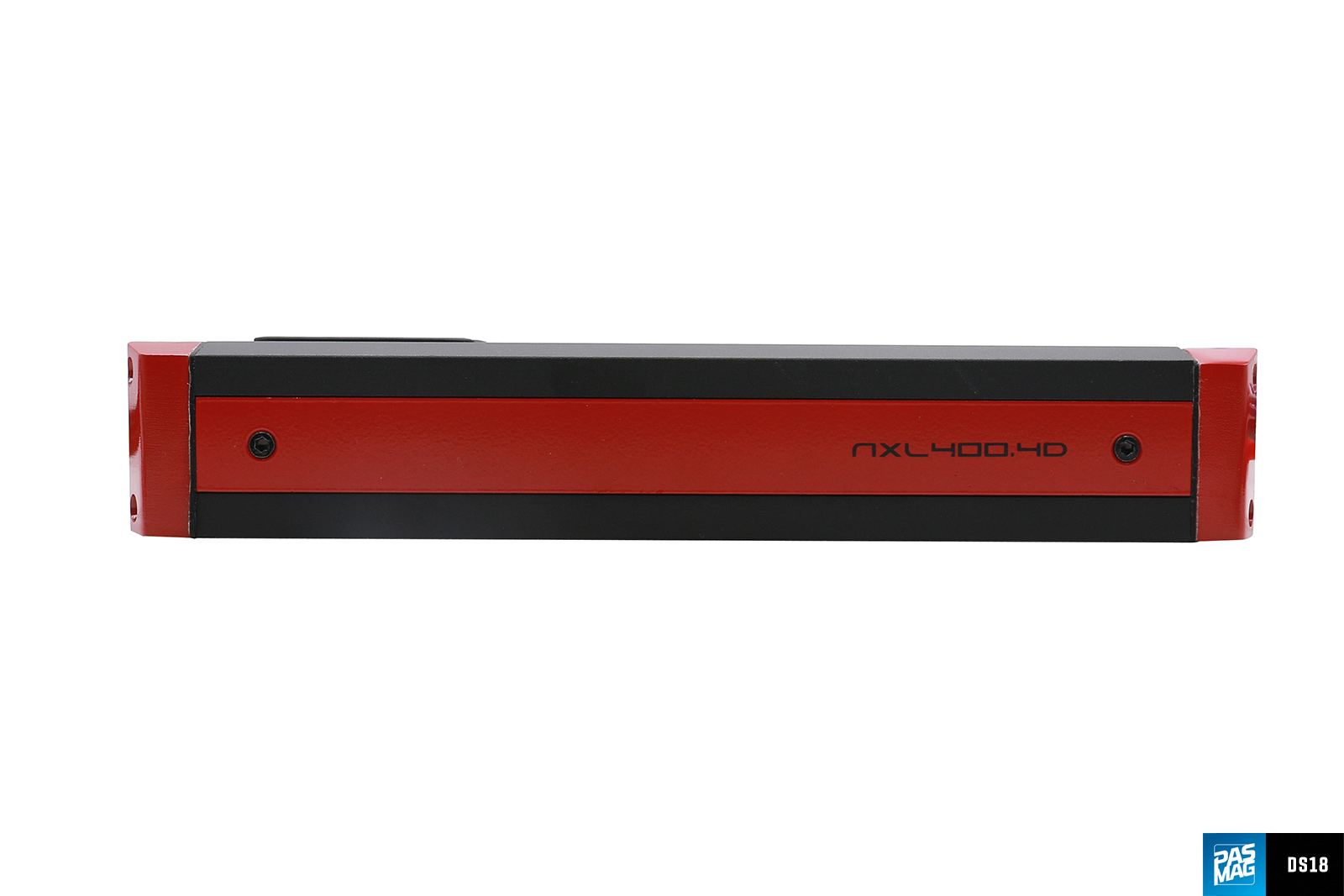 Speaking of controls, the NXL400.4D is equipped with easy-to-use top-mounted controls, sealed tightly under a screwed-in-place plexiglass panel. Low- and high-pass crossovers are adjustable from 40 Hz, all the way up to 4 kHz, using a normal pot.
All crossover slopes are fixed at -12 dB/Oct. Other features include a 2/4-channel input summing switch, and a single two-color LED informs of power-on or protection events. The connections are all pigtail-style, due to the molded rubber grommets that ensure the inside of the amp stays dry. Power connections are quality eight-gauge copper wire, and speaker wires use conventional car audio color identification. There are three pairs of RCA pigtails on the opposite end of the amp, for front and rear inputs, plus a pair of convenient full range outputs.
Taking the bottom off the amp, inside I found a nicely laid out PCB with a good amount of capacitance onboard and TO-220 MOSFETs. The amp uses high quality devices throughout. The board was clean, with no kluges or afterthoughts.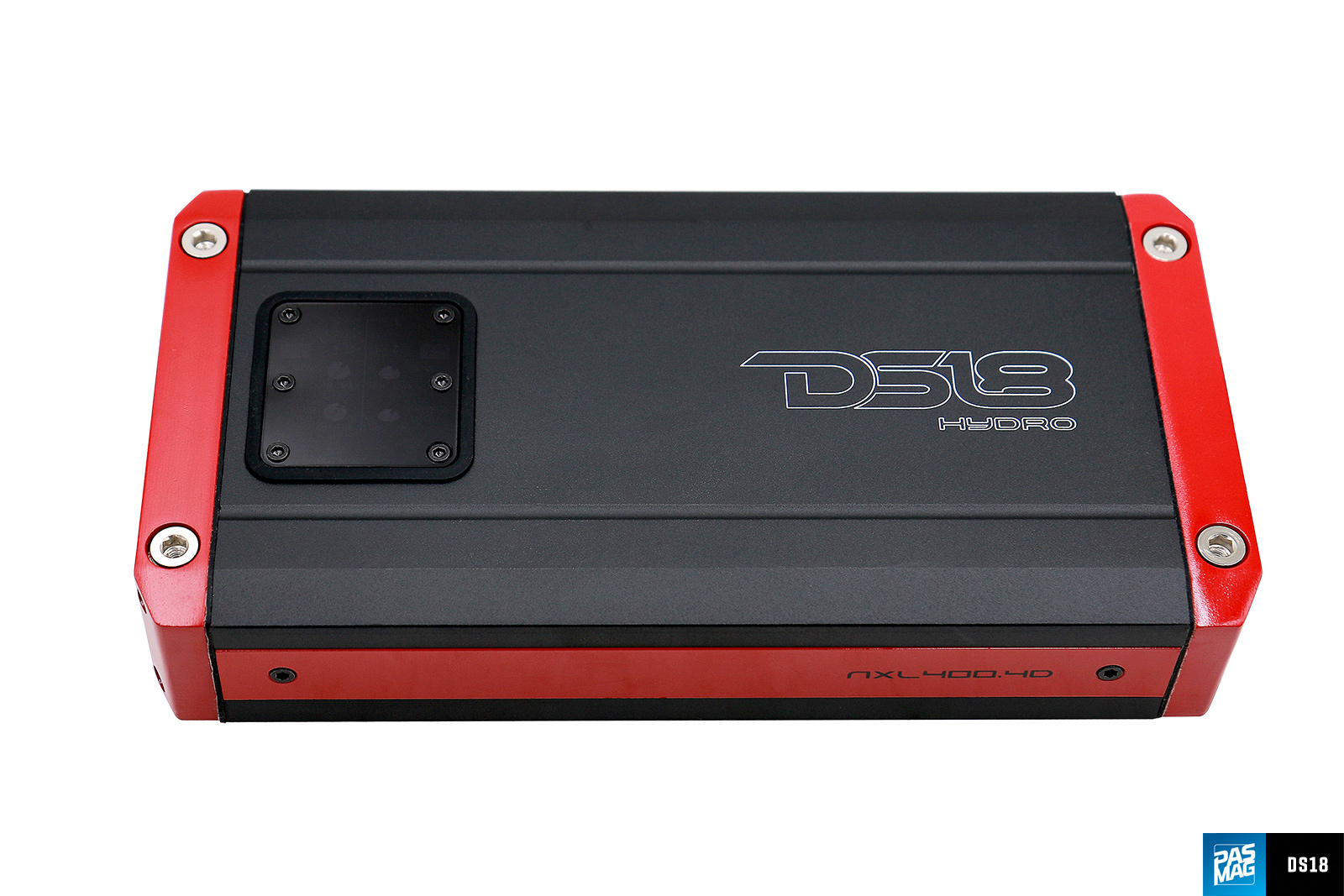 LISTENING
After re-assembling the amp, I moved into my listening room, and connected it into my reference system. I chose a configuration that had one pair of channels driving a four-ohm 12-inch subwoofer that in a vented enclosure. The other pair of channels were configured in full range to my component speakers. In a quiet listening room like mine, I'm able to hear subtleties in products that may be missed in a typical car environment. After snooping around inside it, I expected the amp to sound good, and I wasn't disappointed as the NXL400.4D proved to be quite a musical amplifier.
The amp's sonics are pleasing and uncolored overall. It reproduces music with excellent transparency and leaves virtually no sonic signature of its own. Bass response is exceedingly well-controlled, while the highest registers come through silky smooth and full of detail. I did notice just the slightest hint of an audible noise floor, but in a vehicle of any kind it would be completely masked by even low-level ambient noise. Tracks with a lot of horns and acoustic strings were remarkably uncolored, and sounded very natural.
I was in the mood for some up-tempo well-played tunes with wide dynamic range and a very wide frequency range, so I broke out my Sheffield Labs copy of The Usual Suspects and then a couple of big band tracks from Count Basie and Tommy Dorsey on a DMP recording. The DS18 amplifier did indeed have an abundance of power, but the really cool thing was the amplifier's ability to reproduce the dynamics in these difficult tracks. Large orchestras have the ability to reach very high SPL levels, so for a stereo system to have a lifelike sound, it needs to be able to reproduce these rapid shifts in overall sound level. If the amp has limited power, it will clip before the full volume of the recording is reached. This is one of those amplifiers that allow you distinguish an Ovation guitar from a Takamine or an Avalon, and I could have listened to it all day.
PERFORMANCE/BENCH MEASUREMENTS
At some point, however, I had to get back to the task at hand, which is informing you about how the NXL400.4D performed on the deadly accurate and unforgiving Cogent Audio Labs test bench. In terms of power delivery, the DS18 amp easily exceeded its published figures at two or four ohms. Signal-to-noise performance is average, but this amp was never intended for a dead quiet listening environment. Crosstalk performance was better than most sources can deliver, and thanks to the wide gain range capability, the amplifier is completely compatible with virtually any source unit or preamp. Power efficiency is about average for a good Class D design, and the amp showed no signs of thermal problems.
Chart 1: 2 OHM POWER vs THD+N @ 1kHz 14.4 Batt
Chart 2: 4 OHM POWER vs THD+N @ 1kHz 14.4 Batt
CONCLUSION
The DS18 NXL400.4D is a worthy competitor to many of the old-school brands. After hearing this amp, there is no question in my mind that the new kid on the block can build a good sounding amplifier, and with the sealed design and rugged construction, it's likely to provide many years of trouble-free listening pleasure.
TECHNICAL DATA
The following power measurements were obtained using industry standard methods. (1kHZ @ 1.0% THD+N - Battery voltages shown +/- 0.2V)