Choosing the right subwoofer for your ride can be a confusing and difficult process with a lot of teeth gnashing. If you talk to the folks at Digital Designs, they can make your decision a whole lot easier. Since 1986, Digital Designs have been handcrafting high performance audio products. Now operating out of their Oklahoma City facility where they build their subwoofers onsite, they have the ability to offer you some cool things very few manufacturers can.
The Digital Designs 3500 Series are built around providing customers with a custom woofer that precisely meets their requirements. Whether its technical specifications or cosmetic enhancements, Digital Designs sets themselves apart with subwoofers that can be tailored to meet your specific needs.
Options include four different levels of suspension compliance, higher magnetic energy, composite cones and dust caps. Even custom logos and colors are available.
For this review, they kindly provided two 3500 Series 12-inch woofers - the standard 3512g D2 with a felted paper cone and cellulose dust cap and a low Fs version of the same woofer with a composite cone, dust cap and different suspension. The intention is to show the performance differences from within the same family. Digital Designs subwoofers are regarded highly in sound quality and SPL circles, so you know they can build a product to satisfy everyone.
FEATURES
The Digital Designs 3512g woofers are hand-built for high performance use. This means handling big power over the long haul. To that end, these are serious woofers, weighing in at 33 pounds each. With a continuous power rating of 1,200 watts and a selling price of around $500, these woofers are definitely something different. Both woofers were supplied with dual two ohms coils.
The 3512g D2's are built around a black heavy duty cast aluminum basket and just look rugged. A 240-ounce strontium ferrite magnet is used to drive a thee-inch voice coil, wound on an aluminum former. The four layer voice coil windings come in either copper or aluminum, depending on the options you choose. Regardless of the material, the coils are built using the highest temperature rated coatings, made in the USA. The 3500 Series also include built-in heat radiators and a former with no less than twenty-two vents!
To locate the coil in the magnetic gap, a wide variety of spider configurations can be used, again depending on the customization requirements of the customer. The spiders can be double or triple layers, and made of a special Digital Designs blend of cotton/polyester/rubber. The spider system is designed to maintain driver linearity and remain stable over long periods of time.
Cone materials vary, but the basic woofer uses a synthetic fiber-felted cone, treated with a black, water-resistant coating. The result is a very strong cone with light weight. Other materials available include fancy composites as seen on the low Fs sample, carbon fiber.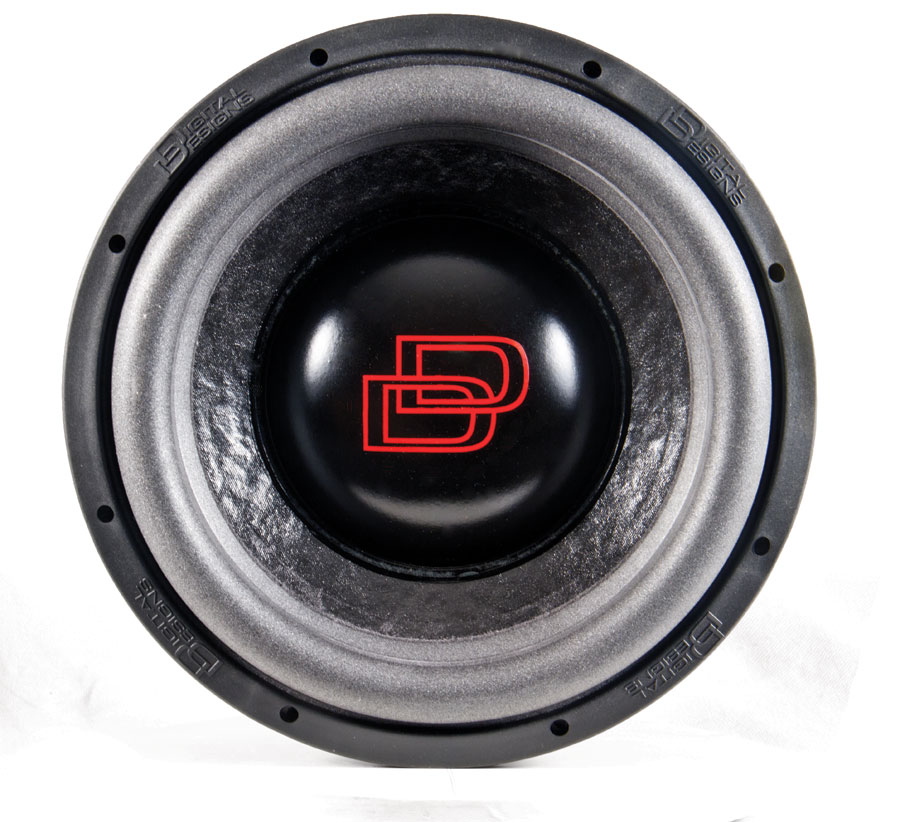 The surround on the 3512g is designed with Digital Designs' DD-EROM, which stands for "extended range of motion," to ensure maximum travel at high power and low frequencies.
You can choose to "supercharge" the woofer magnets by focusing the magnetic energy in the speaker gap, while the inclusion of Faraday billet aluminum shorting rings reduce EMF related issues that can cause distortion and heating.
A great deal of attention is paid to cooling the airflow throughout the woofer, with venting in the top plate, a 1.5-inch center vent, eight 0.5-inch pole piece cross vents and eight 0.375-inch gap cooling vents.
I have only one issue regarding the Digital Designs woofers, and it involves their use of "Direct Connection Lead Wires." On these woofers, rather than a typical spring-loaded or screw-type terminal, the woofers come from the factory pre-wired with a length of eight-gauge cables permanently attached to the woofer. This technique is used to prevent impedance creep due to terminal losses and maximize power transfer at low impedance loads, but I found them to be a pain to connect my amp to. In the manual it suggests crimp caps or wire nuts as a good termination method. Really? Where do I get crimp caps that will accept three eight-gauge cables (one from each coil, and one from the amp)? Also, what if I wanted to wire these woofers together? I understand the concerns, but there are better ways of dealing with the problem; and wire-nuts will never be found in any of my systems. Wire nuts are not meant for applications with a lot of vibration and rapid temperature changes. I strongly suggest you do not use wire nuts for anything in your car, ever. For your ceiling fan or light fixtures, fine. But not in your car.
I ended up twisting all three wires together, then soldering and heat shrinking the connections. For all four terminals it was a serious pain. On the other hand, if you do it right, you only have to do it once.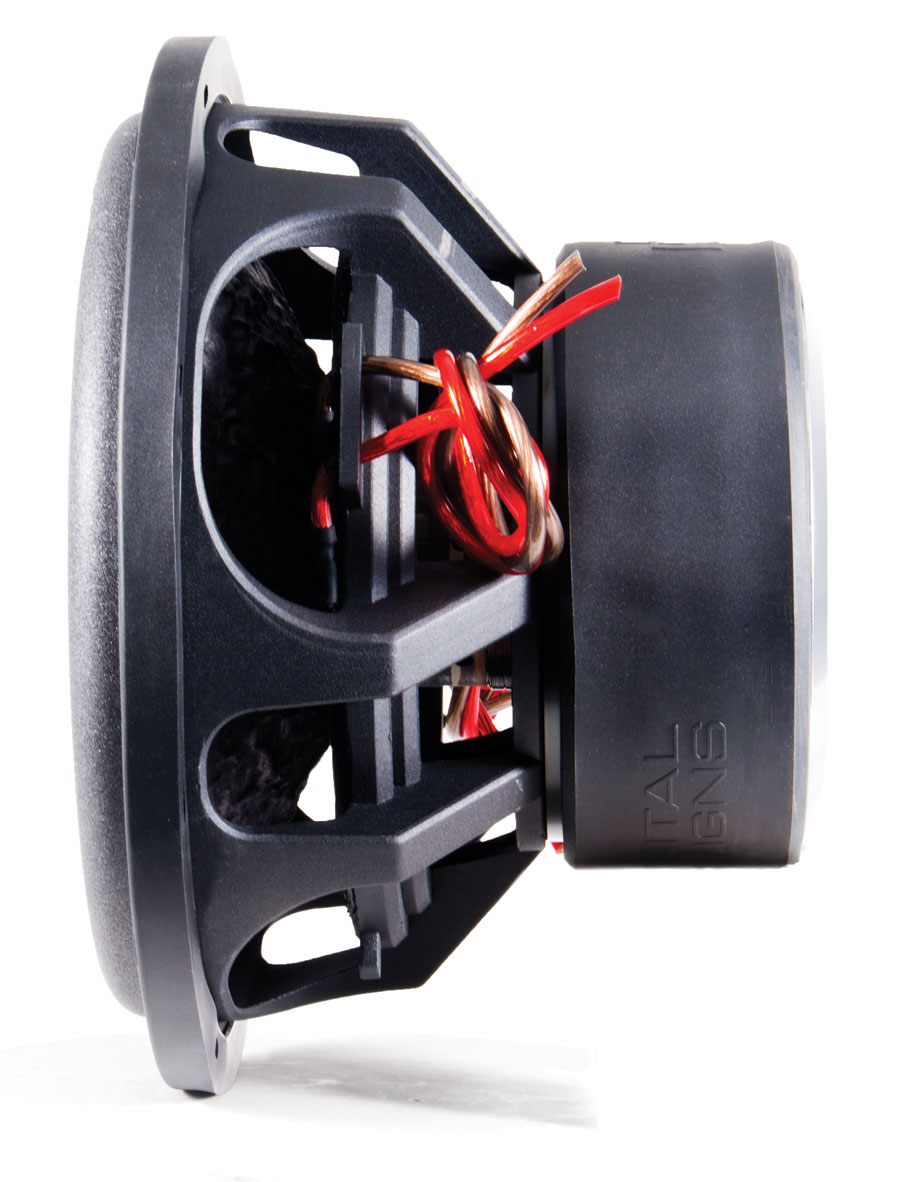 LISTENING
After breaking the woofers in, I was looking forward to listening to them and comparing the two designs. Thanks to the folks at Atrend in Elk Grove Village, IL for supplying the two well-made subwoofer cabinets for this test, which were specifically designed for these woofers. The Atrend enclosures were built with an internal volume of approximately 2.7-cubic feet, and tuned via a slot port to approximately 33 Hz.
Beginning with some well-recorded bass in "Danny's All Star Joint" by Rickie Lee Jones and Thom Rotella's "Friends" (with one of my favorite slap/pluck solos at 1:52 into the track), it didn't take long for me to realize these woofers were something special.
They are musical, with very good articulation and detail, and a smooth, round, natural-sounding bottom end. How good are they? An old audiophiles comment came to mind while listening to the Rotella track, "Yes, of course it's a Fender Precision Bass, but what strings are on it?" They are that good.
I switched musical gears and went to some Nine Inch Nails, Nelly, and Pussycat Dolls recordings, which have less fidelity, but a really strong bottom end. The woofers responded very well and the amount of bass was startling, considering I was listening to a single 12-inch woofer in a very large room. Out of curiosity, I played some of my standards for woofer listening, switching back and forth between the two woofers. After a brief period, I found that I strongly preferred the sound and performance of the low Fs version, with the composite cone and dust cap. The bass from this system seemed to be a bit stringer and deeper on the low end, but frankly, both woofers sounded excellent and I would not be disappointed with either. The amplifier I was using was a mere 1,500 watts, so I barely scratched the surface of the woofers' power handling.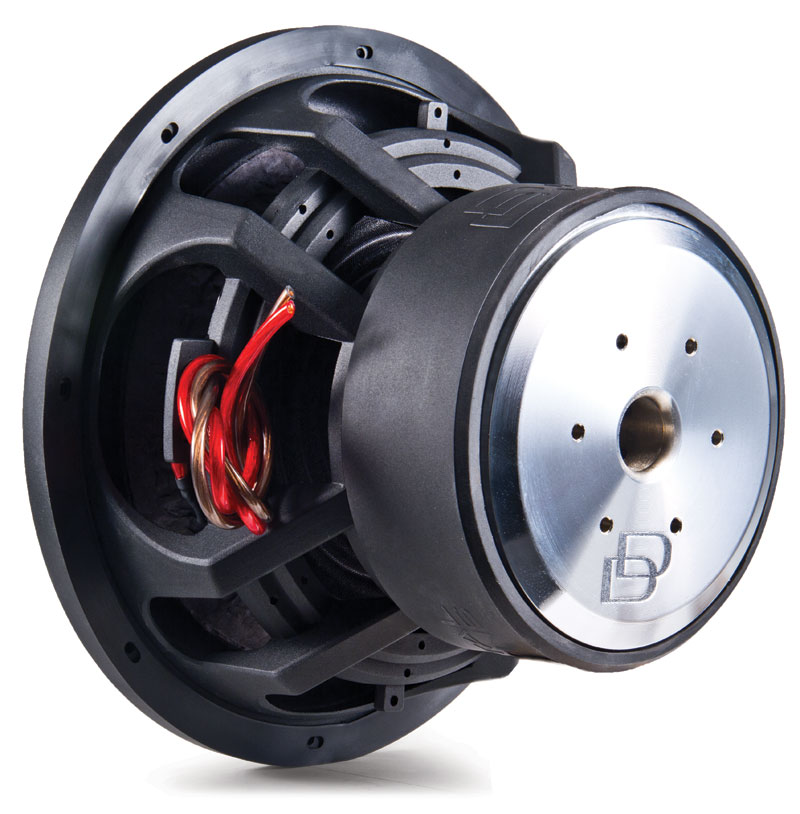 PERFORMANCE / BENCH MEASUREMENTS
After the woofers had cooled and normalized overnight, I moved to the lab and measured the small signal parameters and in-box frequency response. As I had suspected when listening, the low Fs woofer did have a bit more output and low end extension in these particular enclosures.
The parameters came in almost identical to the Digital Designs published specs, as you would expect with a woofer of this quality.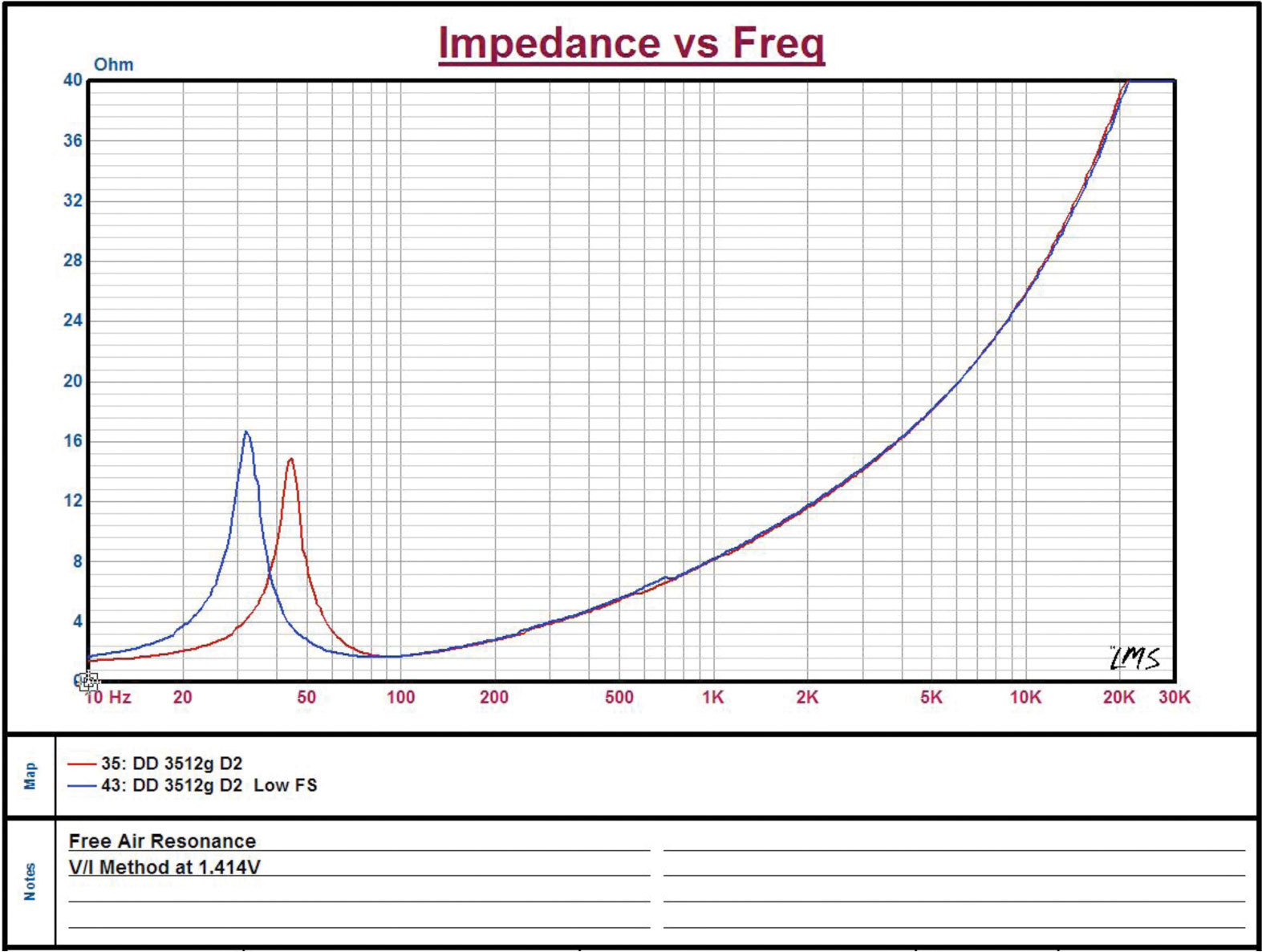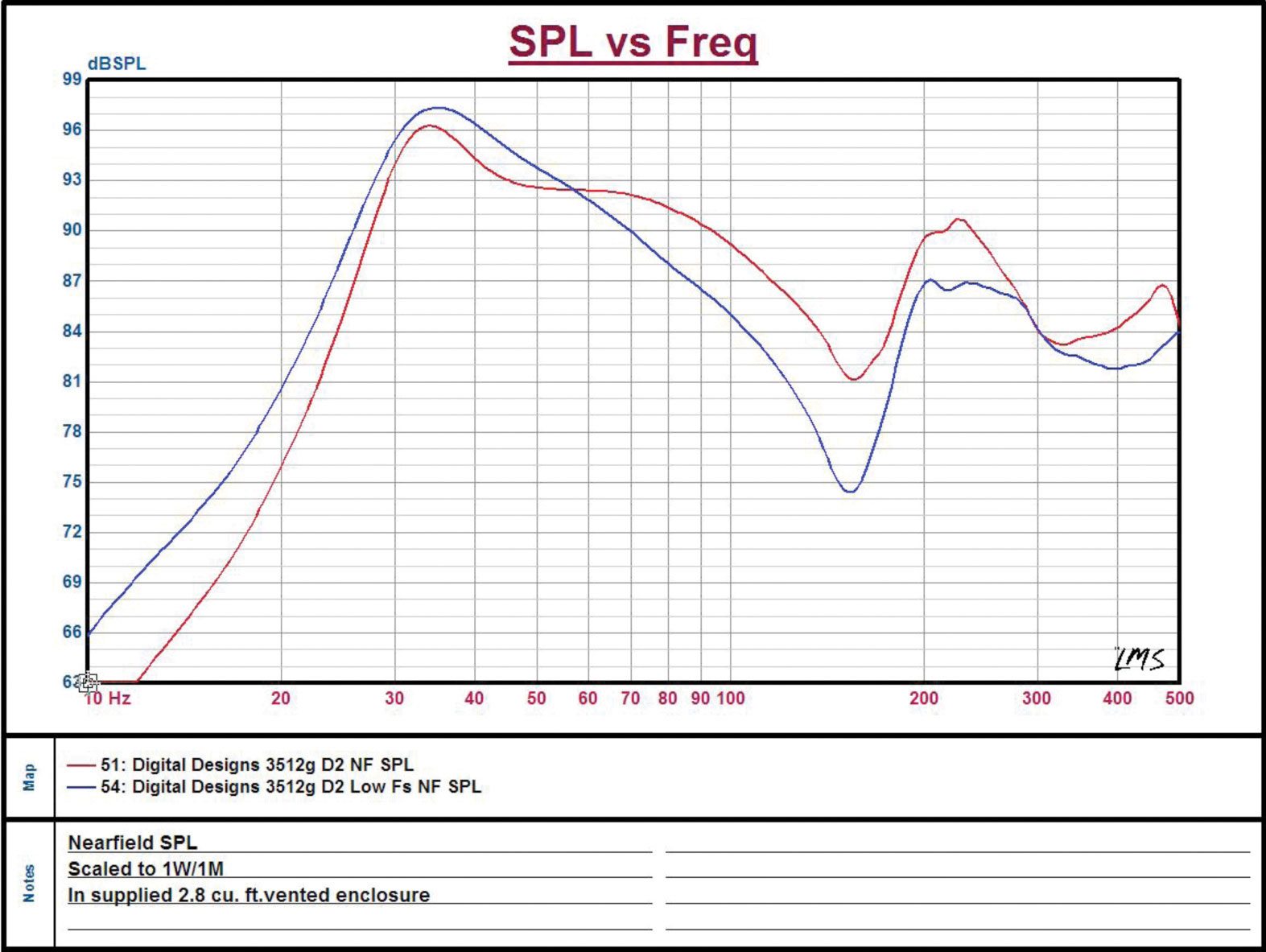 QUICK SPECS
Power Handling: 1,200 W RMS
Frequency Response: 20-500 Hz
Sensitivity: Variable depending on woofer version
Nominal Impedance: (2) 2 ohms coils
CONCLUSION
This was my first real exposure to the Digital Designs woofers and they are impressive. I wasn't sure if they were going to be all about SPL due their significant weight and construction, not to mention the 1,200 watt rating. I was pleasantly surprised to learn that these are very good sounding, musical woofers that also produce some serious sound pressure. As with most high performance products, they aren't cheap and they require a bit of compromise in enclosure volume. If you can handle the cost and the space, the results are very good. Just put some real connections on them, please?
For More information, visit http://ddaudio.com.