If you are a regular PASMAG reader, you've probably read all the reviews we've done featuring high-end double DIN DVD/Navigation units. But what if you're driving a car that won't accept a double DIN chassis and you still want all the goodies?
Well, here's some good news. The folks at Clarion have developed a cool new headunit that fits perfectly in your single DIN dash opening, yet still provides you with a full 7-inch motorized touchscreen. Now you can enjoy the same size screen and convenience features that all your double DIN friends have been flaunting. The Clarion product that accomplishes this feat is the NZ503. It has a retail price of $999, putting it roughly in the same price range as double DIN products.
When it comes to standard features, the Clarion NZ503 is fairly well-equipped, boasting all the usual accoutrements of a $1,000 DVD/Nav unit. Included is the 7-inch TFT touchscreen that motorizes smoothly out of the top half of the chassis, 2D or 3D navigation by TeleAtlas, built-in Parrot Bluetooth, Pandora compatibility, front and rear entertainment zones, and a true high-performance audio section.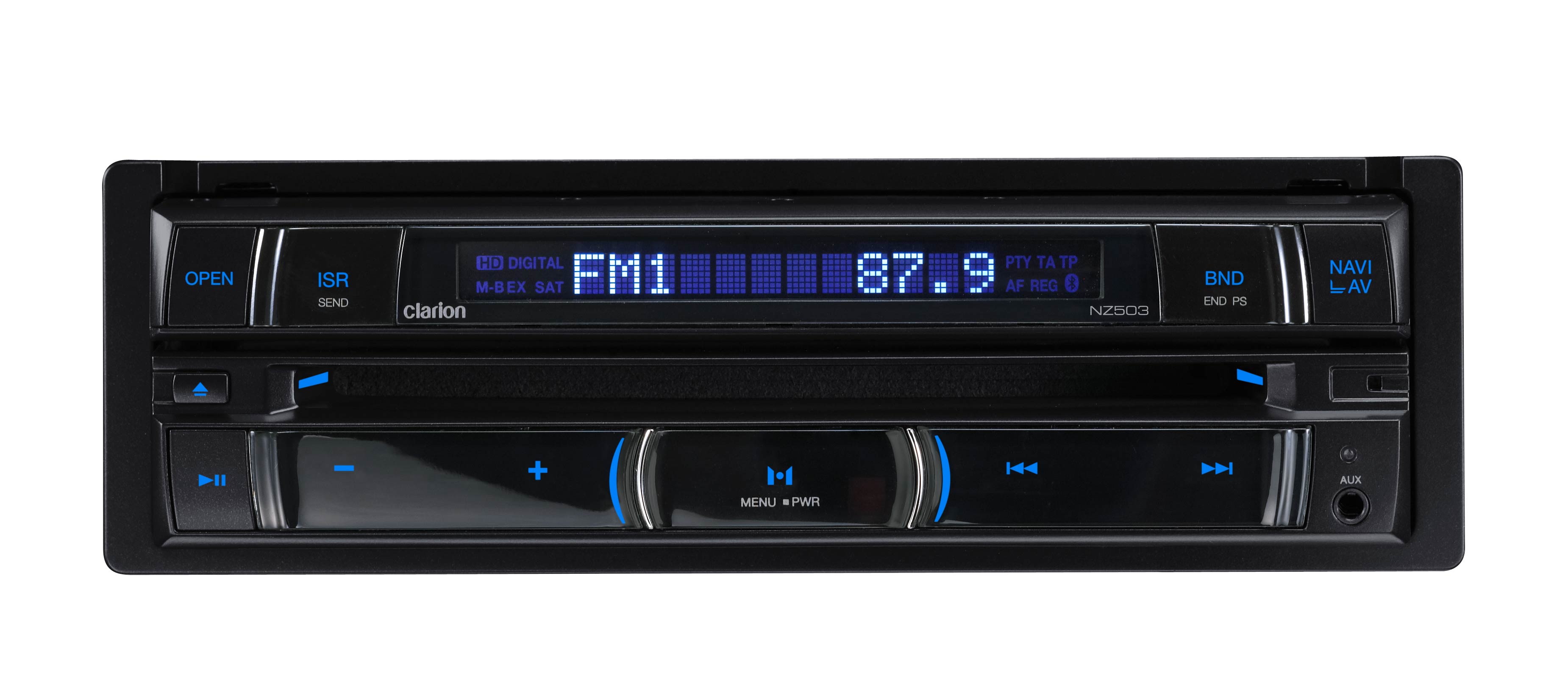 For maximum readability, the motorized screen can be adjusted to one of five angles, the last being saved to memory so it will be retained even after powering off. A variety of background wallpapers can be selected or you can download your own. When the screen is closed, the edge contains a 12-digit LCD display for basic information. Theft prevention comes in the form of a four-digit access code that must be entered if the unit's battery has been removed.
The navigation section of the receiver stores its mapping data on a 4GB Micro SD card cleverly hidden in the side edge of the LCD screen. The mapping data provides coverage for all 50 states, as well as Canada and Puerto Rico. The software provides turn-by-turn visual and spoken guidance, lane guidance (where available) and maps can be updated by visiting a Clarion portal site on the Internet.
Bluetooth functionality is built into the NZ503 for hands-free calls and audio streaming from your smartphone. When streaming audio, the head unit controls can be used for basic functions such as track selection and fast forward/rewind. The unit comes complete with a microphone integrated into the front panel. An optional remote-mounted microphone is also available.
Of course, the NZ503 is also fully compatible with the iPod/iPhone, and video playback is also supported if you purchase the optional connector cable. This feature provides access to many popular music apps such as iHeartRadio, Slacker and Rhapsody and video sources including YouTube and Netflix.
iPhone users can also take advantage of the Pandora Internet radio app (included) to create new stations, use the thumbs up/down function and skip songs. For those living in metropolitan areas, an optional HD Radio tuner module is available. Ditto for XM/Sirius satellite radio – simply connect the optional tuner, and you're good to go with your valid subscription.
All that sounds pretty cool, but I've been saving the best for last. You see, in addition to all of those cool features and functions, the audio section of the NZ503 is pretty terrific too. A built-in amplifier is rated at 19 watts per channel, and the three pairs of pre-outs are ready to provide over 5 volts of clean output to your amplifiers! Couple that with a powerful DSP that includes high and low pass crossovers, a three-band parametric EQ, and Magna Bass EX, and you have a serious audio source at your disposal. The unit also comes with an IR remote control, and can be connected to your car's steering wheel controls via an aftermarket adapter.
Check out one of these high performance units at a Clarion dealer near you, and tell 'em Garry from PASMAG sent ya.