Just when it seems like we've reached the pinnacle of development on something, a new product comes along like Alpine's PDX series of amplifiers. After Jason Kemmerer, Senior Engineer/Product Manager at Alpine of America explained a number of improvements and changes Alpine made to the popular PDX line, we decided to review the Alpine PDX-F6 four channel model for ourselves. The Alpine PDX-F6 is the most powerful 4 channel amp in the series of full range Class D products. It is rated at 150 watts per channel into either 4 or 2 ohms, and it has a full retail price of about $849.95.
FEATURES
The PDX series of Alpine amplifiers all share the exact same exterior dimensions at 7-9/16 x 10-1/8" x 2". This commonality allows the amplifiers to be "stacked" vertically allowing multiple amps in a smaller space, and capitalizing on the now popular stacking capabilility that the PDX amplifiers invented in the first place. To make that space even smaller, the latest models have been reduced in height by 20% compared to the previous generation.
The innovative plug-in speaker connectors are retained, and now the power connections are also done on a removable high current plug in connector. Two 30A fuses are mounted between the speaker and power connectors, which will accept 8 gauge and 4 gauge wires respectively. A nice metal cover fastens in place with a screw, and hides all the control settings from accidental adjustments or tampering fingers. These controls are pretty straightforward, there are a pair of gain pots, and each pair of channels can be configured in all pass, high pass or low pass modes with the built in -12dB/oct crossovers. The filters have a frequency range of 30Hz to 400Hz.
An all new semi-regulated power supply design brings with it improvements to the thermal and voltage protection circuits, as well as a reduction in noise, and an increase in power efficiency. The thermal management in the Alpine amplifier prevents the amp from shutting off, by gradually reducing the available output power until the amp thermally recovers. This technique allows the music to keep playing for much longer periods, and in most cases you'll never even know it was happening.
Internally, the new Alpine PDX amplifiers are basically an all new design, and use something Alpine calls "Global Modulation" to deliver an exceptionally wide bandwidth, very low noise amplifier. The net result is a full range Class D amplifier with sonics that rival (or better) a good traditional Class AB design. Another improvement is a reduction in the output impedance, again equaling or bettering the best traditional Class AB designs. Power supply current is taken care of by four N-Channel MOSFETs, and the 100V output devices are also N-Channel MOSFETs. Power supply capacitance measures a total of 6600µF, and the output stage employs 16,400µF of capacitance.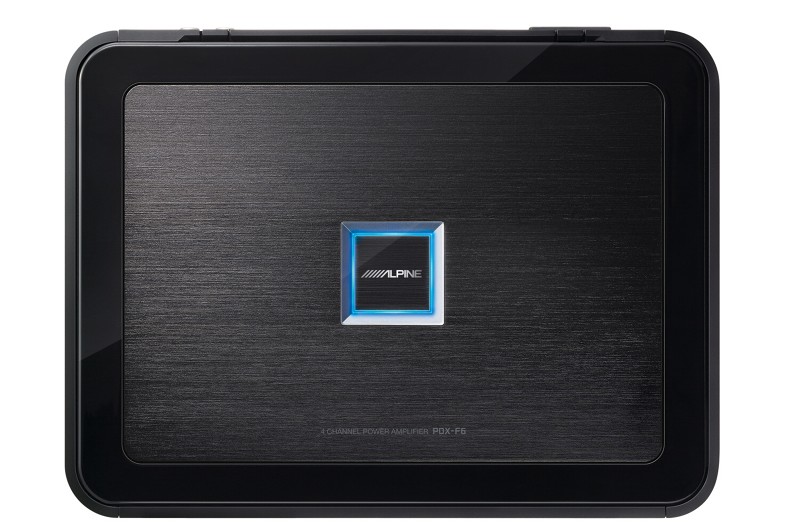 LISTENING / TESTING
While listening to the Alpine PDX-F6 it proved to be very quiet between passages, not even a hint of hiss or Class D buzzing. This is a very musical amp with lots of power and surprising transparency. This could be one of the best sounding Class D amplifiers I've ever heard. This new PDX-F6 from Alpine really surprised me. It sounded excellent in every way. I listened to it for at least 3 solid hours, and try as I might, it never showed me anything that I didn't like. My hat's off to the engineering team that designed the sonics of this amp, great work!
I'm always interested to see if things really measure how they sound, and the Alpine PDX-F6 didn't disappoint. It exceeded all of its published specifications, and although it is rated to produce the same power at 4 or 2 ohms, it actually does make a bit more power when the impedance drops. And for a guy who grew up with Ohm's Law floating around in his head, that just seems like the way things should be.
The Signal to Noise ratio was incredibly good for a Class D amplifier, and so was the stereo separation, and interchannel gain tracking. When Alpine told me this was a true wideband amplifier, I have to admit I was skeptical. But on my test bench I measured an incredible frequency response from 4Hz to over 100,000Hz! This is by far the best frequency response I've ever seen on a Class D amplifier. The major advantage to a full range Class D amplifier is power efficiency, which means cooler running, and less load on your electrical system!
CONCLUSION
I have to admit, as anti-Class D as I usually am, I can't really find anything to gripe about on the Alpine PDX-F6. It's not cheap, and the pre-amp section is a little light on features compared to some of the competition, but then you start listening to it, and you quickly forget those details. The amp sounds fantastic, just sips current compared to my old amps, and looks great. It's small, easy to install and well, it does everything you ask of it. Go listen to one, and see if you can walk out of the store without it. For more information visit www.alpine-usa.com.