KICKER's® distinctive subwoofers are indentified by rich, deep bass, indestructibility and quality sound. That legendary engineering integrates with patented KICKER Solo-Baric® square-subwoofer technology to craft the Solo-Baric L3 Subwoofer series. The Solo-Baric L3 Subwoofer provides all that is expected from a KICKER subwoofer, plus the extra bass and decibels supplied by Solo-Baric's innovative square cone.
The Solo-Baric L3 was designed with many of the superior features used by all KICKER subwoofers, but in a square design, KICKER founder and President Steve Irby said.
"For a little more money, you can get more volume, more cone area and more air displacement," Irby said.

Utilizing KICKER's most advanced cone design, the Solo-Baric L3's SoloKon™ technology ensures strength for reliable performance and accurate response. Its injection-molded, ultra-rigid design with vented, 360-degree back-bracing pushes mass quantities of air for louder bass. The patented corner-ribbed, double-stitched Santoprene® surround assists in holding a heavy-duty motor structure in place, providing durability at a high excursion without compromising sound quality.

The subwoofer's long-lasting Spiralead™ tinsel leads and high-temp dual voice coils wrapped around a heat-dispersing, solid pole piece bond to handle the extreme power and temperatures transferred through the motor structure and cone. A progressive-roll, vented polycotton spider guarantees supreme linearity at the highest volumes.
A strong, stamp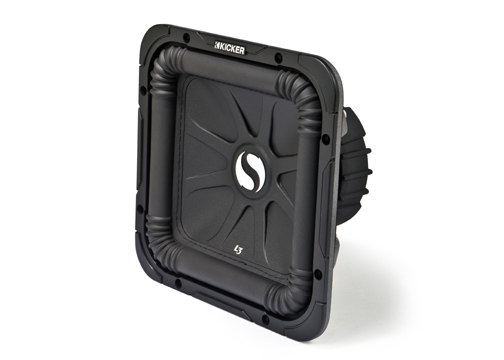 ed-steel basket protects the massive internal motion. Available in 10-, 12- and 15-inch models, Solo-Baric L3 Subwoofers come in 2-Ohm or 4-Ohm DVC models and deliver force from sealed- or vented-box applications.
KICKER Performance Audio products, a division of Stillwater Designs and Audio, Inc.®, are available for the mobile and home audio aftermarket at authorized dealers worldwide, and also through selected Original Equipment Manufacturers. Consumers needing more information on KICKER or Livin' Loud® may call the Consumer Information Line at 1-800-256-5425 or visit the brand Web site at www.kicker.com. Follow KICKER at facebook.com/kickeraudio and twitter.com/kickeraudio.

KICKER Solo-Baric L3 Subwoofers

Model S15L3 S12L3 S10L3
Size (in, cm) 15, 38 12, 30 10, 25
Impedance (Ohms) 2 or 4 DVC 2 or 4 DVC 2 or 4 DVC
Power handling watts, peak/RMS 1000/500 800/400 800/400
Sensitivity (dB 1w/1m) 90.29 86.3 85.3
Mounting depth (in, cm) 8-1/8, 20.6 6-1/4, 15.8 5-1/2, 14
Mounting cut-out diameter (in, cm) 13-3/4, 34.9 11-1/16, 28.1 9-5/16, 23.7
Min rec Sealed box vol (cu. ft, L) 1.8, 51 1.25, 35.4 0.8, 22.7
Max rec Sealed box vol (cu. ft, L) 5.2, 147 4.6, 130 3.0, 85
Min rec Vented box vol (cu. ft, L) 3.0, 85 1.75, 49.6 1.25, 35.4
Max rec Vented box vol (cu. ft, L) 5.0, 142 2.25, 63.7 1.75, 49.6
MSRP $349.95 $249.95 $199.95