KICKER® delivers extraordinary power and value to the 2018 holiday season with four new L7R™ Loaded Subwoofer Enclosures, based upon KICKER's innovative Solo-Baric® square technology. The enclosures will be sold at Authorized KICKER Dealers in-store and online.
Single vented 10- and 12-inch enclosures will be offered, each with a tapered profile for excellent performance behind a seat or in a trunk. A 1,200-watt (RMS), dual 12-inch woofer model with optimized front facing port will also be available, in addition to a thin 10-inch enclosure made specifically to fit under or behind a truck seat. All feature single, spring-loaded 2-ohm terminal cups for easy wiring, even with larger gauge wire connections.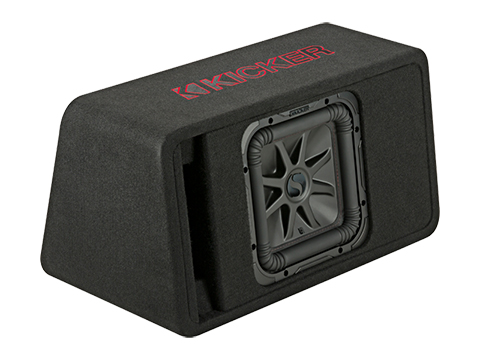 Each enclosure features plush black carpeting with rounded corners and the KICKER logo in custom red-stitched embroidery. Inside the enclosure, thick MDF construction and heavy internal bracing offers strength and stability for many years of use.
The most affordable of KICKER's square-sub loaded enclosures, the L7R Loaded Enclosures and their subwoofer cones average 20 percent more cone area than similarly sized round subs, thus moving more air and creating more bass than the round drivers. The woofer's unique design features KICKER's patented ribbed corners on a heavy-duty Santoprene® surround, SoloKon™ cone-bracing technology, and signature red stitching to bind the surround to the injection-molded cone for added strength. SoloKon's 360-degree, constant-contact back bracing adheres directly to every contour of the square cone, maximizing the mechanical coupling of the motor while making the woofer as strong and responsive as possible.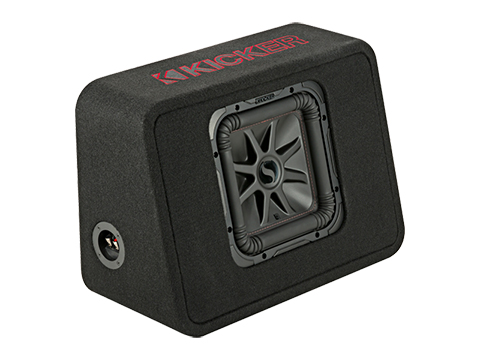 This unique combination of value, performance and innovation make L7R Loaded Enclosures some of the most attractive bass-makers in the category. The L7R subwoofer ended up as one of KICKER's top woofers in 2018.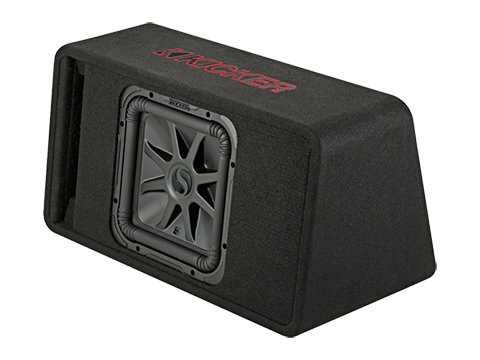 KICKER Performance Audio products, a division of Stillwater Designs and Audio, Inc.®, are available for the mobile and home audio aftermarket at authorized retailers worldwide, and also as Original Equipment for automobile manufacturers. Consumers seeking more information on KICKER or Livin' Loud® may call the Consumer Information Line at 1-800-256-5425 or visit the brand website at www.kicker.com. Follow KICKER socially at www.facebook.com/kickeraudio, www.twitter.com/kickeraudio, www.instagram.com/kickeraudio, or www.pinterest.com/kickeraudio, and use the hashtags #kickeraudio and #livinloud.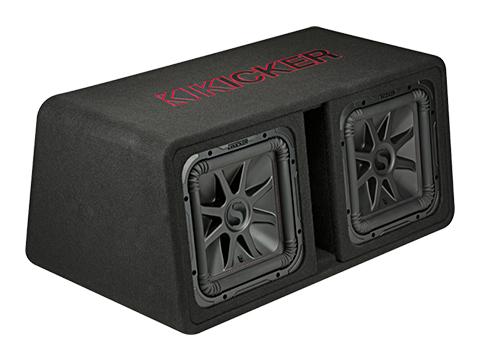 L7R Loaded Subwoofer Enclosures
Model DL7R12 VL7R12 TL7R10 VL7R10
Type dual single thin single
Number of woofers and size [in, cm] (2) 12, 30 (1) 12, 30 (1) 10, 25 (1) 10, 25
Rated Impedance [Ω] 2 2 2 2
Sensitivity [1W, 1m] 95dB 94dB 88dB 88.8dB
Rec. Amplified Power (Watts RMS) 1200 600 500 500
Frequency Response [Hz] 25–100 25–100 25–100 25–100
Enclosure Top Depth [in, cm] 15-1/4, 38.7 8-1/2, 21.7 6-1/2, 16.4 8-1/4, 21
Enclosure Base Depth [in, cm] 20-3/8, 51.8 14-7/8, 37.8 10, 25.4 13-7/8, 35.1
Enclosure Height [in, cm] 15-7/8, 40.2 15, 38.1 15, 38.1 13, 33
Enclosure Width [in, cm] 33-3/4, 85.7 28, 71.1 21-1/2, 54.6 24, 61