Clarion
CZ501 Headunit
Clarion's 2011 single CD source units have premium styling and connectivity options with radiant blue illumination across the line. The flagship CZ model, the CZ501 is the most advanced in the group and boasts built-in Bluetooth for hands-free calling and audio streaming, USB and AUX connections to access your favorite music and is HD Radio Ready. The lustrous 2-line display, also found on the CZ401 and CZ301, is easily visible and clearly displays 2 lines of track information. The CZ401 audio source unit has built-in HD Radio, a first for Clarion. That unit has a dedicated Tag button for iTunes tagging and sports differentiated cosmetics, similar to the CZ501, and the rich glossy black front panel finish as the other models in the line.
For more visit www.clarion.com
Alpine Electronics
CDE-123 CD Receiver
Alpine's CDE-123 CD receiver has a built-in 18W RMS x 4 amplifier (at CEA-2006 power ratings), a three-band parametric EQ, and three sets of pre-outs (4V). Pandora internet radio is available via the iPhone app and songs can be rated using the dedicated thumbs up/down buttons on the faceplate. SiriusXM Satellite Radio is also available (separate tuner and subscription required). The CDE-123 is equipped with a 3.5mm audio input jack, plus front and rear USB ports for connecting storage devices or playing music from two iPods or iPhones simultaneously. It is compatible with Bluetooth wireless technology (separate module required).
For more visit www.alpine-usa.com

Sony
DSX-S300BT
The new Sony DSX-S300BT and DSX-S200X car stereos each feature Sony's TuneTray, an internal mechanical compartment for an iPod or other USB devices. On command, the sleek front faceplate of either unit will flip down and output the TuneTray compartment, complete with an iPod adapter, for quick connection to music players. Each model also features an external USB input, allowing users to connect two USB capable devices simultaneously. The DSX-S300BT Head Unit features built-in Bluetooth® technology for hands-free calling and wireless music streaming. This model also has Sony's unique SensMe technology, which analyzes a connected music library to create custom playlists and radio channels, and utilizes an Advanced Sound Engine (ASE) to provide an outstanding in-car sound environment. It's communicated to the driver by a crystal-clear OEL display.
For more visit www.xplodsony.com or www.sonystyle.ca/xplod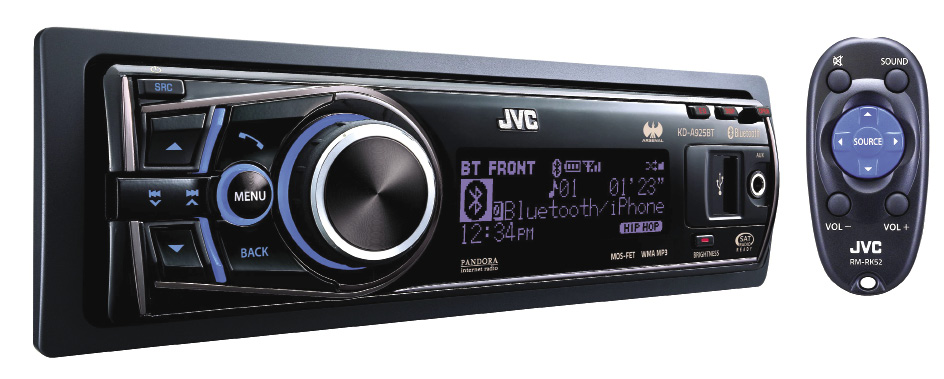 JVC
Arsenal Headunits
Packed with features, the new JVC Arsenal headunits feature: three RCA pre-outs, adjustable high pass filter, intelligent beep tones, 32-step seamless brightness control, MOSFET 50 x 4, 3-band iEQ, loudness, subwoofer control, a wireless key chain remote and are Bluetooth ready or offer built-in Bluetooth (KD-A925BT). An OEM steering wheel input control and a 2-year warranty to appeal to specialist retailers and enthusiasts. The KD-A925BT CD Receiver features Pandora Internet Radio application control for iPhone, front and rear dual direct USB 2.0 connection for the iPod/iPhone, providing 2-way iPod/iPhone control and charging. Bluetooth technology is enabled via a USB Bluetooth adapter and the units are expandable for HD Radio and Satellite Radio.
For more visit www.mobile.jvc.com or www.jvc.ca
Kenwood
Excelon KDC-X995
The flagship model in the Kenwood Excelon CD receiver lineup is the KDC-X995 which features several key technologies built into the unit for the first time; HD Radio, Bluetooth and Pandora internet radio link, making the KDC-X995 a standout model that truly fits the audio enthusiast lifestyle. The upgraded audio and data service features of HD Radio take full advantage of the audio performance and large display of the Kenwood. Both iPod and Pandora internet radio can now be controlled and viewed via the front panel of the KDC-X995, adding to driver safety and convenience. Through wireless connection via Bluetooth, full names and numbers from a cell phone's address book can be seen on the five-line variable color LCD display, which has improved visibility and faster scrolling of multiple names and numbers as well as music files.
For more visit www.kenwoodusa.com or www.kenwood.ca

O2 Electronics
MP1000
This fully-featured unit comes complete with a flip-down detachable front panel and elegant carry case. The large LCD display is illuminated in brilliant blue and has a power level meter and a real time clock function. On board is support for AM/FM, CD/CD-R/RW, MP3, WMA as well as ID3 tag support and search function. Inputs are made with USB, MMC and SD card slot and outputs are two RCA line-outs with RCA sub output. With 50W x 4 power on tap, this unit can be fine-tuned with several present EQs.
For more visit www.oxygenaudio.com

Dual XML8150
PA6500BT
This versatile Digital Media Receiver supports a variety of audio formats and digital media devices while also promoting safe driving habits with hands-free calling and secure docking for iPhone/iPod. The built-in Bluetooth technology allows for hands-free calling using your Bluetooth-enabled phone which has been paired with the receiver. It also lets you wirelessly stream audio from most smart phones and iPhone/iPod touch devices, as well as control the playback directly from the receiver's front panel. In addition to docking, the iPhone and iPod models can also be connected via the USB input on the front of the receiver. In both cases, you can fully control the iPod player either from the receiver's front panel or from the iPhone/iPod device itself. The dock adjusts to horizontal and vertical positions and accommodates most iPhone and iPod devices with 30-pin connectors, including the iPhone 4, iPod touch and iPod nano models. When not in use, the dock easily folds inside the receiver, leaving only the sleek, attractive faceplate in view.
For more visit www.dualav.com

Konaki
DVD9988
The Konaki DVD9988 is a full featured single DIN in-dash DVD player with a flip down detachable face delivering the absolute in security and functionality. The audio and DVD capacity is complete including DVD-R, MP3, VC-D, CD-RW, DIVX and MPEG4. There are virtually no forms of video storage that the Konaki DVD 9988 will not play back. For the truly advanced consumer there are front face accessible USB, SD and MMC card capabilities. The high power 4 channel x 45 watts internal power amplifier indicates that the Konaki DVD9988 DVD player is ready to be dropped into a beginner's system design but it is versatile enough to be built into the center piece of a truly high-end audio video system for the most demanding of consumers.
For more visit www.konaki.com

Pioneer
DEH-P8300UB
Pioneer brings the connected lifestyle into the car by integrating Pandora Internet radio capability in its new DEH-P8300UB CD player. With a connected iPhone, users can view and select Pandora stations stored on their Pandora account. Providing the same Pandora functionality found on a computer or smart phone, users can pause and skip tracks, bookmark songs and/or artists, and thumb up or down. The DEH-P8300UB features MP3/WMA/AAC playback, USB connectivity, signature OEL display, Radio Data Service, MOSFET 50W x 4, high-volt RCA outputs (x3), auxiliary input and optional Bluetooth.
For more visit www.pioneerelectronics.com or www.pioneerelectronics.ca

Roadview
SD-1100
Roadview's new SD-1100 has everything you need for your car in compact single-DIN unit including: CD, radio, DVD, USB and SD card. The only thing missing to complete your video system is one of their headrest monitors to watch your movies. The SD-1100 also sports a front panel auxiliary input, 50Wx4 power, sub output, two pairs of RCA line-out, electronic shock protection and detachable front panel for added security.
For more visit www.conceptbuy.com

Ultimate
CD201BT
The Ultimate CD201BT ups the ante for customers looking to connect their multimedia devices, and cell-phones to their car audio system. No longer is it necessary to burn thousands of songs to CDs in order to bring them on the road. Simply connect your multimedia player or iPod to the CD201BT and you're set for countless hours of listening enjoyment! Features include: USB, SD with mini-USB cable as well as hands-free Bluetooth communication and music streaming. The MOSFET 40W x 4 power is complemented by preset EQs and auxiliary audio input.
For more visit www.eriksonconsumer.com

Parrot
Asteroid
The Parrot ASTEROID is a progressive unit, running the Android operating system - so it operates on the same technology as your phone. Once connected with the GPS dongle (provided) and a 3G key (not provided), it enables access to services such as: Geo-location, Parrot maps and traffic information. At the same time it is still a powerful music machine playing all digital formats and internet radio. High-speed USB ports connect a 3G key, a USB key and/or the provided GPS antenna and there is one full-speed USB port dedicated to iPhone or iPod. A separate jack is used to connect an MP3 player and there is also an SD card slot. The unit features two pairs of RCA pre-amp outputs and one pair of RCAs for a subwoofer.
For more visit www.parrot.com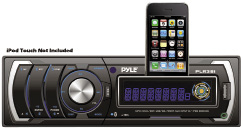 Pyle Audio
PLR38I
New for Pyle Audio 2011 is the PLR38I which features an on board docking station that is compatible with the iPod Touch and iPhone. This model features a dual band AM/FM Radio with a semi-detachable front faceplate. This unit also features USB & SD card inputs which allows for digital media to be played through the unit's built-in reader with full ID3 tag song naming for MP3 and WMA file formats. This model also has 3.5mm auxiliary audio input, which allows unlimited audio connectivity from any brand audio player that has standard headphone output ports. The unit features 50W x 4 power for a 200W maximum output.
For more visit www.pyleaudio.com

Precision Acoustics
PA6500BT
The Precision Acoustics PA6500BT Bluetooth CD player is a welcome addition to the entry headunit segment. Fully featured to compete against step-up products, it packs quite the value for the consumer. Pair your mobile phone and enjoy the freedom of hands-free communication, as well as music streaming audio with A2DP equipped phones. Listen to hours of music from an MP3 format compact disc, USB or media card. Plug your portable music device directly into the front panel auxiliary input. This head unit is designed with music playback in mind and has MOSFET 40W x 4 to push it!
For more visit www.precisionacoustics.com

Planet Audio
P375UA
If you're looking for just the right AM/FM CD Receiver, Planet Audio would like you to stop right here and consider the P375UA. Value based, and classic in its design, Planet Audio has done it again. Whatever media card, USB, or MP3 compatible player you bring to your vehicle, this unit can adapt to, and bring to light, their music with the usual Planet Audio elegance.
For more visit www.planetaudiousa.com
Boss Audio
738UA Headunit
Boss Audio's design team has a winner in the all new 738UA headunit for 2011. With a façade of brushed aluminum and blue-lit features this handsomely appointed, single-din "source unit" has everything needed to transport your musical identity from in-home to in-vehicle. This MP3-compatible unit has front panel USB and SD memory card ports plus front and rear Auxiliary inputs. Whether you're stuck in traffic or on the open road, the 700 Series from Boss will rock your ride.
For more visit www.bossaudio.com