Affordable Winter Performance is Here
Over 1-Million Canadian drivers and counting trust Sailun Iceblazer winter tires to safely get through the worst weather conditions.
TORONTO, ON, Nov 25, 2020 – Building on over a decade of winter product expertise, the Sailun ICEBLAZER lineup of studdable and studless winter tires has earned the trust of over 1-Million Canadian drivers and counting, as smart shoppers continue to discover the true value and proven performance found in all Sailun Tire products.
Available in three distinct models featuring 114 sizes listed among them, the wide range of ICEBLAZER winter tires deliver affordable performance and everyday value, precisely designed to enhance both driver confidence and overall safety in cold weather conditions.
"It's important to focus on educating every driver when it comes to understanding the big difference a set of winter tires can make versus rolling the dice on a set of all-seasons. Even if roads remain fairly dry, frigid temperatures have extremely harsh effects on rubber compounds that ultimately impact driver safety and confidence. The safest and best-performing tires for cold climate areas are true winter tires – everything else is simply a compromise," says Mark Pereira, Senior Marketing Manager at Sailun Tire.
GETTING WINTER READY
Manufactured for a wide range of popular sedans, coupes, crossovers, SUVs and trucks, the complete lineup of ICEBLAZER winter tires feature three-peak mountain snowflake (3PMS) certification and have been meticulously engineered and tested to confidently tackle snow, slush and ice. The 3PMS indicates that the Iceblazer meets specific snow traction performance requirements and have been designed specifically for use in severe snow conditions.
All Sailun ICEBLAZER winter tires feature proven winter rubber compounds for maximum performance in extreme temperatures with specialized grip-enhancing tread patterns including aggressive high density winter sipes.
Every tire in the ICEBLAZER family is created with a specially formulated compound and polymer blends to keep the rubber flexible, which in turn improves safety and handling in the coldest of winter conditions. Extensive use of enviro-friendly material also meets European REACH requirements, providing consumers with peace of mind regarding the environment and their own personal safety.
"The Sailun lineup of popular ICEBLAZER winter tires are designed to help keep drivers safe and have been professionally tested to deliver true cold weather performance in all types of winter driving conditions. From dry roads or icy streets and deep snow or wet slush, our Sailun ICEBLAZER products match and outperform other costly competitors costing nearly 40% more to deliver tremendous value and trusted confidence," says Wayne Cuculuzzi, Director of Consumer Products at Sailun Tire.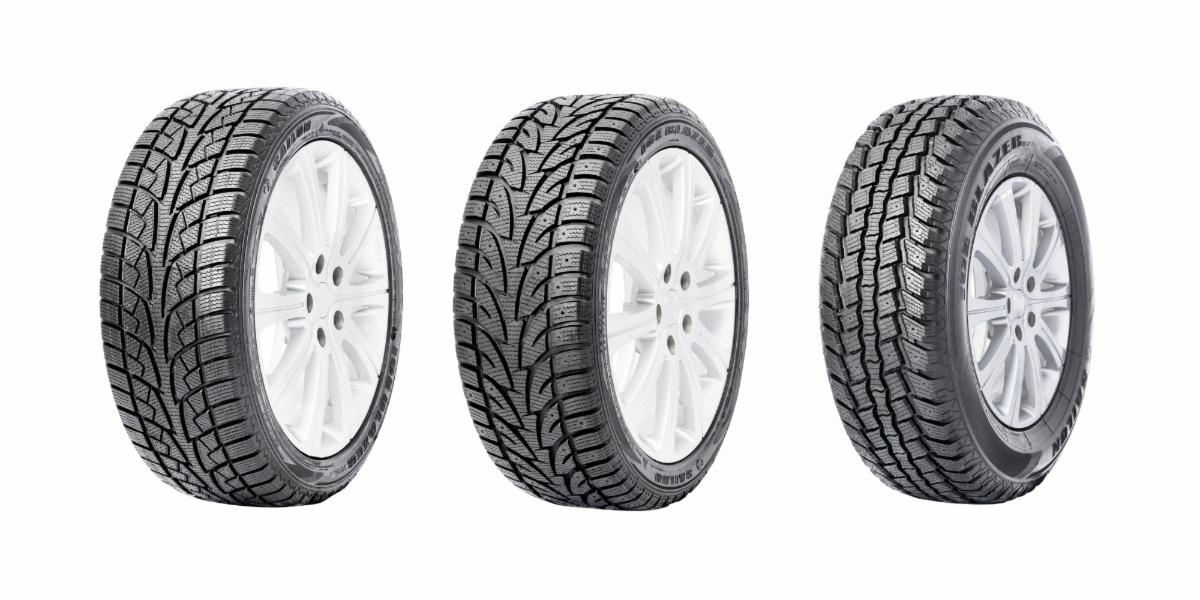 MEET THE ICEBLAZER LINEUP
Each Sailun ICEBLAZER tire features a unique tread pattern to respond to specific needs:
The best-selling ICEBLAZER WST1 features studding capability and utilizes V-channels and multi-directional high density siping for maximum grip and a quiet yet confident ride.
The ICEBLAZER WSL2 is a top-performing studless winter tire provides an aggressive bite in wet conditions and snow with self-cleaning characteristics to maximize directional grip.
The ICEBLAZER WST2 is specifically built for truck and SUV applications, offering impressive directional grip, aggressive tread pattern and a rugged design that's built to put winter in its place.
The complete Sailun ICEBLAZER lineup comes in a wide variety of popular sizes and is available now at authorized Sailun Tire retailers across Canada. For more information, please visit sailuntire.ca.