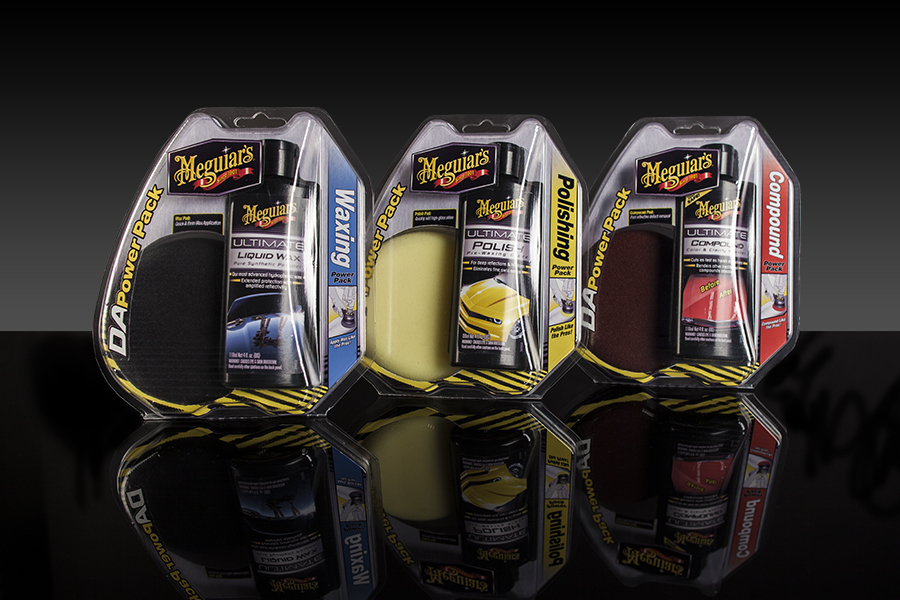 There is nothing like a car in showroom condition. The sparkle and reflection of a freshly cleaned car is enough to draw anyone's attention. And while it's nice to admire, when it comes time to put the work in, often we don't have the time or patience to hand wash, wax and buff out the finish.
A number of companies have come out with products and accessories to help alleviate the work involved, but the result is usually something that looks less than spectacular, or doesn't last as long as a traditional wax job. Even the systems that attach to your drill can leave swirl marks and do more damage to your paint than if it was left alone.
Thankfully, Meguiar's has stepped in with a new take on the drill-activated wax and polishing system, learning from the mistakes of previous rotary-action designs.
Meguiar's DA (Dual Action) Power System takes the standard drill-attachment and adds an additional oscillating motion to avoid the dreaded swirl marks that result from so many other systems. The system is designed with a number of attachments to work safely and provide a showroom finish on both clear and gel coat surfaces, even for a first time user.
Anyone who has hand waxed or polished their car knows the elbow grease required for a proper finish. The Meguiar's DA system not only takes the effort out of the work, but comes with a number of pads to ensure a great finish every time. The compounding pad removes oxidation, stains, light scratches and water spots. The polishing pad helps to remove swirl marks, and enhances the paint gloss and depth. Finally, the waxing pad pushes the wax into the paint to moisturize it for the final shine.
It can take hours to wash, dry and wax your car, but the Meguiar's system cuts that time down by a fraction. We were invited out for a live demonstration of the system and the results were incredible. Within 30 minutes the system brought the finish back to showroom quality on cars that looked like they had very little hope.
We're awaiting packages to come into the office to try on our own cars and we can't wait. With time often a concern, if we can make our cars look new in very little time, that's always a good thing. Many of our staff members are loyal users of Meguiar's and with the number of new products coming out, check back at PASMAG and PASMAG.com for our impressions throughout the season.
The system is available in stores in spring, or online right now at www.meguiars.com.