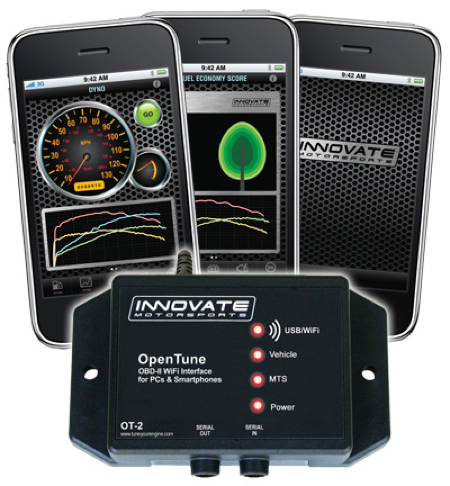 Have you ever wanted to turn your iPhone or smartphone into a wireless gauge display, performance meter and OBII card reader? Well, this technology is available for your car today and Innovate Motorsports has given you yet another reason to use your smartphone or iPhone for more performance reasons!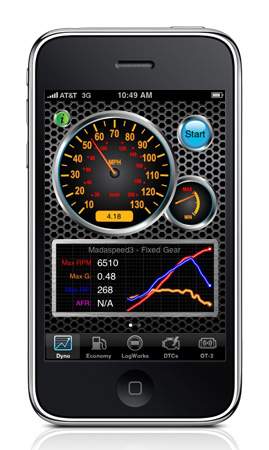 This ALL-IN-1 Performance Meter and OBD-II Code Reader is a new product from performance electronics company, Innovate Motorsports. Innovate is the company that brought you a huge line of gauges, advanced wideband sensors, handheld devices and accessories for your ride.
New from Innovate Motorsports is this cutting edge device that does all that for less than you might think … all with no absolutely no wires. It's called the OT-2, a simple to install and easy to use module that gathers all of the data from your engine vitals. It can then use that data to display in a gauge format on your phone screen and even data-log for referencing. It also doubles as a Performance Meter to measure the acceleration of your car and even an estimated dyno figure.
Inside the box we find all the essentials: the OT-2 module and all of the proper connections including a serial cable and a USB to interface with a laptop. Of course there are the quick and concise instructions to get started as well. The first step is to load the software onto a PC or MAC and download the free Logworks app to your iPhone or smartphone.
To install the module itself, all you have to do is plug it into the OBDII port in your car which is typically beneath your dash. Then it can be mounted permanently, since there are two pilot holes for screws in a hidden location near the firewall or on a kick panel. From there, simply find the Wi-Fi signal that the unit found on your phone and link up to the network and the software is ready to use.
There are four major modes of functionality: Gauges, Dyno, Efficiency, OBDII code reader, all of which can be data-logged. The Gauge Mode displays everything the OBD computer reads like boost, voltage, temperatures, RPM, speed and more all on your phone. There are over 20 OBDII parameters to choose from and you can display up to eight at a time. The Dyno Mode measures performance such as 0-60mph. ¼-mile, horsepower and g-forces using OBDII info and the iPhone g-meter. Next up is the Efficiency meter, this lets you know how green your driving style is. You can set the meter up to measure you fuel costs and see how different conditions and driving styles affect your mileage.
The OBDII code reader is certainly nothing new but grabbing the signals wirelessly definitely are! Many of you out there who like to mod cars, have check engine lights galore and now you can unlock the mystery behind them. Well, it's nice to know whether or not those codes are something serious or some sort of non-existent problem generated by your last modification.
Datalogging can be very important when checking the state of tune in your car. Analyze the info for yourself, email to friends or share it with your tuner to find the source of problems under the hood.
All this functionality on your phone inside and outside your car will only set you back $179 and will provide valuable data and functionality though a convenient Wi-Fi link!
Source:
Innovate Motorsports
OT-2 OBDII Code Reader & Performance Meter
www.innovatemotorsports.com