2006 Throwback Feature // Photography by Joey Redmond
---
Based in the confines of sunny Hawthorne, CA, Advanced Engine Management (or 'AEM' as the company is more commonly known) has been making huge advancements in the world of aftermarket performance for over 20 years. Renowned for ground-breaking technologies in bolt-on air intake systems and stand-alone engine management, AEM can also lay claim to building a fleet of outstanding purpose-built race vehicles. Looking to further promote its involvement in the growing drifting scene, the AEM crew decided to build this Nissan 350Z to campaign in the 2006 drift season.
With a six-second drag car, 200mph salt-flat-racer and Honda S2000 drift car in the company garage, AEM has proven that winning is in its blood. Teaming up with principal partners Memphis Car Audio and Nissan Motorsports, this 2006 Z33 was built over a 12-week period and showcases the latest in AEM products and technology.
However, as everybody knows, having a top-flight car is but a piece of the drifting puzzle. Placing a capable pilot behind the wheel is arguably even more important than the car itself, so AEM's selection process for a driver would be incredibly stringent.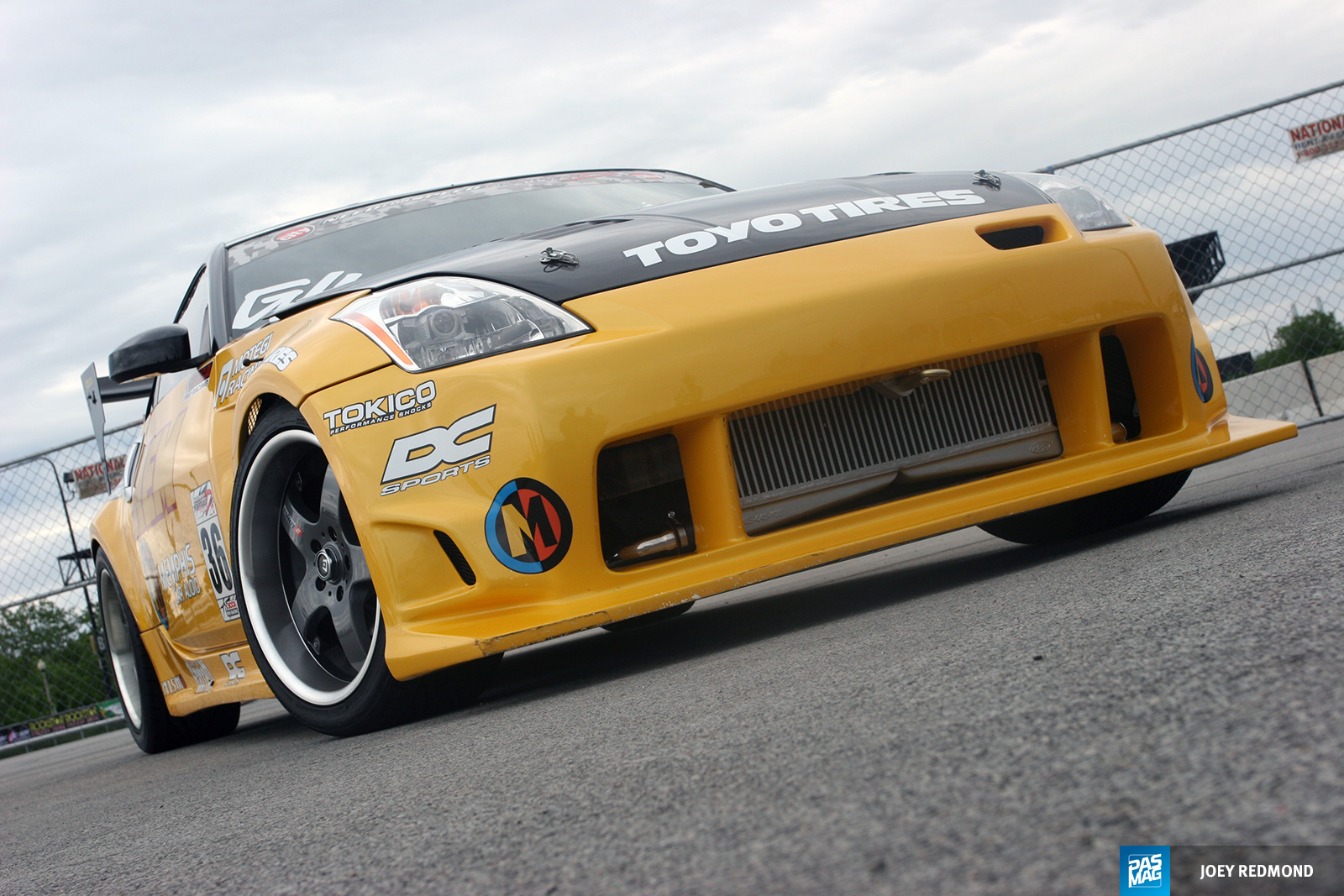 The team didn't have to look further than Tanner Foust, as the Steamboat, CO native brought a wealth a driving experience to the table. Not only does the 32-year-old list professional drifting on his driving resume, but also rally, ice and road racing, as well as stunt driving for feature films, television and commercials. Our faithful PAS readers may remember our interview with Foust along with Rhys Millen and Samuel Hubinette about their stunt work on The Fast and the Furious: Tokyo Drift back in our 8.03 / July 2006 issue. In Foust, AEM found a guru in car control and budding star ready to explode onto the drifting scene.
This was the second go-around for AEM in building a drift car, as the aforementioned AEM Honda S2000 was driven by Stephan Papadakis back in 2005. Data gathered from the team's first drifting campaign surely helped with this Z build-up, as the crew knew exactly what modifications would reap benefits on the track.
For example, the 300hp that the VQ35DE produces is a blast to drive on the streets, but it's considered too under-powered to move this 2,900lb beast around the track. Cue the custom twin-turbo kit that was plumbed in to help the 3.5L motor send 450hp to the wheels. Using exhaust manifolds from the APS twin-turbo kit, a pair of Garrett GT25R turbochargers was put into place to add pressurization.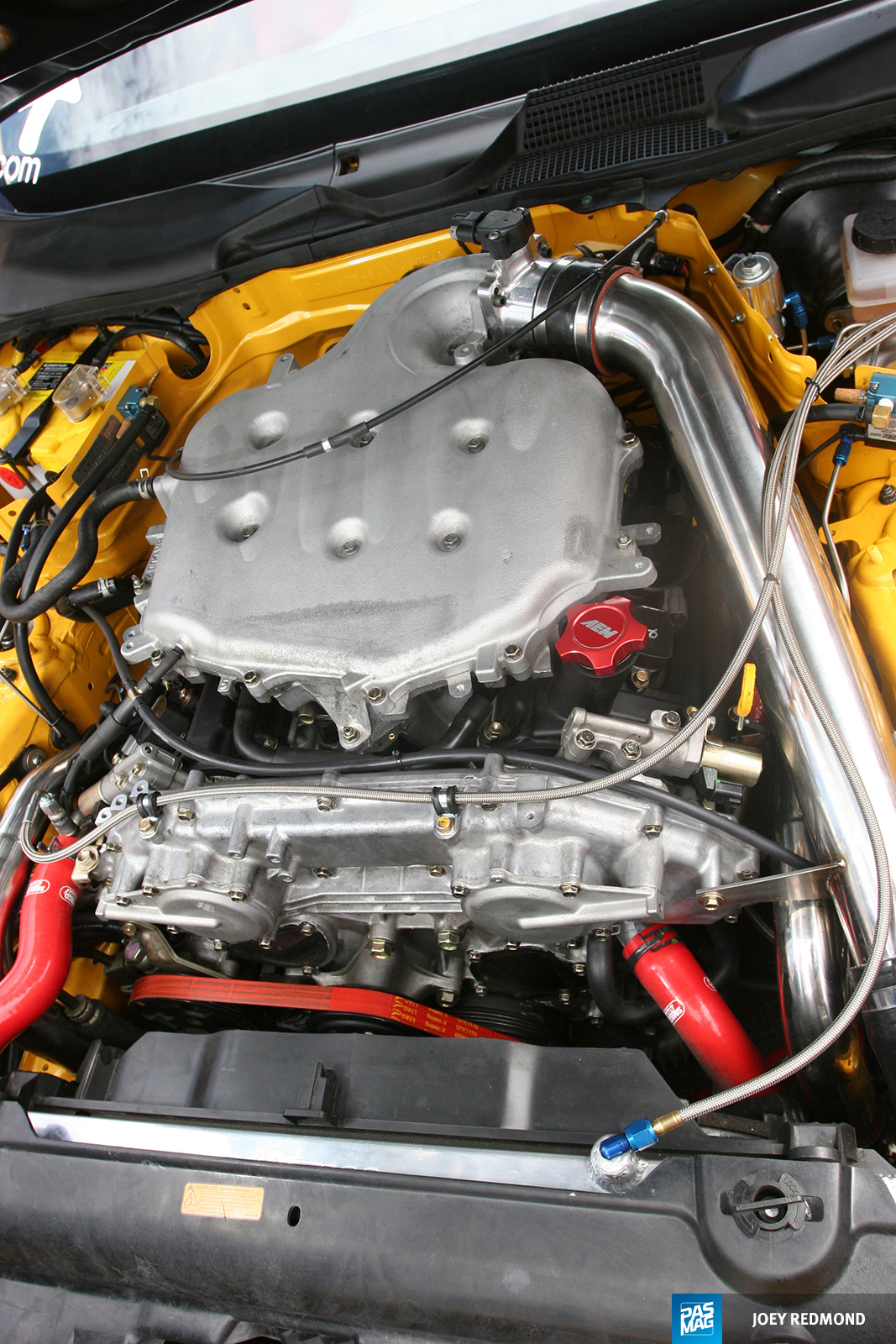 The VQ's bottom end was sent out for machining to Benson Automotive Machining in Costa Mesa, CA, while AEM's 'Number One Stunna,' Stephan Papadakis, handled the engine's assembly in-house. The shortblock consists of a forged crank, 10:1 compression JE pistons, JE rings and Eagle connecting rods, while the head was treated to a set of Jim Wolf Technology valve springs.
Surprisingly for a race car, the 350Z's lubrication system remains close to stock, except for the addition of an APS oil pan. Spewing the combusted gas mixture out of the system and giving the Z its throaty growl is a custom 3.5-inch exhaust.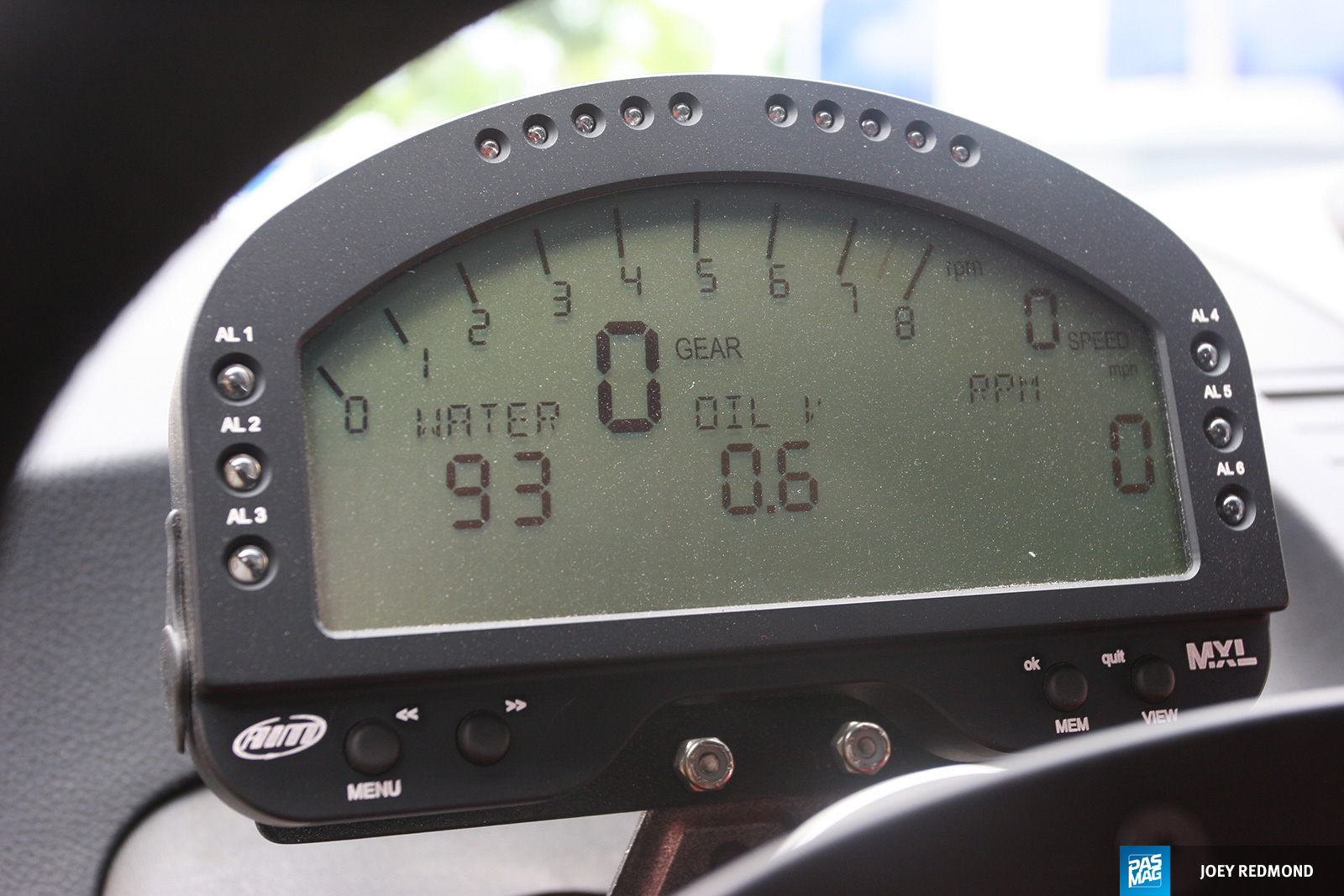 To ensure that everything works in harmony, AEM added its universal AEM EMS unit, along with its adjustable fuel-pressure regulator and AEM UEGO controller / wideband O2 sensor. Similar to a maestro conducting his orchestra, the AEM EMS works along with APS / Bosch 500cc fuel injectors to feed the VQ ample amounts of 110-octane fuel. The factory gauge cluster was tossed aside to make room for the AIM digital dash that communicates with both the AEM EMS and AEM Serial Datastream gauge.
Contrary to popular belief, the Nissan's transmission has withstood an entire season's worth of beating. It's quite amazing, since the only modifications to the tranny are limited to a six-puck ACT single-plate clutch, lightened OEM flywheel and Nismo 1.5-way limited-slip differential.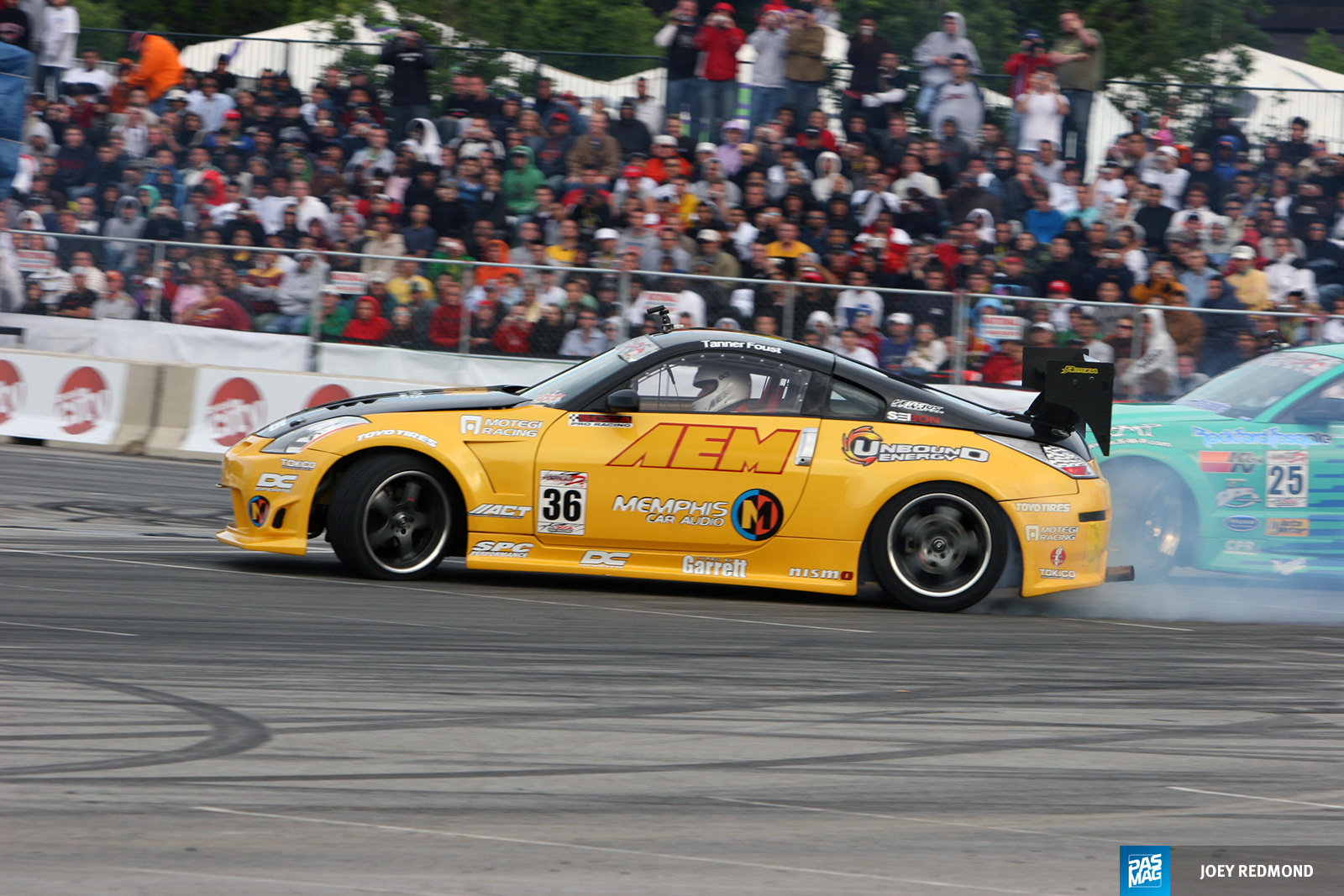 Of course, having all this power on hand is trivial without the proper balance. After all, it would be like an Olympic-caliber sprinter without the ability to stand on his own two feet. That's why AEM decided to team up with Tokico to engineer the AEM Racing / Tokico suspension kit especially for this Z. A Tokico spring / damper combo was slipped in at all four corners, using JIC tie rod ends in front. Stillen adjustable roll bars were bolted in the front and rear, allowing for the 350Z to stay stable through its powerslides.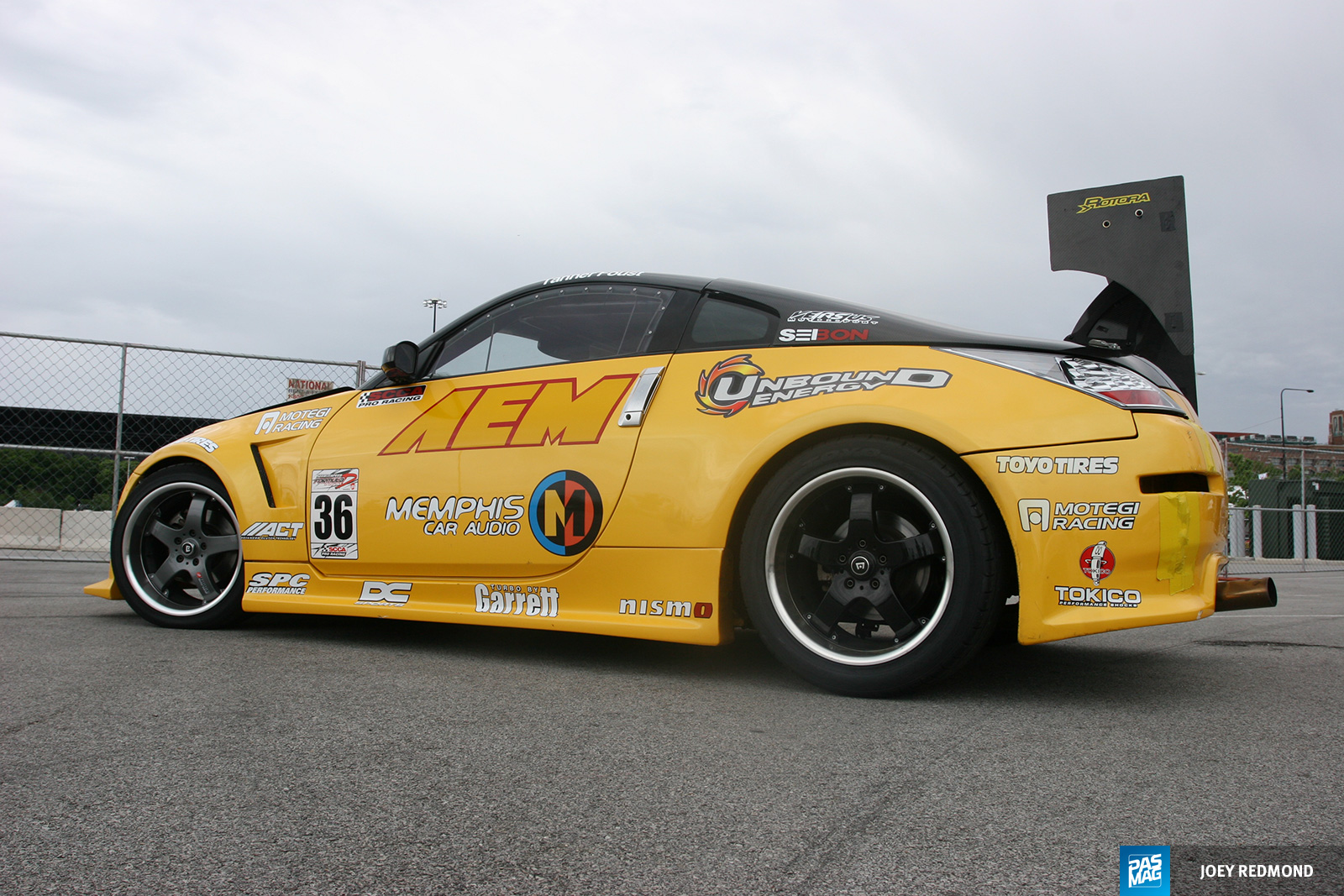 Keeping with the less-is-more theme, the 350Z's braking system has been tweaked with the addition of Axxis brake pads and Motul brake fluid. The 18 x 9 (front) and 18 x 10 (rear) Touge five-spoke wheels from Motegi were specifically selected due to the ample space they offer for brake cooling. Toyo Tires supports the project with an abundant supply of T1-R race rubber sized at 235 / 40 (front) and 285 / 40 (rear) to keep this boosted bumble bee glued to the asphalt.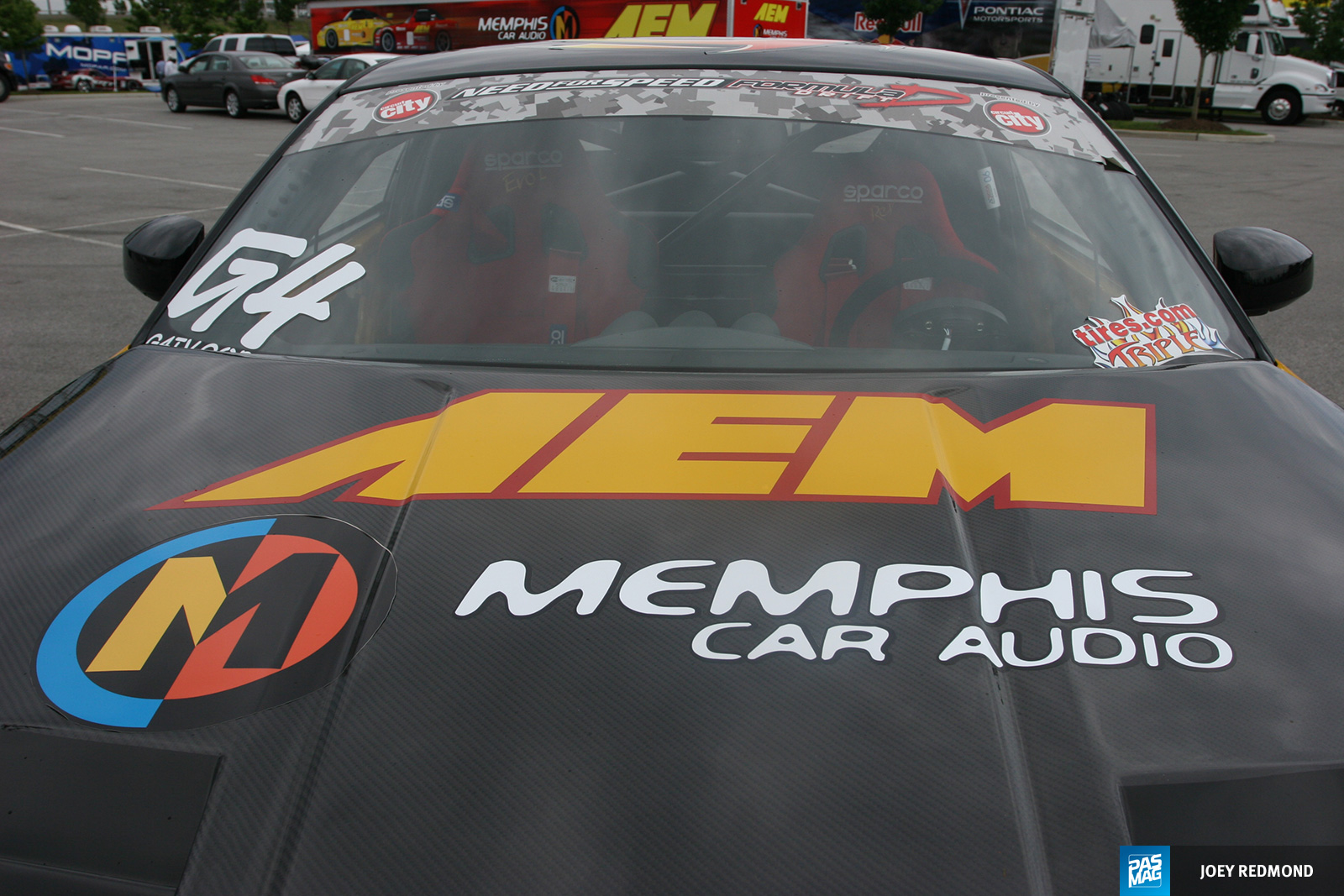 To add beauty to this beast, AEM sent the car to MOB Works in Orange, CA. Famous for its work on countless trophy-winning show cars, the crew at MOB installed a Versus Motorsport body kit, Seibon front fenders and fabbed up its own set of rear fenders. Sprayed in several coats of Lamborghini Yellow, a Seibon hood, hatch and Rotora wing round off its list of lightweight carbon fibre add-ons.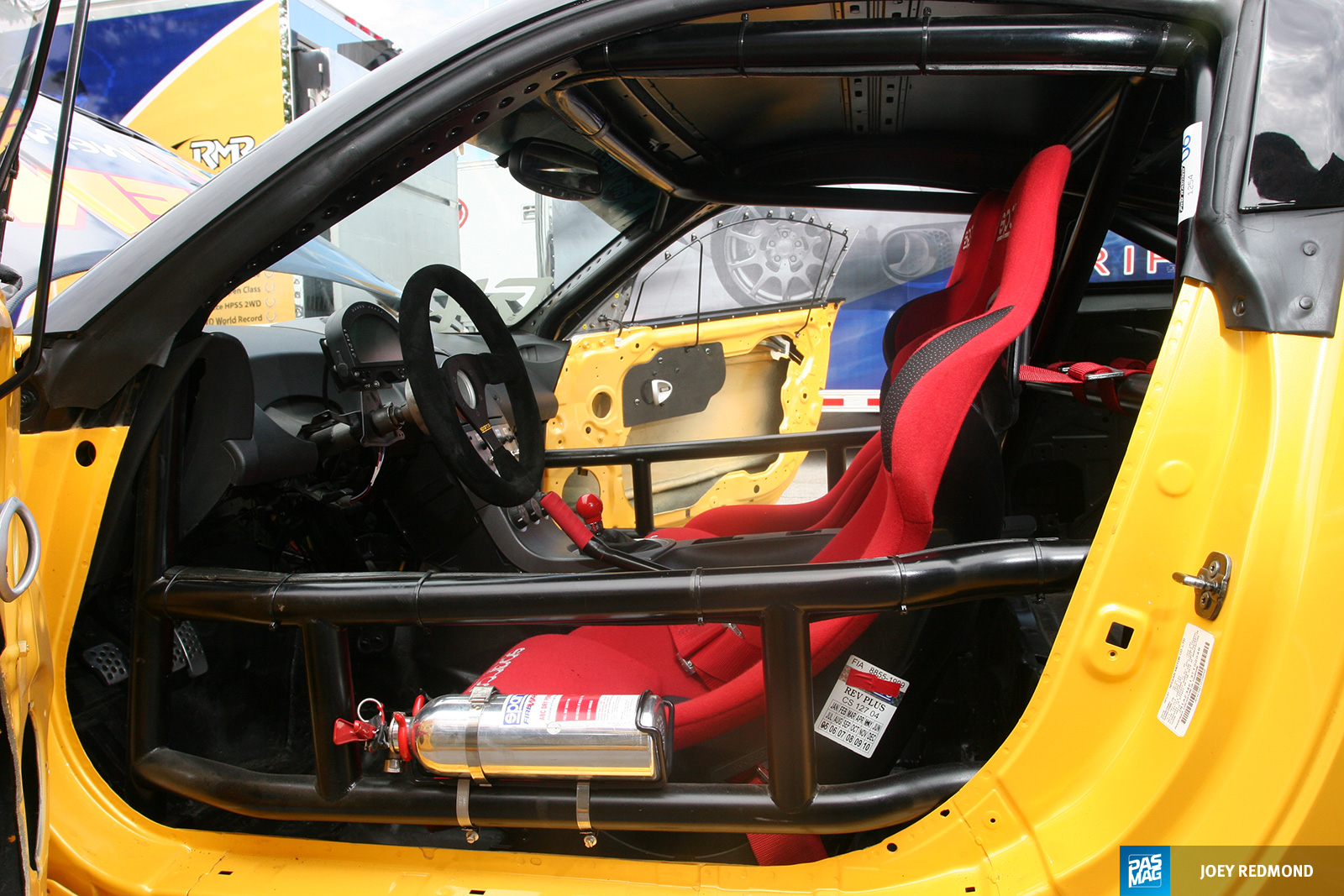 Inside, Foust is kept safe thanks to a custom-built roll cage courtesy of Steen Chassis and he's kept tightly in place by a carbon Sparco seat and harness. A Sparco 350mm steering wheel helps get this Z to dance around the track like it was Michael Jackson in Thriller.
Together, Foust and AEM made quite a splash in the 2006 Formula D Championship, ultimately earning a respectable third place finish behind his good friends Samuel Hubinette and Rhys Millen (first and second place respectively.) Foust was voted by his fellow Formula D competitors as "Most Consistent Driver" and "Best Representative of Drifting." Many thanks go out to all the sponsors involved with the build-up, including AEM, Memphis Car Audio, Toyo Tires, Unbound Energy Drink, Tokico Shocks, Motegi Wheels, Sparco, ACT Clutch and Rotora. We can't wait to see what AEM has up its sleeve for next year, but you can be sure that winning is definitely in the plans.
PHOTO GALLERY