Written by Steven Loung | Photos by: Icon Media
For the past nine years, Tjin Edition has been a name synonymous with some of the most killer, classy builds we've ever seen.
Forging smart corporate partnerships, Tjin has managed to effectively balance its wild imagination with down-to-earth, OEM-style sensibilities that have attracted major car manufacturers.
Tjin Edition's latest creation is this 2013 Ford Fusion, a collaboration with Ford Motor Company and Vortech Engineering – the company Tjin Edition boss Neil Tjin works for as an automotive marketing director.
We first saw the car at SEMA 2012 and it absolutely blew us away.
What's most impressive about the Tjin Edition 2013 Vortech Fusion is it looks as if you could see it driving around your hometown – at least at first glance. Upon closer inspection, you start to see some of the true beauty that the vehicles normal facade is showing.
Subtle details like the fine pinstripe work by Styles that blends into Niel's children's initials at the end, or the Webasto Hollandia 500 panorama sunroof that really start to set it apart.
A 3D Carbon wide body kit is complimented by grill work that really accentuates the front end. Additionally, the headlights and taillights have been swapped out for a set of mean LightWurkZ. The stock wheels were replaced with a set of iForged 21-inch rollers in a unique brown tone to give the aesthetic a buttery-smooth appearance.
Probably the most unique feature of car is the exhaust system. Normally all you can see it the exhaust tip. With the Tjin Edition Fusion, you come around the rear driver's side to find a custom exhaust from MagnaFlow coming out of the bumper. This mod is something that is rarely done because you have to completely re-work the entire system, so major props for such a cool and labor-intensive mod.
None of these mods are subtle (especially the side exhaust), but they certainly aren't gaudy, either. Really they're brilliant, because for the non-enthusiast, this Fusion could just be another nice-looking car.
In fact, the only part that really catches your eye is the candy-green Baer brake calipers. They draw attention to the wheels, but also accent a major theme found inside.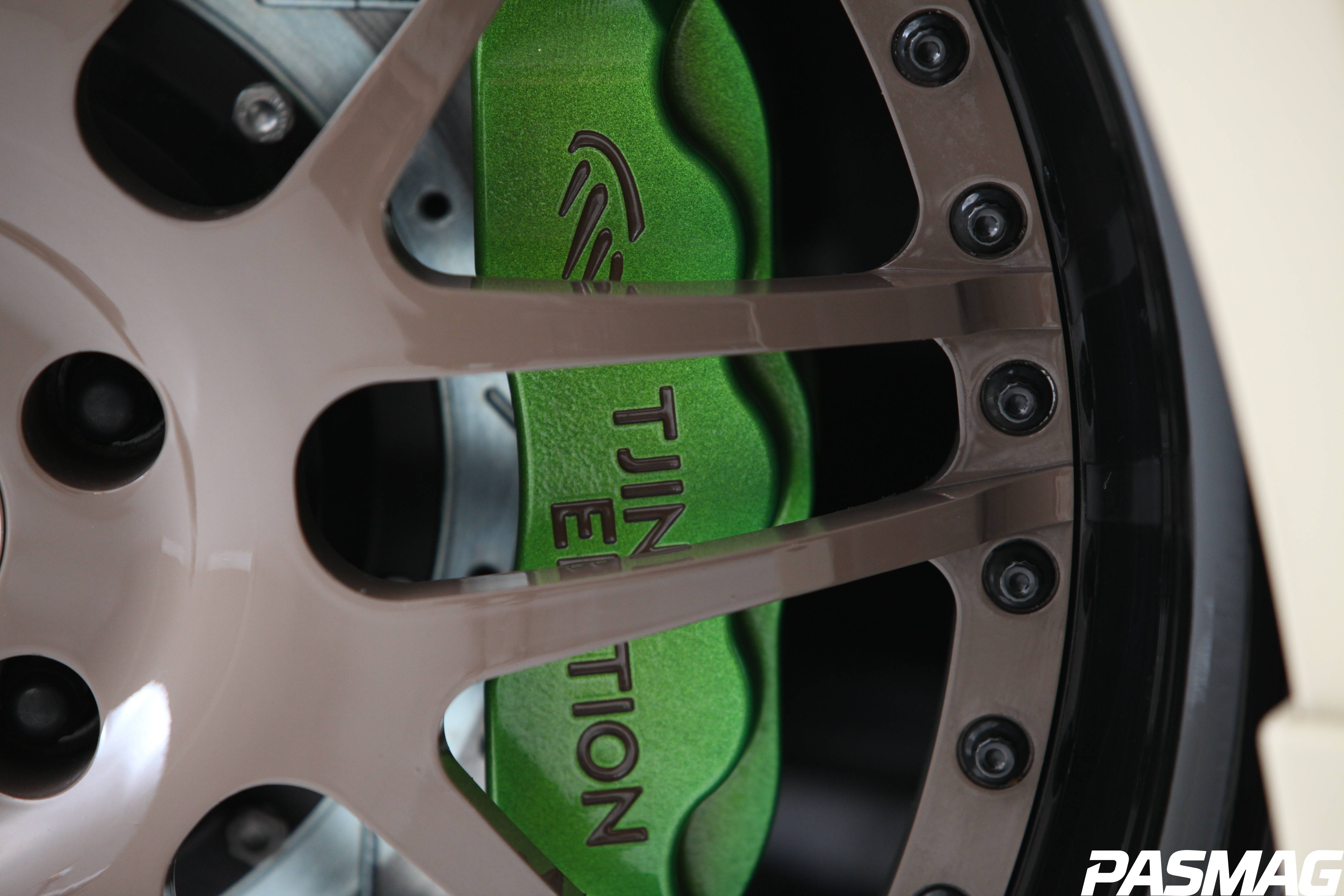 The car's interior has green accents all over the place, but most prominently in the seats, which were reupholstered by Katzkin, along with the majority of the remaining interior. GlowShift provided some matching highlights in the gauge pod as well.
The audio system has also been completely re-worked with gear provided from Scosche. Another electronic goodie found in the car is the Escort Smart Radar, which keeps your speed in check when any blue suits are about to spoil your fun.
On the topic of speed, the car's performance has gone through a minor, but very effective transformation. The engine remains stock and it hasn't been outfitted with a turbo or a supercharger, but a new Vortech intercooler, blow-off valve and air filter provide a good boost in performance, helped further by Injector Dynamics ID725 fuel injectors.
So while this car definitely isn't a model of ridiculous muscle, it is quicker than a stock Fusion and way more appealing. But this build isn't about raw power; it's about stretching your creativity and focusing it in a practical manner.
We all like the insane builds with gull-wing doors and ground effects that pump out 500-plus horsepower, but in a sense, doing a build like that is easier than keeping a controlled, styled-approach like what Tjin Edition has accomplished here.
This build expresses its creator's vision while keeping true to the original essence of the Fusion. It's a car that could be driven by someone who isn't a hardcore enthusiast, but it's also something that gets a high amount of respect by those who know – the same way a classic album can be loved by music lovers from any background.
ESSENTIALS // Model: 2013 Ford Fusion // Built by: Tjin Edition // Location: Laguna Niguel, CA
ENGINE MODIFICATIONS // Vortech (intercooler, hoses, Maxflow Race Bypass blow-off valve, air filter, air intake) // Injector Dynamics ID725 fuel injectors // Tangent titanium bolts
EXHAUST // MagnaFlow Exhaust (custom side exit exhaust, custom exhaust tip) // Customized (up-pipe, downpipe) // Motive Concepts catalytic converter
CHASSIS / SUSPENSION // Pedders Suspension (struts (f/r), springs (f/r), strut bars (f/r), shocks, sway bars, bushings)
WHEELS / TIRES / BRAKES // iForged wheels – 21 x 9.5 (f), 21 x 10 // (r)Falken FK453 tires – 255/30 R21 (f) // 295/25 R21 (r)?Baer brake kit (6s six-piston calipers // 15-in. two-piece drilled rotors (f) // 6s six-piston calipers // 15-in. two-piece slotted rotors (r)
EXTERIOR // 3D Carbon (body kit, front lip, rear valance, grilles, aero parts) // Webasto Hollandia 500 panorama sunroof // LightWurkZ (headlights, taillights) // Custom paint from Daley Visual // Custom pinstriping by Styles
INTERIOR // Katzkin (customized dash, leather and suede upholstery job, customized seats) // GlowShift (gauges, gauge pod)
AUDIO / MOBILE ELECTRONICS // Scosche Audio sound system // Escort Smart Radar
SPONSROS // Vortech Intercoolers // Baer Brakes // Falken Tires // iForged Wheels // MagnaFlow Exhaust // GlowShift // Escort Radars // Royal Purple // Scosche Audio // Webasto Sunroof // 3D Carbon // Pedders Suspension // DuPont Paint // LightWurkz // Katzkin