Photography by Fardeen Shere
---
Brandon Hamid grew up playing with Hot Wheels and toy cars, but he would change little things about the cars whenever he could. The modification bug started at a young age, and continued to his very first built, the Toyota Matrix you see here. "I decided to get the AWD Matrix because I wanted a car that not many people had," he says, "I wanted something that would stand out and draw a different kind of attention."
Once he took possession of the Matrix, he intended to make it an underdog show car. "You go out to most shows and you'll see a (Toyota) Supra or MR2 but never anything like a Matrix. One thing I loved about choosing this vehicle was everyone saying I wouldn't be able to beat a Supra," he tells us. "I took that as a challenge/motivation and now at most shows I attend I end up beating them."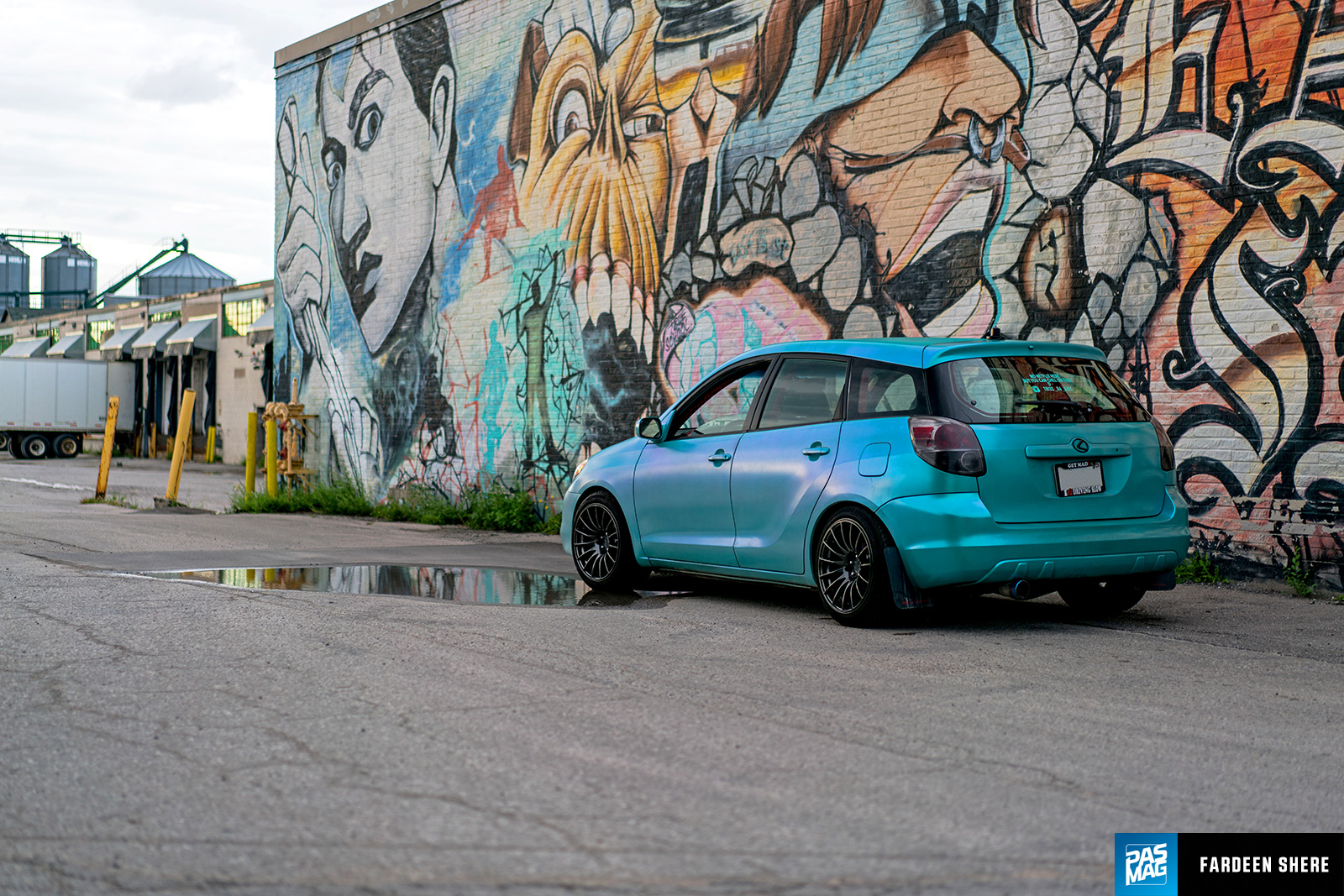 Starting with such an obscure and rarely modified platform left Hamid with few options when searching out modifications. Even suspension was a challenge with the AWD nature of the car. Sure enough, after enough perseverance and some searching, he managed to secure some key modifications for his build and install most parts in his driveway.
[As seen in PASMAG Issue #143]
Hamid's intentions were to take the road less traveled, and by all accounts he seems to have done just that. "I really did not have any influences looking back at my build," says Hamid. "I wanted to pave my own path and stand out. For example, I was once told one way to be different was to always modify your mods, because anyone can go out and buy the same part/paint as you."
In his journey to build a one-of-a-kind Toyota, Hamid seems to have done it. We're sure the modification bug will continue to influence him into future car builds as well.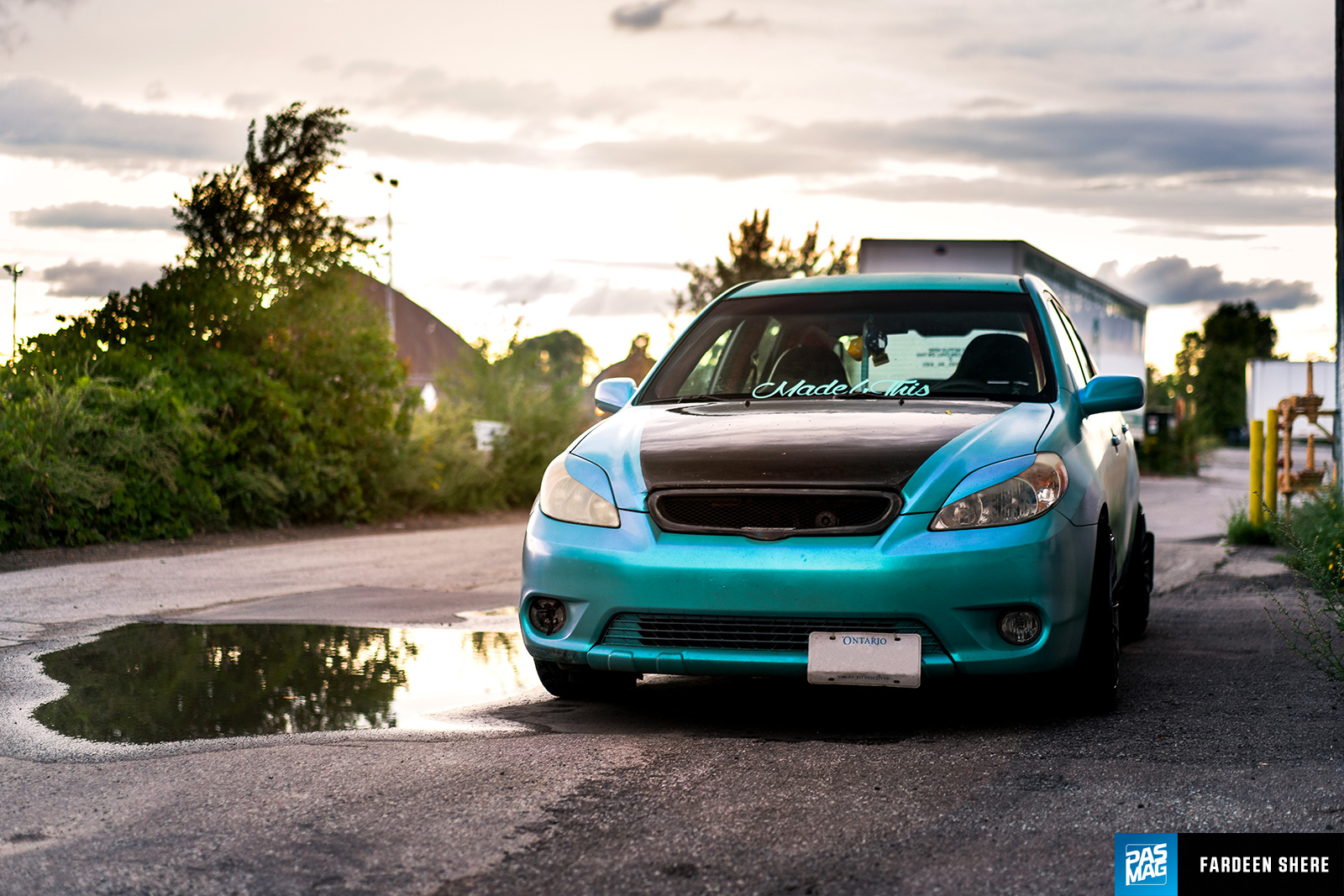 With 63% of the Popular Vote, Brandon Hamid (2006 Toyota Matrix) wins the Tuner Battlegrounds #TBGLIVE award category at Torque Modified at Garnet B. Rickard Arena on Sunday, August 14, 2016!
ESSENTIALS
Owner: Brandon Hamid
Location: Scarborough, ON
Engine: Toyota 1ZZ-FE 1.8L I4
Horsepower: 100 (est.)
Torque: 80 lb-ft (est.)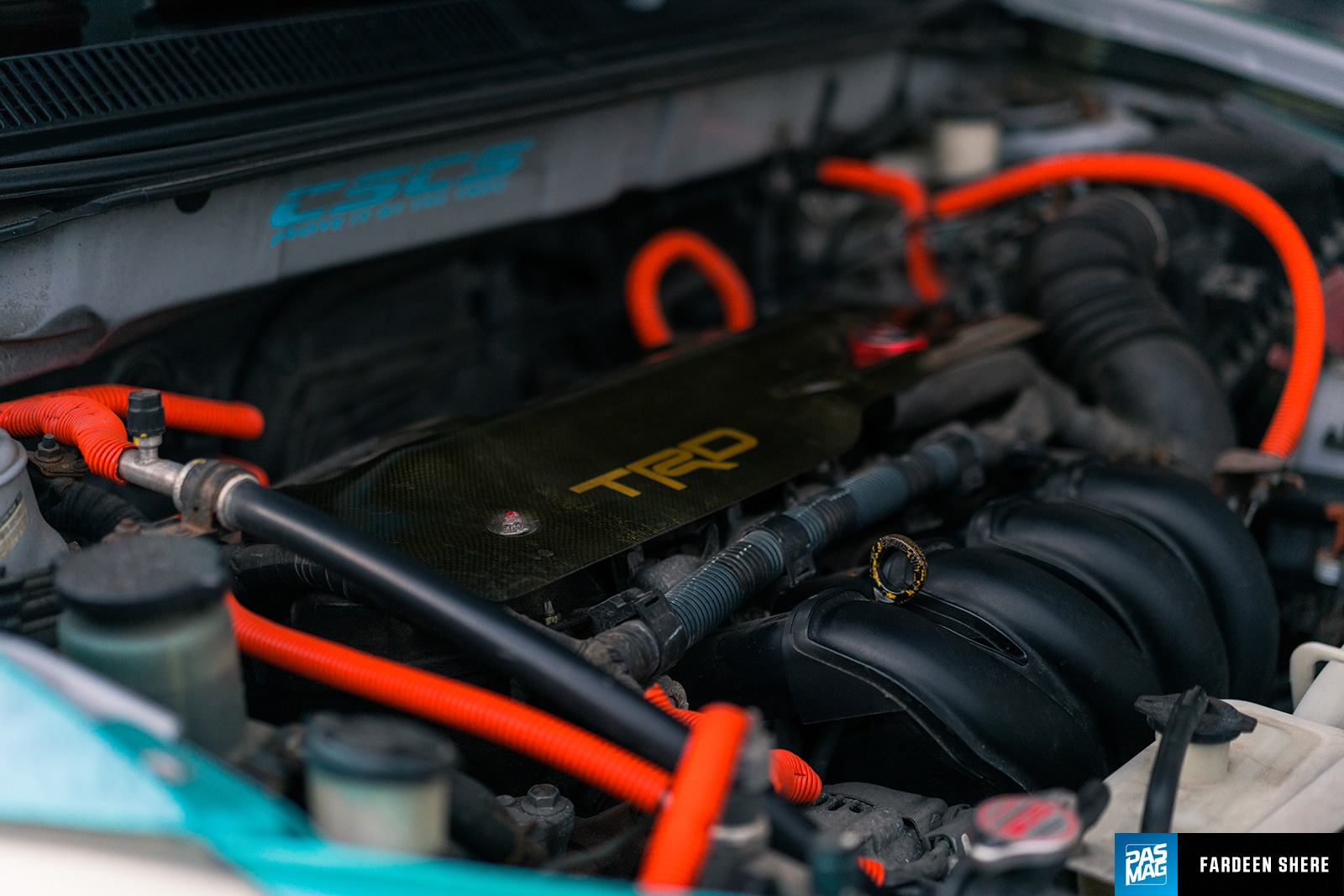 ENGINE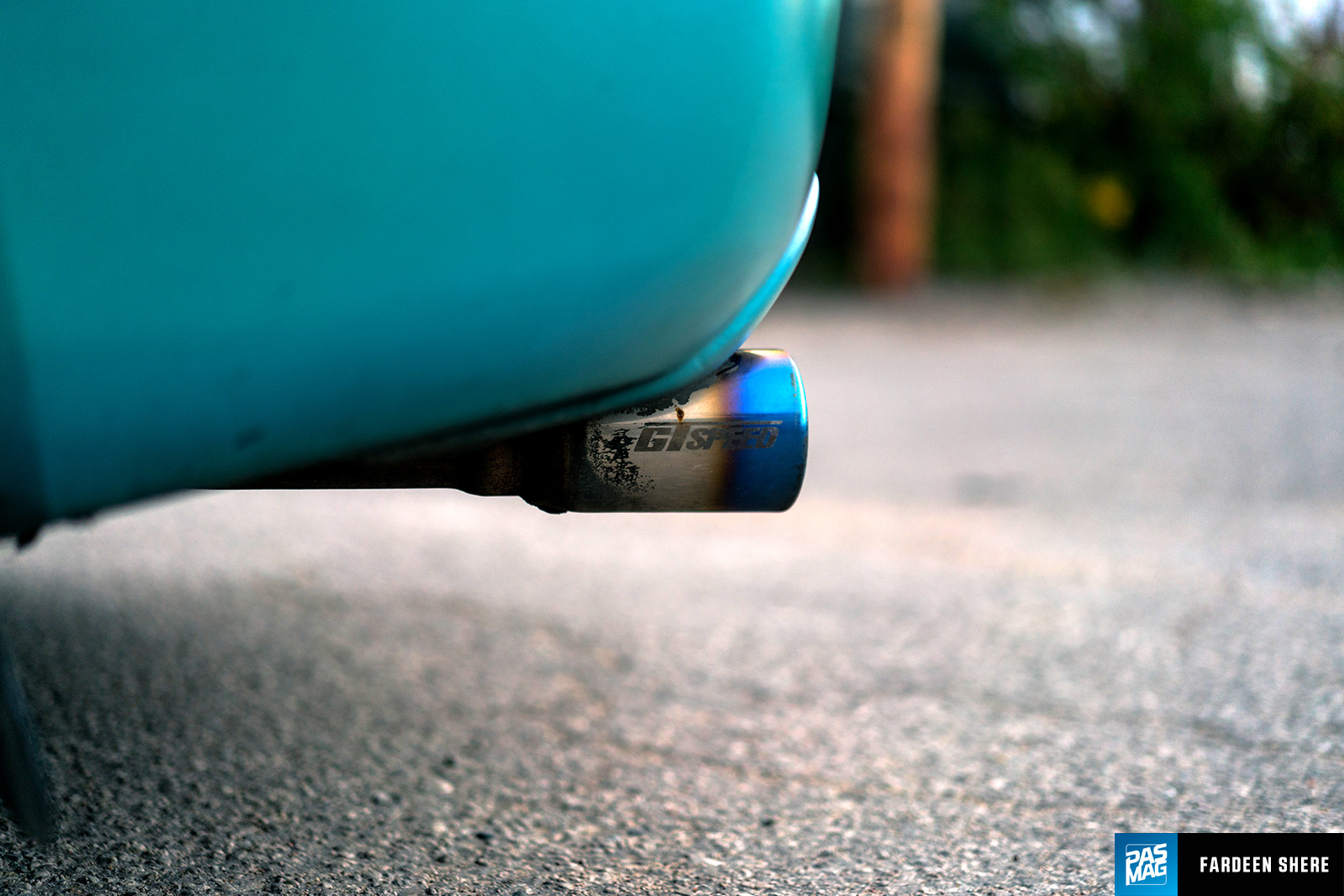 EXHAUST
GT Custom neochrome exhaust tip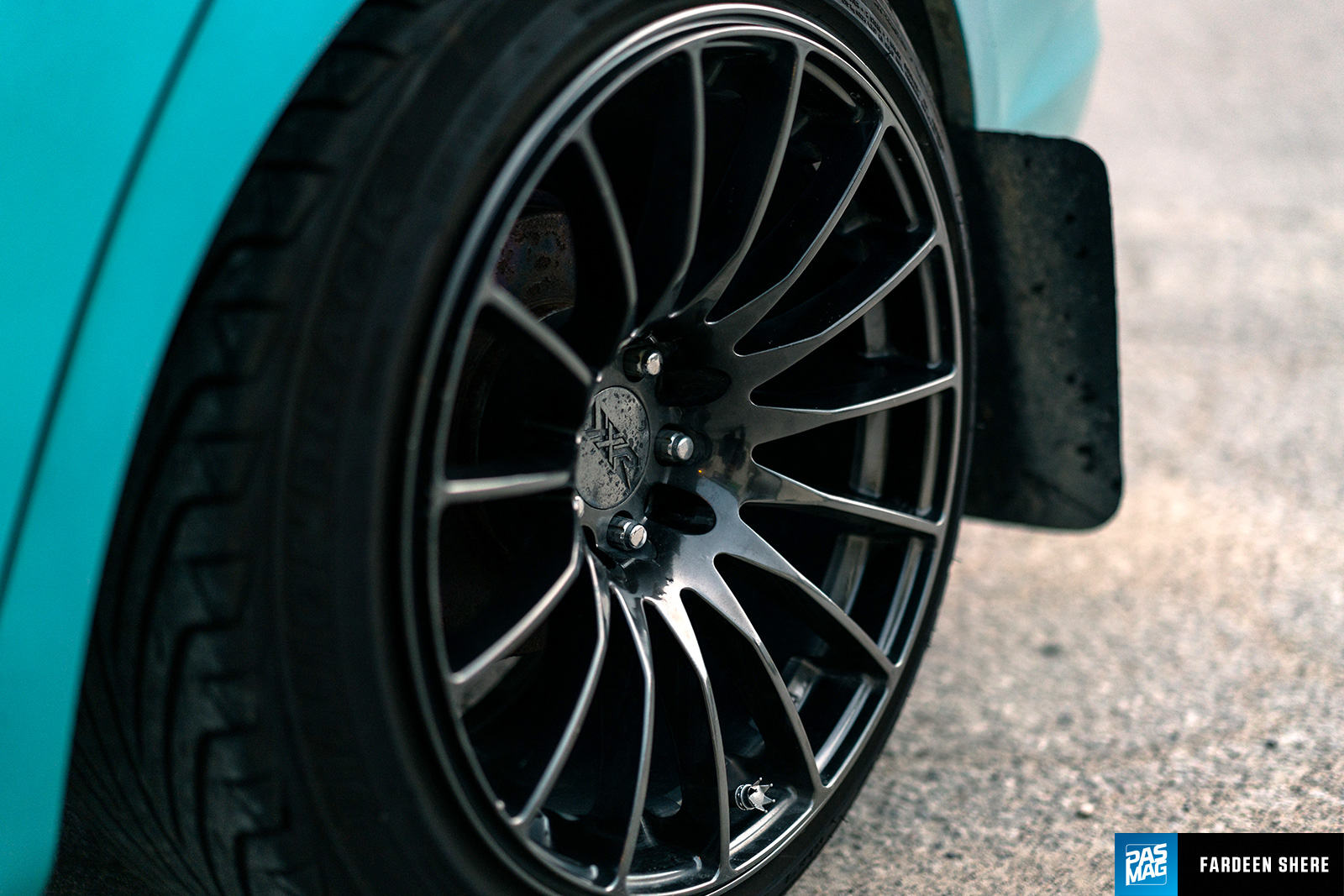 WHEELS/TIRES/BRAKES
XXR 550 wheels – 17x9.25 +19 (f/r)
Aeolus tires – 215/35/17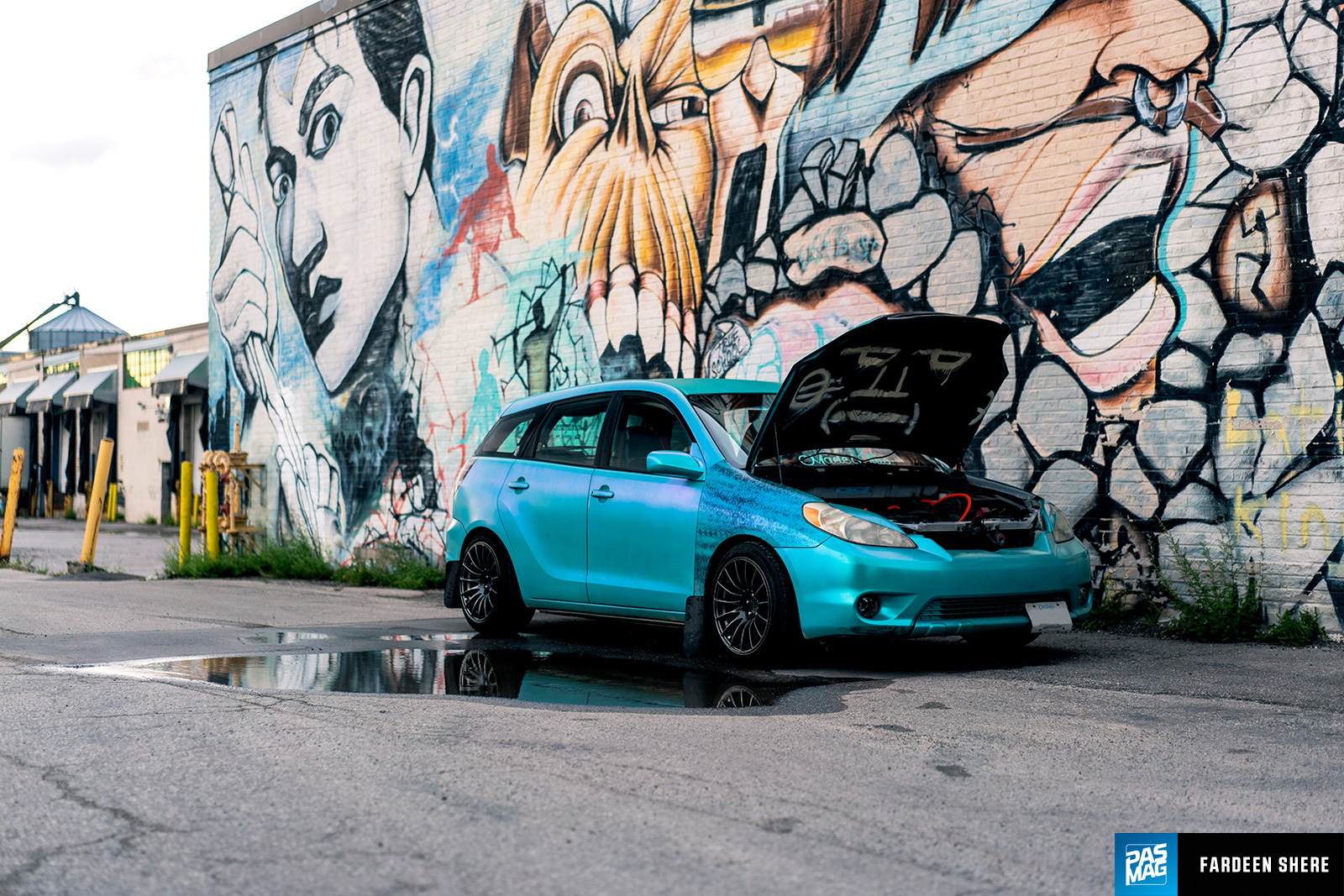 CHASSIS/SUSPENSION
Eibach Sportline Performance lowering springs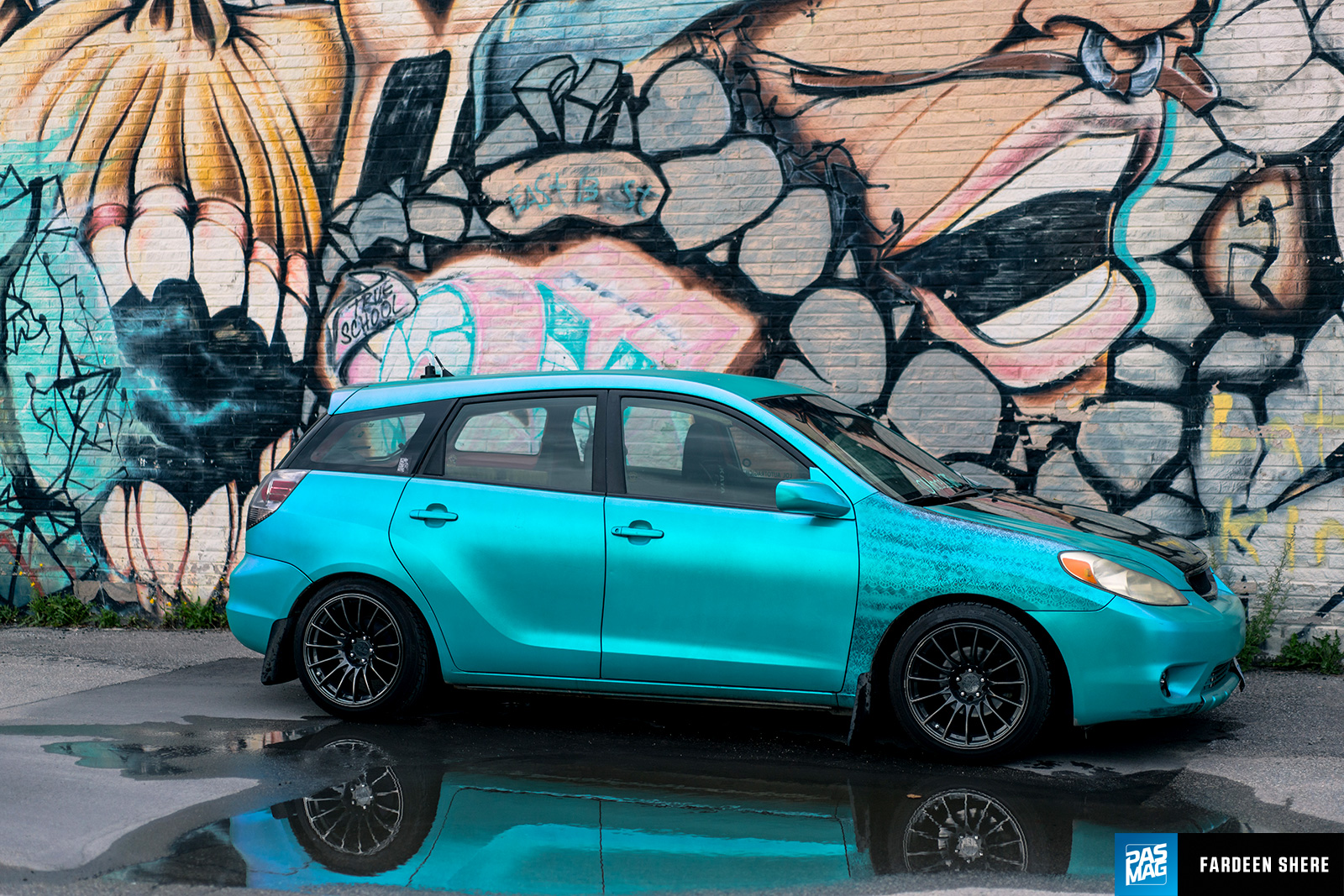 EXTERIOR
EZ lip front lip
Carbon fiber (grille, antenna, hood)
Painted lace fender
Rally Armor mud flaps
Color-matched eyelids
Smoked taillights
Intense Teal plasti-dip w/ Nordic Ghost Peal
LED lights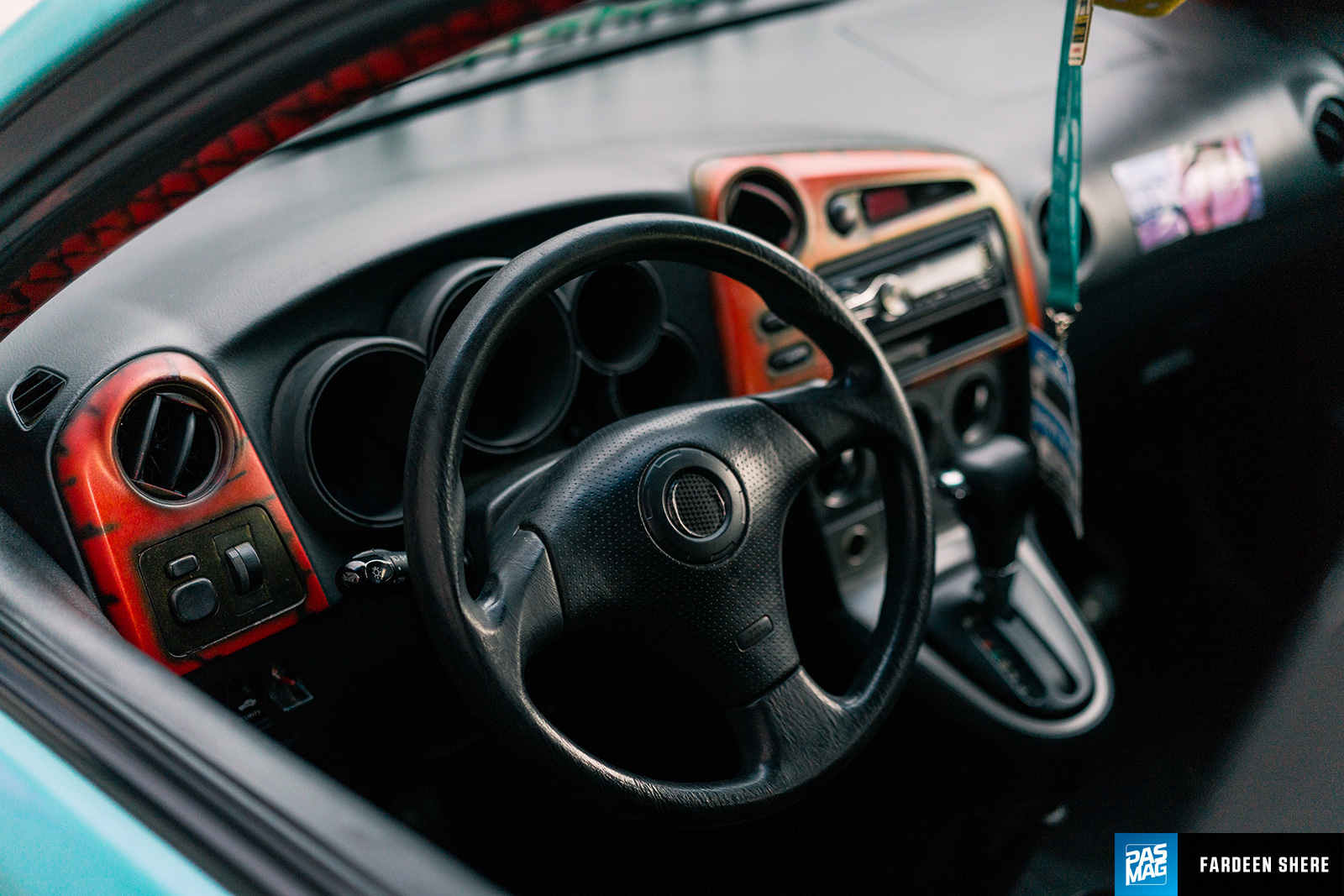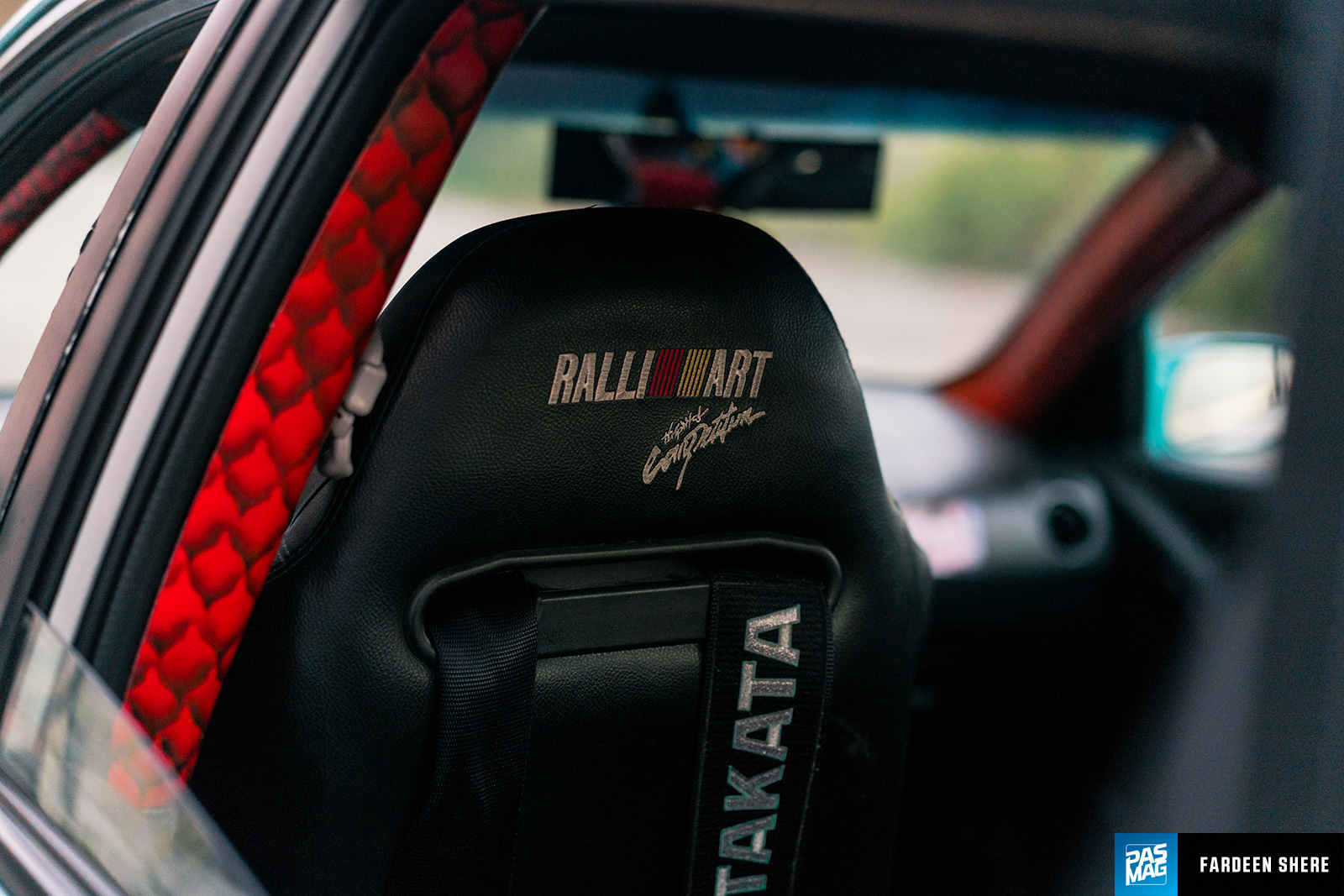 INTERIOR
Graffiti fabric
Ralliart racing seats
Takata racing harness
Carbon fiber pedals
Hardwood trunk
Wink mirror
Purple LED neon lighting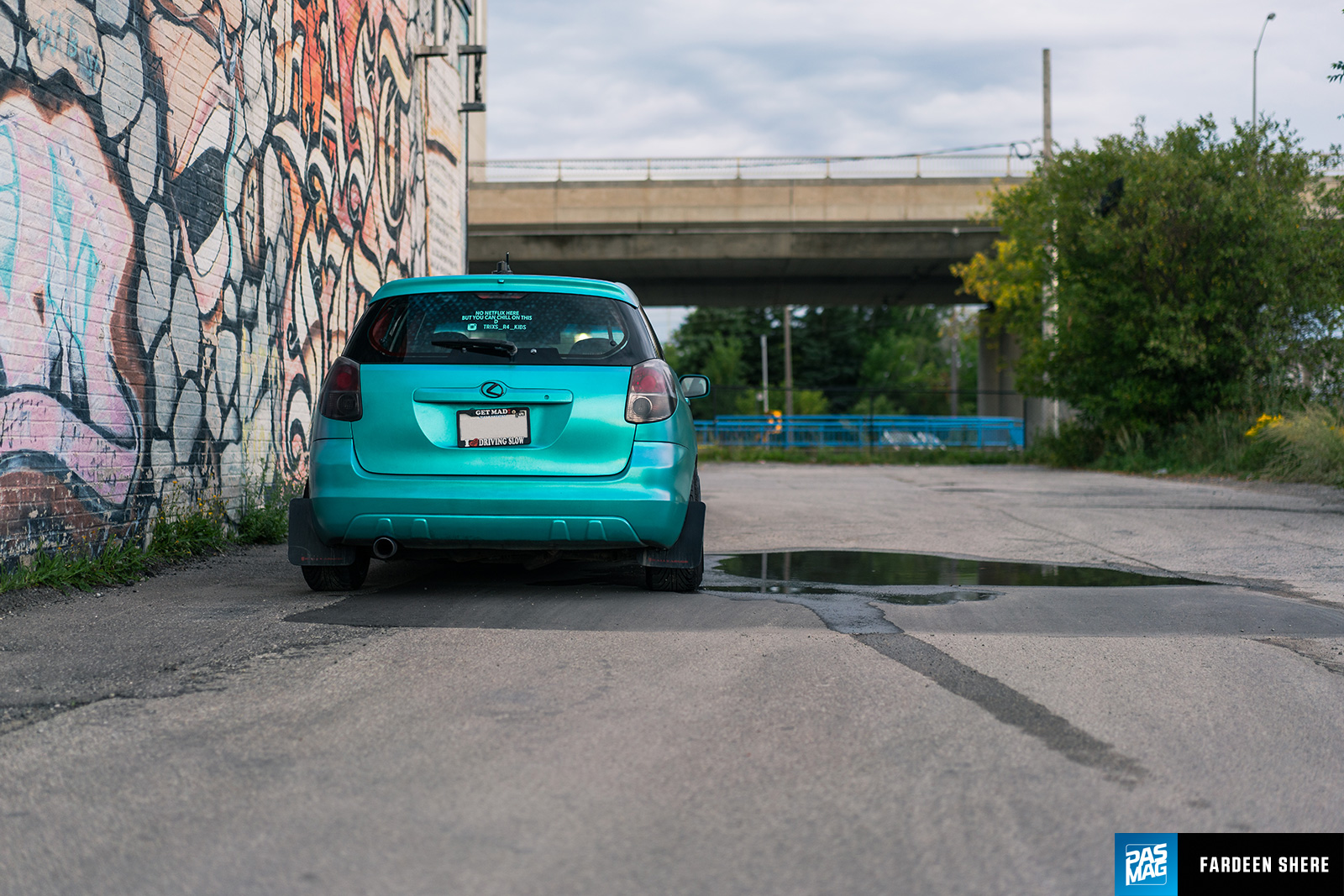 AUDIO/MULTIMEDIA
JVC single-din head unit
Sticker bombed Bassworx box
Alpine Type-S 12-inch subwoofers (2)
Alpine Type-R speakers (4)
MotoMaster Nautilus Ultra Group 27 AGM deep cycle battery
Samsung (Tablet, TV)
Playstation 3
SPONSORS