Photos by Brian McGee (@itsjustbrian)
---
It's fair to say that we all grew up with Hotwheels and RC cars. They were our cars before we had cars. You could own a custom-painted Lamborghini or a VW Bus with surfboards sticking out the back. Some of them were even big enough to carry others. The possibilities were endless and it was a fitting start to the oncoming automotive obsession.
Trenton Ulicny is one such enthusiast. On top of being a co-owner of a nutrition chain and a co- founder of a line off fine sake and spirits, vehicles have always been a part of his life. So much so that in 1998, he somehow found the time and started the automotive marketing and strategy group, The Collective.
Part of what The Collective does is building show cars for certain companies to show off what their product can really do. In 2014, Trenton was approached by Energy Suspension to build a car for SEMA.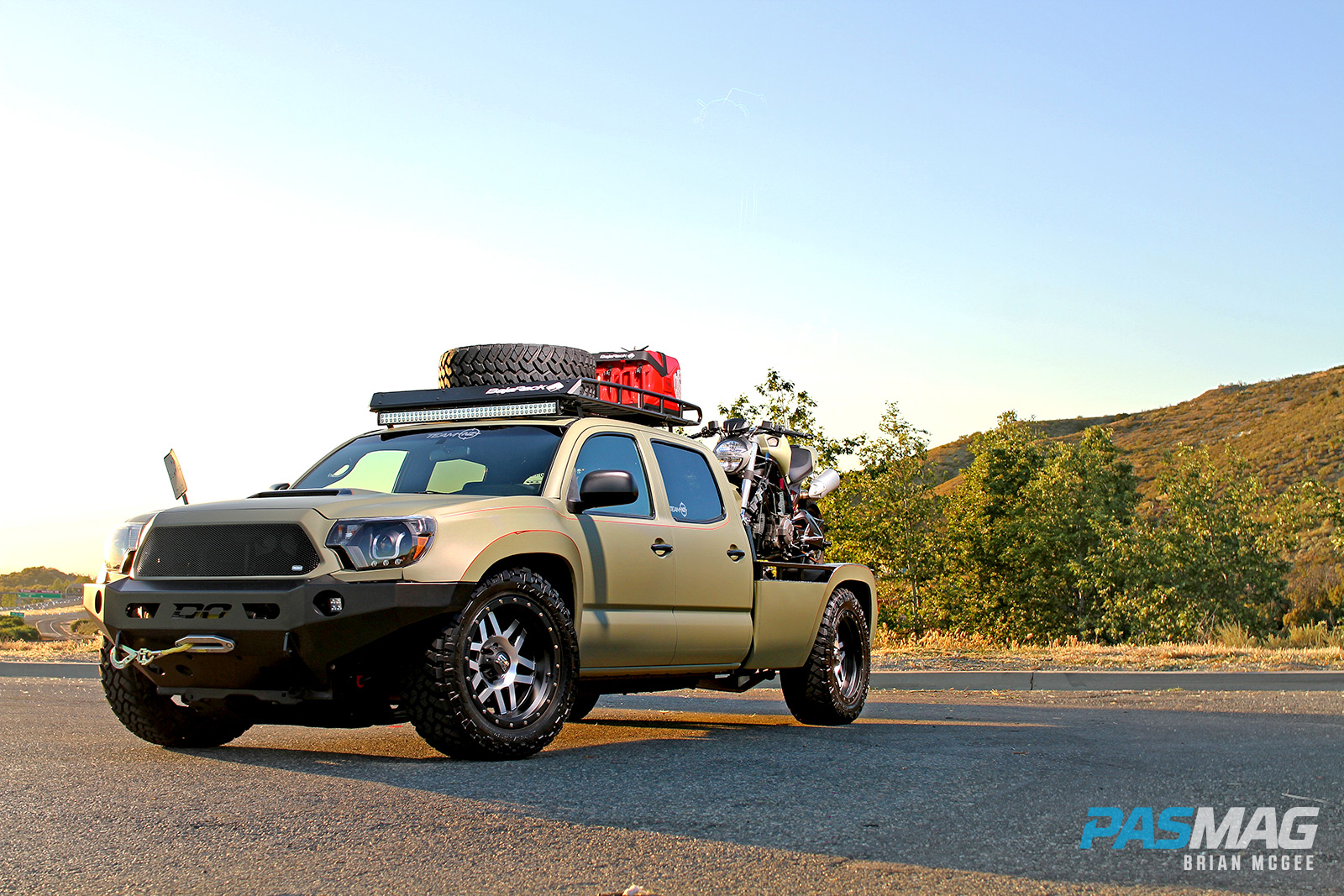 "We were asked by Energy Suspension to build either a Tacoma or a Miata," says Ulicny. "Being that I had a Tacoma in the garage, it was an easy choice, and gave me a reason to build a truck I had been dreaming of for some time."
Ulicny was going to build a truck with toy car inspiration – something that big kids everywhere would love. The goal was to put together a Tacoma that looked the part, performed, and even had an awesome gimmick. Being that Ulicny and his wife are both motorcycle riders, it only made sense for the truck to carry their twin Ducati Monsters, right? This Tacoma is the toy truck that you begged your parents for at Christmas.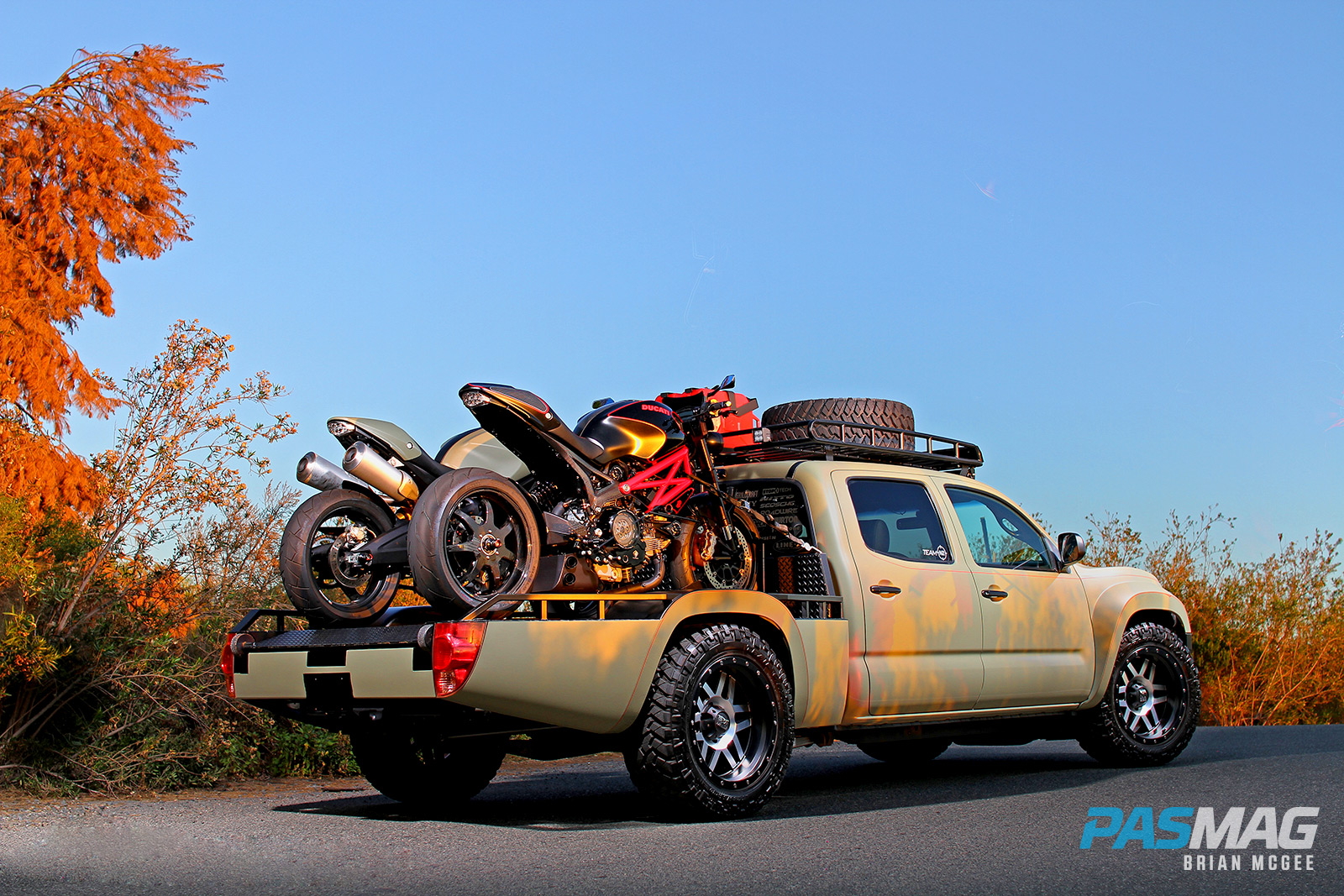 Getting a motorcycle hauler onto the truck was one thing, but having it fit was another. Ulicny enlisted the help of the skilled fabricators at Bio Kustumz to bring his original sketches to life. The crew at Bio Kustumz was more than willing and soon got to lengthening, strengthening and modifying the frame of the Tacoma to accommodate the hydraulic loading system.
While they were back there, Bio Kustumz added custom four-inch drop spindles, four-linked the rear and moved the rear axle back 10 inches. The new custom rear bumper was originally going to have some sort of bespoke lighting setup, but The Collective's resident artist, Chris Dunlop, suggested reusing the factory taillights. They were cut in half, resealed and then turned upside down to be mounted. This saved some major headaches and ended up owing with the bed sides and rear end nicely.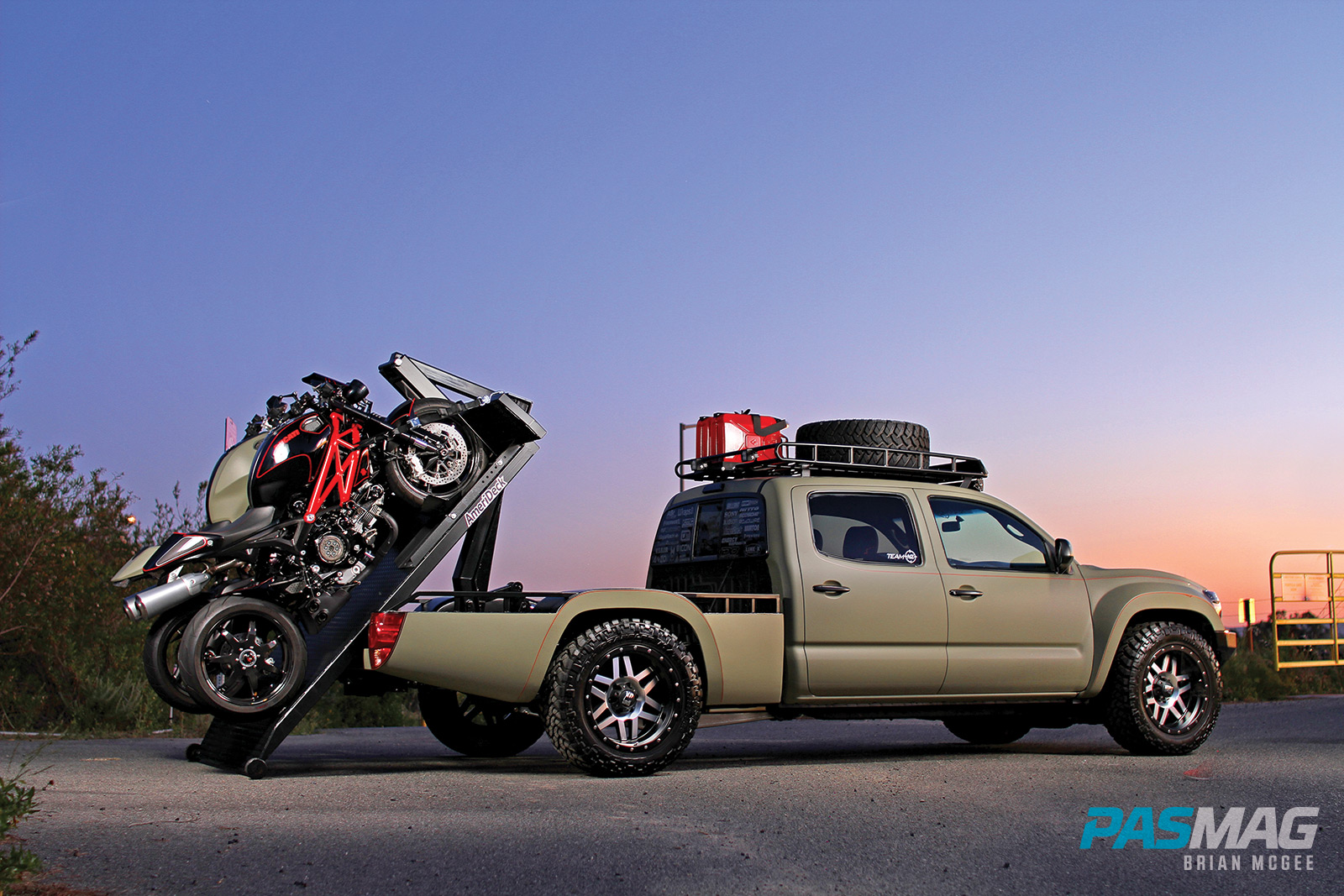 Next came the fun part: the motorcycle deck. An Amerideck hydraulic loading system was sourced and modified to fit in the now-capable bed of the Tacoma. Spec'd to load up to 2,500 pounds and all from the comfort of the cab, this was the one. All of the components to the hydraulic lift system are tucked neatly under the lift and in the bed of the truck for an extremely clean install. Ulicny explains how it all goes down – and then back up.
"The Amerideck Motorcycle Deck was modified to fit the Tacoma, and goes from loaded position to sitting flat on the ground behind the truck to make loading extremely easy," he says. "Roll the motorcycle up into the wheel chock, add two tie-downs, press a button and they lift onto the back of the truck."
It's all well and good to have the convenience of loading up a pair of Ducs with the push of a button, but it sucks if the rear end of the truck is sagging on the road. To combat the weight issues, Icon Suspension remote reservoir shocks were installed in the rear with Firestone airbags. The front sports Icon coilovers, custom built for the 'Yota, which are dialed down for a tasteful drop. A full Energy Suspension bushing replacement is in effect as well, so everything stays nice and tight while hauling.
"Everybody lifts Tacomas, so to stand out from the crowd, make entrance in and out of the Tacoma easy, and achieve that RC truck slammed look on big tires that every kid (and big kid) loves, we set out to find a way to lower the truck while at the same time tuck 33-inch diameter tires," smiles Ulicny. "Lots of custom fabrication to the frame, suspension, fenders and wheel wells made it happen."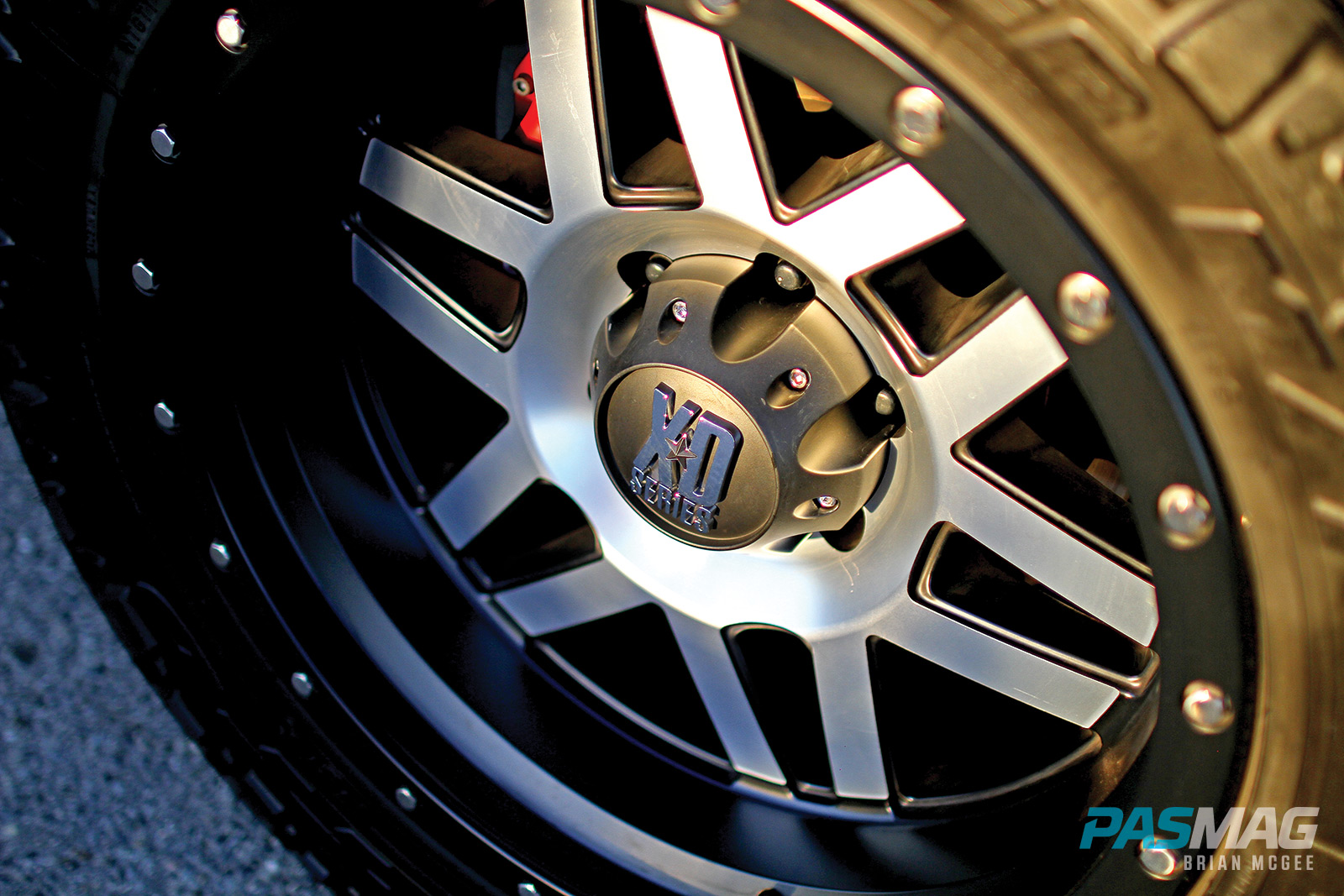 Bringing down all that weight from speed was also a concern, so Tundra Racing was called upon to convert the rear brakes to discs and the front hubs to six-lugs. StopTech four-piston calipers were slapped on the front as well for peace of mind.
As Ulicny mentioned, under the six-inch are and three-inch rise Fiberwerx fenders sit 20-inch KMC XD128 wheels paired with some truly massive 285/55 Nitto Trail Grappler tires. A Demello O road bumper was custom-widened in the front to match up with the fenders and to provide a hiding place for the 12,000 pound rated TJM winch. Once all was installed, the Tacoma was taken to Wraps1 to get the Avery Denison Matte Khaki wrap with custom red and black accents.
California Upholstery followed the red and black accent theme on the inside, as well as putting in the custom Roadwire leather interior. Before this all went down though, the whole cab was coated in Line-X and sprinkled with Dynamat, offering a quiet ride for passengers, but also providing some great acoustics for the sound system.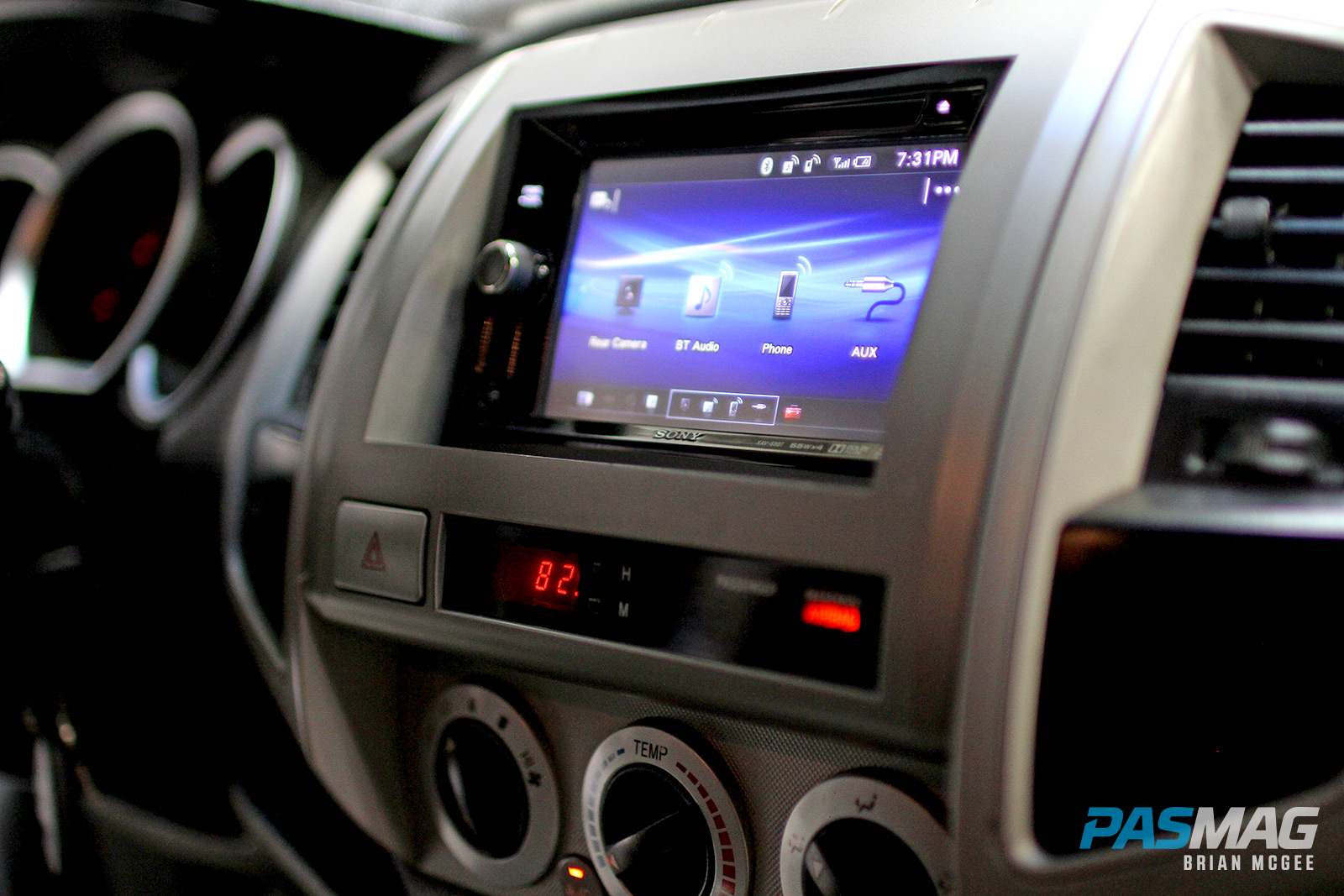 Cruising tunes are performed by a symphony of Audison Prima speakers, processors and amps, while a pair of Hertz Energy ES 250.2 subs boom in the back. Quality components are nothing without quality wiring, so Scosche is on the scene with their EFX power/ground wiring.
It pays o to stay a kid at heart. Not only does it make life just a little more fun, but it also provides you with some kickass hobbies. Ulicny may have started off small with RC trucks and Hotwheels, but now he's got the best toy to tow around his others.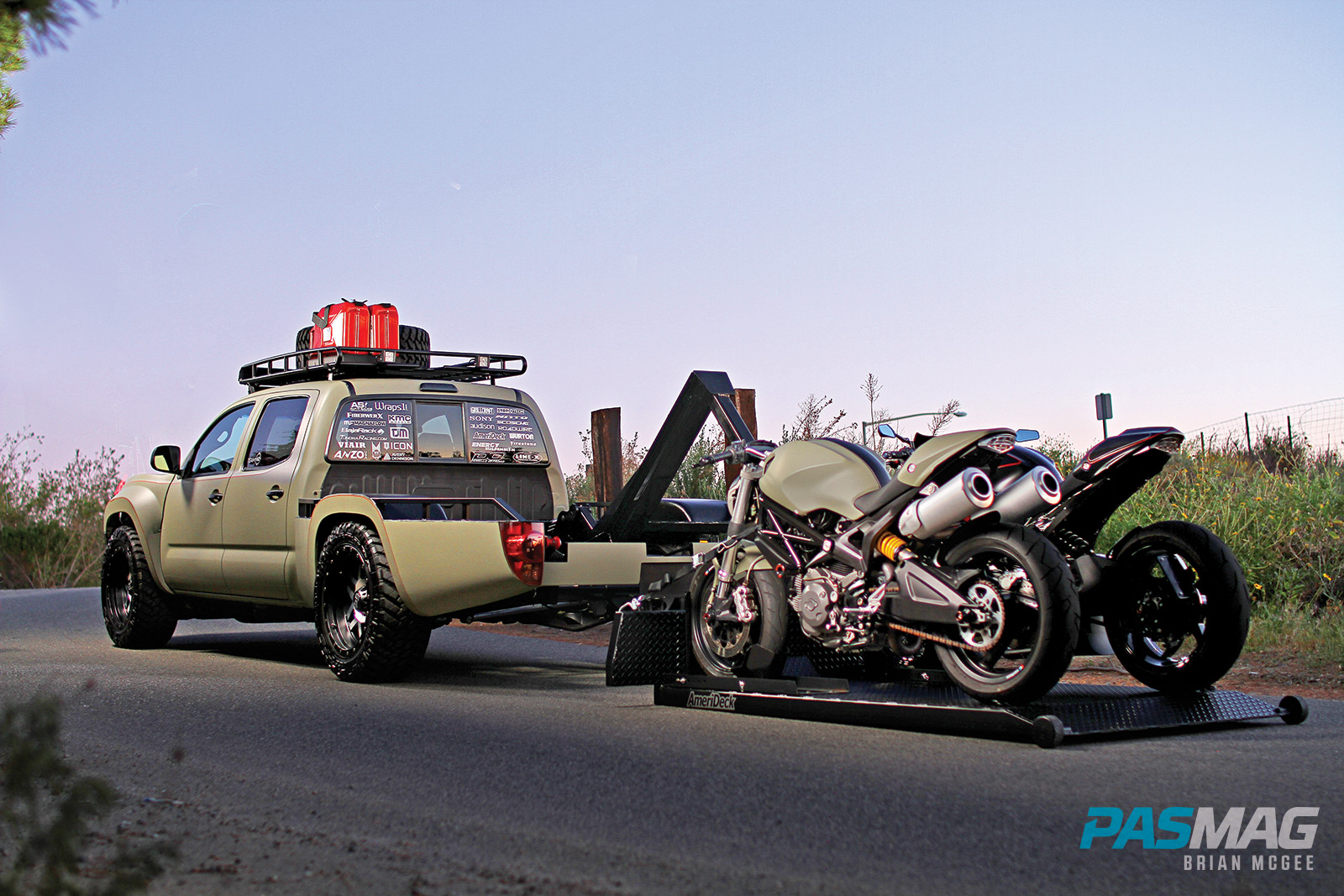 Order PASMAG's Tuning Essentials: Trucks (2nd Edition) at www.pasmag.com/backissues.