Photography by Ryan Belville
---
This 650 hp beauty shows off her beach body
SEMA – it's a destination not only for car lovers, but car builders all over North America. Rick Bottom has been a car guy since he was two years old. He turned his passion into a career and opened Rick Bottom Designs in Mendota, IL. Mr. Bottom has worked with vehicle manufacturers for quite a while and this 2013 Camaro was built in partnership with GM in a mere eight weeks for the 2012 SEMA show.
Popping the hood reveals a 6.2-litre LS3 V8, fed by a Jannetty Racing 11psi Vortech V-3 supercharger kit. The kit includes dual blow off valves and a massive K&N Filter. Bottom added a front mount intercooler, a Jannetty Rough Idle Blower Cam and Rocker Arm Fulcrum Upgrade. Comp Cams dual valve springs, Injector Dynamics ID-850 matched injectors and Lingenfelter Performance dual fuel pumps controlled by a CTS-V control unit support the beasts appetite. A set of American Racing equal length long tube headers with 1 7/8-inch primaries and three-inch collectors feed a pair of high flow catalytic converters. The rumble is brought to you by a Billy Boat Performance Exhaust, three-inch ZL1 dual-mode exhaust system with quad tips.
| | |
| --- | --- |
| | |
Power heads to the six speed manual transmission through a Centerforce DYAD twin-disc clutch and matching flywheel. Rearward of the transmission is a Driveshaft Shop aluminum driveshaft and 1,000 hp axles that are spun by an Eaton TruTrac differential packed with 3.70 gears. Rowing the transmission is easy thanks to a Hurst Shifter and brushed titanium billet handle. Everything was installed at Jannetty Racing and tuned by Ted Jannetty with SCT software.
The car is the perfect blend of high style intersecting with supercar performance for the sun loving enthusiast."
Massive 22-inch Axiom AX-M02 forged wheels set the stance of the Camaro. The nine-inch wide fronts are wrapped in 245/30 Pirelli P-Zero Nero tires while a set of monster 305/25, 13.5-inch wide rubbers are mounted on the rear. Underneath the fronts are Brembo calipers with Granetelli Motorsports drilled and slotted rotors that have been powder coated.
Pedders USA provided a Track II Xa Supercar suspension system. This system is known as the Justice Camaro Package, and conjures visions of The Bandit escaping from Buford T Justice himself. The kit includes a set of coil-overs, a complete high density bushing set, competition sway bars and adjustable end-links. The shocks are remote reservoir 52mm high pressure nitrogen units that have separate compression and rebound adjustments. The sway bars measure 32 mm in the front and 27 mm in the rear, designed for SCCA or NASA drivers who can handle some over steer as the vehicle exits a turn under power. The suspension was installed by Raymond Performance in Plainfield, Indiana. This kit has produced skidpad forces in excess of 1.3Gs on street tires in similarly prepped cars.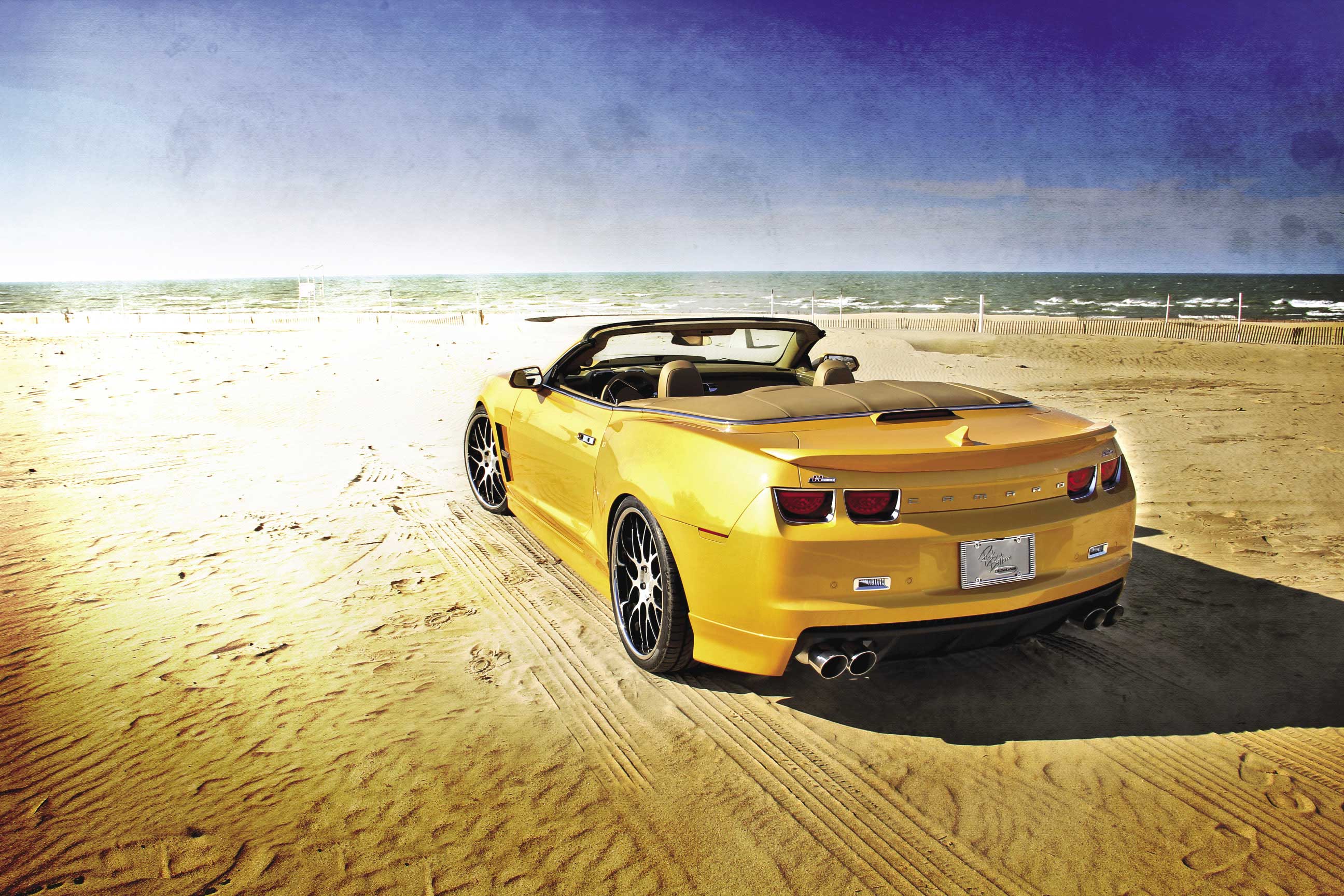 With the total lack of subtlety going on under the body, it seemed logical that the exterior follow the same theme. A 3dCarbon body kit and spoiler are complimented by Showstopper Accessories LED side mirrors and a heat extractor hood. Gary's Customz vented fenders feature American Brothers/Foster Machine billet fender blades engraved with the "XTC 800" moniker the car carries. Care to guess how much power the motor makes?
Camaro Collection Peek-a-boo style door handles, Defender Worx chrome driving light bezels and Carriage Works custom front grills round out the accents. The Sherwin Williams Screamin' Yellow Pearl Paint was laid down by Dennis Bodmer at Specialty Body and Paint. Tony Espinoza color sanded and buffed the finish at Tony's Body Shop in Mendota, IL.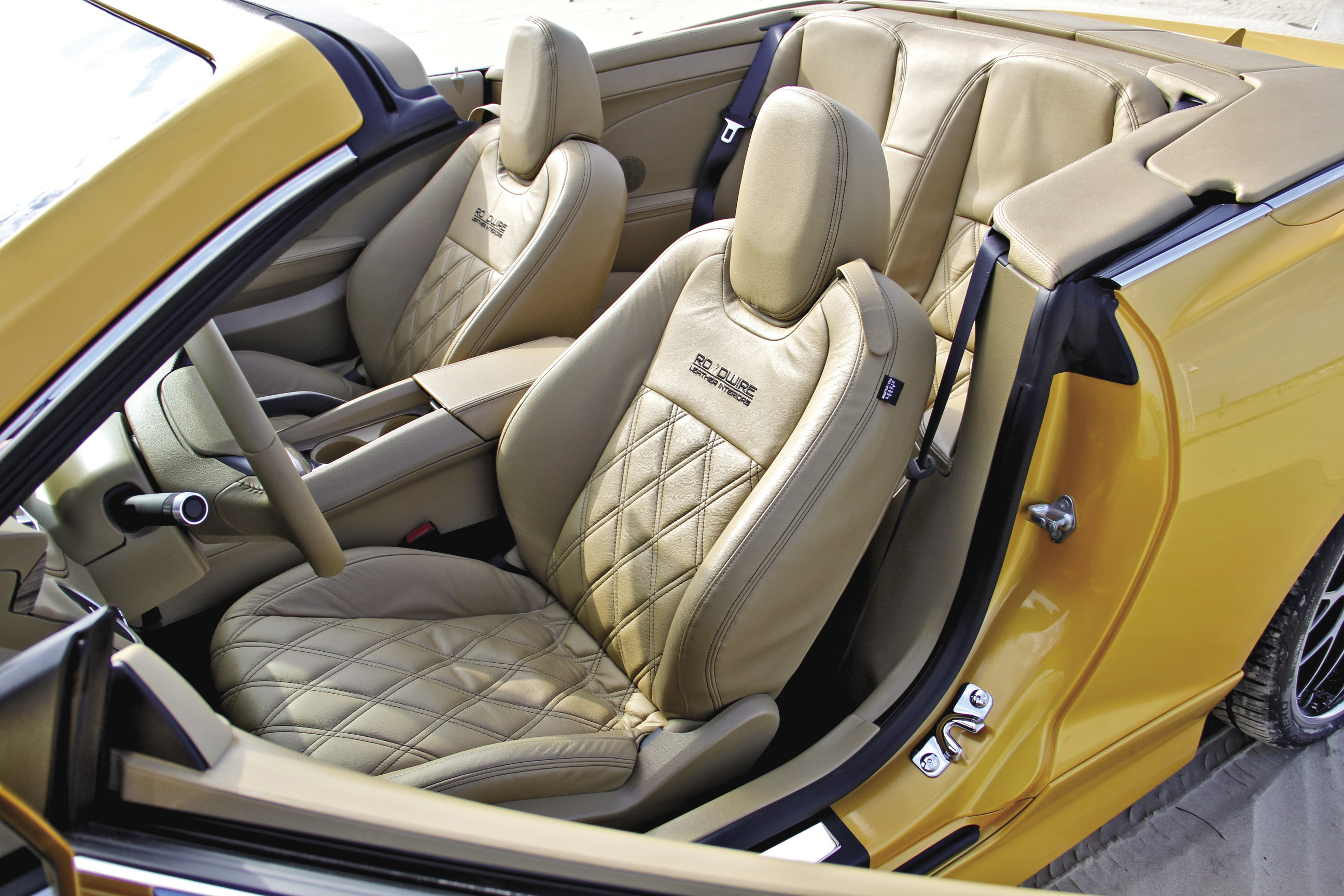 Crack the door open and you'll find a Roadwire leather upholstery kit that features a double-diamond cross stitch pattern. The center console and dash feature a wood trim finish by Steve Ellis at Raymond Performance of Plainfiled, IN. The arm rests, console lid, tonneau cover and other accents were tweaked by Trent's Trick Upholstery. The door panel inserts are by Stitchcraft, the chrome trim and speaker rings are by Defender Worx and the sill plates are by American Brothers Design.
The rumble is brought to you by a Billy Boat Performance Exhaust, three-inch ZL1 dual-mode exhaust system with quad tips."
No car with this much work done to it would be complete without an audio system. Bottom contacted his friends at Metra for a complete system including an OE style 2-DIN Navigation system with Bluetooth and iPod control. This feeds a pair of Vibe Audio Blackair series amps. A Blackair Bass 1 and Blackair Stereo 2 take care of making the power. A set of Blackair 6 speakers produce the front stage while a single Blackair 10 was mounted in a Subthump enclosure. The car was wired with Truconnect cables and wiring by Epic Garage and Greg Kosobudski of Sugar Grove, IL.
The car was on display in the Metra Electronics booth at SEMA and won the coveted GM Design Award for Best New Interior. Bottom sums up the project with a simple statement: "The car is the perfect blend of high style intersecting with supercar performance for the sun loving enthusiast." That certainly sums it up well and just like PAS, Bottom and his team have all angles covered with this sick ride!