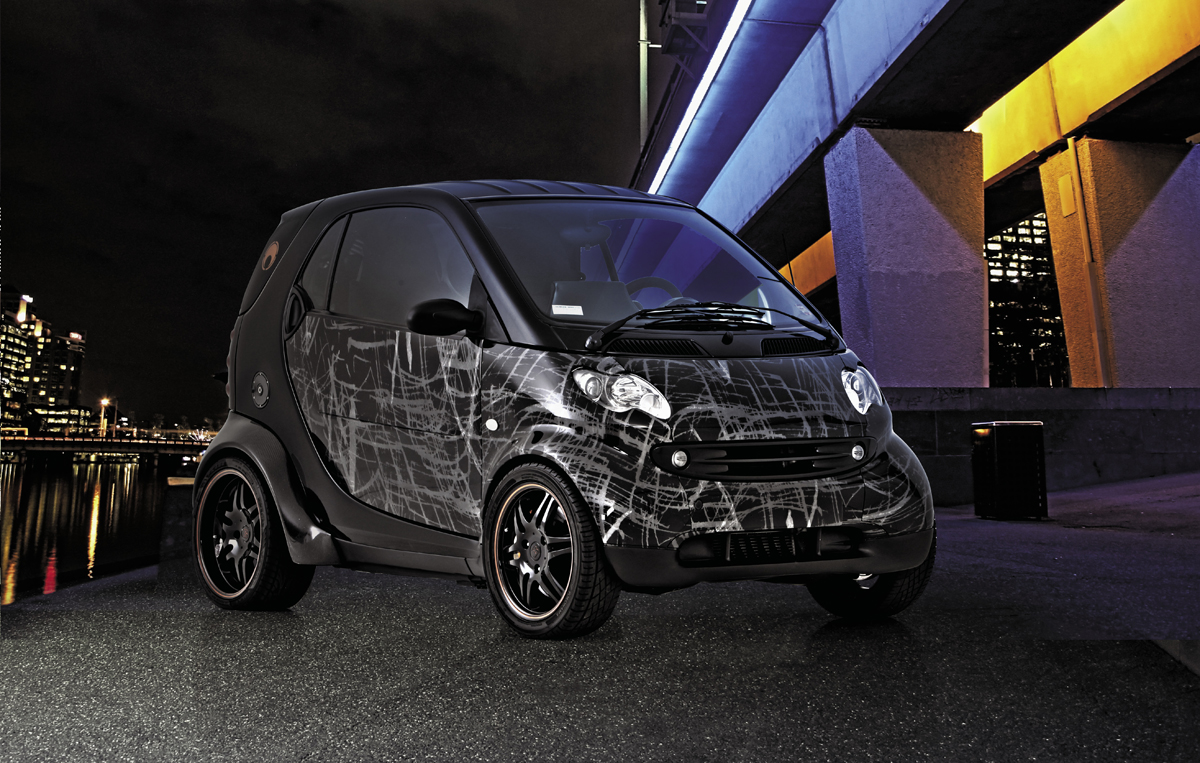 Written by Dave MacKinnon | Photos by Icon Media
RE Audio unleashes the beast within
---
I remember having the opportunity to review a subwoofer for the gang at RE Audio back in 2006. It was very impressive and easily made my 'recommended' list. When the chance to check out the car audio manufacturer's latest demo vehicles came up, I jumped on it.
What we have here is a 2002 Smart Brabus edition, owned by RE Audio and US Amps. Brabus is a tuning company from Germany who have offerings for cars like the Maybach and every possible Mercedes-Benz, as well as Smart cars.
This ForTwo is outfitted with a Brabus wide body kit and custom rear carbon fiber fenders that add an additional three inches to the already stout kit. Under the big fenders are 16-inch front and 1-inch rear wheels from Brabus. These are wrapped in sticky Yokohama tires with 12-inch S-Mann slotted brake rotors (sourced from the Netherlands) and six-piston Brabus calipers taking care of braking duties. KW Variant 2 coil-overs keep it all planted on the ground.
For motivation, Hyevon Motorsports in Huntington Beach has installed a turbo upgrade from the United Kingdom's Big Performance. The kit includes a new turbo, new manifold, injectors and a diverter valve. This, coupled with a Brabus exhaust and air-to-water intercooler, nets a claimed 110 hp. Given a stock ForTwo makes about 50 hp, this is significant!
Popping open one of the big doors reveals a very customized interior finished in painted fibreglass and Alcantara. Brabus accents include a new steering wheel and gauge pod trim pieces. The audio system customization is readily and immediately apparent as well. A glassed pod sits atop the dash and is home to a pair of Kove Audio LCD displays while a Kenwood DDX-418 serves as the source for the system.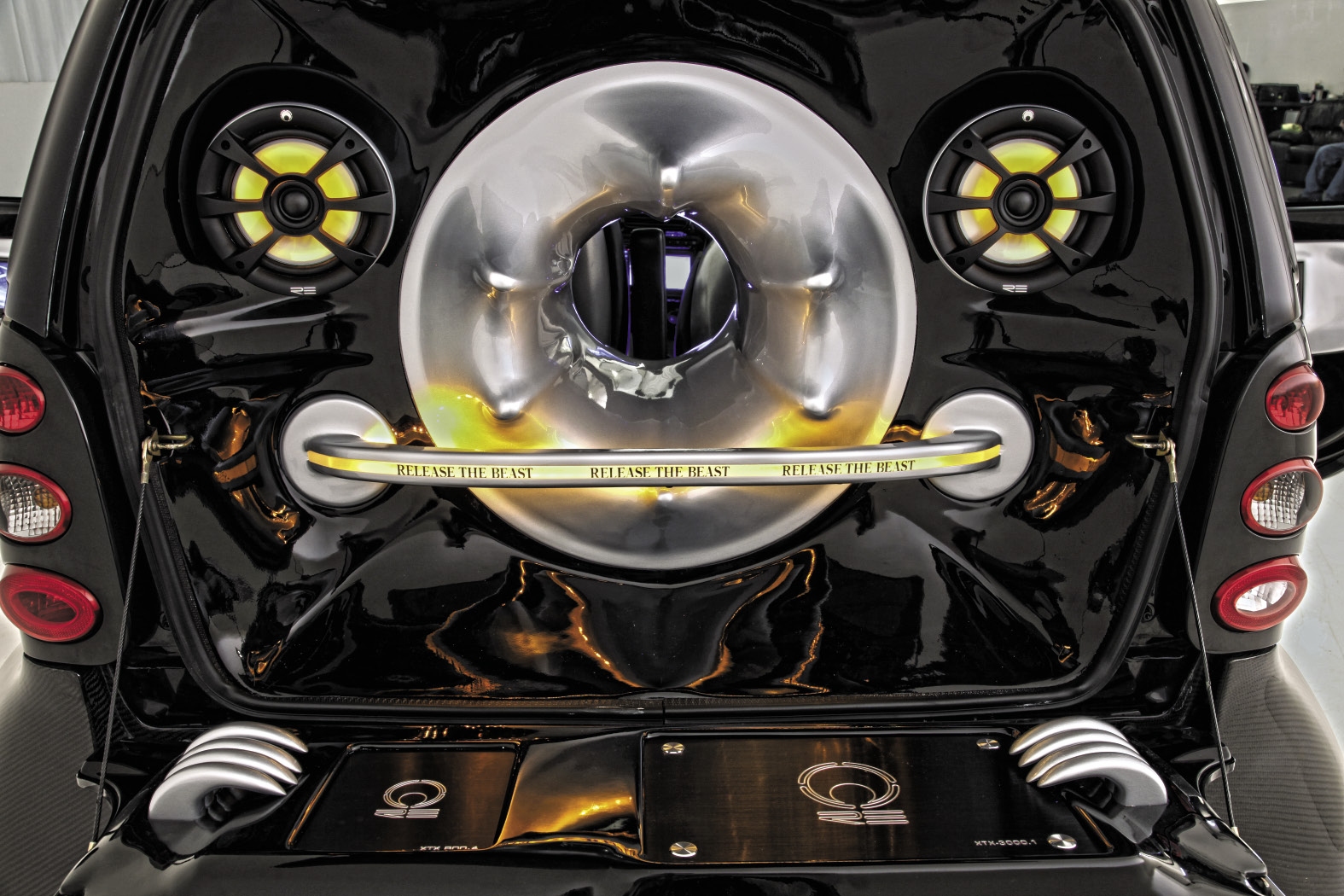 The custom-built wall behind the seats is an impressive blend of organic futuristic shapes and curves. There are six RE Audio REX8D4 eight-inch subwoofers in a vented enclosure that slams bass right into the back of your head. The circular sub wall wears silver and black paint and features a pair of illuminated RE Audio logos that really pop at night. Alongside another Kove monitor in each door, each of the door pods houses a pair RE Audio 65FR coaxial speakers with a third pair fires out of the rear hatch to entertain onlookers. is installed in each of the doors.
Looking in from the hatch, you can see a large hole in the middle of the enclosure that is surrounded by additional organic creativity. The hatch area is also home to two RE Audio amplifiers – a XTX800.4 and XTX3000.1 – to power the doors and rear speakers, and to drive the subwoofers separately. The sub amp is capable of producing 1,400 watts of power to ensure the subwoofers get all the power they need to impress. Given the REX8 subwoofers uber-low resonant frequency of 22.8 Hz, this little monster is built to impress and rumble with the best of them.
Supplying the amplifiers the juice they need to perform is a custom 250-amp alternator from H-O Alternators and a pair of Kinetik HC1400 power cells. Naturally, the system is wired up with RE Audio's Connect Series power cable.
Greg Carolus from RE Audio enlisted Sam Yun of Audio City in La Puene, Calif. to help with the execution of the install design. "While I enjoy working on the company demo vehicles, my job as production manager does not leave me lots of time for these projects," he says. "After the initial design, I left it in Sam's capable hands and you can clearly see the results are amazing!"
Carolus would like to extend big thank-yous to everyone that helped put the Smart together, with special mention to everyone at Kinetik for their support.
If you think the Smart is cool, we were ready to twist off both of Greg's arms so he couldn't stop us from shooting RE Audio's latest creation. Luckily he has agreed without incident. I don't want to give it away, but I'll leave you with this clue. The Smart can fit inside the new vehicle.