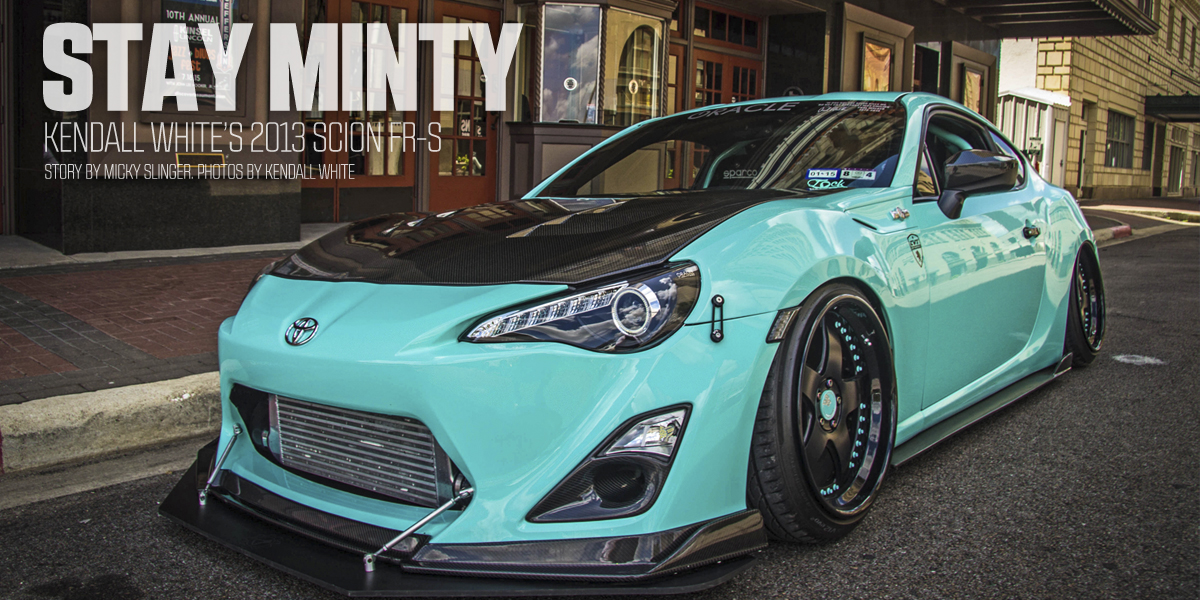 Played out. It's a phrase we use to describe something that's overused to the point that some may find the fact that it exists an annoyance. For example: Minions, widebodied cars, Frozen, stock GT-Rs at car meets and even modified 86 platform cars in general (for the record: these aren't my personal views – I'll never 'Let It Go').
To expand on the last item on that list, it seems that some have come down with a case of FR-S/BRZ fatigue. "Oh, another FR-S." "Oh, another Rocket Bunny 86." That's why we like Kendall White's build so much. It's the much needed refresher; the after-dinner mint that allows you to make your move on your date. In the case of this minty fresh take on the FR-S, it was originally going to be vastly different than the car you see here. It was originally going to be a track rat, however, past experience took the build in a different direction.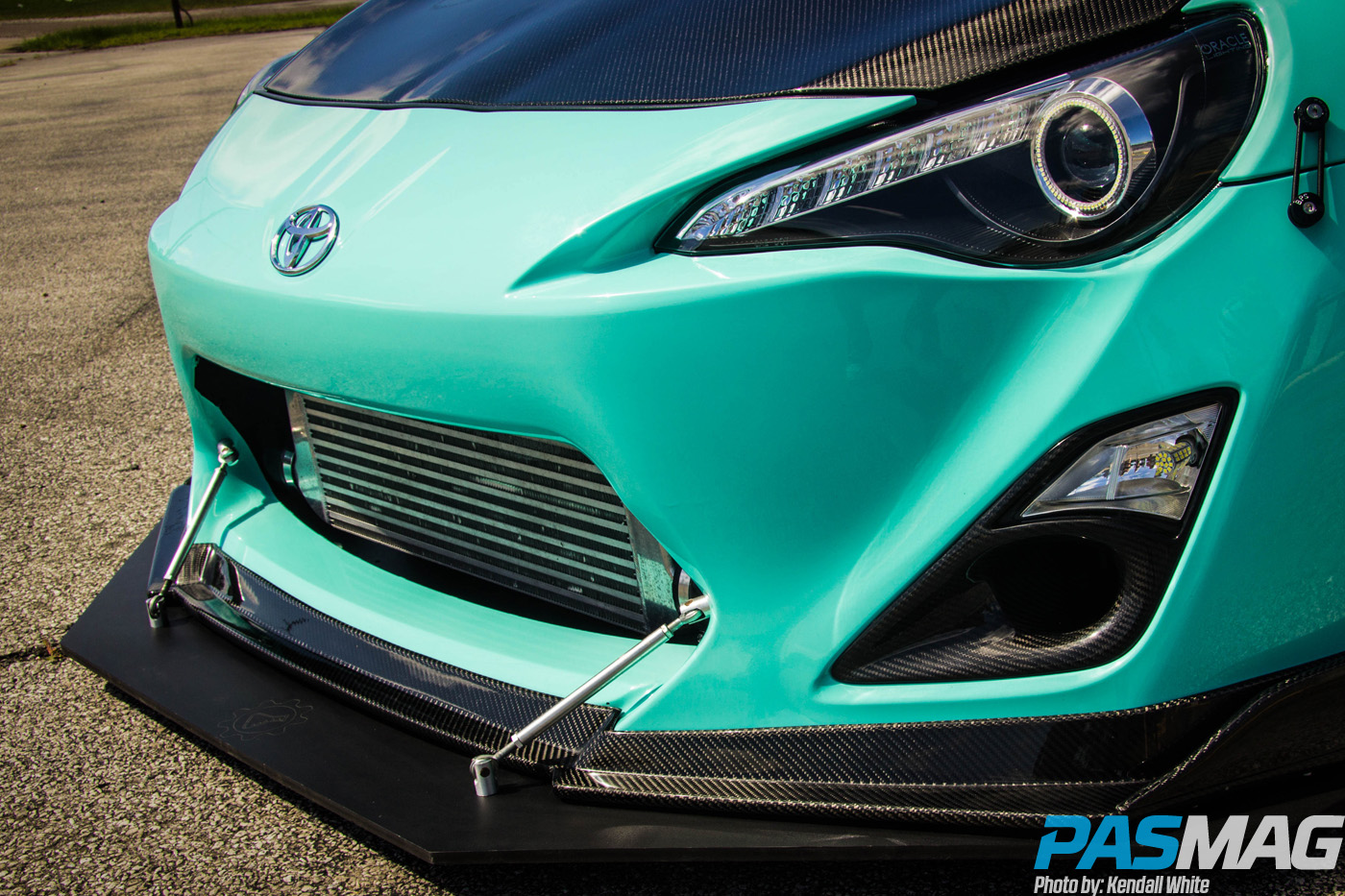 "I just don't like breaking stuff," White laughs. "If I spend $1,000 on a spoiler and I hit a wall, boom, there goes $1,000. If I have a show car and put $50,000 into it, then I'm going to try to keep that as perfect as I can."
Understood, but no one is safe from the low car blues. Even though he's running an air system, the infamously terrible highways of Texas, where White hails from, have claimed quite a few of his front lips. One would ask, "Why not trailer the car?" White still likes to drive it, just to a certain radius.
"I put a boundary as to how far I travel," explains White. "If a show is past four hours away, I'll hire somebody to haul it for me, but if it's within a four-hour radius, I'll drive it."
White probably put the high-end Seibon Carbon front lip and Driveway Labs front splitter combo on the front of his car to deter him from having any more front lip casualties while he's rolling along the potholed roads on 18x10-inch Avant Garde F130 wheels with a full Airlift Performance air suspension system. Seibon Carbon product actually takes up residence on the hood, the trunk, side skirts, rear spats and even the rear "diffuser."
You'll notice carbon fiber all over this car, as it's the secondary color to White's theme of seafoam green and carbon. The seafoam green is such a great color, but how did the Tiffany-esque hue become the main deal in that equation? It all started with seeing an early '60s Chevy pickup in seafoam at a car show a couple years back.
"I absolutely loved it when I saw it," says White. "When I eventually bought my car, I had some stuff done to it and went to a show a couple towns over from where I live now and they had the same exact truck there – it was a different person's, but it was the same color and everything. I saw the color a long time ago and fell in love with it and when I saw it again, I was still in love with it." The rest, they say, is history.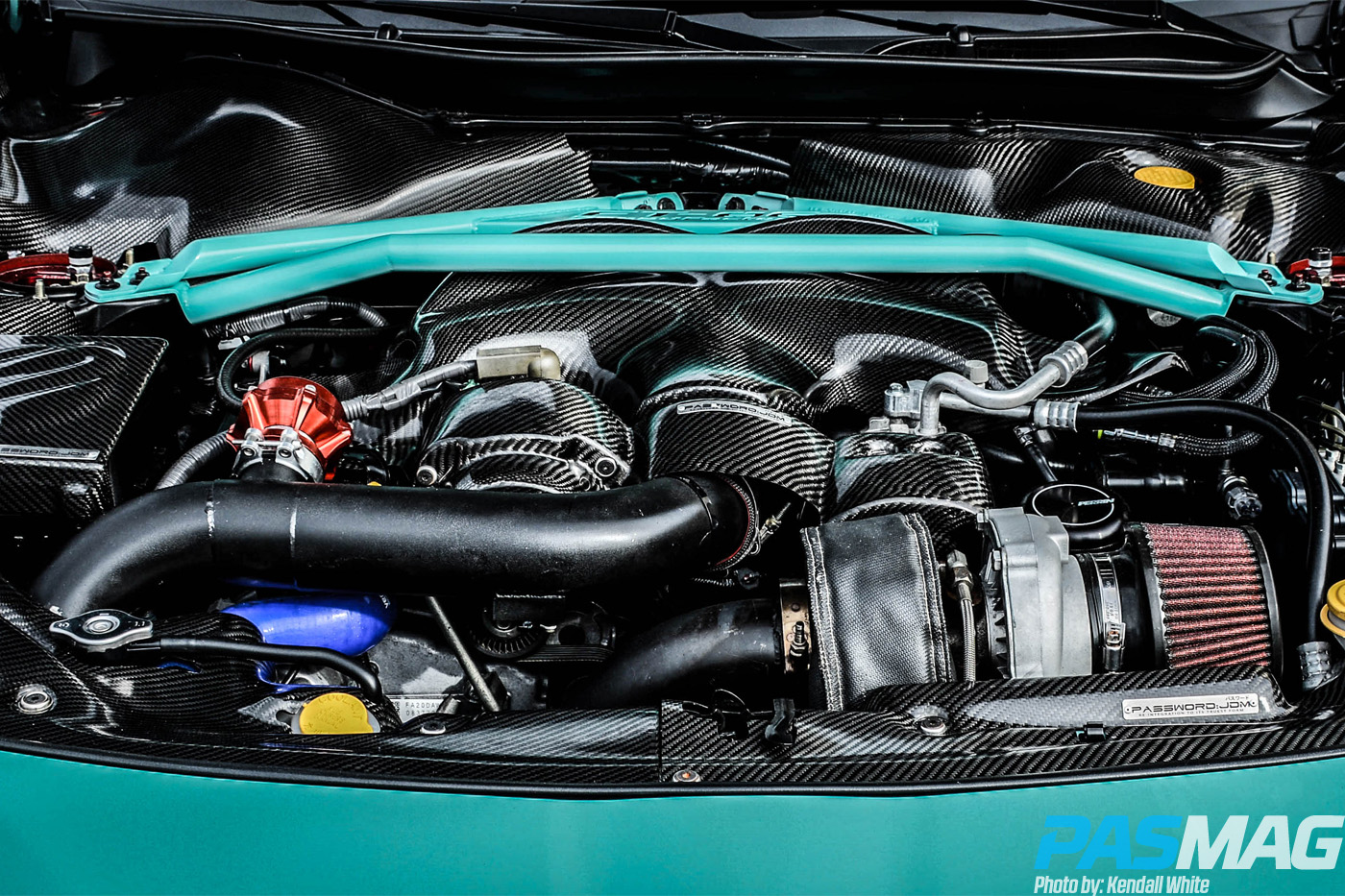 This isn't just one of those wheels, suspension and pretty colors cars – this build checks off all the boxes. Under the hood, past all of the Password JDM dress-up bits, is an Inline Racing custom turbo system that lays down 310 horsepower – 110 over stock is enough to have the need for some upgraded rear axles and carbon driveshaft from the Driveshaft Shop.
Not one aspect of this FR-S has been ignored in an effort to achieve show car perfection. Inside, everything has been touched up. JPM Coachworks has worked magic by wrapping almost everything in suede with a minty stitch to tie it all together. Of course, there are carbon fiber items on centre console and gauge pods to tie the theme together. Even the Cusco four-point roll cage is color-matched in seafoam green.
"Since SEMA, I've fallen in love with the interior," gushes White. "I took everything out before SEMA, boxed it all up into two or three big, big boxes and I sent it out there and said that I needed it done a couple weeks before SEMA. I got the stuff three days before the truck came to pickup the car for SEMA! It was a huge time crunch, but it was so worth it."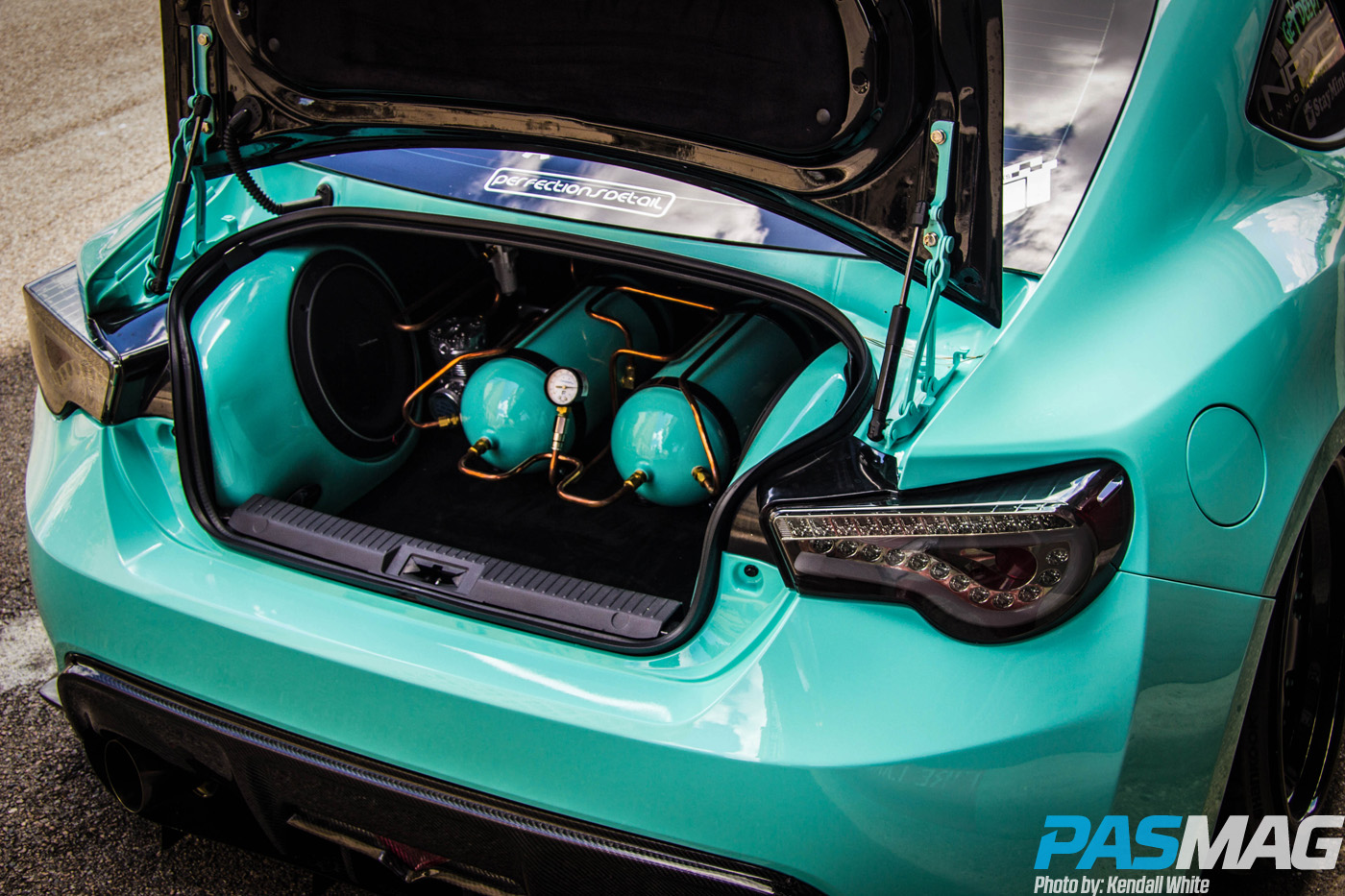 As with any show car with air ride worth its salt, it needs to have a trunk install happening. Well, when White pops the lid, jaws are dropping. Dual air tanks in – you guessed it – seafoam green are paired with their Viair compressor counterparts and feature some amazing bronze hardlines by CVT Designs that snake around the trunk. To turn things up to 11, there are also two custom sub enclosures (courtesy of Integrity Concepts) that house a duo of Rockford Fosgate P2 10-inch woofers on each side. An MTX 600-watt amplifier takes on the task of powering these loud twins. With all that said, possibly the most impressive part of this 86 is how it came together. Yes, there are many names on this car, but this isn't a case where a part was sent out and then handed to the shop. There are a few names on this car you can't see, and they belong to White's friends and his late father and brother who supported him and helped put every part on this car, all from the little garage under his townhouse apartment.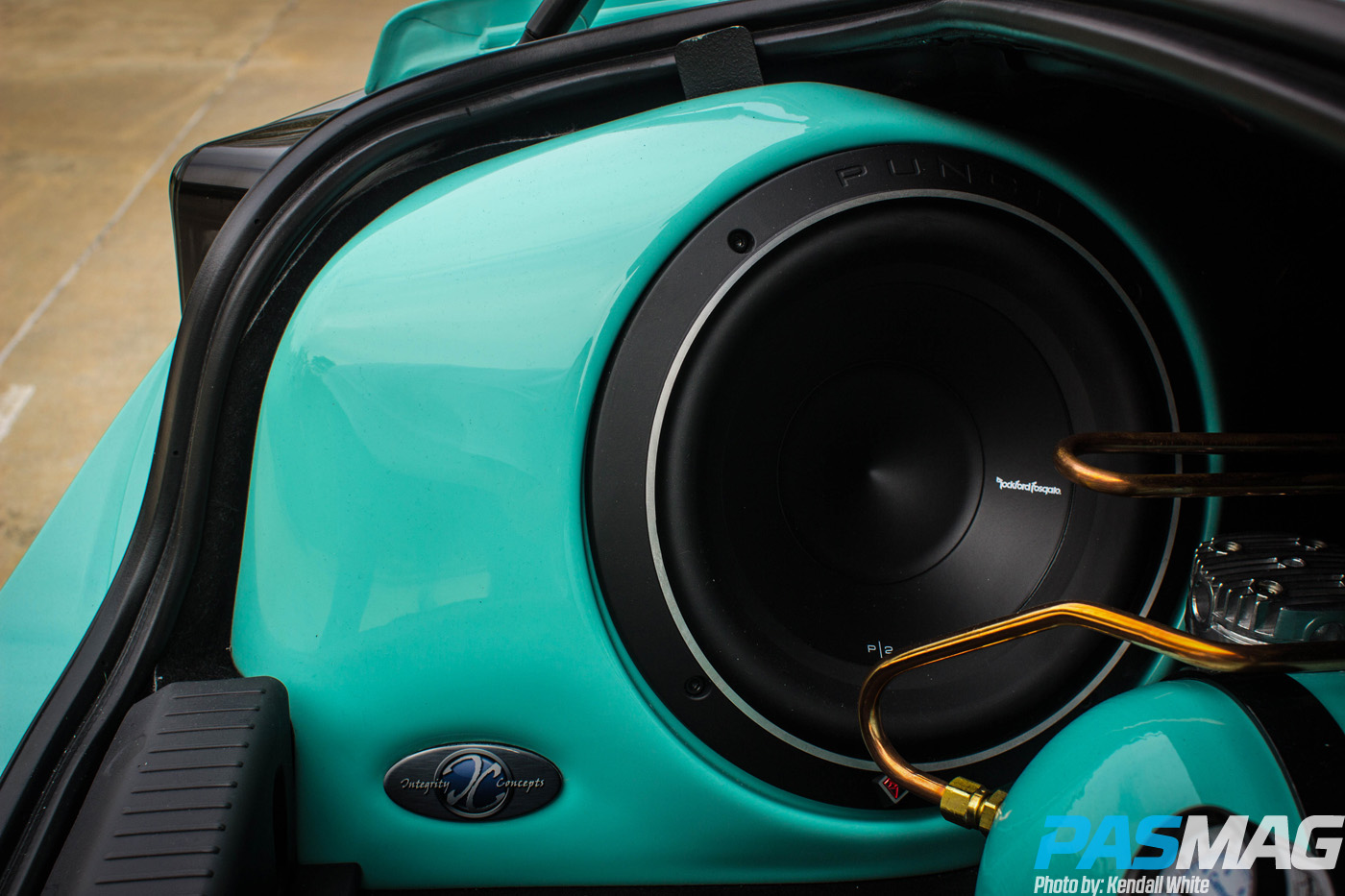 "I'm very proud of myself and my friends for helping me do that," says White. "I never thought I would graduate high school and have a completely built show car by time I was 24-years-old. It was a lot of sweat, tears and beers." No matter which way you look at it, this car puts the FR-S back in "fresh." You can't hate on that.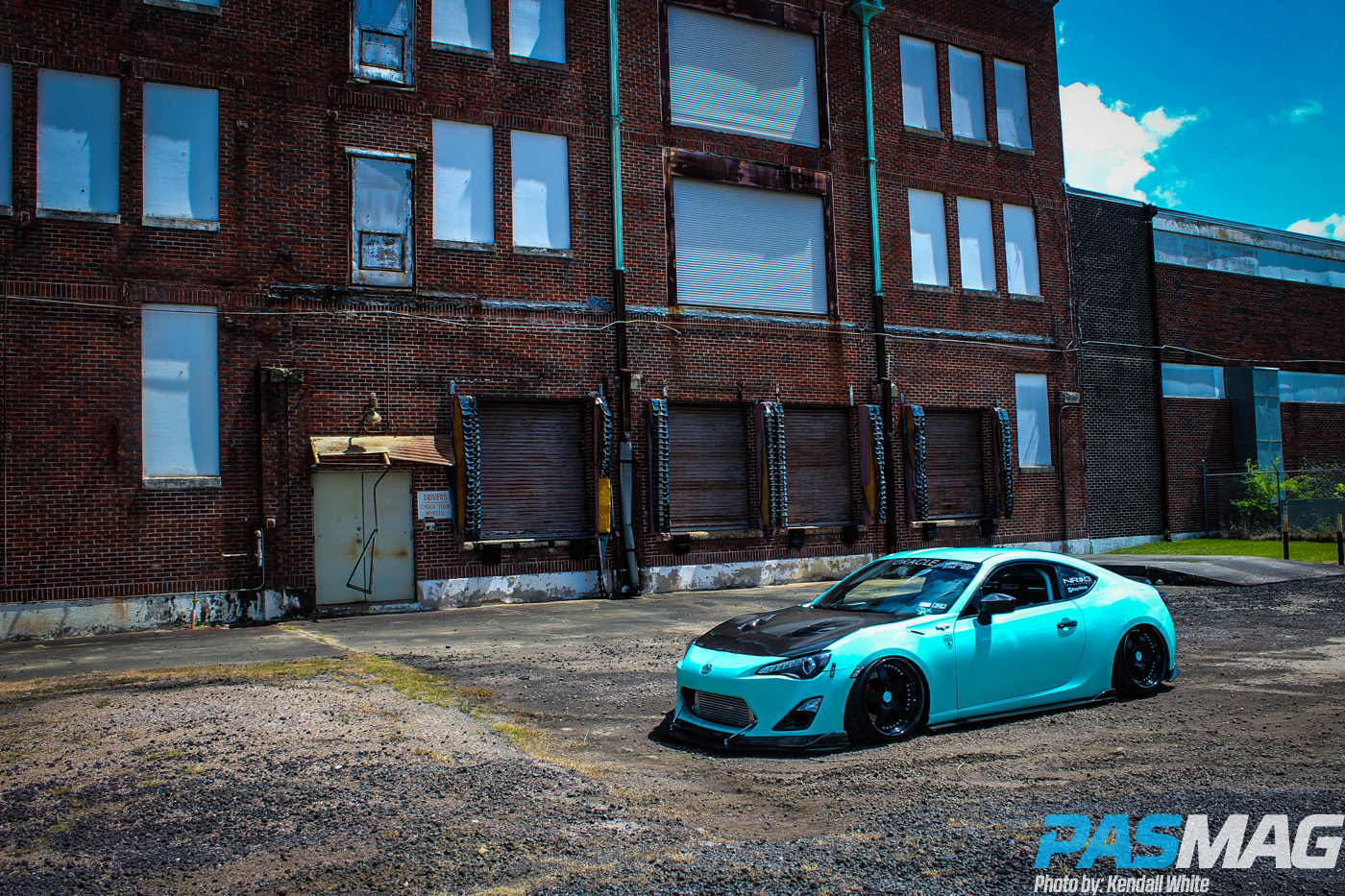 ESSENTIALS
2013 Scion FR-S
OWNER: Kendall White
LOCATION: Lumberton, Texas, USA
ENGINE: Toyota/Subaru FA20 2.0L Boxer H-4
HORSEPOWER: 310 hp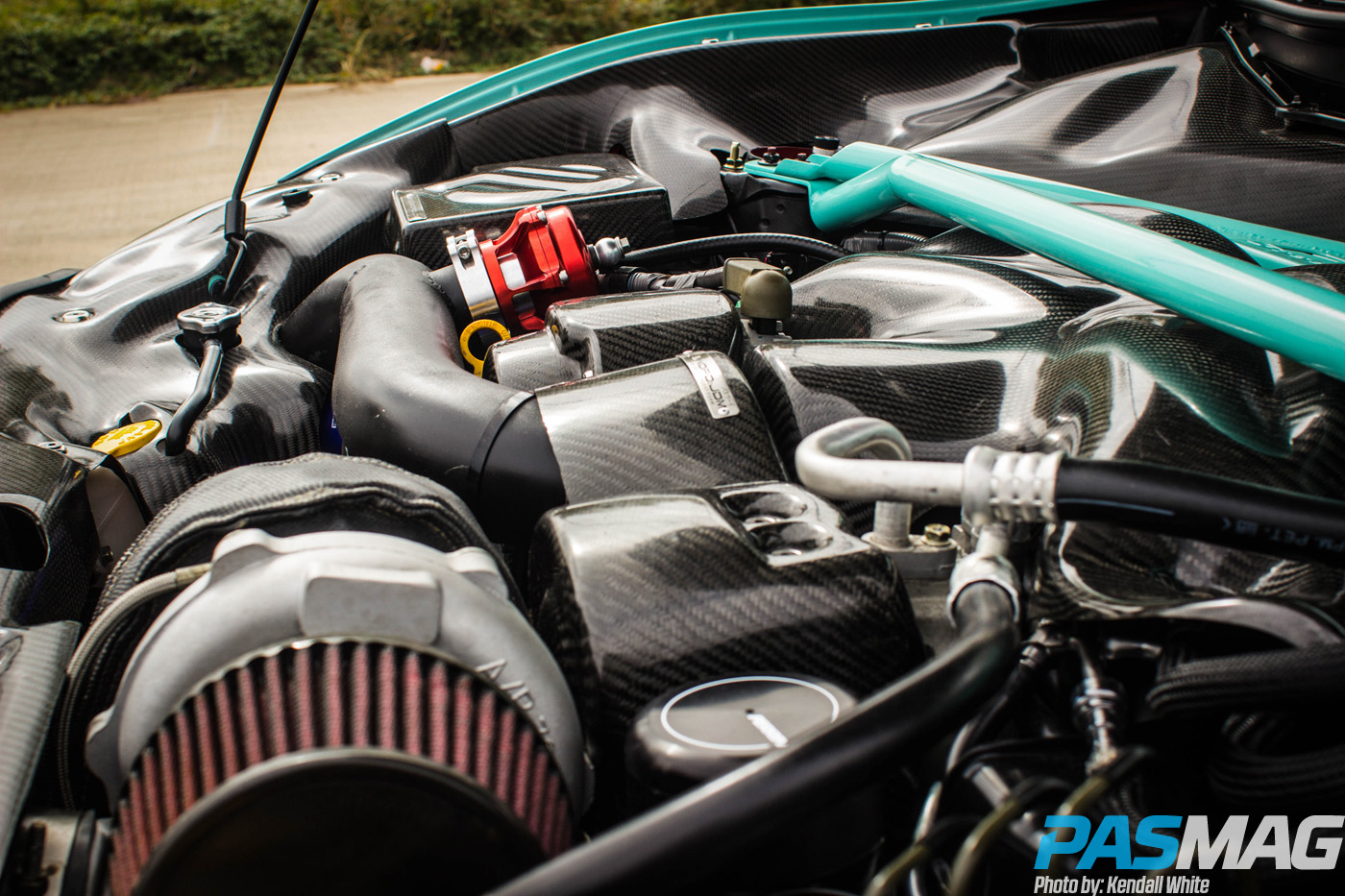 ENGINE MODIFICATIONS
Inline Racing custom turbo kit
Tial (Q 50-mm blow-off valve, MV-S 38-mm wastegate)
Blox Racing velocity stack
Perrin (oil cap, oil filter cover)
Password JDM carbon fiber (cooling plate, pulley cover, fuse box cover, engine cover, compartment covers, chrome washer kit)
Venair radiator hose kit
EXHAUST
Inline Racing custom (3-in. exhaust system, headers)
Megan Racing mufflers
DRIVETRAIN
MTEC shift springs
Chase Bays stainless steel clutch line
Driveshaft Shop (600 whp axles (r), carbon fiber driveshaft)
Billet Pro Shop short shifter
ACT lightweight street clutch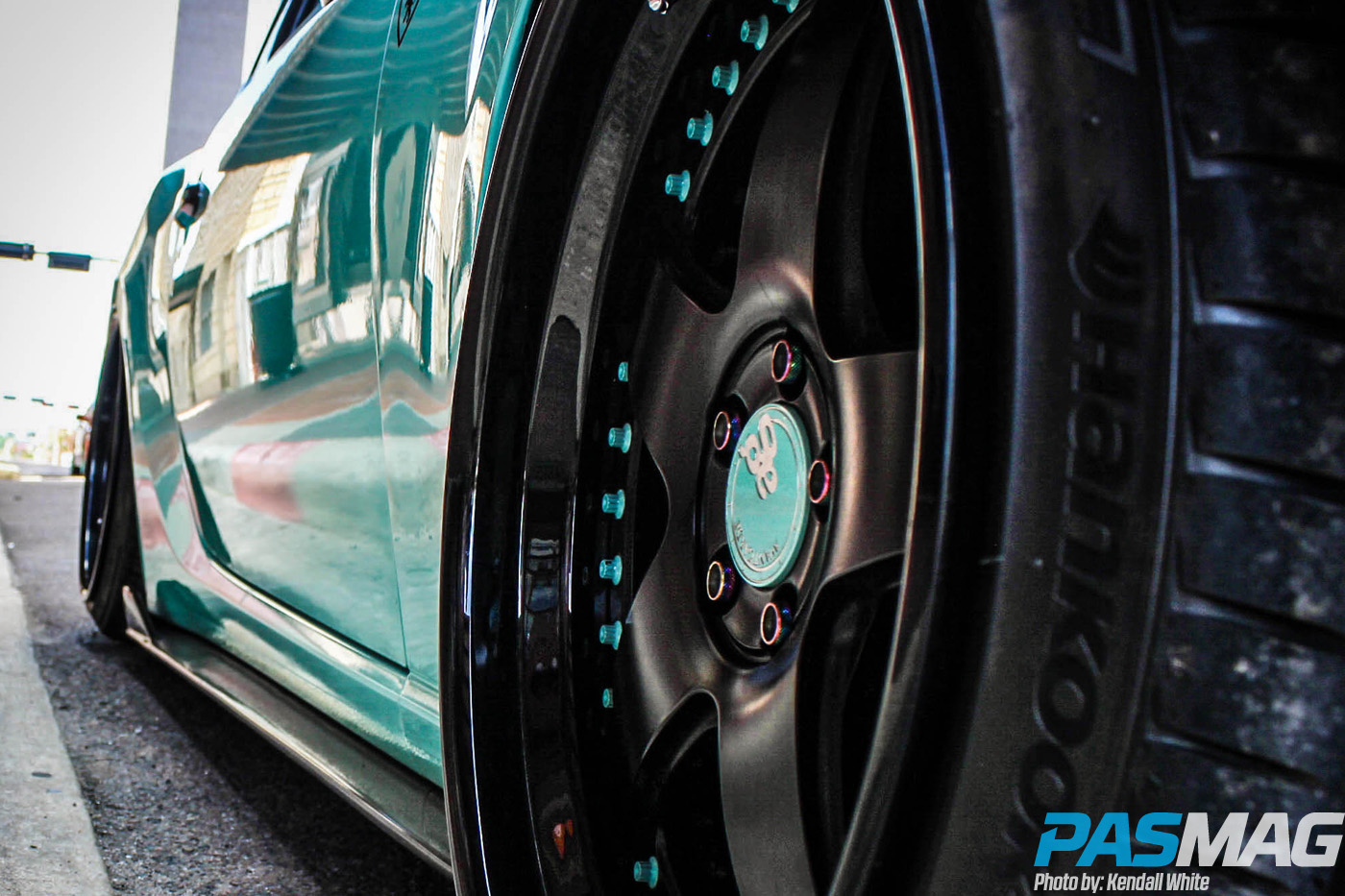 WHEELS / TIRES / BRAKES
Avant Garde F130 wheels (matte black face, gloss black 3-in. lip, custom centre caps) – 18 x 10 (f/r)
Hankook Ventus V12 tires – 215/40R18 (f/r)
Custom mint hardware
ARP extended wheel studs
NRG extended open lug nuts
Wilwood (6R big brake kit (f), 4R big brake kit (r), slotted rotors)
CHASSIS / SUSPENSION
FT86 Speedfactory custom mint (strut bar (f), tri bar)
Beatrush strut tower brace (r)
Whiteline (positive traction kit, camber bolts (f))
Hotchkis Stage 1 sway bars (f/r)
Avenue Performance mint lower control arms
J2 Engineering toe arms
Airlift Performance (air struts, V2 digital management)
Cusco 4-point roll cage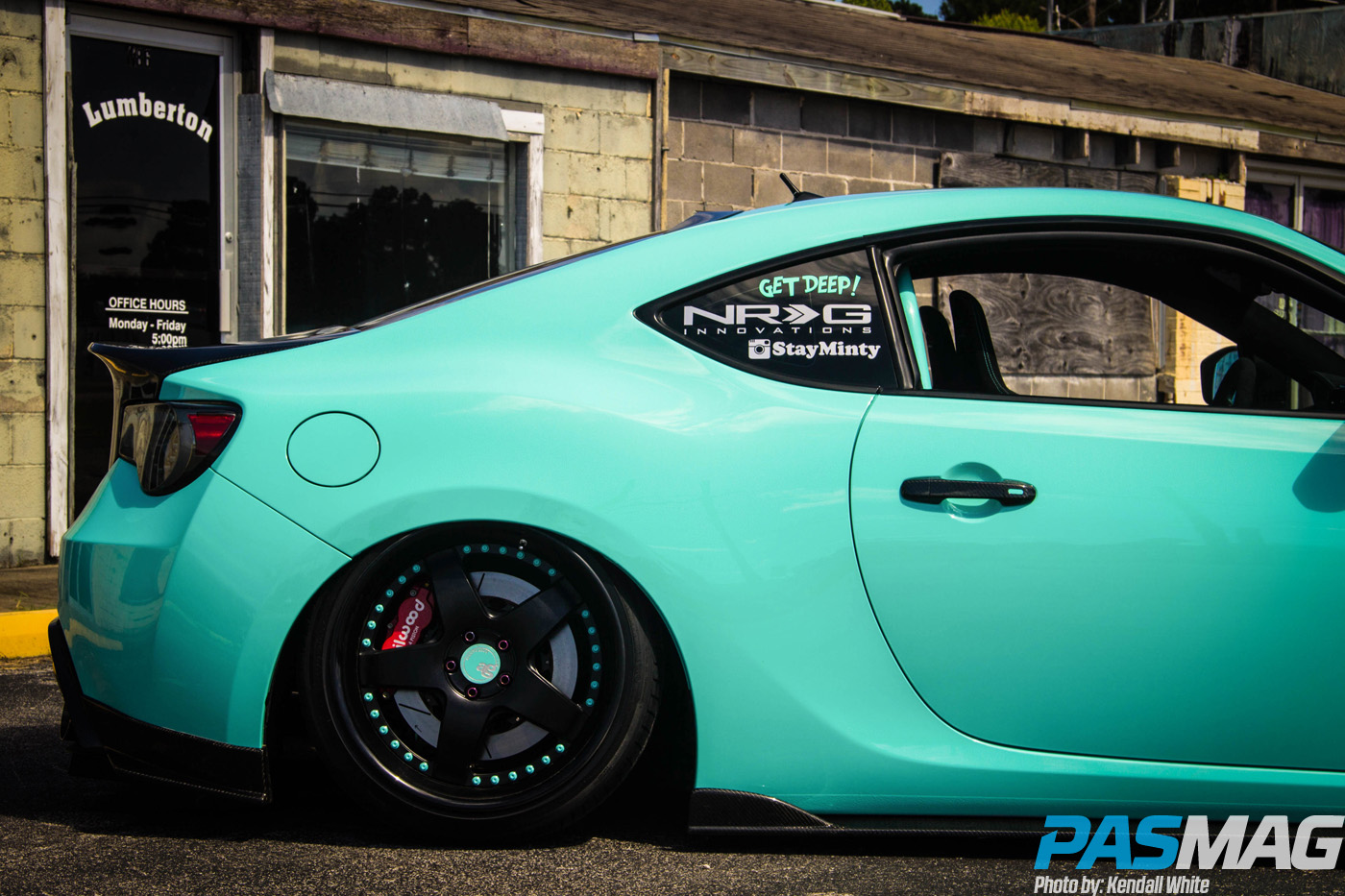 EXTERIOR
Seafoam Green custom paint
Seibon Carbon (front lip, TS hood, CSL trunk, TA side skirts, KC rear spats, rear diffuser)
BeatSonic carbon fiber rear window spoiler
Carbon fiber door handle covers
Driveway Labs (front splitter, rear aero diffuser)
RexSpeed (side mirrors, carbon fiber mirror overlays)
APR Performance carbon fiber brake ducts
Password JDM bumper quick releases
Yospeed custom license plate frame
Window tint by Tint Works
Perrin shorty antenna
Helix JDM crystal smoked side markers
Spyder smoked taillights
Winjet smoked headlights
Diode Dynamics (low beam HID conversion, backup LEDs, dome / map light LED, trunk light LED, side marker LEDs)
Oracle Lighting custom white halos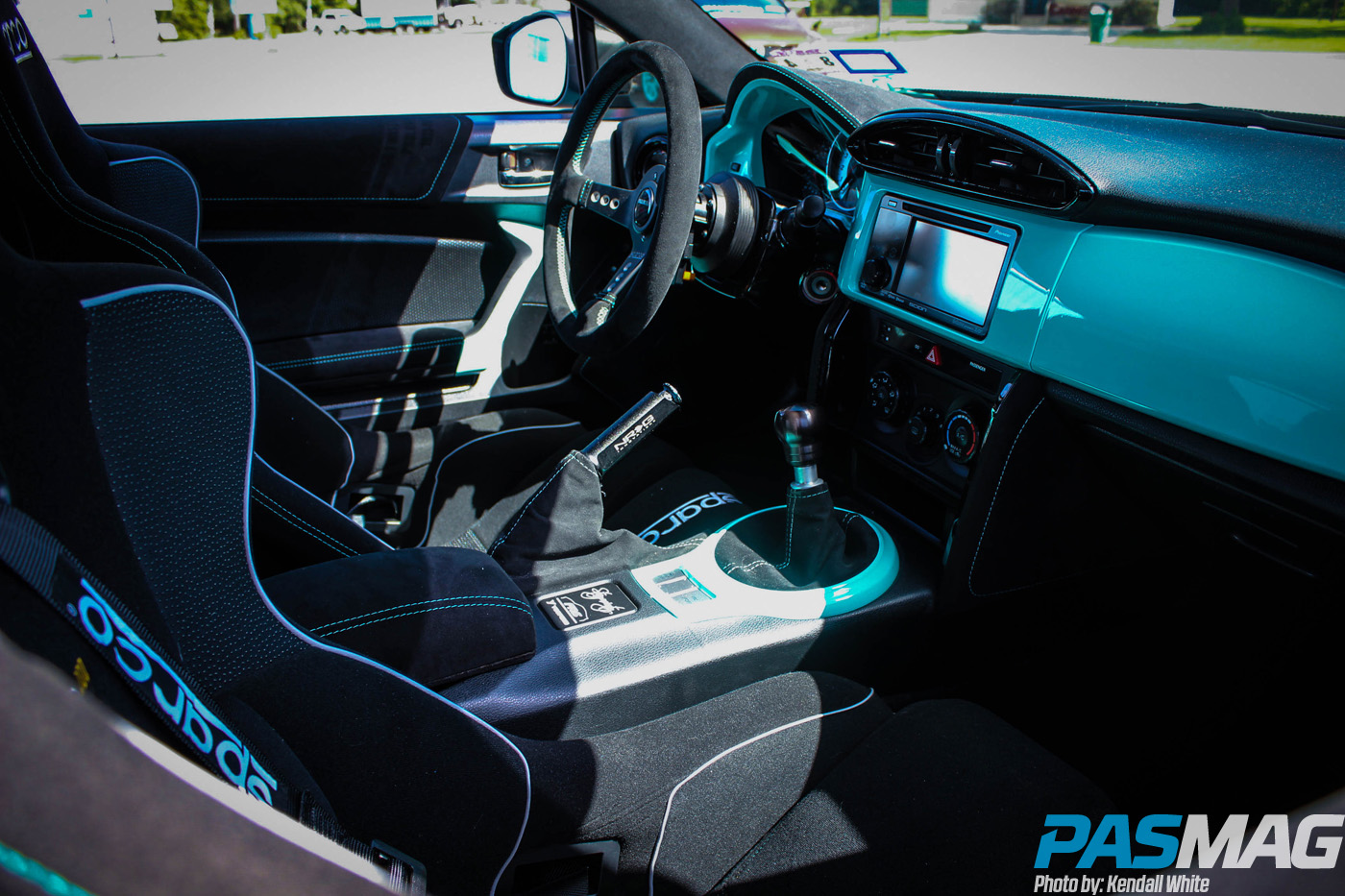 INTERIOR
NRG (harness bar, steering wheel tilt system, e-brake handle)
Seafoam Green & black painted dash dress-up
Sparco (Evo III seats, 4-point harnesses)
Carbon fiber (drift button, custom cut centre console)
Yospeed custom (centre console badge, door sill badges)
Suede rear seat delete
Works Bell steering wheel hub
Summit Racing carbon fiber gauges
Defi gauges
Blox weighted shift knob
CVT Designs custom hardline air system install
Viair 444c compressors (2)
Cusco gas pedal
JPM Coachworks custom suede wrapped with mint-stitch interior
MOBILE ELECTRONICS
Optima Redtop battery
Integrity Concepts custom subwoofer enclosures
Rockford Fosgate P2 10-in. subwoofers (2)
MTX Audio 600-watt amplifier
SPONSORS
BeatSonicUSA, Viair, Font Motorsports, Car Pro USA, Yospeed, Diode Dynamics, Avant Garde, Fteightysix, Winjet, Spectrum Graphic Designs, Driveway Labs, PerfectionsDetail, NRG Innovations, Integrity Concepts, JPM Coachworks Meguiars, CVT Designs, Oracle Lighting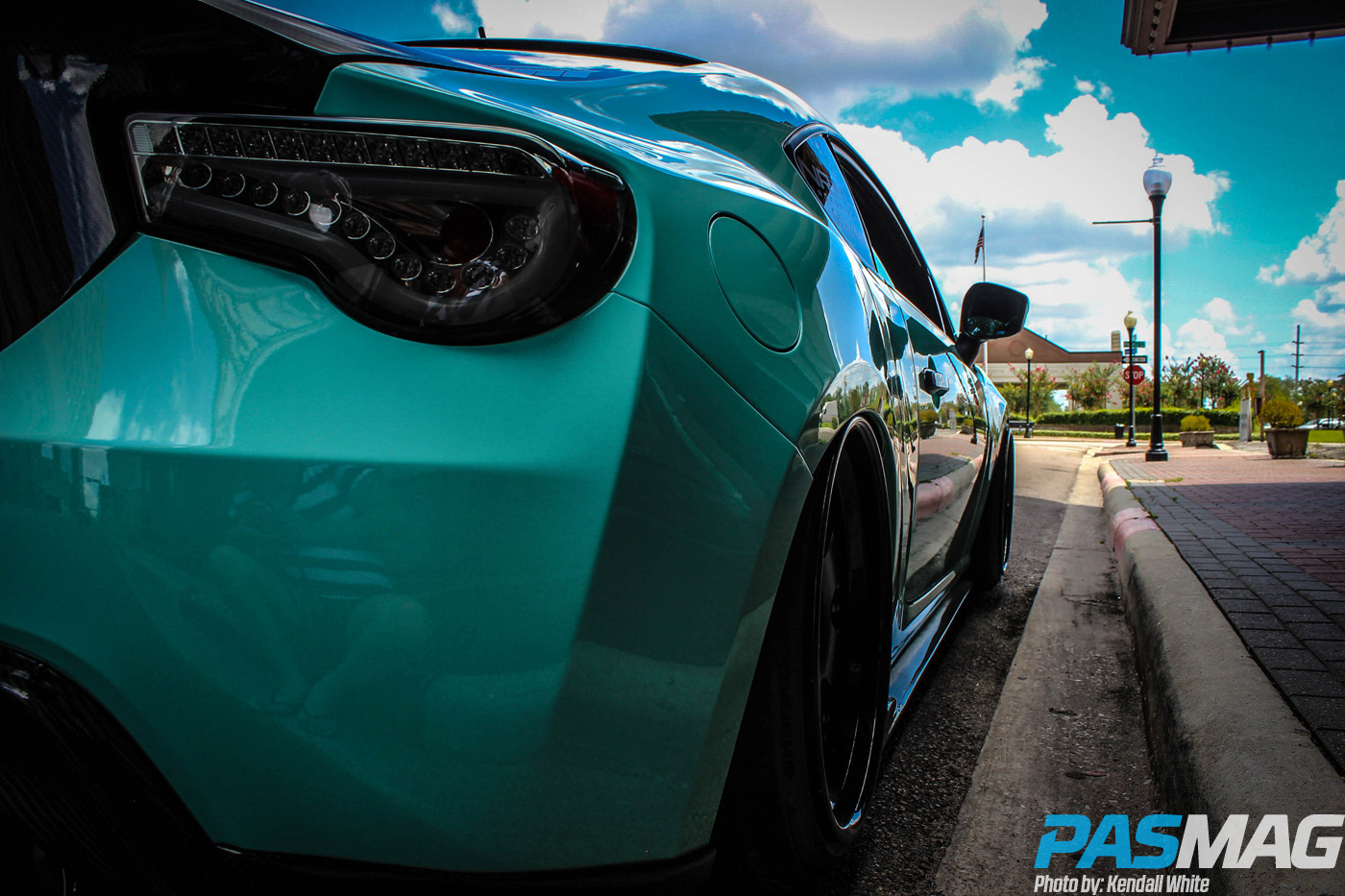 Contributor: Kendall White