Stance is all the rage these days. Thuysi (pronounced 2C) Nguyen owned a V35 that was among the first to push the limits; the fenders lend themselves quite well to aggressive offsets. After stepping up to this V36 chassis and pushing the limits yet again, someone on the internet reproduced his exact setup, down to the same offset. Without flinching, Nguyen used this as motivation to push the limits even further. What you see before you is the epitome of perseverance and dedication.
Outside the car, it takes more than just air suspension to make it look good. Originally equipped with a Top Secret kit, Nguyen decided to go with a Baus Auto Zele-R kit with a custom carbon-fiber front lip instead. The Hikkatadori trunk has an integrated spoiler, while the carbon roof spoiler is also a one-off piece. Stance is achieved with K-sport coilover shock tubes paired with Universal air ride bags. An SPC full camber kit allows Nguyen to dial in the suspension as needed. All air ride controls are handled through a custom chrome switchbox and digital gauge panel in the center console.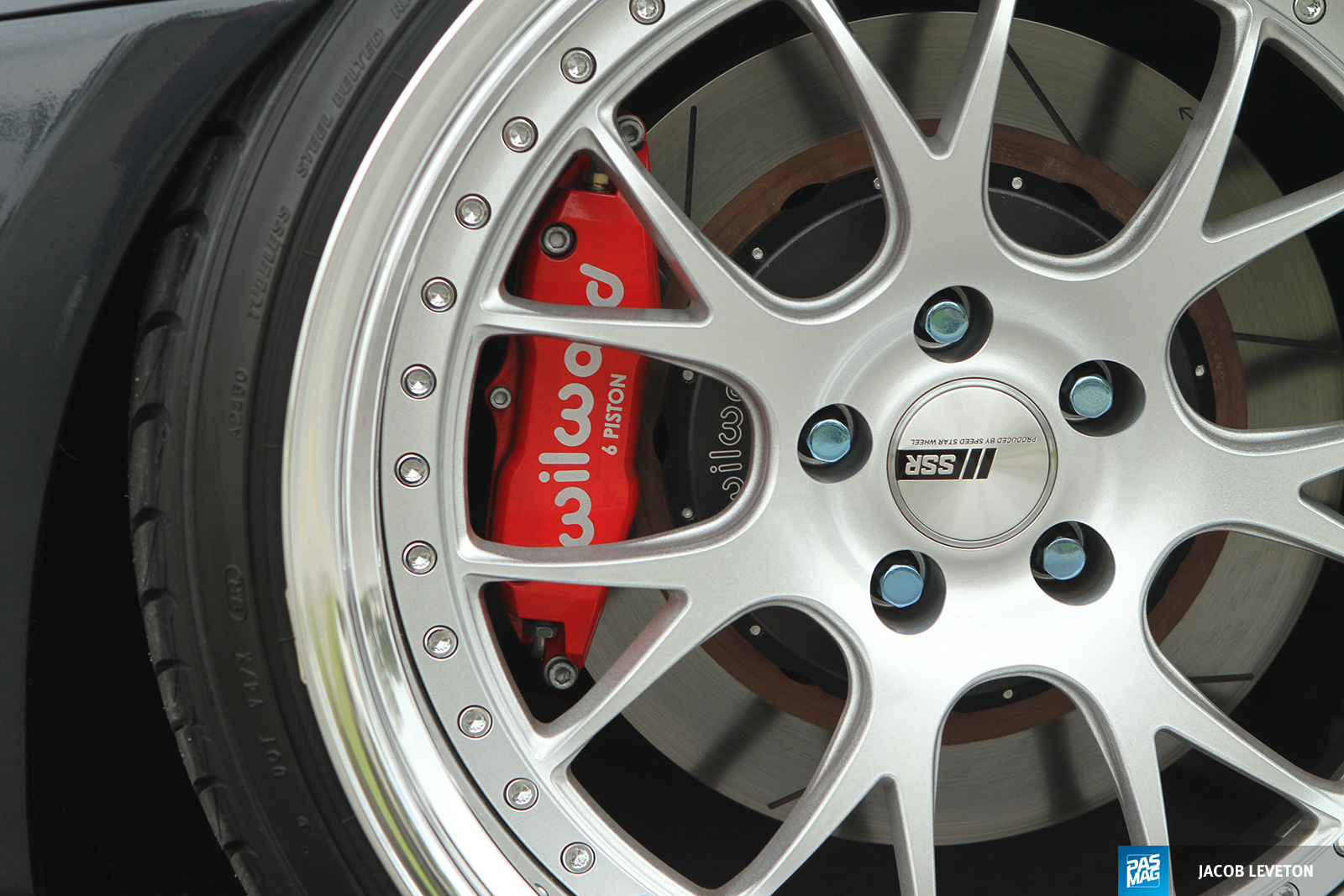 Under the fenders, Nguyen commissioned a set of SSR MS3 wheels specifically for him. Sitting 20x9.5 with a -11 offset and 20x10.5 with a +6 offset, these wheels aren't for the faint of heart. Each wheel is wrapped in Falken FK452 rubber – 225/35R20 in front and 245/35R20 in the rear, pushing the limits of what stretched tires are capable of. Each corner makes use of Wilwood brakes – six-pot calipers gripping 14-inch rotors in front and four-pot calipers gripping 13-inch rotors on the rear. On the street, the car is as aggressive as it gets, with each fender filled with just the right balance of wheel, tire, rotor and brake caliper.
On the street, the car is as aggressive as it gets, with each fender filled with just the right balance of wheel, tire, rotor and brake caliper. <p?Inside the car, Nguyen left no panel untouched. Infinite Auto Design out of Huntington Beach, California handled the overhaul, wrapping the front and rear seats in their signature Peanut Butter leather, with black suede with white double-diamond stitching as accents. The headliner and pillars were swapped with black suede and white double-diamond stitching as well. Each door panel also received an equal amount of Peanut Butter leather, black suede, and white stitching. Even the center console and shift boot were converted to match the new theme.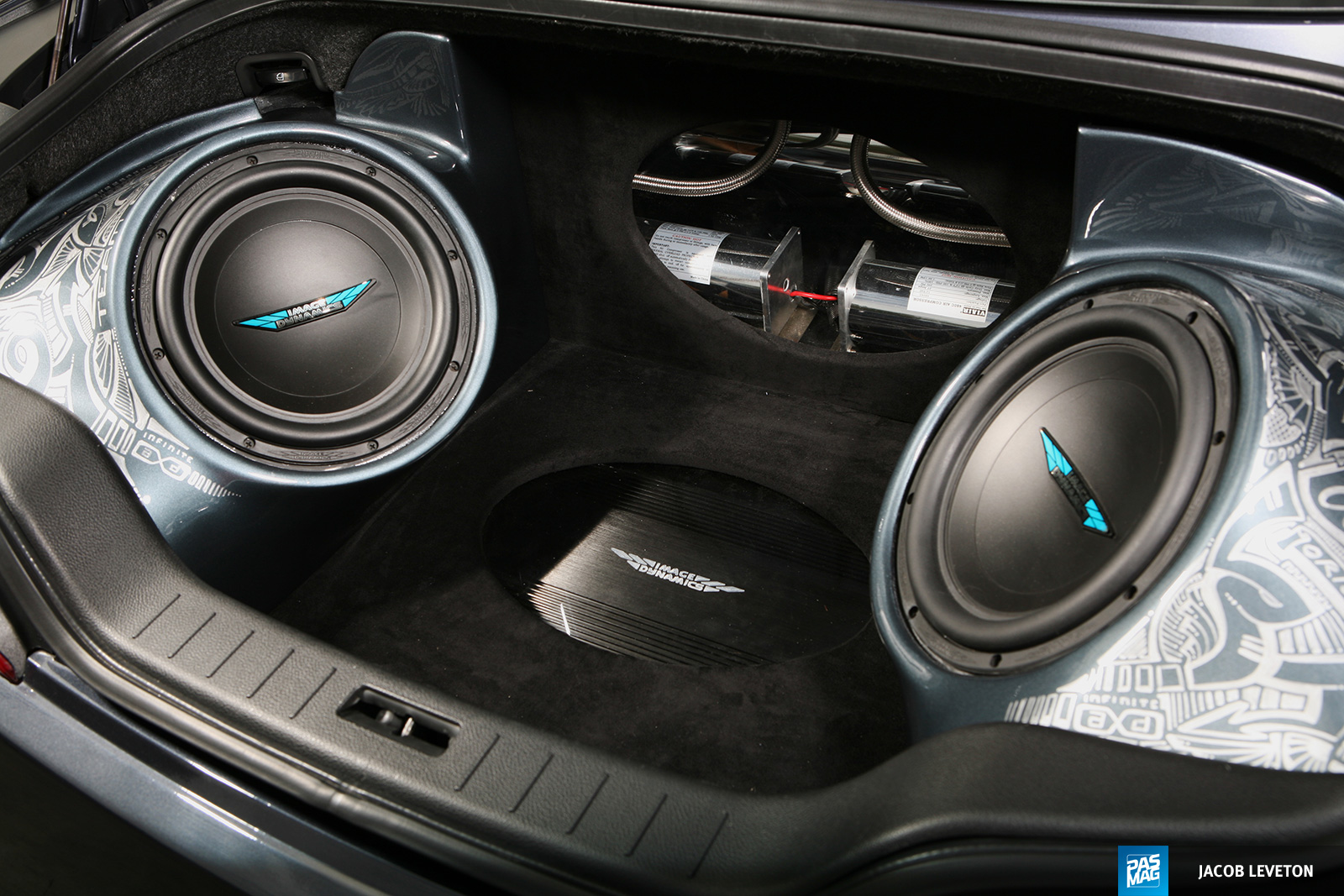 Audio was supplied by Image Dynamics, with CTX 6.5-inch components for the mids and highs in the cabin, and a pair of 10-inch ID10 subs providing the low end. The subs are mounted in a pair of custom fiberglass boxes customized with graffiti art that plugs Nguyen's car club, Team Outcast, as well as Infinite Auto Design. The detail-oriented install cleanly conceals the air ride components, as well as the Image Dynamics Q450.4 component amp and Q700.2 sub amp.
While looking great is always important, so is performance. Under the hood, Nguyen swapped the intake boxes for Fujita units, while GTM test pipes and an ARK Performance exhaust make the VQ37 motor prowl. The engine bay was also cleaned up with Status Elite carbon engine covers, Samco hoses, Password JDM bolts, ARC oil and radiator caps and a GT-Spec strut bar.
Overall, Nguyen's car is the perfect balance of stance, luxury, and streetability. When aired up, the car rides smooth to handle any obstacles. Aired out in a parking lot, the car has some of the most aggressive stance you'll find on a G37S. And for Nguyen, this is exactly what he had in mind.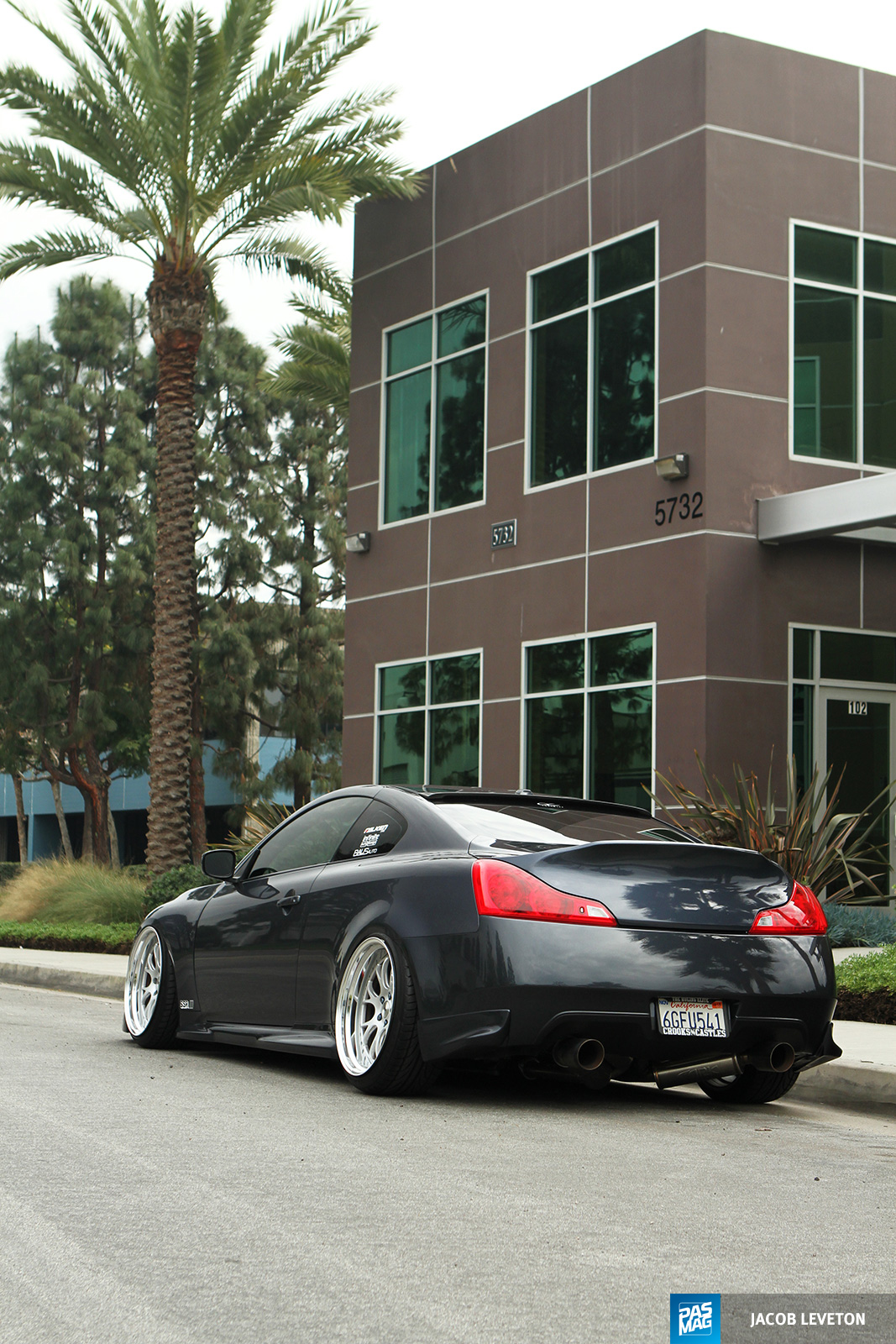 Photography by Jacob Leveton
---
ESSENTIALS
Vehicle: 2008 Infiniti G37
Owner: Thuysi (2C) Nguyen
Team: Team Outcast
ENGINE / PERFORMANCE
Fujita intake
Full Status Elite carbon covers
Custom overflow tank
Samco hoses
Password JDM bolts
ARC oil and radiator caps
EXHAUST
GTM Motorsports test pipes
Ark Performance exhaust
CHASSIS / SUSPENSION
K-Sport coil-overs (shock only)
Universal Air air ride suspension
SPC full camber kit
GT-Spec (full bracing, strut bar)
Hotchkis full sway bars
WHEELS / TIRES / BRAKES
SSR Professor MS3 wheels - 20x9.5 -11 (f), 20x10.5 +6 (r)
Falken 452 tires - 225/35R20 (f), 245/35R20 (r)
Wilwood Big Brake Kit (six-piston calipers with 14-in. rotors (f), four-piston calipers with 13-in. rotors (r))
EXTERIOR
Baus Auto Zele-R Full Body Kit
Zele front custom carbon lip
Hikkatadori custom trunk w/ integrated spoiler
Carbon roof spoiler
INTERIOR
Custom Interior w/ Katzkin Products by Infinite Auto Design
Peanut butter leather w/ double stitched accents
All original panels and carpet removed
AUDIO / MULTIMEDIA
Image Dynamics Audio (10-in. ID10 subwoofers (x2), CTX6.5-in. component speakers (x4), Q450.4 amplifier, Q700.2 amplifier)
SPONSORS
Falken Tires
SSR Wheels
Baus Auto
Infinite Auto Design
Corner 3 Garage
Universal Air Suspension
Amplified Motorsport
Image Dynamics
Team Outcast
---
PHOTO GALLERY