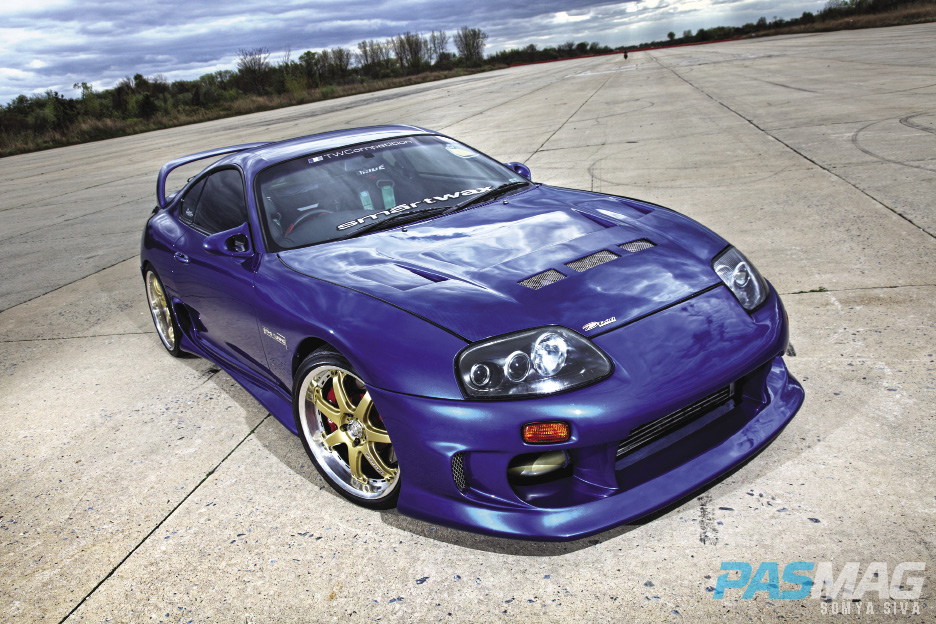 Written by Dave Pankew / Photography by Somya Siva
We don't have to list the accolades of the MkIV Supra to any of our readers. We don't have to recite what kind of respect the car carved out on the street and tracks from the US to Japan. Hell, even the motor itself has caused major waves inside other chassis, especially those lighter than the legendary JZA80.
Out of the box, the 320hp car performed well, but there was a 500whp car lurking inside with stock internals that could smoke supercars back in 1993. PAS readers know what these cars are capable of, so when one comes along with all kinds of horsepower and a total package including rare styling, audio and multimedia, we are ready to talk about getting it into the magazine.
The twin turbo JZA80 Supra was an instant classic as soon as it rolled off the cargo ships in Port of Long Beach. Sure the MkIII and its predecessors had created a bit of a stir, but the advanced styling and technology of this car was a massive leap forward for Toyota. The irony was that the car marked the end of anything sporty released by Toyota for many years. During that absence, owners like Jerred Amick of Du Bois, PA went crazy with their builds. Owners dedicated to the Toyota nameplate have nothing more exciting to upgrade to, so they held on to their ever-appreciating Supras.
A result of more than three years and $100,000, Amick has built a car that scoops awards at shows and it is considered a daily dream car. "The car is over 15 years old, yet it is still extremely popular and makes massive power. My previous vehicles were too mainstream, and I knew I needed something unique to really stand out and win car shows," said Amick.
Considering there were many haters, Amick used their doubt as motivation to build an insane JDM-themed Supra. "I wanted to build my Supra with as many JDM parts as I could possibly find, to keep the JDM theme. Almost every part is JDM, except where I could not find a JDM substitute or in the case of the Brembo brakes, decided there was no better JDM substitute."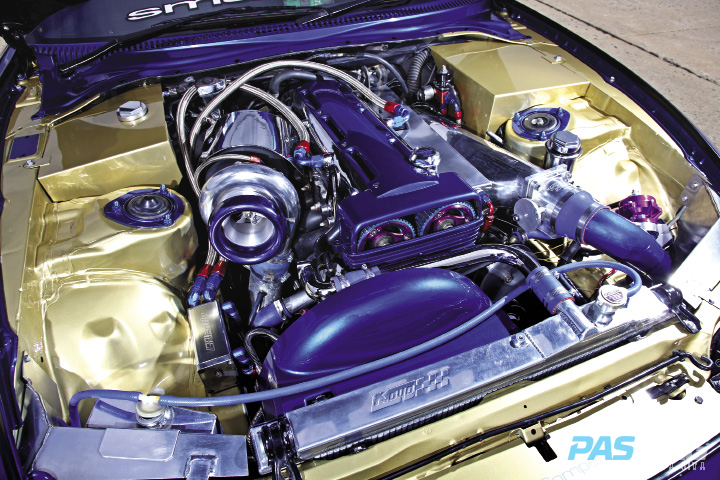 Amick started his quest for power by pulling the motor and having it completely built. The block was bored, balanced and blueprinted before the holes were pulled with CP pistons connected to Pauter rods. The knife-edged crankshaft was fitted with ACL bearings and the work began on porting and polishing the head. Up top, Amick went with Jun 264 / 272 cams along with HKS adjustable cam gears. The valvetrain was replaced with Crower titanium valve springs and retainers before being sealed back up with an HKS headgasket and ARP studs.
The sequential twins were pulled in favor of a more aggressive single turbo setup. A GReddy T88 turbo kit with a modified compressor wheel was fitted to a custom top-mount manifold.
A GReddy Type-R wastegate moderates the boost levels before dumping fumes into a Fujitsubo Legalis R 3-inch exhaust running a test pipe. Air is hauling in a GReddy Airinx filter at the end of a 4-inch intake pipe, which heads into a GReddy 4-row core intercooler connected by 3-inch intercooler piping and a Tial BOV. Fuel comes correct with 1,000cc RC Engineering injectors pushed by dual Denso pumps.
Getting the mixture to work right was pivotal and that duty was given to AEM. TPG Tuning in Blairsville, PA installed and tuned the AEM EMS standalone computer with an AEM wideband kit. The ignition controls in the AEM are ramped up by an HKS Twin-DLI ignition system and interface with a Blitz SBC i-D boost controller. On the rollers, this Supra will pump out 1,000whp and that meant a HorsepowerFreaks clutch kit was added to put it to the ground.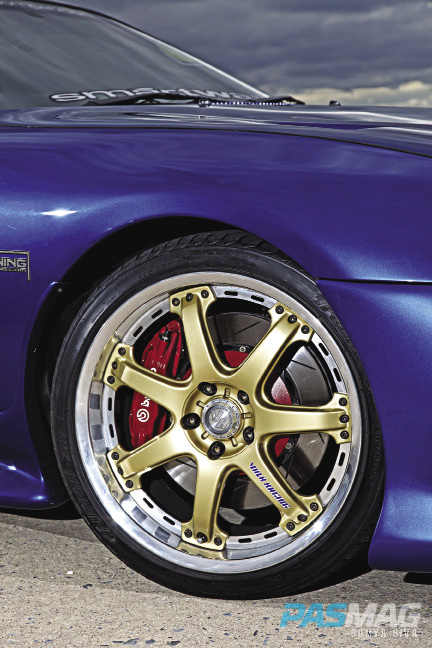 Amick also needed help in the wheel and tire department which were stock when he took delivery. He decided on classic Volk Racing GT-7 19x8.5-inch with a +23 offset and 19x9.5-inch, which included a space to work with the bodywork. He added a healthy 245/35R19 tire up front and a fat 275/30R19 which is the max he can run using that offset. Behind the gold spokes are a set of Brembo GT brakes 6-piston/14-inch fitted with an aggressive track pad.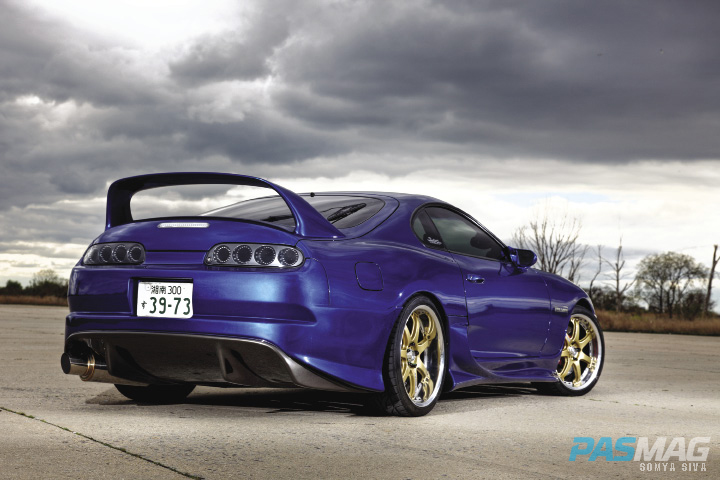 What has been most effective for Amick winning shows, however, is the exterior treatment of the car. The Supra is even wider than its already bloated stance using VeilSide over-fenders to match the VeilSide sideskirts. A Top Secret front bumper is complemented by a rare Trial rear bumper. The hood is a rare Abflug silver carbon fiber, one of the very few of its kind in the US, which took months to source and ship. He swapped the factory "Dumbo ears" for a streamline set of Ganador side mirrors before the complete color change to Electron Blue Metallic. The bright work also got ramped up by an 8000K HID kit inside '98 headlights and custom LED tails inside '98 housings.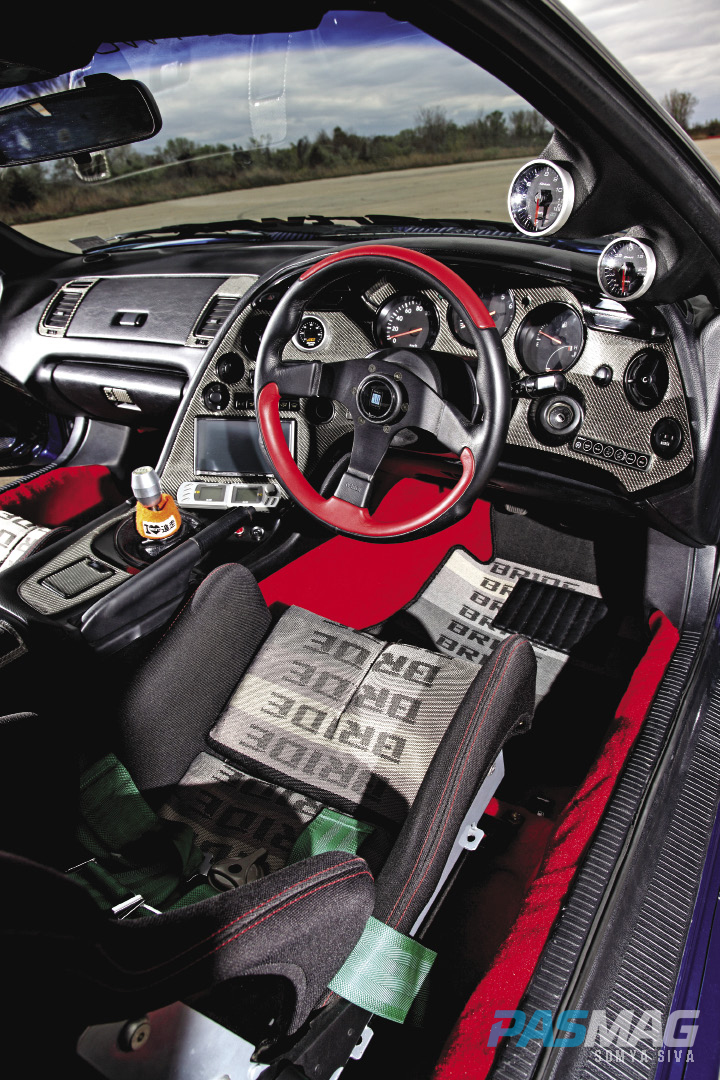 Inside, Amick stepped up his JDM quest. He scooped a set of Bride GIAS Low-Max gradient seats along with matching brackets, floor mats and even on the Polk Audio sub box. Takata harnesses and a custom harness bar were added along with a chassis bar which also holds the Polk Audio amps. A real carbon fiber inlay was put in along with Seibon carbon fiber door panels. A Nardi suede wheel, Top Secret shift knob and Defi 60mm boost, EGT and oil temp gauges round out the look.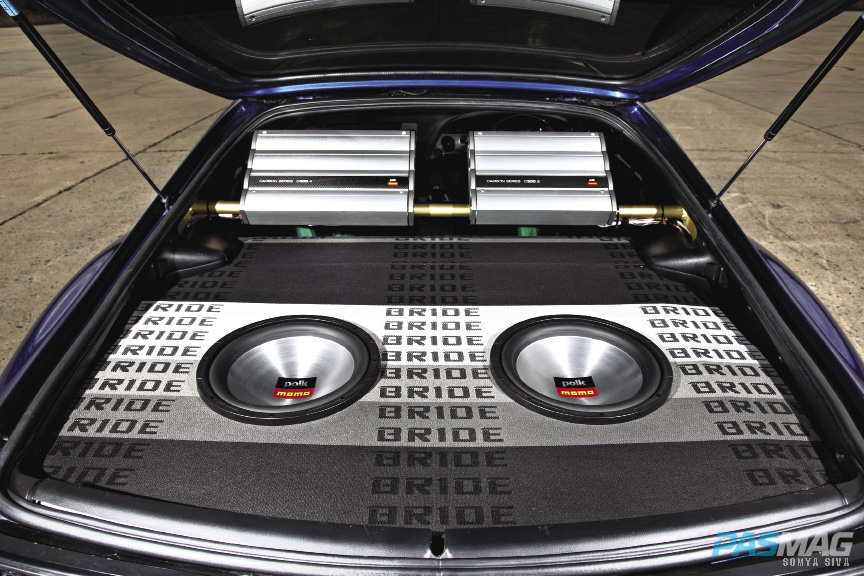 Then attention turned to the audio and multimedia, which serves Amick with both an entertaining drive and a collection of trophies. The deck is a Kenwood in-dash LCD which relays all of the CD, MP3 and DVD data. The finest speakers and amps from Polk Audio ensure the car sounds as great as it looks.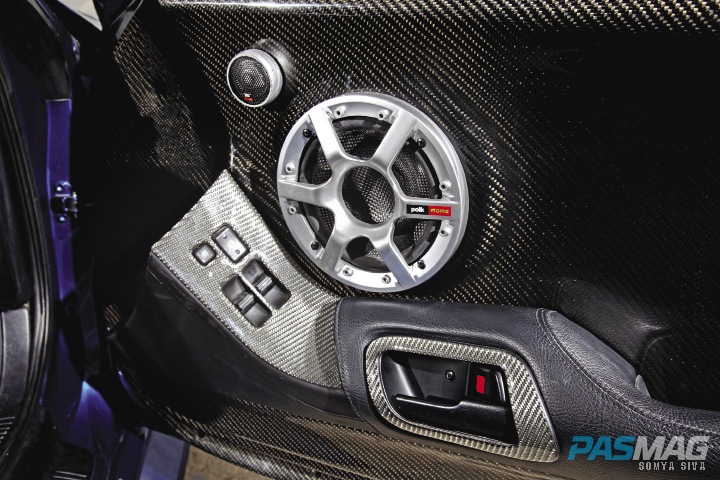 Polk Audio 6.5-inch components are placed in each door along with Polk Audio 3-way rear fill speakers. The speakers are all powered by a Polk Audio C400.4 amp mounted on the rack along with a C300.2 powering the subs. A pair of Polk Audio 12-inch subs sit in a flush horizontal enclosure to drop some serious doom.
In the end, a rare chassis was made even rarer because it's a right-hand drive and features a load of sweet JDM gear. The revised bodywork and paint was still wet when we shot this car, so it's totally new to the scene. And considering it is from a small town on the East Coast, the car didn't get too much attention but those days are over now!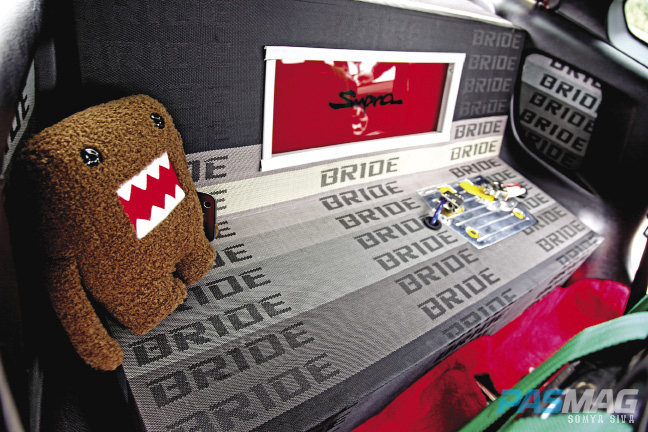 THE ESSENTIALS
Owner: Jerred Amick
Location: Du Bois, PA
Vehicle: 1995 Toyota Supra JZA80
Engine: Toyota 3.0L 2JZ-GTE Inline-6
ENGINE MODIFICATIONS
GReddy T-88 turbo kit w/ modified compressor wheel
GReddy Type-R wastegate
GReddy Type-R BOV
GReddy 4-row core intercooler
GReddy 3-inch intercooler piping
GReddy Airnix filter w/ 4-inch chromed intake pipe
GReddy oil catch tank - tapped for and fittings
JUN 264 intake cams
JUN 272 exhaust cams
Crower titanium valve springs
Crower titanium retainers
HKS adjustable cam gears
Jet Hot 2000 coated exhaust manifold
Jet Hot 2000 coated downpipe
Jet Hot 2000 coated turbo housing
KOYO aluminium radiator
Fujitsubo Legalis R 3-inch exhaust
NGK spark plugs
OPTIMA Yellowtop battery
Pauter x-beam connecting rods
CP pistons bored .020
ARP headstuds
ACL bearings
RC Engineering 1000cc injectors
Denso fuel pumps x2
AEM EMS computer tuned by TPG Tuning in Blairsville, PA
AEM wideband o2 sensor kit
HKS Twin-DLI ignition system
Blitz boost controller
Blitz power meter
HorsepowerFreaks clutch kit
WHEELS / TIRES / BRAKES
Volk Racing GT-7 Wheels
Bridgestone Fuzion ZRi Tires
Project Kics r40 neo extended lug nuts
Brembo GT 6-piston/14-inch brakes
EXTERIOR
Do-Luck front bumper
VeilSide sideskirts
TRIAL rear bumper - two tone (gunmetal diffuser)
Abflug silver carbon fiber hood
Electron Blue Metallic paint
Ganador side mirrors
HID headlights & LED tail lights
INTERIOR
BRIDE GIAS Low Max gradient seats
BRIDE seat brackets
BRIDE gradient floor mats
BRIDE fabic covered subwoofer box
Custom titanium harness bar
Custom upper rear stiffening bar
Defi 60mm boost, EGT, oil temp gauges
Takata racing harnesses
Seibon carbon fiber door panels
Carbon fiber dash
Nardi leader red/black steering wheel
Top Secret shift knob
AUDIO / MULTIMEDIA
Kenwood in-dash DVD player
Polk Audio 6.5 components x2
Polk Audio 6.5 3-way rear speakers x2
Polk Audio 12-inch subwoofers x2
Polk Audio c300.2 amp
Polk Audio c400.4 amp