While this car may be new to some of you, we've been eye-balling it here at PAS for over a year now. Unfortunately, everyone got busy, priorities shifted and this is the one that got away. But owner Randy Riggs had been steadily perfecting this car in order to get the magazine feature and exposure he was after.
"It all started when my wife and I were about to get married, so we wanted to get a new car for us," said Riggs "For the nearly 2 years the car was stock, there just wasn't many aftermarket parts for the G35 yet. I was still showing my '97 Accord at the time, which my wife was kinda tired of me spending so much time on. I then decided to fix up the G35 so she could take it to the car shows along with me. Since she was daily driving the car she had to like what it looked like. I finally came up with a list of what to get and built a show winner in three months. At first some guys weren't to happy to get beat by a girl's car but now I just show the G35 and she daily drives it," he laughed.
That's right – he said daily driven, although we're not sure how Mrs. Riggs stays under the radar residing in California with its strict modification rules. But Riggs knows how to play the game too as the owner of a handful of show cars, some of which have landed on magazine covers.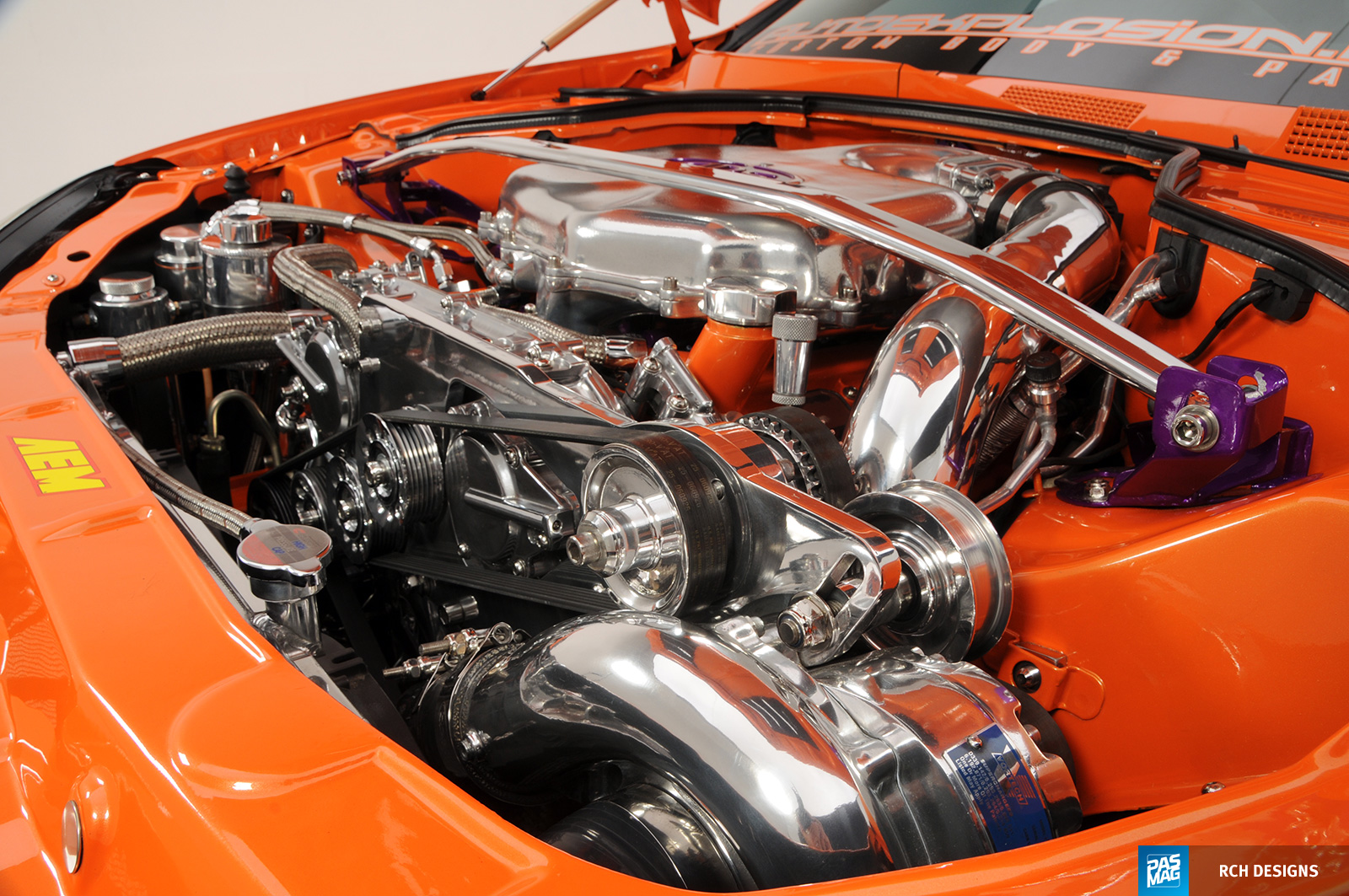 Under the hood Riggs wanted to make a statement and spent much of his $50,000 build in that area. The VQ has been fitted with a Vortech V2 supercharger with supporting mods like a Walbro 255lph and Deatsch Werks 440cc injectors. Air is hauled in using a custom cold air intake capped off with an AEM DryFlow filter. An APS tall-boy plenum was added along with a host of high polish parts throughout the engine bay.
Church Automotive in Wilmington, CA installed an HKS Twin Power DLI II ignition module and an AEM EMS with a full MAP conversion to make is all mesh right. After the dust settled, the G35 laid down 400whp with 340lb-ft of torque.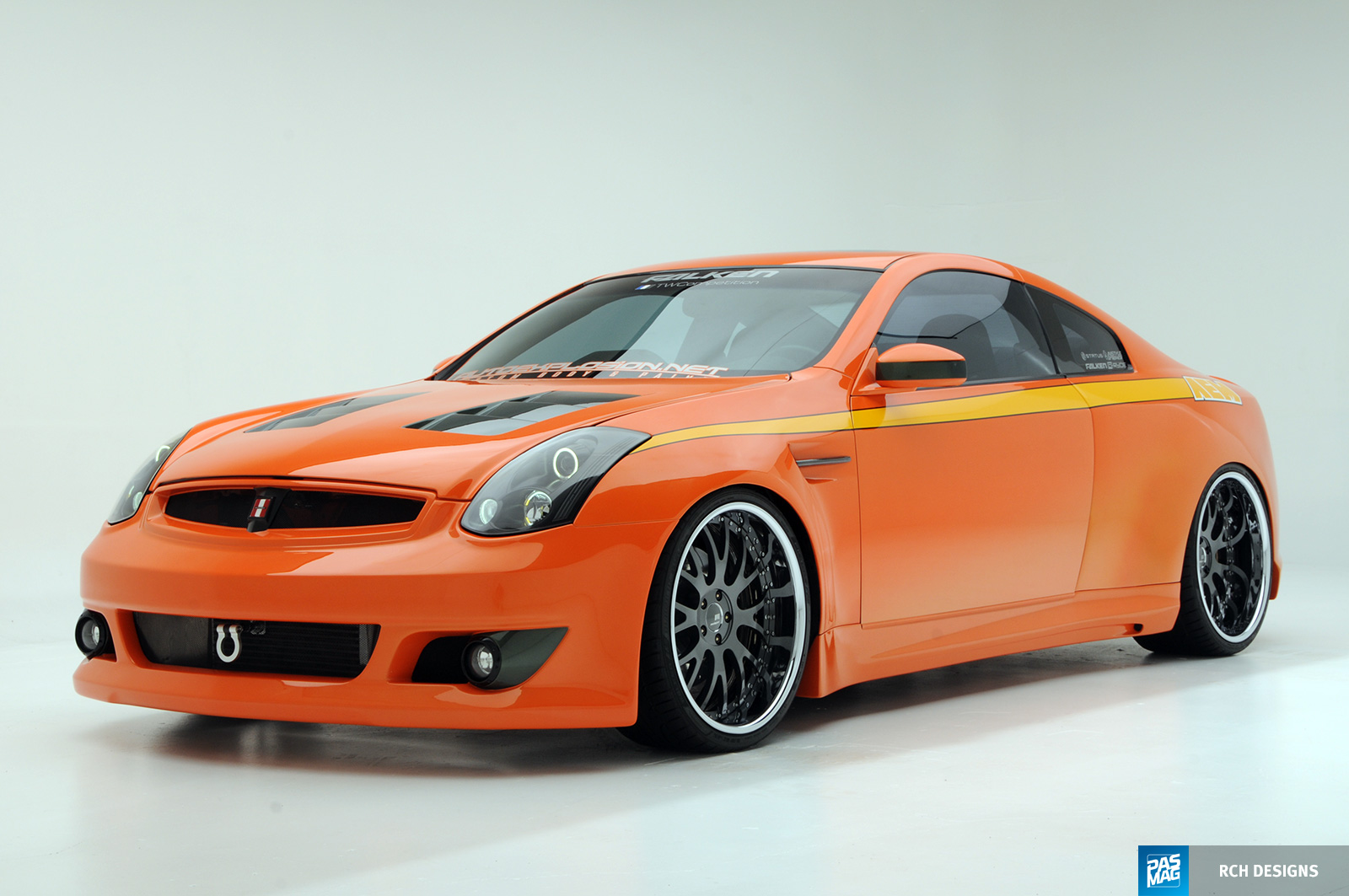 The exterior of the car is what gets this G noticed. The sideskirts, front and rear bumpers are authentic Kenstyle aero parts straight from Japan, which aren't cheap to buy and aren't cheap to ship! The kit was complimented with a custom metal widebody by Auto Explosion in Gardena, CA. Everything was custom molded to provide the seamless look including the rear wing. The body was shaved of door handles and side markers, while key custom carbon fiber accents and vents were added to the shell. The entire project was shot in a blend of Lamborghini Diablo Orange and Murcielago Yellow. The special pearl effect is noticeable as it sweeps from lower front to upper rear. The Top Secret hood and JDM tails paired with new projectors wrap up its wild exterior.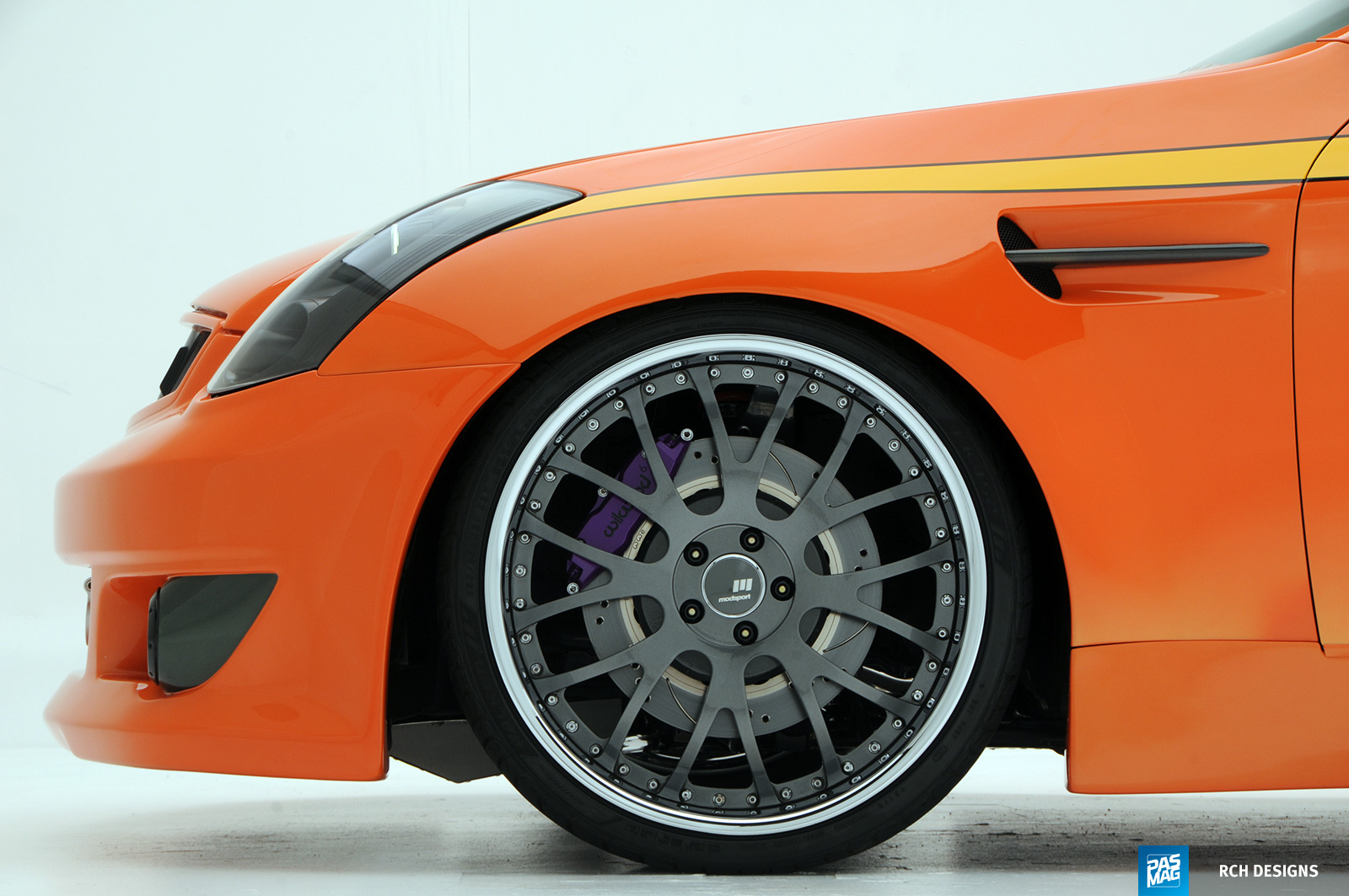 The right stance was achieved using the TEIN Type Flex coilovers with in-cabin EDFC controller. The roll has been banished using a pair of Cusco swaybars and the suspension is tightened up with Cusco A-arms as well as SPL suspension arms and links. The rolling gear is a set of Modsport S1 forged 3-piece rollers with polished lips and gunmetal faces. Up front is a set of 21x9.5-inch wheels and lurking in the rear are a set of monstrous 21x11-inch wheels wrapped in Falken FK452s with Wilwood Superlite 6-piston calipers clamping down on 14-inch 2-piece slotted and drilled rotors.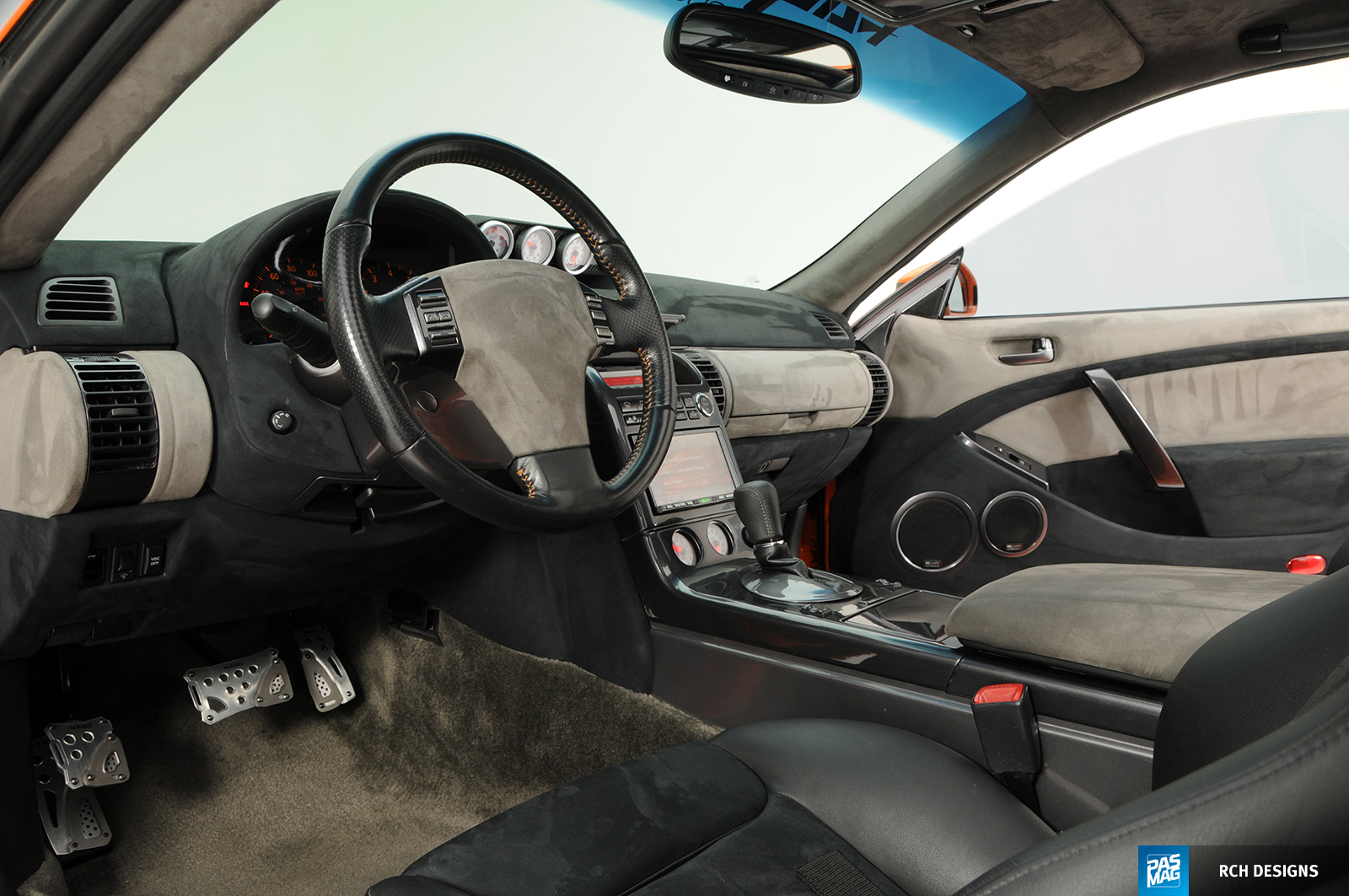 Inside, Recaro Topline seats were installed and covered in suede with NRG harnesses draped over top. Nish Designs fabricated a custom dash and molded in gauges like the AEM: wideband, oil pressure, oil temperature and boost. Chuy's Auto Interior in Carson, CA made many of the bold moves by reupholstering almost everything in 2-tone black & grey Novasuede. The stage was set for the audio and multimedia install, where Riggs would opt for some of the finest components.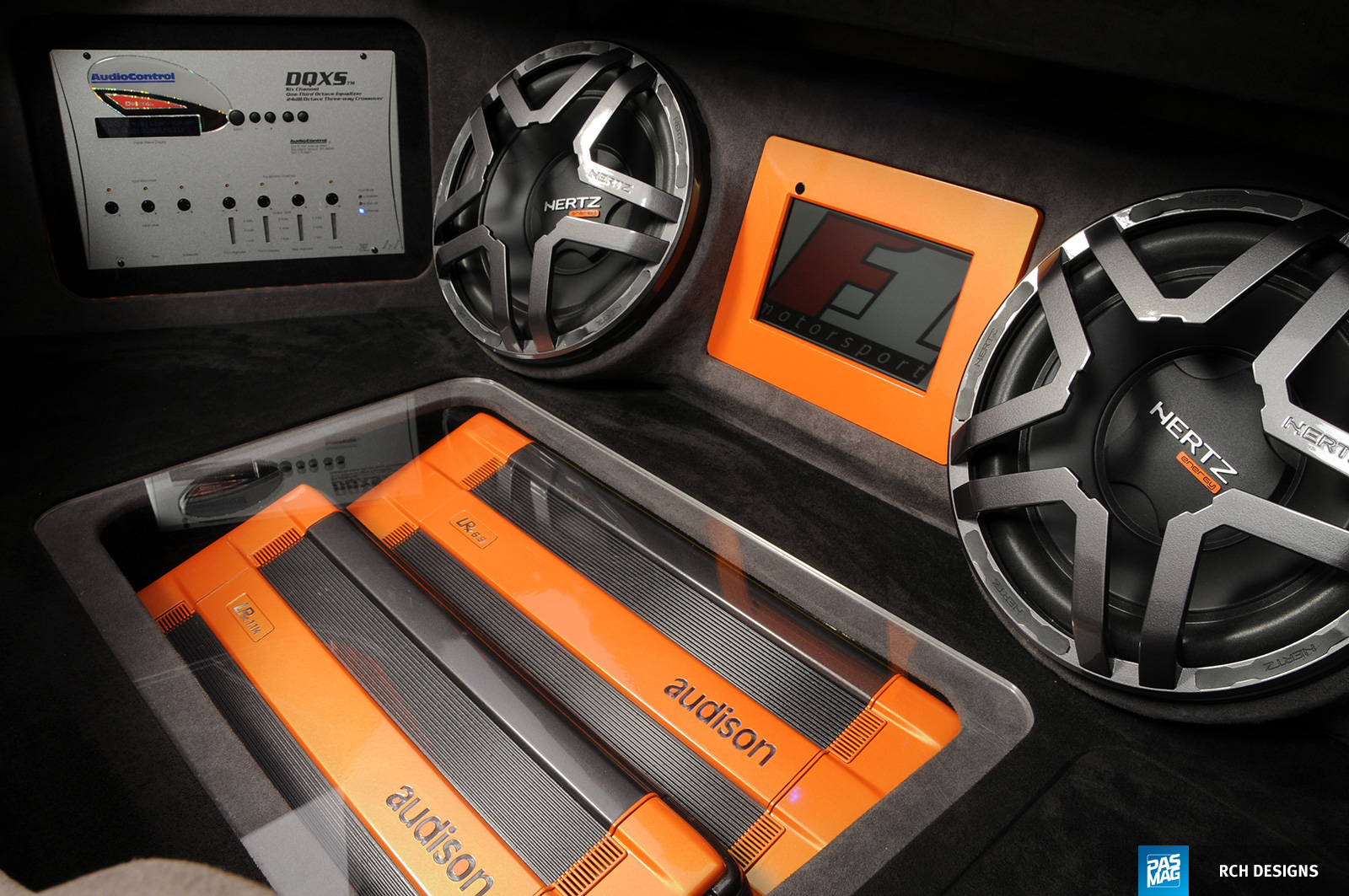 An Eclipse AVN6610 double DIN runs the show, as its signals are further cleaned up with an Audio Control DQXS with digital dash controller. The entire shell had been Dynamat'ed in preparation for the audio assault that was about to take place. A custom gun metal painted, Audison LR1.1 mono amp was added to drive a pair of Hertz HX250 subwoofers. The mids and highs are driven by an Audison LRx 6.9 pushing Hertz HV165xl speakers, HL70 mid-range speakers and Hertz HT25 tweeters. The trunk lid also features a pair of Hertz ESK150 speakers to compliment the Alpine TME-M710 LCD monitors on the lid. Streetwires provided all of the interconnects and Audison supplied the power leads and fuses to link up the Optima Yellow Top. The multimedia aspect has been ramped up with an Apple iPod dock and an onboard PlayStation3.
Riggs has been around the scene for a long while and now his project is finally getting the ink it deserves. When you dish out this kind of large bank on a G35, it's nice to see it put to use on a regular basis. Well, his wife does anyway!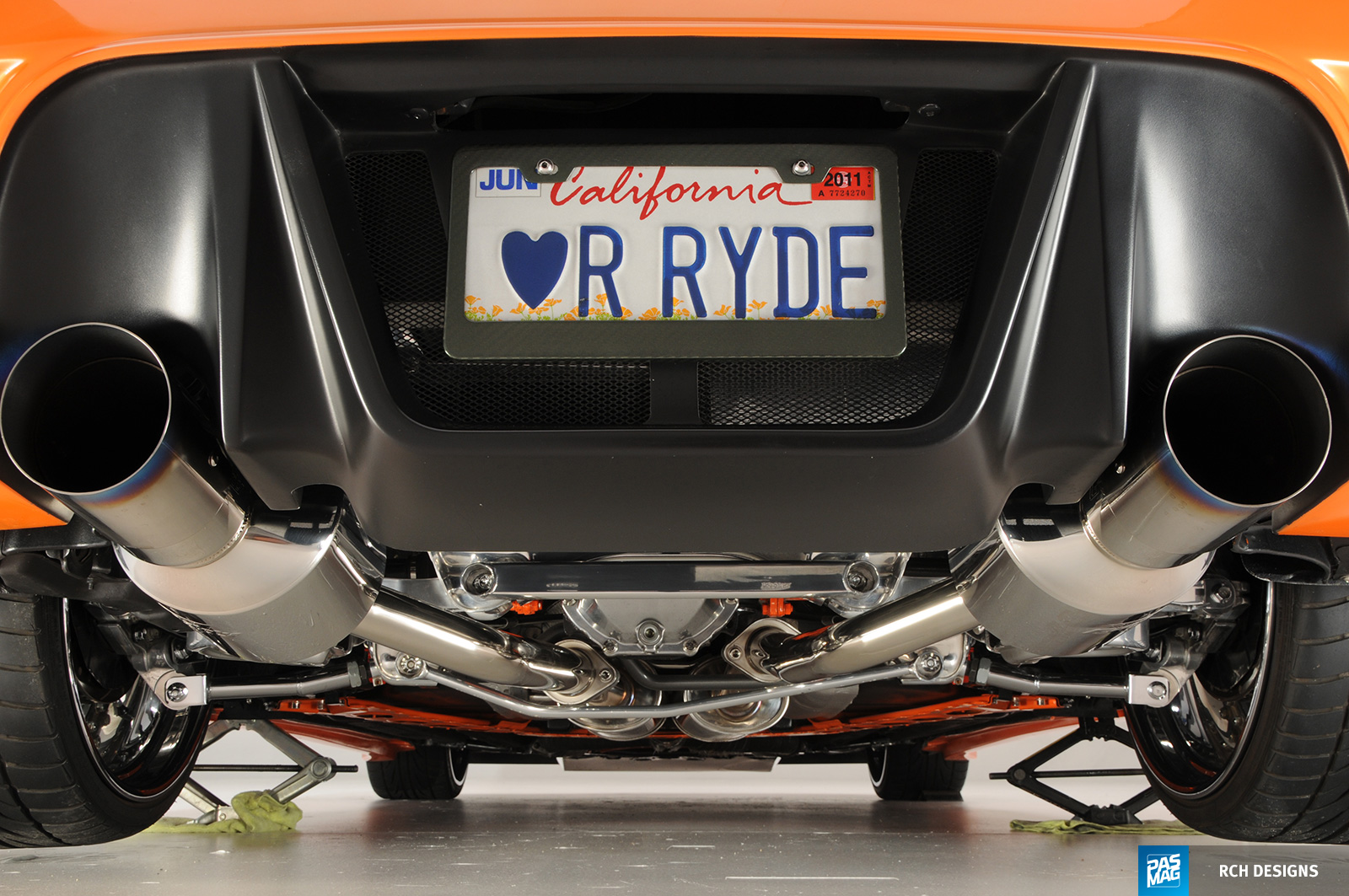 ---
ESSENTIALS
Owner: Randy Riggs
Location: Gardena, CA
Vehicle: 2003 Infiniti G35
Power: 400whp with 340lb-ft
Engine: Nissan 3.5L VQ35DE V6
ENGINE MODIFICATIONS
Vortech V2 supercharger kit
AEM DryFlow intake
Walbro 255lph
Flex-A-Lite power steering cooler
EXHAUST
PERFORMANCE ELECTRONICS
AEM EMS standalone
AEM MAP sensor
AEM wideband, oil pressure, oil temp., and boost
WHEELS / TIRES / BRAKES
Modsport S1 forged wheels

Falken FK452 tires
Wilwood 6-piston / 14-inch brakes
SUSPENSION / CHASSIS
TEIN Type Flex coilovers
TEIN EDFC controller
Cusco swaybars & A-arms

SPL suspension arms

GT-SPEC strut bar

EXTERIOR
Kenstyle Aero Kit
Custom metal widebody by Auto Explosion
Lamborghini Diablo Orange and Murcielago Yellow paint
Top Secret carbon fiber hood
JDM tails
INTERIOR
Recaro Topline seats
NRG harness
Nish Designs dash pad
Chuy's Auto Interior in Carson, CA upholster
AUDIO / MULTIMEDIA
Eclipse AVN6610 double-din head-unit
Audio Control DQXS
Audison LRx1.1 mono amp
Hertz HX250 subwoofers
Audison LRx6.9 amplifier
Hertz HV165xl speakers
HL70 mid-range speakers
Hertz HT25 tweeters
Hertz ESK150 speakers
Alpine TME-M710 LCD monitors
Streetwires interconnects 
Audison power leads, fuses and terminals
Optima Yellow Top
Sony Playstation 3
Dynamat sound deadening
SHOUTOUTS
AEM, Vortech, Falken Tire, My Wife Hoai, Obed Rivera, Viet, Marty, Ryan and Estaban of Auto Explosion
PHOTO GALLERY