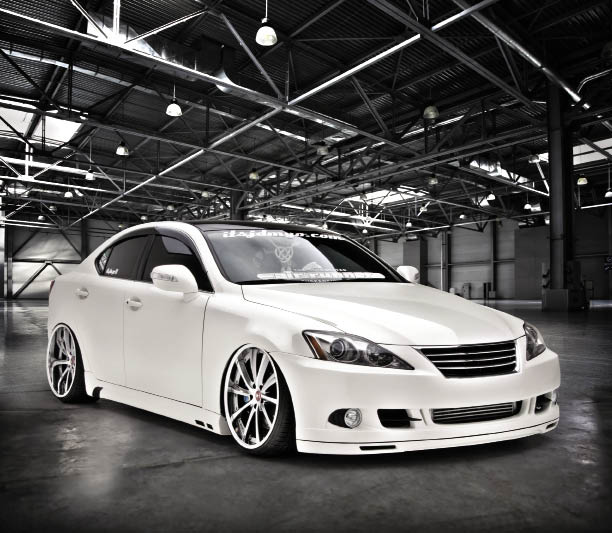 Ah, the Lexus IS 350 – touted by the Toyota-based premium brand as their BMW 3 Series fighter. Certainly, with just over 300 hp, it's no slouch, and in my books, it gets the nod in terms of styling. This 2008 model year sample is owned by Jonathan "Jon Jon" Usaha of West Covina, CA, and it's been transformed into a high-class, high-speed cruiser with a distinct VIP flair.
---
Rolling on Kranze Vishnu wheels by Weds in 20 by 9.5 and 20 by 10.5 inch sizes, the massive rollers are wrapped in 225/30 and 245/30 Continental rubber. Underneath the huge wheels are equally large Neo Chrome finish brake calipers and 14-inch 2-piece rotors from Endless Racing. In keeping with the low-to-the-ground style that VIP rides are known for, Usaha outfitted his IS with an Air Runner air suspension system that includes a 3 gallon Firestone tank, Dakota Digital gauges and a pair of Viair chrome compressors. A Megan Racing rear camber kit helps keep things upright.
Popping the hood reveals a well-massaged 2GR-GFE 3.5L V6 that has been mated with a Vortech V9 F-trim centrifugal supercharger. A slew of GReddy components including a Type S blow-off valve, intercooler and Airinx intake and filter support the boosted mill. Exhaust travels down through a Megan Racing center section before hitting a GReddy dual exhaust system.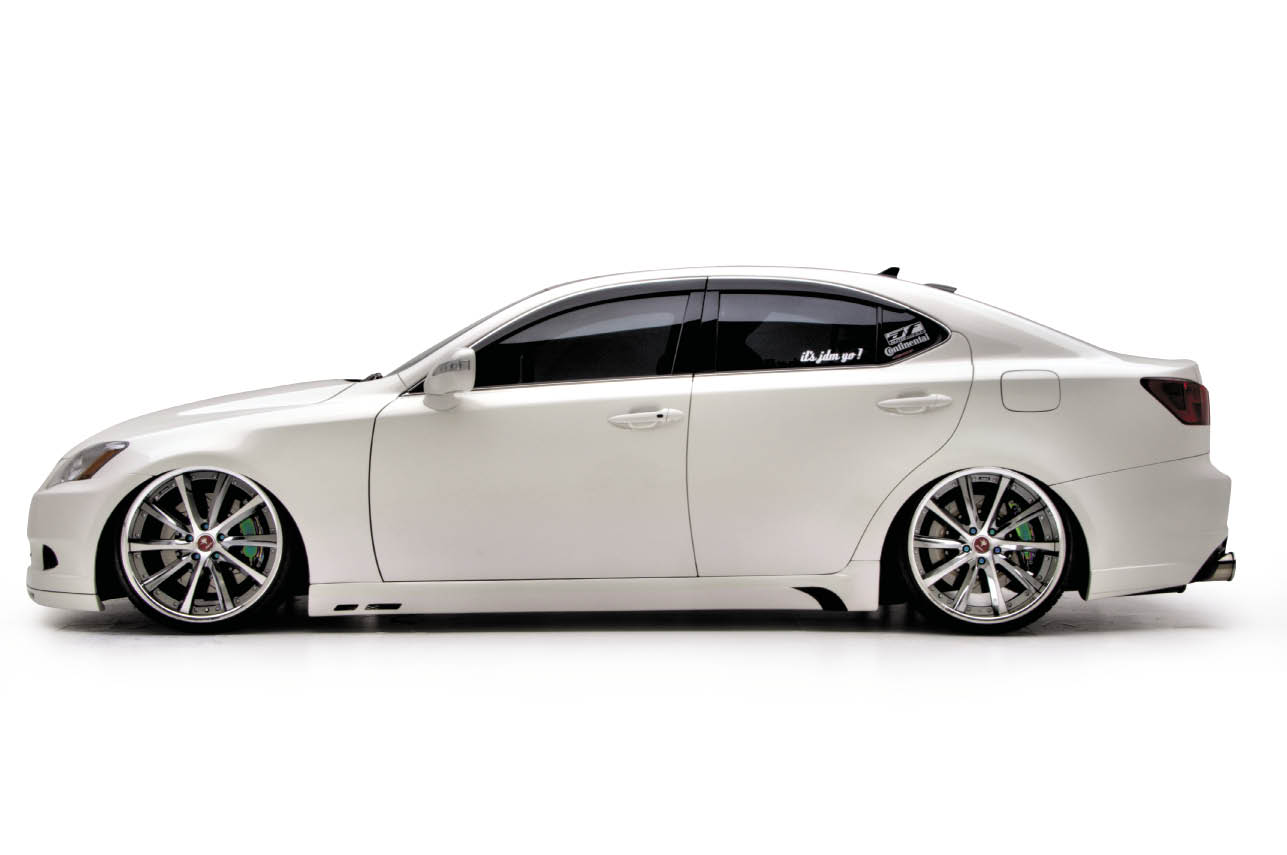 Usaha chose a blinding Chameleon White Show Up paint job by Maziora. The paint covers a Job Design Aero Series Hybrid front bumper, side skirts and a rear bumper. A Megan Racing carbon fiber roof spoiler, JDM LED side mirrors and JDM OEM side window rain deflectors fill out the exterior styling mods. JD Lighting 5000K HID headlight and fog light bulbs give the lights a white look that works perfectly with the monochromatic theme.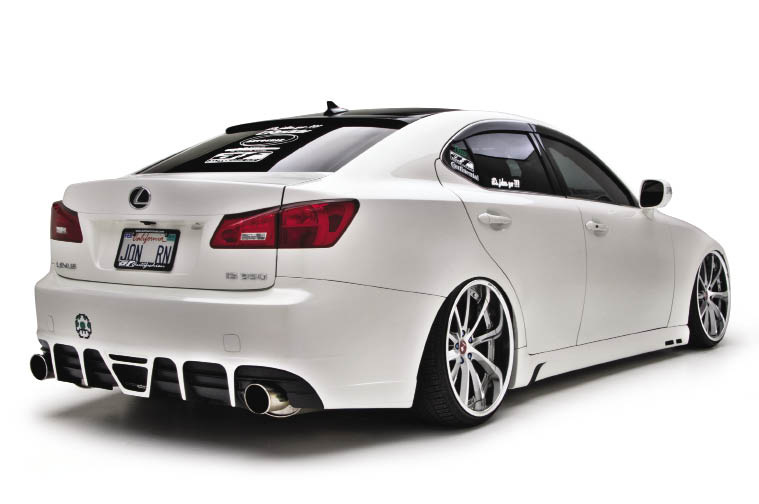 Opening any door shows where Usaha focussed his VIP theme. Custom two-tone leather upholstery with a diamond double stitch by Autofashion makes a solid statement in black with white centers on the seats and armrests. A pair of 7-inch LCD monitors were moulded into the roof before the whole thing was wrapped in perforated suede. Junction Produce's catalog was manhandled to serve up a white Kiku Fusa and Sirotune, a black leather tissue box, missions neck pads, window curtains and seat belt covers. Finally, white satin pillows and a Galahad universal bar table with black and chrome accents put the finishing touch on the rear seating area. Extensive LED lighting fills the car from the door sills and from the factory locations.
The trunk is crammed full of Soundstream audio gear. A pair of 12-inch RBW subwoofers fill the corners of the trunk and live in fibreglass enclosures. Powering the subs is a Tarantula TRX 2000D amp. A pair of Tarantula TRX 4.640 amps are mounted above the sub amp on suede cover platforms. One of these amps powers a set of Soundstream components that were mounted in pods on the floor of the front seat. The trunk lid was glassed and features an AVS 14-inch monitor and another pair of Soundstream components. In the center of the trunk floor is an as-yet-to-be-connected Soundstream SCELL-400 400-Amp Capcell. Currently powering the system is a Kinetik HC-1800 Power Cell that resides in the stock location by the firewall under the hood. Also in the trunk, mounted on either side of the Capcell, are the air compressors.