Photos by Phil Sohn
---
Somewhere in the hills of Alabama there's a garage where RX-7s go to be reborn. Inside, a cackling maniac pieces together wankle engines and replaces parts on the chassis with upgraded and insanely rare JDM alternatives. He eats Doriotos for breakfast and his trigger word is "Seal." Okay, Okay; I don't know if all that is true, but how else would you describe someone like Phil Sohn, who is synonymous with the FD RX-7 in its rotary-powered form? It almost seems like the guy Frankensteins a new killer FD every year!
In reality, Sohn is just another enthusiast that was bit by the Wankel bug at the beginning of his car phase. As he graduated college, the RX-7 was just being introduced to the North American market in its third iteration. The FD joined the ranks of other future Japanese classics from that era, like the NSX, Supra and 300ZX. Sohn had his sights set on all of the above once he had paid his student loans off.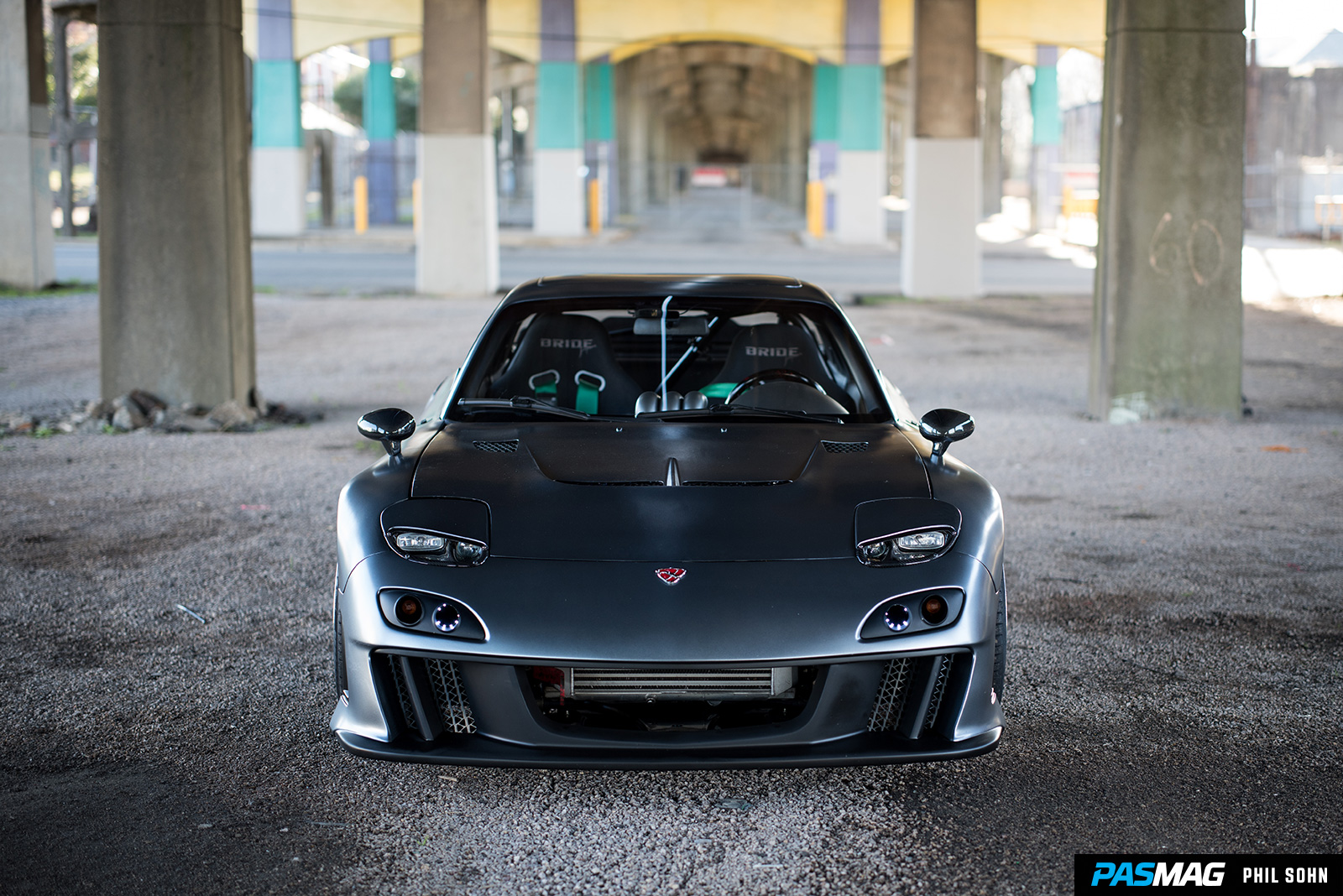 "It was between the FD or an NSX," he recalls. "I was actually close to buying an NSX, but that fell through. Then I kind of ran into my FD, which was being sold by a woman in Nashville, Tennessee. It had been sitting for three years because she had had two kids back to back and her husband didn't know how to drive a stick. That's how I got my first FD!"
With one rotary under his belt, his fascination would soon turn to infatuation as he had more experience with tuned RX-7s. Sohn actually credits his love for the FD RX-7 with a white '94 model that was tuned up to 320 horsepower, which he was able to ride along in.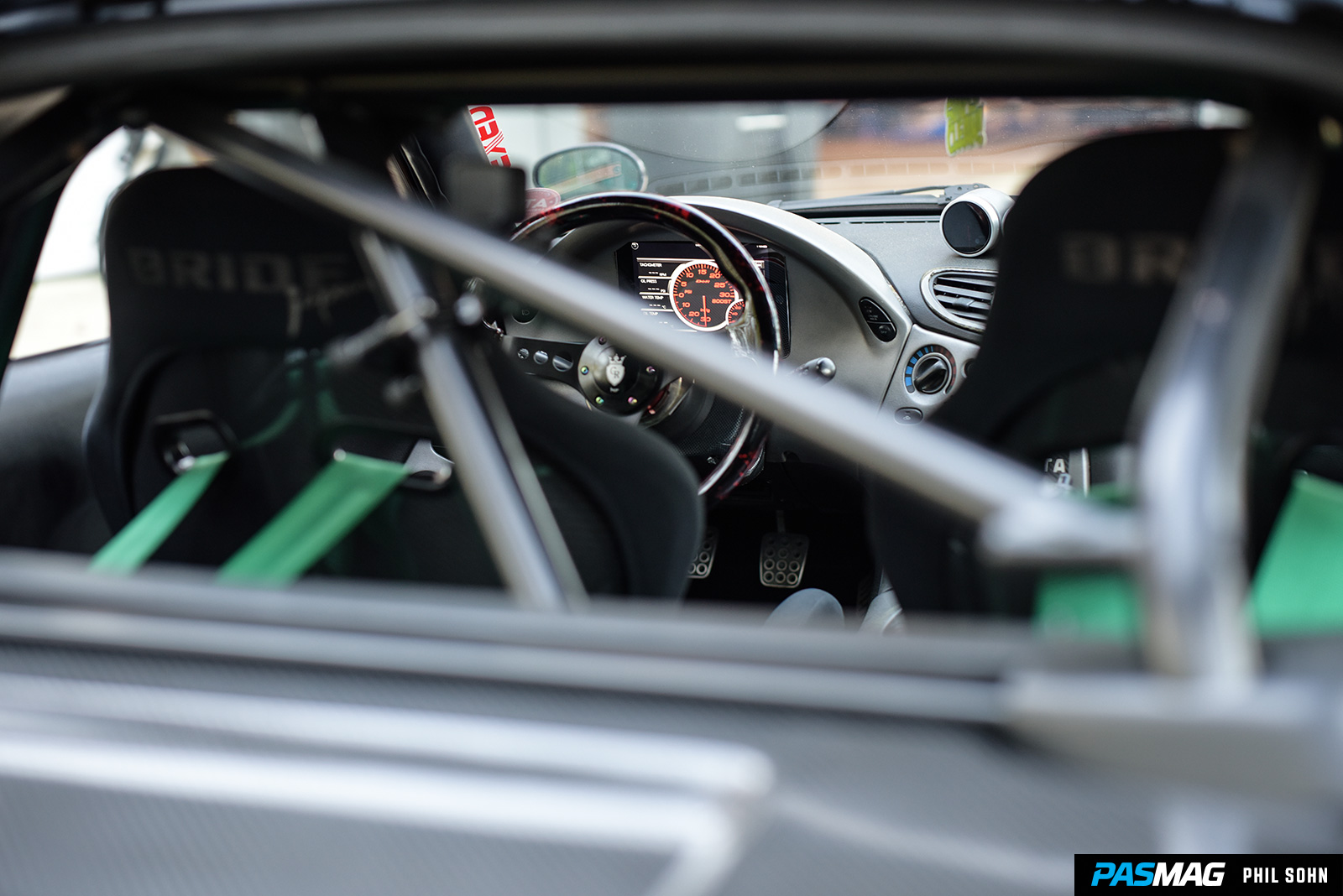 Since then, Sohn's garage has expanded to include three FDs, a three-rotor Eunos Cosmo and an RX-3. Of the three FDs, one is engaged in a 12-year 20B project, while the other is awaiting some Mazdaspeed upgrades. The last& one is the one you see here, which was acquired from a fellow rotary enthusiast who gave strict instructions not to flip it, and make it something special. Sohn followed through on that like a pro's golf swing.
"Almost every single part on that car has been swapped," laughs Sohn. "I really can't think of anything other than the body, dash and engine wiring harness that is original. Literally everything else, even the subframe, has been replaced."
Under all the hoods of Sohn's rotary-equipped cars, each engine has only been touched by two people: Sohn's and his engine builder, Luis Canizales. Sohn is very particular about who he lets touch his cars, especially when it comes to the Wankel powerplant, so back when he was looking for a suitable engine builder, he would bring an iron from a torn down engine with him to see if the builder could figure out what was wrong. Canizales was the only one to identify that the coolant seal was missing. The fact that he has over 30 years of experience didn't hurt either.
"With this engine, I wanted to put my hands on it, so I went to Luis' shop and he helped me spec it, I did the clearance on it and then he helped me assemble it," Sohn says. "Actually, for my second date with my wife, I took her to my engine builder."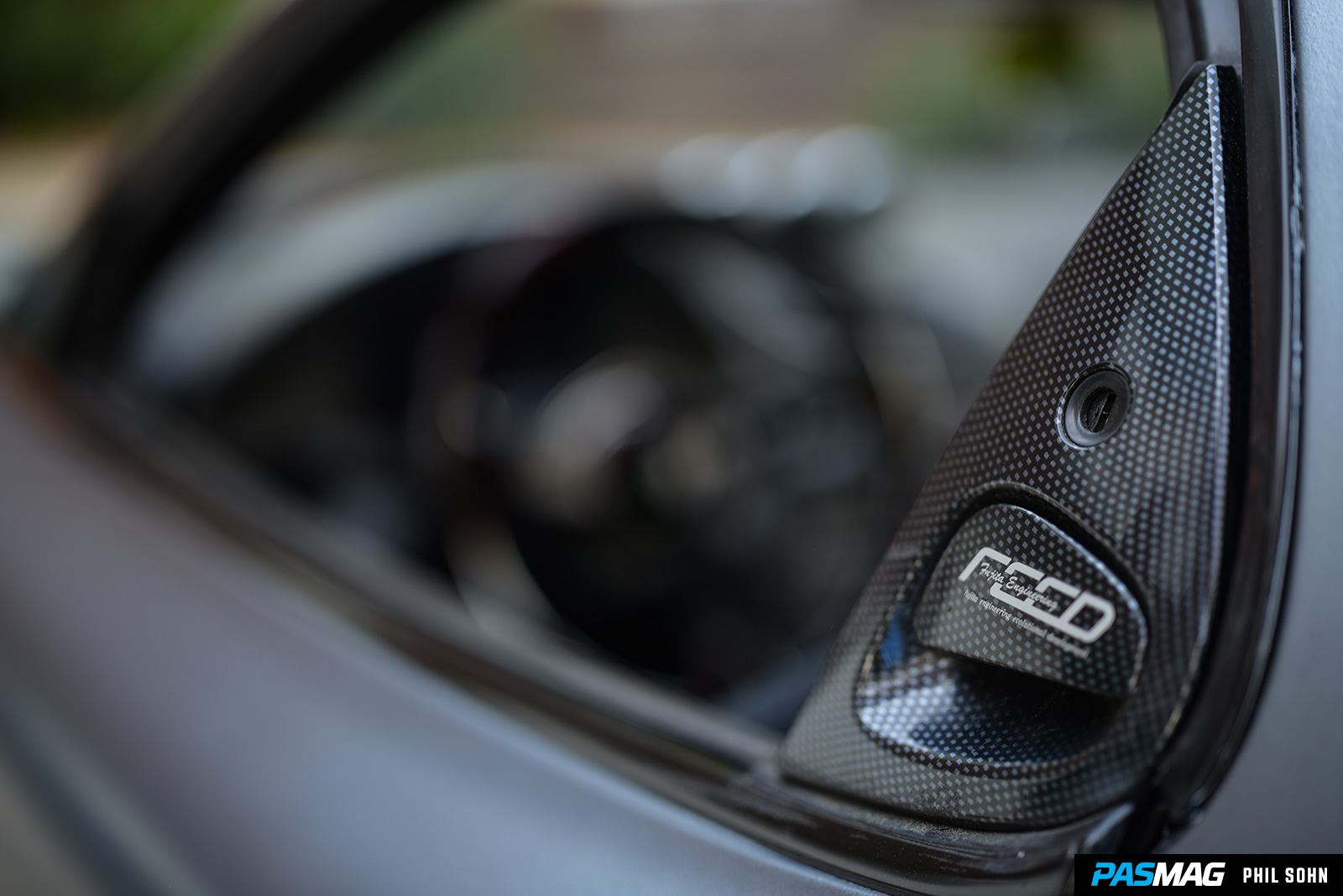 The 13B utilizes rotor housings from a late-model Japanese FD and the intake manifold from a two-rotor Eunos Cosmo. The Cosmo's two-rotor intake is actually fairly common among RX-7 enthusiasts chasing higher horsepower numbers because the intake runners are about 25-percent larger on the secondary. Sohn's iron's intake ports are matched to the Cosmo's two-rotor, and there was even an adapter custom designed to fit the pieces together without modifying the throttle body or relocating the oil filler neck.
To take advantage of all the new air opportunities available, the FD is running a single Borg Warner EFR 8374 turbocharger in conjunction with a Turblown cast stainless steel manifold kit. The resulting power is put to the ground through use of an Exedy twin-disk clutch.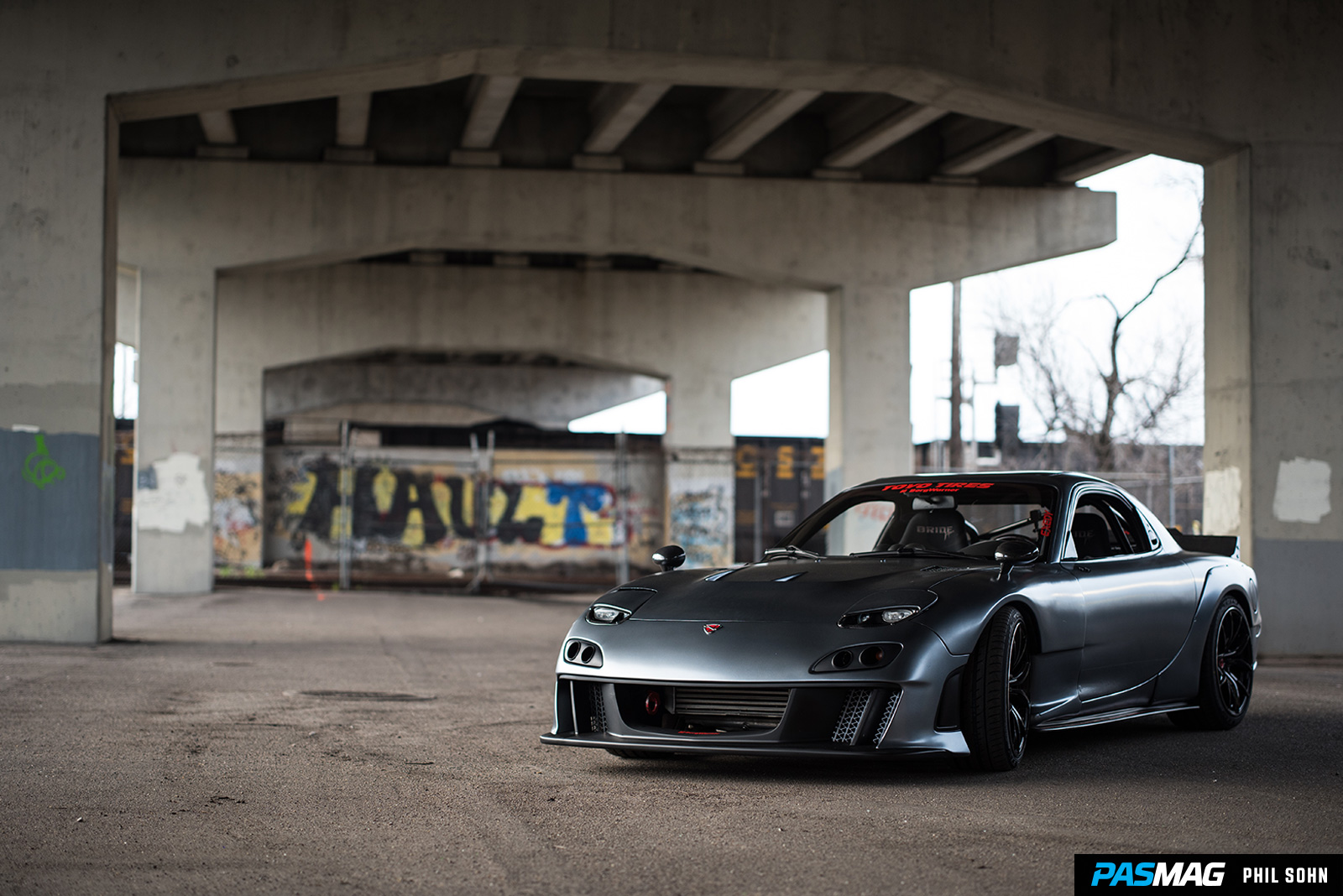 As Sohn likes to get his cars on the track as often as possible, that magical Dorito power is almost put to waste if it doesn't hit the track right. The RX-7 squats on Tein Flex Z with EDFC Active Pro, which automatically adjusts damping rates on the fly. At approximately 20 pounds per side, the Gram Lights 57FXX wheels in 18x9.5 and 18x10 sizing are not only a stylish choice, but a functional one as well, especially when paired up with the Toyo T1- Sport rubber on all four corners.
Now, anyone who follows what Sohn does knows that this FD has had quite a few faces, and that each time it is reimagined, it comes out wearing a new array or rare JDM parts. How is that possible? Well, it only makes sense that the guy who owns five rotary cars would be a fanatical collector of amazing parts.
"I've been collecting for the past 10 years," Sohn explains. "I have like 10 hoods in my basement, as well as almost every diffuser that's ever been made for the FD, which is why it's easy for me to switch up the look so frequently."
He also has one of the largest Mazdaspeed collections in the US for the FD. Just saying.
This iteration of the FD is highlighted by the Knightsport Type 7 bumper, which he is the first in the U.S. to run, as well as FEED wide fenders and side skirts, which are accented by R-Magic and Mazdaspeed touches. It's enough to get any rotary fanatic foaming at the mouth.
Inside, his office is furnished with two Bride Vios III Type R Japan Edition carbon-backed seats, a Grip Royal Teggi wheel with a Dexter-esque blood spatter paint job, and oodles of EVO-R carbon fiber to make up the dash and clusters. Mounted on the front of the carbon fiber cluster panel is an iPad Mini that's running Defi's Link Advance controller unit, which makes it possible to view all your gauges on the iPad it's connected to, and can even activate a GoPro to function as a track cam!
The RX-7 has just started debuting its new look at shows and on the track, so keep an eye out for that. Otherwise, stay tuned for a 20B FD that should be running (fingers crossed) by the fall and a special FD dressed in all Mazdaspeed for the fanboys sometime after that. Any way you slice it, we're all waiting to see what Sohn has brapping out of his workshop next.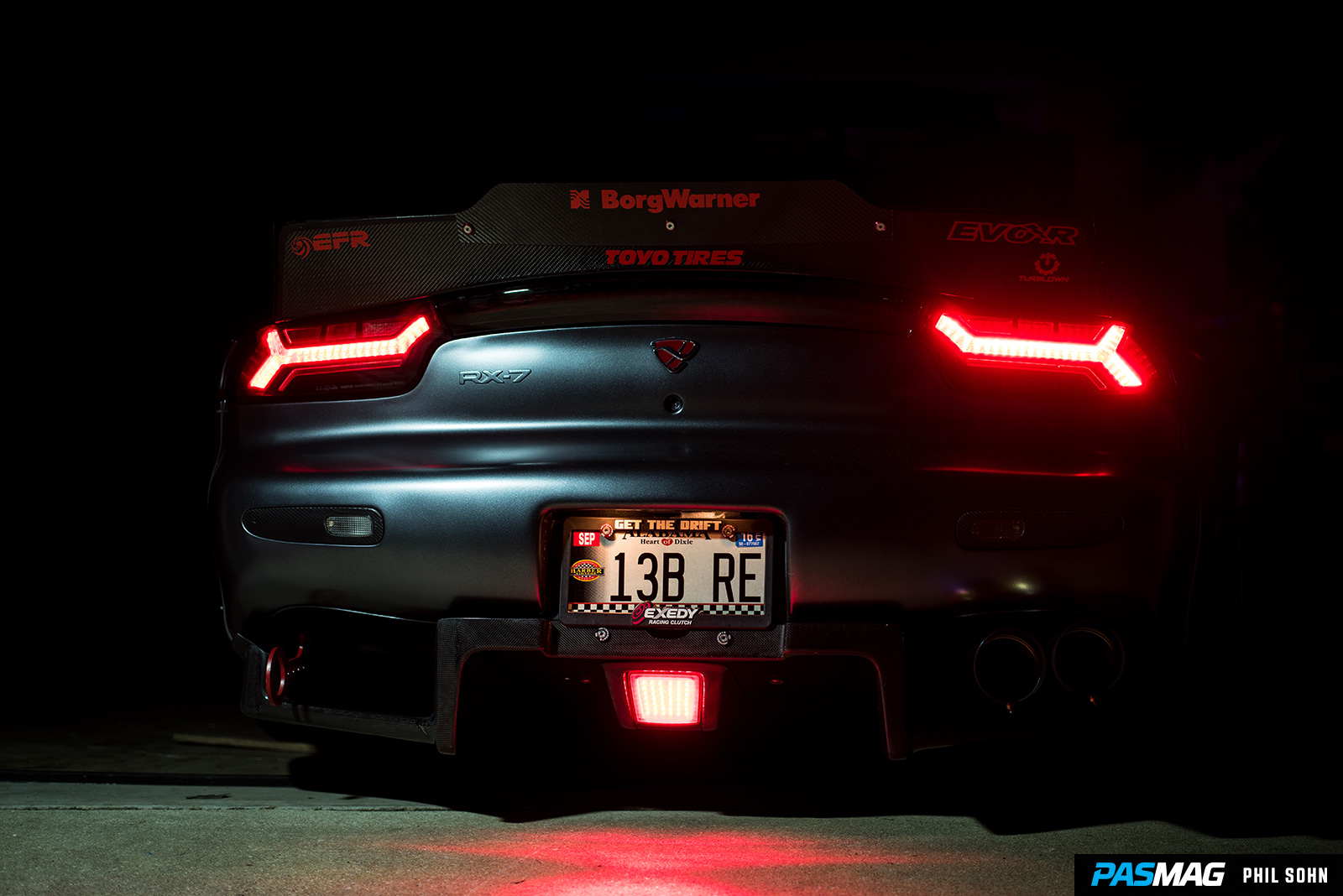 OWNER: Phil Sohn
LOCATION: Birmingham, AL
VEHICLE: 1993 Mazda RX-7 FD3S
BUILT BY: LCR
ENGINE: Mazda 13B-REW 1.3L rotary engine
ENGINE MODIFICATIONS

Borg Warner EFR 8374
Turblown (cast SS manifold kit, EWP kit)
Mazda 13B-REW (dynamically balanced rotating assemblies, intake port matched to 13B-RE, 13B-RE polished lower & upper intake
manifold)
Custom (13B-RE to 13B-REW throttle body adaptor, carbon fiber cooling panel, grounding kit)
Adaptronic modular ECU
Turbosmart (Kompact shorty valve, IWG75 Borg Warner TP B2 Single/Twin Scroll)
Davies Craig (water pump, EWP 150 w/ digital controller)
Chase Bays (coolant overflow tank, ABS delete kit)
Samco (intercooler couplers, coolant kit)
Injector Dynamics 1300cc fuel injectors
Full Function Engineering (adjustable motor mounts, fuel rail kit, oil filter pedestal, trigger wheel kit, fuel kit)
Defi (oil temperature sensor, oil pressure sensor)
Radium Engineering (competition oil catch can, surge tank, fuel filter kit)
Walbro E85 pump
Koyorad N-Flow radiator
Fast acting air temperature sensor
Apexi GT Spec FMIC
HKS Twin Power ignition system
FEED (oil filler cap, coolant filler cap)
Sakebomb Garage (spark plug wires, Setrab 25-row dual oil cooler kit)
Braille (light battery, vertical mounting kit)
Unorthodox Engineering alternator pulley
Cut aluminum main pulley
EXHAUST

Jester's Toybox Rein Hard dual titanium catback exhaust system
FEED stainless steel resonated mid-pipe
DRIVETRAIN
Exedy twin-disc clutch
Transmission brace
CHASSIS / SUSPENSION

Tein Flex Z coilovers w/ EDFC Active Pro
PowerFlex Black Series bushings
M2 launch kit
R-Magic fender braces
Racing Beat (sway bar brace, rear sway bar, sway bushings)
Tri-Point Engineering front sway bar
Mazdaspeed strut tower brace
Nagisa Auto Shakitto strut tower plate
Raceshop roll bar
WHEELS / TIRES / BRAKES

Rays Engineering Gram Light 57FXX wheels - 18x9.5 +25 (f), 18x10 +20 (r)
Toyo Proxes T1-Sport tires - 255/35 R18 (f), 265/35 R18 (r)
Sakebomb Garage AP Racing Big Brake Kit
Ferodo DS2500 brake pads
Chase Bays (ABS delete kit, braided brake lines)
EXTERIOR

Dip Your Car custom blended Platidip
Knightsport Type 7 bumper
JDM vented hood
EVO-R (LED taillights, diffuser LED light, carbon fiber fender mirrors)
CR3 Motorsports washers
FEED (carbon fiber side skirts, wide fenders (f/r), front tow hook, door handles, carbon fiber gas door)
R-Magic HID headlights
Herb Motorsport custom (front bumper signal lights, carbon fiber ducktail spoiler)
Rotary Extreme Hood Dampers
Adam Griffith rear tow hook
Efini badges
Sanai carbon fiber rear diffuser
Back Off third brake light flasher
INTERIOR

Tein EDFC controller ∂ EVO-R carbon fiber (gauge cluster panel modified for iPad Mini, blank shifter panel)
Defi (Link Advance controller unit, Smart Adapter, Link Meter Advance BF gauges)
Davies Craig digital EWP controller display
Grip Royal (Royal Teggi steering wheel, titanium bolts, metal crest horn button)
Bride Vios III Type R Japan Edition carbon fiber racing seats
Takata (Race 6 Hans harness, Race 4 harness)
FEED (shift knob, carbon fiber door step, carbon fiber trunk addon)
Works Bell (short hub, quick disconnect, hub lock)
Herb Motorsports carbon fiber privacy hatch cover
RZ floormats
Carbon fiber interior panels
LED interior lights
Custom 60-mm center speaker gauge pod
SPONSORS

Toyo Tires, Exedy Clutch, Defi, Tein, DYC, Turblown, EVO-R, LCR
SPECIAL THANKS

My wife for dealing with my crazy hobby, Dan Popkin for the camera and lenses, Michael Osburn, Leo Huang, Billy Merk