Photography by Armando Perez
---
In the years we've known Mr. Carlos Molina Jr. we've noted that he never stops moving forward. He is, in a word, a perpetual motion machine of automotive customization. He never rests on his laurels, and is never content to simply say "There, it's finished now." If he'd been around when the wheel was invented he'd probably have been the first to say "Thanks nice, but have you considered doing it this way instead?" An excellent example of his persistent obsession is his long term project, this E46 sedan. It's gone coast to coast for car shows for the better part of fourteen years now. It's had more costume changes than a Miley Cyrus concert (and a better looking rear, we might add), and it's still soldiering on like a trooper.
For last year, Molina embarked on an extensive revisualization of the entire car, starting with the exterior. Years ago he put the effort into obtaining a custom, all-metal wide-body conversion, with the wheel arches flared four inches front and rear. To update that look, Molina dropped the car off at DB Auto Body, who updated the nose to a 2004 model, with fenders, headlamps and hood. He then added a Strictly Foreign from bumper, a Seibon carbon fiber hood, RD Sport mirrors, and BMW clear turn signals and side/tail lamps with BMW Titanium headlight trim. The entire package was resprayed in House of Kolor frost white pearl paint. In honor of its M-Sport brethren, and with a nod to the wild "chuco" lowrider Impalas which once cruised Alameda Avenue in El Paso, Texas, where he now resides, he chose a vivid metallic trio for the wide stripes; House of Kolor candy apple, cobalt blue, and oriental blue. Albert's Custom Paint expertly airbrushed gears within the stripes, from which the car got its name. "DTM Gearhead" was born with a love it or hate it, in-your-face, spicy attitude. It is, however, certainly unique and eye-catching.
| | |
| --- | --- |
| | |
In order to fill those wheel arches, Molina called upon Forgeline for a polished set of their SP3P three-piece wheels with anodized blue inner barrels which match the blue stripes and roof. These were shod with Toyo NT555 tires for the maximum amount of grip that the 10" and 13" wide front and rear wheels can handle. The suspension is comprised of Tein Flex coil overs and H-Sport front and rear anti-roll bars and Powerflex control arm bushings. Upgraded braking force is supplied by a set of Brake Man Storm front brakes and F4 Tornado rears with Goodridge braided stainless steel brake lines and Brake Man H2 ceramic competition pads. All of the boxes have been checked in this area of the build.
The engine really didn't need a revision, what with the RD Sport competition cam, Evo Sport racing pulleys and headers, Dinan high-flow throttle body, Ignition Solutions Plasma Direct coils, and RD Sport ECU flash making the most of the 2.5 liter M52's displacement and Dual VANOS. To finish off the power, there's a Nitrous Express 75-shot 10lb nitrous oxide bottle with a remote control bottle opener, bottle heater, and purge valve kit. An AutoWerks custom exhaust uses Borla mufflers and Eismann 996 Turbo exhaust tips to provide a freer flow. Transferring the power from the motor to the transmission is a Fidanza lightweight aluminum flywheel and a BMW 330i sport clutch. A Dinan carbon fiber intake matches the look of the AutoWerks carbon fiber valve and ignition covers and keeps the bay tidy. It's not a pavement scorcher by any means, but it provides more than enough grunt to make the four-door fly in a respectable manner whenever requested.
| | |
| --- | --- |
| | |
Hammering the twisties isn't this car's claim to fame, even with all of the performance upgrades. During his ownership, Molina has revamped the audio system ten times. Almost sounds a little obsessive, right? This latest incarnation features products from the well-respected U.K.-based newcomer, Vibe Audio. Molina hooked up with Vibe Audio's US manager, Brad Fair, to plan a top flight system with the best that Vibe offers. Three 10" BlackAir subswoofers are driven hard by three BlackAir Bass 1 Monoblock amplifiers, each producing 1000 watts of Class-D power. The signal from the Pioneer AVH-P7500 DVD head unit is split by a Q-Logic crossover, and runs to two four-channel Space Stereo 4 amps, and out to the Space 3D 5 front door components, Space 3D 6 rear door and rear deck components, and BlackDeath oversized 6x9s on the trunk side walls. Overall, Molina has access to 5,000 total watts of continuous audiophile-quality power to drive the sound. The amps and two Street Wires capacitors are all contained within a tidy carbon Kevlar mount and rack which fills the spare tire well. All of the wiring was switched over to Vibe products too. He's even got a Sony Playstation 3 in the dash, just in case he gets bored watching movies or listening to earth-shattering music.
Anything in the trunk not made of carbon fiber was wrapped in blue or black Alcantara suede, which matches the interior panels and headliner, all professionally done by AutoWerks. An Evo Sport carbon fiber trim panel looks terrific behind the Axis Power carbon fiber steering wheel. Once upon a time (otherwise known as bone stock) this interior was tan. Virtually everything's been changed out; BMW black leather rear seat, BMW black door panels and interior trim set, Performance Garage GT recliners with Sparco four-point harnesses, and an AutoWerks carbon fiber pattern carpet. Naturally, the Autopower roll cage received a candy red finish to help it stand out. What's most surprising is that the acres of carbon fiber, blue Alcantara suede, and black soft-touch plastics look extremely good together. Elvis may have liked his blue suede shoes but Molina clearly likes it everywhere except on his feet.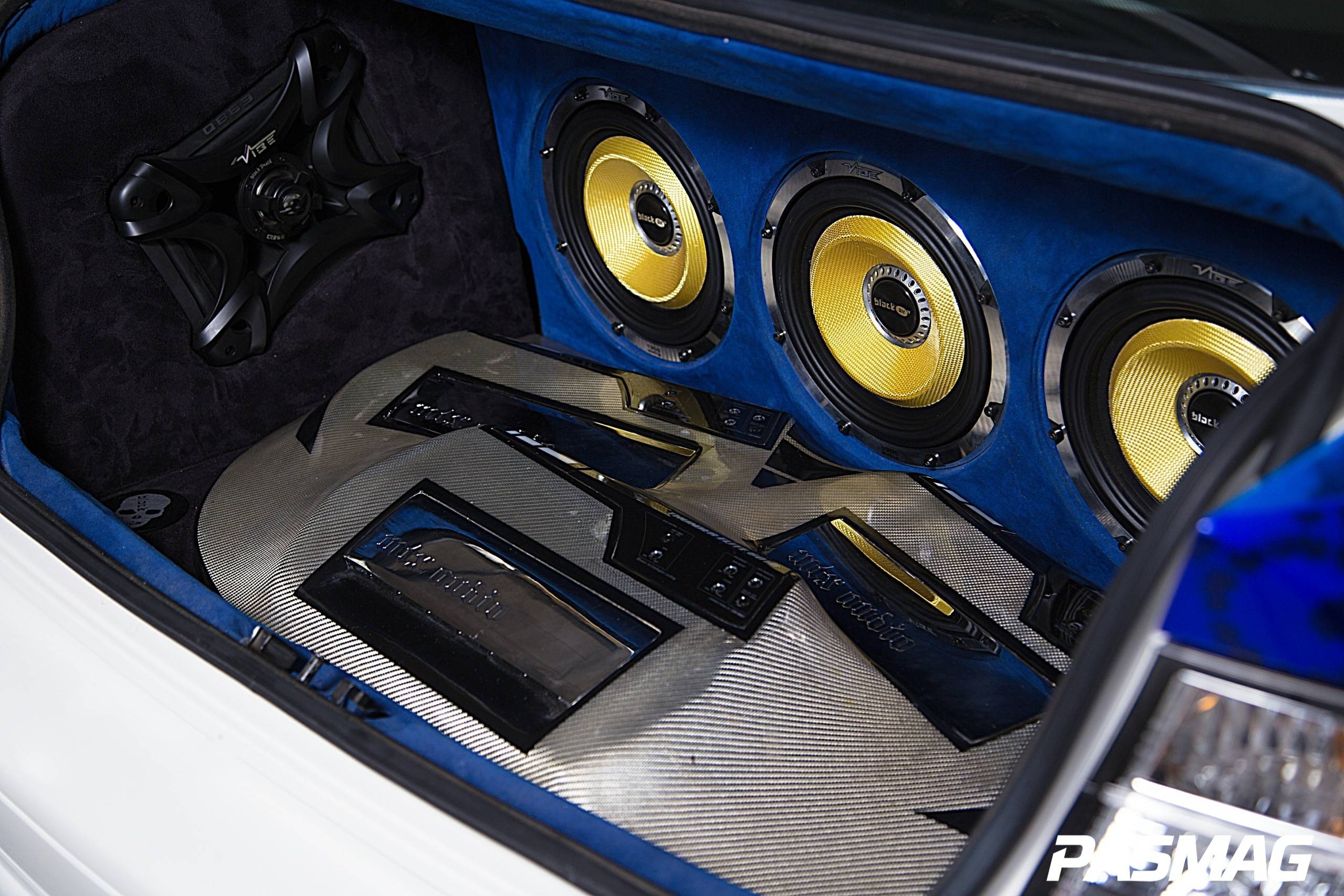 None of this would be possible without sponsors who are as dedicated to reinventing the wheel as Mr Molina appears to be. As the founder of Projekt Cars, his marketing organization which coordinates multiple SEMA show builds every year, Molina lives to modify cars 25 hours per day. We're not sure if he sleeps. Each year, following SEMA, he can be found hovering over his laptop, working on proposals for the next year, because he knows, come January, companies will be allocating their marketing budgets for the next twelve months. The early bird gets the worm, er, truck loads of new products to install. This year he plans to launch Molina Motorsports, a new line of performance parts. He's moving forward at the speed of light during a time when others are retreating. In a game where looking "fresh" is a big challenge, Molina has proven yet again that he's got the vision to deliver a winning package, no matter the age of the platform.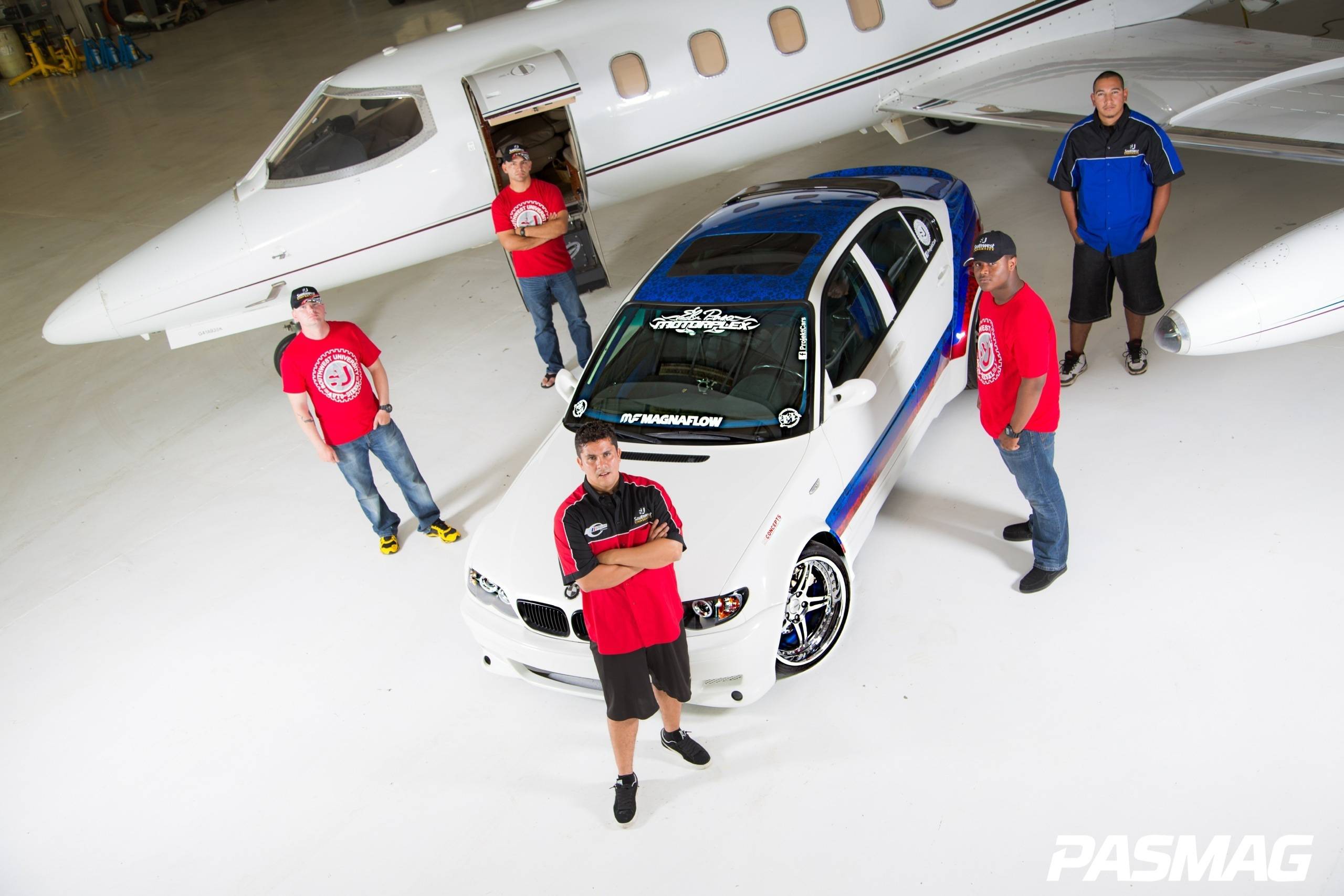 BMW E46 323i
Owner: Carlos Molina, Jr.
Club Affiliation: Projekt Cars
ENGINE
BMW M52 2.5 liter motor with Dual VANOS, AutoWerks custom exhaust with Borla Performance mufflers, AutoWerks carbon fiber valve cover, AutoWerks carbon fiber ignition cover, Dinan carbon fiber cold air intake, Eismann 996 Porsche Turbo exhaust tips, Nitrous Express 75 shot 10lb bottle, Nitrous Express remote bottle opener, Nitrous Express purge valve kit, Nitrous Express bottle pressure gauge, Nitrous Express GENX-2 accessory kit , Nitrous Express bottle heater, Ignition Solutions Plasma Direct coils, Fidenza lightweight aluminum flywheel, Dinan high flow throttle body, RD Sport ECU flash program, RD Sport competition cam, Evo Sport lightweight racing pulleys, Evo Sport headers, UUC Motorwerks aluminum oil cap , UUC Motorwerks Evo III short shifter, BMW- 330i sport clutch
EXTERIOR
SPARCO fuel door, DB Auto Body sheet metal wide body conversion, DB Auto Body full respray with House of Color, DB auto body '04 BMW headlight conversion, DB Auto Body '04 fender conversion, Strictly Foreign front bumper, Seibon carbon fiber 2004 model hood, Frost White under Blue Pearl paint (currently being re-sprayed), Country Club B&P all moldings shaved, Folia Tec chrome tint, RD Sport sport mirrors, BMW clear signals/side/tail lamps, BMW titanium headlight trim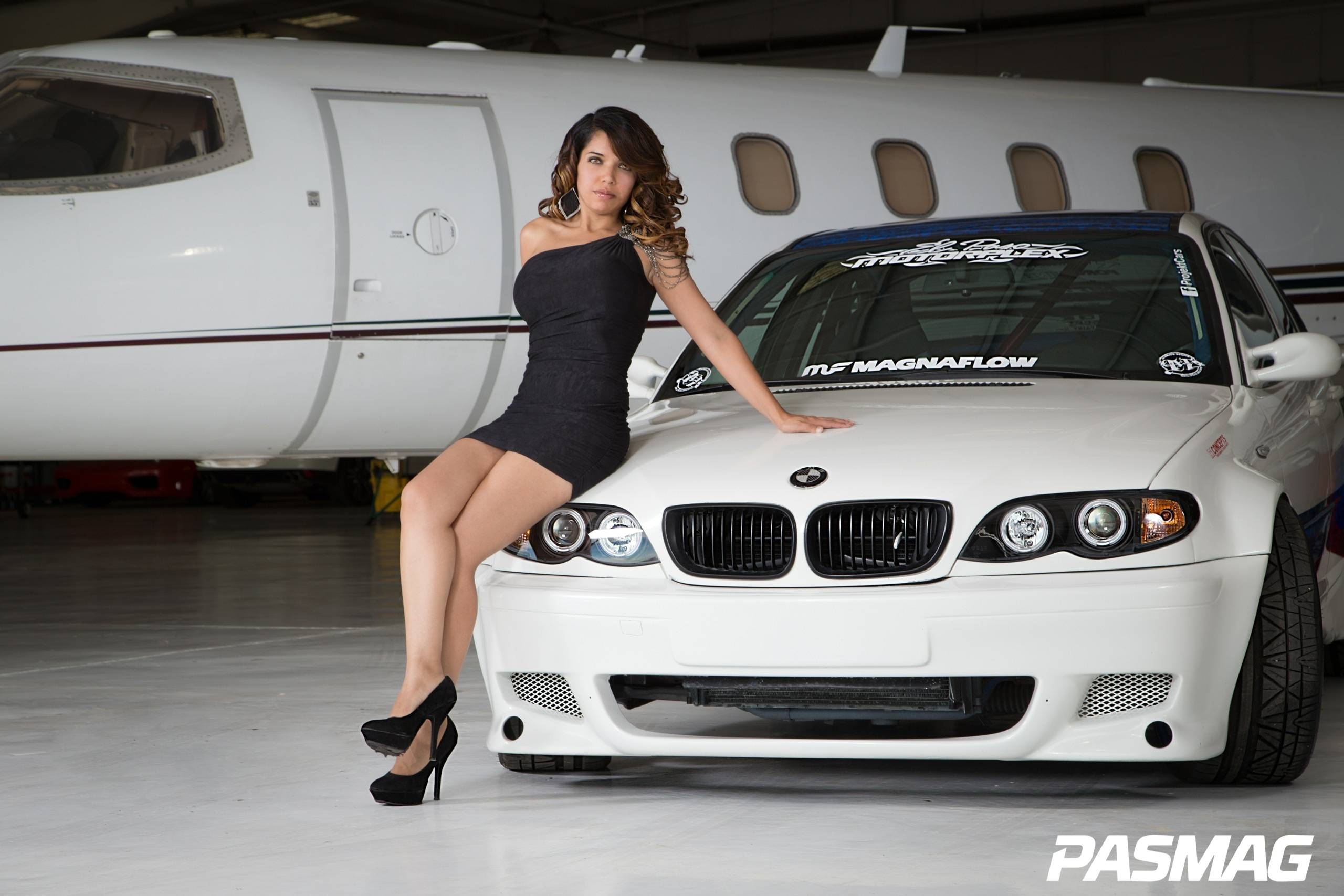 INTERIOR
AutoWerks Alcantara suede headliner, AutoWerks Alcantara suede trunk upholstery, AutoWerks Alcantara A and C pillars, AutoWerks Alcantara suede door panel inserts, AutoWerks-Alcantara suede shift boot, AutoWerks Alcantara suede e-brake boot, AutoWerks carbon fiber type carpet, Axis Power carbon fiber steering wheel, Axis Power carbon fiber B-pillars, V Racing race seats, Sparco four-point harnesses, Evo Sport carbon fiber trim panel Set, Evo Sport shift frame, UUC Motorwerks aluminum e-brake, UUC Motorwerks Magnum shift knob , UUC Motorwerks race pedals, UUC Motowerks three gauge cluster, BMW black leather rear seat, BMW black door panels, BMW black interior trim set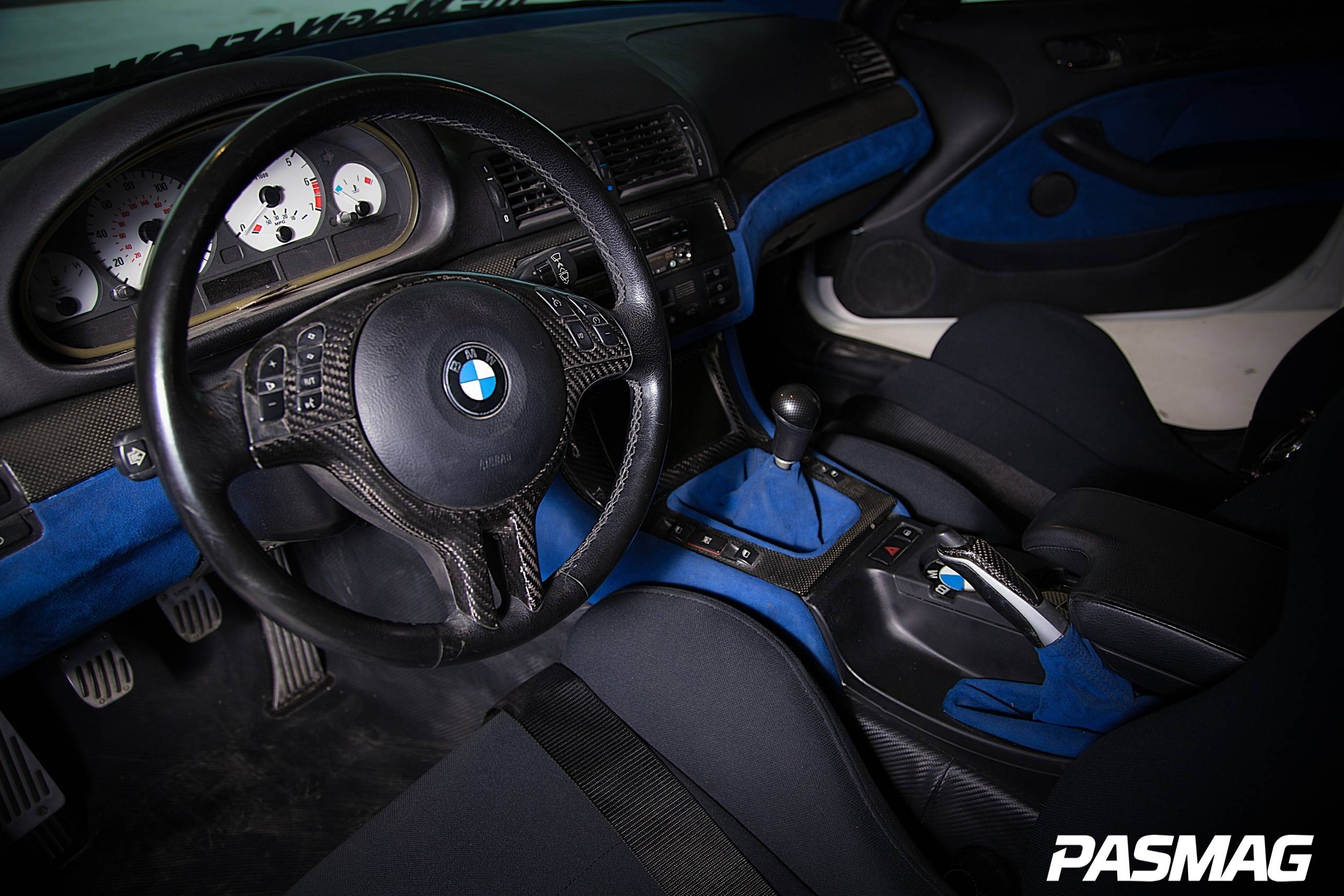 AUDIO and VIDEO
Pioneer AVH-P7500 DVD head unit, Q-Logic crossover network, three Vibe Audio BlackAir 10" subwoofers, two Vibe Audio four channel Space Stereo 4 amplifiers, three Vibe Audio BlackAir Bass 1 Monoblock 1000 watt D-class amplifiers, Vibe Audio Space 3D 5 component speakers, Space 3D 6 component speakers, Vibe Audio BlackDeath QB69 6x9 speakers, Accele 8" monitor, Accele 7" LCD monitor, Accele FM modulator, Accele video amplifier, Accele video switcher, Accele rear view camera , Sony Playstation 3, Street Wires two chrome capacitors, Vibe Audio all A/V wiring, Vibe Audio sound deadening material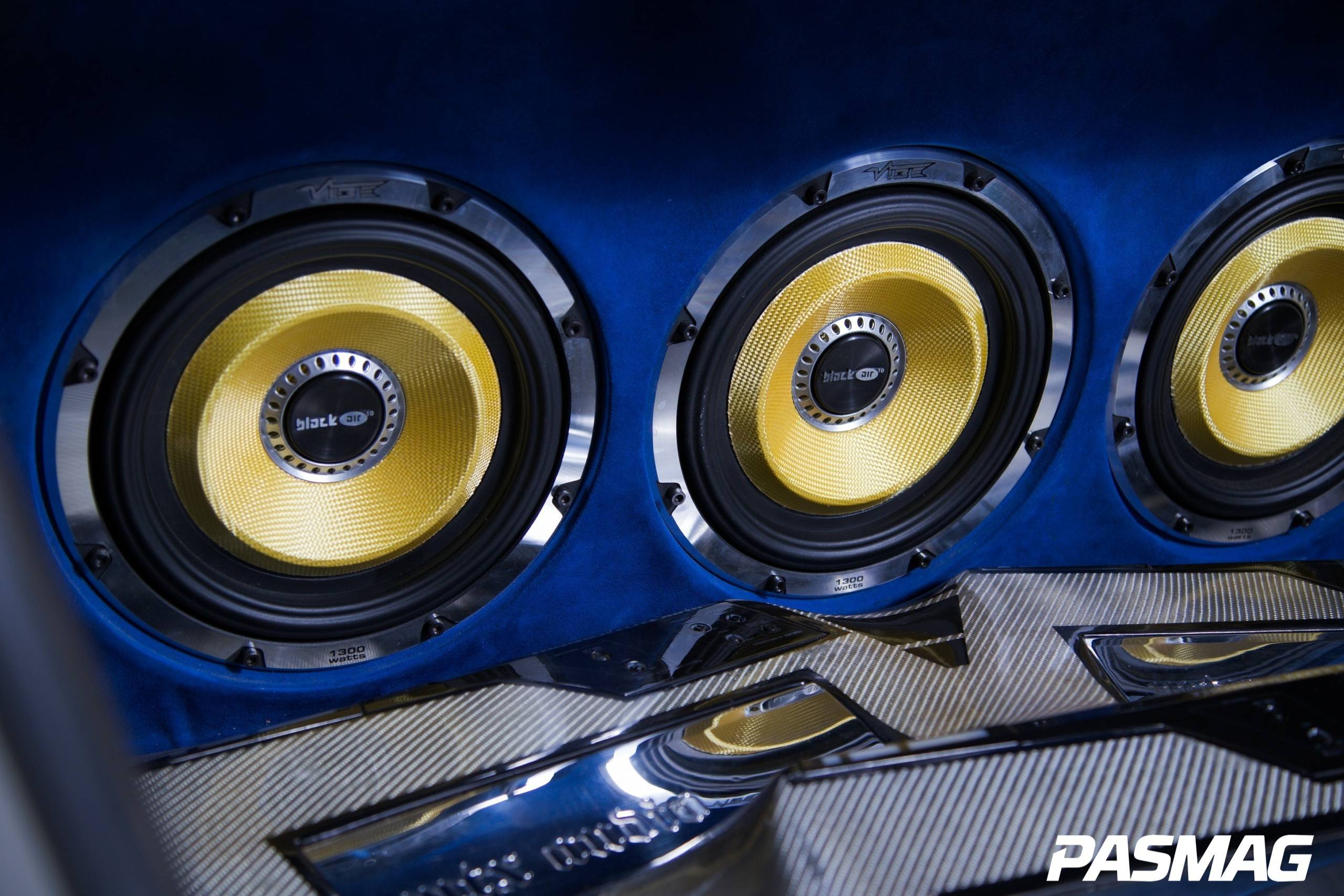 SUSPENSION
Tein coil-overs, H-Sport front and rear sway bars, AutoWerks carbon fiber strut brace, Powerflex control arm bushings, Brake Man Storm front big brake kit, Brake Man F4 Tornado front calipers, Brake Man Storm rear big brake kit, Brake Man F2 Tornado rear calipers, Brake Man billet aluminum brackets (front/ rear), Brake Man Procast two-piece convoluted rotors, Goodridge steel braided lines, Brake Man H2 ceramic competition pads (front/ rear)
WHEELS & TIRES
Nitto- 19" NT 555 tires, Forgeline SP3P three-piece wheels, 19x10 front, 19x13 rear, polished outer barrels and faces, blue anodized inner barrels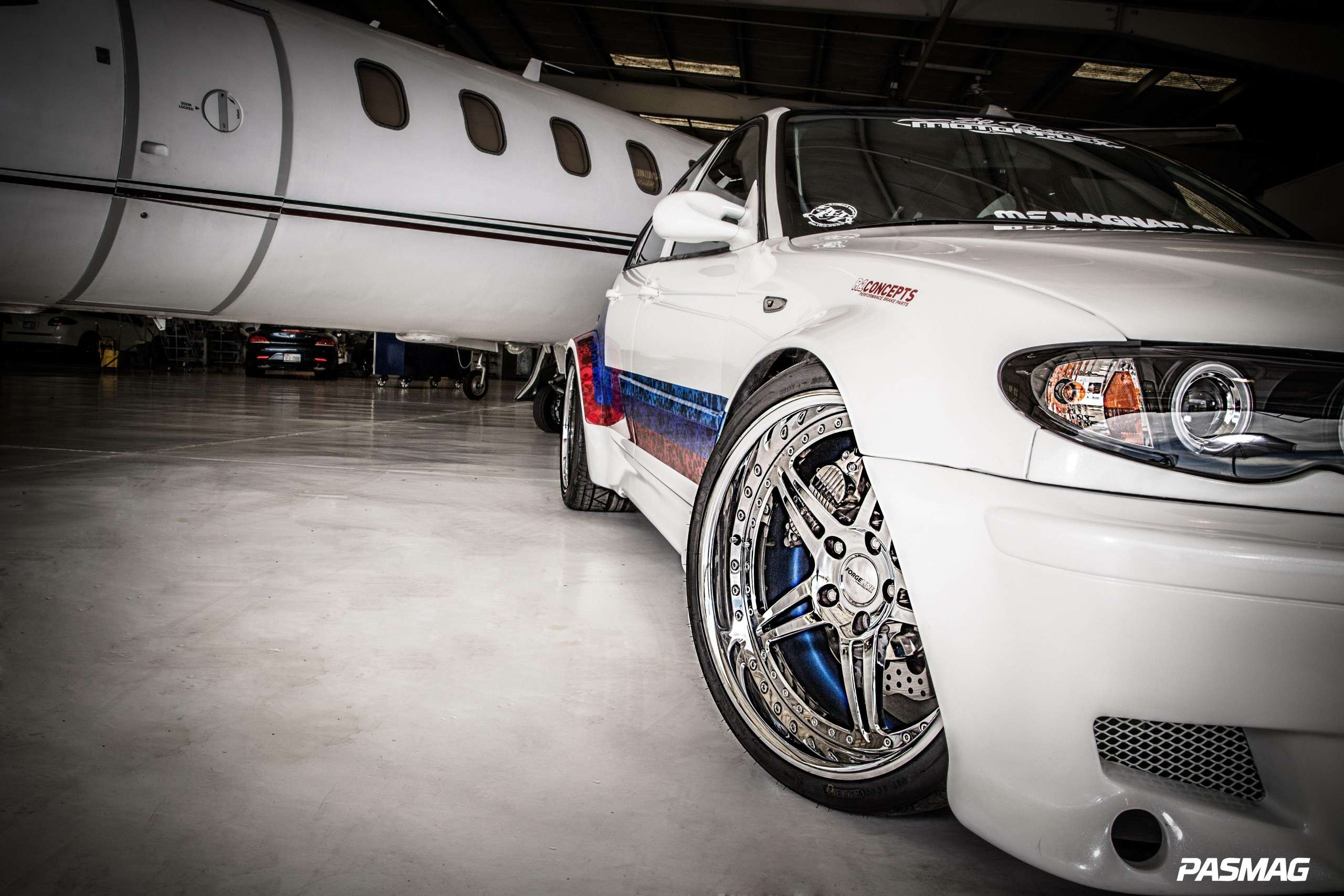 SPONSORS
Vibe Audio, Stett Performance, Magnaflow, BASF, Forgeline, Nitto, R1 Concepts, Auto Power, Albert's Custom Paint, Stett Performance, El Paso MotorPlex, Southwest University