Essentials:

Owner: Richard Cantalejo
Location: Winnipeg, Manitoba
Vehicle: 2005 Subaru WRX Sti
Car Club Affiliation: Garage 106

What Engine/Performance Modifications have you made?
Cobb Tuning H4 motor, Perrin Performance GT35R turbo kit, Perrin Performance air filter and intake, Walbro 255 Fuel Pump, Turbo XS FMIC intercooler kit, Turbo XS blow-off valve, TiAL 44mm wastegate, Power Enterprise 850cc injectors, Cobb Street Tuner timing control, NGK Iridium spark plugs, Cobb Tuning forged connecting rods, Cometic Head Gaskets, ARP head studs, HKS Carbon-Ti Catback exhaust, Perrin Performance header, Perrin Peformance up and down pipe.

Which events have youR vehicle won awards at?
2008 2nd place best Subaru at DTP Winnipeg, 2009 best Performance engine at Driven Winnipeg, and 3rd place Subaru at Perfect 10 in Fargo, ND.

What began the build-up of your vehicle?
I bought this car thinking it wouldn't need many upgrades. I was wrong. I soon realized that the marketplace has opened up to Subarus and then it started. I slowly started with an exhaust and rims, then one thing led to another and now I have a 450 horsepower 4-door monster. One thing I learned through working on my car is nothing is ever good enough, it can always be made better.
---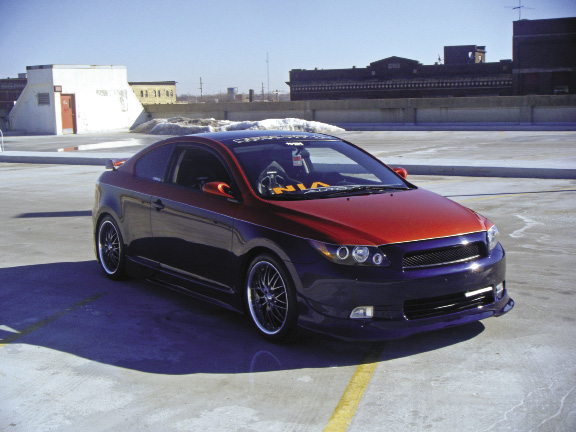 Essentials:
Owner: Chris Gosda
Location: Decatur, IL
Vehicle: 2008 Scion tC
Pasnation username: gosda_C
Car Club Affiliation: Obsessive Custom Designs

Are you a member of a car club?
I've been a member of Obsessive Custom Designs for about a year and a half now. It's a local club based out of Peoria, Illinois for a variety of cars and has varied quite a bit since I joined. When I started it was made up of a few Scions, a Charger, a Hummer, an Aztek, a Firebird, and a few other cars. It now consists of a few more highly modified cars including a G8 and a new Camaro. So there's a nice variety of cars. The club's site is still being worked on, but information is still accessible through myspace (myspace.com/obsessivecustomdesign)

What events have you competed in?
I've competed at quite a few car shows over the past 3 show seasons from local shows, large tours, cruise-ins, charity/benefit shows and scion exclusive shows. Some of these shows include: HIN/Nightshift Chicago, Nightshift Columbus, Slamology, DUB Memphis, DUB Chicago, various Scion shows in Iowa, Missouri Chicago Area and Indy; as well as many, many local shows in the Central Illinois region. I've also competed in USACi and IASCA sanctioned stereo competitions and local audio store competitions

Any Shout-outs?
Obsessive Custom Designs, Brownlee's Autobody (Blue Mound, IL), Kevin at NIA AutoDesign, R1Concepts, Andrew Modahl at Corbeau Seats, Aaron Vaccar at ACVMailOrder.com, Nate Leon-REMIX Events, John Ramos-DUB Show Tour
---
Essentials:

Owner: Jeffrey Sarsadias
Location:
Toronto, Ontario
Vehicle:
2008 Mitsubishi Lancer Evolution X
Car Club Affiliation:
Team Compression/Street Concept
What Engine/Performance Modifications have you made?
ARC UICP, ARC super Induction Box, Ultimate Racing LICP, Perrin Intercooler, Mishimoto Radiator, Mishimoto hoses, TWM Short Shifter, with shifter bushing, T1R Downpipe, T1R test pipe, Invidia Q300 Catback Exhaust with Titanium dual tips.
What events have you competed in?
I've competed at HIN, Importfest, CSCS, DMCC, Full Throttle, Scrape by the Lake, Total Compact Show, Battle at the Border, and lots more...
What will your next performance modification/upgrade be?
VARIS Full body kit, and Custom wide body, HKS Turbo upgrade.
"All Show", "All Go" or both? Why?
BOTH. Just Gotta Have Both.
Any Shout-outs?
My wife Jen and my 2 boys, Jalen and Ethan. Chris Hoare Photography, PASMAG, General Tires, Grand Prix Auto, Invision, Carbon by Design, REALM AUDIO, TWM Performance, Driveline Motoring, JRP