Andrew Purvis used to ride around town on his bicycle taking pictures of cool cars way back when he was younger, and that passion followed him well into his adult life. When he was just 19, back in 2007, he found a 1989 Ford Mustang for sale - the iconic fox-body model he had already grown to appreciate years before. Within a few days of buying the car, he was already gutting the interior. "Anything that didn't make it go faster was on the chopping block," Purvis tells us.
Not long after buying the car, he enlisted in the USMC, and the Mustang spent some time in storage. After his last deployment, he returned home in 2016, and bought a house with a garage. Alas, no more wrenching in the street! With his own space to work in, Purvis transformed his foxbody into a true dedicated time attack racecar, complete with a modern 5.0L Coyote engine swap.
"I truly love the process of improving. Whether it's more weight reduction, improving the balance of the car by moving more weight to the rear, reducing drag, or increasing downforce," Purvis says. "I've always been very function focused, I want to go faster and be competitive on track, I want to make a name for myself in the racing world." With his dedication to improvement, we're sure he's headed for greatness. Best of luck out there, Andrew!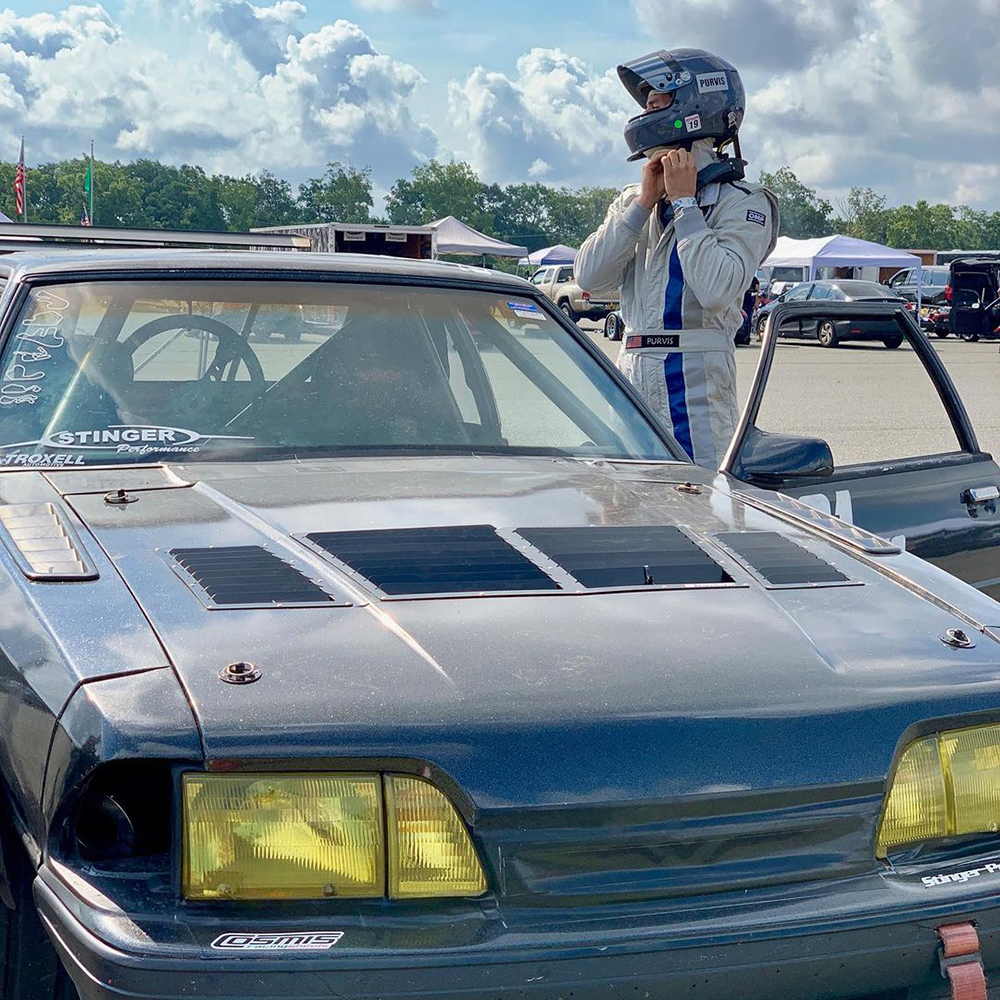 Photography by Anthony Rivera, Andrew Purvis
As seen in PASMAG #164. Click Here to view the issue.
---
ESSENTIALS
Driver: Andrew Purvis
Location: Mount Vernon, New York, USA
Vehicle: 1989 Ford Mustang GT
Engine: 2017 Ford Coyote 5.0L V8
Horsepower: 400 whp
SOCIAL
Facebook: Purvis Automotive
Instagram: @escortsportage
ENGINE
2017 Ford Coyote 5.0L engine swap
Third gen Mustang intake manifold
MMR (lightweight water pump pulley, oil filter block adapter for remote oil filter and oil cooler)
Ford Racing control pack
HP Tuners ECU tune
EXHAUST
BBK long tube swap headers
Custom Y-pipe
Race muffler
DRIVETRAIN
TR3650 transmission
Spec Clutch stage 1 clutch
MM (clutch cable kit, quadrant)
MGW shifter
Ford 8.8 w/ FRPP carbon clutch disc
3.73 gears
FRPP aluminum driveshaft
Ford Racing 31-spline slip yoke
Moser SN95 28-spline rear axles
Stifflers transmission cross member
WHEELS / TIRES / BRAKES
Cosmis Racing XT-006R - 18x11 (f/r)
Yokohama Advan A052 tires
ARP extended wheel studs
MM half-inch spacers
Cadillac ATS front brake calipers
SN95 Mustang rear disc brakes
Wilwood proportion valve
MM (stainless steel braided brake lines, manual brake conversion kit, pedal box spacer plate)
Hawk brake pads
CHASSIS / SUSPENSION
MM (K member, SN95 tubular forward offset A-arms, K member half-inch spacer, SN95 hybrid steering shaft, -6 AN fitting steering rack, aluminum rack bushings, camber/caster plates, racing upper shock mounts, front strut tower brace, torque arm, panhard bar, road racing rear LCAs, bump steer kit, front sway bar, sway bar bracket reinforcements, front sway bar relocation kit)
1996-2004 Ford spindles
2001-2004 Mustang Cobra steering rack
Feal 441 Road Racing coilovers
Wolfe Racecraft subframe connectors
UPR lower torque box reinforcements
Custom DOM tubing road racing roll cage
Donathan Racing front and rear tubular bumpers
EXTERIOR
LX rear bumper cover
Custom ABS plastic air dam
Harwood fiberglass (liftoff hood, liftoff hatch)
JDM 4-inch fender flares
Sunroof delete
Racequip tow strap
Sparco tow strap
TA2 aluminum wing
LX tail lights
Shaved GT skirts and door moldings
Custom carbon fiber cowl panel
Hollowed 1993 Cobra grill
SVO rear side spats
INTERIOR
OMP 350mm steering wheel
Mishimoto shift knob
Custom shifter
Kirkey road racing seat
Racequip 5-point harness
Long Acre master cut-off switch
SPONSORS
Maximum Motorsports
LL Wrap
Cosmis Racing Wheels
---
PHOTO GALLERY