Photos By Jacob Leveton
---
Everyone has a weakness and even the toughest street fighter has a weak spot if you can strike the right pressure point. Tony Nazzal's 350Z has gone through many iterations over the years, to eliminate all the weak spots he had identified. When I first saw this Z33, it had next to nothing in the power-adder department but you could see that Nazzal was going to take to strengthen it and build a prize fighter. That was around five years ago and Nazzal has continued to build his creation into something rarely seen in the Spo-Com world. This time around, Nazzal went through the painstaking process of tearing the shell apart and fitting it with a widebody to set off the appearance of the Z like nothing we'd seen before. He turned to widebody specialists, BRS Autodesign to source out a Version III JGTC widebody kit for the Z. After it was slightly customized, the hood was modified to clear the Eaton-style blower and fitted with Aerocatch hood-pins. The body was then shot in several layers of Dupont Chromallusion paint called Absolute Purpeen. "The trademark of my project has always been the Chameleon paint scheme," states Nazzal. The roof was then sprayed in gloss black and the rear deck was fitted with an APR GT500 carbon fiber wing. Nazzal added some smaller accents like carbon fiber B-pillars and airbrushed "Z" and "Nissan" logos.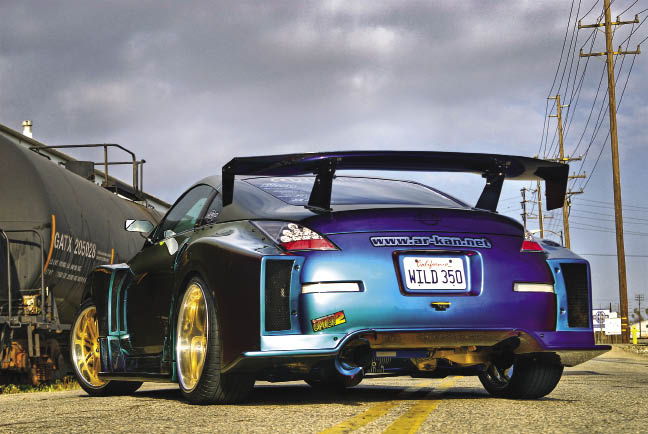 From there the attention turned back to the motor. "The car was being ranked in the highest classes at car shows and did well holding its own against completely done and insane widebody JDM themed vehicles, without a widebody or crazy motor," admits Nazzal. However, it was time for Nazzal to start paying his dues under the hood. The jam was to be made with a supercharger and when it came to pull the trigger on one, Nazzal went with the Nissan experts at Stillen. This stage 4 kit has dual fuel maps for both pump and 100 octane, and keeps it fat since the internals are stock. A 7th injector has been added and the fuel is jammed in with a Walbro 255lph pump providing the stream of fuel. The compressed air heads into an air-to-liquid chiller before it heads to the chambers. The spent gases are directed out of DC Sports headers and into a Motordyne single exit titanium exhaust.
With the bump in power, the Z needed some suspension and brakes to harness it. A set of K&W Variant 3 coilovers were added to the project for advanced adjustability. Then Cusco rear upper control arms were bolted up along with Stillen adjustable sway bars and front strut bar. Nazzal went through the hassle of removing the entire suspension and then either chroming or powder-coating every piece.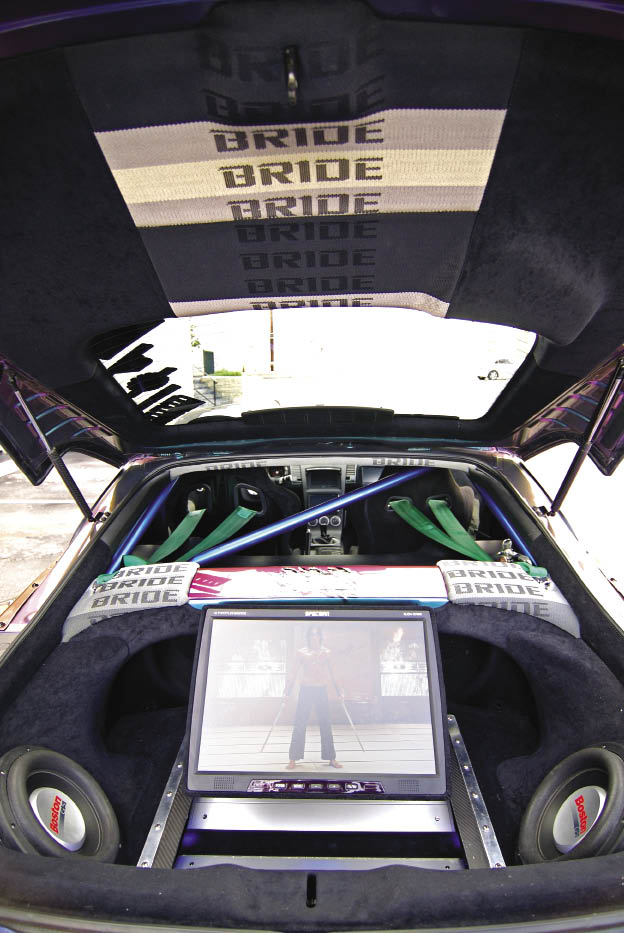 In the braking department, StopTech gear was added including a 4-piston/355mm front brake along with a 4-piston/330mm rear connected by stainless lines filled with Motul RBF600 fluid. The wheels and tires commanded Nazzal's full attention during selection and sizing. He got the legendary Foose to build a custom set. These bad boys measure 20x8.5-inches in the front and 20x10.5-inch with whopping 7-inches of lip in the rear. Since Nazzal is sponsored by Continental Tire, he selected the impressive Sport Contact 2 in a 245/35R20 in front and a healthy 275/30R20 in the rear, then the whole package bolted up with Trust lightweight lug nuts.
As a former winner of many awards, it didn't come without hard work everywhere on the car. Inside, some Bride gear such as the Euro II passenger seat and the Profi XL driver seat are both reupholstered custom suede. The Brides are draped with a 5-point driver-side and 4-point passenger-side harness. There are matching Bride floor mats and custom Bride fabric on the headliner, doors, trim panels and rear hatch. The dash and pillars have been wrapped in black suede and the console has been wrapped in carbon fiber overlay. All steering inputs are made via a Personal Grinta wheel connected to a Works Bell quick release.
The audio install includes some of the best gear on the market. The first order of business was to source a Kenwood DVX700 double-DIN headunit with touchscreen. Signals are fed to a pair of Boston Acoustics amps, one mono and one 4-channel. From there, the mono drives the Boston Acoustics subwoofers and the multi-channel heads to Boston Acoustics 6.5-inch component speakers. A trio of Kenwood 6.5 monitors were added in both the console and on the passenger side and a massive 19-inch monitor found in a custom rear floating enclosure. The electronics are rounded out with a Playstation2 slim in the glove-box along with a Valentine One radar detector in a stealth location.
A total of four years in the making, Nazzal has truly poured everything into his car. A total of $80,000 and four years equates to what you see here and that is with the discount at his job as the Parts Manager of Riverside Infiniti in California! Look for Nazzal and his team-mates of Ar'Kan to put a dent in the show scene and hit a few pressure points of their own.