Photography by Mike Kuhn
---
A Porsche Cayman Shaped by Imagination and the Creative Process
It's no secret that the halls of the SEMA show are home to the world's best builds at any given time, and sometimes even the most impressive of builds can blend in with its surroundings in the rows upon rows of show-stopping vehicles. I preface this feature with that fun fact because I need you to understand just how much it means when you see a car at SEMA that literally stops you in your tracks. For me personally, Dionne Mascunana's Porsche Cayman S was that car.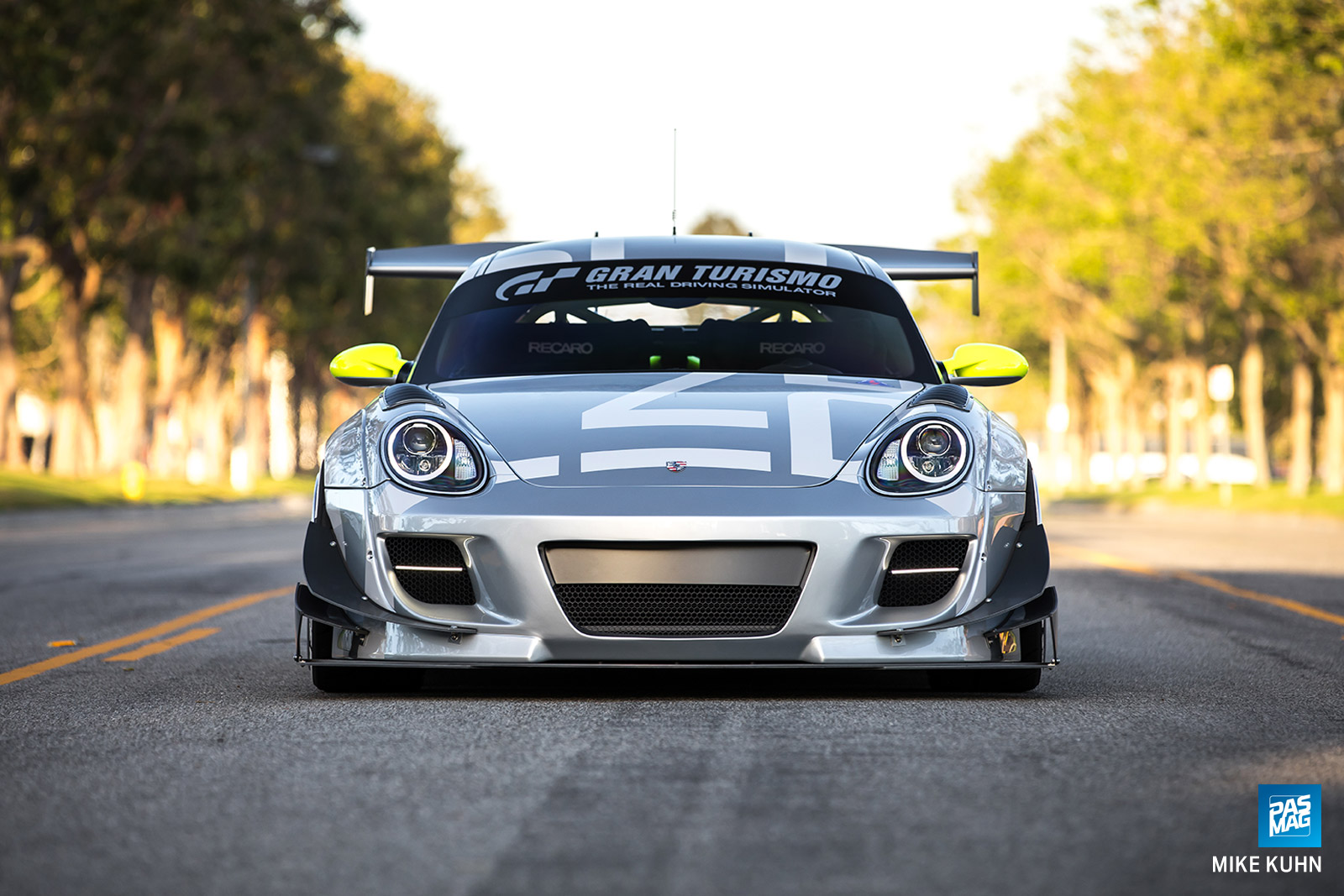 Mascunana is no stranger to the SEMA floor, either. In fact, his Porsche has been there multiple times, but it was only this past year at SEMA 2017 when he felt like the car had reached a point he was truly happy with. When Kei Miura was originally designing the Porsche Cayman Pandem kit, Mascunana was there, knowing his car would soon be showing off one of the first iterations of a brand new Pandem kit to the world. Unfortunately for him, Miura's original design didn't quite do it for him. He liked the kit, but he didn't love it. Alas, the show must go on, and Miura wasn't about to change it, so he buttoned up the Cayman, and the car was off to SEMA.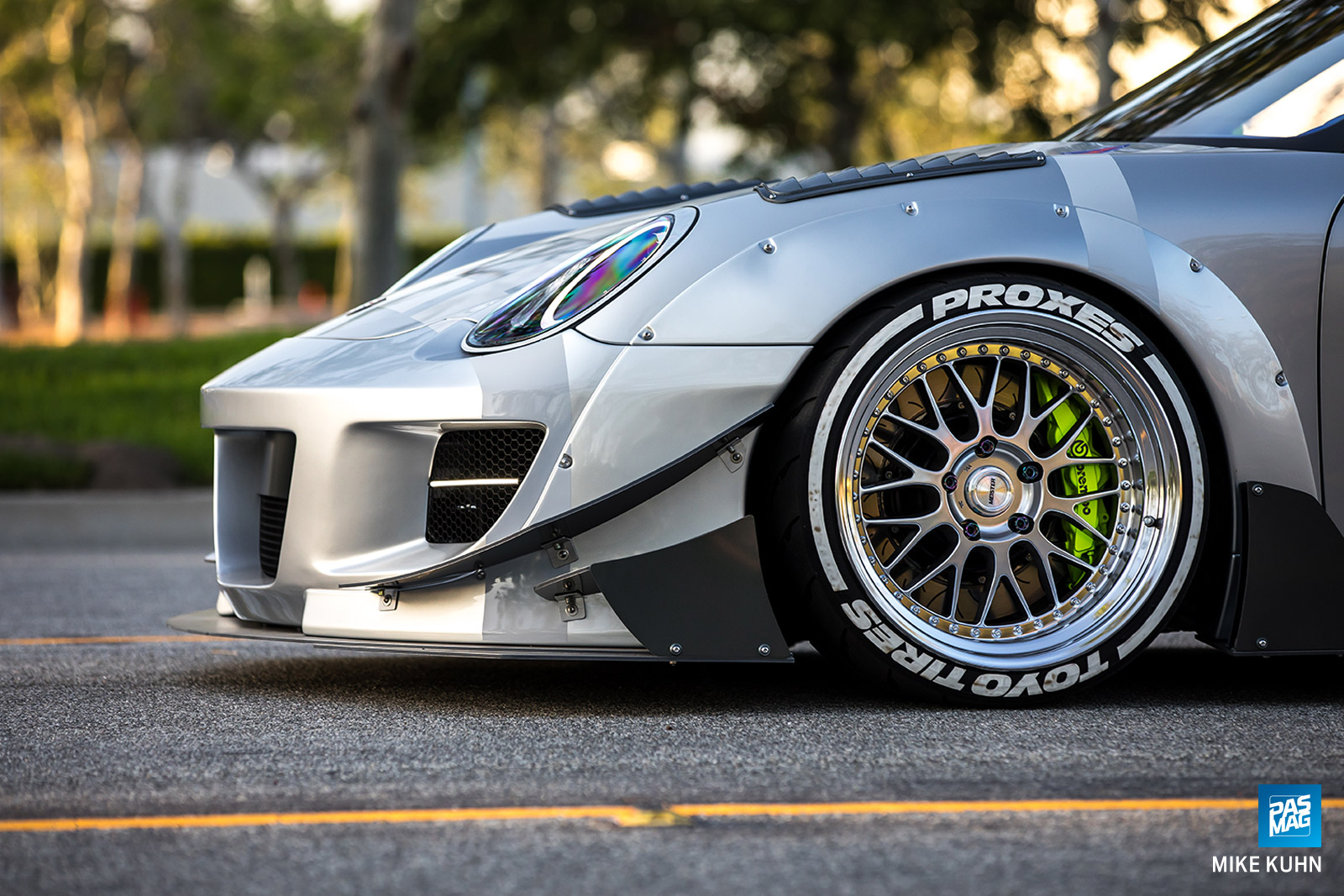 Returning from SEMA 2016, the race was on to transform the Cayman's look into something Mascunana could be completely satisfied with for the next year. Having already cut and modified the car, he was fully committed to the kit – it just needed some personal touches. "Every show Cayman started to have the Pandem kit, and they all looked the same to me. I really wanted mine to be different when it was all said and done. I've always tinkered with things I own since I was a kid. I actually broke a ton of my old RC cars just to mod them," Mascunana says, laughing. "I love to do everything myself." After some brainstorming, he took to an unconventional approach to reshaping the kit.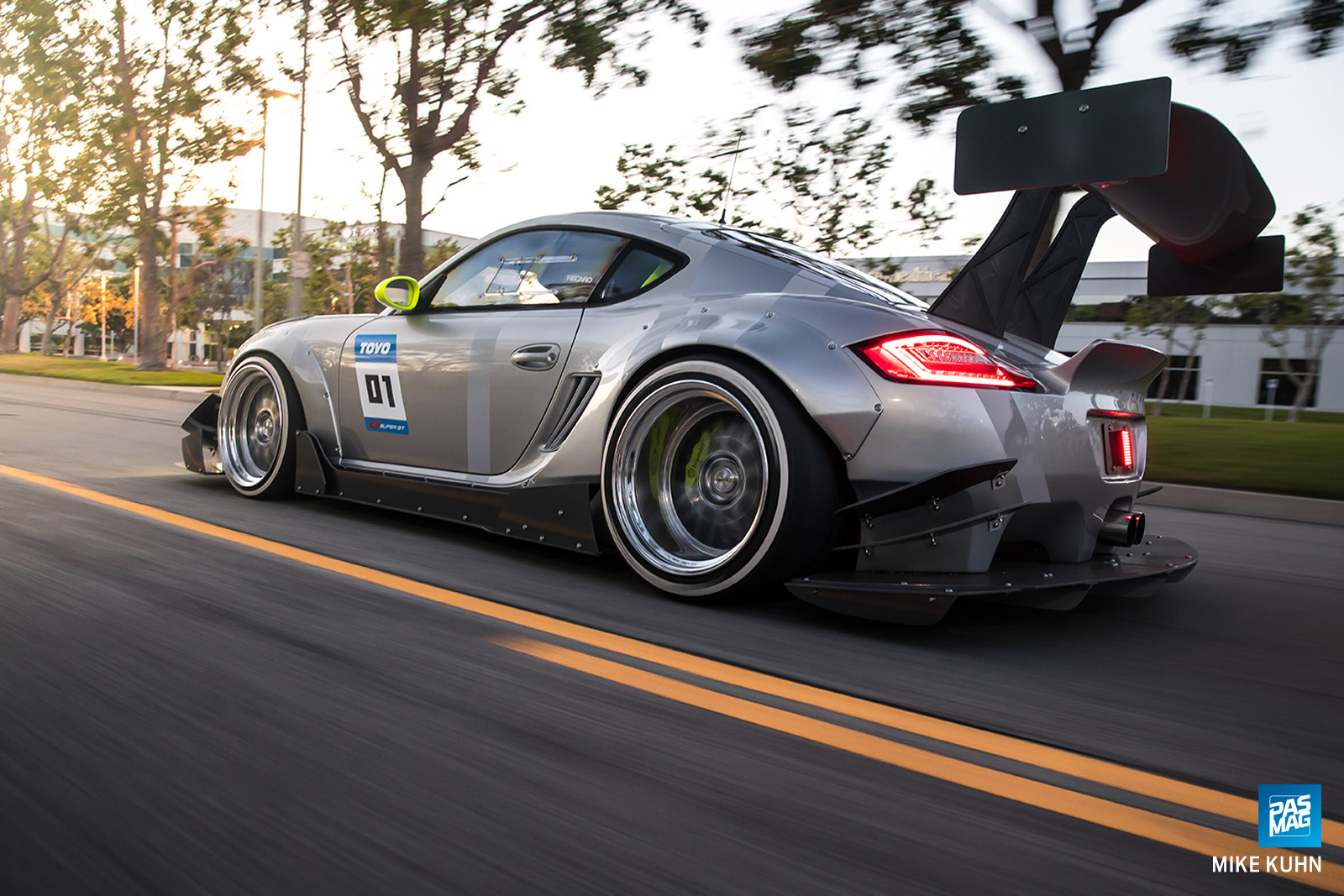 After looking at Porsche racecars of several eras for inspiration, Mascunana noticed that the front bumper of a Mazdaspeed RX8 kit bore a striking resemblance to the smiling face of Porsche racecars of yesteryear. It took some time, money, and patience to get the front of that Mazdaspeed bumper properly grafted into the Pandem front bumper, but the result is a one-off kit that looks, dare we say it, even better than the original. With the back bumper modified as well to remove certain features that Mascunana wasn't feeling, the kit was transformed, and a set of Spyder headlights and taillights modernized the look entirely.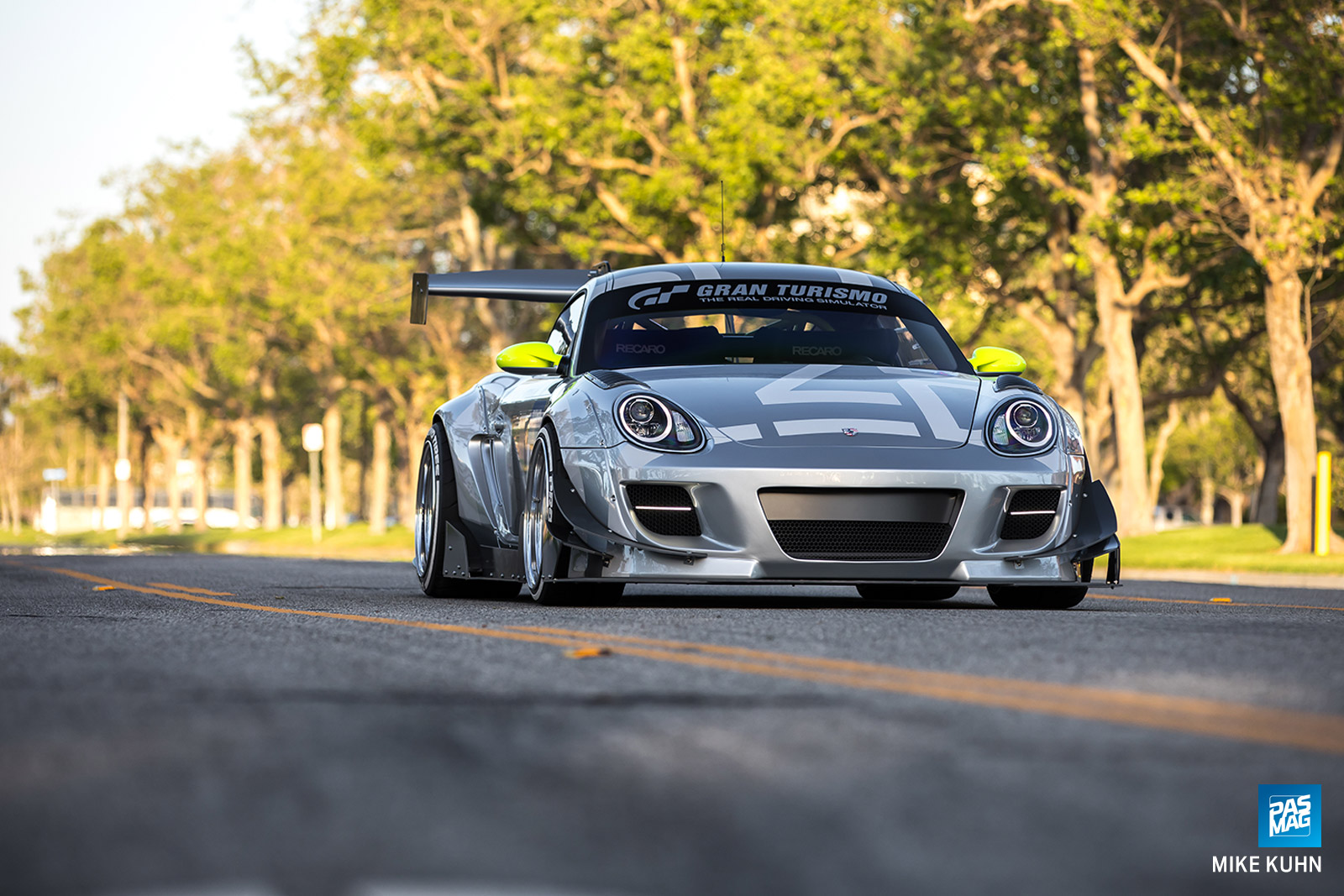 Taking inspiration from Super GT and DTM racecars, Mascunana knew the aero had to be aggressive as all hell to capture the look and feel he was after. "I love what we've done to the kit itself, but my favorite part of the build has to be the swan neck wing," he says. "The wing took seven months to build, from cardboard prototypes in my garage to fitting the CNC-made uprights to the bridge made by my buddy Steve Van Der Vorst at D-lng Designs." Once the wing was set, he took it upon himself to make some more custom aero. The splitter, wild diffuser, and racecar-esque canards were all handmade by Mascunana in the same cardboard-to-reality process.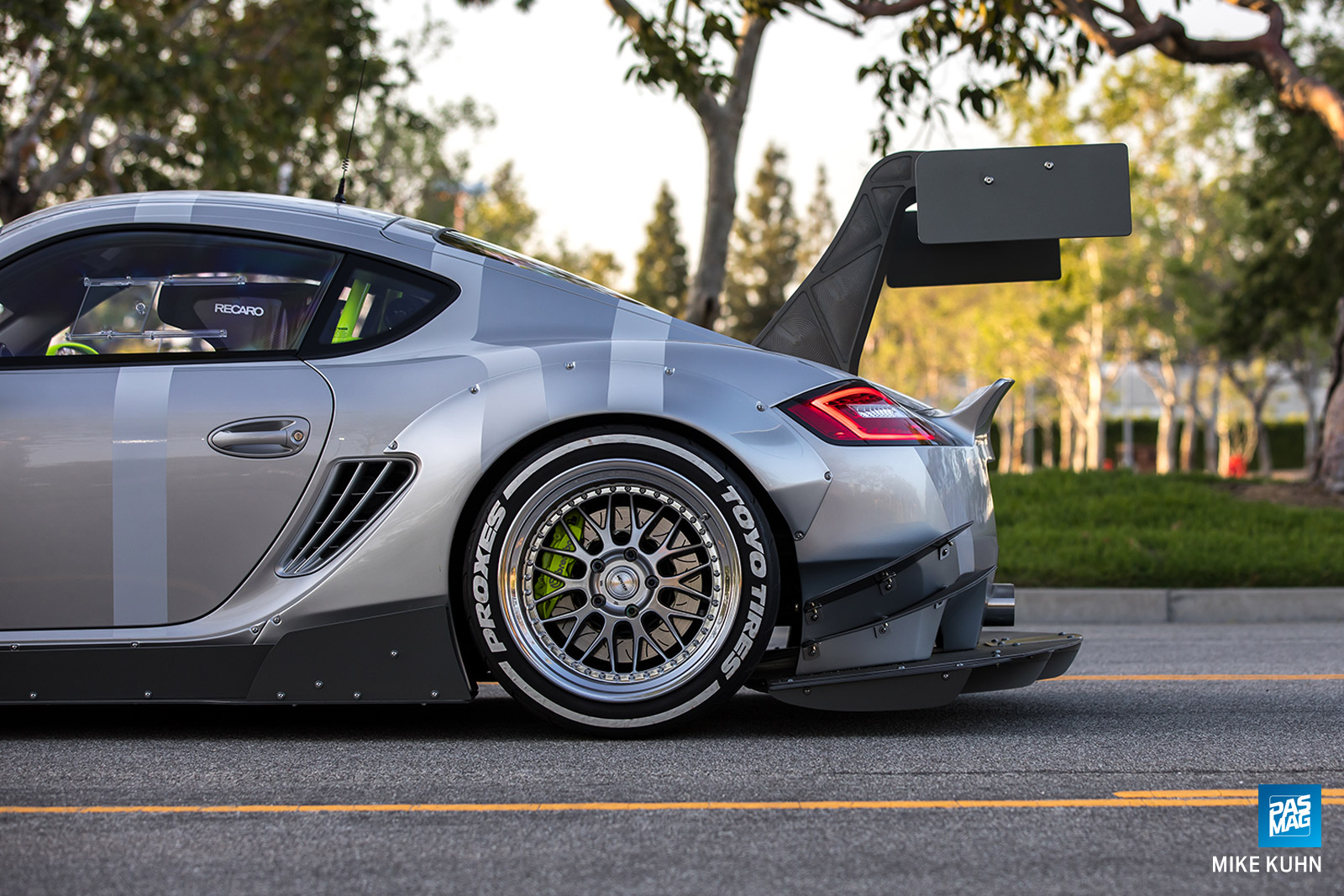 With the body's exterior looking as wildly aggressive as any true-to-life Super GT racecar, wheel choice would have to reflect the madness that this car exudes. A set of 19-inch Work Meister M1 wheels, 11 inches wide in front and 14 inches wide in the rear, complement the Japanese-inspired modifications nicely, and also fill out the widened Porsche's fender wells proportionately. Since he is Marketing Content Manager at Toyo Tires, it only made sense for Mascunana to pick up a set of the best tires possible. A set of Toyo R888Rs, 265s up front and hefty 345s in the rear, are wrapped around his Work wheels to keep this Porsche planted.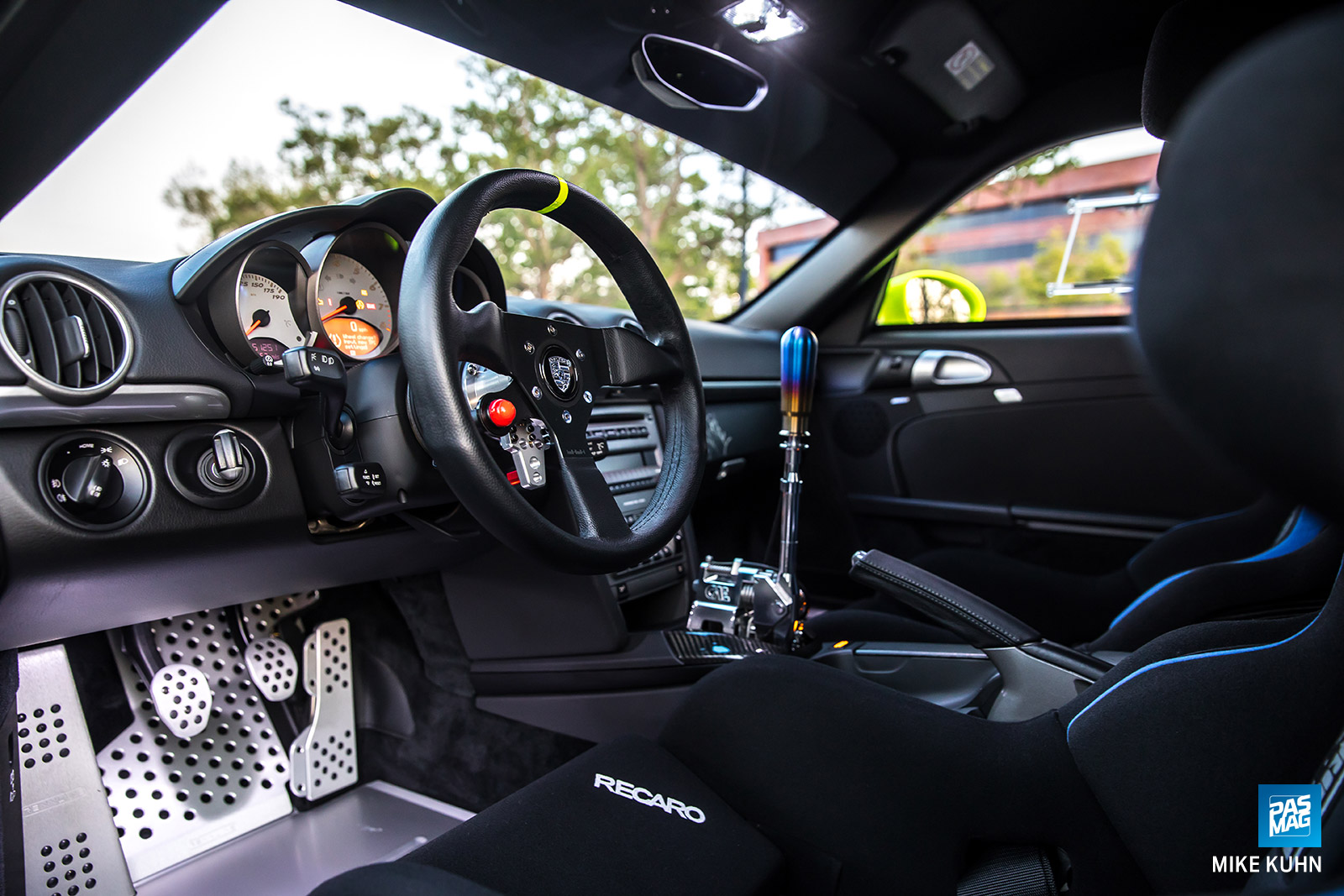 Stepping inside this spaceship's cockpit, the car looks and feels race-ready right away. Recaro P 1300 GT seats and Schroth Profi III 6-point harnesses keep driver and passenger snugly in place, and Rennline aluminum floor panels give off a serious racecar vibe. A small Momo 300-mm steering wheel, a titanium shift knob on a CAE shifter, and a carbon fiber rearview mirror from Zoom Engineering all lend even more to that feeling, and an Acid Green roll cage that matches the side mirrors on the exterior solidifies it. It is apparent that the Super GT and DTM influence isn't just on the outside.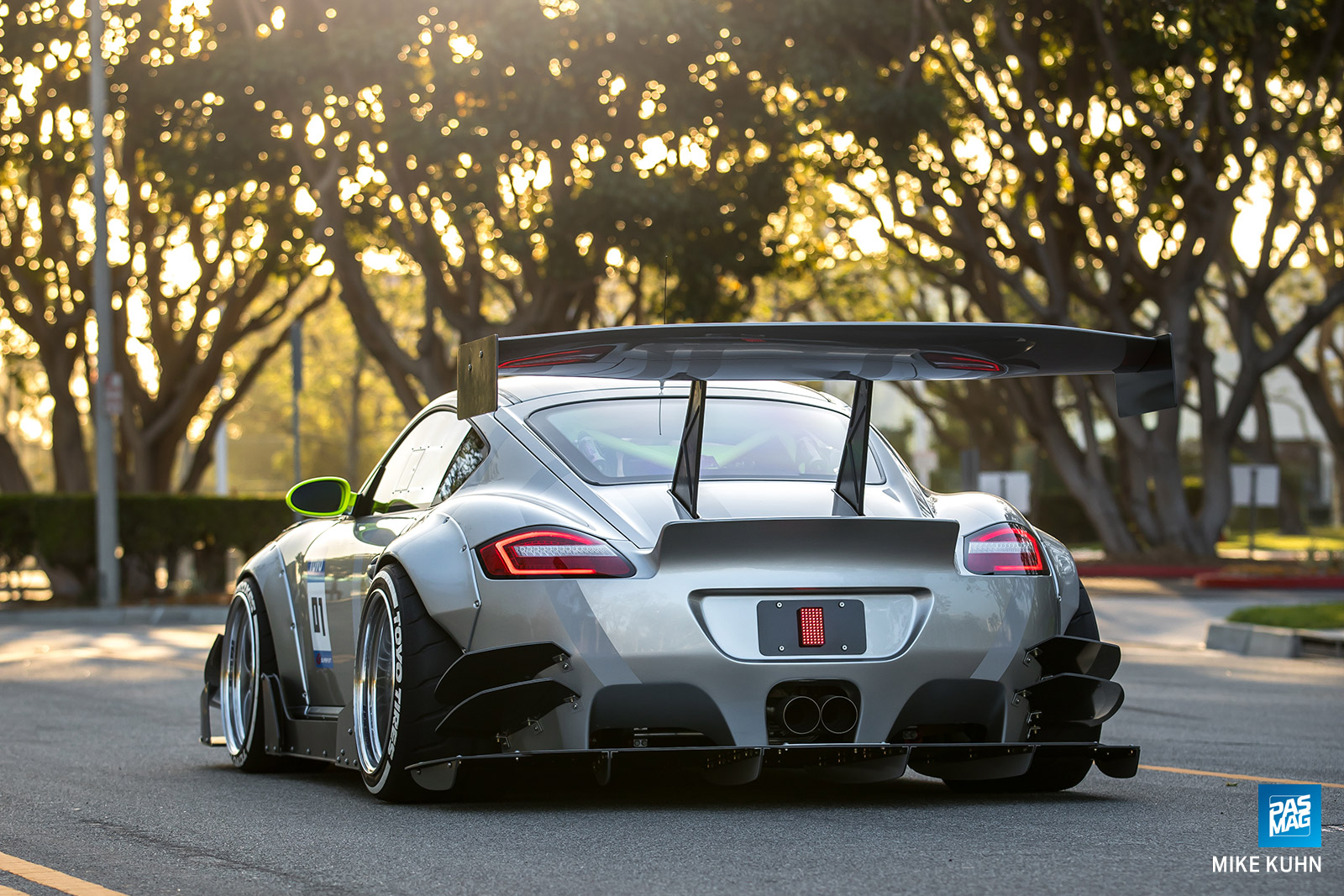 Now, some people may look at cars with stunning appearances such as this on the SEMA floor, and assume things like, "Oh, it's a trailer queen, it doesn't actually drive much," or, "It's all and no go." Those people would be dead wrong. Almost every major modification on this car is worth as much in the function department as it is in the form department. The Cayman S is already a relatively lightweight platform, so to balance out the addition of the cage and other beefier components, all windows were replaced with P4P polycarbonate versions.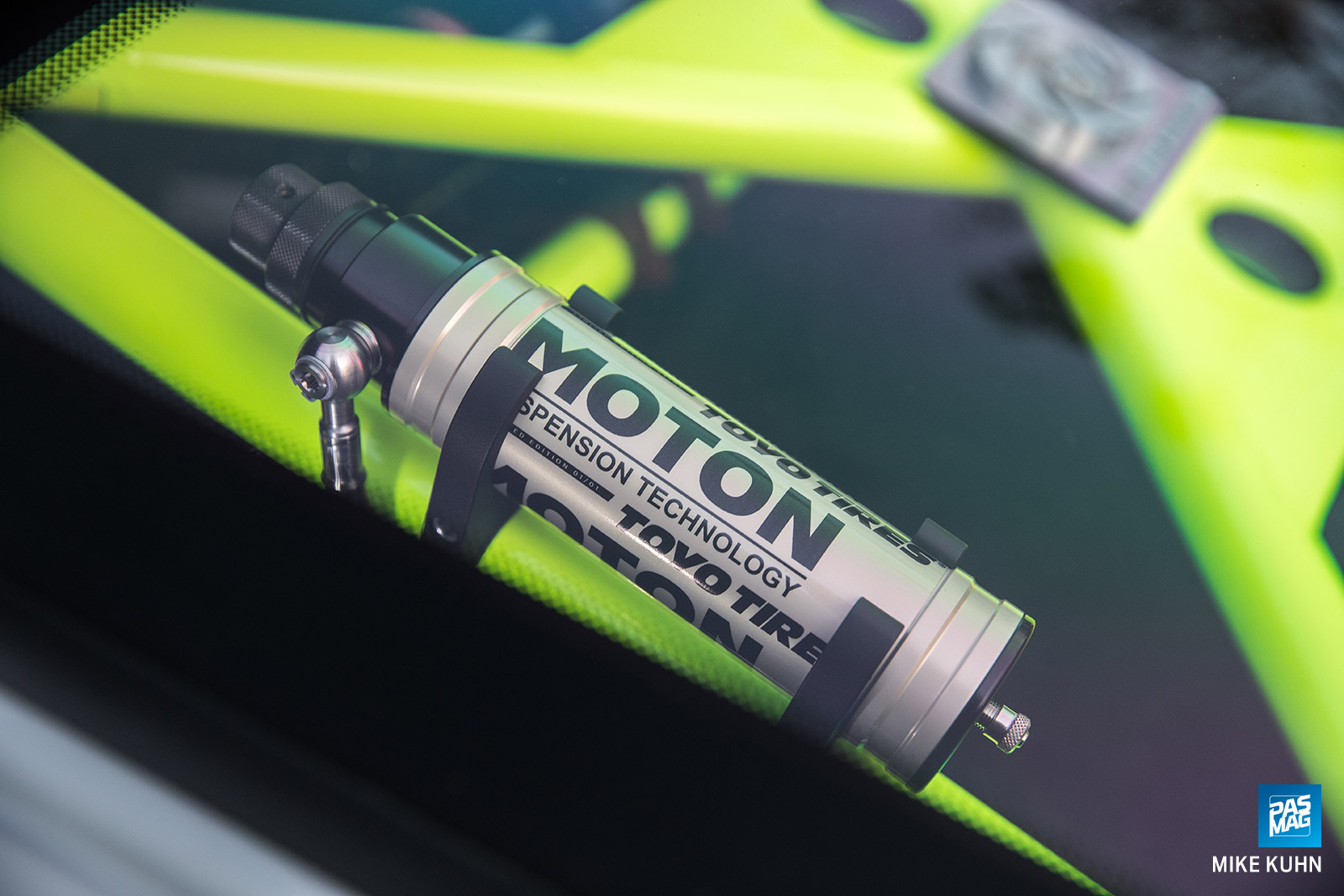 Behind those big, beautiful wheel and tire setups, you'll find a Brembo BBK, with calipers painted the same Acid Green as the mirrors and roll cage, as well as Moton Suspension motorsports-ready 3-way coilovers, complete with external adjustable dampeners on all four. With the exception of a Rennline frame brace, the entire suspension system is made up of Tarett Engineering billet components, from control arms to coilover top hats to the 27-mm bladed rear sway bar, and everything in between, including extended drop links to assist in achieving the perfect stance without compromise.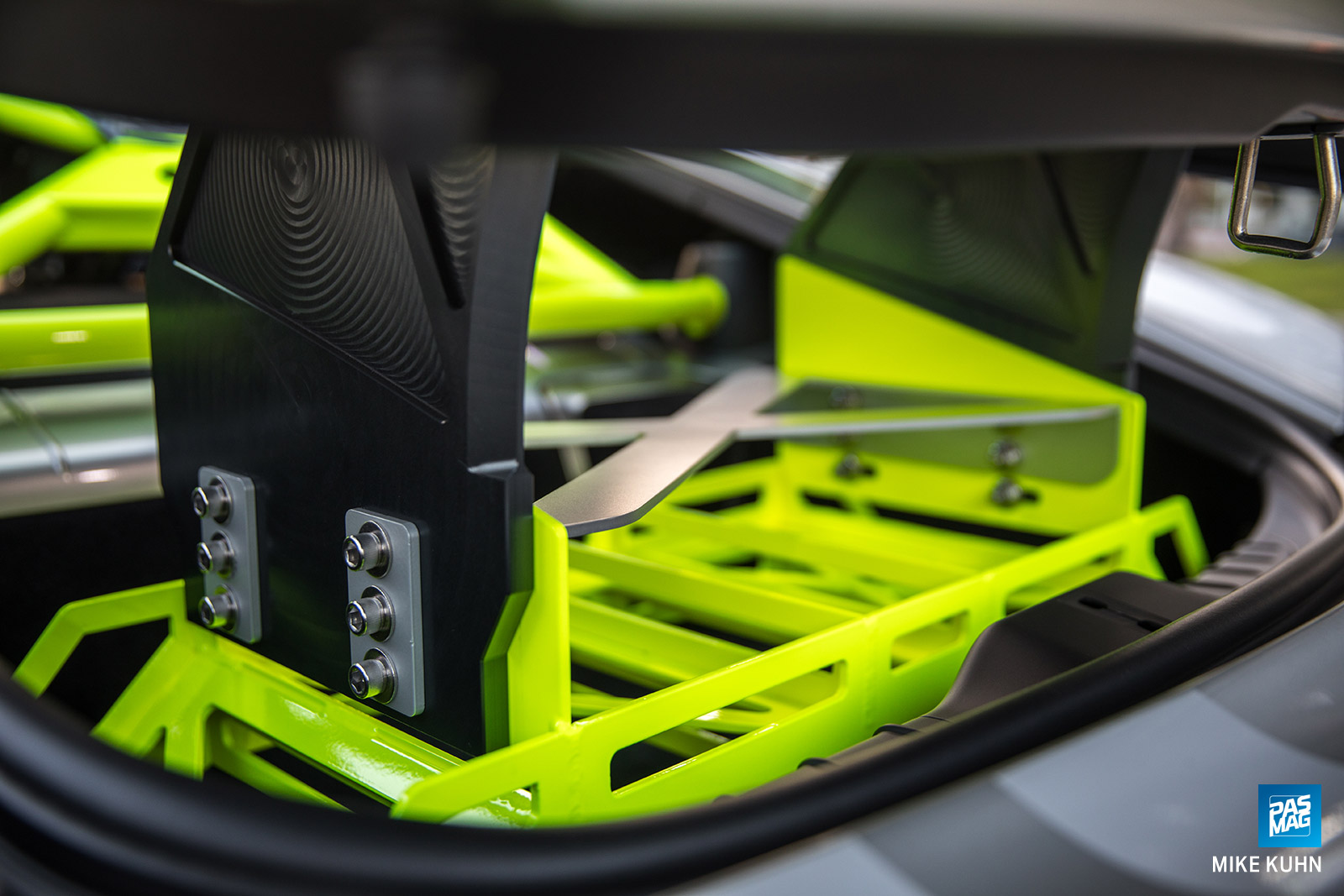 A Fabspeed cold air intake feeds air through a Porsche GT3 throttle body and into an IPD intake plenum to keep air flow cool and constant, and a CSF radiator manages temperatures easily. A set of Fabspeed long tube race headers and a race exhaust allow the Cayman to sing its signature song. All of these bolt-on engine components are just the beginning, as Mascunana is cooking up a serious twin-turbo system for the next iteration of this project. Since it already makes a peppy 305 whp, we can only imagine where a set of twins will take it.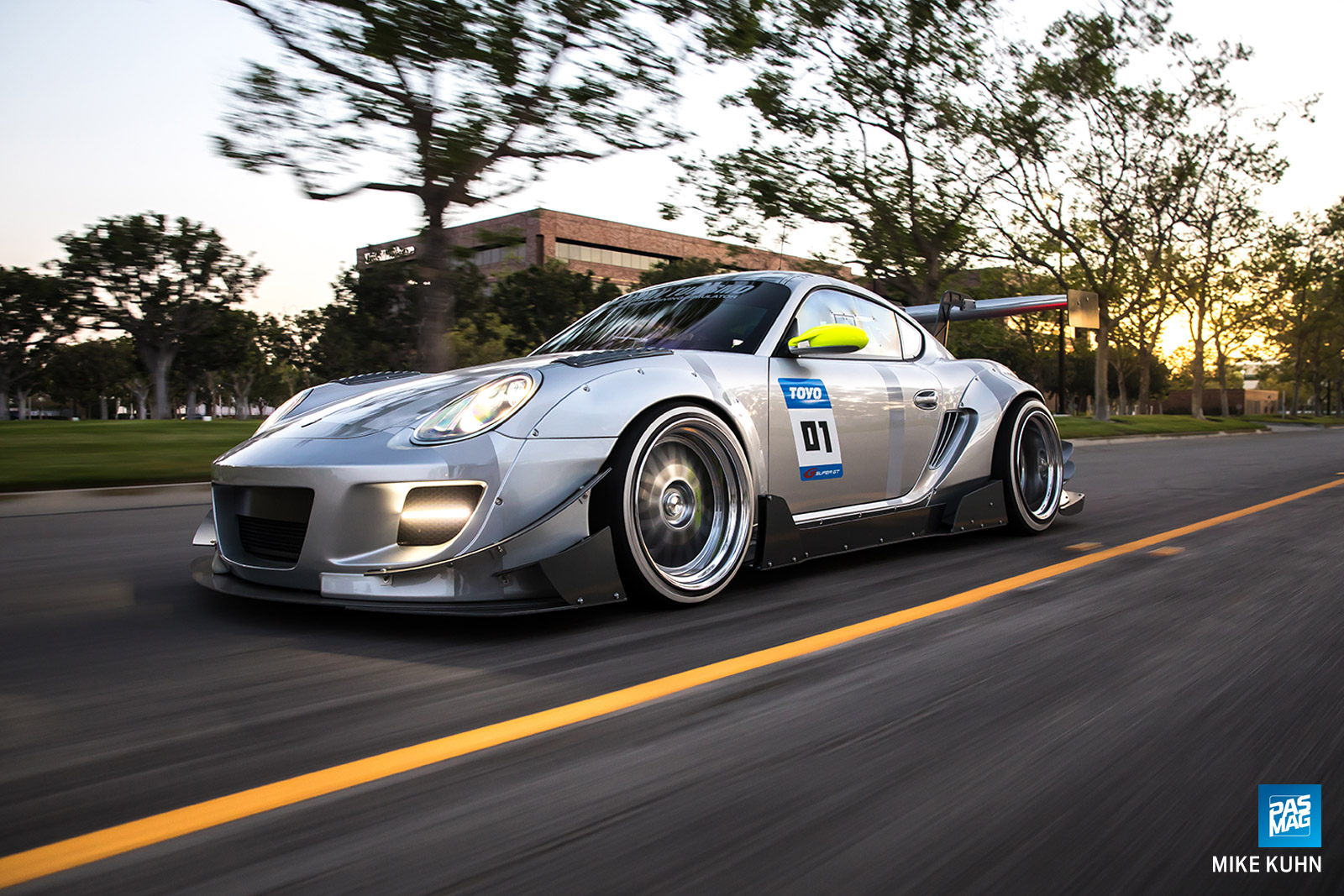 All in, the culmination of Mascunana's efforts is the most visually stunning Porsche Cayman on the planet, and the fact that it's a blast to drive is just the icing on the cake. It may have taken a while to get things just right, but he wouldn't have it any other way. "Anyone can spend money, buy parts, and drop their car off at a random shop to have it built," he says. "Building cars isn't about being the first to have something, or having the most expensive parts. It's about taking pride in your own work." Truer words have never been spoken, Dionne.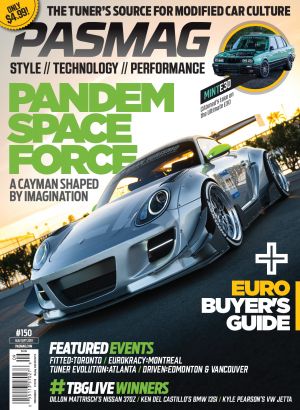 Dionnes Mascunana's 2007 Porsche Cayman S
is the cover feature of PASMAG #150