The RX-7 with the heart of Le Mans and the soul of Formula 1
Do you remember the days of 1990s Formula 1? The sights, the sounds, the V8 and V10 engines screaming at 18,000 RPM - all hallmarks of a golden era of motorsport, commonly regarded by many enthusiasts as the most soulful and pure of its kind. David Mazzei remembers it fondly, and an unbreakable love for that era of racing has led him to pursue a build that stopped our entire editorial team in their tracks at SEMA 2018. Luring us in with its giant spoiler, Work wheels, and wide Maxxis tires, we were blown away upon closer inspection. We had to ask Mazzei more about it, and we're glad we did.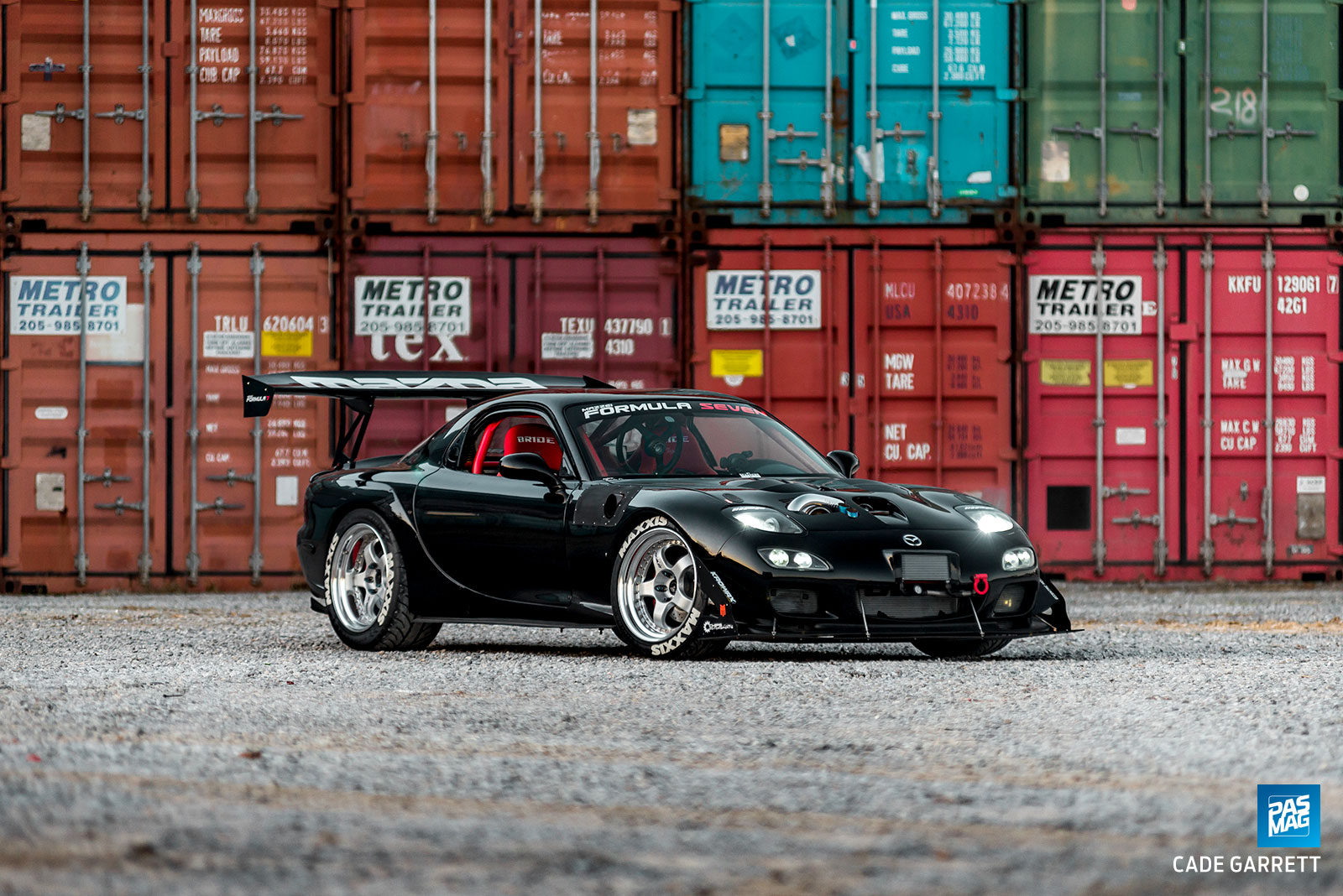 While the V8s and V10s of 90s Formula 1 are long retired and damn near impossible to acquire, there exists somewhat of a rotary counterpart: The 26B - a four-rotor engine found originally in Mazda's 767 and 787B. For those who don't know, in 1991, the 26B-powered 787B became the first Japanese car to win the 24 Hours of Le Mans, as well as the only car, to this day, to take the championship title in anything other than a reciprocating piston engine. Put that in your exhaust pipe and smoke it, V8s.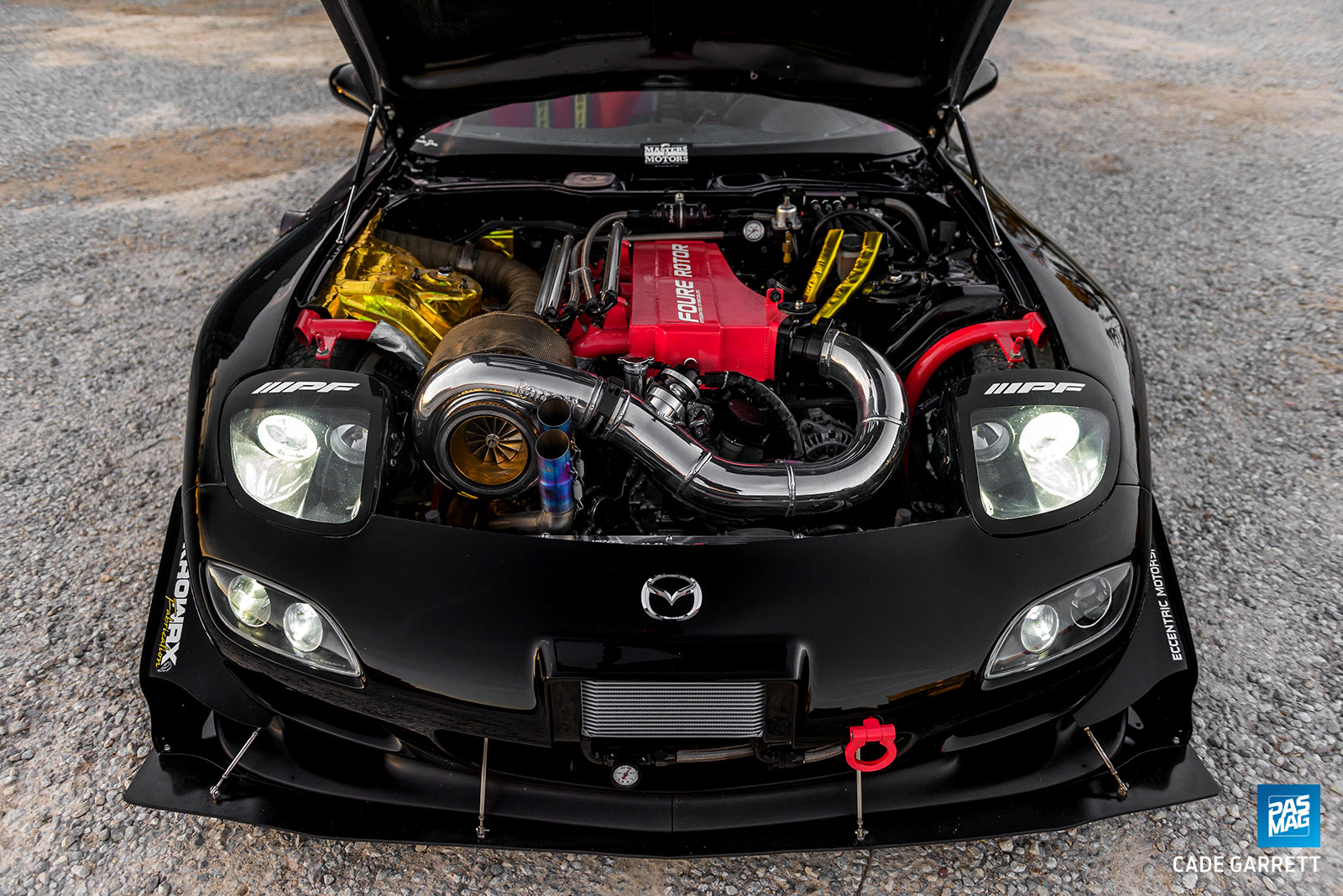 The legacy and the soul-churning sound of the 26B had Mazzei stricken, and he couldn't let his ideas stay just a vision for long. After buying his first RX-7 in 2005, he spent countless hours researching everything he could about rotary engines making power and staying reliable. It wasn't long before he decided to cast aside "rotaries blow up" naysayers, and swap a 20B into his FD3S. After toying with that car for a while, he had amassed enough confidence to tackle the four-rotor project of his dreams. He sold his 20B-swapped RX-7 and pulled out an RX-7 parts car that had been sitting behind the shop for years. He was starting this one from scratch.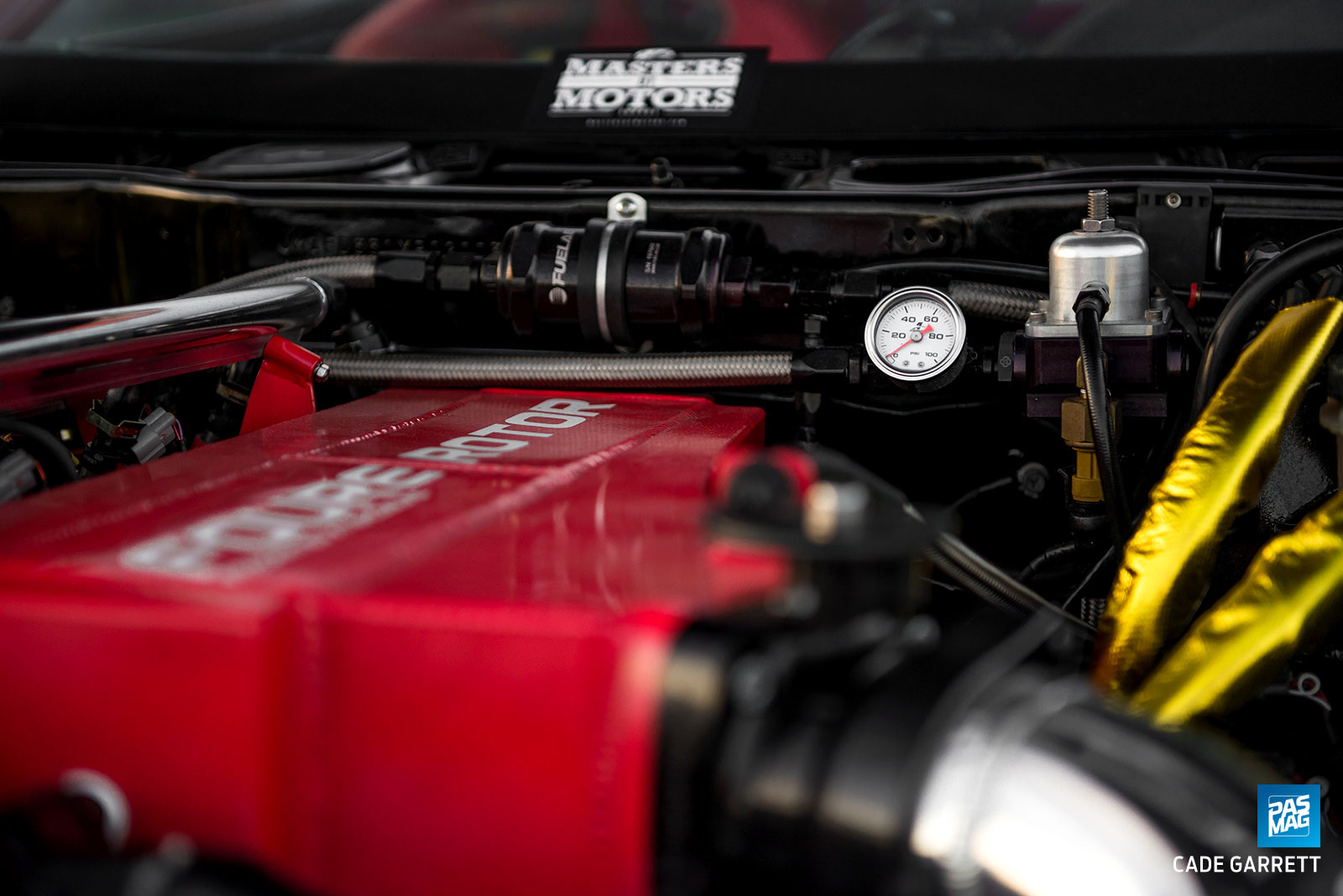 The 26B was purchased from an overseas company that shall remain unnamed, and you'll find out why shortly. Purchased as a drop-in swap, the engine would come with everything except an ECU, wiring, and fuel system. Unfortunately for Mazzei, in addition to being many months late, the engine had no shortage of mechanical shortcomings.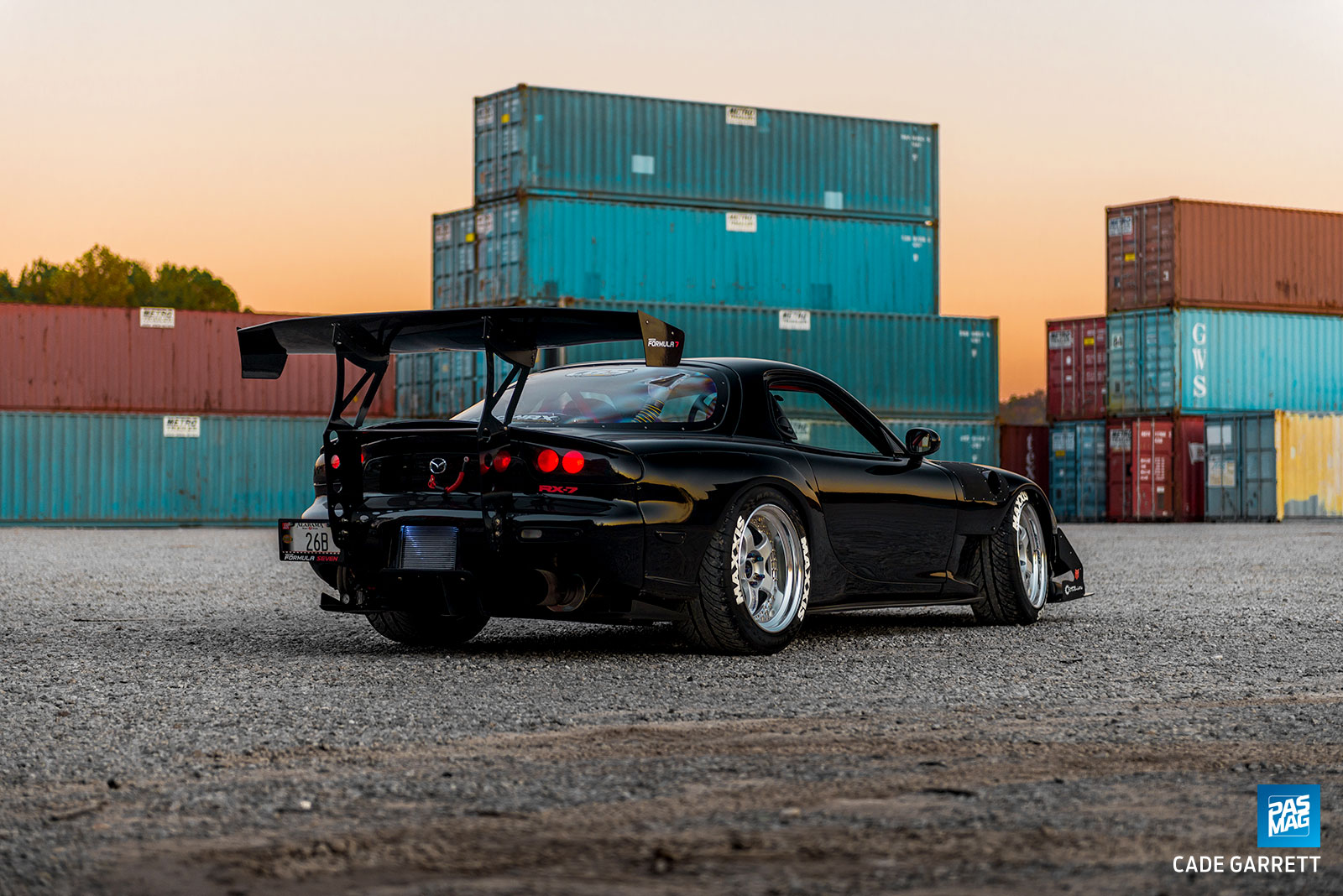 "The oil pump had incorrect ratio gearing, the exhaust manifold had incorrect scroll pairing order, insufficient wastegate priority, and inferior primary tubing sizing, causing excessive back-pressure and uncontrollable boost," he says, remembering a builder's nightmare. "Furthermore, we had insufficient oil pressure, oil pick-up problems, alternator failure, and peripheral ports that were sealed incorrectly, which leaked coolant internally."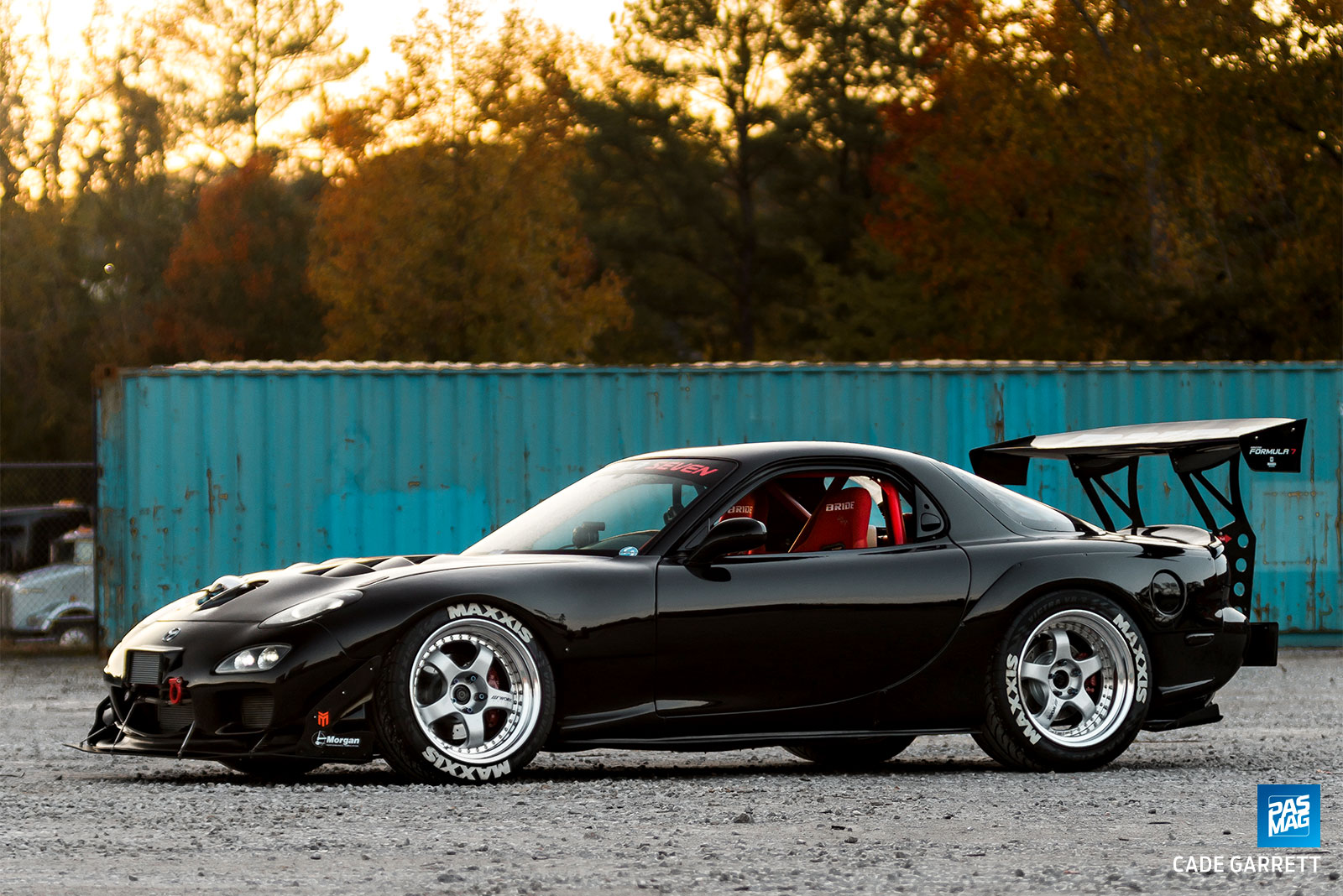 Down, but not out, Mazzei was fortunate enough to have a network of motivated individuals who recognized how much love he had already poured into the project, and they weren't about to give it up without a fight. Walker Morgan of Morgan Performance Fabrication was quick to fabricate a proper exhaust manifold that would give it that signature 787B sound, thanks to some instruction from Carlos Lopez of Carlos Lopez Racing. "The sound was a night and day difference!" exclaims Mazzei, before remembering further tear-down trauma. "However, we still ended up having to tear the motor down due to compression inconsistency."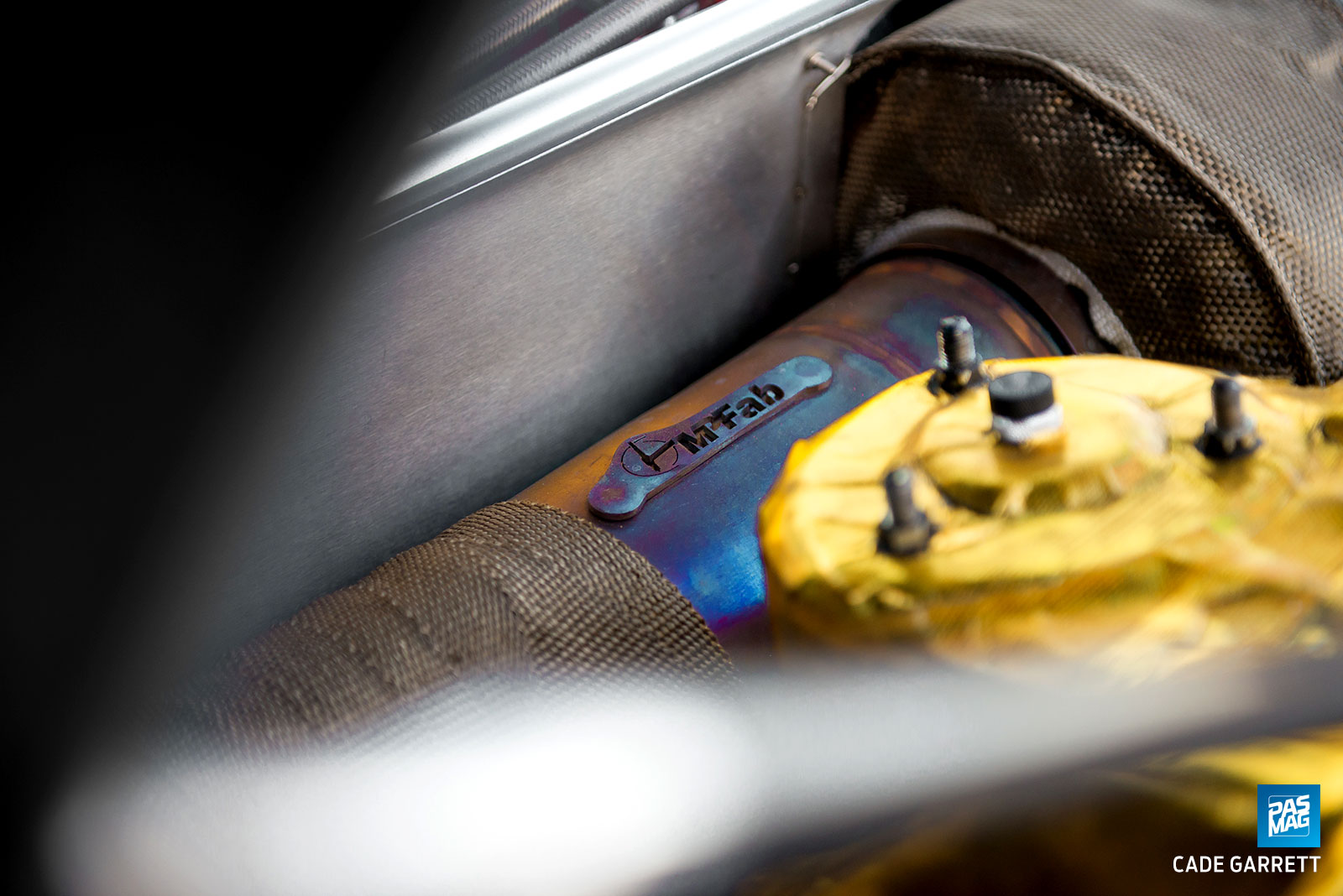 Upon further dissection of the franken-rotary engine, Eccentric Motorsports and Chip Motorsports discovered that the rotors were never calibrated or balanced for proper clearance, and they had been wearing down their seals on contact with the irons. Chip Ursu took it upon himself to machine the rotors for lightness, clearance them properly, and balance the entire rotational assembly all to proper race spec. He also took that opportunity to machine some metallic inserts to fix the sloppy peripheral ports. It turns out this whole rotary thing can get complicated quickly at this level.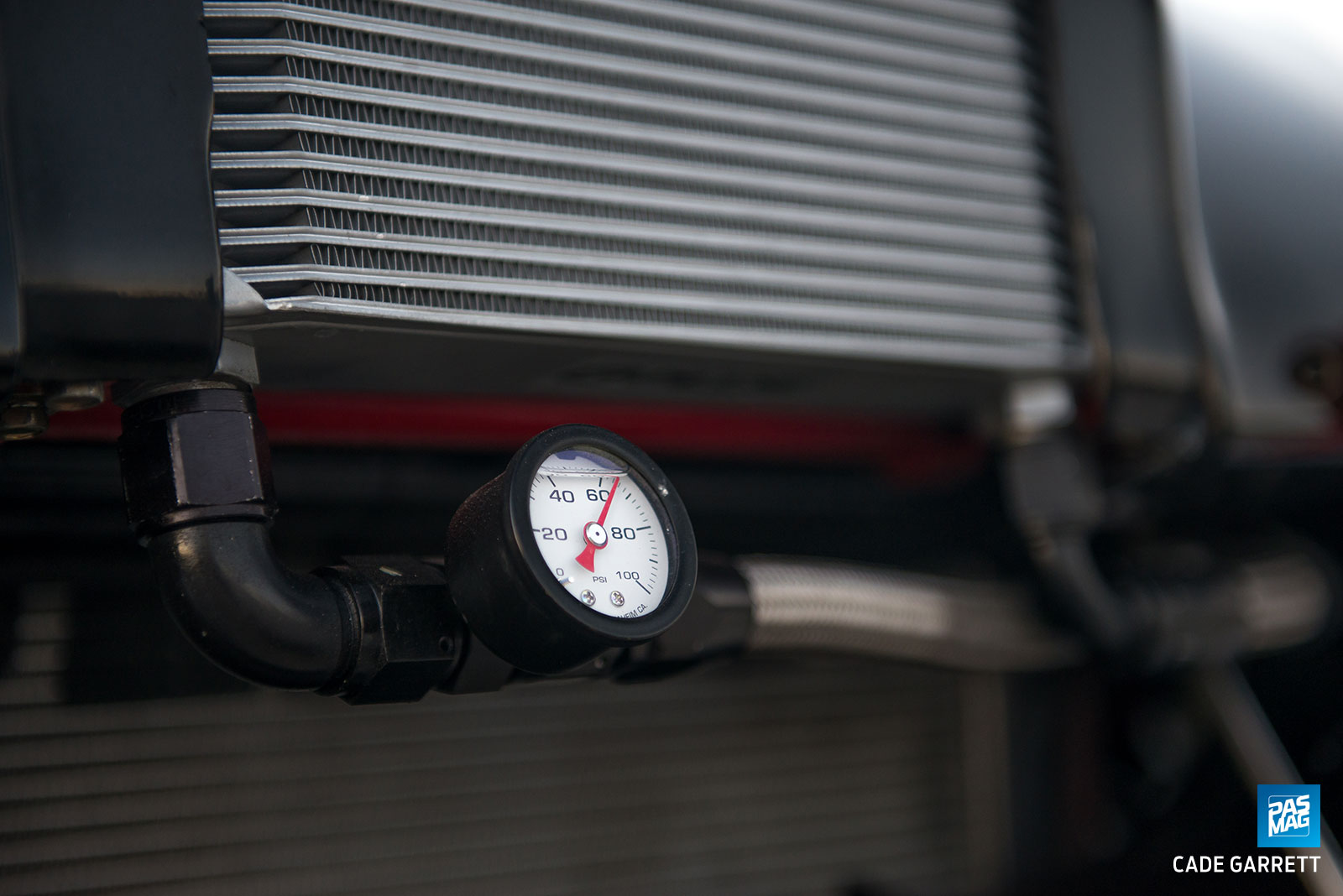 With all of the engine's mistakes corrected, it was just a matter of reassembly at Eccentric Motorsports, and after fitting a billet oil pan from Built-To-Apex, the engine was ready to rock and roll. When it came time to install the engine, JD Durham from Krowrx - a previous feature car builder, as well as good friend to Mazzei - stepped up to the challenge, and helped influence Mazzei to get wild with the install. A new tube front end courtesy of Durham allowed for a bigger intercooler and turbocharger, and all that freedom to expand just had to be capitalized on. Mazzei decided to upgrade to a GTX5533 98-mm Gen 2 turbocharger from Work Turbochargers and a larger intercooler, and that was just the beginning.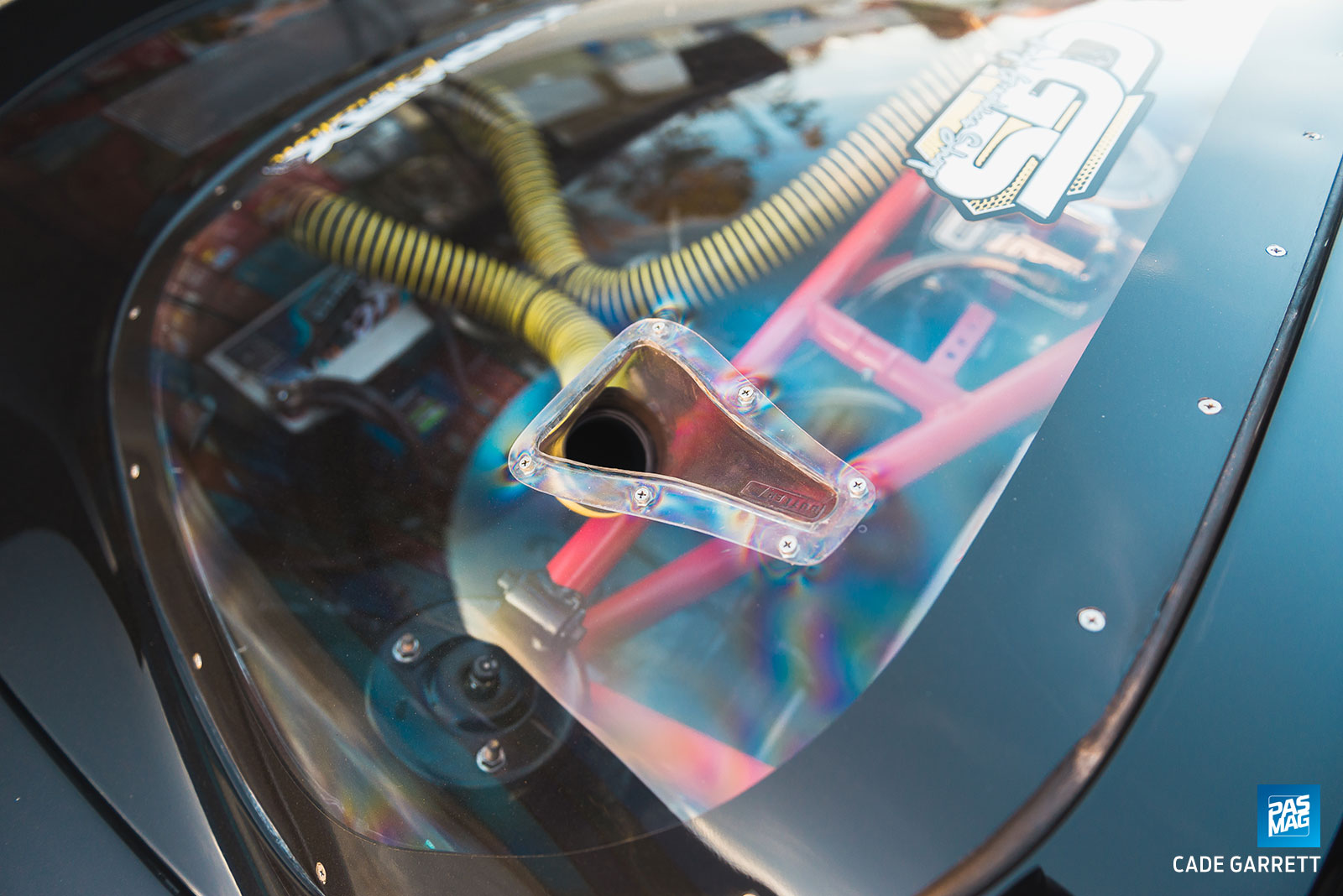 The FD also features several tweaks thanks to Durham. In addition to custom brackets for a rear-mount, cable-driven fuel pump from Waterman Racing Components, he also integrated ducting for the Optic Armor polycarbonate rear window. Those air ducts feed airflow directly to a rear-mount intercooler water core, which flows all the way up to keep the custom intake manifold cool, well into the RPM range. Keeping the internals of the rotary monster cool, as well as cooling the transmission, are a set of oil coolers, with three in the front bumper, and one in the rear, all integrated cleanly into the overall look of the car, especially with the Shine Auto aero kit and 1999-spec front bumper conversion.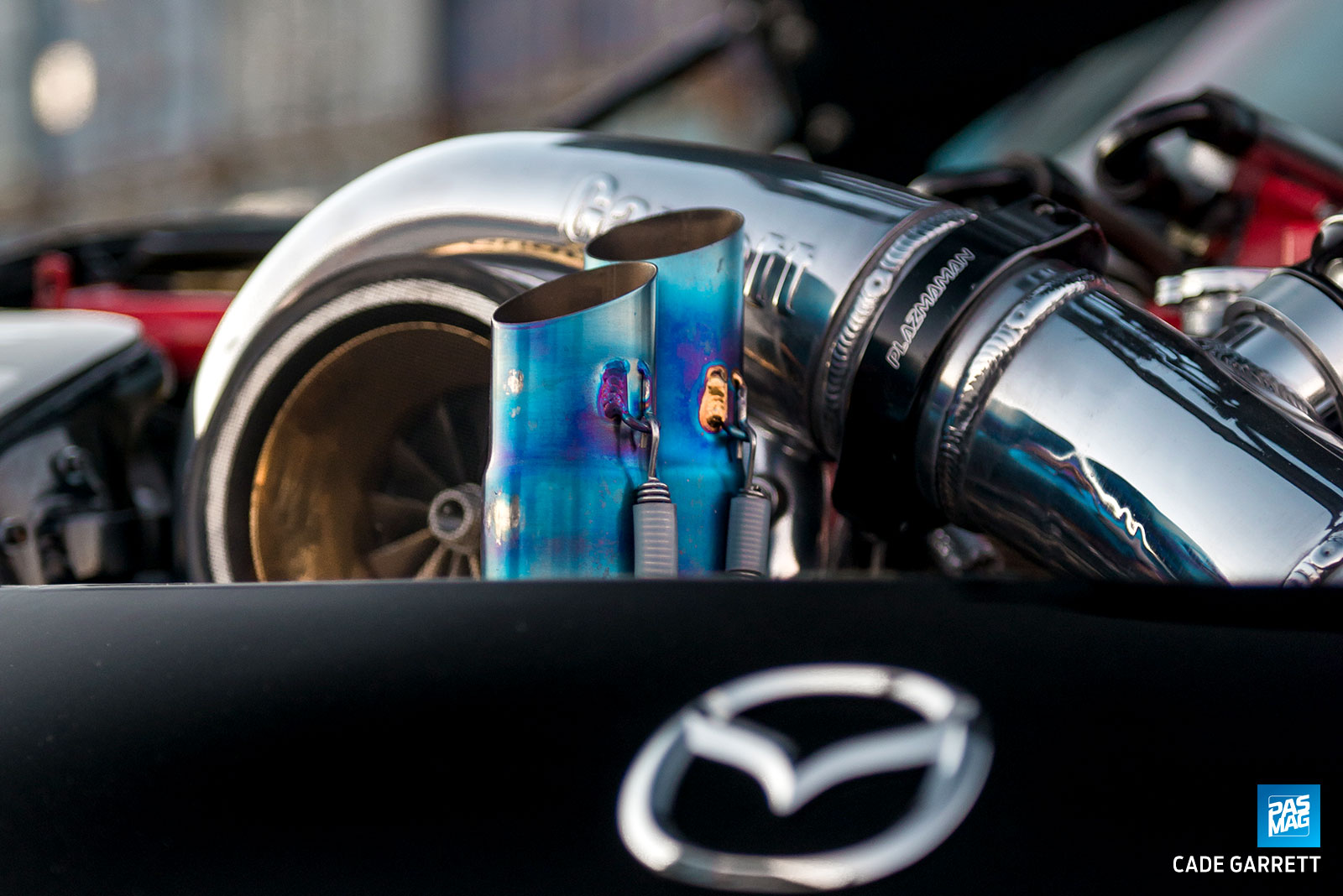 With a proper tune from Abel Ibarra, the struggles of getting his build together have paid off in spades for Mazzei. Churning at a soul-shaking 10,000 rpm, the 26B four-rotor puts out more than 1,000 horsepower and 650 lb-ft of torque at the wheels, and achieves the exact sound Mazzei was looking for: 600 Hz at 9,000 rpm - true to the Formula 1 golden age he hoped to emulate. The power is obviously fantastic, but according to Mazzei, the real goal was the feeling of it all. Because my words can only explain it so well, I'll let David break it down for you.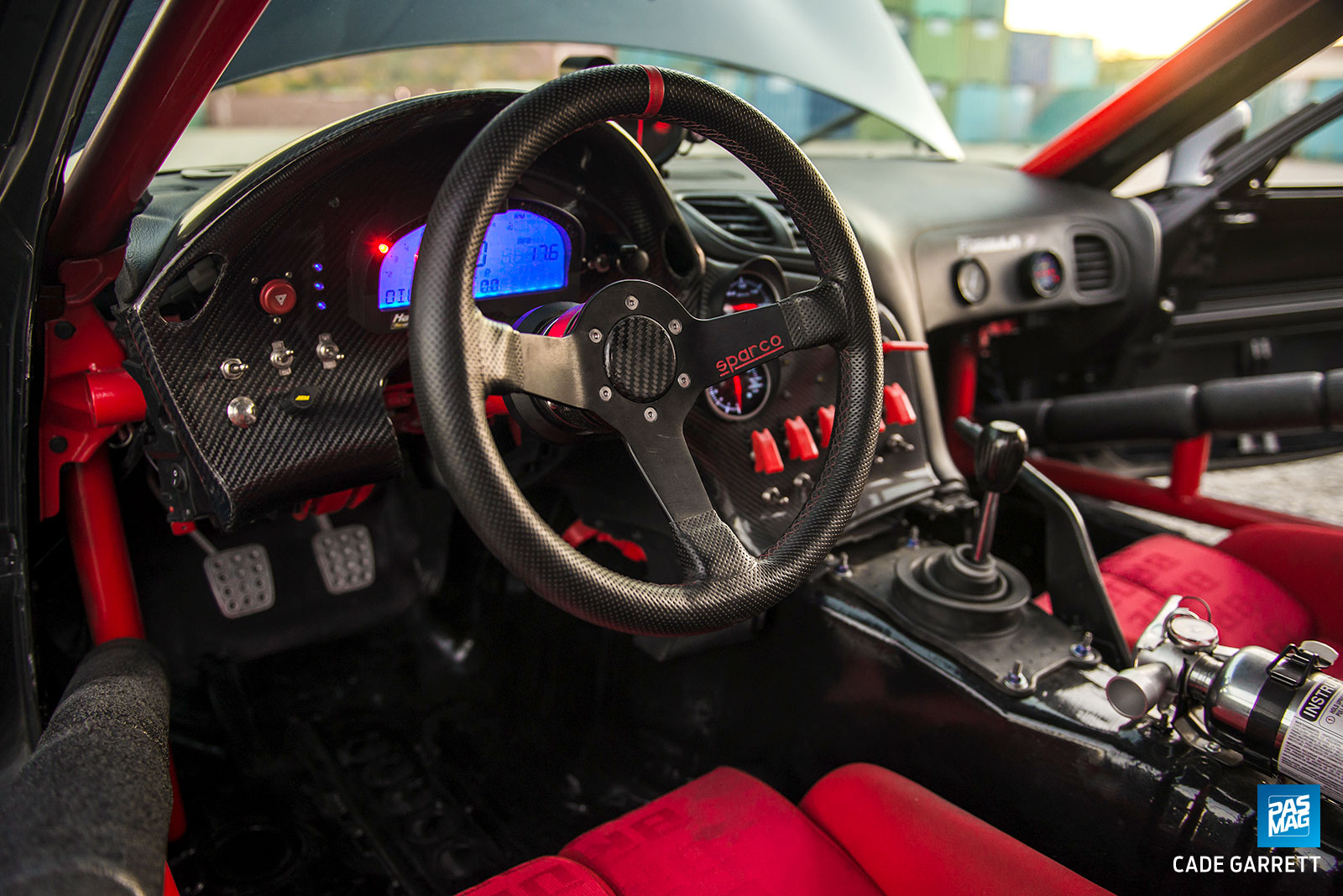 "It's all about the feeling and the experience for both the driver and the bystander. When you're moving through the rpms, you feel it moving through yourself and everything around you. The sound waves are so intense that the shifter knob will begin to unscrew itself from the transmission if you don't seriously lock it down," he laughs. "As soon as you stab the throttle and boost hits, you look over from the road to the wastegate dump tubes exiting the hood and see blue flames shooting into the air with an even louder accompanying scream. When you release the throttle at 10,000 rpm to grab the next gear, you feel the concussion of the backfire and flames exiting the side exit pipe, sometimes so strong that it readjusts your side-view mirror. The transmission bangs into the next gear, and you go at it again, until you decide that you're too afraid to keep your foot down."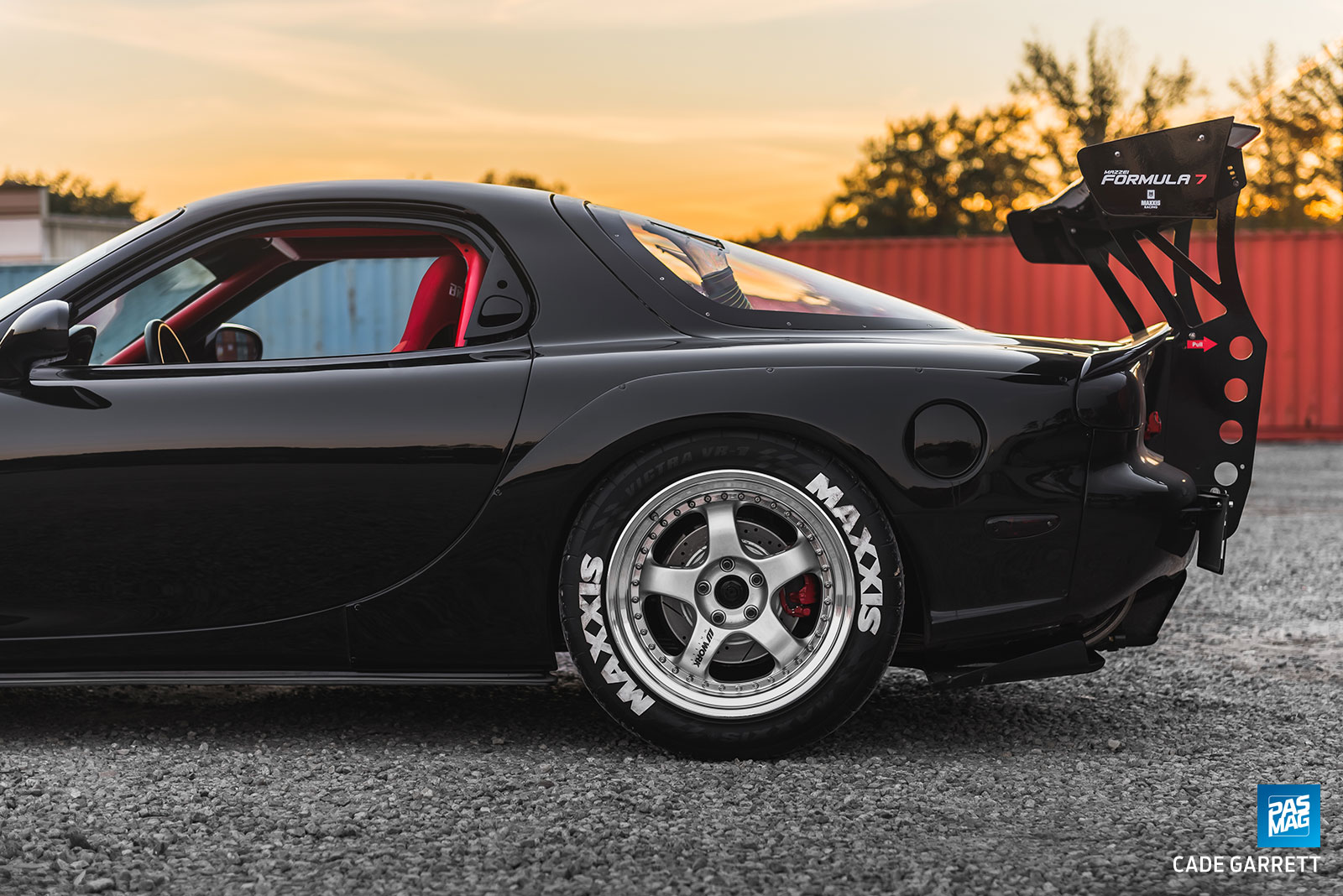 We can practically hear the whining of the straight-cut gears and smell the burning E85 as he describes the visceral experience to us in all its intensity, and it immediately becomes clear that his passion for this project runs as deep as the build's historical origins. In closing, Mazzei lets us in on a little secret: In tandem with some of the key names mentioned in his story, he will be building a transaxle-based, rear-engine, rotary hyper car. Yes, really. Needless to say, we'll be keeping a close eye on him moving forward.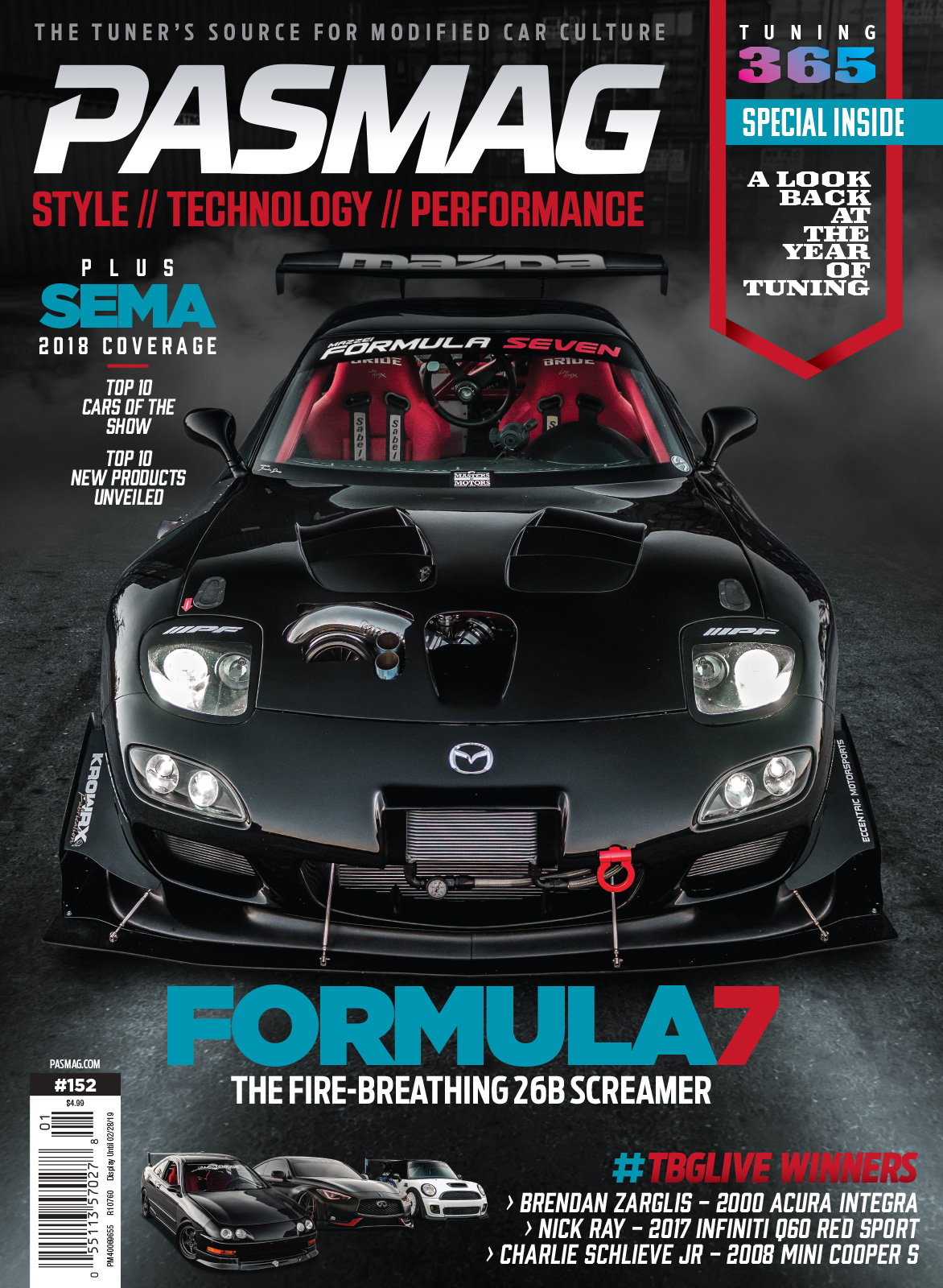 David Mazzei's 1993 Mazda RX-7 is the cover feature of PASMAG #152. Click HERE to order.
Photography by Cade Garrett (@cxde)
---
ESSENTIALS
Vehicle: 1993 Mazda Rx-7
Owner: David Mazzei
Location: Birmingham, AL
Engine: Mazda 26B 2.6L turbocharged 4-rotor
Horsepower: 1,000+ whp
Torque: 650 lb-ft
SOCIAL
Instagram: @mazzei_formula
Facebook: david.z.mazzei
ENGINE
Mazda 26B 4-Rotor swap
Peripheral port
Garrett GTX5533R Gen 2 98-mm turbocharger
Garrett Water-to-Air core integrated intake manifold
Haltech Elite 2500 ECU
Morgan Performance (exhaust manifold, custom intake piping)
Turbosmart 50-mm wastegates
Mocal (30-row oil coolers (3), 15-row oil cooler)
SPAL cooling fans
EXHAUST
Morgan Performance exhaust system w/ side-exit cutouts
DRIVETRAIN
Exedy Triple Plate clutch
Dog Ringed straight-cut gear set
Carbonetic 1.5-way differential
WHEELS / TIRES
Work Meister S1 3-piece wheels - 18-inch
Maxxis VR-1 tires - 245/40/18 (f), 295/40/18 (r)
CHASSIS / SUSPENSION
Krowrx Fabrication tubular front end
Megan Racing EZ Street II coilovers
EXTERIOR
Krowrx Fabrication (front splitter, rear lexan windshield w/ NACA ducted intercooler heat exchange system, fender exhaust exit plate, custom rear mount fuel pump bracketry)
Shine Auto aero kit
1999 Mazda RX-7 front bumper
VIS Racing hood
Chassis-mounted rear spoiler
CGS Vinyl Shop decals
INTERIOR
Carbon fiber dash panels
Bride Vios III seats
Sabelt 6-point harnesses
Sparco steering wheel
NRG quick-release hub
Racepak dash
6-point roll cage
SPONSORS
Maxxis Tires
Built-to-Apex Oil Pan
SPECIAL THANKS
Speedsouth Performance Center
Cheyenne Pearl Stirling
Nolan Holcomb
Brian Phillips
Brandan Davis
Work Turbocharger
Bryan Leonard
Grant Snyder
---
PHOTO GALLERY