In a league of its own. The GS Motorsport Supra is a real attention getter.
In a car show world dominated by Hondas and Nissans, if you want to stand out in a crowd you have to be different. You can't roll in with a stock bodied car with factory paint and black wheels and expect to grab much attention. German Sanchez and Wayne Raqueno over at GS Motorsports in Irving, Texas, known for building some amazing Nissans, knew this when they began working on their latest and greatest project – a Toyota Supra. A Supra definitely stands out, even at 15-plus years old, but this one had to be distinct and differ from all others. This project was dubbed craziNiSS, after their show team, Team 16 Niss, one of the oldest tuner crews in Texas.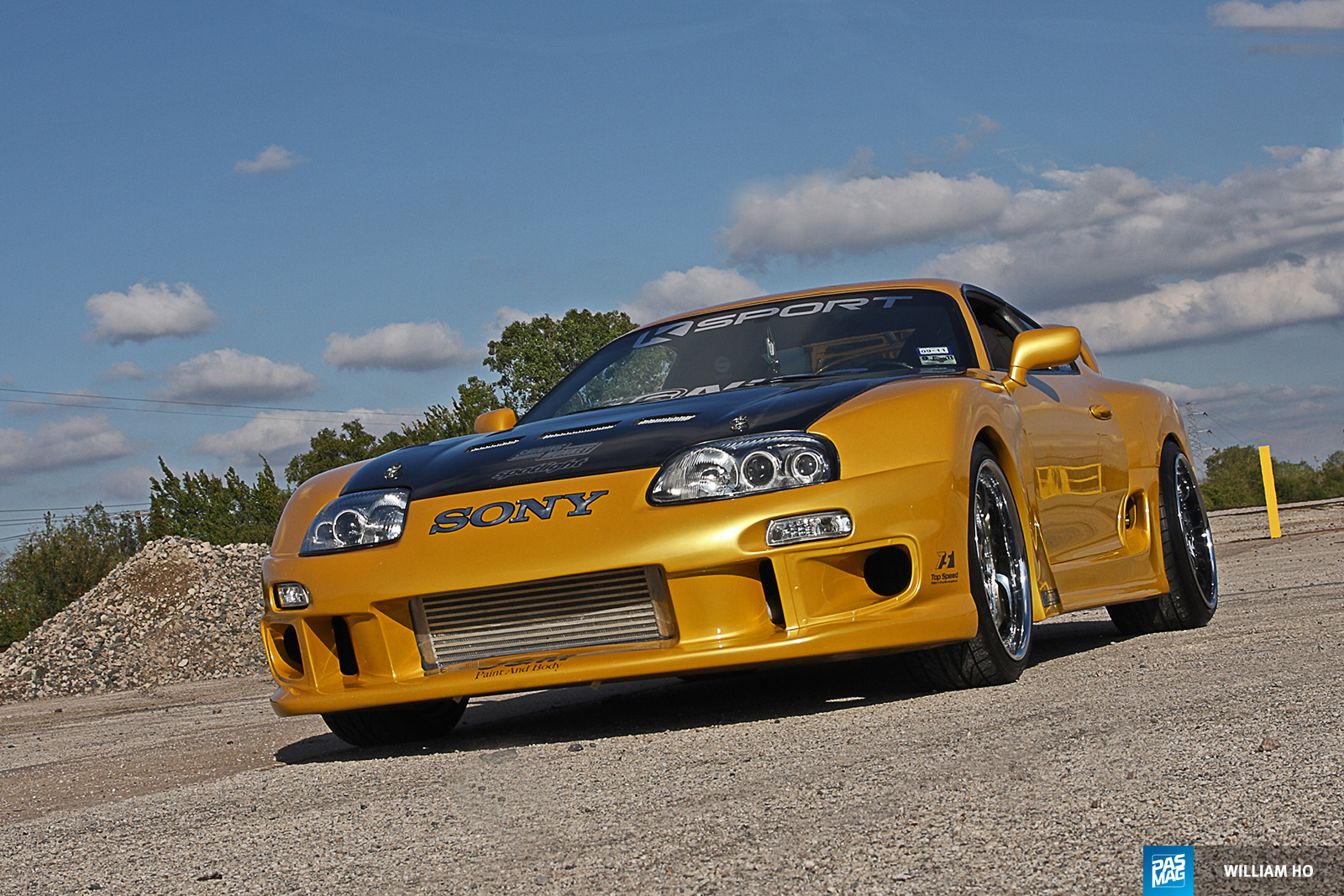 GS Motorsports has built some of the hottest cars in Texas, and several are also tricked out with wicked Lamborghini color paint jobs – green, orange, red, blue, purple, and now yellow. The Top Secret GT-300 widebody was graced with IVAT Pearl Metallic Yellow from Intense Motorsports. The experts at J&M Paint and Body in Dallas, Texas, performed all of the flawless bodywork, complementing the awesome lines of the kit with the perfect paint job. After a few weeks at J&M, the Supra was ready to get her powerplant!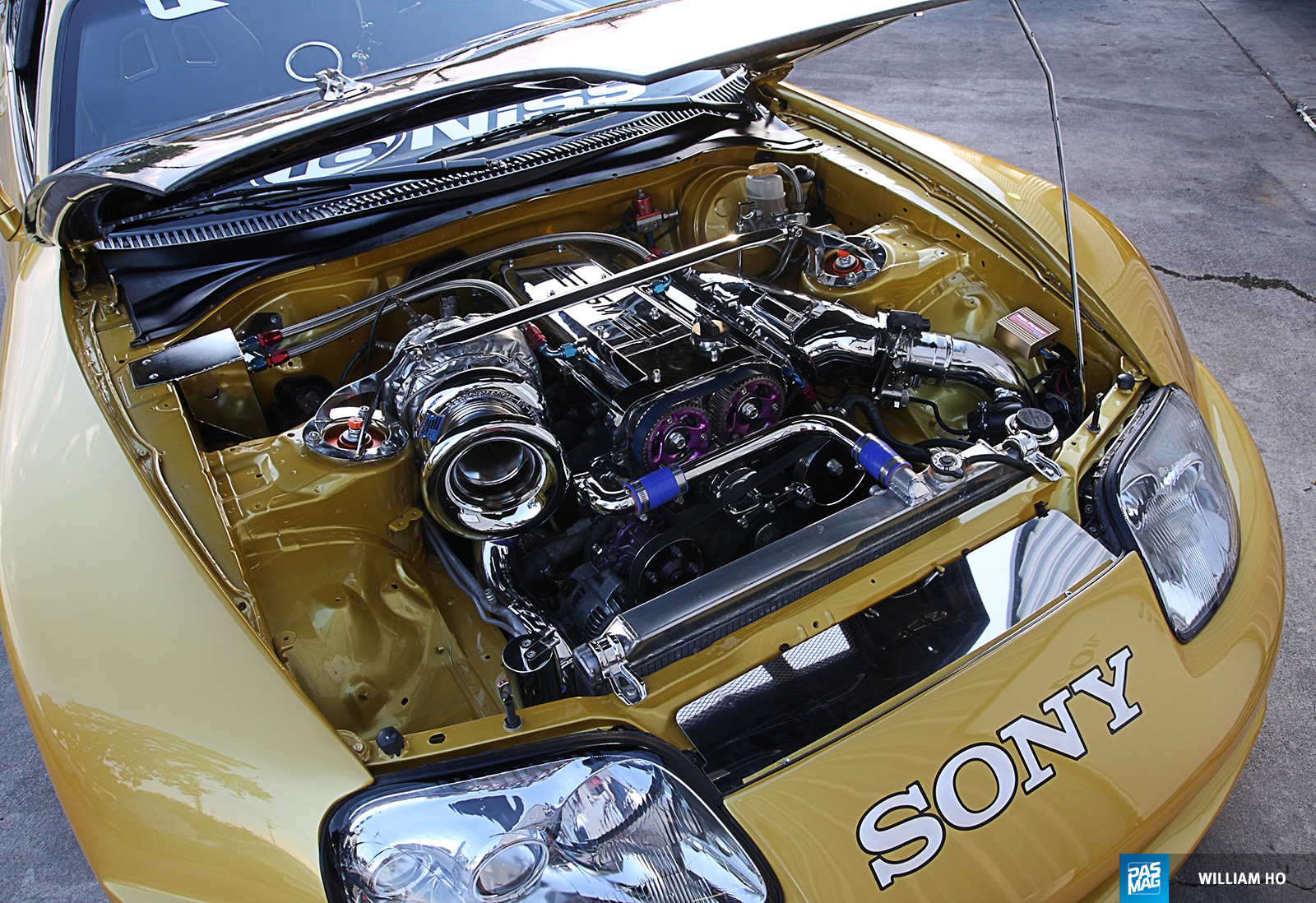 The Toyota inline 6-cylinder produced 320hp, which is amazing for some, but not for a shop known for producing 500+whp SR and 700+whp RB builds. This car had to be a monster to represent the shop. Underneath the hood, a GReddy intake manifold was used to maximize airflow into the combustion chamber. On the bottom end, the block was outfitted with a set of Wiseco pistons, Carrillo H-beam rods, and SPS connecting bolts. To help keep things cool, Top Speed Pro-1 sent a front mount intercooler, and a GReddy radiator was enlisted to keep the motor temperature down. The fuel is powered by a twin - Walbro fuel pump setup, Aeromotive fuel regulator, and 1000cc RC Engineering fuel injectors, all of which help deliver enough fuel to propel the GReddy T78 turbocharger to 730whp.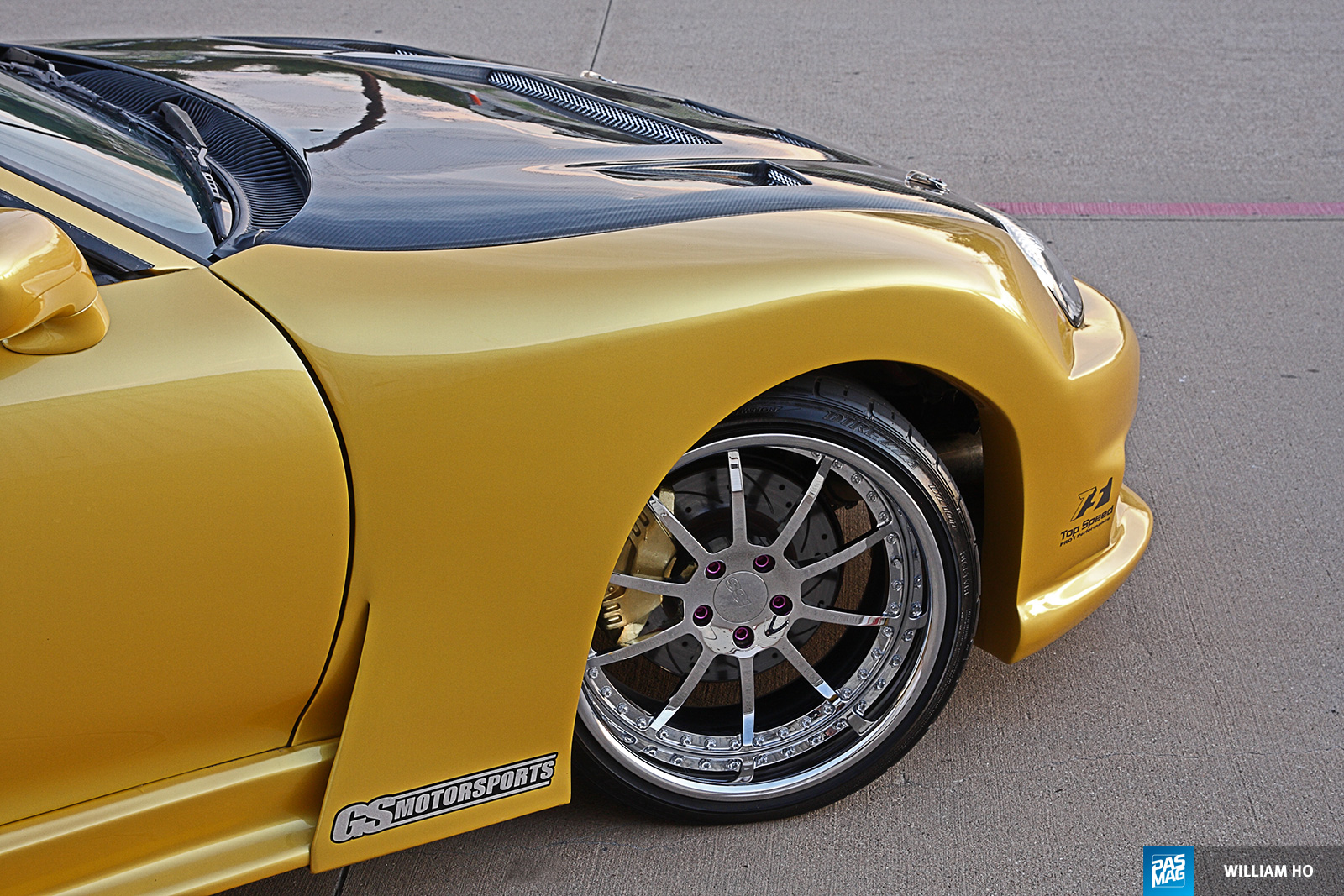 Seeing a widebody car driving down the street is a jaw dropping sight! A car with as much physical presence as this needs more than just a fancy paint job. A perfectly dialed in stance with aggressive offset wheels coupled with a great suspension is an absolute must nowadays. To get some wheels that would look amazing and fill the fender wells, Brent from ISS Forged was contacted for a set of 19x10 and 20x13 ISS Forged RX-10s. High polished wheels on pearl metallic yellow paint- that's hot! During the build-up, the good folks at K-Sport Suspension were paid a visit, and before long a set of Kontrol Pro Dampers were on their way to Texas. Having used their products on past projects and seeing their coilovers on track-proven cars in the Xtreme Drift Circuit made them must have parts for this car. After adjusting the ride height and getting an alignment, the stance came out perfect.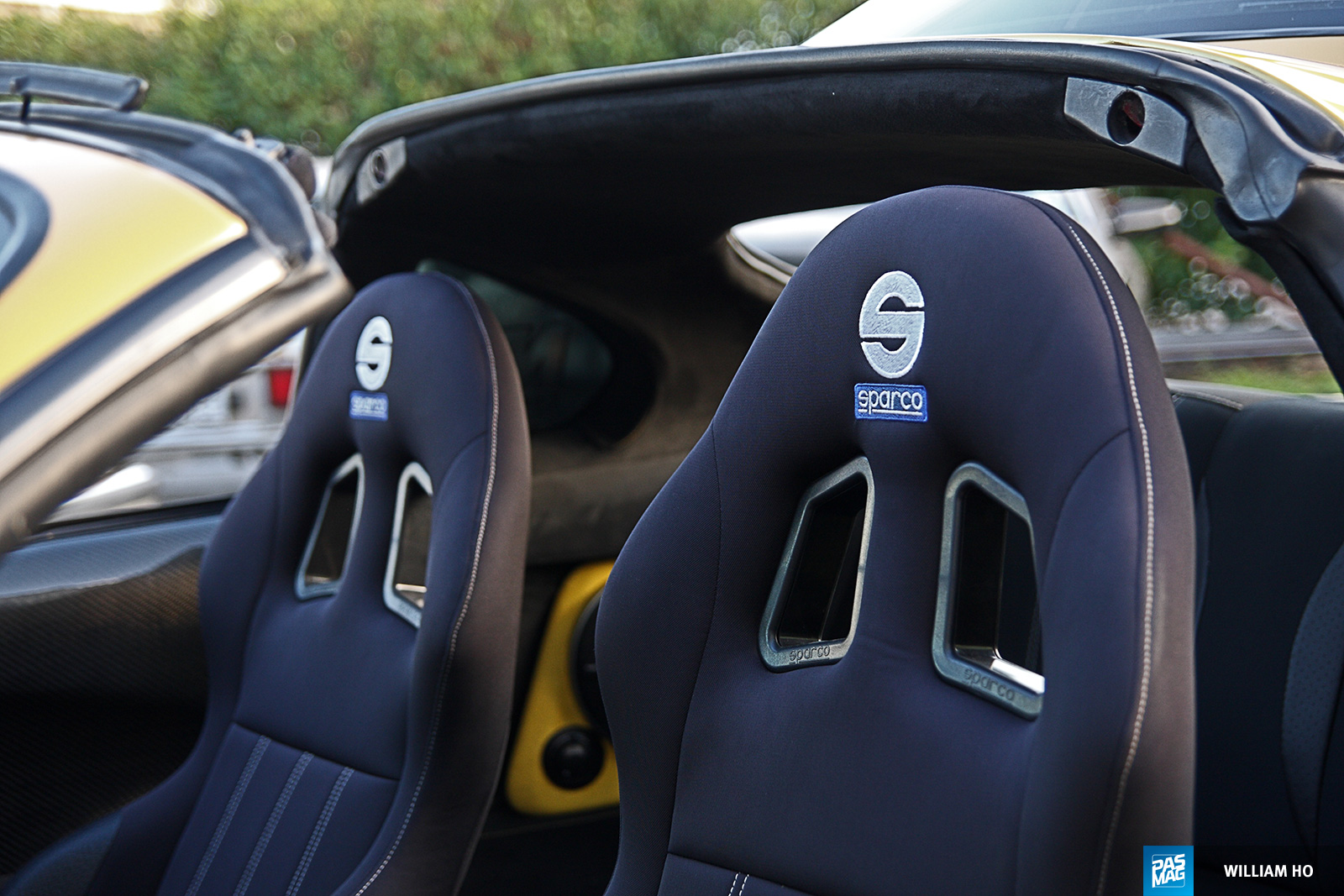 Keeping up with the craziNISS, carbon fiber door panels were installed to help lighten things up along with custom yellow stitched suede to bring a custom look to the interior. The seats were replaced in favor of some Sparco Chrono seats to give a sportier feel inside and help grab the driver on spirited runs. To complete this car, a car audio set up with the best from SONY was installed. Randy Reynolds of RKKustomz in Corpus Christi, Texas was enlisted to complete an audio setup in three short weeks to showcase the car at the Dallas Auto Show. With Sony's new navigation unit, the XNV-770BT which features a Tom Tom GPS, the days of getting lost are over. This head unit controls four Sony slim amplifiers, which powers four sets of components and four Sony GTR-100L 10" subwoofers. Overpowering the stock battery, the system was beefed up with batteries from the good folks at Shuriken. With so many events scheduled for this car to attend, be sure to look for it at an event near you and ask to hear the Sony Mobile experience.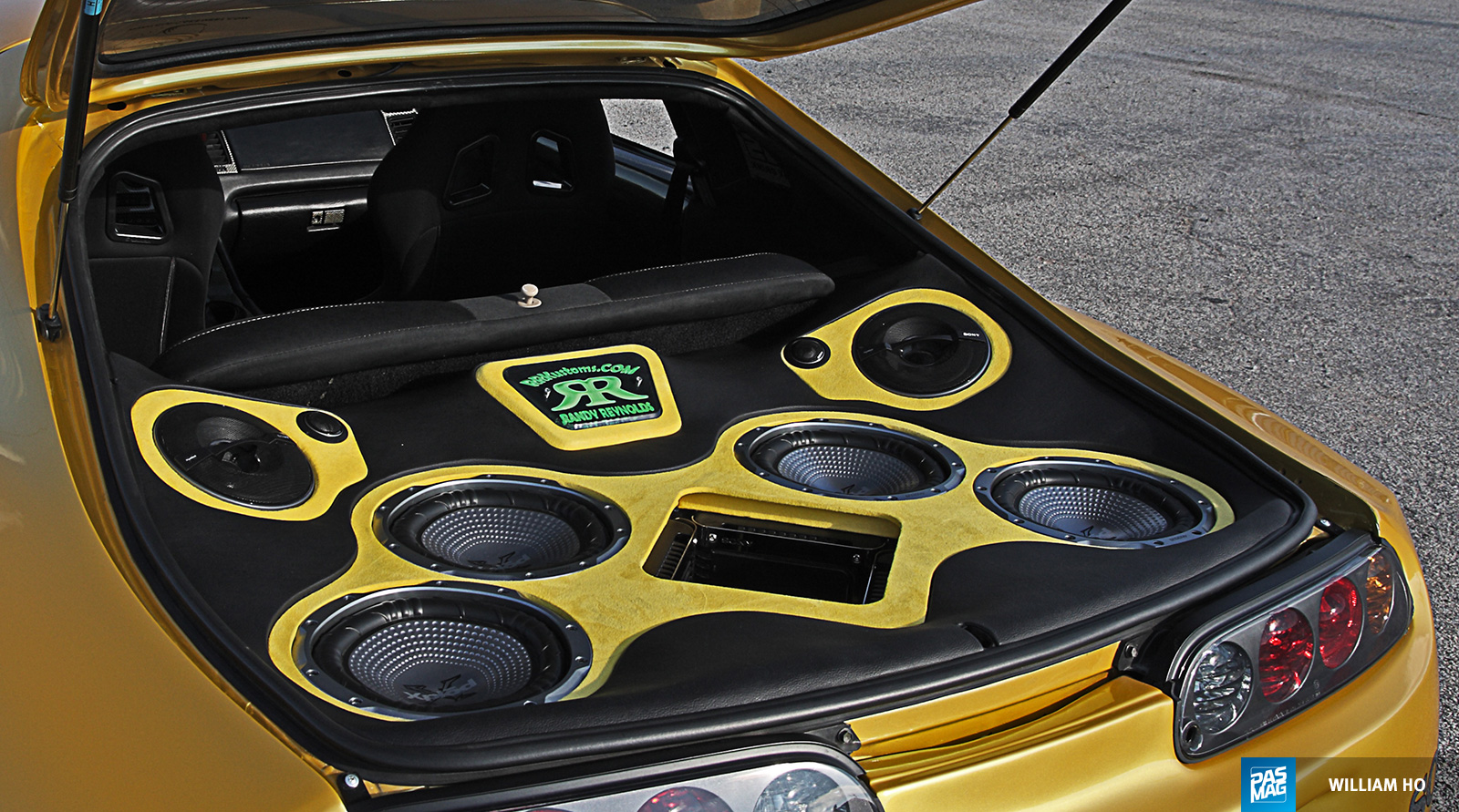 A build up full of craziNISS, the guys at GS Motorsports outdid themselves with this build. Through the years of building cars combined with their experience in the sport compact scene, they were able to utilize some amazing resources to complete the project in roughly nine months. When asked what is next on the project list, Wayne said, "You guys will be VIPs to see the next build coming up!"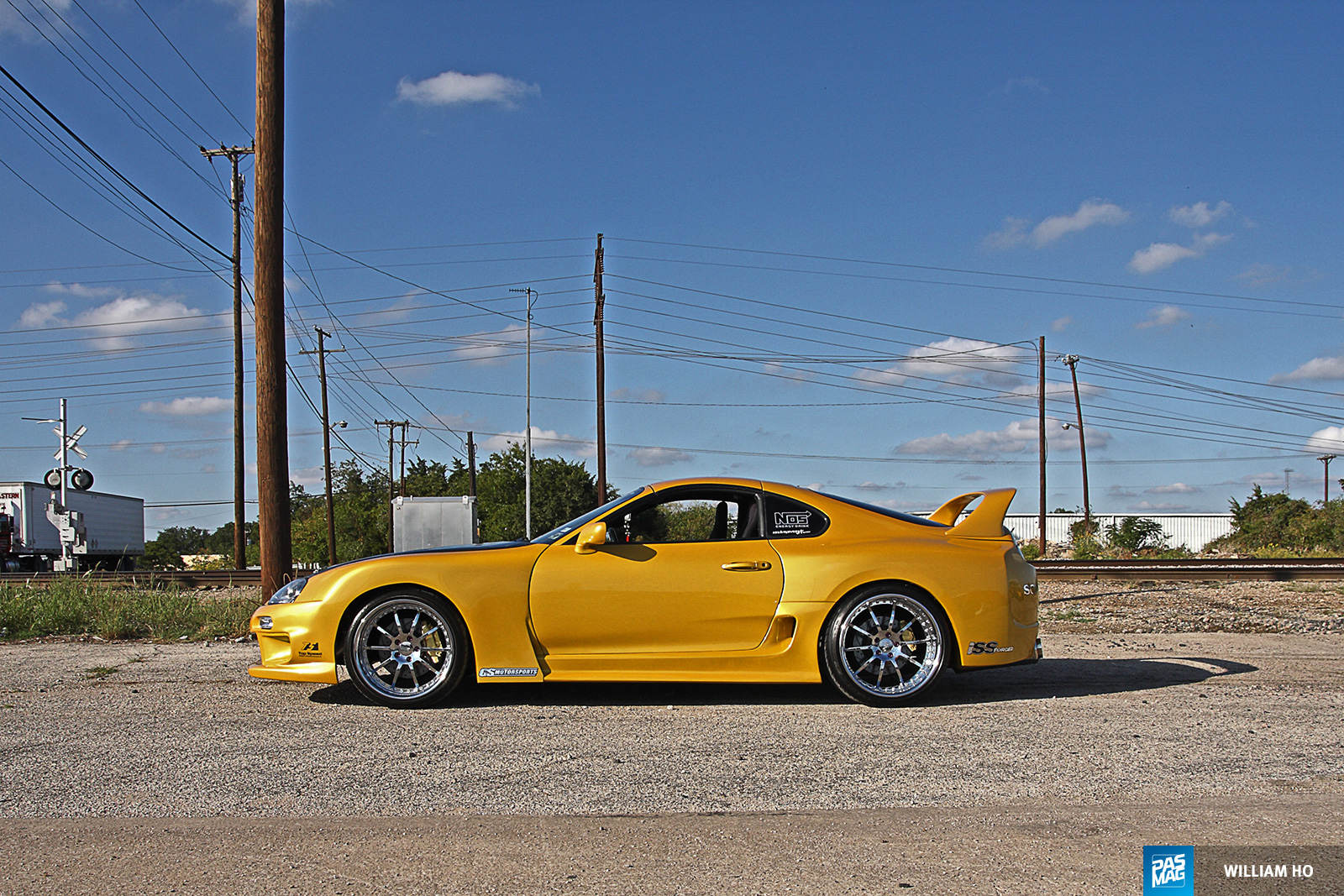 Photography by William Ho
---
ESSENTIALS
Owner: German Sanchez, Wayne Raqueno
Vehicle: 1995 Toyota Supra
Location: Irving, Texas
Engine: 2JZ-GTE
Horsepower: 730HP
ENGINE / DRIVETRAIN / PERFORMANCE
Valvetrain: Super Tech Performance
Turbo: GReddy T78
Air Filter & Intake: HKS
Throttle Body: Infiniti Q45
Manifold: GReddy
Fuel Rail: HKS
Fuel Press Reg: Aeromotive
Fuel Pump: Twin Walbro 255lph
Cams: Greddy_272 Intake & Exhaust Cams
Cam Gears: HKS
Intercooler: Topspeed Pro 1
Blow-Off Valve: HKS SSQV Black Limited edition
Wastegate: HKS GTII 60mm
Injector: RC Injectors 1000cc
Spark Plugs: NGK
Connecting Rods: Carrillo Rods
Pistons & Piston Rings: Wiseco
Head Gasket: GReddy
Clutch & Flywheel: Exedy Twin Disc & Flywheel
Electronics: HKS DLI Ignition Controller, AEM EMS Standalone
EXHAUST
Exhaust: Tanabe Concept G Exhaust
Header: HKS Turbo Manifold
Up-pipe: Custom GS Motorsports
Down-pipe: GReddy
Exhaust Tip: Tanabe
WHEELS / BRAKES
High polished ISS Forged RX-10
Front Wheel Size: 19x10
Rear Wheel Size: 20x13
Tires: Dunlop Sport Maxx
Front Tire Size: 245/35/19
Rear Tire Size: 285/30/20
Front Rotor Size: 13", 1-Piece, Slotted
Rear Rotor Size: 12", 1-Piece, Slotted
SUSPENSION

K-Sport Kontrol Pro Damper Coilovers
Urethane Bushings: Energy Suspension Polyurethane
Front Strut Bar: TRD Strut Bar
EXTERIOR
Body kit / ground effects: TopSecret Widebody Kit
Hood: Seibon TB-Style Carbon Fiber
Body Work by: J&M Paint & Body
Graphics& Paint colors: Lamborghini Murcielago Pearl Metallic Yellow
Exterior Lighting upgrades: Clear Corner in Front bumper, Top HID 10000k HID Kit
INTERIOR
Customized Dash
Upholstering the interior: Sparco Seat Material & Black Suede
Shift Knob: GReddy
Steering Wheel: Sparco Mugello
Gauges: GReddy Boost & EGT, AEM UGO Wideband Air Fuel Ratio
Gauge Pod: Autometer Dual Gauge A-pillar Pod
Gauge Trim: GReddy 60mm
Seats: Sparco Chrono
Harnesses: Topspeed Pro 1
Door Panels: Seibon Carbon fiber
Dash Trim Kit: Seibon Carbon fiber
AUDIO / MULTIMEDIA
Head Unit: Sony XNV-770BT Navigation Double Din
Sub Amps: Sony XS-1M_(Qty.2)
Midrange Amps: Sony XS-4S (Qty 2) (Mids & Highs)
Cameras: Sony XA-800C Rear view Camera.
Subwoofers: Sony GTR-100L (QTY 4)
Subwoofer Enclosure: Sealed
Mid Range: Sony GTR-1720S Component Speakers (QTY 3)
Under hood battery: Shuriken SK-BT100
Extra Batteries: Shuriken SK-BT120
Front fuse holder: Scosche
Main power wire: Scosche 0ga
Distribution Blocks: Scosche D-Block
SPONSORS
ISS Forged Wheels
KSPORT Suspension
Topspeed Pro 1
JDM Engines Corp
J&M Paint and Body
NOS Energy Drink
Will's Discount Tire
GS Motorsports
Underground Graphics
Sony Electronics
RKKustomz Audio
Intense Motorsports
Tritek Window Tinting
MVP Motorsports
Marios Shop
Vitamin Water
Spotlight
Shining Monkey
Kustomz Unlimited
---
PHOTO GALLERY