Photography by Josh Mackey (@mackeydesigns)
---
Some say the Acura NSX was the supercar that never was. Honda had a strong racing heritage, the styling was on par with any exotic of its day, yet for many of us the wheezing 270hp motor lacked exhilaration. For that For tuners (with some money) NSXs were within reach and they cracked open their HyperRevs to see what could be upgraded. Such was the case with Ravi Ayyagari of Seattle, WA who not only made the NSX his passion but now develops products and even spawned an NSX-specific business – Umbrella Auto Design. reason, the Acura NSX never stole the limelight away from the European exotics. It is a superior chassis in every respect right down to the last detail like the elaborate trussed aluminum a-arms, but it lacked the muscle to give it serious street-cred. Even though a more potent 3.2L came into play, the aftermarket was more interested in the tweak-friendly C30A 3.0L that was built around OBD-I.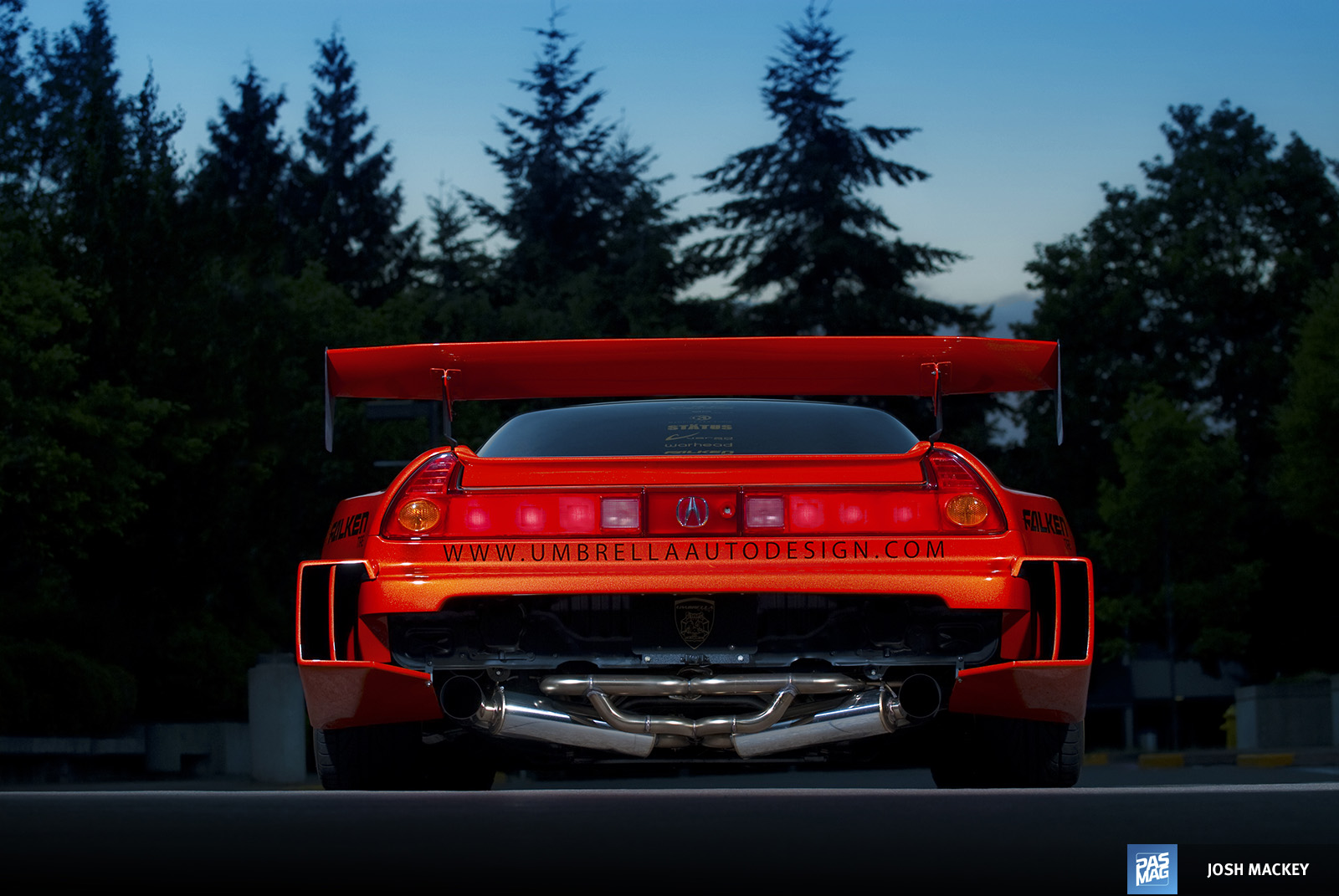 The majority of NSX owners have gravitated toward the pristine OEM feel for their cars, with the only aftermarket upgrades being limited to intakes, exhausts and wheels. For tuners (with some money) NSXs were within reach and they cracked open their HyperRevs to see what could be upgraded. Such was the case with Ravi Ayyagari of Seattle, WA who not only made the NSX his passion but now develops products and even spawned an NSX-specific business – Umbrella Auto Design. Although we weren't sure where the "Umbrella" moniker came from, we're betting it has something to do with the often soggy Pacific Northwest weather in his hometown of Seattle, WA. As you can see, Ayyagari's NSX is a scorching ball of heat against any gloomy backdrop.
Umbrella Auto Design may have started out as an NSX-based specialty shop, but has since expanded to include custom tuning, parts and service for a number of high-end luxury vehicles, sports cars and exotics.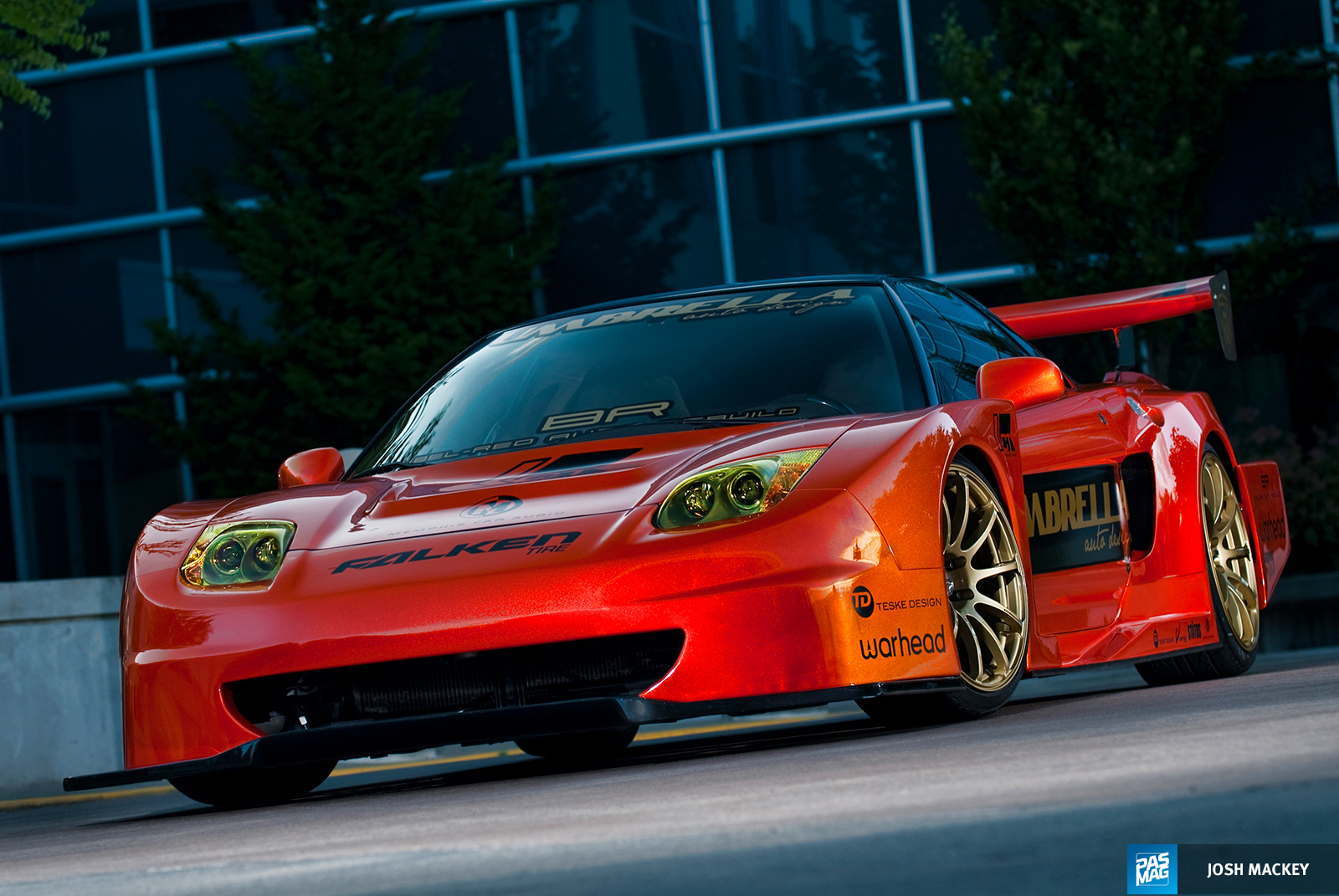 Ayyagari threw all of the resources he had at this NSX project performing the majority of the work in-house at his 6,000 sq. ft. shop. The results were impressive and nailing a PASMAG cover only backs that up. With only 19,000 original miles, most NSX owners would have invested time keeping this car in mint condition but the mission here was very different. The project began with purchasing a second previously crahsed NSX race car to extract the motor. The block was machined and the assembly fully balanced and blueprinted by CompTech Machine. The OE titanium connecting rods were pinned to JE pistons and a knife-edge crankshaft. The heads were ported and filled with titanium retainers and heavy duty springs. An RFY 304 stainless steel equal length header was fitted along with a GT-V1 exhaust and ARC test pipe.
The matching race transmission features fortified synchos and forks. The gearing features the close-ratio gears found in the Honda NSX-R. The Exedy twin-plate carbon clutch spins up a CompTech 4.55 rear differential. The driveline has to deal with almost 350whp in its current form without forced induction.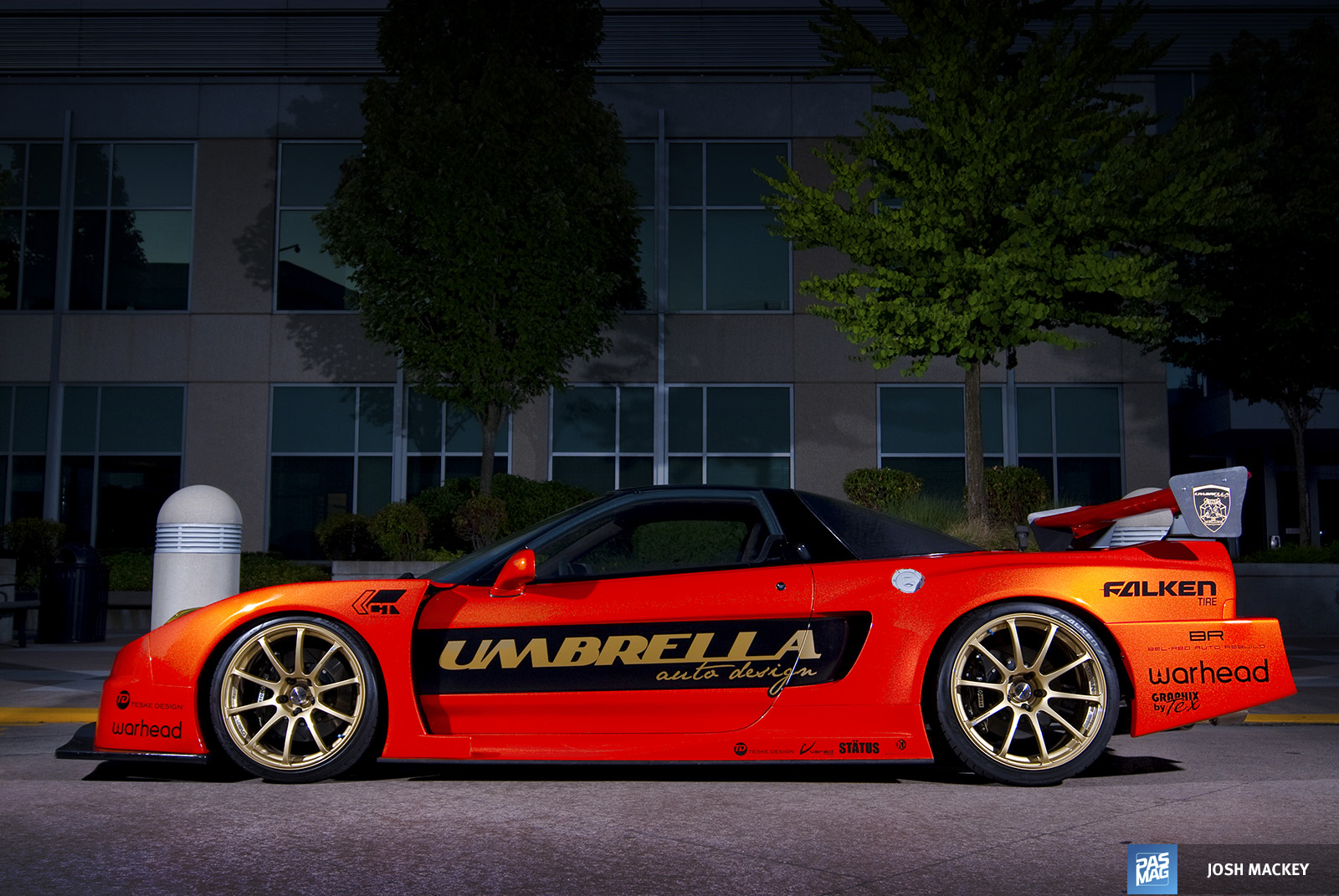 As for fancy footwork, this particular NSX has plenty. Already blessed with the trickle-down effect of decades of Formula One racing knowledge, Ayyagari decided to opt for some upgrades and even manufacture what he couldn't find. A set of JIC FLT-TAR coilovers were added to provide various levels of dampening adjustment, as with all coilovers a range of ride-height adjustment is possible by cranking the collars around the threaded body. For Ayyagari, he decided to engineer something special to totally eliminate the need to slip out of your Pradas to adjust ride-height with a conventional jack and elbow grease. Many said it couldn't be done but this kit fits many aftermarket coilover applications. He has patented the Umbrella Auto Design VRH Lifter Set, a mechanical device that sits above the coilover spring and below the pillow mount. At the flick of a button, the fully bottom'ed coilover can raise to its maximum height or anywhere in between!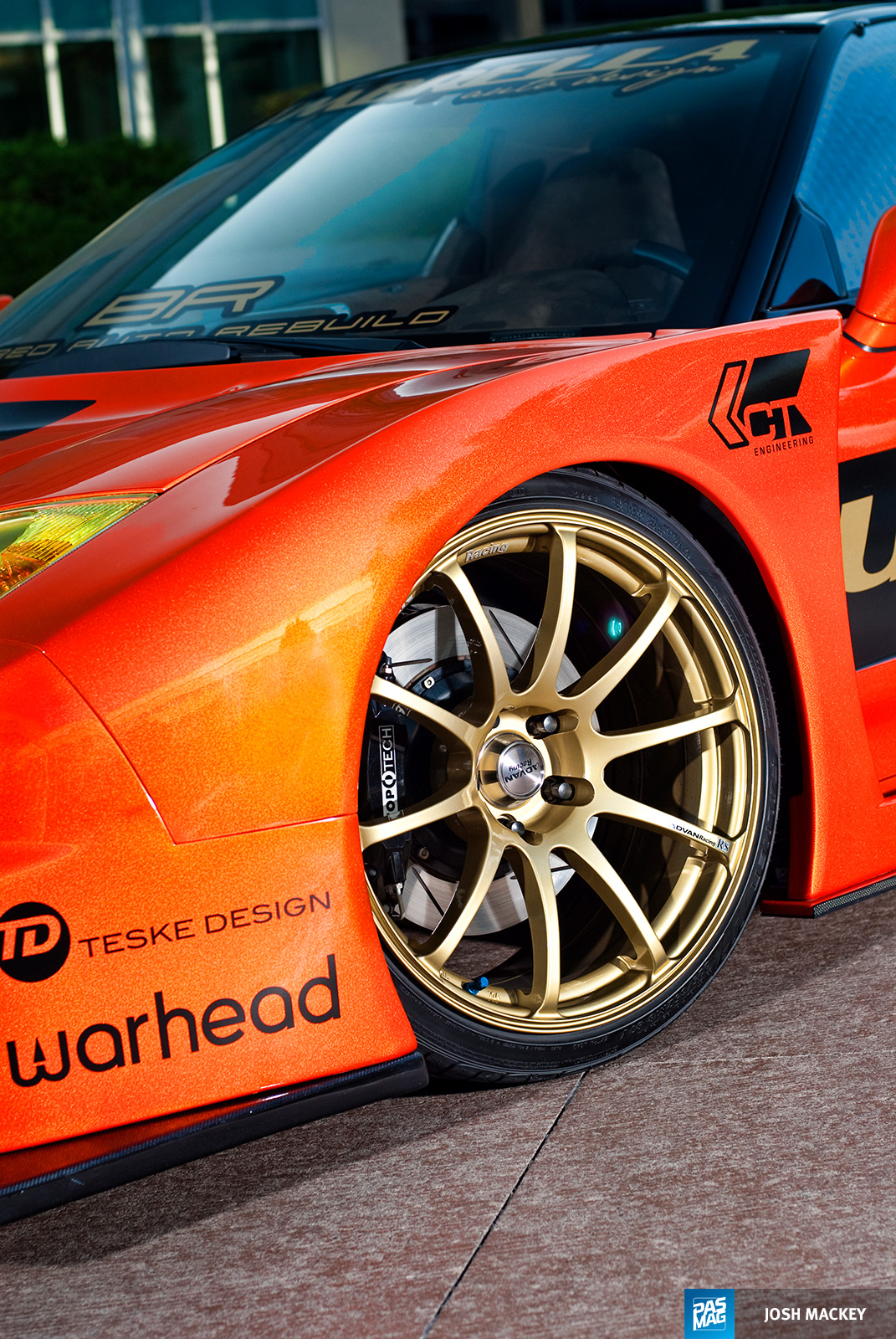 As for the rollers, Ayyagari decided to go with somewhat of a classic look. He sourced out a set of Advan RS staggered wheels in 18x9-inch front and massive 19x10-inch rears. The wheels are tightly wrapped in Falken FK452s sized in 225/35R18 and 275/30R19s on the drive wheels to amount to more than enough grip for this lightweight. Lurking behind the gold spokes are StopTech binders using ST-40 calipers, 13-inch rotors and stainless steel braided lines on all four corners.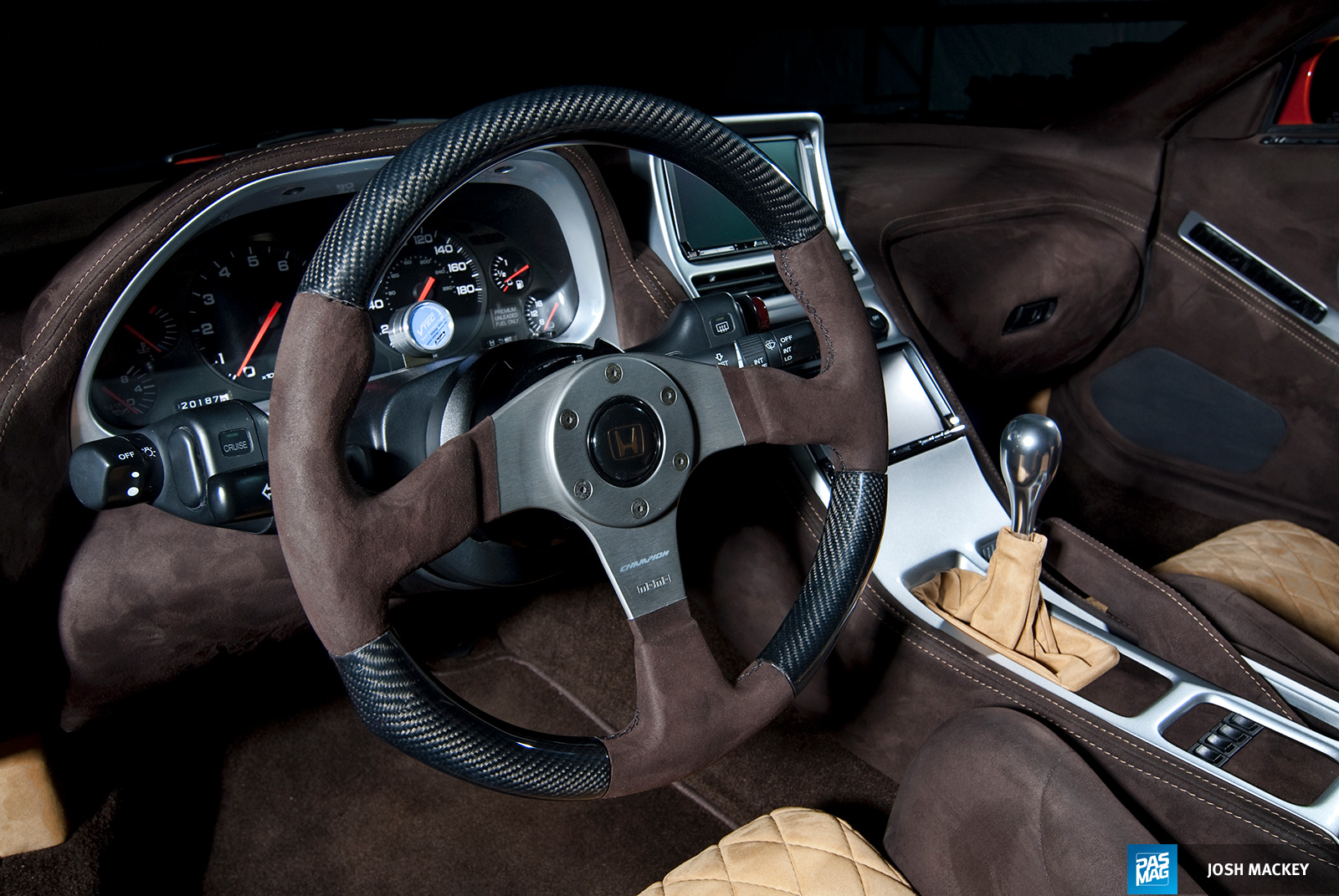 On the interior, there isn't much NSX left. Everything down to the horn button (from the Honda NSX-R) has been replaced, recovered or reinvented. The interior has been custom covered in Alcantara by Umbrella Auto Design and cost over $12,000. All of the remaining plastic panels were refinished in BMW M3 silver base and clear. A pair of Alpine multimedia screens are flush mounted into the custom dash. An Alpine IVA W205 double DIN DVD player runs the show and an Alpine TME M740BT 10-inch LCD monitor is housed in JDM Honda navigation pod at top of dash.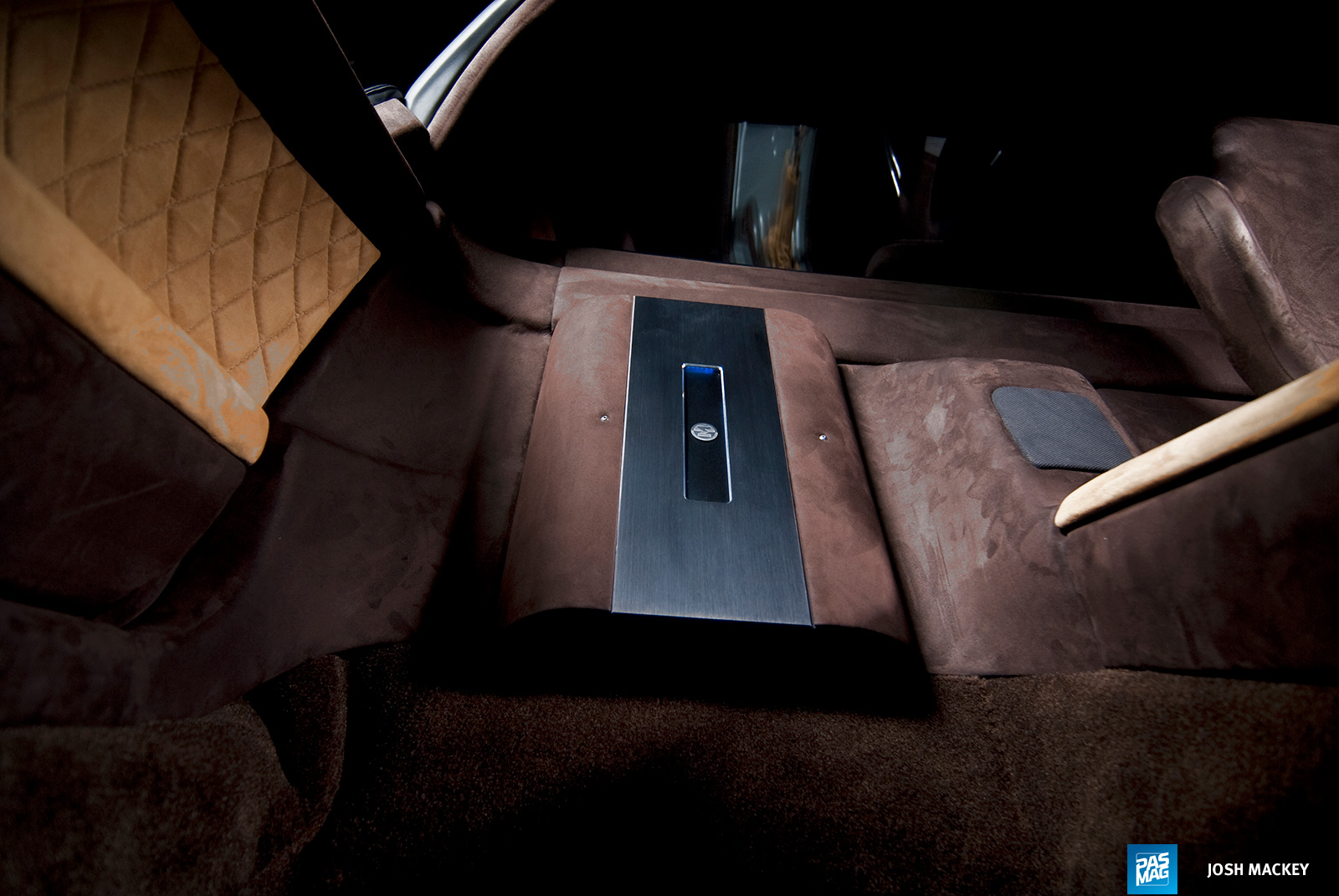 All of the high end audio system comes courtesy of a full Memphis Car Audio install including an MClass 4-channel 75w x 4 amplifier, 6.5-inch Sync component set with 1-inch tweeter and hard hitting 10-inch S-Class Single 4 ohm voice coil subwoofer. Memphis Car Audio power wire and signal cables were used for the stealthy install featuring a custom composite subwoofer enclosure (installed in passenger foot well), fabricated door speaker enclosures, and a steel amp rack fabricated by Umbrella Auto Design which attaches at factory mounting points already existing in the NSX so that no cutting or drilling of car was required. Finishing touches include blue interior LED accent lighting by Varad and trim upholstering the custom amp rack in Alcantara. Many sleepless nights were invested by Ayyagari, as he did the audio install himself and the flawless results speak volumes.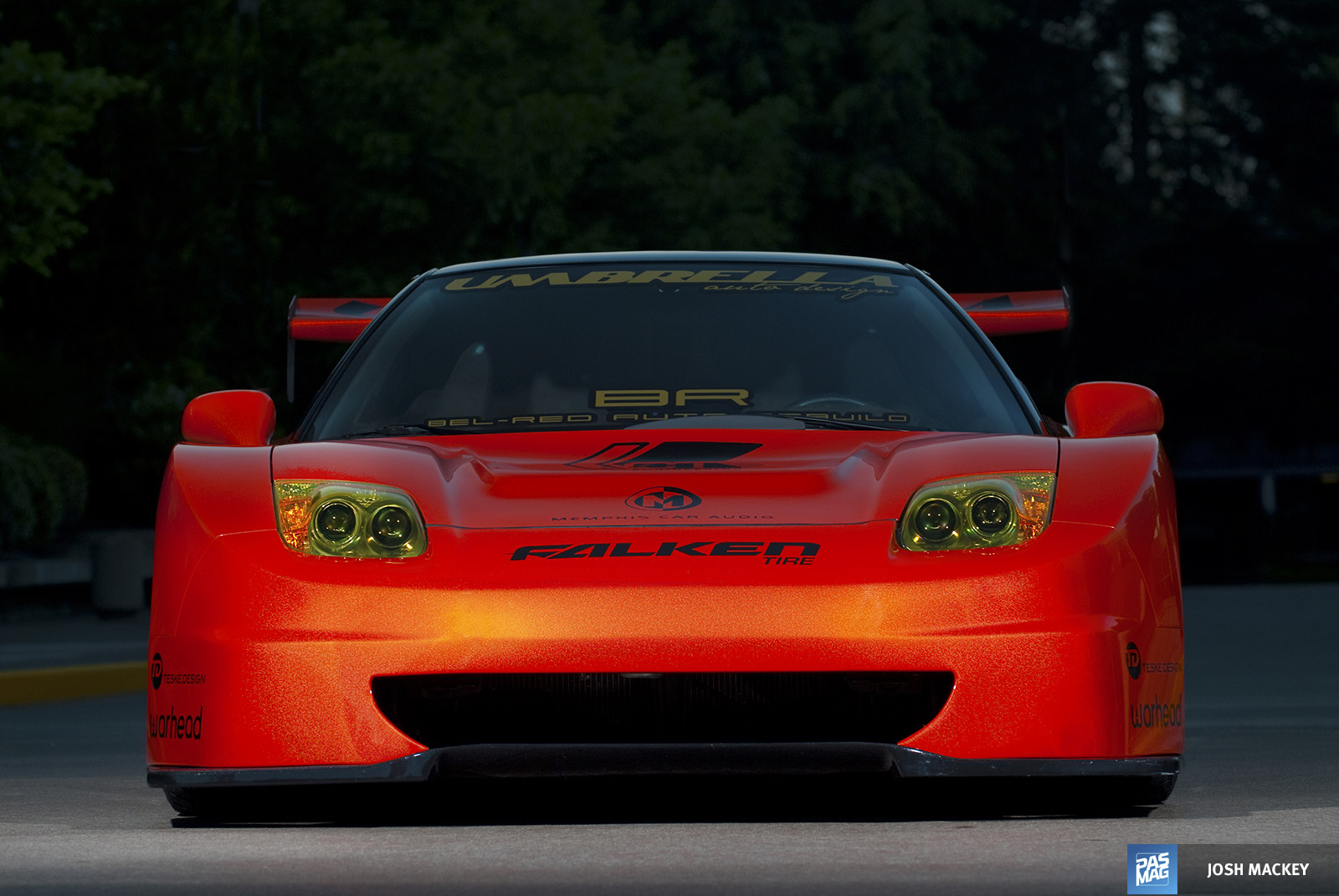 Finally, we get to the bodywork that makes this car unique. This wouldn't be the first Sorcery kit we found on an NSX, but most definitely the rarest by far. Rare as in the only SuperGT-style in existence! This NSX aerokit consists of a carbon fiber front splitter, front bumper, sideskirts, rear spoiler and rear diffuser. An NSX-R vented hood was added along with factory headlights and rear tail light assembly off a 2005 NSX. After the body was fitted to perfection, it was slathered in several coasts of freshly squeezed BASF Candy Mandarin Orange paint by BEL RED Auto Rebuild and covered in 3M paint protection by Accutint. Ayyagari owes special thanks to Adam Nonis and Dave Ames on this build totalling 13 months and nearly 3,000 man-hours.
---
ESSENTIALS
Owner: Ravi Ayyagari
Location: Seattle, WA
Vehicle: 1992 Acura NSX
Power: 350whp (est.)
ENGINE MODIFICATIONS
Custom Race-built motor
Billet aluminum and carbon fiber trim
Full top and bottom end build by CompTech Machine
Forged JE pistons
Balanced and blueprinted
Titanium connecting rods
Ported heads
Hi performance camshafts set
Adjustable cam gears
Hi flow oil pump gear
Titanium valve spring retainers
Hi lift valve springs
Balanced, knife edged crankshaft
RFY 304 stainless equal length exhaust manifolds
RFY GT V1 exhaust
ARC titanium test pipe set
DRIVETRAIN
Custom built for race duty
Ported for external oil cooler
CompTech 4.55 ring and pinion set
Honda NSXR close ratio gear set
WHEELS, TIRES & BRAKES
Advan RS 18x9 front
Advan RS 19x10 rear
Falken FK 452 front 225/35R18
Falken FK 452 rear 275/30R19
StopTech big brake kit front and rear with ST-40 calipers, 13"rotors, and stainless steel braided lines
EXTERIOR
1 of a kind Sorcery 2007 SGT widebody imported from Japan, only one in existence
Carbon fiber front splitter
2005 NSX-R vented hood
2005 NSX headlights with OEM hid lighting
Sorcery carbon fiber rear hatch
Sorcery SGT carbon fiber rear spoiler
Sorcery rear lower diffuser
2005 NSX rear tail light set
13 months to complete body work and custom composite fabrication, approx 3000 hours labor in body alone
BASF candy mandarin orange paint ($20,000)
SUSPENSION
JIC FLT-TAR coilovers
Umbrella Auto Design VRH lifter set (control ride height on the fly)
CompTech anti sway bar set
INTERIOR
Full Alcantara interior and audio install by Umbrella Auto Design
New carpet and mats
Status Racing Carbon Fiber race seats
Interior plastics refinished with BMW M3 silver base and clear
AUDIO & MULTIMEDIA
iPod interface
Alpine IVA W205
Alpine TME M770BT
Memphis Car Audio 4 awg power wire/signal cables
Memphis Car Audio 17-4GKIT 4 gauge install kit
Memphis Car Audio 15-SC10S4 10-inch SClass Single 4 ohm voice coil subwoofer
Memphis Car Audio 15-MCS6 6.5-inch sync component (1-inch tweeter)
Memphis Car Audio 16-MC4.75 MClass 4 channel 75w x 4 amplifier
PHOTO GALLERY