Photography by Micky Slinger & Adam Gordon
---
There's something to be said for a car that can do it all, and that's definitely been a driving force behind the lasting legacy that is Subaru's WRX STI.
Over the years, we've been treated to witnessing the STI name dominate both on- and off-road, as well as be transformed into some impressive creations through the show circuit and beyond. There's something even more to be said for someone who can take such a potent platform, and make it excel in all avenues without sacrificing any functionality. We think that Rachel Ellingsen has done an outstanding job with her WRX STI, and we're not alone - hundreds of people voted her through to the final round of 2018's Tuner Battlegrounds Championship.
Ellingsen's fascination with cars started at a young age, watching her father work away at rebuilding a motor, while she sat on a pile of spare tires and handed him a wrench here and there between explanations of different parts and tools and how they work. Fast forward to 2010 and Ellingsen had finally acquired a car to channel that inherited passion into: a 2000 Acura Integra GSR.
"Little did I know, this car was going to be my gateway drug to a never-ending addiction of financial havoc," she laughs, thinking back.
Her first test would come only three weeks later, when a small electrical fire started in the engine bay that left her with two options: fix it or make it faster. Naturally, a K-swap was in order, and thanks to an extra push from her husband, Gabe, who owns a pretty sweet 1,200-wheel-horsepower S2000, the Integra soon had a fully-built, all-motor K20/K24. The engine was assembled and installed by the couple in their garage, with a few friends stopping by to help out with the odd bit. The Integra is still a work in progress, so while it's fine and dandy to have a money pit, you need a car you can actually drive. That's where the STI comes in.
"I really hadn't ever ventured into the Subaru world until Gabe, my husband, told me about an STI for sale one day," Ellingsen explains. "Right away, I was hooked, even though I had never been inside one and literally knew nothing about them."
Looking for more information about the Subaru she just bought, Ellingsen joined a Facebook group called "Oklahoma Subies" to pick up some tips and tricks from local like-minded owners. This is where she realized the mistake that she had just made. A post on the group from an excited new owner of a red 2015 WRX STI made her realize what was wrong: that STI was the one she wanted, not the used one she had just picked up! Not long afterwards, her very own Lighting Red STI showed up at the dealership, and was ready to be molded into Ellingsen's vision.
"Originally, I had purchased the car with the goals of just having bolt-ons, coils, and wheels, so it would be a nice-sounding daily," she recalls. "Every time I added something, I would find out that if I just upgraded one other corresponding item, it would significantly enhance the whole performance of my car, and here we are!"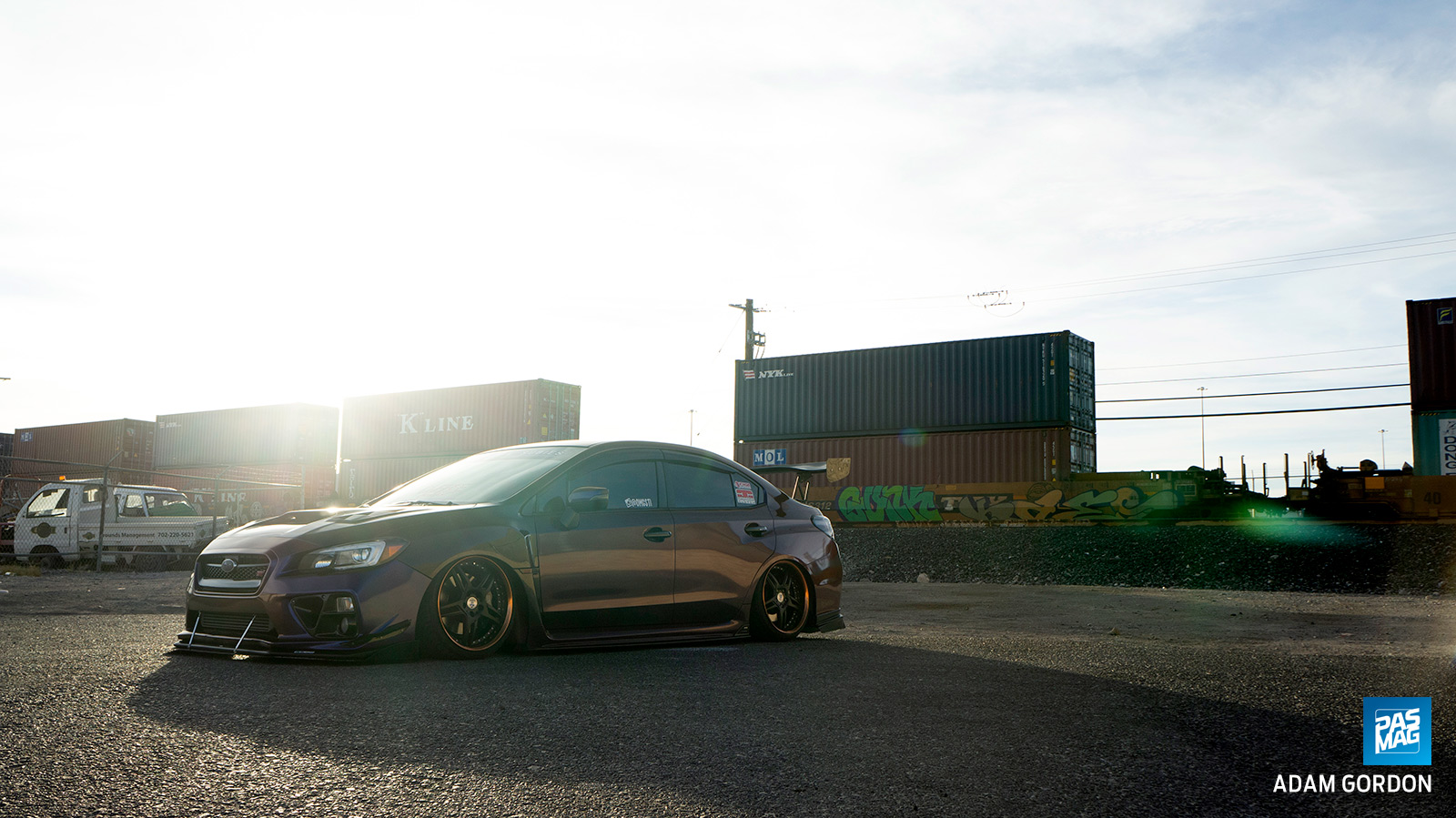 This build philosophy of "just one more part" eventually led to the tasteful mixture of aesthetically pleasing and functional components we were treated to at SEMA in Las Vegas. Wrapped in Avery Dennison's Roaring Thunder color-shifting vinyl and treated to a host of carbon fiber goodies, like the bare Seibon front fenders and hood, plus the APR Performance canards and 67-inch GTC-300 wing, the Subaru projects an air of performance that it can absolutely back up. Ellingsen's favorite modification, her Air Lift Performance air suspension system, makes that all possible.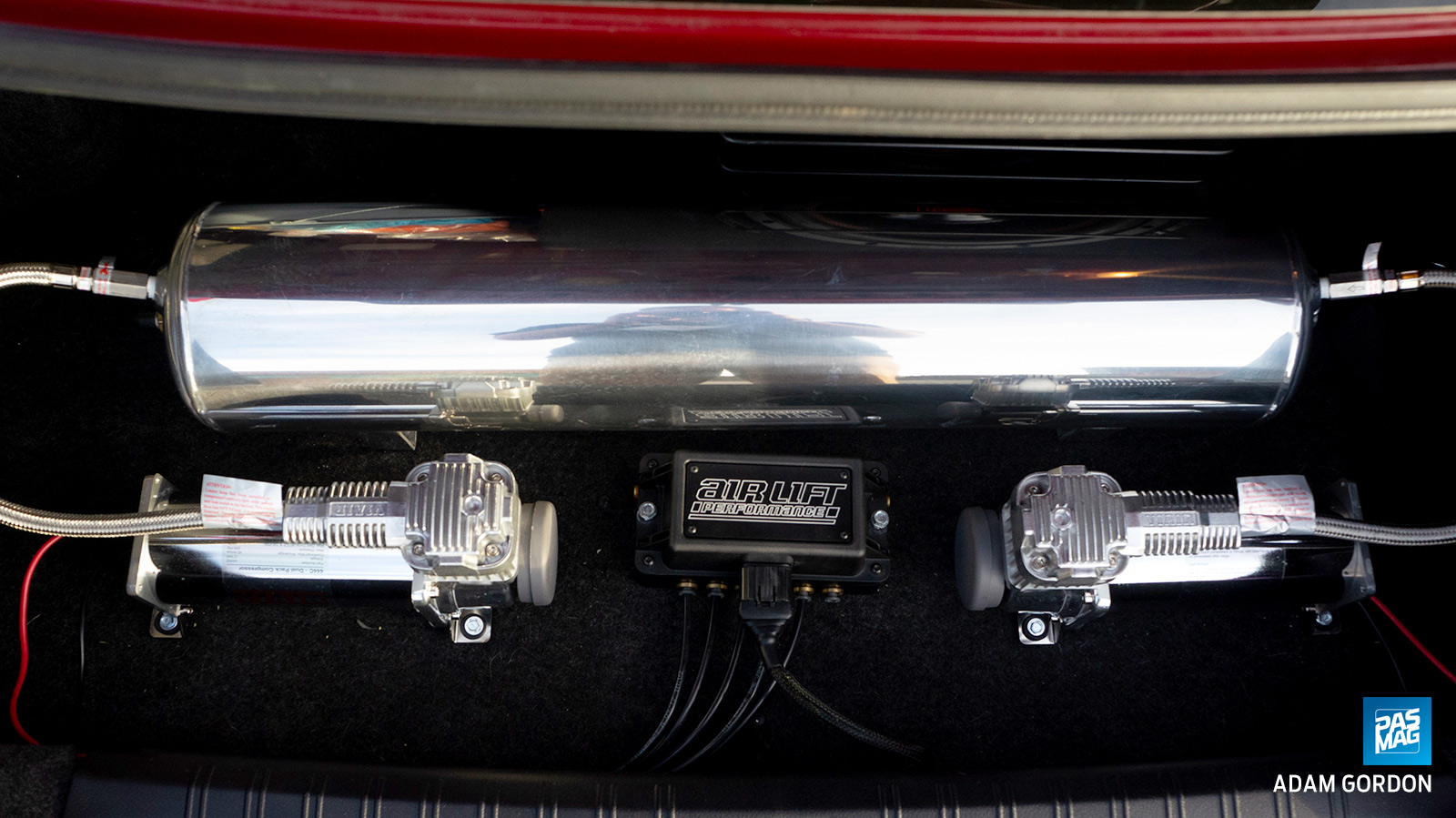 "My favorite thing about my car is the combination of being able to go to the track, have a ton of fun making passes, and when I'm done, pressing that air-out button and being able to look great," she says, proudly. "I love being able to disprove people about air ride not being a trackable suspension."
Swapping over her Work Durandals to some Gram Lights 57DRs on Advan Sport tires, Ellingsen then airs up to a functional height, runs some passes at the track, and when she's done, she then airs out and heads home. She also isn't stock under the hood, which ironically enough came about in the same sort of way her Integra did. After a solid day of sending it, a ringland failure on cylinder four (#SubaruProblems) put a pause on her fun and left her with two choices: fix it or make it faster. Due to her history with issues like this, we already know the choice she made.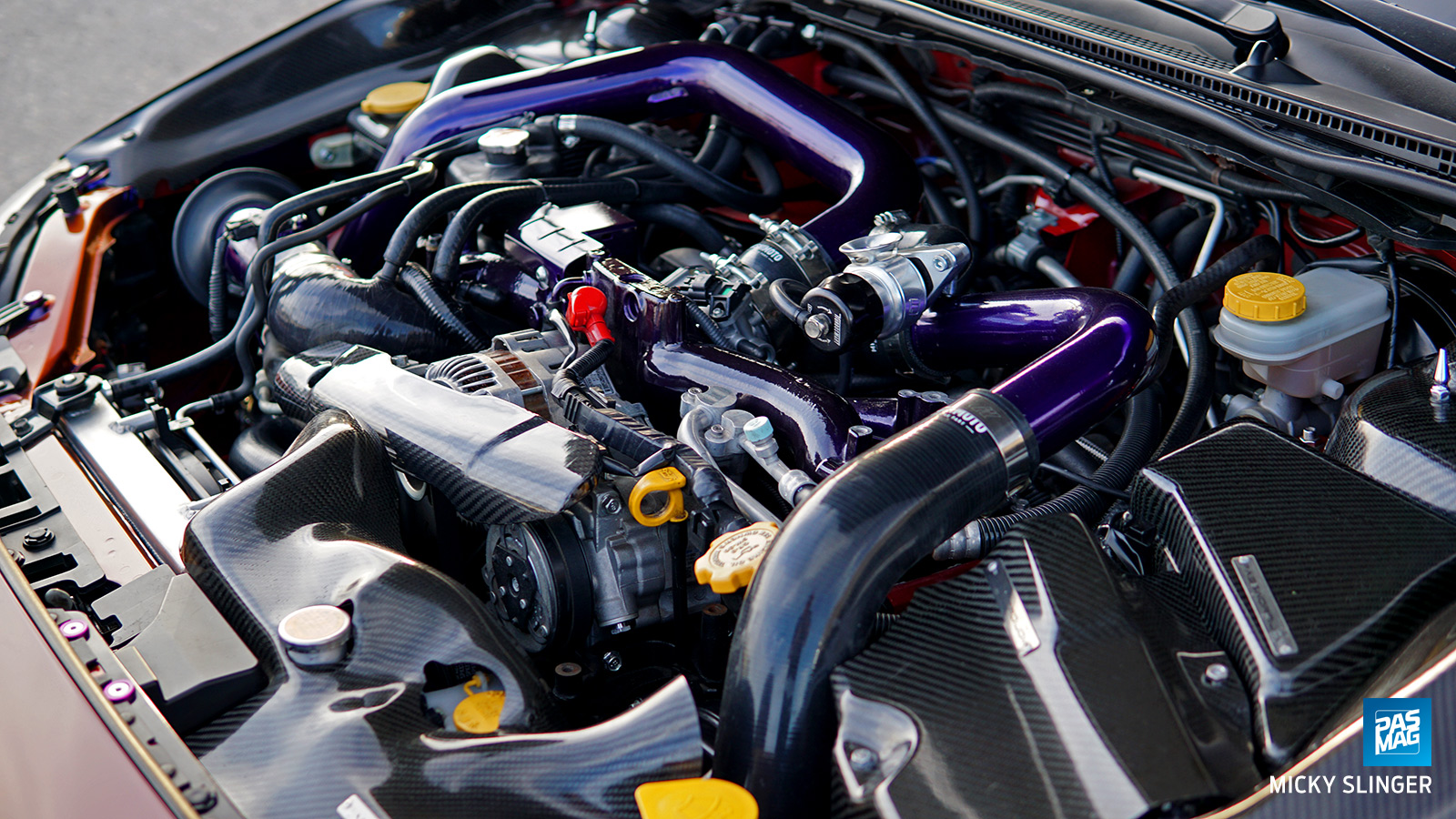 The STI's EJ257 boxer was rebuilt with a Supertech valvetrain, CP 10:1 pistons, Manley H-beams, and a much juicier fuel system to support some new boost, plus compatibility with E85. One of Forced Performance's Zero ball bearing turbos was planted on the engine, the top-mount intercooler was swapped for a front-mount Mishimoto offering, and through the COBB AccessPort V3 and running E85, the Subaru puts out a dyno'd 530 horsepower and 537 lb-ft of torque - 225 more horses and 246 more lb-ft than a WRX STI rolling off the showroom floor.
With such a complete build and a solid backing from her club, Team Diverse, Ellingsen entered her car in the Tuner Battlegrounds Championship, thinking she could do fairly well. It wasn't until Team Diverse's Oklahoma chapter was screaming and cheering across a local pizza joint while watching the final point standings live stream that she realized just how far she'd come.
"After the final announcement, I kept reminding my husband, 'Holy crap, we're going to SEMA!' Ellingsen chuckles. "Pulling up to SEMA and seeing the transport truck that picked up my car put it all into perspective. Watching the car roll out and into the Las Vegas air, it was like I heard my brain say, 'Here we go!'"
Ellingsen and her husband hit the ground running every day of the competition, completing virtually every one of the Editor's Challenge obstacles we could throw at them, and Ellingsen even came home with the fastest NASCAR lap around Las Vegas Motor Speedway at Richard Petty's Driving Experience, courtesy of McLeod Racing. Unfortunately, her social following and pull couldn't quite match her competitor's, causing him to pull ahead and win, but Ellingsen was totally positive about the outcome.
"Naturally, I was bummed," she says. "I had prepared myself earlier in the day and reminded myself that I had just spent a week in Vegas though, so no matter who won, we both had a pretty awesome time."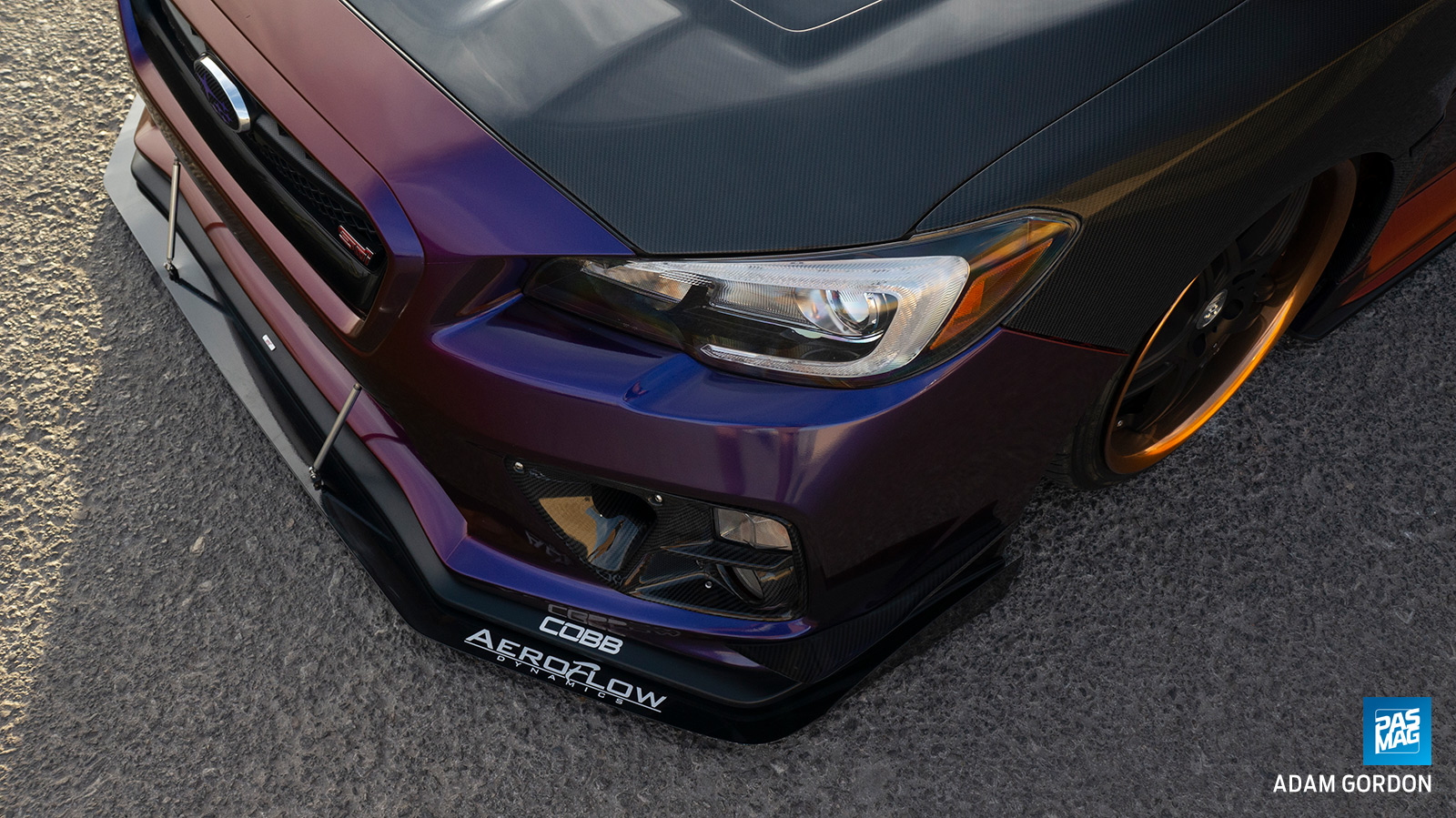 The momentum that Ellingsen carried throughout the competition carried right through to when her car arrived back home, as she's already been stockpiling parts and has arranged for a completely new look, featuring a new wrap, custom-finished Brada three-piece wheels, and even a pair of one-off headlights from On Point Customs, while hoping to pump up her performance numbers even more as well. Whether it's on the street, the track, or posted up at the show, you can bet that Ellingsen's STI will be dominating and looking its best while doing so for the foreseeable future.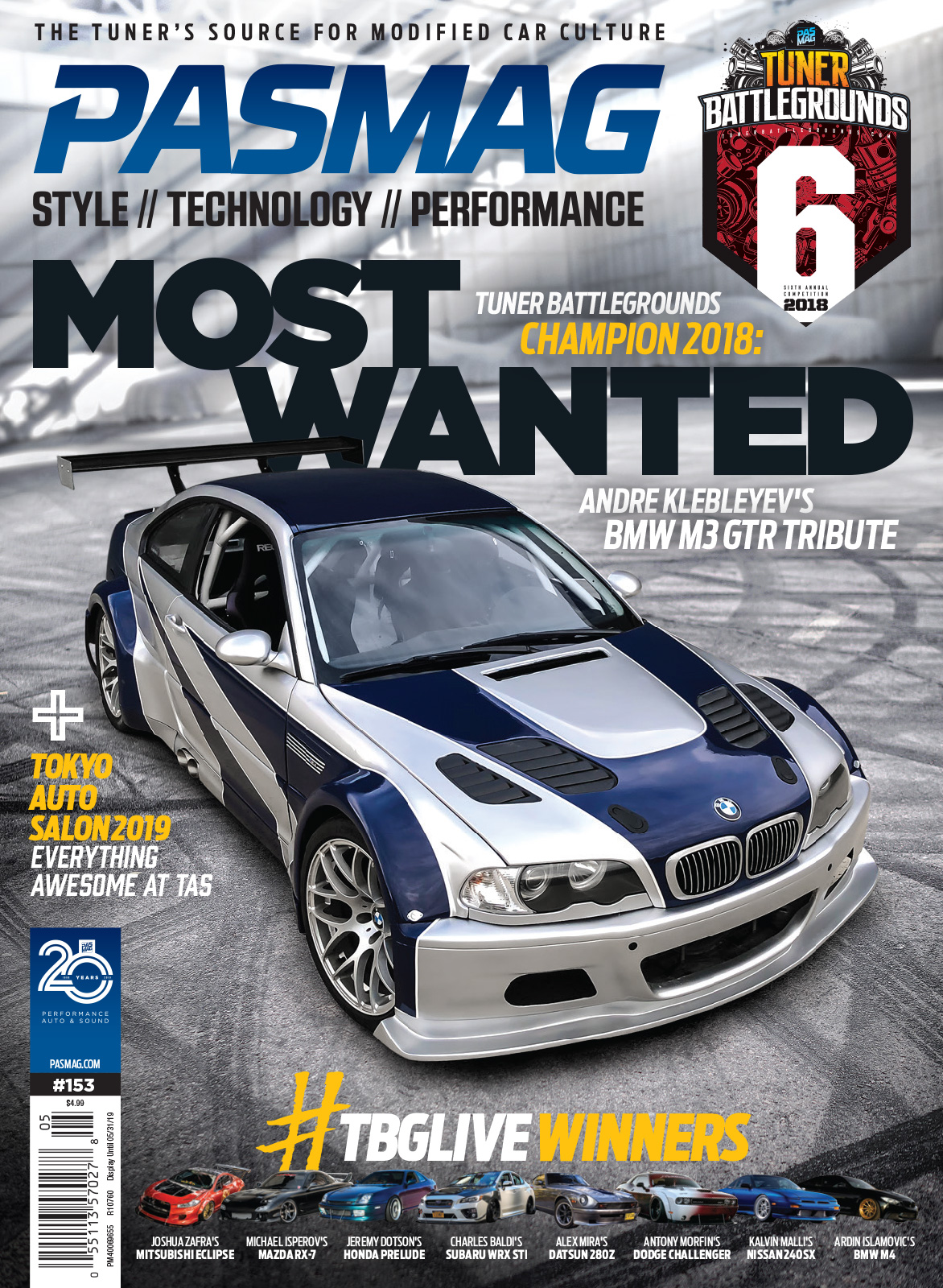 Rachel Ellingen and her 2015 Subaru WRX STI is featured in PASMAG #153. Click HERE to order.