Team Hybrid E36 BMW blends high performance and streetability with good looks.
Looks can be deceiving. It's a fact of life. One look at this 1996 BMW 328i shows that owner James Lin has put some effort into the selection of exterior components. But, as the saying goes, it's what's inside that counts.
This E36 BMW is far from the first car James Lin, founder and president of Team Hybrid, has built. In fact, two of his previous vehicles have graced the cover of PAS and several more have had feature articles. This latest build features the Team Hybrid concept of melding high performance with streetability and good looks.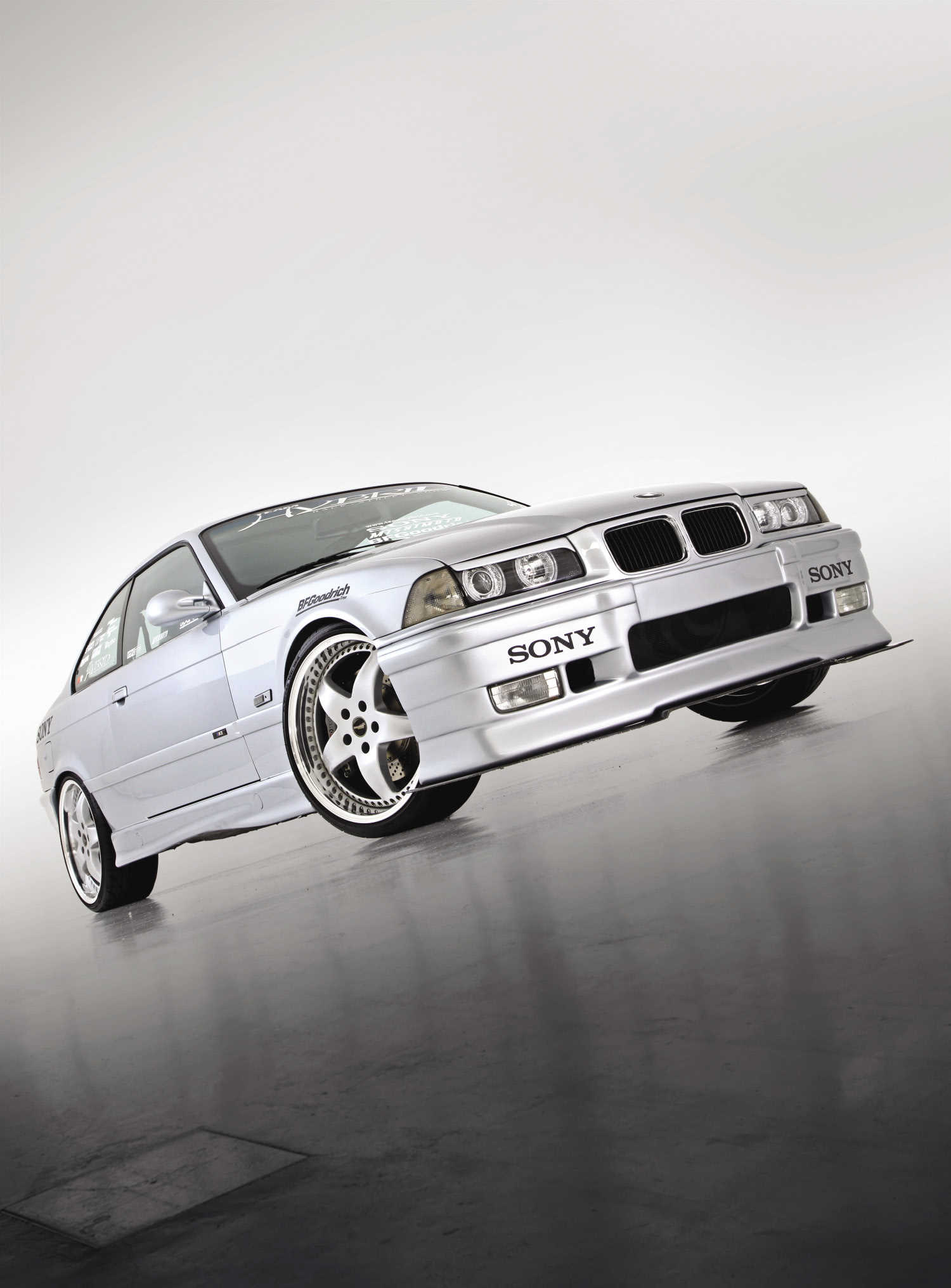 Cosmetic improvements under the hood (the carbon fiber wrapped radiator cover and fuse box, for example) tilt the build toward style rather than performance. A K&N intake and HKS "Klasse" exhaust are the only real power adders. A Clutch Masters FX100 clutch and Mishimoto radiator ensure reliability while Racing Dynamic carbon fiber accents add some style.
The body wears a Rieger GTR-1 body kit and roof spoiler painted in Artic Silver. M3 side moldings and a BBR carbon lip give the car a decisive stance. Wraptivo carbon fiber and gloss white decals from Graphic Impact plus European taillights and headlights (featuring a 5,000 K HID kit), fog lights and side markers make the car look totally unique. Inside, Sparco has outfitted with the interior with seats, a shift knob, steering wheel, pedals, harnesses and more. Carbon fiber-look vinyl is used on the shifter and brake boots as well as the armrests and door pulls.
The entertainment system is powered by Sony with most of the equipment dropped into the factory locations. It starts with a XNV-770BT navigation DVD receiver with Bluetooth. This feeds four Sony amplifiers – two each of XM-4S and XM-1S – with the latter sub amp feeding two 10-inch Xplod series four-ohm component subwoofers in the trunk. The doors are home to XS-GTR1720S components while a set of XS-GTX1641 four-way speakers take care of rear fill.
The real work has been done in the trunk where each sub gets its own small sealed fibreglass enclosure that's wrapped in microfiber suede and flanks a very trick amp rack that orients the four amplifiers up and rearward to make them easy to see. Mounted on a hinged motorized bracket that raises from the floor in the center of the trunk is a Sony NSZ-GT1 Internet TV-equipped Blu-Ray player. This unique product uses Google TV to make surfing the net easy when a Wi-Fi connection is available. With a few clicks on a cell phone, passengers can surf the Web while cruising to a show. The painted trim panel is outlined in bright white LEDs while the trunk lid panel boasts another set of Sony components, three XVM-B62 monitors and a XA-R800C rear vision camera. The car is wired with Stinger wiring, kept alive by an Optima yellow top and protected by a state-of-the-art Clifford 590.2X SST remote start and security system. Al & Ed's Autosound gets credit for the entertainment system.
In keeping with Team Hybrid's philosophy, Lin's BMW is clean, simple and functional; but, a closer look reveals some rare components and unique creativity that sets this ride apart from the rest.
---
ESSENTIALS
Vehicle: 1996 BMW 328i
Owner: James Lin
Location: Oxnard, Calif.
Club Affiliation: Team Hybrid
Website: www.teamhybrid.com, www.teamhybridforums.com, www.facebook.com/TeamHybrid1995
ENGINE MODIFICATIONS
Racing Dynamic carbon fiber valve cover
K&N intake system
European BMW M3 polished oil cap
Mishimoto (aluminum radiator, carbon valve cap, radiator hoses)
Amsoil (10W-40 premium oil, differential severe gear 75W-90, transmission and transaxle gear lube)
EXHAUST SYSTEM
DRIVETRAIN
Clutch Masters 03041-HD00 FX100 stage 1 clutch kit
WHEELS / TIRES / BRAKES
Dresmann three-piece – 19x8.5 (f/r)
BFGoodrich G-Force T/A KDW – 215/35 ZR19 (f/r)
StopTech Trophy Street big brake kit (two-piece AeroRotors, four-piston front calipers, two-piston rear calipers, stainless steel brake lines, high-performance brake pads)
AMSOIL Dot 4 brake fluid
CHASSIS / SUSPENSION
Racing Dynamic polished strut bar
Tokico Illumina five-way adjustable suspension kit
Energy Suspension bushings
EXTERIOR
Rieger GTR-1 body kit and roof spoiler
M3 sport package and side moldings
BBR carbon fiber lip
European (headlights with angel eyes and eyebrows, taillights, side markers)
5,000 K HID headlights and fog lights
B1 Hybrid corner bulbs
BMW M3 heated side mirrors
Wraptivo carbon fiber decals
Gloss white decals by graphic impact
INTERIOR
Sparco (L777 steering wheel, shift knob, pedals, Torino 2 seats, three-point double system harness, track set sliders, seat brackets)
NRG short hub and 3.0 quick release
Torasport brushed aluminum dash kit
Carbon fiber shift boot, e-brake boot, arm rest and e-brake
Art's Customs suede front door and rear panel inserts
BMW grade wrapped carbon fiber handles
Team Hybrid embroidered floor mats
Relocated climate control and 18-button on-board computer
Ultra-white interior LEDs
AUDIO / MOBILE ELECTRONICS
Sony (XNV-770BT 7-in. touchscreen with navigation, DVD, Bluetooth and remote; XS-GTR1720S Xplod GTR Series two-way speakers (x2), XS-GTX1641 Xplod GTX Series four-way speakers, XS-GTR100L Xplod 10-in. subwoofers (x2), XM-4S Slim Series 4/3-channel amplifier (x2), XM-15 Slim Series class D mono amplifier (x2), XVM-B62 flush-mount 6.25-in. LCD monitor (x4), XA-R800C rear view camera, NSZ-GT1 Internet/Powered by Google TV/Apps/Blu-Ray player)
Savv LBM-S5000 security rear view mirror monitor with remote
Stinger (power supply, power converter, TRUE-SPEC tinned oxygen-free copper line wires, cables)
NRG chrome and silver aluminum washers and 10 mm bolts
Optima Yellow Top battery
Ultra-white LEDs
Clifford keyless remote entry and alarm system
Custom motorized install with dash-retooling by Al & Ed's Autosound
SPONSORS
BFGoodrich, Meguiar's, SONY, StopTech, Mishimoto, Sparco, K&N, AMSOIL, Wraptivo, Optima Batteries, ClutchMasters, Graphik Impact, Energy Suspension, Tokico, NOS Energy Drink, China Square, Hybrid Lighting Ltd. Co.
---
PHOTO GALLERY