Photography by Dominick Barbero Photography (@d_barbero_photography)
---
A partnership build that gave one man an incredible Z, and another a decorated resumé.
"Is there an award for biggest snowball from the original goal?" That was the first question Kyle Kuhnhausen asked us, laughing as he reminisced on his original goals for Dennis Trammell's 1972 Datsun 240Z. Now unrecognizable from the stock Z that Trammell purchased way back in 1986 as its second owner, the Datsun has come a long way from humble beginnings, but the story of how it got here is equally as interesting as the car itself.
Trammell originally approached Kuhnhausen's father back in 2013 for a quick restoration and refresh on the Datsun so it could go in for paint. At the time, Kuhnhausen's father wasn't interested, so he pointed Trammell in his son's direction. As a 22 year old fabricator fresh out of college and looking to start a business, Kuhnhausen took on the restoration project as something to do on the side while he got his business up and running. Unbeknownst to him, the 240Z would go on to be a shining example of his work on the world stage. That's one hell of a resumé.
The partnership between Kuhnhausen and Trammell started with nothing more than a handshake. As Trammell mulled over ways to turn his Datsun into a reliable turn-key car comparable to that of a modern day vehicle, Kuhnhausen's love of pro-touring cars kicked in, and he was quick to suggest an LS engine. The LS' affordability, reliability, and flat torque curve with more power than any L-series made it an easy choice. The fact that it sits further back behind the axle centerline for better weight bias was just the icing on the cake. Trammell was sold.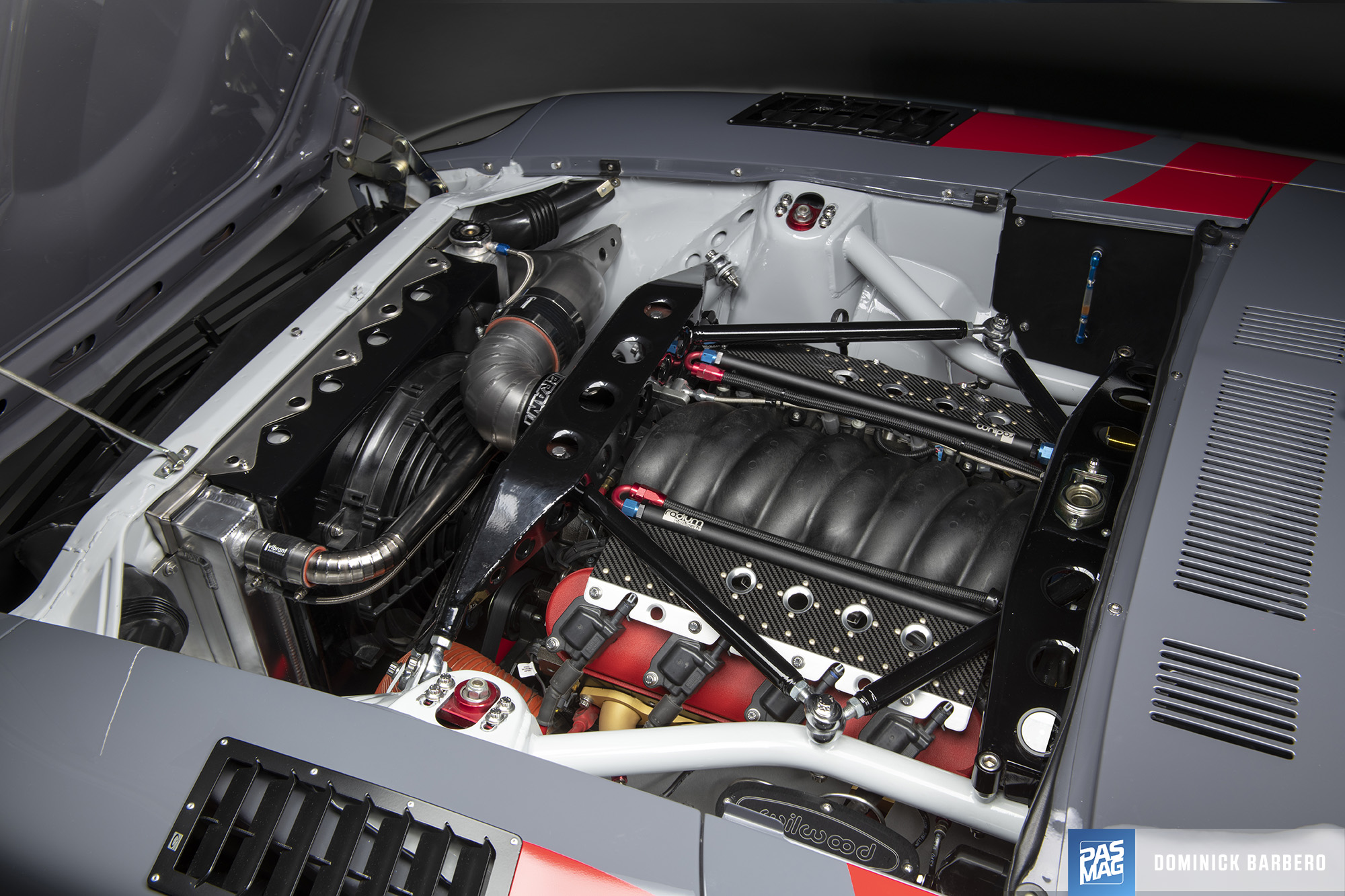 With restoration completed, and the engine swap wrapping up, Trammell started to take notice of Kuhnhausen's incredible fabrication work. Custom engine and transmission mounts, a 4-inch aluminum intake, and the general attention to detail in the restoration process had Trammell highly impressed. Not in any particular rush to get the car back, he loosened the reins and gave Kuhnhausen the green light to go crazy for as long as he needed. From that moment, the build turned into a multiple-year endeavor.
"I essentially took over the build with Dennis' permission," Kuhnhausen says. "It became a partnership when I set my sights on SEMA." With his eyes set on SEMA's Battle of the Builders, the fabrication game had to be stepped up above and beyond what Trammell could ever have expected. The ball was in Kuhnhausen's court while Trammell was busy sourcing CCW LM20 wheels and the Arizona Z-Car "Track Pack" suspension setup. The first order of business for Kuhnhausen was to start on a 10-point roll cage.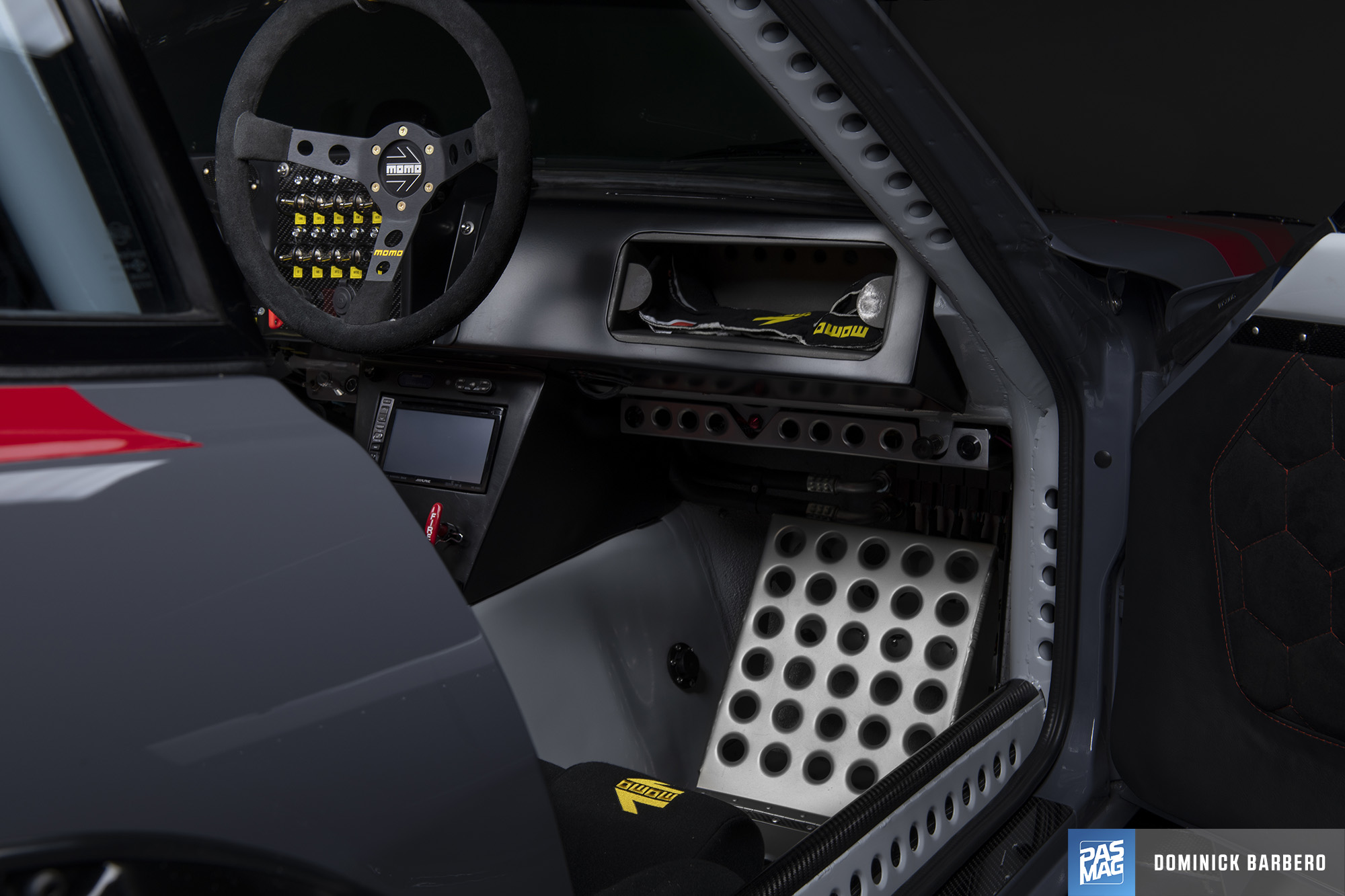 Once the cage was finalized, he noticed that refitting the OEM dash and center console wasn't ideal with respect to both functionality and overall aesthetics, so he set to work fabricating bespoke aluminum replacements for both - each of which would be reinvented three time before getting it just right. That obsessive urge to blend function and aesthetics together seamlessly is what helped Kuhnhausen set this build apart. "With the popularity of social media it's easy to get caught putting the way a component looks in front of the way it functions," he writes. "Since cars are just a categorized order of thousands of components, a few missteps along the way in critical areas can really come to bite you later on."
That same philosophy had him innovating solutions time and time again, addressing things like a custom tap into the shifter to refill transmission fluid from inside the cabin, as well as re-worked frame rails which the custom exhaust could run through to a unique side-exit for maximum ground clearance. With no strict deadline for the build at this point, he was able to ensure every single component was done right, even if he didn't know where to start. "If I couldn't do something myself, I invested in the tools and learned," he says proudly. Having the freedom to experiment and innovate led to several impressive additions to the build.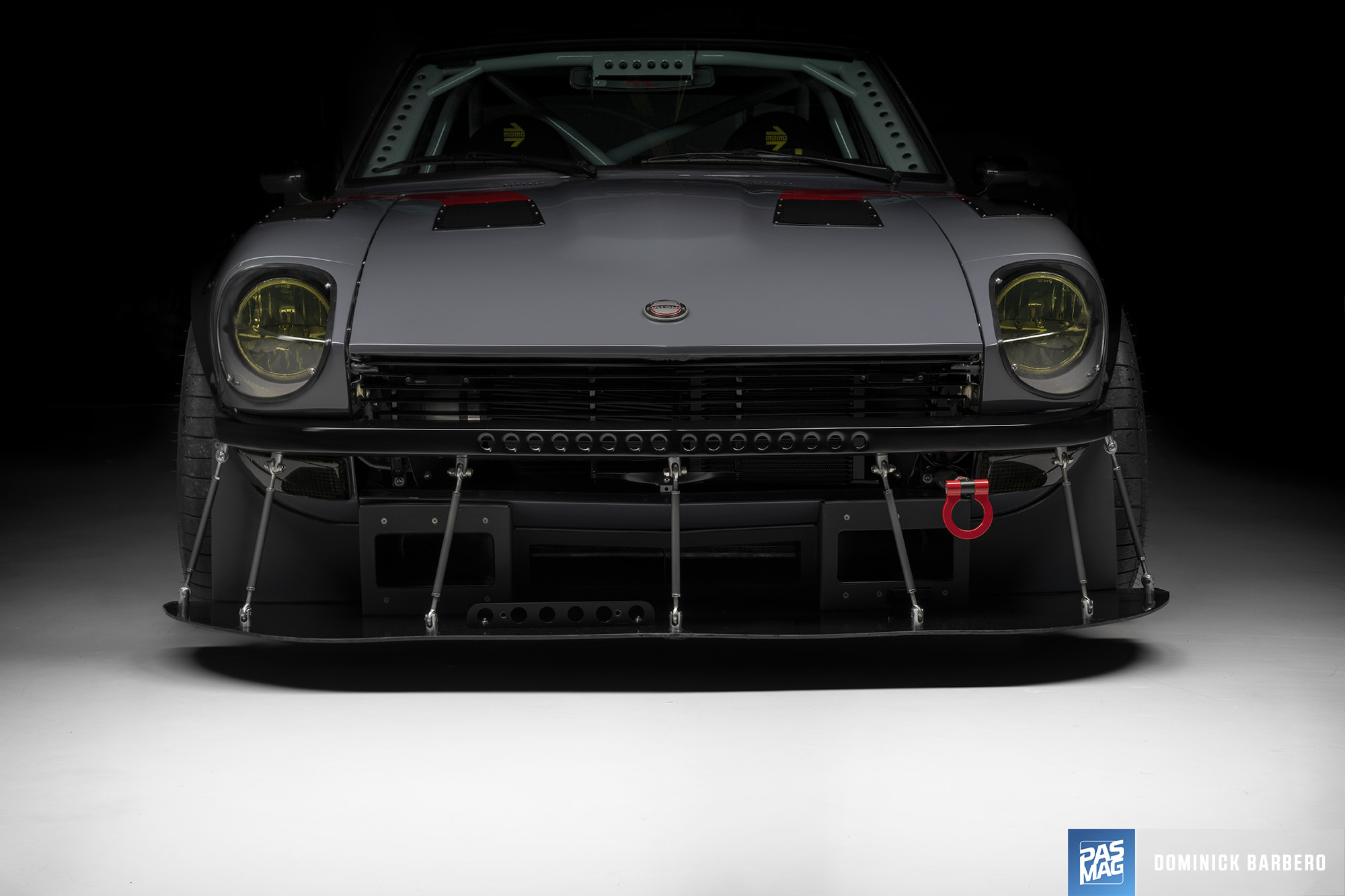 Addressing the aero with the goal of function and form in harmony led to a handful of additions, which include a massive front splitter, extended rockers and side splitters, a diffuser, and a pitch-adjustable rear spoiler. The ZG style flares to extend track width add to the aggressive stance. From there, it was a matter of integrating aggressive styling into function with the help of cool additions like the four wheel brake ducting and turbulent air extraction vents in the rear quarters. "It was fun getting immersed in all the details and chasing optimization of all the little systems and sub-systems," Kuhnhausen laughs. "Of course there was a lot of redneck R&D with leaf blowers and cut up grocery bags to see if they functioned."
As the car's mechanical components came together piece by piece, the potential of the 240Z started to show. The LS1 was bolstered with a modified throttle body, as well as ported, gold ceramic coated headers, and kept cool thanks to a Setrab oil cooler, an aluminum crossflow radiator, and 16-inch Flex-A-Lite fans with a custom shroud. Underneath the car, the Arizona Z-Car billet suspension components pair nicely with Apex Engineered high-steer knuckles and bump steer adjustment kit, Energy Suspension bushings and sway bars, and preload-adjustable tie-rod braces. The simple yet effective suspension setup works in tandem with one of the car's coolest additions: a Woodward NASCAR power steering column with integrated EPAS electronic power steering - the perfect modern touch to the classic platform.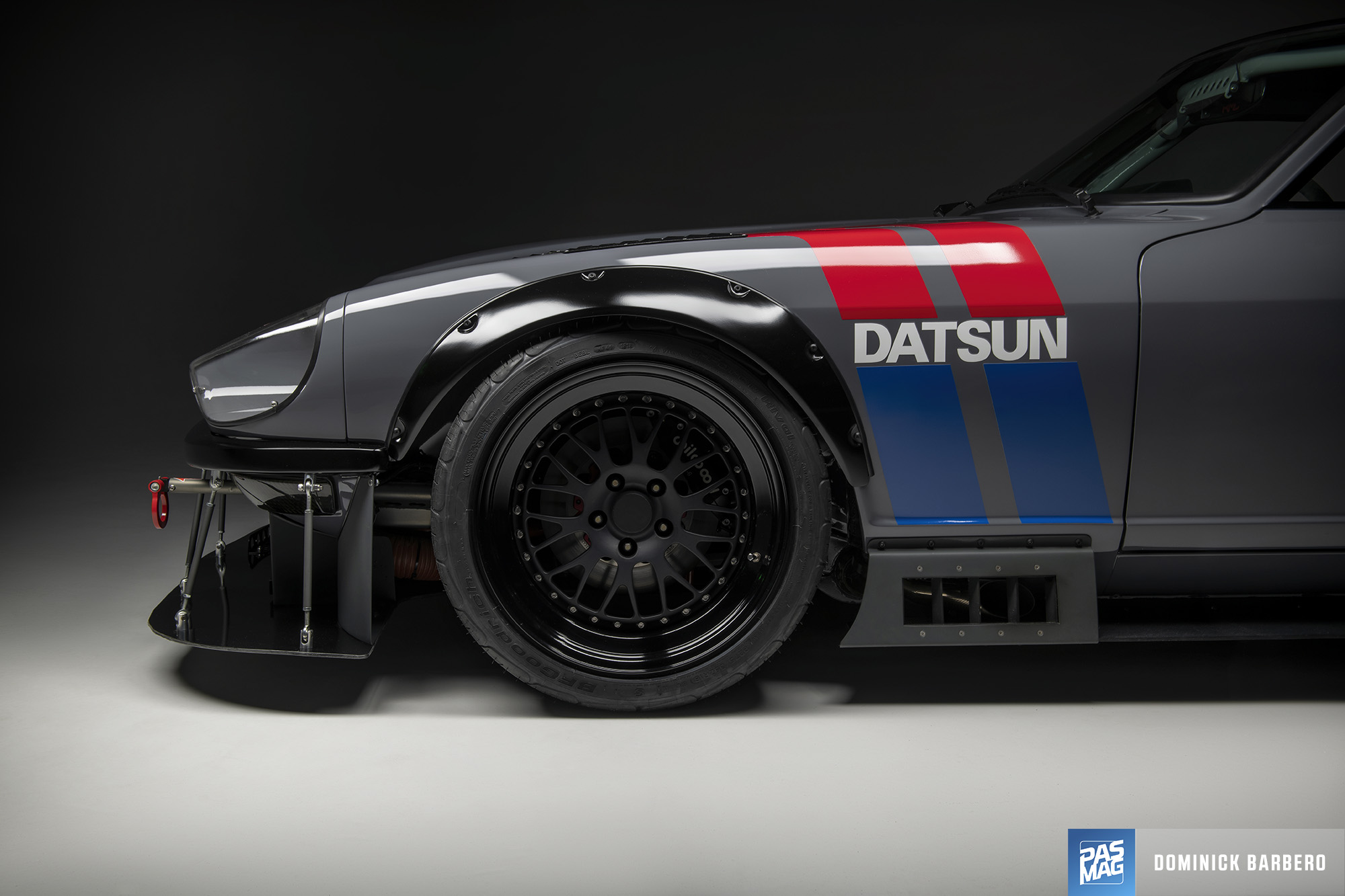 Once the CCW LM20 wheels came in, they were wrapped in BFGoodrich Rival S tires, measuring 275/35/18 in the front, and 315/30/18 in the rear for added grip. Behind the wheels sits a potent Wilwood brake setup, consisting of 6-piston billet front calipers and 4-piston rear calipers. Just for fun, there's an ASD Motorsports hydraulic e-brake setup. Follow that hydro into the cabin to its 16-inch handle, and you're met with an assortment of Momo parts, including Super Cup FIA homologated seats, a 350mm MOD.07 suede steering wheel, and prototype 6-point harnesses. Bringing the interior into the 21st century is a race-ready Dakota Digital VHX-1100 digital dash, as well as an Alpine head unit with an integrated reverse camera.
Five long years and 5,800 logged working hours after the stock Z rolled through the shop doors, "InZanity" made its way to the SEMA show with a fresh coat of Chromax Mosaic Ford Stealth Gray paint from Axalta Refinishes. Sitting pretty in the Weld/CCW/Momo booth, the Datsun drew in an audience at any given time of the show. It should surprise no one that Kuhnhausen and the 240Z made it to the Top 4 in SEMA's Battle of the Builders 2018, among several other accolades, and received worldwide recognition from just about every media outlet at the show. A worthy show of praise for his hard work.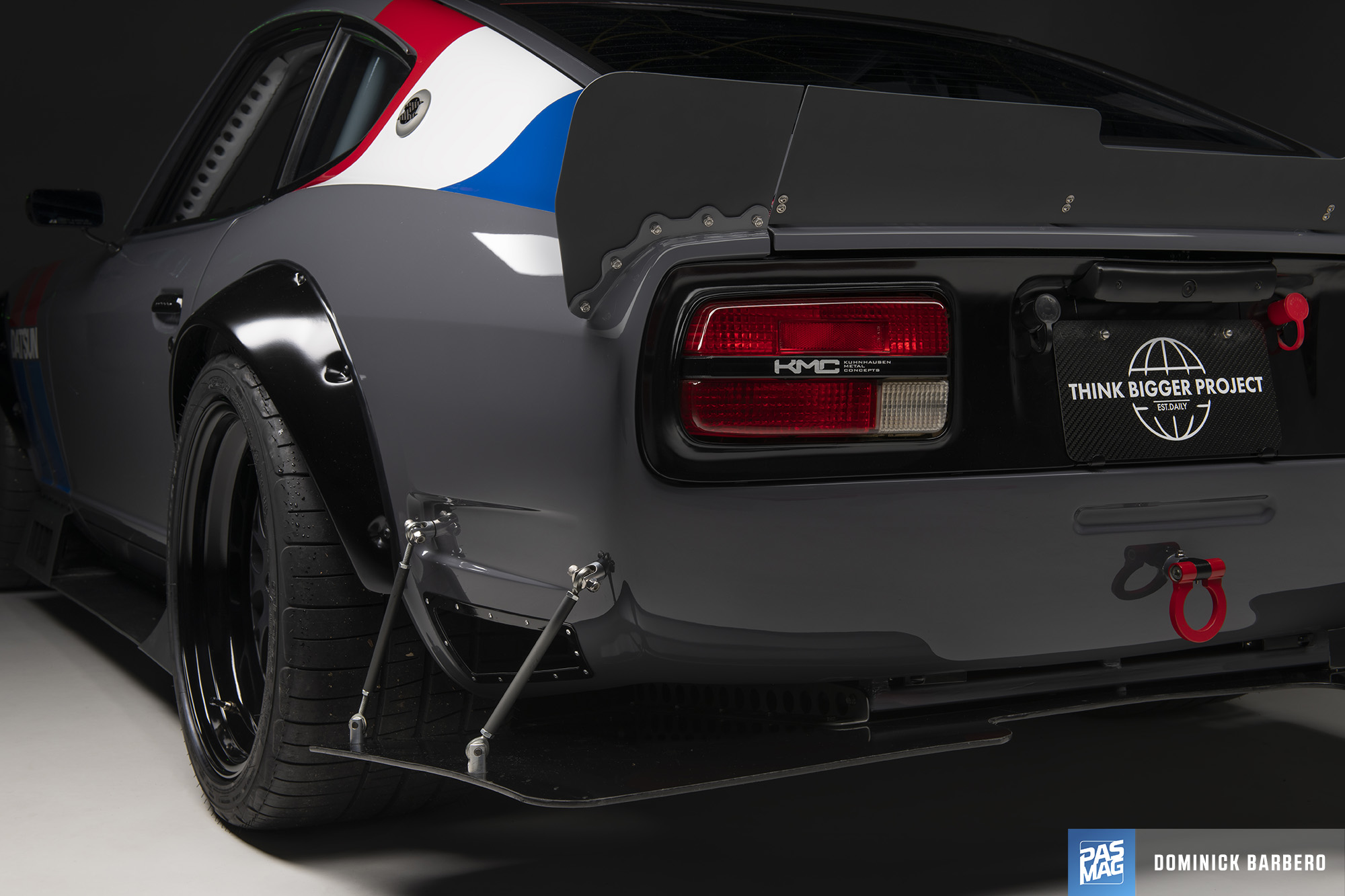 One of the most memorable points in Kuhnhausen's life was just before embarking on a road trip to a show, staring at the car for a full minute before saying out loud to himself, "I built that. Damn." A smirk emerged on his face. "At that point I knew I had created something I was proud of," he remembers fondly, "something I loved." Just like that, a surprise partnership had landed Kuhnhausen with the ultimate resumé - a car that had received prestigious accolades from the SEMA floor, built by his own hands. His relationship with Trammell has grown so much that Kuhnhausen has an open invitation to borrow it any time. The two of them will be tracking the car soon as well!
The level of fabrication in this build is almost impossible to cover in the allotted page space, so we'll let the spec list detail just how remarkable this custom Datsun really is. Be sure to check out Kuhnhausen on social media (@kckuhnhausen) to follow all of his new endeavors. "Looking to the future I have several plans already formed for the next Datsun," he writes in closing. "They are lightweight and timeless platforms - an excellent canvas. If I could go carte blanche on a time attack inspired 240Z, I'd consider putting life back on hold to create InZanity V2." Consider us fully invested in this idea!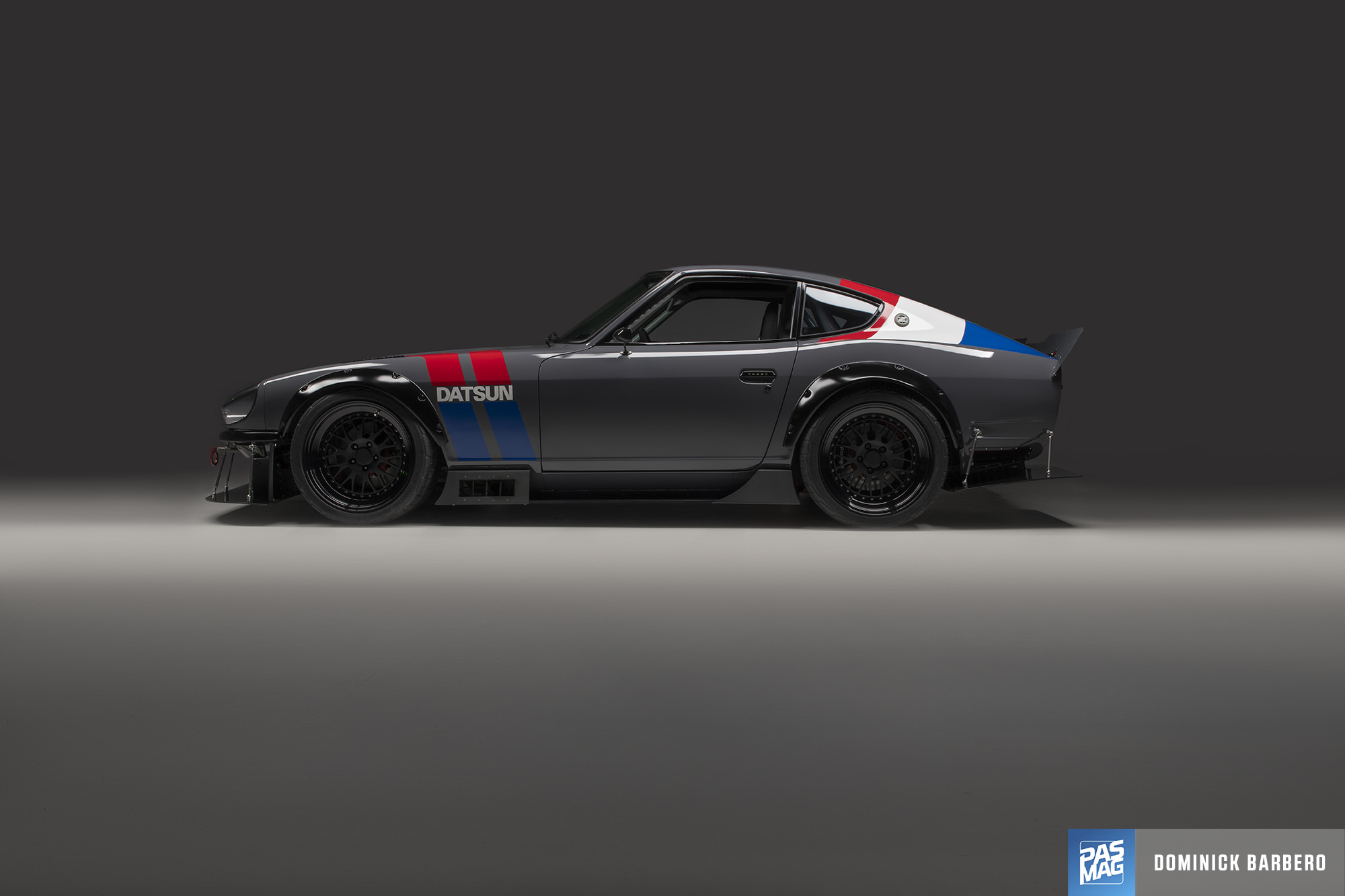 Featured on the cover of PASMAG #154. Click HERE to order.
ESSENTIALS
Owner: Dennis Trammell
Vehicle: 1972 Datsun 240Z
Built By: Kyle Kuhnhausen (Kuhnhausen Metal Concepts)
Location: Creswell, OR
Engine: Chevrolet LS1 5.7L V8
Horsepower: 347 whp
Torque: 383 lb-ft
SOCIAL
Facebook: /kuhnhausenmetalconceptsllc
Instagram: @kckuhnhausen
ENGINE
Chevrolet LS1 engine swap
Ported ceramic gold-coated 1.625-inch primary headers
Improved Racing 180-degree oil cooler thermostat
Setrab 400hp oil cooler
Holley Coil-on-Cover valve covers
Radium Engineering (FCST fuel cell surge tank, fuel system)
Vibrant Performance AN fuel lines
Modified throttle body
Lokar stainless throttle cable
Custom 4-inch aluminum air intake w/ K&N air filter
Aluminum crossflow radiator
Flex-A-Lite 16-inch electric fan w/ custom shroud
ARP 12 pt. stainless steel fasteners
EXHAUST
Custom 2.5-inch pie-cut exhaust
Front X-pipe
Magnaflow dual 8-inch sectioned Corvette-style mufflers in front wheel wells
DRIVETRAIN
Modified Hurst short shifter w/ integrated transmission fluid top-fill
Centerforce single disc clutch
ACT Prolite lightweight flywheel
Custom (one-piece driveshaft, engine and transmission mounts)
Infiniti Q45 R200 differential
Nissan Armada CV axles
WHEELS / TIRES / BRAKES
CCW LM20 wheels - 18x10 (f), 18x11 +6 (f/r)
BFGoodrich Rival S tires - 275/35/18 (f), 315/30/18 (r)
Wilwood (6-piston billet front calipers, 4-piston rear calipers, billet brake master cylinder w/ modified vacuum booster assembly, proportioning valve, spindles)
ASD Motorsports hydraulic 16-inch e-brake system Stainless steel braided lines
CHASSIS / SUSPENSION
Arizona Z-Car (Track Pack billet aluminum adjustable suspension, struts, adjustable springs)
Apex Engineered (bump steer adjustment kit, high steer knuckles)
Energy Suspension (polyurethane bushings, sway bars)
Custom (stitch welded and reinforced front crossmember, integrated scraping points)
Woodward NASCAR power steering column w/ integrated EPAS electronic power steering
10-point roll cage
Stitch welded unibody seams
Camber-adjustable heavy duty top plates
Preload-adjustable tie-rod strut braces
Tig welded fuel cell cradle w/ integrated rear center tow hook + Bolt-in aluminum transmission tunnel stiffeners w/ driveshaft safety hoops
Two-piece removable front chassis-mount tow hook
EXTERIOR
Axalta Refinishes Chromax Mosaic Ford Stealth Gray paint
BRE spin-off vinyl livery
Trackspec Motorsports hood/vent louvers
Custom clearanced and lowered rear rockers
Front fender side exit w/ custom alloy diffusing louvers
Shaved (fender emblems, hatch emblem, antenna, side markers, rear bumper and mounts)
CNC billet aluminum (laser-engraved KMC tail light insets, quarter panel vent emblems) + Symmetrical rear body pan recess
Front bumper shaved w/ dimple die punched holes
Reinforced hatch for spoiler mounts
Quarter panel turbulent air extraction vents w/ alloy bezels
ZG style flares
Custom HDPE (adjustable front splitter w/ alloy radiator and brake dams, adjustable rear diffuser with jacking point, 6-inch side splitters w/ integrated exhaust and rear brake vents)
Aluminum tunnel underbelly
Pitch-adjustable 3-piece rear deck spoiler w/ Ringbrothers' micro hinges
ARP carbon fiber micro mirrors + Lexan headlamp aerodynamic fillers
INTERIOR
Axalta Refinishes Imron Grey 057 painted interior
Momo (Super Cup FIA homologated seats, alloy seat brackets, 350mm MOD.07 suede steering wheel, prototype 6-point harnesses, quick-release hub)
Bespoke machined race column hub adapter
Modified pedal box
Longacre 17-inch wide rear-view mirror
Bowler Performance billet shift knob
Aluminum bead rolled hexagonal pattern fuel cell firewall
Custom (alloy center console, 3-piece allow quick-release dash, flared hole heel plates, dead pedal, heater w/ four hidden vents beneath dash)
Hexagon-stitched suede door cards w/ carbon fiber aircraft riveted inserts
AUDIO / MOBILE ELECTRONICS
Alpine INEW960 head unit w/ integrated back-up camera
Dakota Digital (VHX-1100 Competition Dash, BIM 1 OBDII gauge interface)
Passport 9500ci radar detector w/ refractor system
Braille Batteries lightweight I25X lithium battery
SPONSORS
Axalta Refinishes
Trackspec Motorsports Vibrant Performance
Radium Engineering
ARP Bolts
BFGoodrich Tires
CCW Wheels
Momo Motorsports
Karam Concepts LLC
Fix Auto Springfield