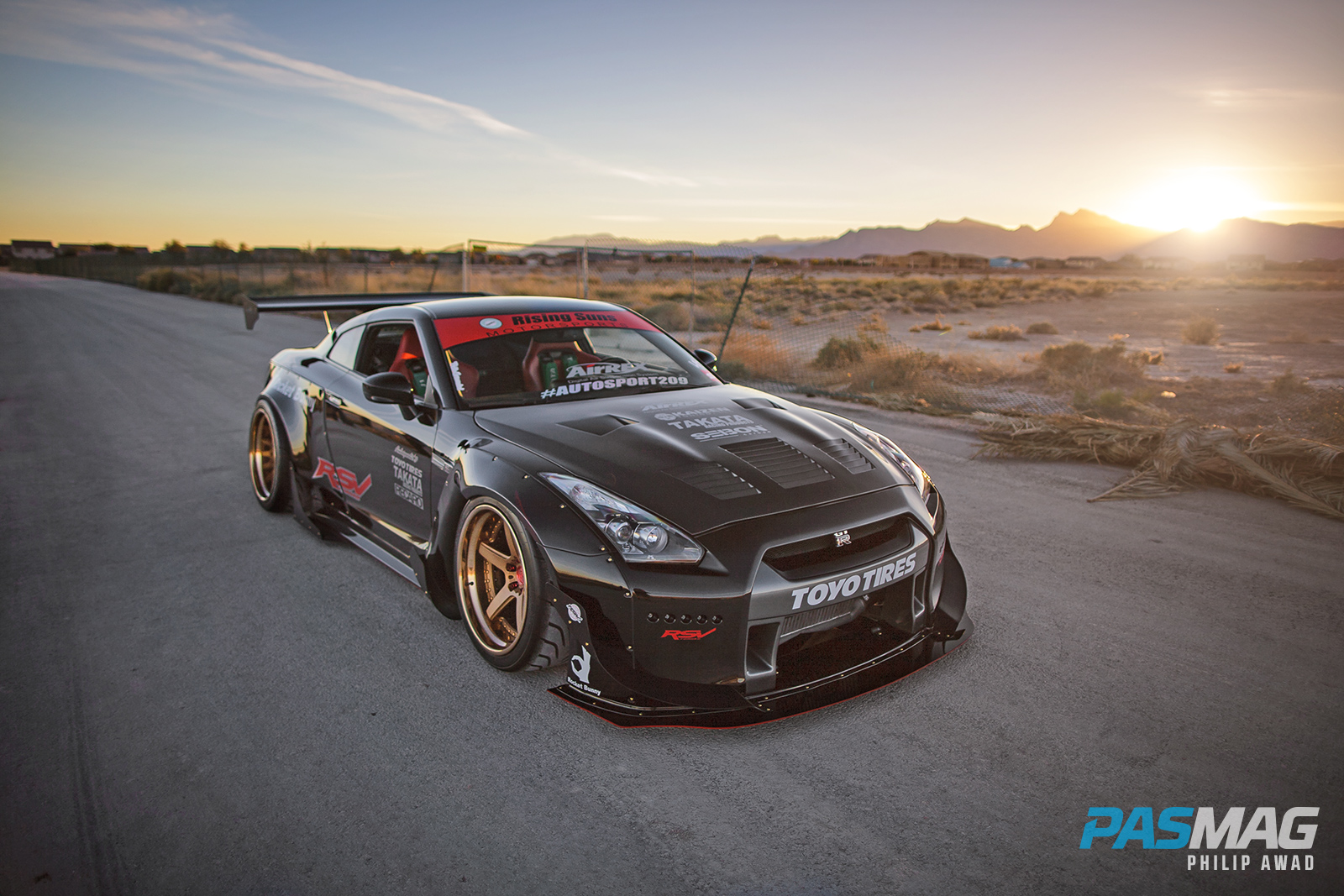 The student becomes the teacher. Rothsen Valdez's #BLKHAMR GT-R.
Text by Jorden Lenssen. Photos by Phillip Awad
Life's a journey, or so the saying goes. Cliché? Perhaps. But for many of us, getting to where you want to be is never a direct route. There are detours, stops and dead ends, but for those set on making it to their final destination, the ride is always worth it. Case in point: Rothsen Valdez and his GT-R. It's one of the meanest and most intimidating wide bodies – let alone GT-Rs – we've ever seen. As one of the first of two Rocket Bunny Godzillas in North America, it's most certainly the cleanest. The fit and finish on this GT-R is unlike anything we've seen since – well, remember our sideways issue with that Liberty Walk? Ya, this GT-R is so sharp we just had to put another one on the cover. But while this might look like a simple idea to put together a monstrous rocket-winged bunny, it's really more like a diverse chronology that has culminated here.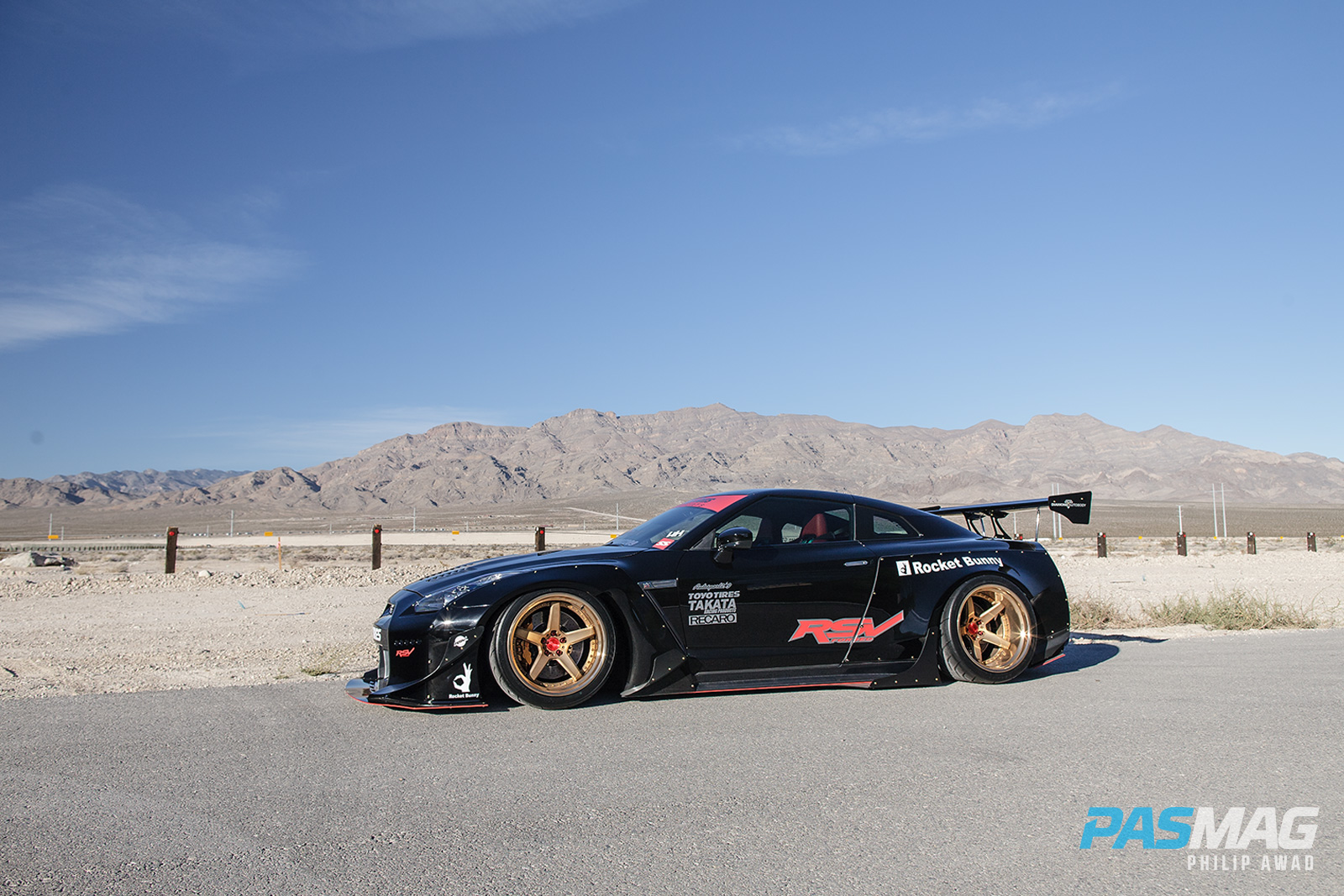 See, automotive runs through Valdez's veins. He grew up – and still lives – mere minutes away from one of North America's greatest race tracks: Laguna Seca. The Fast and the Furious dropped, then 2 Fast 2 Furious, and for him, it was all about Brian O'Conner's R34. He was a kid getting his kicks off of hanging out with his friends until, at 15 years old, he found himself as a teenage father.
"For the first time in my life, I held my son in my hands and said I have to change," he says. "From that point on, I started focusing on school and just doing me, taking care of my girlfriend and my son."
It was at that point he decided it was now or never to pursue his passion for cars, and before long, he found himself working as a detailer at a local Mitsubishi dealership.
The Lancer Evo was his mark, but as a young kid supporting his family on a detailer's salary, he knew where he was simply wasn't enough. Sure, his Integra GSR was street tuned and he'd installed his own Turbonetics drag kit, but the car – and his salary – just weren't where he wanted them to be. He was gaining a reputation in the street scene and surrounded by cars every day at work. The speed bug hit hard and he was digging his heels in deep.
Hearing the conversation from his sales co-workers, Valdez saw the potential to grow within the company while earning a considerably larger salary and more freedom. Taking the step at just 18, he decided to enroll in a unique opportunity offered by Mitsubishi that trained their new and existing sales team with the skills required to succeed. Like a new sponge, Valdez soaked up all the information and made some key contacts with his enthusiastic personality.
"Mitsubishi was bringing these renowned trainers from all over the country," he says. "I received priceless advice for nothing and I ended up working with them for two years, and that's where I met Brian Verdin."
Verdin played a key role in this whole Nissan story. He knew Valdez's skill, he knew the R34 was his dream and, as the previous manager at a Nissan dealership closer to Valdez's home, he told him to make a quick phone call to his partner, Jack Yasin. Within a month Valdez was rejoined by Verdin, and 10 years later he doesn't have a single regret.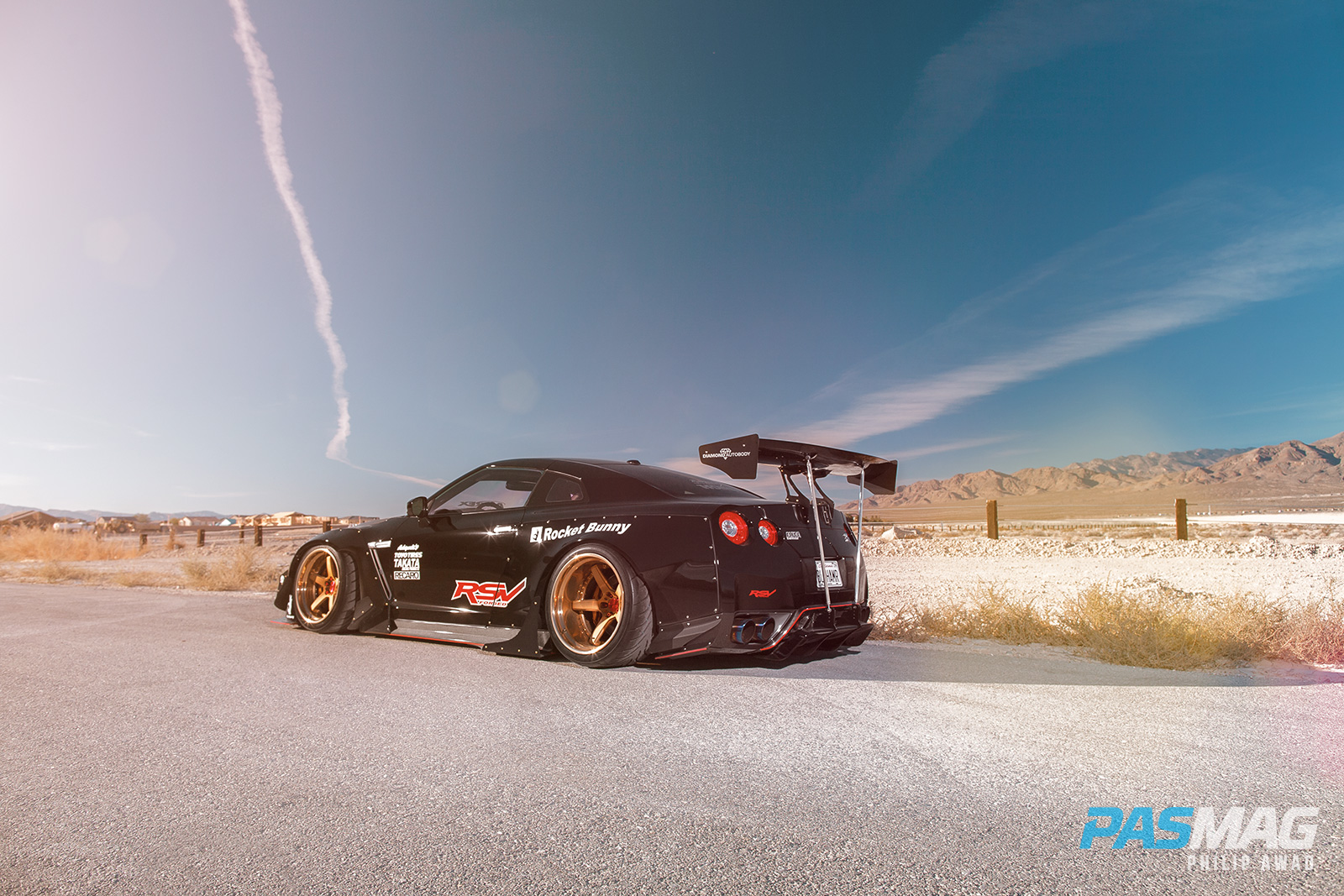 When he made the move to Nissan, Valdez had already worked himself up to a gorgeous red NSX. Having tuned and owned a list of Honda's and Acura's best platforms, he wanted to explore. Naturally, when he found out he could own an R35 GT-R for less than anyone else, it became his goal for the next level.
"All my coworkers have race cars. We're a whole dealership that revolves around race cars," he says. "That's the whole culture, the whole lifestyle. When we go to work, we don't go because we want to work – we want to talk about cars."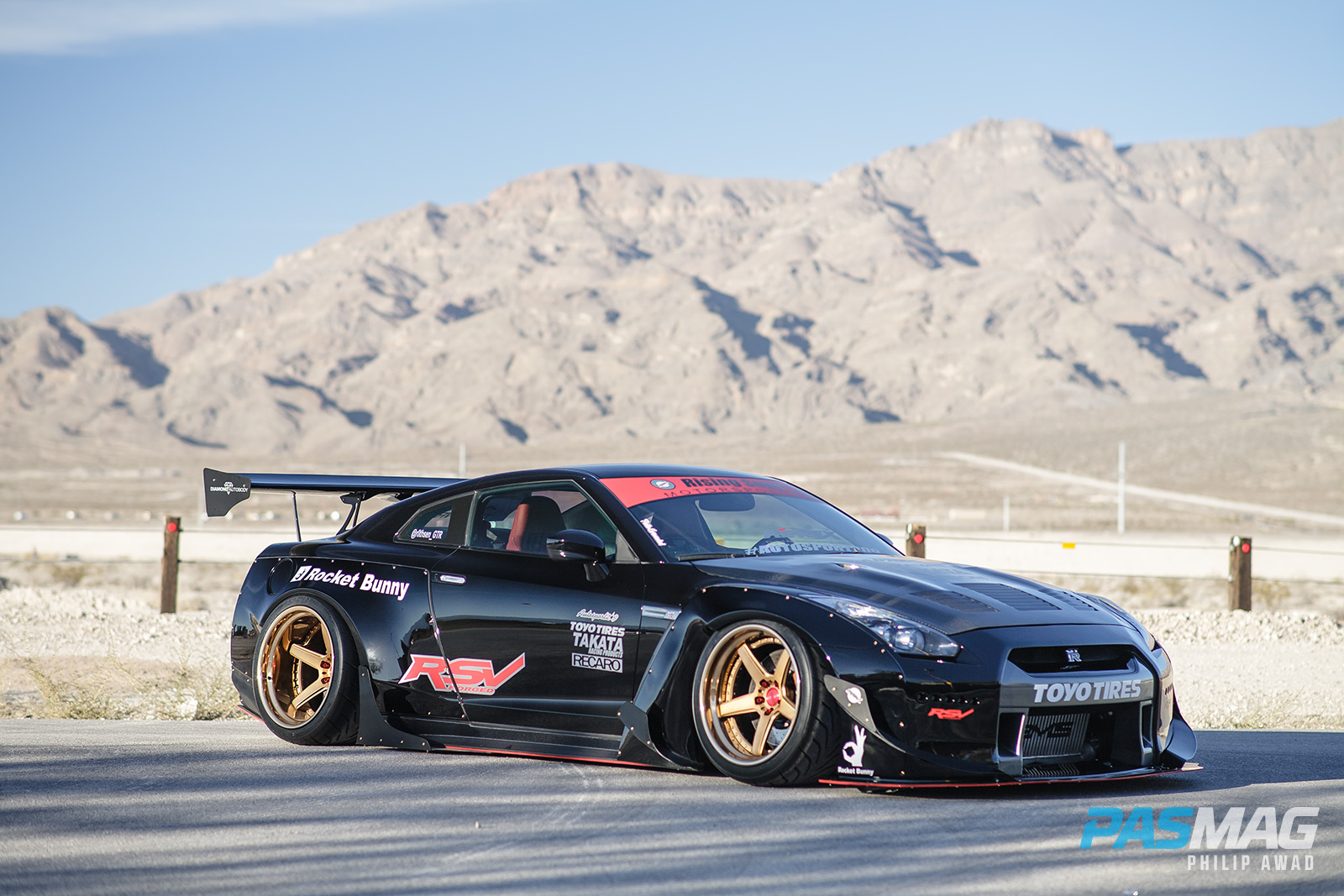 Needless to say, within three years, he was off to the races. The money he saved on purchasing the car went straight into building his newly-dubbed "BLKHAMR."
Starting with performance, the Garrett GT30 turbo, AMS prototype intake pipes, Mishimoto hoses, TiAL blow-off valve, wastegate, T1 GTR fuel rail, AAM dual fuel pumps, AAM titanium exhaust, etcetera, etcetera were all installed by himself. His buddies at Equilibrium tuned the car, and on the first dyno pass on 91 octane and 18 psi he broke 520 horsepower at the wheels.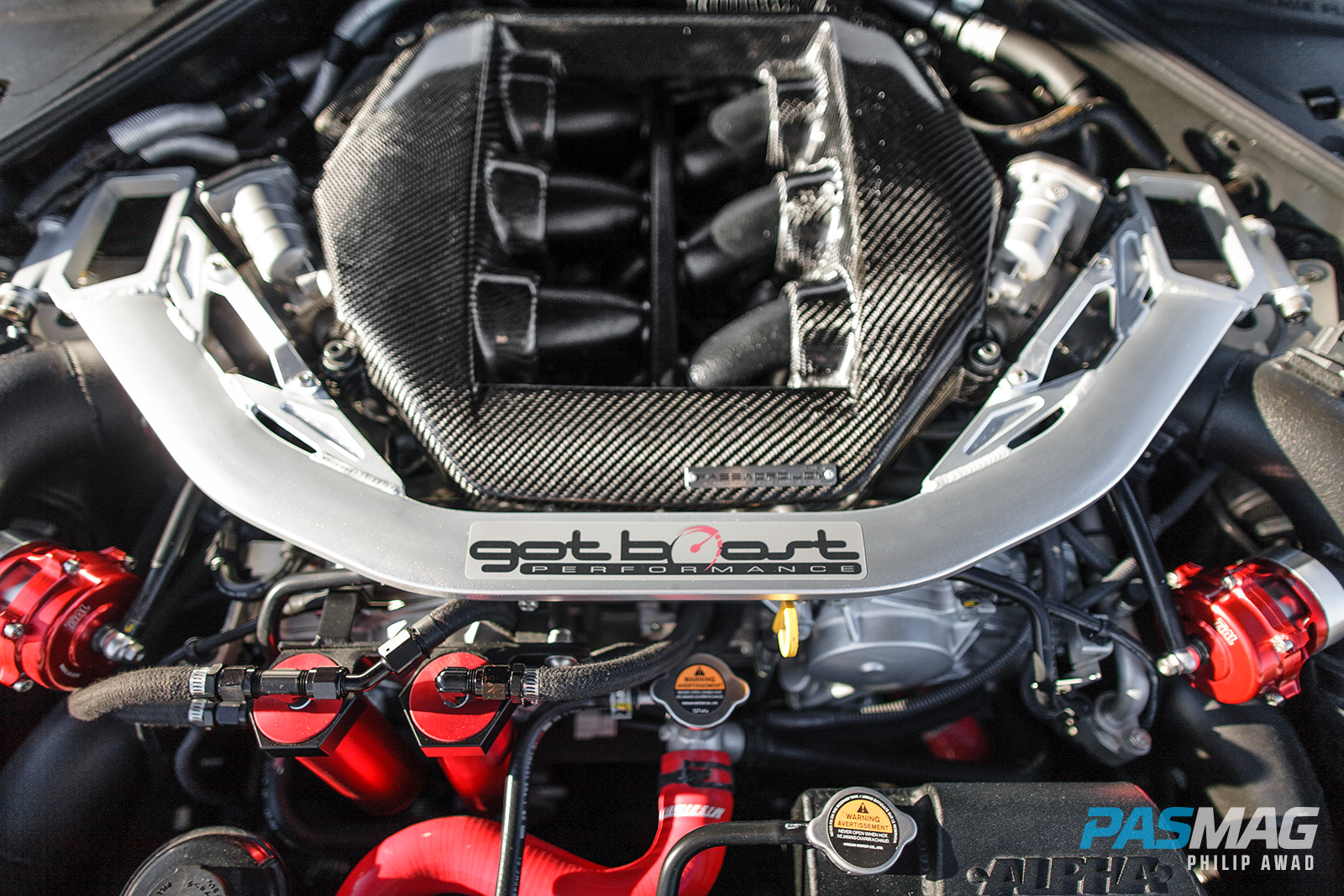 Having too much fun with his new toy, they filled it with some E85 and hit as high as 618 lb-ft of torque. That's enough to pull the shine right off a gold brick – or rip apart a beautiful VR38DETT, but Valdez decided to play with fire. Thankfully – and miraculously – nothing happened, and he opted for a re-tune when he installed his new AMS intercooler, still pushing 712 enormous horses.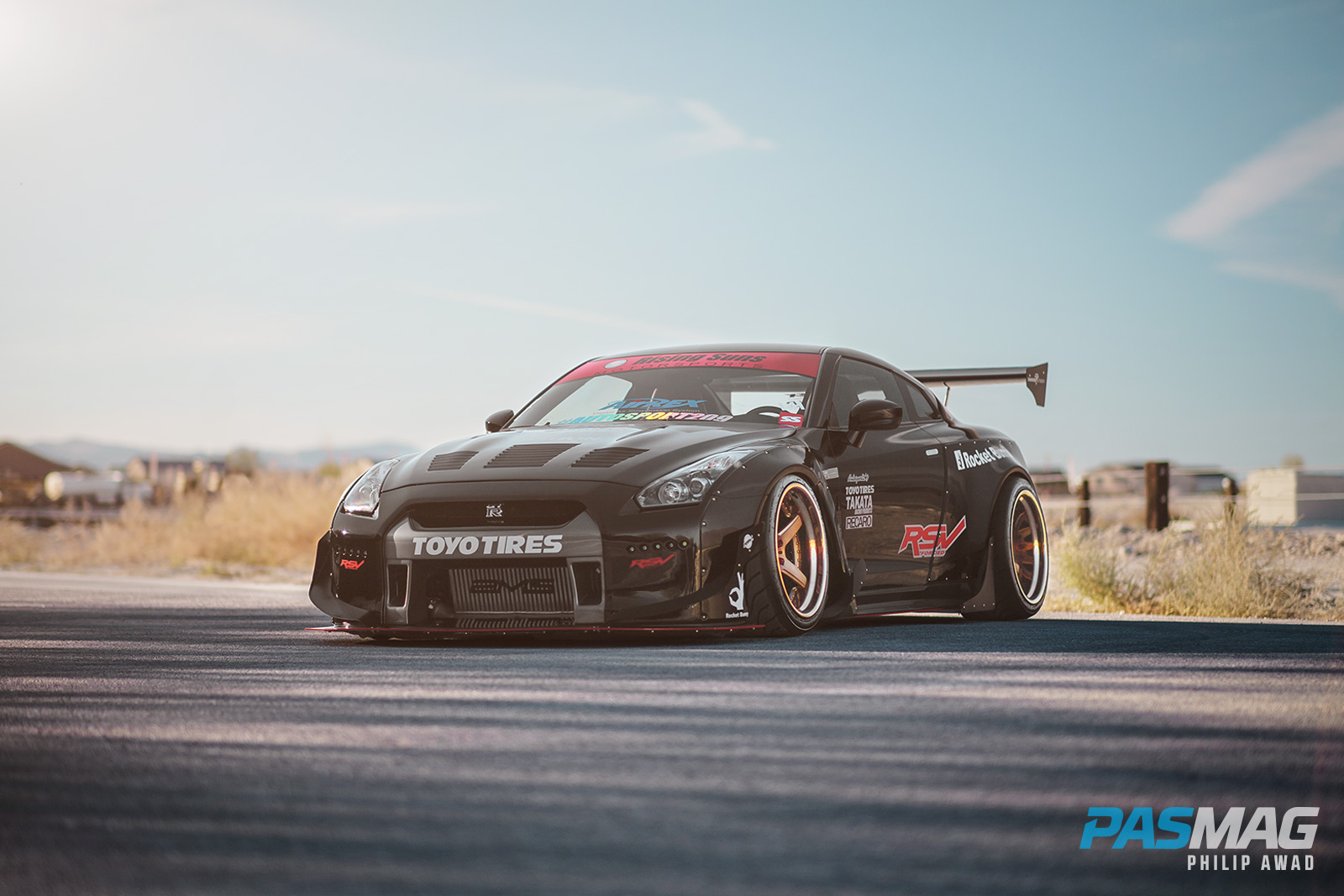 Next up was the handling. With the advances in suspension technology, Valdez took a jump off the deep end and put his monster on air. Namely full AirREX digital system that is paired with Whiteline lower front and rear sway bars, which he says gives him the perfect amount of comfort and improved steering input for his daily commutes to the dealership, and more than enough stability for weekend track events. If you're wondering how air suspension can translate all that power, his quarter-miles are done at 10.22 seconds and over 137 miles per hour.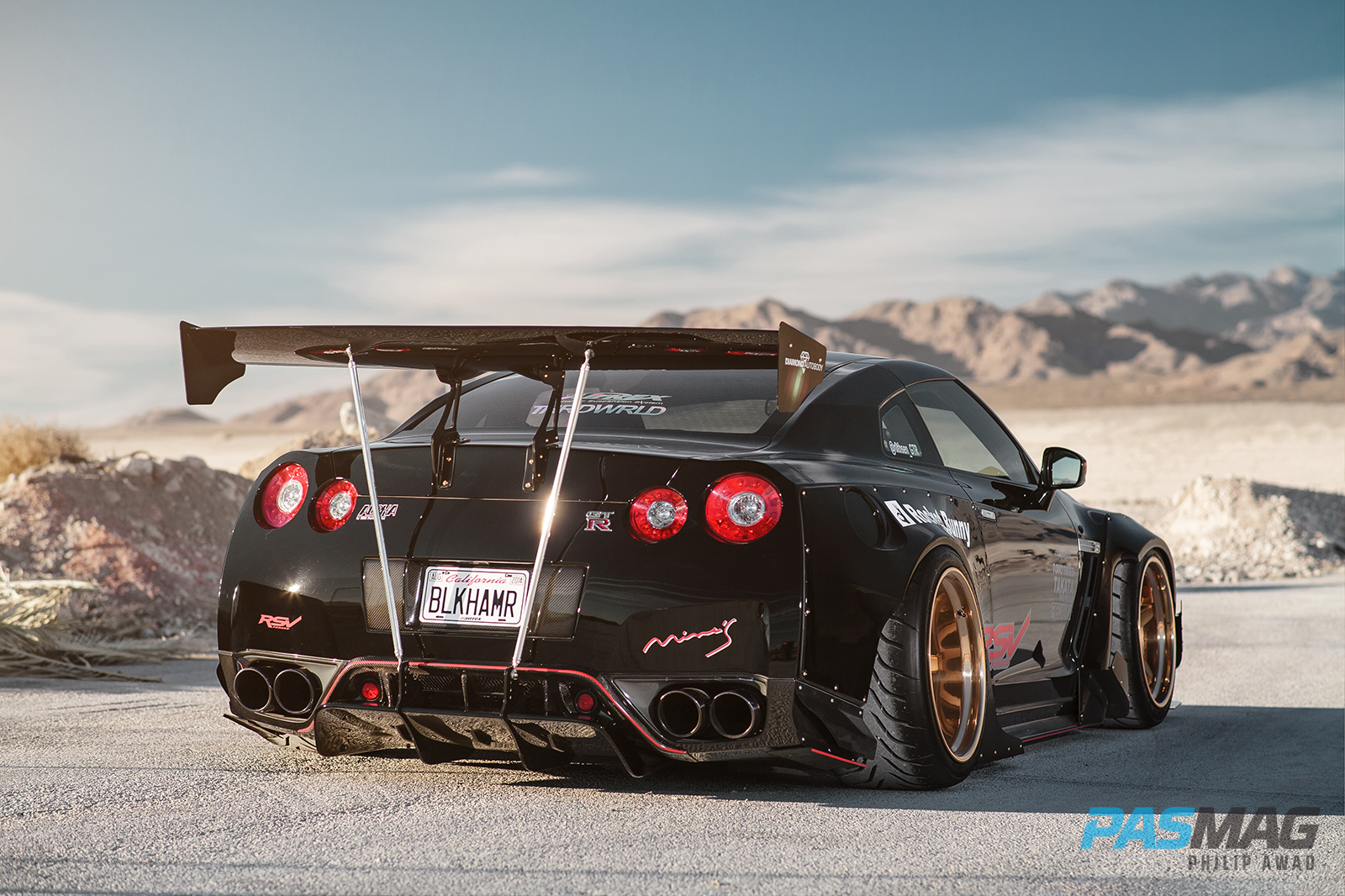 "I had the performance just where I wanted it," Valdez says. "I loved the look of the car for the first two or three years - after all it is a supercar - but I just felt it could be more, so I started to look at doing something with the body. I've always been a fan of the Japanese culture, so I told myself this car has to be built around that. All of my previous builds have worked around that."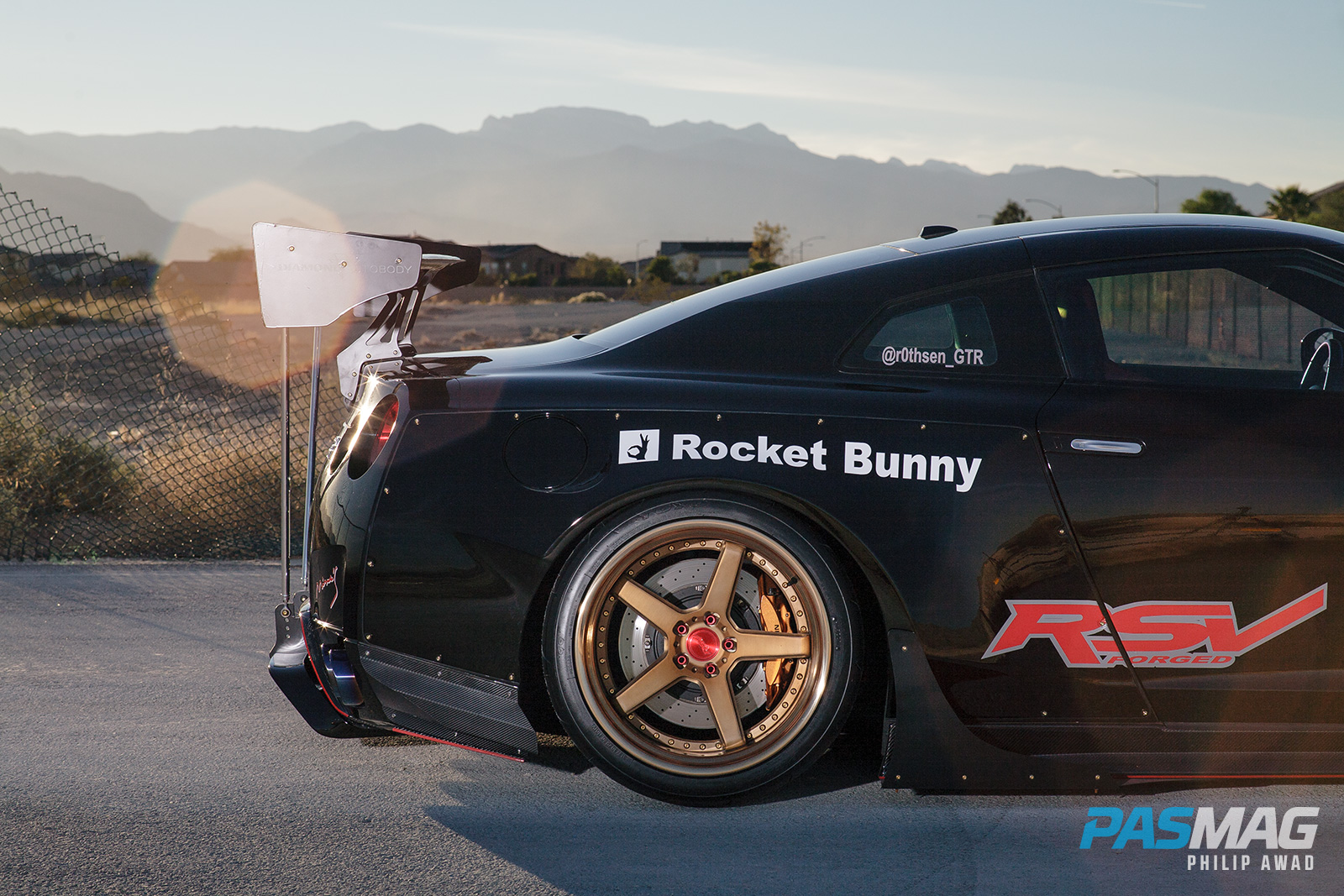 So, what were his options? He liked the Liberty Walk, but the rear over fender didn't suit his taste. He knew that competitors' kits would start hitting the market soon after, and that's when he laid eyes on the Rocket Bunny. "I saw that and said 'I have to have this.'"
The look of the kit alone was enough to fuel Valdez's desire to complete his project. With the help of Darwin Wongkar and Josh V. from RSV Forged, the Rocket Bunny kit was ordered straight from the source, and their connections overseas had it expedited via air freight in just three weeks, rather than the typical three months.
Diamond Autobody was responsible for setting the car up in just 60 days for its planned appearance at Wekfest San Jose, but Valdez wanted to make sure everything was done right. That meant blocking his car to ensure a proper ride, cutting the fenders higher to accommodate the lowered stance, and welding and reinforcing each cut and sealing everything, all while seamlessly integrating the Bunny kit to the existing WALD rear diffuser and ZELE carbon side skirts.
Beating the clock, the car made it's debut at Wekfest and was impeccable outside and underneath, sitting on silver Work Durandal three-pieces without any sponsor decals. Still, it was more than enough to capture first place ahead of the only other Californian Rocket Bunny GT-R, cementing Valdez's legitimacy as having the hardest-hitting widebody GT-R on the streets. Everything was coming full circle.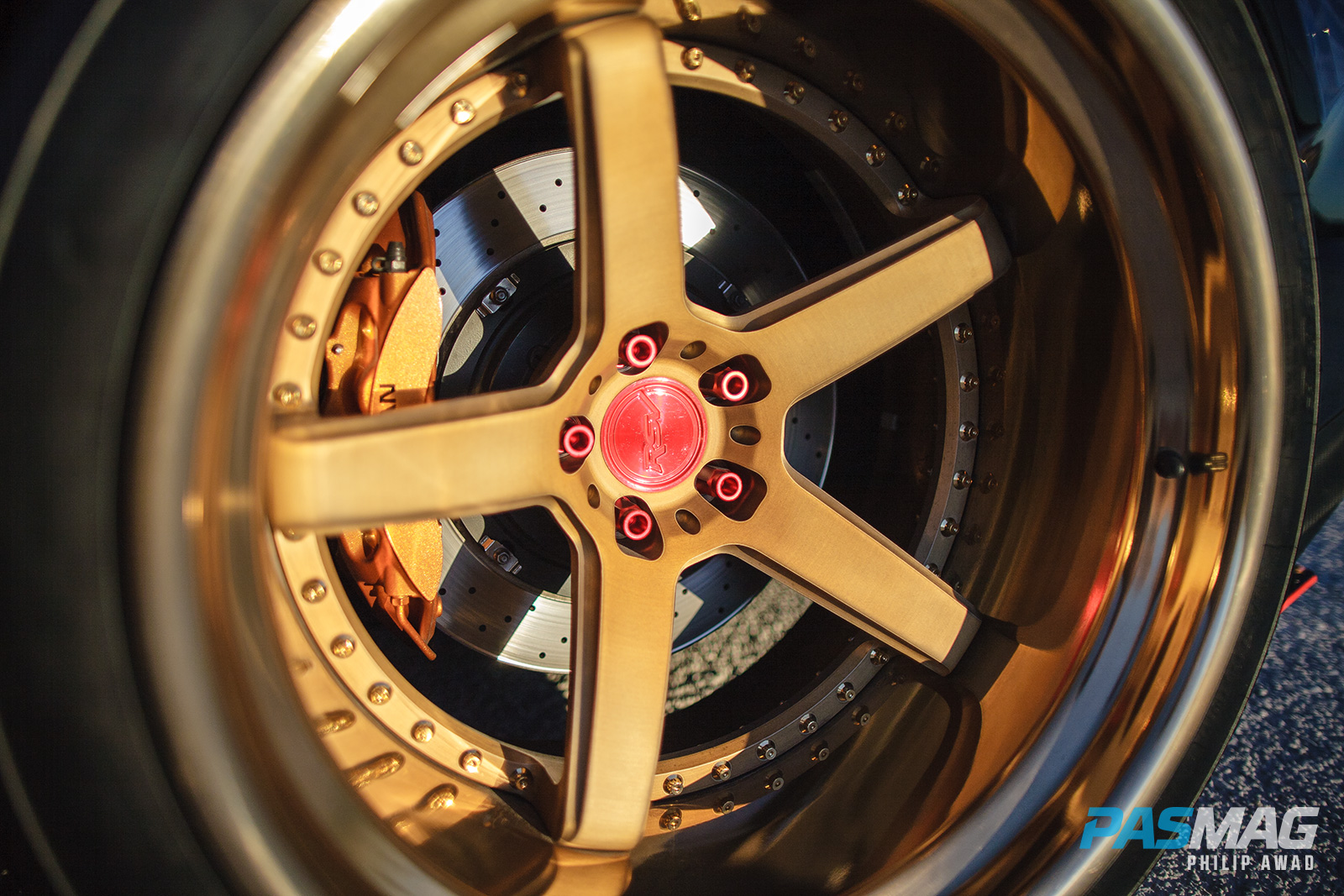 Over the course of his builds, Valdez used Sonic MS - now RSV Forged - on a number of projects. Having helped him obtain the now award-winning Bunny kit, when the U.S. wheel manufacturer was deciding on a 2014 SEMA vehicle to showcase it's premier product line, Josh V. didn't have to look far. RSV offered Valdez a set of self-designed one-off wheels, and he barely had to think before saying yes. It transformed his GT-R into the beauty you see in these pages, putting it among the custom wheel elite. Fittingly, his RSVs are gold.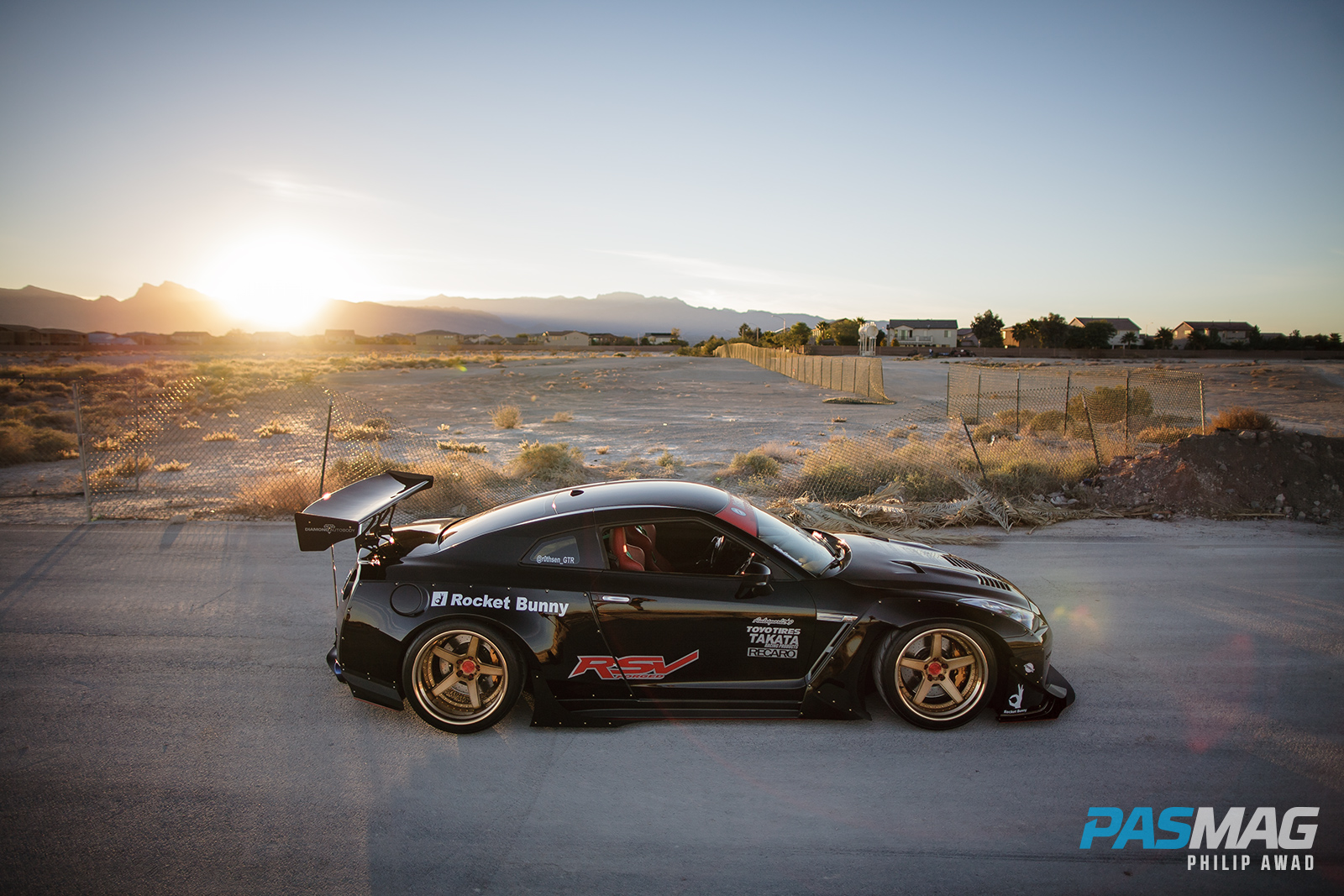 Check the SEMA coverage and you'll see the coverage his car got. His Instagram page (@r0thsen_GTR) has over 11,000 followers and his love for cars is obvious. Perhaps most importantly though, you'll see he's as much about his family as his builds. It's been a long road, and the best part is that they're his biggest supporters.
So, how do you follow up one of the cleanest Rocket Bunnies on the continent? Remember that whole thing about The Fast and the Furious and the R34? Check out his Instagram page and you might have a clue. It's proof that hard work pays off and dreams can become a lifestyle.
Keep the clichés coming.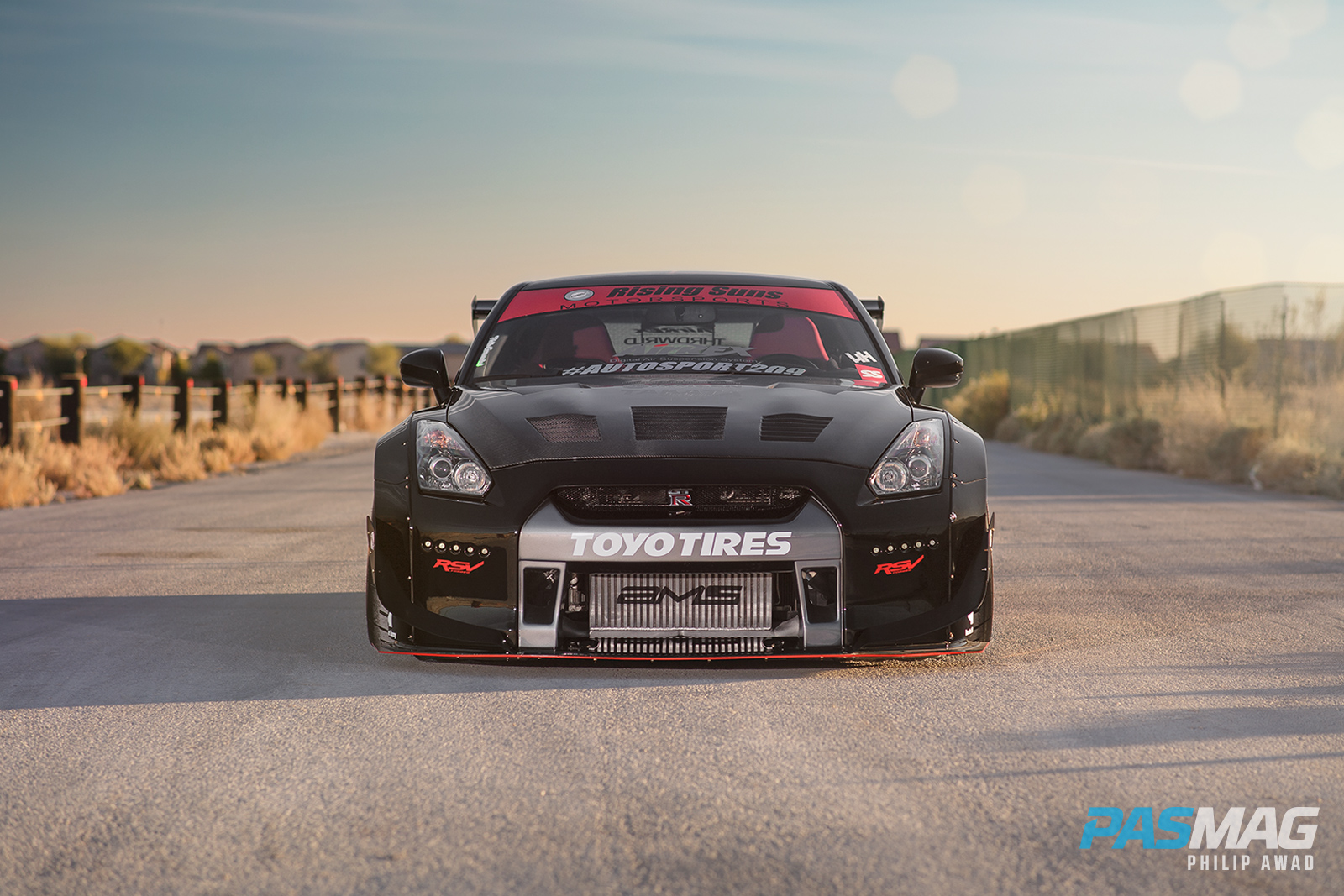 ESSENTIALS // OWNER: Rothsen Valdez, BUILT BY: Rothsen Valdez, Diamond Autobody, LOCATION: Monterey County, California, USA, ENGINE: Nissan VR38DETT 3.8L twin-turbo V6, HORSEPOWER: 712 HP, TORQUE: 682 LB-FT
ENGINE // Tuned by Equilibrium Tuning, Port and polished turbo inlet pipes, Garrett GT30 turbocharger, AMS (street intercooler, intercooler piping, dual intakes, catless downpipes, catless midpipe, Alpha reservoir tank), TiAL (Q blow-off valve, wastegate), Gotboost (red oil catch tank, intake filter), T1 GTR fuel rail, AAM S-Line twin fuel pump system Injection Dynamics 2,000 cc fuel injectors, Cobb Accessport (timing control, ECU), Mishimoto hoses, PasswordJDM (carbon intake manifold cover, carbon cooling plate)
EXHAUST // AAM titanium exhaust, AMS (downpipe, non-cat)
WHEELS / TIRES / BRAKES // Brixton Forged custom one-off wheels designed by Rothsen Valdez – 20x11.5 -34 et (f), 20x12.5 -98 et (r), Toyo Proxes R888 tires – 285/35 R20 (f), 315/30 R20 (r), Brembo brakes – 6-piston calipers, 400x33 mm drilled rotors (f), 4-piston calipers, 380x33 mm drilled rotors (r)
CHASSIS / SUSPENSION // AirREX full digital system (installed by AutoSport209), Whiteline sway bars (lower f/r), KM front strut brace
EXTERIOR // Rocket Bunny (full body kit, decals), ZELE side skirts ∫ Wald rear diffuser, Seibon Carbon GT hood, Body kit paint matched by Diamond Autobody
INTERIOR // Recaro Sportline red leather seats, Sparco harness bar, Takata Drift III snap harnesses
MOBILE ELECTRONICS // Optima Yellowtop battery
SPONSORS // VEX Motorsports (Jesse Cayas), AutoSport209 (John Nguyen), AirREX (Marshall Lum), Takata (Brian Fox), Seibon Carbon (Roxana Morales), Kaizen Tuning (Tim Ferriera), Diamond Autobody (David Tran), RSV Forged (Darwin Wongkar & Josh V.)
Rothsen Valdez's 2010 Nissan GT-R is featured in PAS Apr/ May 2015 (Issue #130). Available on newsstands in North America now. (Order HERE)