Photos by Jacob Leveton
---
Kyle Mohan's drifting pursuits have been synonymous with the Mazda rotary engine. Working at famed engine builder Mazdatrix made it easy for him to decide which motor would drive his drifting pursuits; the Wankel engine has been in every drift car Kyle has piloted in Formula D competition since he was a rookie in 2007. As drifting expanded globally, the need to adapt to changing conditions required Mohan to consider an option that wasn't on his radar previously: a Chevy V8. With competition increasing from the likes of Vaughn Gittin Jr., and Daigo Saito, Mohan knew the FC RX-7 he initially shipped to China in 2008 might not be up to snuff any longer. He began working on a new chassis, and the result is the RX-8 you see here, which was completed in just six weeks.
As Formula D rules have ebbed and flowed over the years, the chassis is relatively simple compared to other top-tier builds, so Mohan wanted to test out a few ideas on Chinese competition car before building his second RX-8 for the 2014 Formula D season.
First, the radiator was moved to the rear to allow for better airflow in the engine bay and to help balance weight distribution. A Mishimoto dual-pass aluminum radiator was mounted in the trunk, meaning custom hard lines carry water from the engine bay to the trunk. An AIT Racing carbon scoop was molded to the roof to feed the radiator, which shares the trunk with the eight-gallon fuel cell, Radium Engineering surge tank, and Walbro in-sump fuel pump.
| | |
| --- | --- |
| | |
The biggest changes were made under the hood, where the stock Renesis motor was replaced with a hulking Chevy LS1. Mohan fabricated the engine mounts and created a swap kit that is available for other RX-8 owners interested in using a Chevy LS engine. The motor was refreshed with a plethora of OEM parts including an LS9 cam, LS6 intake manifold, LS3 timing cover and updated cam sensors, new General Motors MLS gaskets, and a new GM high horsepower oil pump. Supplementing the OEM upgrades were several aftermarket changes including a Comp Cams rocker arm install, Moroso drysump oil system, intake and exhaust porting, bowl cut valve seats, a hand-ported throttle body, and custom accessories bracket to help with hood clearance.
| | |
| --- | --- |
| | |
Power is pushed through an Exedy twin-disc clutch and lightweight flywheel to a Tex Racing four-speed dog box NASCAR transmission with custom gear ratios. Mohan's employer Mazdatrix built a custom driveshaft, while the stock RX-8 rear end was rebuilt by Kyle Mohan Racing with 4.1, 4.44, and 4.7 final gear ratio options. Power is spun through the polished XXR 531 wheels, turning GT Radial Champiro SX2 tires in the rear, while Champiro HPY tires control the direction up front. An FD3S RX-7 steering rack was bolted in, complete with custom tie rods, spindles, and modified lower control arms for increased steering angle.
Inside the RX-8, a Sparco Corsa seat and four-point harness keep Mohan in place. A mix of AEM and Autometer gauges were placed in the center console to monitor engine vitals. Mohan fabricated Kevlar dash panels to fill in the holes, and a K-Sport hydraulic E-brake is used to break the rear tires loose on command. Baker Precision braided lines and Brembo blank rotors replace the OEM units.
Outside the car, the bodywork was kept simple. Carnage is common in the World Drift Series in China, so easy repairs are a must. An AIT Racing body kit was paired with Mazdatrix / AIT Racing rear widebody flares to give the wheels plenty of room. A carbon hood and roof save weight, while a rear wing adds downforce.
Just days after we shot this car, it was shipped to China for the World Drift Series. Unfortunately, shipping delays prevented the car from debuting late last year, but Mohan had the RX-8 ready for the next round and has been tearing it up since. As the first Chevy LS-powered RX-8 drift car in the world, Mohan expects to turn heads when the first World Drift Series sideways pass is made in China.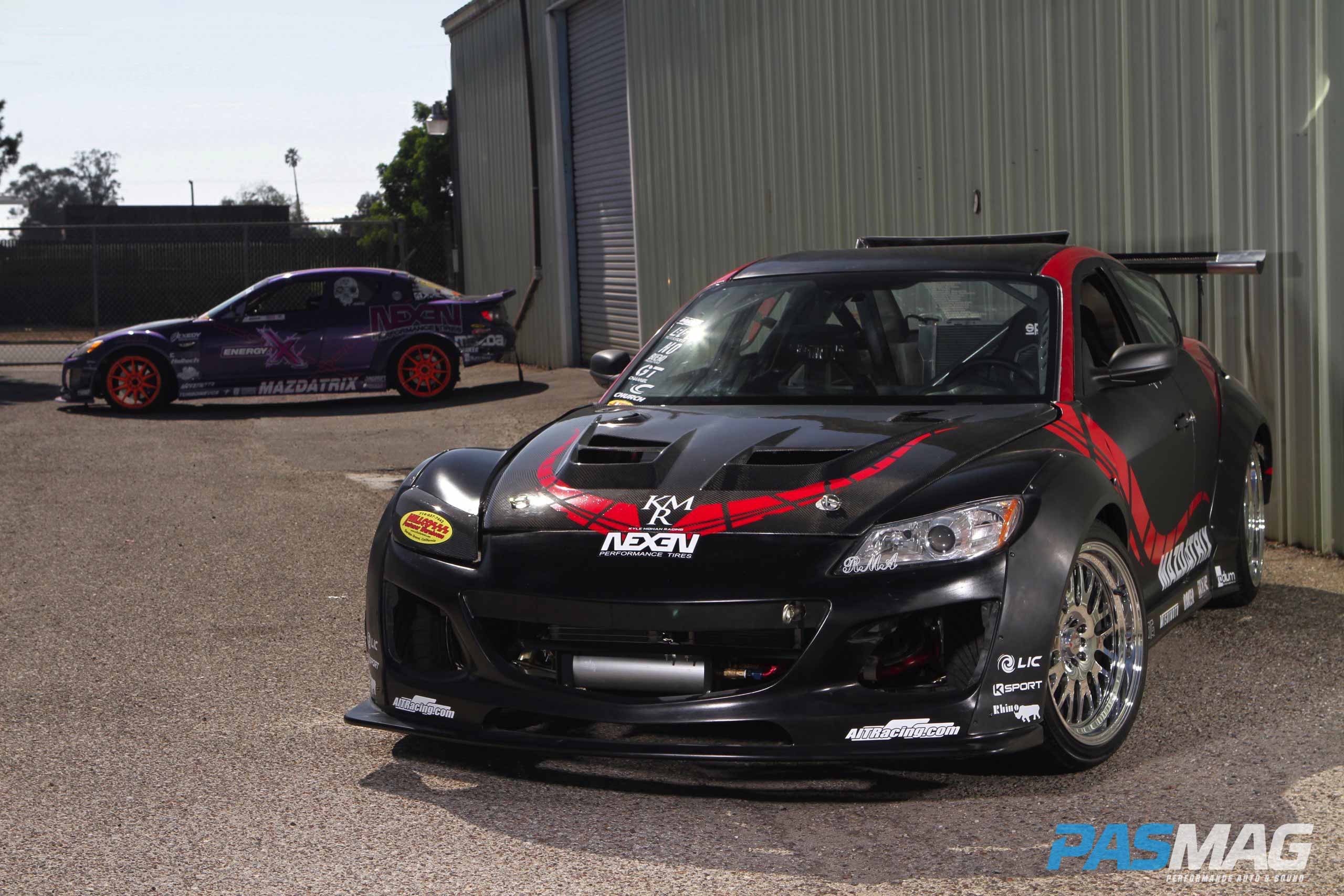 ESSENTIALS
2010 Mazda RX-8 V8

Owner: Kyle Mohan
Team Affiliation: KMR (Kyle Mohan Racing)
Engine: GM LS1 5.7L V8
Horsepower: 850 hp

ENGINE MODIFICATIONS
• General Motors LS1 engine swap (porting and assembly by Taylor Made / TJ Hanrihar) • General Motors (LS9 camshaft, MLS head gasket, high power oil pump, LS6 intake, LS3 timing cover, LS3 cam sensors, Corvette oil pan)
• Kyle Mohan Racing (LS1 engine swap, custom mounting brackets, lapped block/heads/valves, upgraded head bolts, hand ported throttle body, custom aluminum alternator, custom power steering pump brackets) • Mishimoto (aluminum double pass radiator, aluminum fan shroud with 16-in. fan, radiator hoses, oil cooler) • Blur Industries/D3 chassis and engine wiring • Competition Cams rocker arm upgrade • Moroso accumulator oil sump • Radium Engineering (surge tank, fuel pressure regulator) • Walbro fuel pump • 52-lb. fuel injectors • 8-gallon fuel cell
• Haltech engine management

EXHAUST
• Speedway headers • KMR 3" straight pipe

DRIVETRAIN
• Tex 101 4-speed NASCAR Dog Box transmission with custom close-ratio gearing • Exedy lightweight racing flywheel • Twin-disc clutch assembly • Mazda RX-8 differential (rebuilt by KMR) • Mazdatrix custom driveshaft

CHASSIS/SUSPENSION
• Drop Engineering front control arm bushing set
• Matt Hill Performance Solutions (custom anti-sway bar mounts, modified A-arm/multi-link arms, full roll cage
• Megan Racing adjustable links • KMR (custom tie rods, FD3S RX-7 custom steering rack, modified lower control arms) • KMR/Mazdatrix custom spindles

WHEELS/ TIRES/ BRAKES
• XXR 531 wheels – 18x9.5-in. (f), 18x11-in. (r) • GT Radial Champiro tires – HPY 255/35 ZR18 (f), SX2 265/35ZR18 (r) • Brembo brake rotors • Baker Precision braided stainless brake lines • KSport hydraulic E-brake setup

EXTERIOR
• AIT Racing/Mazdatrix (widebody kit, full flares, carbon fiber roof, carbon fiber hood)

INTERIOR
• KMR custom carbon Kevlar interior panels • Sparco Corsa racing seats • 4-point harness • Autometer gauges • AEM gauges

SPONSORS
Mazdatrix, Energy-X, Exedy, Turbonetics, Haltech, Mishimoto, Drop Engineering, EF1 Motorsports, AIT Racing, WPC Treatment, F&L Racing Fuel, XXR Wheels, Sparco USA, DSTROYR, Universal Technical Institute, Radium Engineering, CX Racing, Pro-Jay, Rotary Works, GT Radial