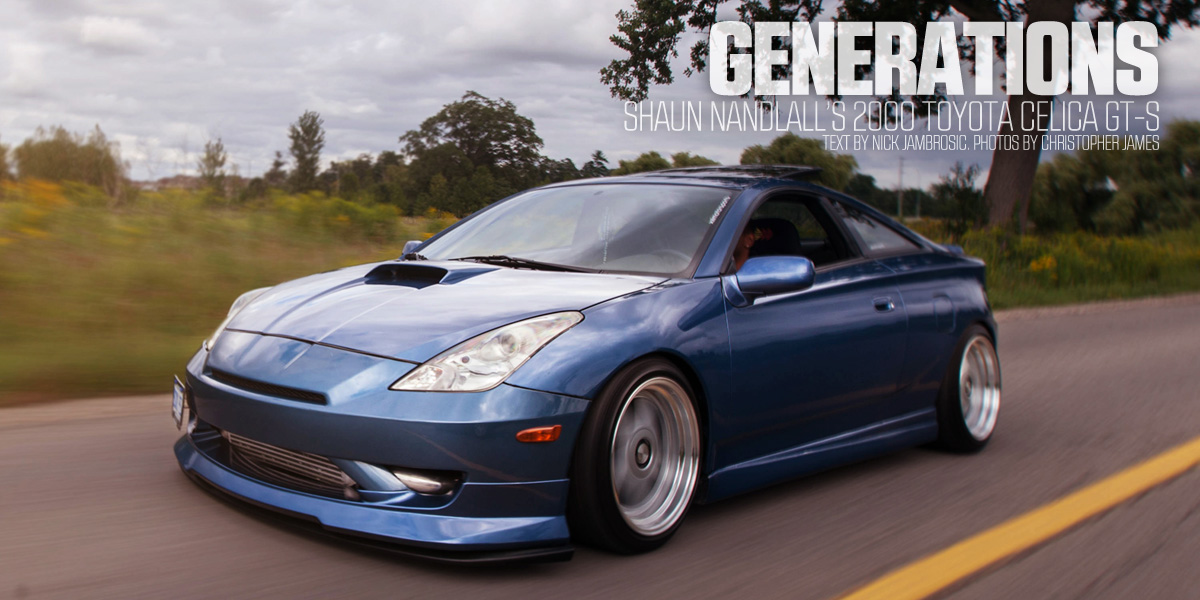 Shaun Nandlall of Brampton, Ontario, was introduced to the Toyota brand at a young age, thanks to his brother. Shaun's first car was an '89 Celica GT-Four, and now after going through the fourth, fifth and sixth generations of Celica, he is now on the seventh and final. He chose this particular Celica because of its high revs, light weight and good handling. It just had so much to offer.
For Nandlall, you could say this is his first real build, as his past cars only had your average mods. This car has taught him most of what he knows now, and after going through a variety of engine, cosmetic and wheel setups, the end result is well worth all of the headaches.
Nandlall's intentions have always stayed the same throughout the build: simply enjoy his car. Money was tight when he originally bought the car, and he could have never expected it to be in the condition he has it in today, especially since all of the parts used in his build are reputable and proven products. Nandlall wanted to build his car right the first time, so using quality parts helped him do the best possible job.
As with all tough builds, there are times where you just want to call it quits, and Nandlall is no stranger to this feeling. Having support from his close friends and family to keep him going, has left him with no words to express his gratitude.
Most of the time, his car is either on the road or in a show. It's never really seen too much track time, but going forward, Nandlall would love to make more use of it in a track setting.
#TBGLIVE WINNER | IMPORTFEST
52% OF THE POPULAR VOTE
@tunerbattlegrounds
@importfest
ESSENTIALS
LOCATION: Toronto, Ontario, Canada
ENGINE: Toyota 2ZZ-GE 1.8L I-4
SOCIAL MEDIA
@shaun_boosted2zz
@stoopidstance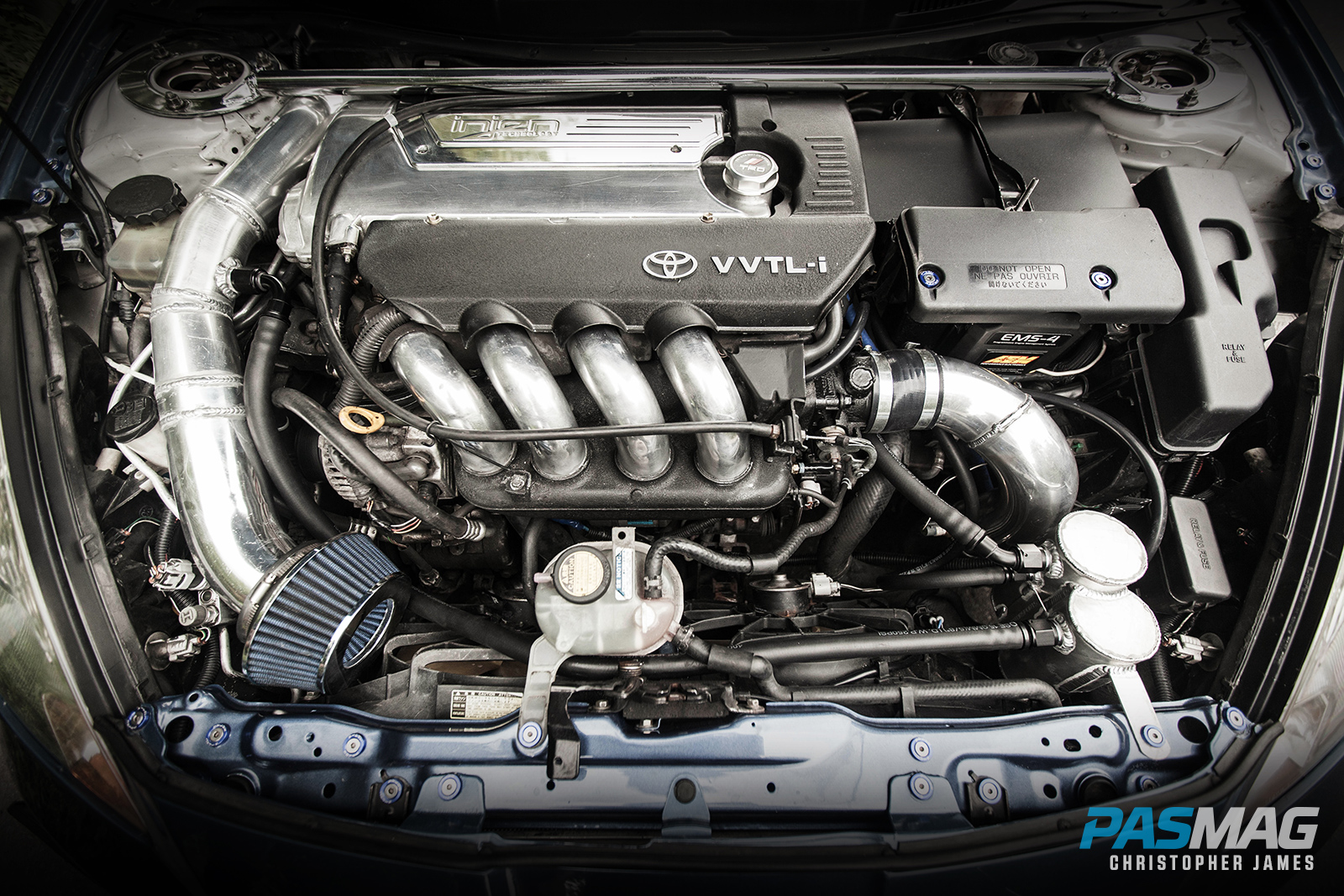 ENGINE
Blouch Performance 16G-XT turbocharger
XIII Motorsports (solid engine mount kit, 3-inch custom intercooler piping, intake)
Monkeywrench Racing (pulley kit, fuel rail)
Siemens Deka 630cc injectors
Walbro 255 LPH fuel pump
MAXbore (ported throttle body, port-matched intake manifold)
GReddy oil sandwich plate
Tial 50 mm blow-off valve
Custom front-mount intercooler
Odyssey PC680 battery AEM (EMS-4 [MWR PNP], boost solenoid)
APEXi turbo timer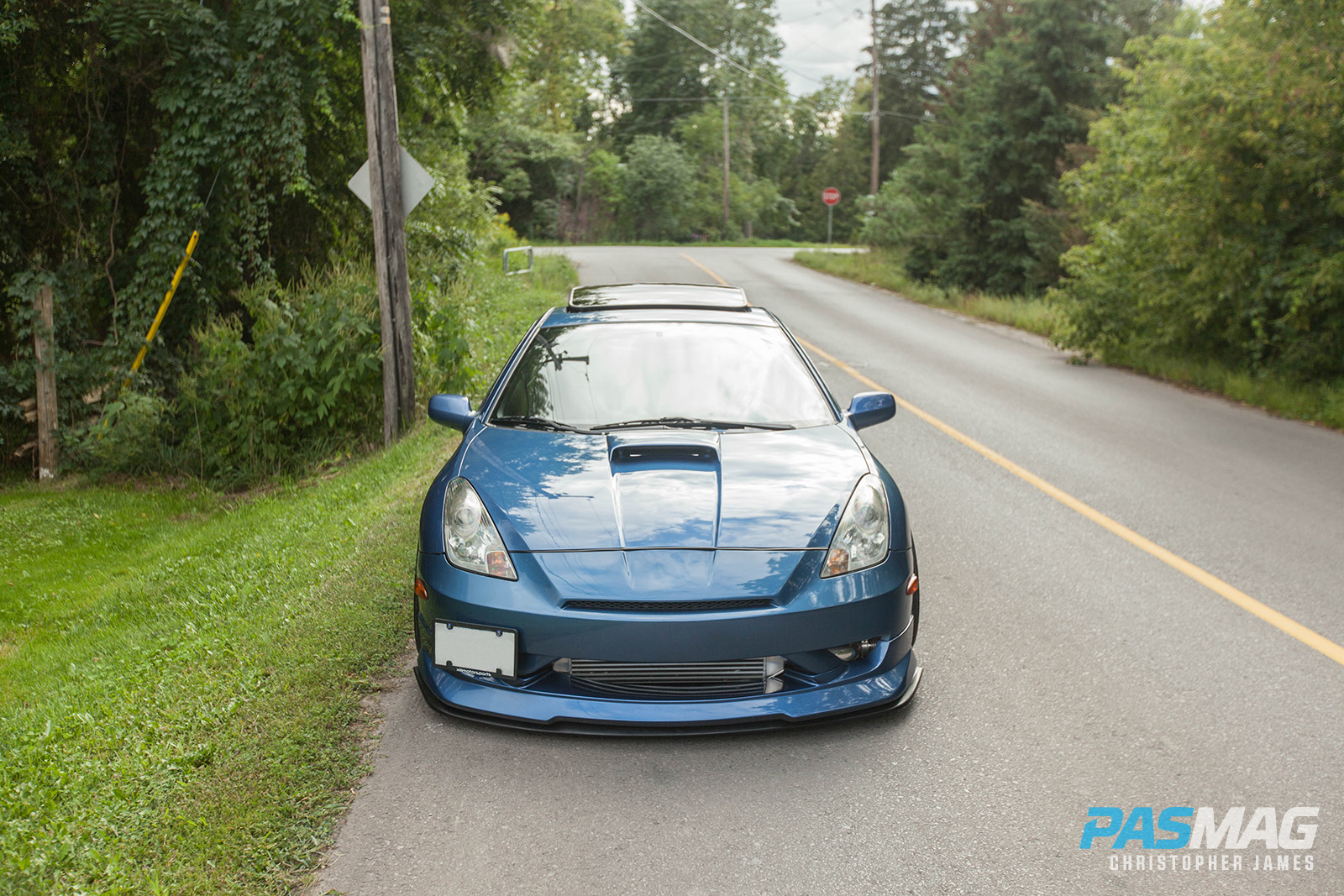 EXHAUST
XS Engineering custom turbo manifold
Xiiimotorsports custom semi-divorced downpipe
Full custom 3-inch stainless steel mandrel-bent exhaust
Vibrant ultra quiet resonator
DRIVETRAIN
Quaife LSD
TWM (short shifter, shifter bushings, shifter extender, weighted shift knob)
WHEELS/TIRES/BRAKES
Avant Garde M240 wheels - 17-inch (f/r)
Dunlop Direzza SS Z1 tires - 215/45 R17 (f/r)
Rotora big brake kit
Stoptech stainless steel brake lines
Hawk HPS brake pads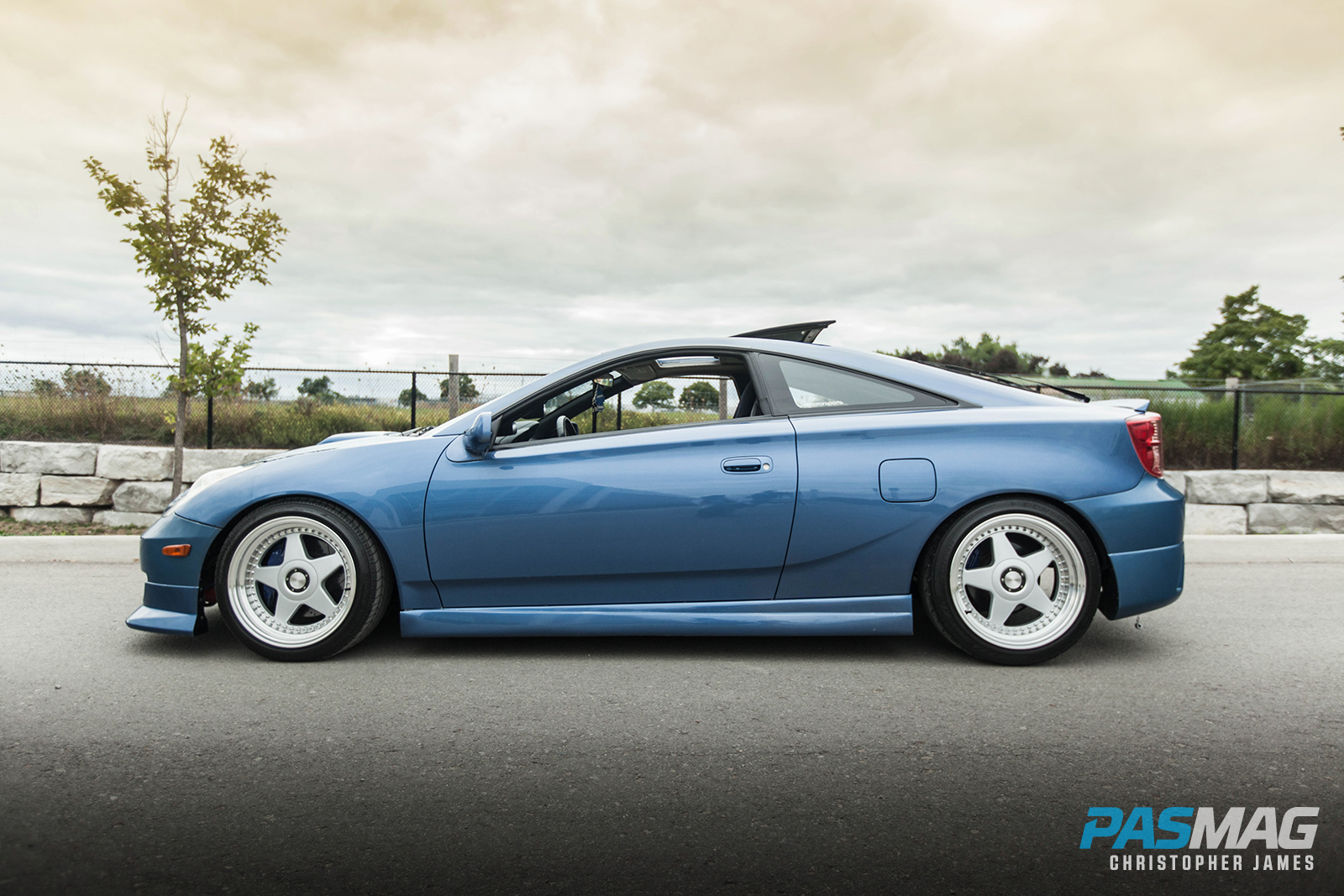 CHASSIS / SUSPENSION
BC Racing coilovers
Energy Suspension polyurethane bushings (control arm, steering rack, sway bar)
TRD front sway bar
Whiteline rear sway bar
RMM front strut bar
TRD 3-point rear frame brace
EXTERIOR
Custom paint
Toyota Celica 2003+ (front & rear conversion, sunroof, Tsunami rear bumper)
GReddy Gracer front lip
Carcept side skirts
BB lip spoiler
C-One hoodscoop
JDM (sidemarkers, power folding mirrors)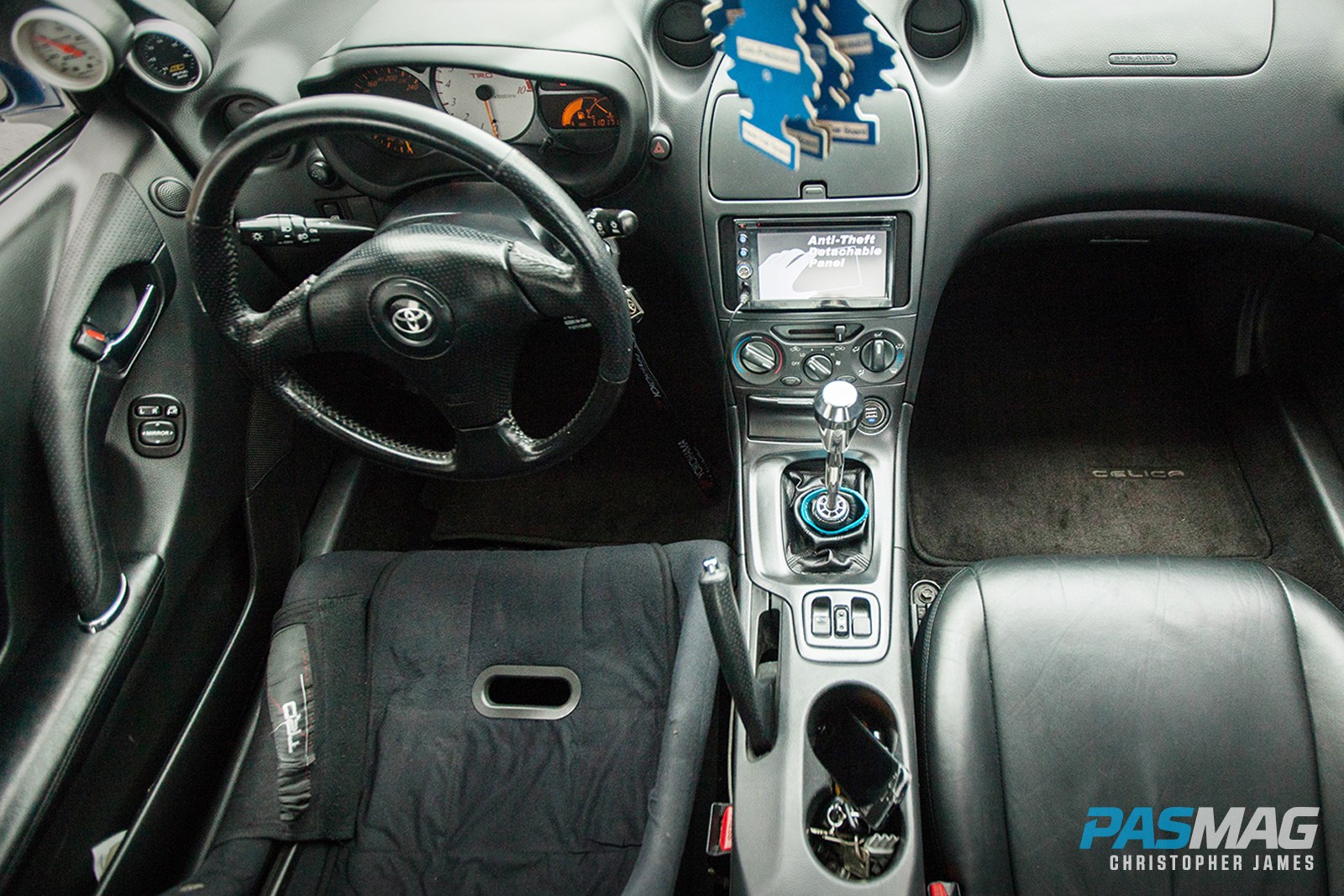 INTERIOR
Toyota Celica 2003+ complete interior & dash conversion
TRD Sport M cluster
MOMO racing seats
AEM wideband
Autometer pro-comp boost gauge
AUDIO / MULTIMEDIA
JVC double-DIN head unit
Custom subwoofer enclosure
Kicker L7 10-inch subwoofer
Kenwood monoblock 1000-watt Class-D amplifier
Stinger wiring kit