Continuing a long-standing SEMA tradition of ours, PASMAG Editor Adam Gordon (AKA Gordon Leadfoot) took to the floors of SEMA 2022 to pick his 10 absolute favorite builds of this year's show. With a personal emphasis on performance and street drivability, as well as some obscure tastes for the strange and deranged, it's no surprise that his top 10 list is a wide variety of very special vehicles.
PASMAG Editor Adam Gordon's Top 10 of SEMA 2022 are as follows, in no partciular order:
---
Driver Motorsports R32 Skyline (Vibrant Performance Booth)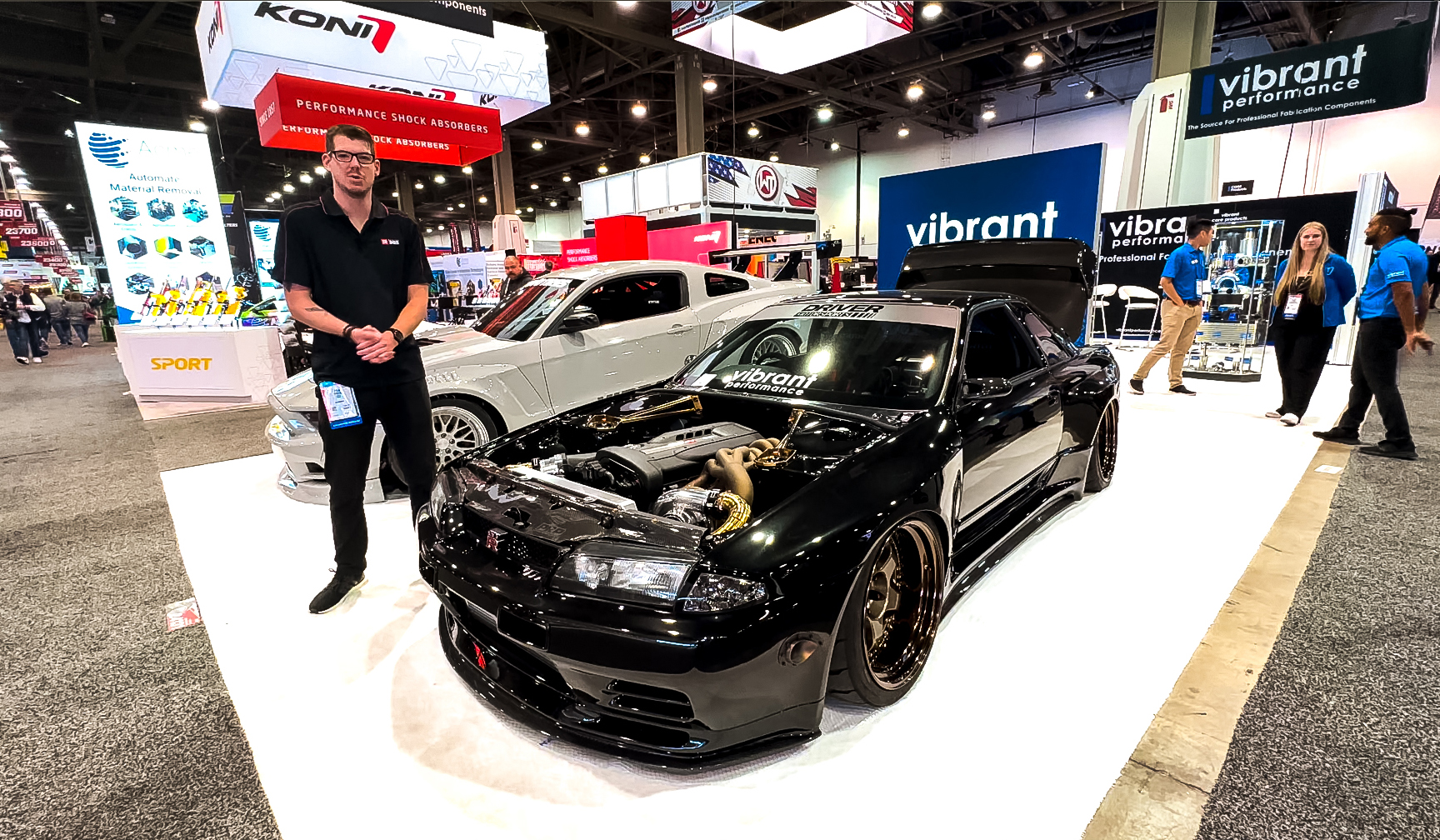 SEMA 2022 had its fair share of incredible R32 Skyline builds, but something about this one built by Devin and Joshua of Driver Motorsports, located at the Vibrant Performance booth, made it special to me. For starters, it's a full blown show-ready build, in addition to being properly built for performance. Cool lighting, a full trunk setup with audio, a comfortable and tasteful interior - this Skyline checks all the boxes. One of the build's highlights is the Frankenstein RB - an RB30 block with an RB26 head, bored and stroked to a 3.2L monster ready to make 4-digit horsepower at the drop of a hat. What makes that RB better is the beautiful engine bay work that frames it. What's not to love?
---
Austin Barnett's 1976 Porsche 911 (Toyo Treadpass)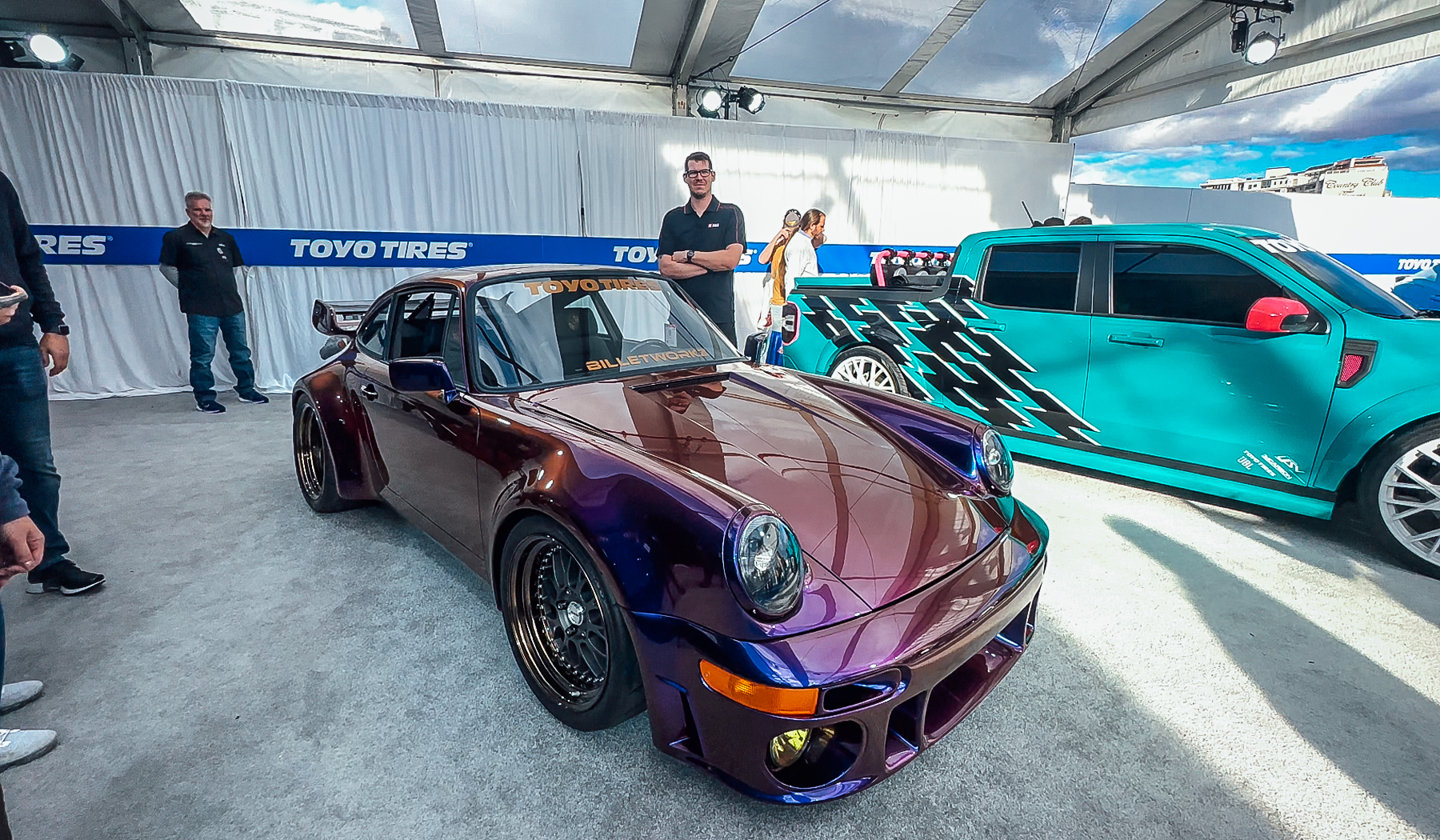 Long-time viewers may recognize Austin Barnett's name, or at least his Instagram handle, @Panda_wrx, from previous appearances in PASMAG with his RB26DETT-swapped Subaru WRX. This time around, a Subaru engine was in the cards, but it would be housed in a killer 1976 Porsche. Before you ask, no it's not the same engine from that old WRX. Instead, it's a 2.5L EJ25 with all sorts of rad fabrication work in the rear. The '76 Porsche features a TBK front bumper, inspired by Mid-Night Porsches of Japanese street racing's hey-day, and is appropriately painted with Midnight Purple III paint.
---
Shawn Basset Built Audi RS3 (Toyo Treadpass)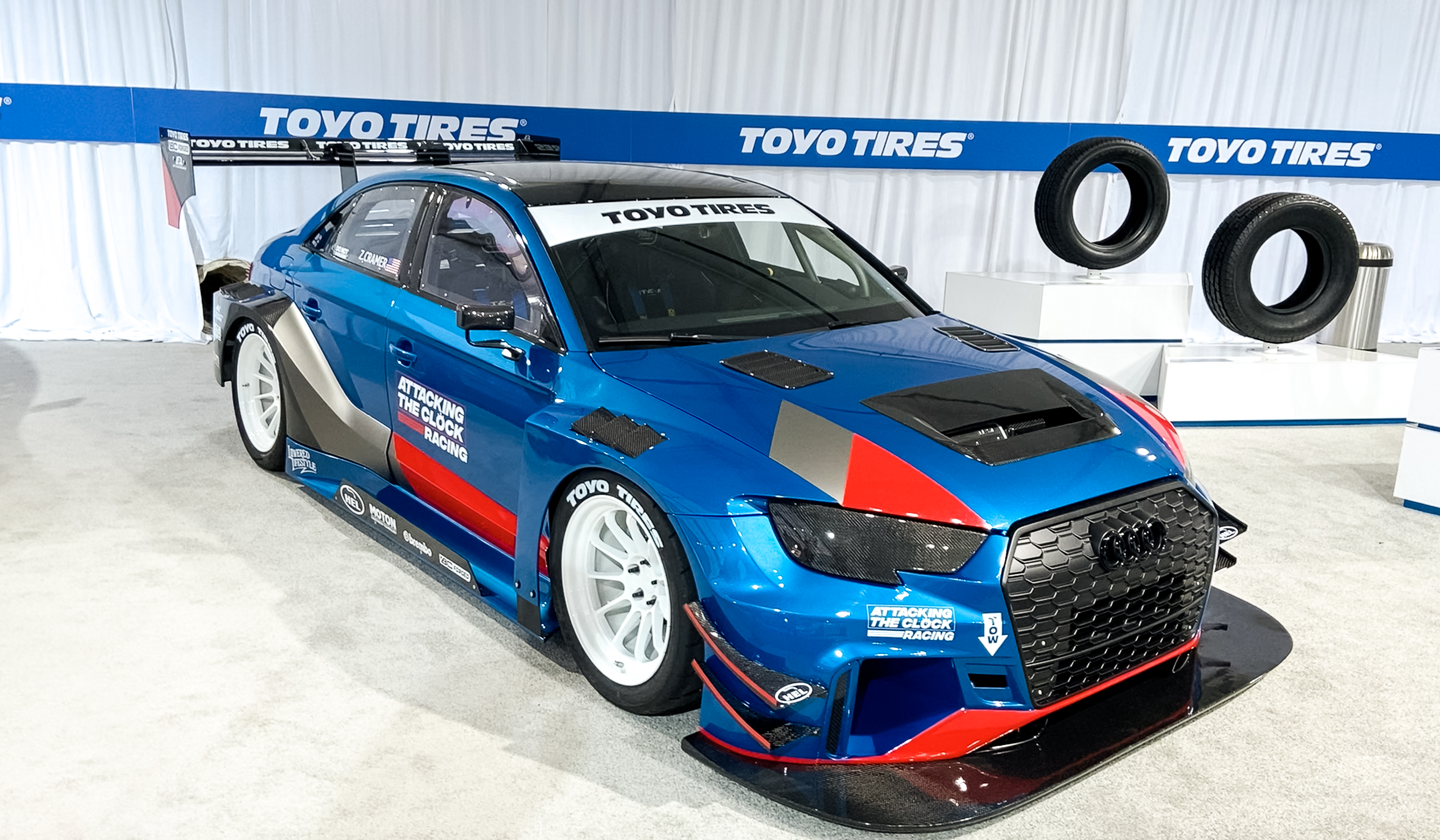 Ever since we first saw Shawn Basset's 240Z build all those years ago, he has solidified himself as one of our favorite builders to watch. This year he had his hand in building two incredible projects for SEMA 2022, both of which we will get to watch race up Pike's Peak in due time. One of those is this jaw-dropping DTM-inspired Audi RS3 from the Toyo Treadpass. The entire body is carbon fiber, which is showcased on each panel with a selectively unpainted portion. The doors leave the window surrounds exposed, the hood leaves the vent exposed, and so on. Under that lightweight body is an Iroz Motorsport built engine ready to make 1,300 horsepower with ease - the same engine that was the first car to ever beat the Hoonicorn on Hoonigan's Hoonicorn vs The World series. To say we're excited to see this thing tackle Pike's Peak is an understatement.
---
Solar Flare 1963 Corvette (Silver Lot)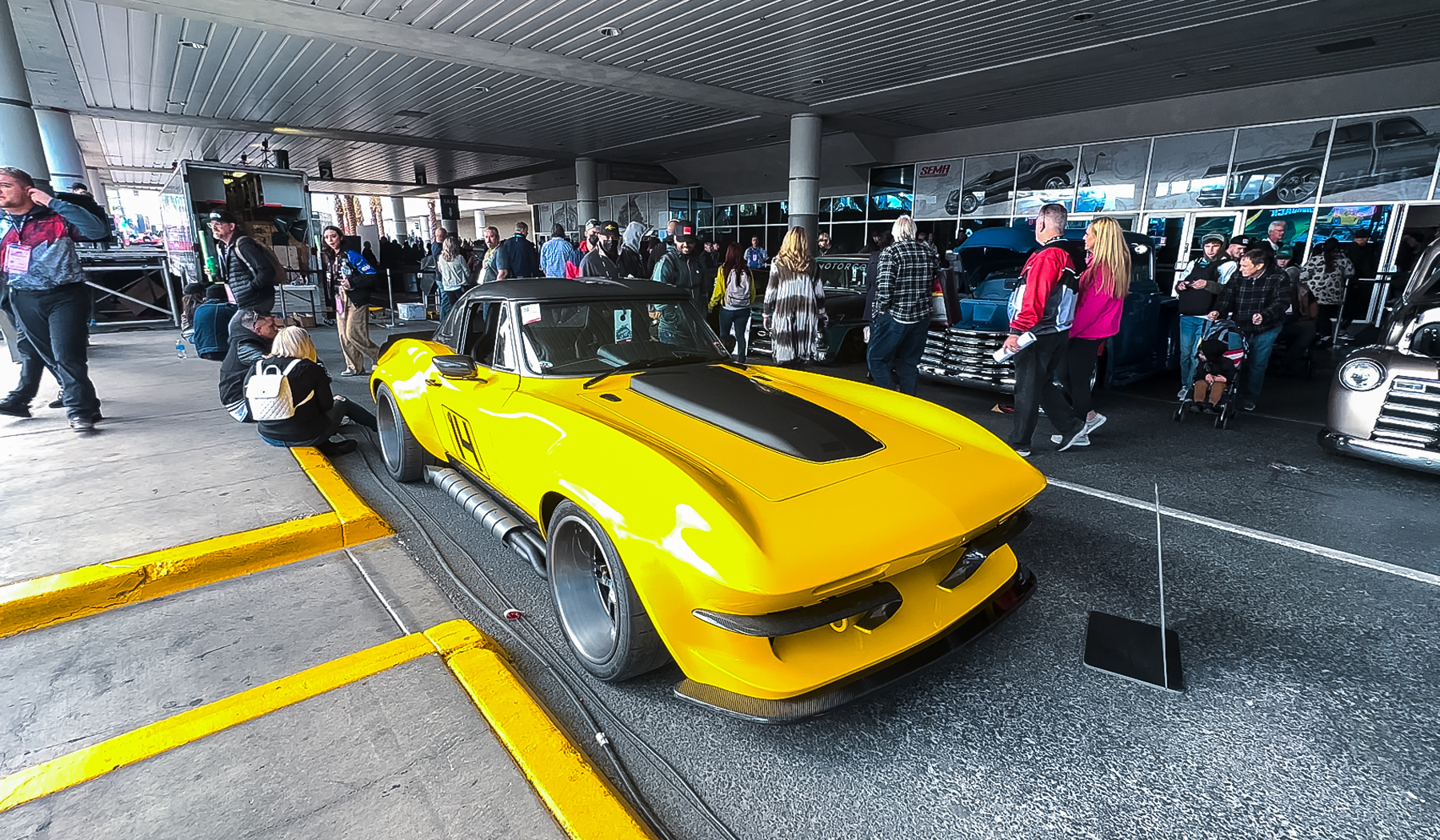 A bit of an unorthodox choice for a guy who grew up on JDM tuner cars and sport compacts, but something about the Solar Flare 1963 Corvette parked outside the Las Vegas Convention Center stopped me in my tracks - it was love at first sight! Owned by Bob Bertelsen from Ohio, this '63 'Vette is driven and raced at autocross and road race events, so you know this is no trailer queen. Powered by a Scoggin Dickey LS7 that makes 660 horsepower, we reckon it's no slouch either. The bodywork alters the classic silhouette ever so slightly with custom front end, hood, side ents, flares, trunk, and more - and the stunning yellow paint shows them all off, contrasting nicely with the carbon fiber bumpers, roof, rear spoiler, and diffusers.
---
Rowie's Mitsubishi Evo Wagon (Toyo Treadpass)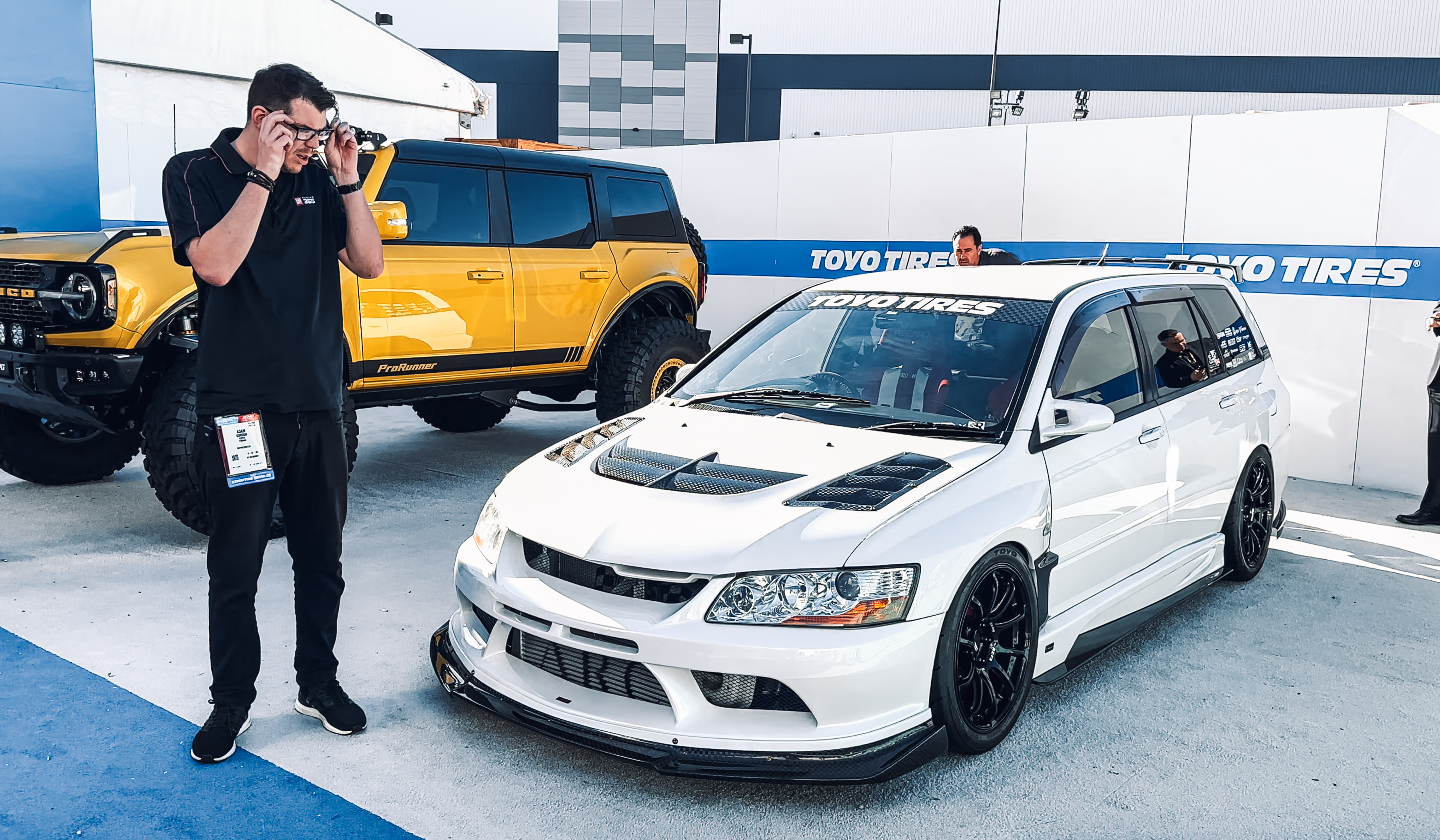 Who doesn't love a good wagon? Right in front of the Toyo Treadpass, a good wagon is exactly what you'll find in the form of Rowie's rarer than rare Evo Wagon. As if the chassis itself wasn't already a unicorn, this Evo Wagon is guaranteed to be a 1 of 1 thanks to a bespoke kit from Varis, custom curated specifically for the wagon by Varis Japan. Other highlights include Hypertune and ARC engine goodies, all sorts of cool Vertex parts like the steering wheel and signal/wiper stock extenders, and a full size spare in the trunk. As far as cool wagons go, a wagon that's also a Lancer Evo is pretty high up on the cool factor scale.
---
Ring Brothers' 1948 Chevrolet Loadmaster (Battle of the Builders)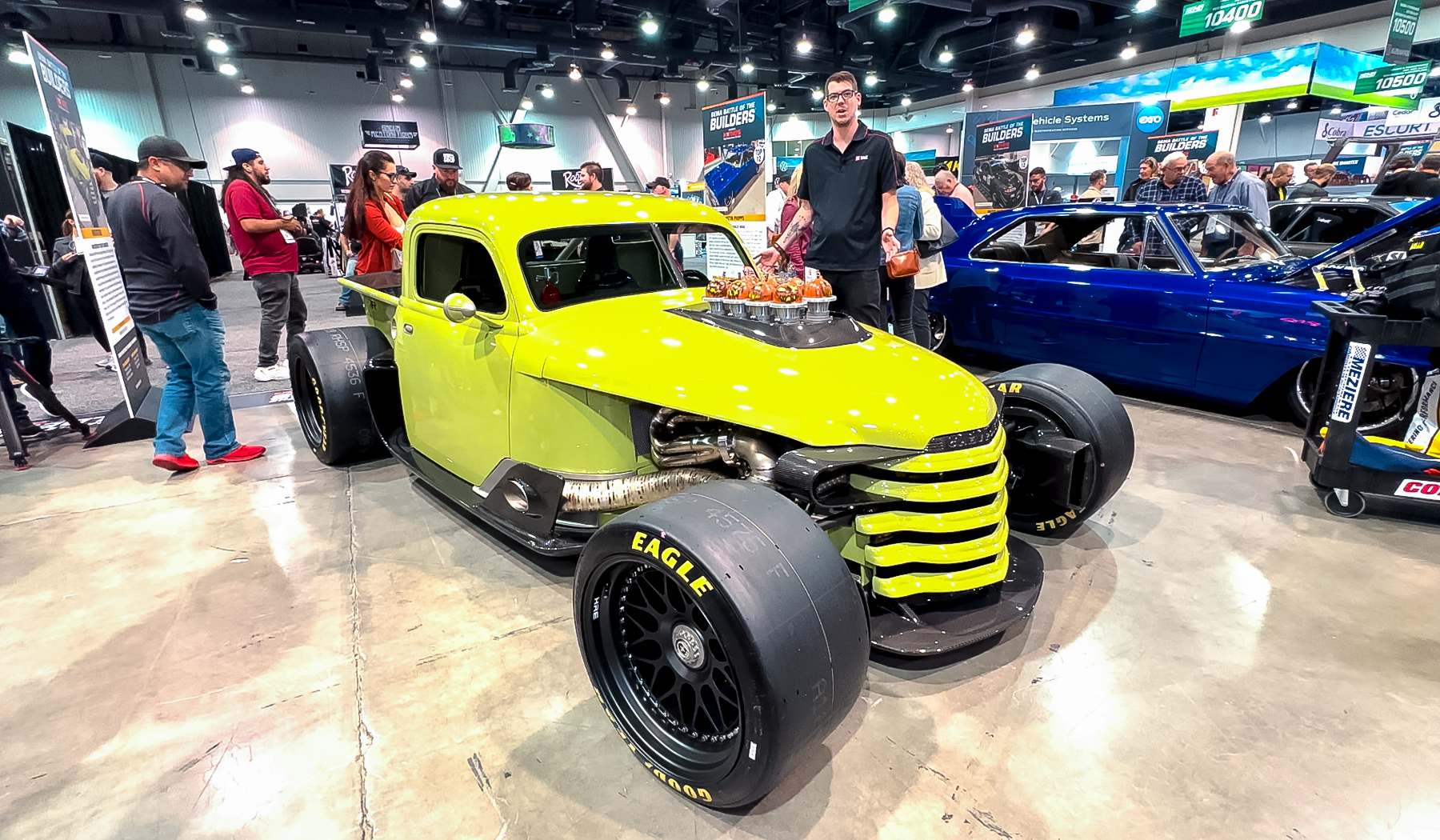 There are few builders showcasing a new build each SEMA that have the resume of the Ring Brothers. Having churned out show-stopping builds for as long as we can remember, it's almost expected that the Ring Bros will bring the heat each time they enter the Battle of the Builders at SEMA. What we couldn't have anticipated was the cool factor of this year's build. The 1948 Chevy Loadmaster is nicknamed "Enyo", and there's a reason it won the Battle of the Builders. As one of their most extreme builds yet, it blended style and performance seamlessly. While it may not be my favorite paint color, all is forgiven when you check it out from a mechanical perspective. The one-off chassis and custom body work present an aggressive open-wheeled hot rod look, and the 510 cubic-inch Goodwin racing engine is good for 1,000 horsepower. With over 10,000 total shop hours putting this machine together, there's a lot to love about it, and even the most hardcore JDM or Euro fan couldn't help but love this American bred hot-rod.
---
Mike Burroughs' K24-Swapped Ferrari 308 (CSF Radiators Booth)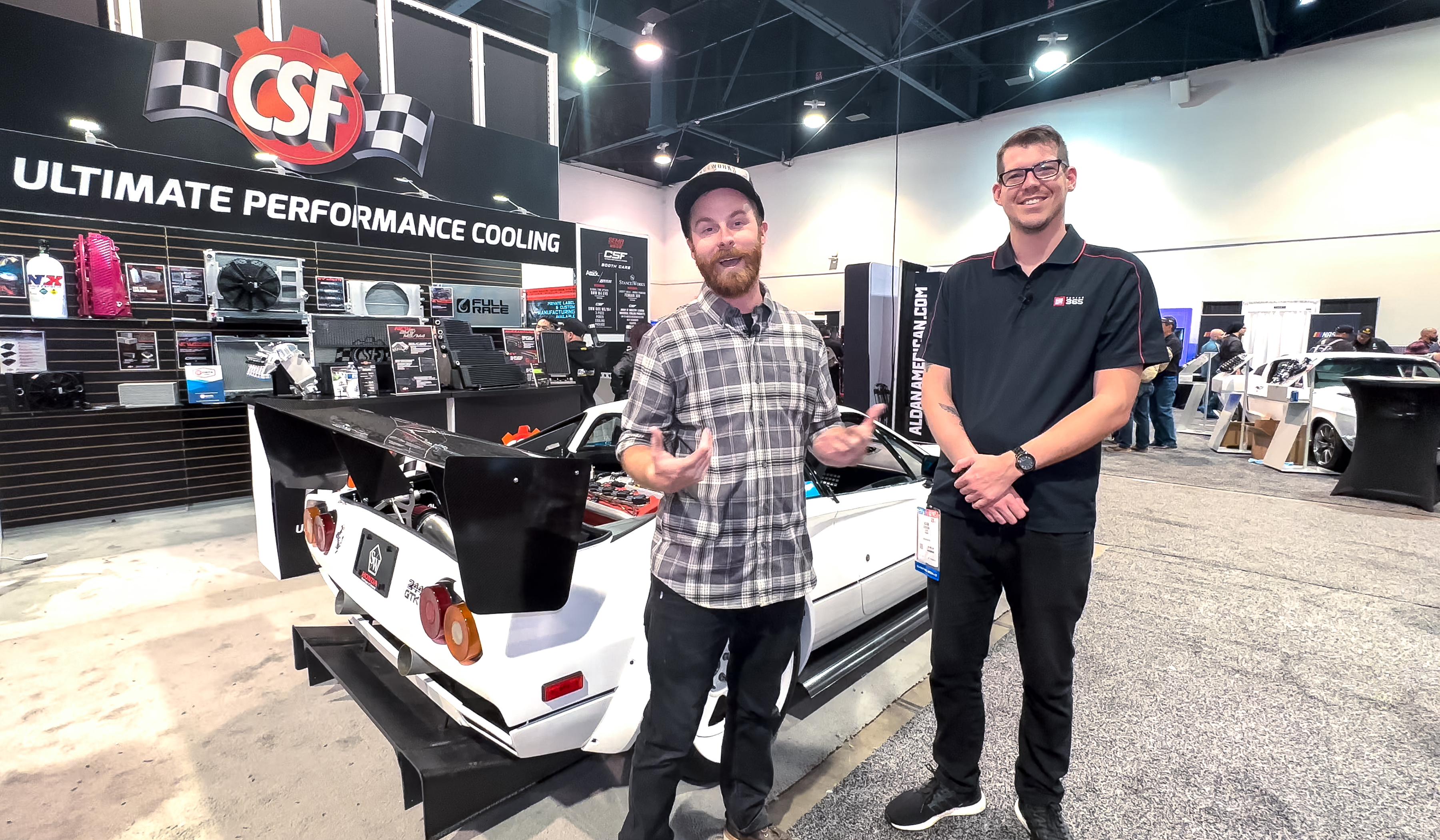 Every once in a while there's a SEMA build so beautifully blasphemous to purists that you can't help but admire it. Continuing the decades-long tradition of putting Honda engines in places they don't belong was Mike Burroughs of Stanceworks, with his turbocharged K24-swapped Ferrari 308, which has been given the new moniker, the Ferrari "244 GTK", complete with a remade badge inspired by the original 308 GTB version. It's not just about upsetting purists though - there's a lot to appreciate on this build. The K24 is turbocharged by a Garrett G42-1200 turbo, and as you might expect given the size of the turbo, Burroughs does intend to hit 4-digit horsepower. In addition to making gobs of power, the K24 - even in its heavily modified state - is likely leagues more reliable than the chassis' original V8. Power is routed to the rear wheels by way of a Quaife 5-speed sequential transmission in case it wasn't bonkers enough. Some of the most impressive work can't even be seen beneath the flares and wild aero. The entire suspension system was a ground-up redesign, hand-built by Burroughs himself. After all the effort that went into this build, we're wishing him the best of luck in his goals with this machine. We cannot wait to see it in action.
---
Bisimoto Moby X Porsche (Toyo Treadpass)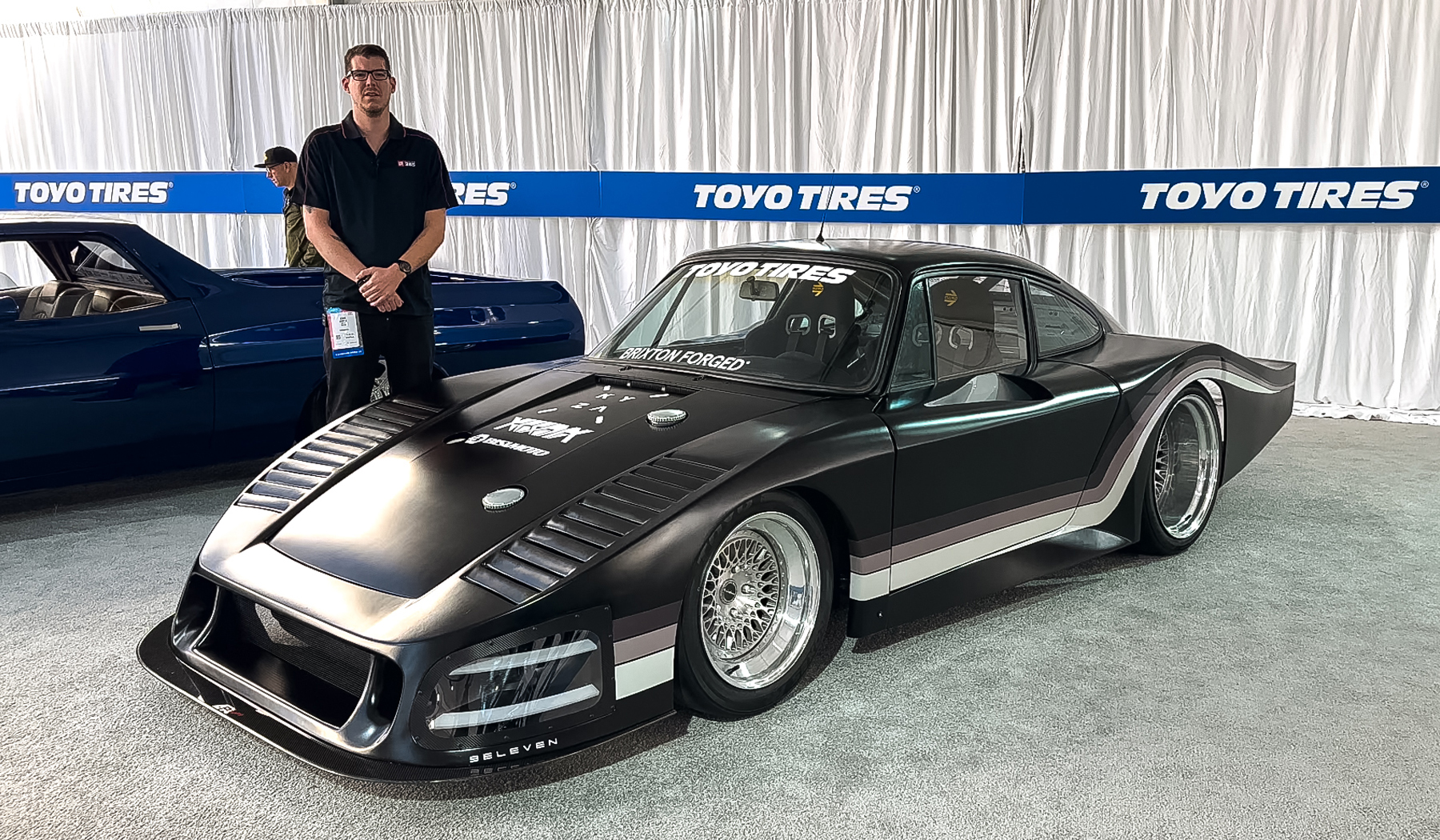 This one is special. Bisimoto's "Moby X" longtail Porsche build marks the first time an EV made it to a PASMAG Editor's Top 10 of SEMA, and it made it there for good reason. While not 100% prim and proper by the time it made it to the show, the presence and retro-futuristic aura of the Moby X was undeniable. The original Porsche 935 "Moby Dick" was a highly regarded track-ready longtail Porsche. The Moby X is a futuristic homage to that iconic classic, and "futuristic" is certainly the operative word. A collaborative design effort of Errolson Hugh, Rod Chong, and the iconic Khyzyl Saleem (AKA The Kyza), the body is a beautiful take on the classic style, with futuristic cues throughout, such as LED lighting, a black/gray/white livery, and the most futuristic of all - a battery pack. While we're sure an electric Porsche isn't for everyone, this one is definitely for us.
---
Gooichi Motors V12-Swapped Pistachio RX-7 (Toyo Treadpass)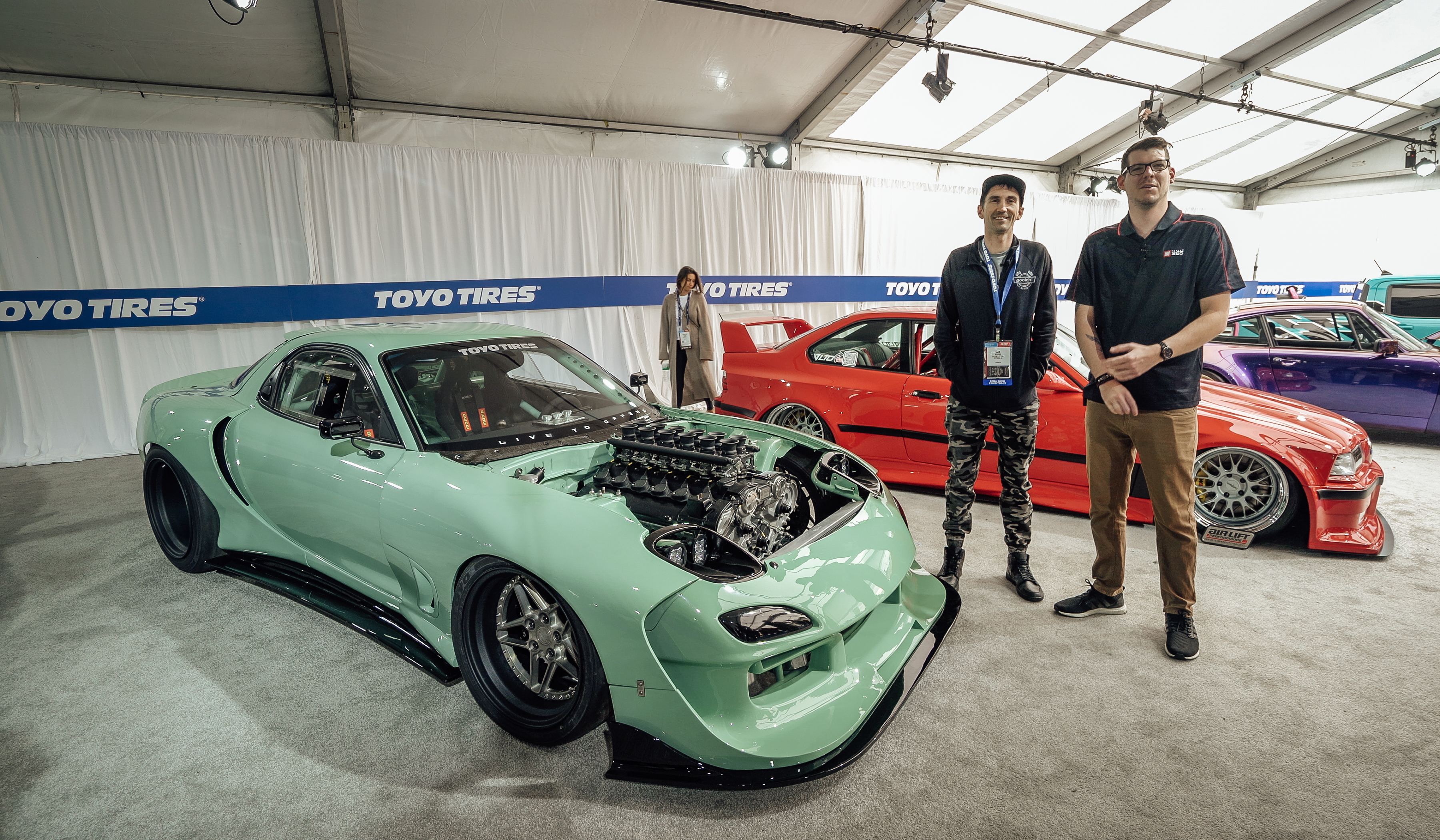 There's always at least one engine swap at SEMA that truly blows away show attendees and online onlookers alike. This year, one of those was certainly in the engine bay of Gooichi Motors' Pistachio RX-7 FD. The same Mercedes V12 that you'll find in a Zonda is present in this FD, complete with individual velocity stacks up top. This isn't our first time becoming familiarized with Goochi Motors' Pistachio FD, but it is our first time seeing this badass iteration. The Live To Offend kit by The Kyza is among one of our favorite body kits of SEMA 2022, which is just the icing on the cake.
---
Hoonigan Honda Indy Ridgeline "IndyTruck" (Pennzoil Outdoor Display)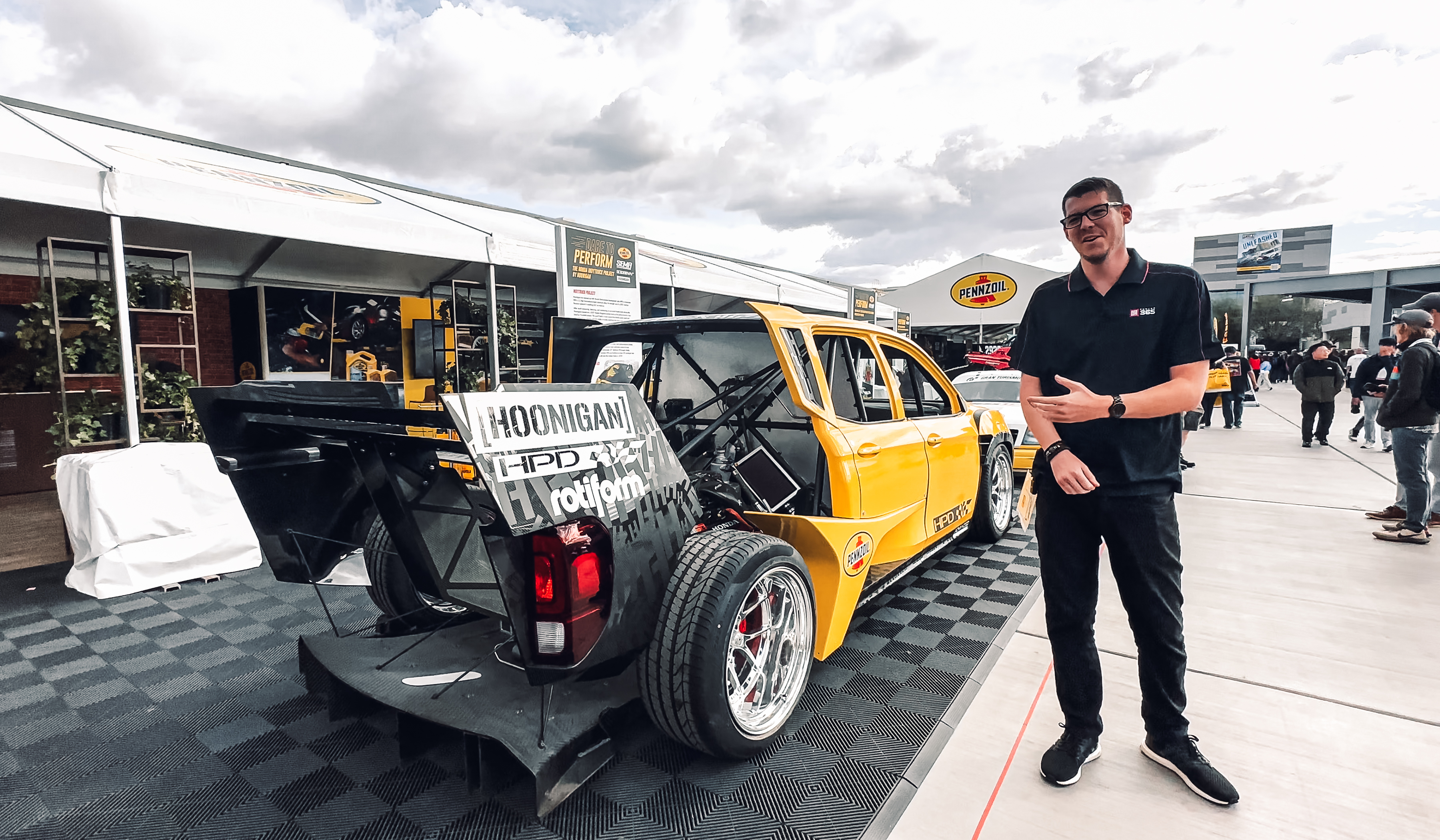 During a visit to Hoonigan HQ about a month before SEMA, we were treated to a sneak peek of Hoonigan's ambitious SEMA build. What we saw at the time was a 2017 Honda Ridgeline which had already been through the initial cuts of some extensive chassis modification. Behind the cab, where the bed had been all but deleted entirely, sat a twin-turbocharged Honda Indycar V6. At that point, I already knew these guys were out of their minds, but I still had no doubts it would make it to SEMA. Low and behold, parked outside in Pennzoil's outdoor display was the collaborative effort between Hoonigan and Honda Performance Development in all its glory. Hoonigan tells us they have some big things planned for the Indytruck, so rest assured we'll be watching.
Video footage from Mikey Dang (@photo_md)