John Wargo of The Custom Shop has a history of impressive and mind-blowing SEMA builds over two decades, and we were thrilled to see him back this year with an incredible truck built for a customer named Josh Spicer. The job was simple enough: Spicer asked Wargo and The Custom Shop to produce a C10 like no one had ever seen. He provided The Custom Shop with the cab and chassis, and told them to go nuts.
While Wargo got to work on designing and rendering to bring the vision to life, they stripped the truck down to bare metal. Once they had the truck's rusty spots taken care of and the entire chassis cleaned up, shaved drip rails, flush glass, a stretched bed and tightened gaps were among the first priorities. The hood was treated to a ZL1-inspired hood scoop covered in copper weave carbon fiber, and a ZR1-style lexan window was put in to showcase the work beneath the hood even when it was closed. The Corvette-inspired style cues continued from there with Z06-style side scoops molded into the bed.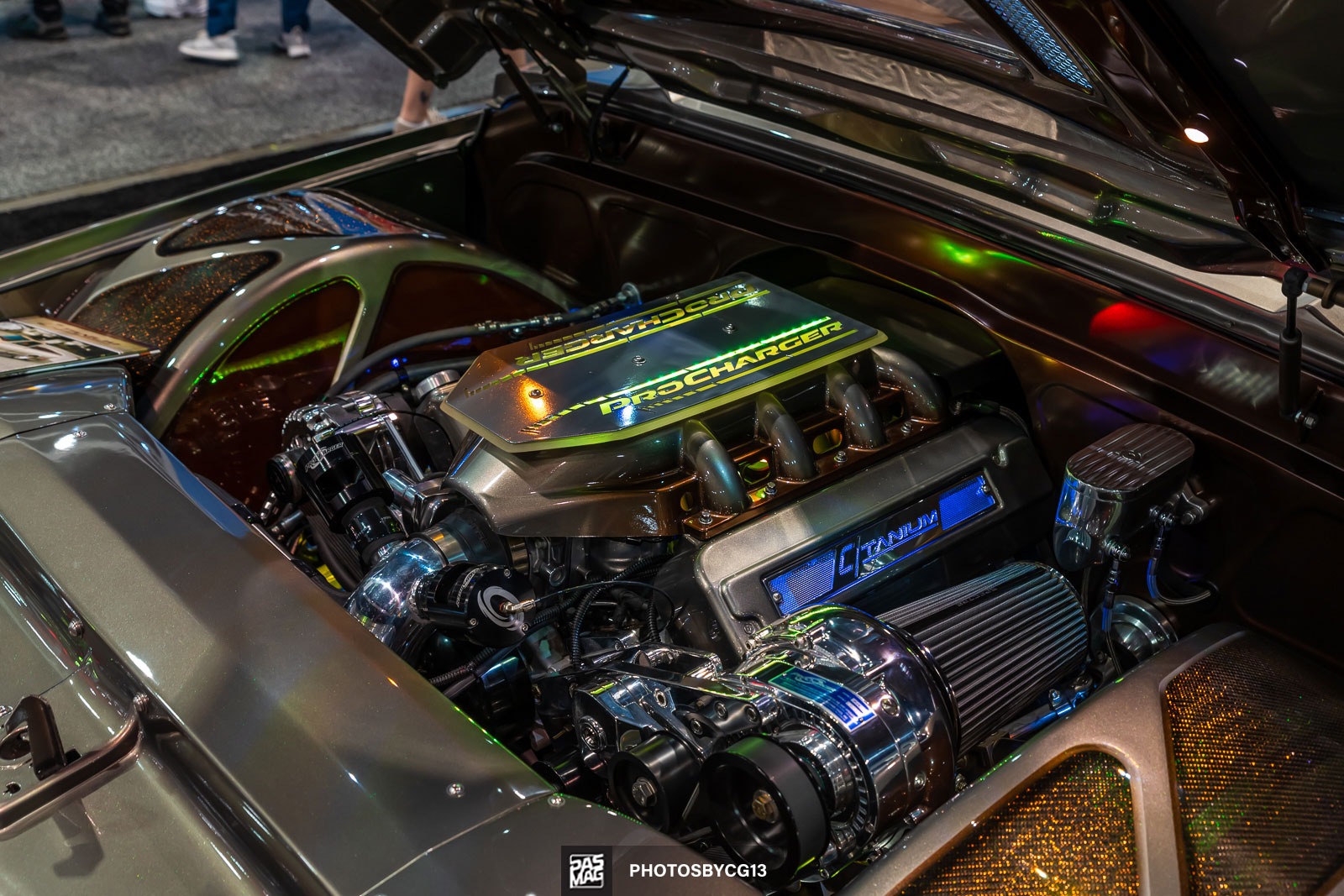 The custom billet and copper carbon fiber bed floor is hooked up to a motorized mechanism that allows it to lift up and expose the custom frame beneath. The tailgate itself is also motorized, as is the active billet spoiler on top of it. Beneath that, a custom diffuser serves as an exit point for the custom exhaust system. That exhaust is routed from the P1X procharged Ohio Speed LS3 in the engine bay. Yeah, this thing is wild.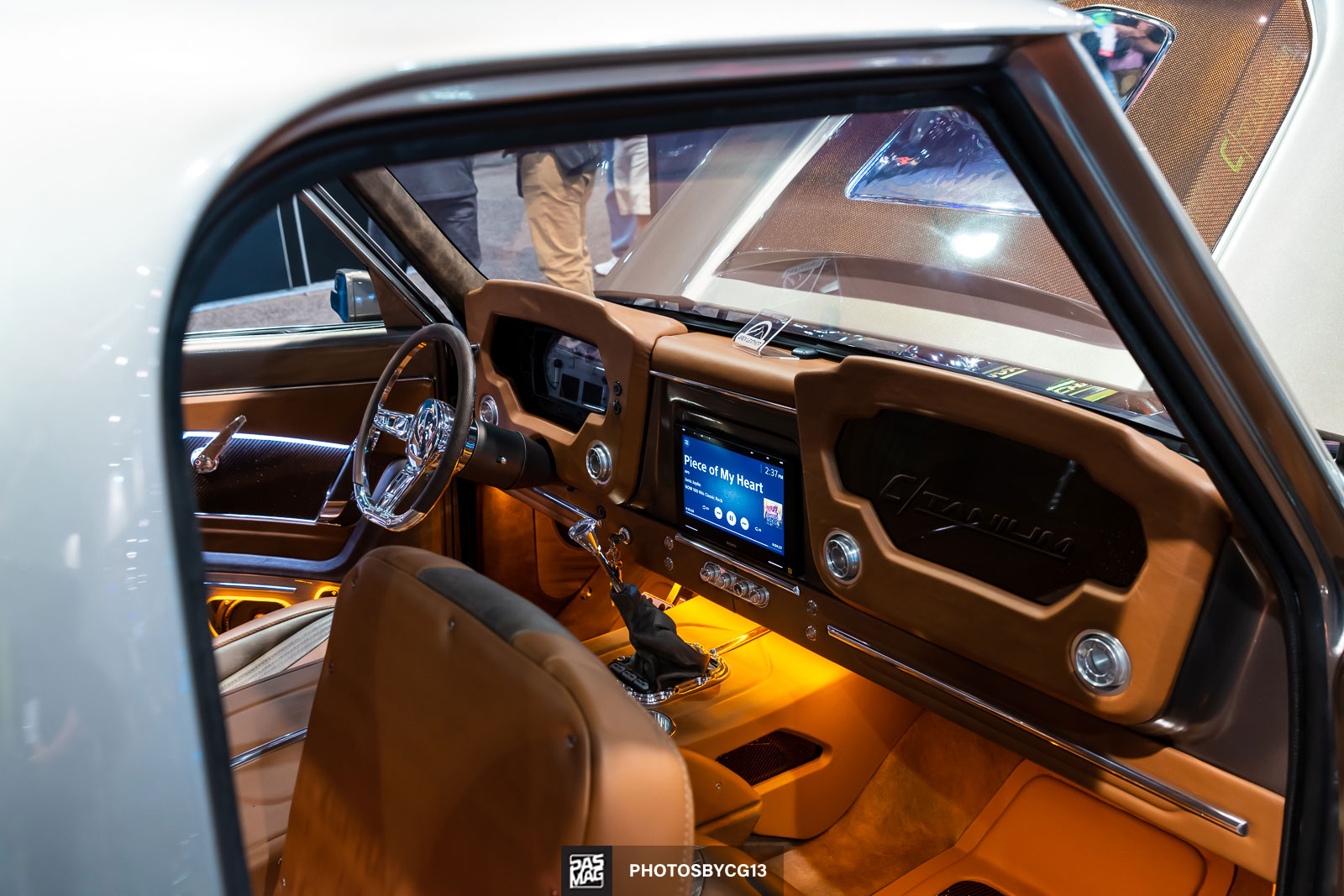 Inside and out, you can see the expertise of Wargo and The Custom Shop on full display. From the audio install, to the lighting, and even the little details like the ghosted checkers and C10 silhouette hidden throughout the truck - everything about this build is the best that SEMA has to offer. We're positive that Spicer is happy he chose this builder for his special project.
Photography by Chris Gosda (photosbycg13)
---
ESSENTIALS
Owner: Josh Spicer
Vehicle: 1968 Chevrolet C10
ENGINE
Ohio Speed LS3 engine
P1X procharger system
Hedman headers
EXHAUST
Pypes stainless steel exhaust w/ cutouts
Custom exhaust tips
CHASSIS / SUSPENSION
Custom frame
Watts Link four-link suspension system
Mitler Bros Hydroshox
EXTERIOR
Smoothed front bumper w/ air ducting
Shaved drip rails
Flush glass
Stretched bed
ZL1-inspired hood scoop w/ ZL1-style lexan window
Custom ground effects/skirts
Billet and copper carbon fiber motorized bed
Molded flares
Z06-style side scoops
Motorized custom tailgate
Custom motorized active spoiler
LED third brake light
Metra LED lighting
Custom silver-to-rootbeer fade paint job
Ghosted graphics
Smoothed cowl
Shaved wipers
Race Mesh stainless grille
INTERIOR
Apex Leather reupholstery
Custom lexan/aluminum/PVC interior
Custom gauge pods
Dakota Digital gauge cluster
Vintage Air A/C unit
Custom dashboard
Carbon fiber floor
Flaming River steering column
Lokar shifter
Billet pedals
Billet Specialties steering wheel
Custom floor mats
Custom headliner
One-piece door glass kit
Nu Relic power windows
AUDIO / MOBILE ELECTRONICS
Sony (10-inch touchscreen head unit, ES speakers, ES 10-inch subwoofers, GS4 amplifiers, GS100 amplifiers)
T-Spec wiring and connections
SPONSORS
Apex Leather
Ballistic
Cerakota Prizmatic
Composite Envision
C-Tek
Dakota Digital
Eddie Motorsports
Enduratex
Fairchild Weatherstrip
Flaming River
Good mark IND.
Hedman Headers
Heise
Holley Performance
Ispec
Install Bay
Lokar
MBM Brake booster
McGard
Metra Electronics
Nu-Relics Power
NGK
Ohio Speed Shop
Prizmatic powders
ProCharger
ProSpray
Por 15
Pypes
Radiantz
Sony Audio
Seat Belt Planet
Schotts Wheels
Stage 8 Fasteners
Shuriken Batteries
Spectra Performance
Thermotec
Toyo Tires
Tanks Inc
Vintage Air
Us Chemicals
Wilwood Brakes
---
PHOTO GALLERY