Photos by Jeremy Alan Glover
---
"I didn't like the racecar look of the GTI, it's not my thing, so I went with the more relaxed Golf thinking I could do something different and simple at the same time."
That's how Julien Dupont describes his decision to buy his Golf and his plans to modify. I wonder if he was a pizza boy in his past life, because the guy definitely delivers. The low and squatted Golf that's dipped in white cream just oozes class. Dupont picked up a Best of Low award from Stance Works' Air Affair 2013, but you don't need to know the Mk6 has that accolade in order to know it's a clean ride worthy of respect.
In 2011, Dupont picked up the black Golf Sportline with a decent options list. The VW came from the factory with the 2.5L L5 engine. Sitting in black cloth seats, one could grip the leather wrapped steering wheel and shift away on the five-speed gearbox. In true Euro style, Dupont opted for some roof bars and some 17-inch VW Porto wheels.
Anyone else would be thrilled with this package. They'd call it at that and be totally fine. That person wouldn't be an enthusiast then though, would they? Not many of the factory-spec options remained after Dupont had his way with them.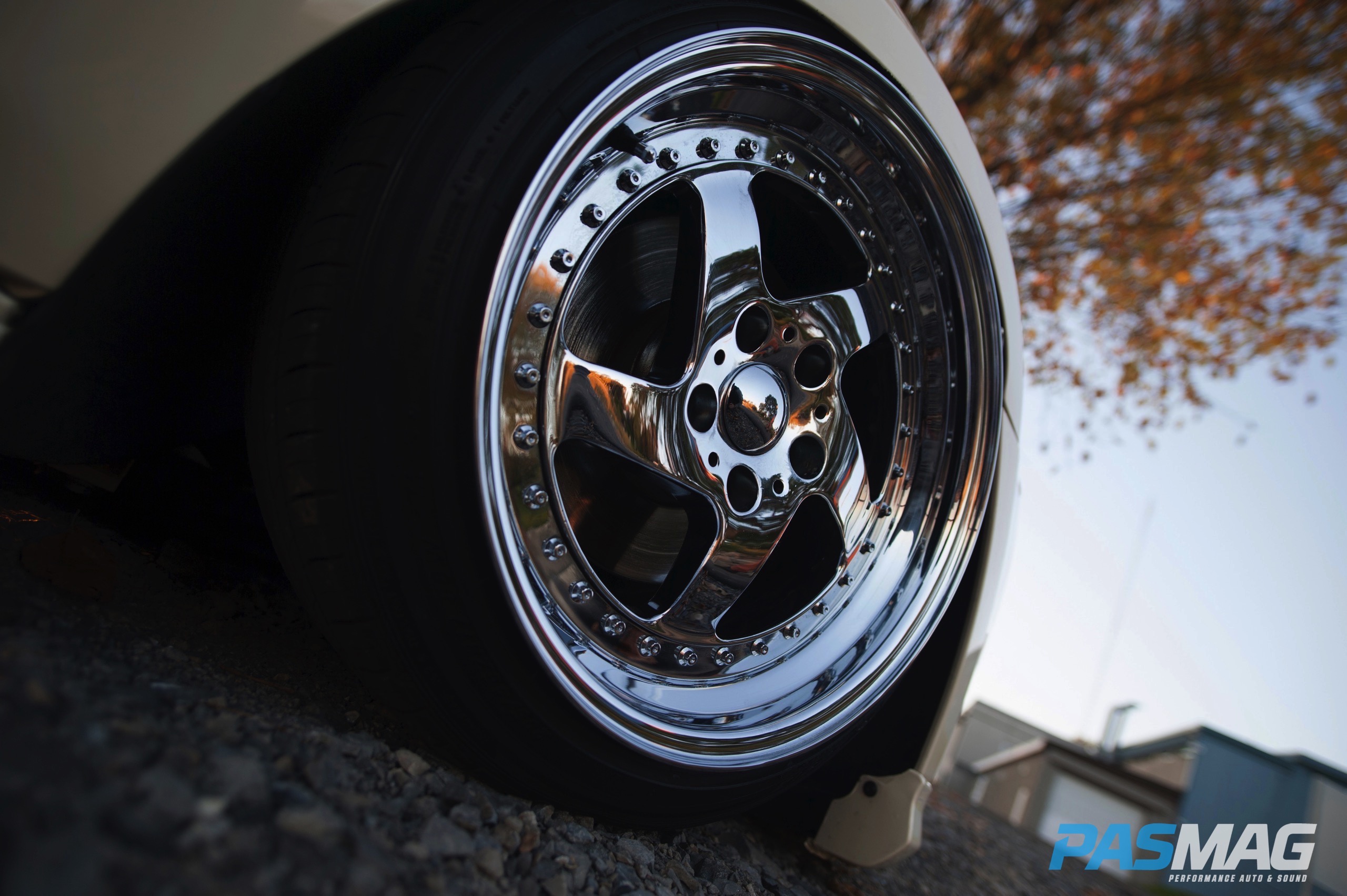 For someone in the Euro game these days, wheels and stance are everything. Those VW Portos didn't stand a chance against some custom Carving Stark II wheels. The front wheels are 9-inches wide with a +24 offset and a custom 2-inch chromed lip, while the rears are 10-inch, +20 offset, and rock a 2.5-inch shiny rim. The barrels are powdercoated gloss black and the centers and caps are finished in chrome.
Air bags aren't just for crashing anymore. Dupont uses an Airlift V2 management system with Slam Series bags in the front, and Slam Specialties paired with Koni adjustable shocks in the back to get this Mk6 right and tight. 034Motorsport's Mk5 rear camber kit squats out the rear wheels, but what gives with the fronts? Funny story…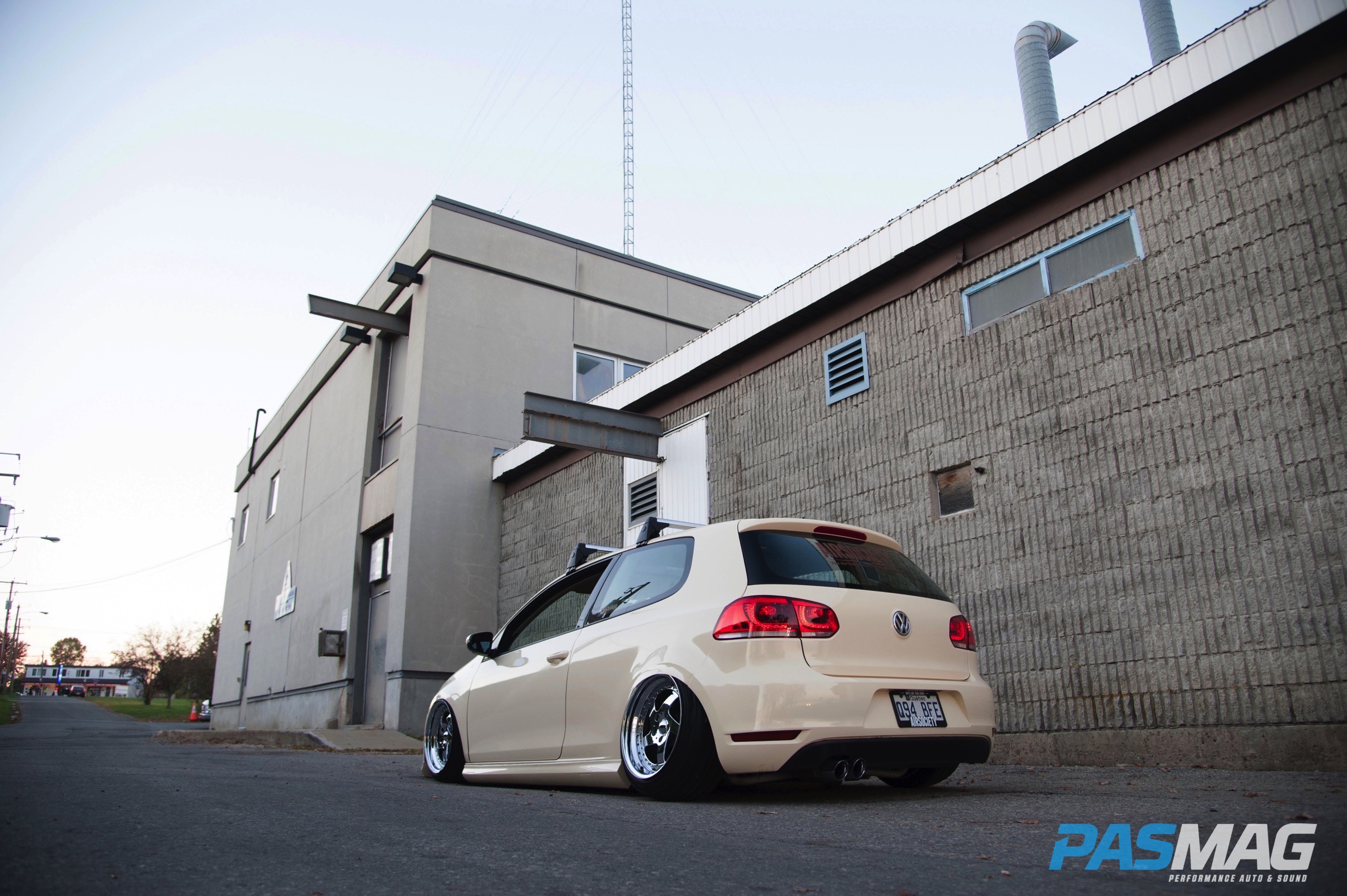 "I've tried adding front camber with lower control arm extensions," recalls Dupont. "It took four hours to align the car properly – I had to modify the tie rods. After I got out of the garage, the axles couldn't handle that much camber (-7), so I had to remove everything myself overnight. I finished at 2 a.m. the night before Eurokracy."
As if the wheel and suspension combo wasn't enough to get everyone rubber-necking, Dupont has more outside to gain some gawkers. Volkswagen Zubehör side skirts and a front lip add some class and fill the gap between body and road. Those OEM roof bars got the chrome treatment and the rear wiper has been plugged with a glass insert to finish off the rear. Dupont took things from ebony to ivory, wrapping his black Golf in a creamy 3M 1080 Gloss Light Ivory vinyl wrap.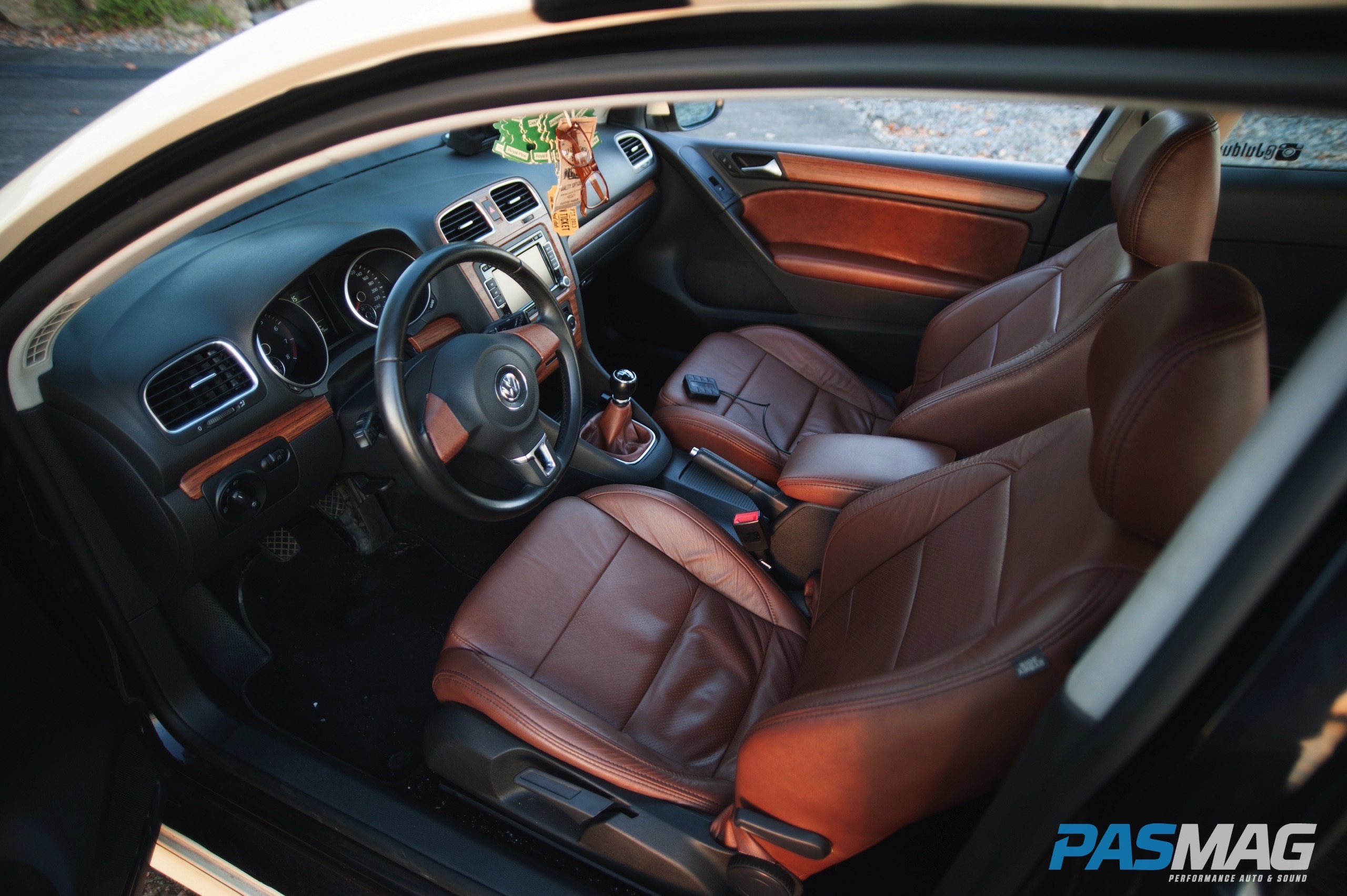 Taking a step inside Dupont's Golf is like stepping into an upscale loft. The rear seats have been given the boot and are replaced with hardwood flooring that runs from the trunk to behind the front seats. All trim pieces have been wrapped in 3M Di-Noc Wood Grain to match. Looking back from the Katzkin Tuscany Amaretto leather covered seats, the hard-lined air tank and rear upper stress bar shine triumphantly in chrome.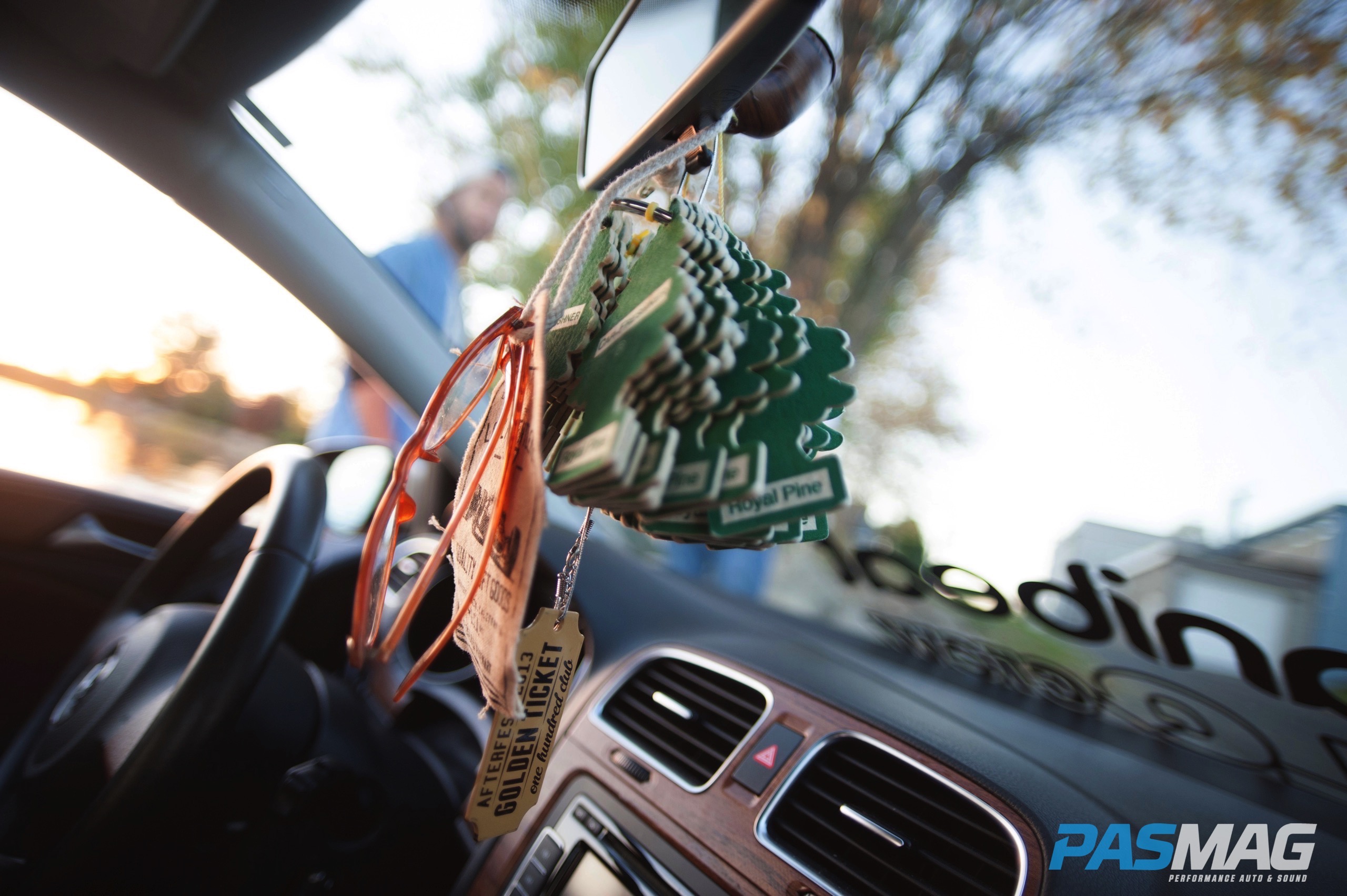 Under the collection of pine air fresheners is the factory touchscreen multimedia system, which has Pioneer Premier front speakers, tweeters, and a pair of Kenwood Excelon 10-inch subwoofers at its disposal. An Alpine sound processor and two four-channel amplifiers make everything sound crystal clear.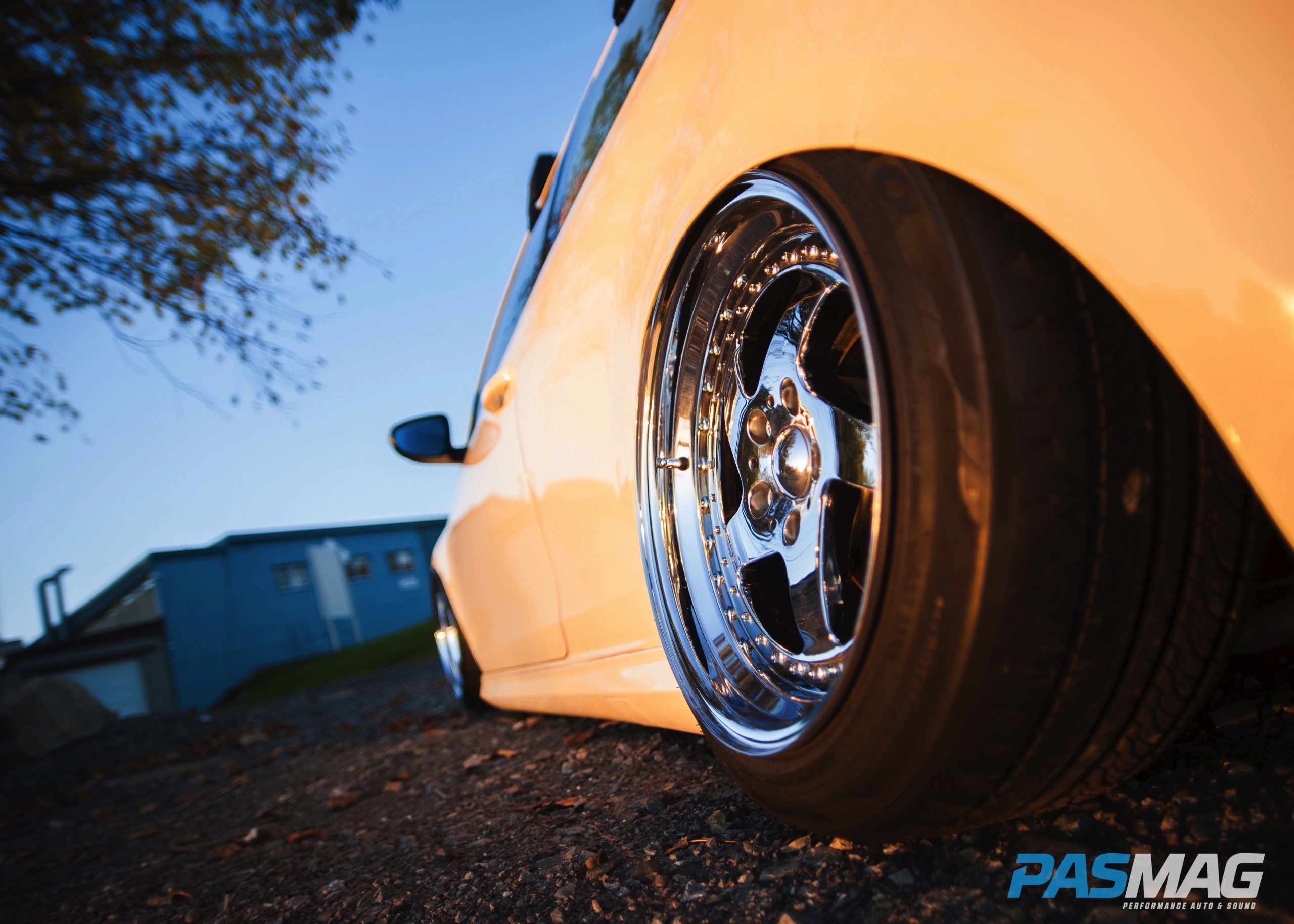 Dupont set out to take the less popular Golf trim level and show that it could be turned into something special. His Mk6 didn't need a GTI badge to get respect; it has been earned through honest hard work and looks that inspire. Want proof? Just take a look at the online threads for Dupont's build, where everyone is making wish lists from his work.
ESSENTIALS

2011 Volkswagen Golf Sportline // Owner: Julien Dupont // Club Affiliation: 2LO CREW // Engine: Volkswagen 2.5L L5 // Horsepower: 190 hp
ENGINE MODIFICATIONS
APR Stage II cold air intake // ECS Tuning underdrive crank pulley
EXHAUST
AWE Tuning catback performance exhaust
CHASSIS/SUSPENSION
Airlift (Autopilot V2 management, Slam Series front air bags) // Dorbritz (sway bar brackets, D-cups air bag bracket) // Powergrid end links // Slam Specialties rear air bags // Koni adjustable rear shocks // 034Motorsport MK5 rear camber kit // IDF rear control arms
WHEELS/TIRES/BRAKES
Carving Stark II wheels – 17x9-in. +24 offset w/ 2-in. custom lip (f), 17x10-in +20 offset w/ 2.5-in custom lip (r) // Gloss black powdercoated barrels // Chrome centers and caps // Falken 912 tires – 205/45 R17 (f) • Nexen N7000 tires – 225/45 R17 (r)
EXTERIOR
3M 1080 Gloss Light Ivory vinyl wrap // Volkswagen (Zubehör front lip, Zubehör side skirts) // Chromed roof bars // Blue-tinted blindspot side mirrors // Glass insert rear wiper delete
INTERIOR
Katzkin Tuscany Amaretto leather interior // 3M Di-Noc Textured Wood Grain vinyl wrapped trim // Hardwood floor rear seat delete // Chrome air tank and 3/8-in. hard lines // Chrome rear upper stress bar
ELECTRONICS
Pioneer (Premier 5.25-in. front speakers, Premier tweeter component kit) // Kenwood Excelon 10-in. subwoofer (2) // Alpine PXE-H660 sound processor // Soundstream REF4.400 Reference Series 400 W 4-ch. midrange amplifier // Power Acoustik PS4-800 800 W 4-ch. subwoofer amplifier
SPECIAL THANKS
Special thanks to Strasse Autowerks, Bag Riders, and 2LO Crew
Julien Dupont's 2001 Volkswagen Golf Sportline is featured in PAS Aug/Sept 2014 (16.04). Order your copy here.