Photography by Jay Canter.
---
The 20-year old drifter whose name you'll want to remember.
One thing rings true with all professional athletes: they want to be the best at whatever sport they play. This is for sure the same ideology that Alec Hohnadell aspires to, as people all over know the young, 20-year-old Hohnadell is very quickly becoming one of the top professional drift drivers in the Formula Drift series.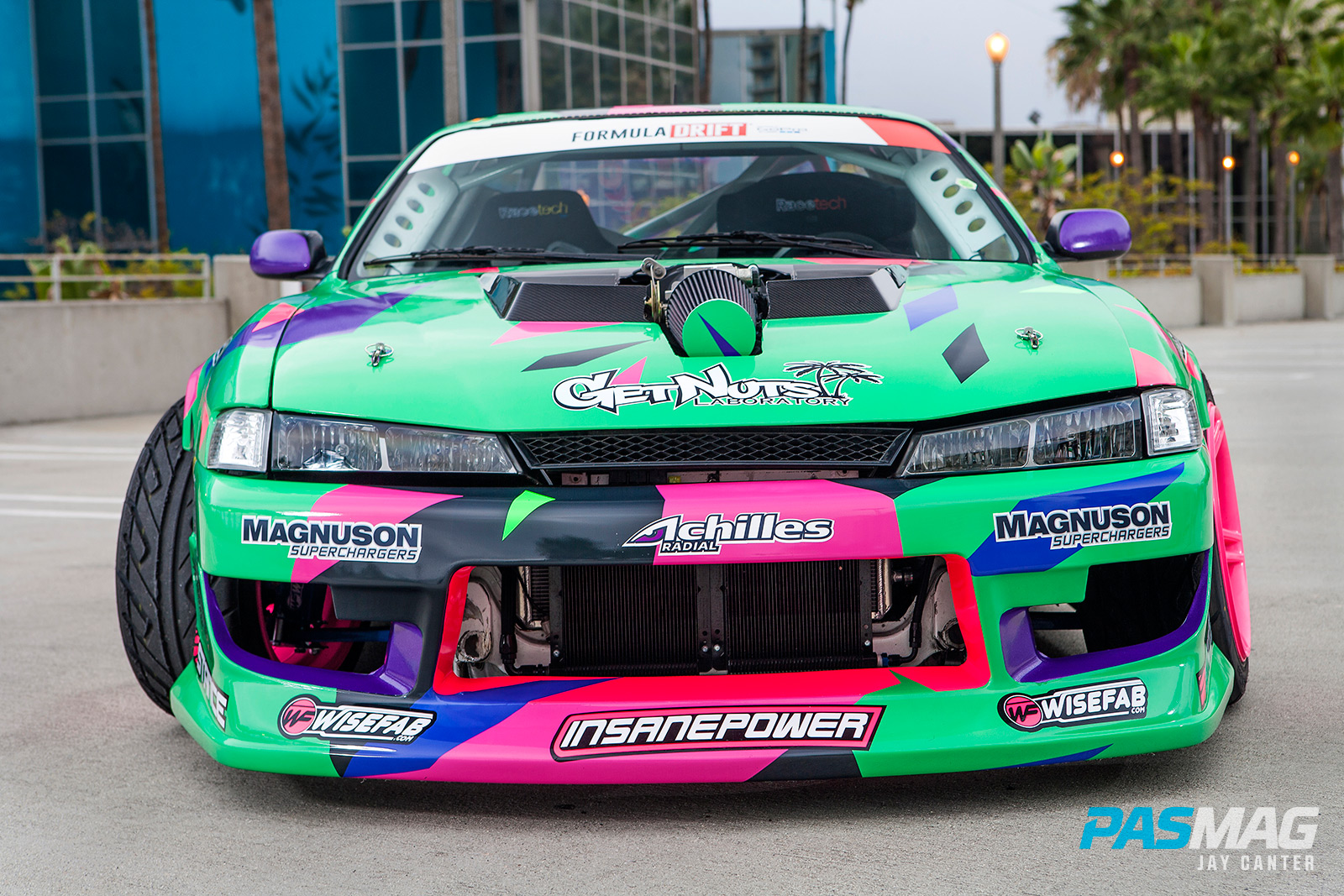 Being a resident of Destin, Florida, there are tons of outdoor activities available nearly year round. Before his career in auto racing started back in 2012, Hohnadell was an international Jet Ski champion. He has won many awards from jet skiing, including being named the 2011 IJSBA (International Jet Sports Boating Association) World Champion, three-time APBA (American Power Boat Association) National Champion and two-time UWP (Upstate Watercraft Promotions, Inc.) National Champion. To top it off, he has set numerous world records, including being the youngest racer in the world to earn an IJSBA and APBA Pro race license, which he did at age 14. He doesn't only win in the water though. Before racing jet skis, he was racing motocross, earning two tristate championships and over 100 first place finishes.
So, what does someone with this huge amount of talent do after winning on the water and on two wheels? He challenges himself to drive against some of the world's best four-wheeled sideways racers. Of course. Hohnadell went ahead and got his Formula Drift pro license in 2013 and went under the radar, as do most rookies in a series that is jam-packed with big talent and huge personalities. Alec exploded during the 2015 season though, coming into his own and showing his crazy talent after joining forces with Get Nuts Labs, which is run by none other than Forrest Wang. Wang has arguably the biggest style in the series, and that has surely rubbed off on Hohandell. He even made it on the podium at round five in Monroe, Washington, in July. And, following the final round of the season at Irwindale, he managed to crack the top 10 of 40 competitors.
Hohnadell has figured out a very competitive combination for his professional ride: the ever-trusty 1995 Nissan 240SX S14 chassis and a LS3 V8 engine. To help push the 3,000-plus pound S14 around the track, the 408-cubic-inch LS3 built by Galen Engine Services was privy to some power upgrades. To start, a Magnuson TVS 2300 supercharger was installed and mated to a huge Edelbrock throttle body. To help expel the hot gas, a set of Hooker long-tube headers and a custom oval exhaust were chosen. Getting the fuel from the tank through the engine, a Magna Fuel Pro Star EFI electric fuel pump and regulator and a set of Injector Dynamics ID-1000 fuel injectors were installed. Inside of the Trick Flow LS1 aluminum heads spin a set of Insane Power cams.
Rounding out the powerplant is a Holley ECU tuned by Mike Angel of Insane Power. After the tune, Angel was able to extract 887 horsepower and 845 lb-ft of torque using Ignite race fuel. Those figures are keeping in line with the most reliable power numbers that professional drift cars are making. You can make all the power you want, but if it's not getting to the ground, it's not good for anything. So a G-Force GSR dog box transmission was installed along with a set of axles from Driveshaft Shop.
Of course, there are lots of other important items on competitive drift cars, including the suspension and brakes. To tackle the stoppage duties in the S14 are Wilwood brakes, front and rear. In the rear, a dual caliper setup is there to help get more clamping force for the important purposes of locking and rotation. Stance Pro Comp 2 coilovers were installed to get Hohandell's car sitting at the right height and have the right amount of travel to flick left and right. These are paired with a Wisefab angle kit that helps yield a ton of extra angle for those all-important style points.
Wheel selection is a huge part of each driver's style, too. Hohnadell chooses to drive on a set of Cosmis XT 206R rims measuring 17 and 18 inches in the front and rear, respectively. Wrapped around those Cosmis wheels are some Achilles Radial 123 tires — a set of 235/45 R17 do the steering while 265/35 R18s create some real nice clouds of shredded rubber.
One big advantage of the Nissan S14 chassis is that pretty much any engine you want to run in Formula D fits in there. The Get Nuts Laboratory in Las Vegas, Nevada, worked on making Hohnadell's car not only rigid, but safe. There are no real body modifications to the car besides a Super Doof body kit and a Ray's Factory wing. To round out the rest of the body, Las Vegas Car Wraps put on a livery designed by Andrew Stewart from AWS Graphics.
In the cockpit, Alec holds onto a Grip Royal steering wheel while being firmly planted inside the car in Racetech seats with Takata race harnesses. The factory instrument cluster has been ditched for multiple Stack Pro-Control gauges, which feed Hohnadell all the important information about his vehicle.
Hohandell has proven he has what it takes in the water, on two wheels and now he's crushing it on four. Can he keep his hard-charging spirit and stylish driving going to win a Formula Drift championship? Only time will tell, but this guy has all the makings of a champion, and it really is only a matter of time before we see his name in the headlines.