Living in a small town drives people to do one of two things; accept it and make a family there or bounce quicktime as soon as they are of legal age. It isn't uncommon for many, young, country folk to want to get out there and experience the world, perhaps even settle in a major metropolis like New York, London or Toronto. A select few, however, live a sort of hybrid life; they enjoy the peace of a small town but also take the opportunity to travel to stay hip and stylish.
Right from the start of my build I knew from speaking to the representatives at Flossman that no one had yet put the Flossman widebody on the e46 M3 convertible." Phan admits.
A textbook example of someone living the hybrid life is Coung Phan, who hails from the sleepy town of Hagerstown, MD with a population of roughly 39,000. There is not much of a car scene there, but with mags like PAS at the local book store and the wealth of info on the internet, he started fantasizing at a young age. "Starting at around 13 I would always go to the local grocery market and check out car magazines and get ideas how I would build my car when the opportunity came around," says Phan "At first I was not sure what car I wanted to get to make into a project car, it went from a TT supra, to 350z, but once I test drove the M3 I knew it was the right choice for me. This car is built from passion and the attention to detail along with the drivers car experience makes it one of the best cars still to this day."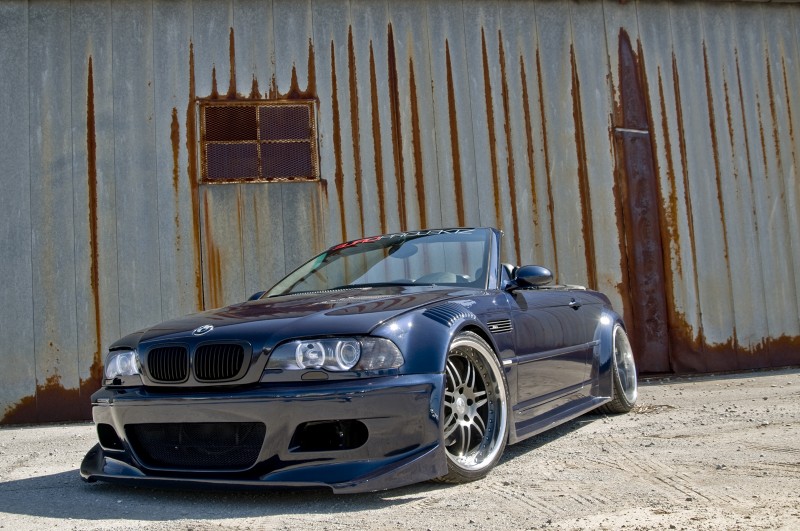 He also wanted to build something that would stand out and grab your attention without the usual bright colors and tacky parts. When he first started modifying his M3, he noticed on the BMW forums that everyone had their cookie cutter parts like the Vorsteiner hood, which isn't German and CSL wheels that were probably Chinese-made fakes. "Right from the start of my build I knew from speaking to the representatives at Flossman that no one had yet put the Flossman widebody on the e46 M3 convertible." Phan admits. "Putting the aero kit on was not an easy task. It took two bodyshops 5 months to put on and redo to a more satisfactory job."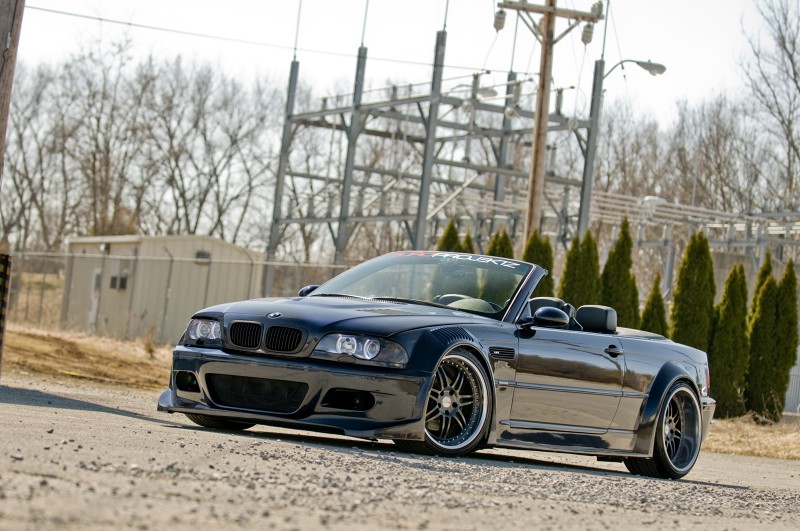 The Flossman widebody is a special order kit that takes a few months to arrive. It consists of a front bumper, rear bumper and widened flared fenders with pressure relief vents and matching sideskirts. All of the pieces were carefully moldered to the body for a smooth, clean look before being shot in a custom "blue hue" metallic. The kidney grilles and side-vents were hit with matte black for a toned down look, matching the smoked corners and roundels. Both front and rear trails were upgraded to '03+up style from Umnitza.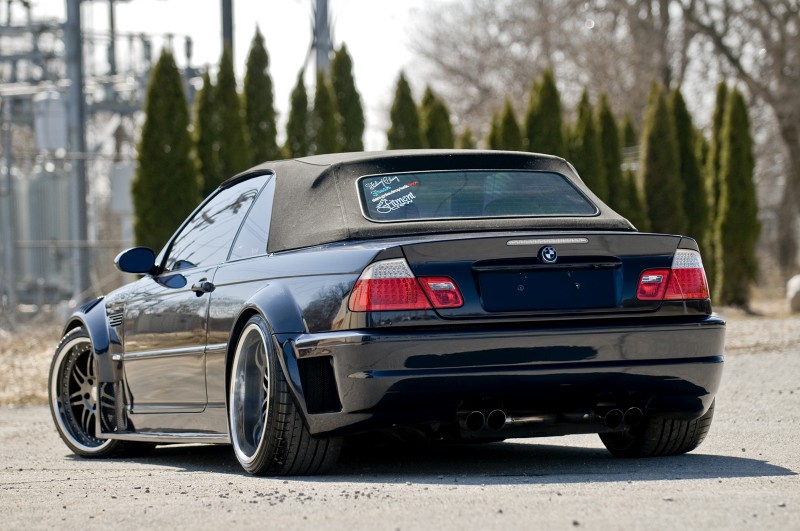 Phan contacted one of the industry heavyweights when it came to the custom rollers. Vince Wong at iForged is no stranger to the custom car scene and he spec'ed out a perfectly fitting 19x10-inch front and 20x12-inch rear boasting a 6-inch lip! The wheels were wrapped in Continental Sport Contact 3 rubber measuring 265/30R19 up front and a supercar sized 305/25R20 tire! To get the right stance, Phan dumped the car with H&R coilovers and dialed in the camber with a Kmac camber kit and added some Ground control rear lower arms.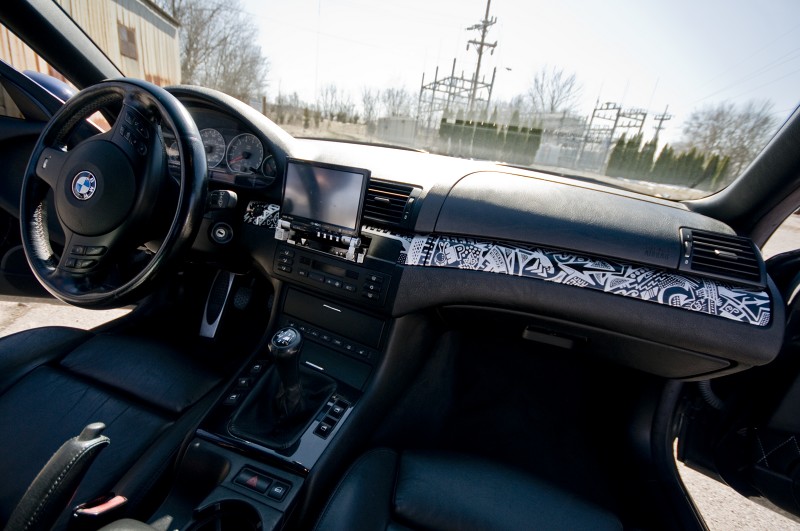 Inside the cabin, Phan was inspired to do some custom work. He had the dash done in a custom graffiti pattern which he saw first on the Sharpie Lambo. Coach Trim of Danbury, CT took out the interior and began re-stitching in black suede with white French stitching and carbon fiber fabric by Eurodyne.com. The audio and multimedia assault started with the installation of a Kenwood KVT-815 double DIN unit. However, as Phan says, he didn't want to add too much weight and carefully selected the balance of products. He went with all JL Audio components and rocks a single 10-inch w3v3 in a custom sealed enclosure, JL Audio 500.5 amplifier and 500.1 amplifier. To connect these components together he bought a Tsunami wiring kit. Finally, he put in two 5-inch SAVV monitors in the custom trunk lid.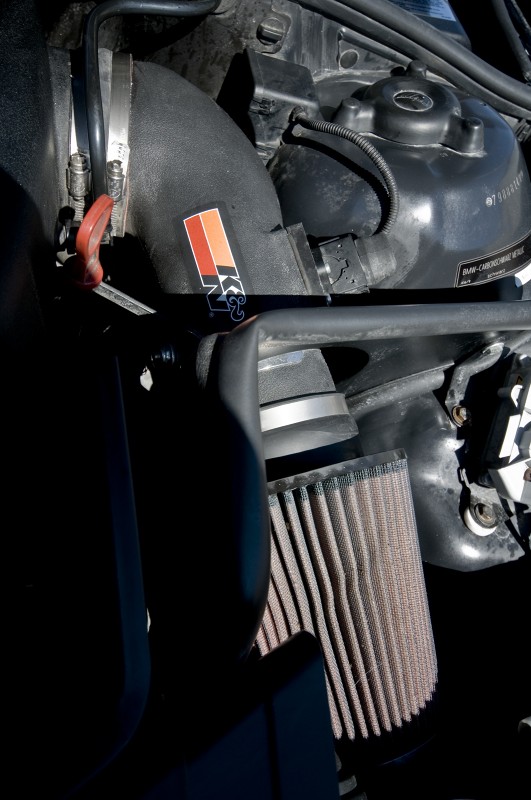 The 3.2L S54 engine is truly an engineering masterpiece and Phan knew enough to leave it alone. He added a K&N cold air intake and a Race Flow exhaust to help the car breather better. When Phan hits the open road, he flicks a switch to open the Rouge Engineering electric exhaust cut-out. Phan says the power levels will be elevated by a Horsepower Freaks Turbo kit before you read this article.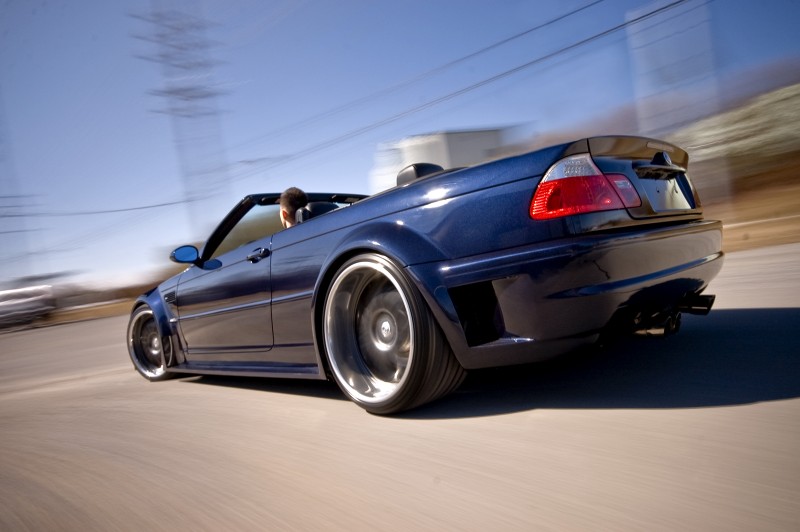 Photography by Kevin Choi
---
ESSENTIALS
Owner: Coung Phan
Location: Hagerstown, MD
Vehicle: 2002 BMW M3 Cabriolet

ENGINE
ENGINE MODIFICATIONS
K&N Intake
Race Flow exhaust
Rouge Engineering cut-out
WHEELS & TIRES
iForged Daytona wheels - 19x10 (f), 20x12-inch w/ 6-inch lip (r)
Continental Sport Contact 3 tires - 265/30R19 (f), 305/25R20
SUSPENSION
H&R Coilovers
Ground Control Rear lower arms
Kmac camber kit
EXTERIOR
Flossman GTR Widebody kit
Asuka Designs vented carbon fiber hood
Smoked corners
Black roundels
Umnitza headlights
INTERIOR
Coach Trim of Danbury, CT:
Black suede with white French stitching
Custom Sharpie Dash
Carbon Fiber fabric
AUDIO / MULTIMEDIA
Kenwood KVT-815 double DIN unit
JL Audio 10-inch w3v3 in a custom sealed enclosure
JL Audio 500.5 amplifier
JL Audio 500.1 amplifier
Tsunami wiring kit
SAVV 5-inch monitors
---
PHOTO GALLERY